Inside: Trying to fit baby clothes in a tiny space? It's definitely doable! This list of clever baby clothes storage ideas for small spaces is guaranteed to have at least a few options that will work for your unique space.
So much excitement surrounds the arrival of the newest member of your family. But if we're being honest, there can also be more than a little stress involved.
It's a huge lifestyle change, albeit a welcome one, for every family. However, if you have a small home, the thought of what to do with all the baby gear that comes along with a newborn can add an unwelcome burden in the midst of all the excitement.
When I had my twins, we were living in an 880 square foot house that was essentially a two-bedroom cottage. We immediately doubled our family size with the arrival of my sons, and in that small space, there were definitely challenges.
But that's not to say it's impossible to thrive as a family in a small space. We lived in that house until the boys were almost three and a half years old, and we made it work.
If you have a small home, you can make it work, too.
There are all kinds of hacks for minimizing baby gear, but today, we are specifically going to address baby clothes storage for a small home. With some clever genius and a little creativity, you'll be able to maximize every square inch of space.
Related: How to Organize Baby Stuff in a Small Space (from a mom who did it)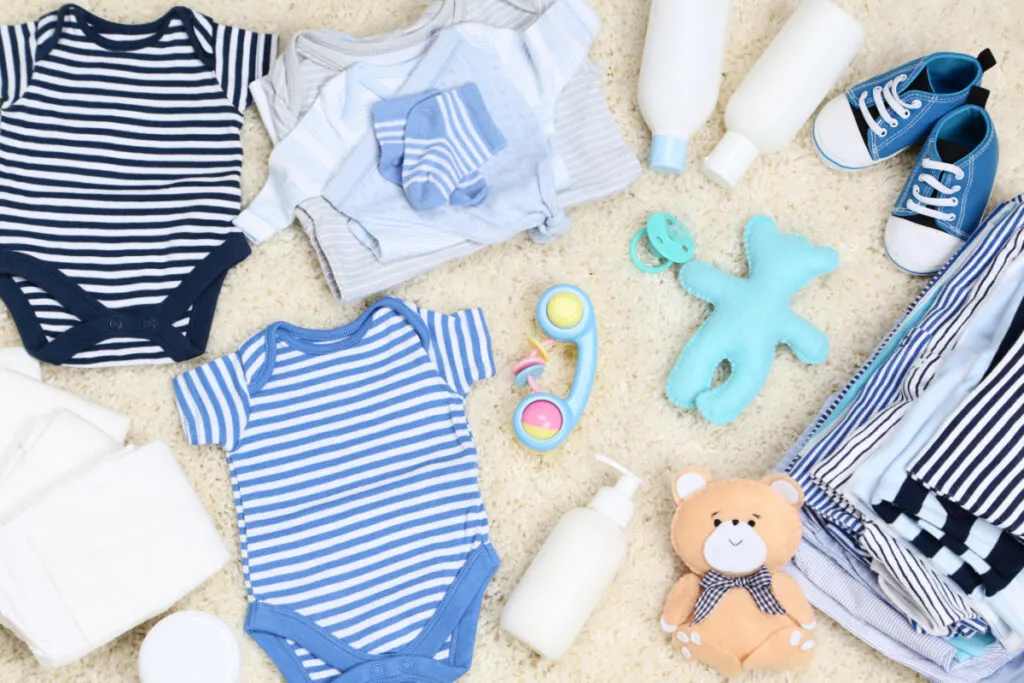 Genius Baby Clothes Storage Ideas for Small Spaces
THIS POST PROBABLY CONTAINS AFFILIATE LINKS. AS AN AMAZON ASSOCIATE, I EARN FROM QUALIFYING PURCHASES. YOU CAN READ OUR FULL DISCLOSURE POLICY HERE.
Before we go into the ways you can creatively store all those adorable baby outfits, I'm going to state the obvious as the first tip:
1. Minimize your baby's wardrobe.
It makes sense that less clothes equals less need for storage, right?
Chances are the washing machine will be running pretty frequently, so there really isn't a need to have so many baby outfits.
I know – these teeny, tiny ensembles are irresistibly cute when you see them displayed in darling fashion at the Target baby section. Your friends and family can hardly help themselves from picking up a little something for the baby.
But, as much as it's in your control, you really don't need that many pieces of clothing for the baby. Maybe 12-14 sleepers for a newborn, a handful of 'nicer' outfits – about 4-5 of them, and you should be good to go.
That's just a thought.
OK, so if you already have a ton of clothes or frankly, you don't want to downsize and you want all those adorable baby things, let's talk about practical ways you can store them in a small space.
Related: Minimalist Baby Essentials – The Bare Minimum You Need for Baby
2. Use a dresser for a changing table.
When you're registering for all of your baby items, you might be swooning over a changing table. However, in a small space, that is truly an unnecessary item (even in a large space, actually).
A changing pad on top of the dresser is all that you need, and then, you get all of that extra storage space in the dresser itself.
Even if you have room for a dresser and a changing table, go for 2 dressers and immediately double your clothes storage.
3. Insert drawer dividers.
If you're using a dresser, having drawer dividers can really maximize the space you have. Often, you won't have enough of a certain type of clothing to fill a drawer.
However, putting several different kinds of clothing in one drawer with drawer dividers can allow you to fit more in those drawers.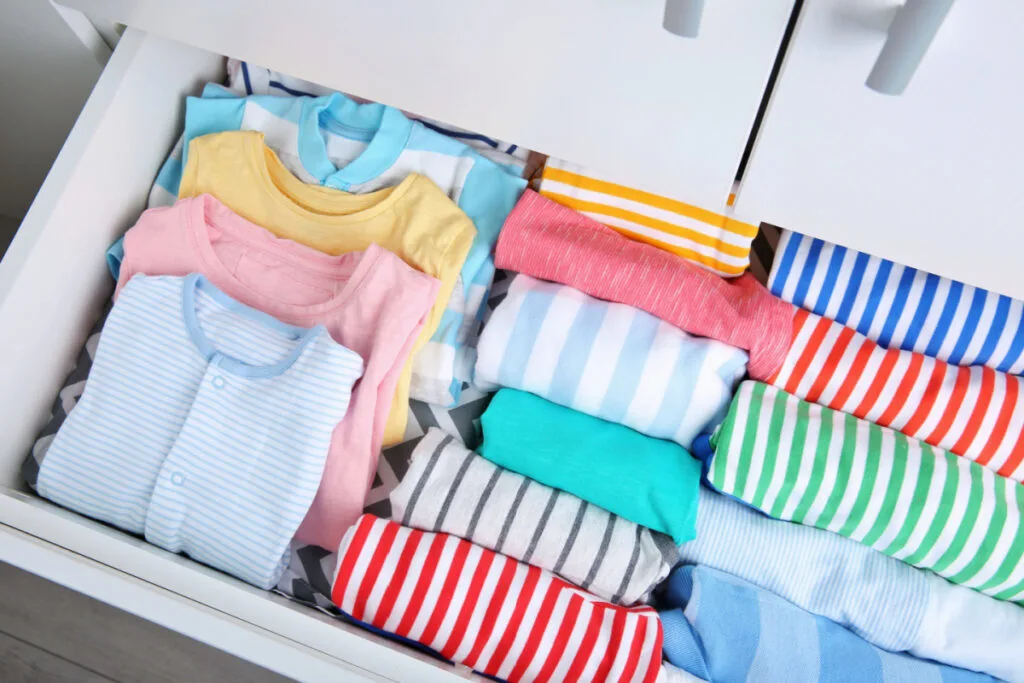 4. Utilize folding hacks.
Of course, the way you fold can also increase space!
The most efficient ways to fold baby clothing items are to either roll the cloths or to 'file fold' Marie Kondo style rather than stack. Basically, you place them upright so you can see all of them when you open the drawer.
Baby clothes are so tiny that you really can get a LOT of clothes into a little space.
5. Use a nightstand or side table with drawers.
If you purchased an entire nursery furniture set and it came with a nightstand, this is a perfect space to store clothes.
There are very few items that need to go into a nightstand for a baby, so it's the perfect place to repurpose the space for clothing.
You might also have a side table with drawers next to a rocker. This could be repurposed for baby clothes, especially if your baby has a minimalist wardrobe.
6. Consider under the crib storage.
There's all kinds of room that often goes to waste underneath the crib. You can purchase a few flat Totes type storage that easily slide right underneath.
That also works well to store clothes for the future – either seasonally or as your baby grows into the next size.
7. Also consider under the (parents') bed storage.
If you've maximized the space under the crib, consider the space under your bed, if it's not already claimed! You don't need to keep all of the baby clothes in the baby's room.
If you have space under your bed or another bed in the house, that's also a great place to tuck away baby clothes, especially if you're storing outgrown baby clothes for future babies.
And think beyond beds! If you have enough space under a dresser, you could tuck a couple of attractive baskets underneath the dresser as well.
Related: Keeping Clothes for the Next Baby – Top Do's and Don'ts from a Mom of 4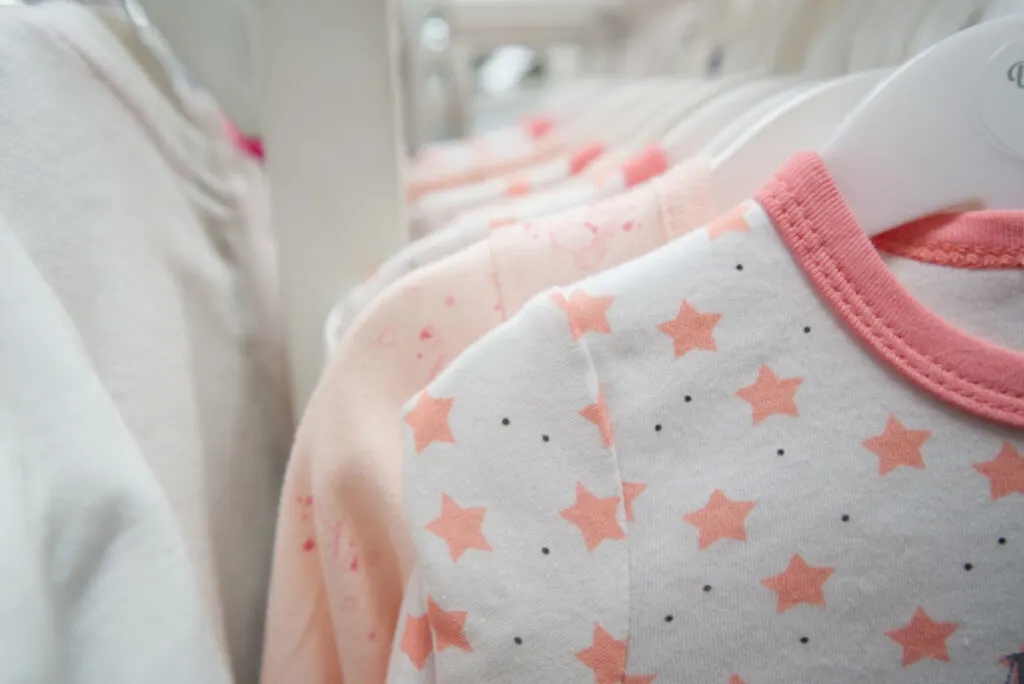 8. Use a hanging closet organizer.
Baby clothes take up so little space when hung vertically in a closet that there's often a ton of wasted space below it. Also, most baby clothes do not need to be hung on hangers and are better stored folded or loose (no folding).
Since that's the case, hanging closet organizers are a great option. You really can stack, fold, and roll those clothes and get a lot of them into a small space.
You could also stop folding altogether and dedicate one "drawer" in the organizer to a specific article of clothing: one drawer for short-sleeved onesies, one for sleepers, one for pants, etc.
It helps if you intentionally chose clothing that can mix and match with everything else – baby capsule wardrobe style. Then, you can just grab and go.
The organizer can also be placed in another closet in the house.
Related: 12 Simple Ways to Organize Baby Clothes Without a Closet
9. Make use of wall storage.
Walls – vertical storage – are often another piece of real estate that has so much potential but is often overlooked.
You can use a wall peg board with hooks to hang clothes, or you can also hang baskets from the wall as well.
You even can attach a series of hookboards to the walls – or attach hooks to the wall directly!
10. Put up shelves.
Wall shelving is another great way to use the empty space in order to neatly fold clothes and have them handy.
Another way you can add even more storage space to a shelf is to hang a bar below it. You can put S hooks on the bar and hang baskets like THESE or add hangers to the bar as well.
You can also attach baskets below the shelves as well if a bar wouldn't really suit your needs. There are several kinds of baskets you can purchase that are created just for this purpose.
Don't limit your thinking of shelving to solely wall shelves. A large bookcase can be prime real estate to line up and fill with fabric bins, which can hold a TON of clothes.
11. Use an over-the-door organizer
The door is another under-utilized space in a bedroom or nursery.
You can purchase an organizer like THIS one that hangs right over the top of the door and instantly, you have significantly increased clothes storage space. You can maximize space for storing other needed items as well.
12. Include cube shelves as furniture.
A cube shelf is an inexpensive piece of furniture that we used ourselves for clothes storage in our boys' room. You can pack a lot of items in those fabric bins.
Bonus: you can reuse them later for toys, books, or anything really.
13. Make use of oversized baskets or bins.
A friend of mine used oversized baskets and laid them on the floor of the closet. She didn't even bother folding the clothes – just sorted them and tossed them in the appropriate bin.
This is another option where you can keep clothes hidden away but add a little extra storage space on the closet floor.
You can use baskets, fabric bins, oversized plastic buckets or containers – whatever is most convenient!
14. Add a portable wardrobe.
This is another way you can essentially (and instantly) add a second closet to the nursery. You will double your storage, and this can be tucked away in the corner of the room.
You also can choose to place this in another room of the house as well if the nursery doesn't have space for it.
IKEA has great armoires and wardrobes, or you can check out something like THIS.
15. Use hanger clips.
Since many baby clothes items don't really need to be hung on hangers, you can add clips to hangers, and clip several pieces of clothing to one hanger.
Talk about your bang for the buck! Instant multiplication of space.
You can use clips like THESE ones, or even clothespins could do the trick.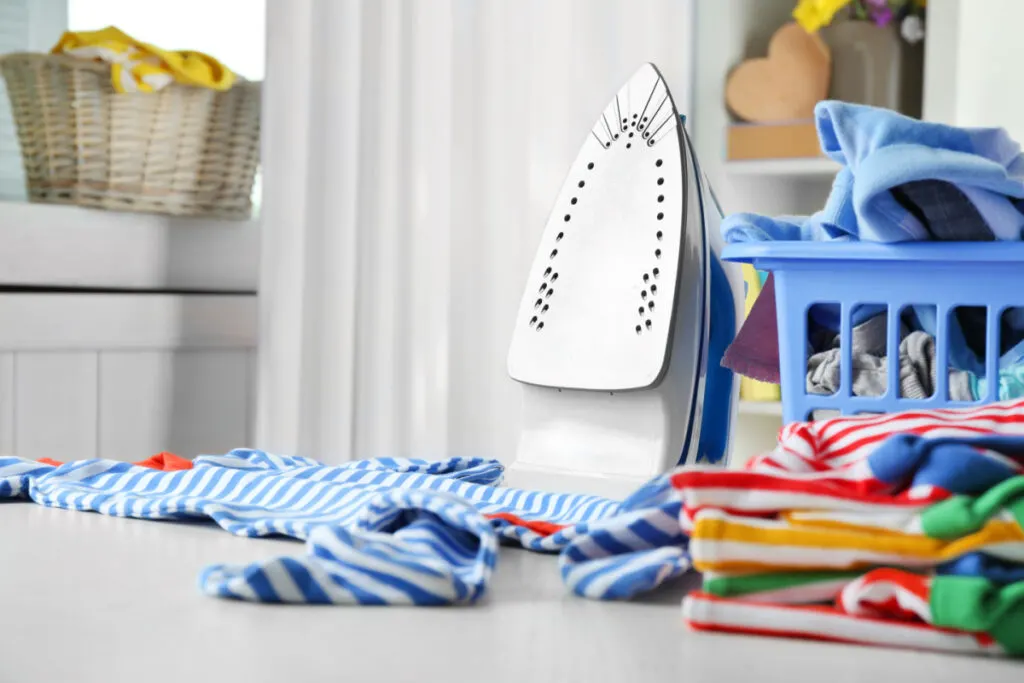 Baby Clothes Storage Hacks are Easier Than You Think
As you're preparing for your sweet baby's arrival, I know there are so many things to be planning for.
The feeling of overwhelm can be paralyzing – I totally understand.
But the more you're able to plan for in advance, the more at ease you'll be. Clothing might seem so insignificant, but each detail that is arranged before baby arrives will add to your feeling of preparedness and excitement.
You've got this, mama. Before you know it, clothes will be stored, the nursery will be finished, and you can put your attention to the most important thing: loving on your newborn.
(Just make sure everything gets squared away before the grandparents start bringing toys and gifts, which is another problem altogether.)
Read Next: The Most Important Things to Discuss Before Baby Arrives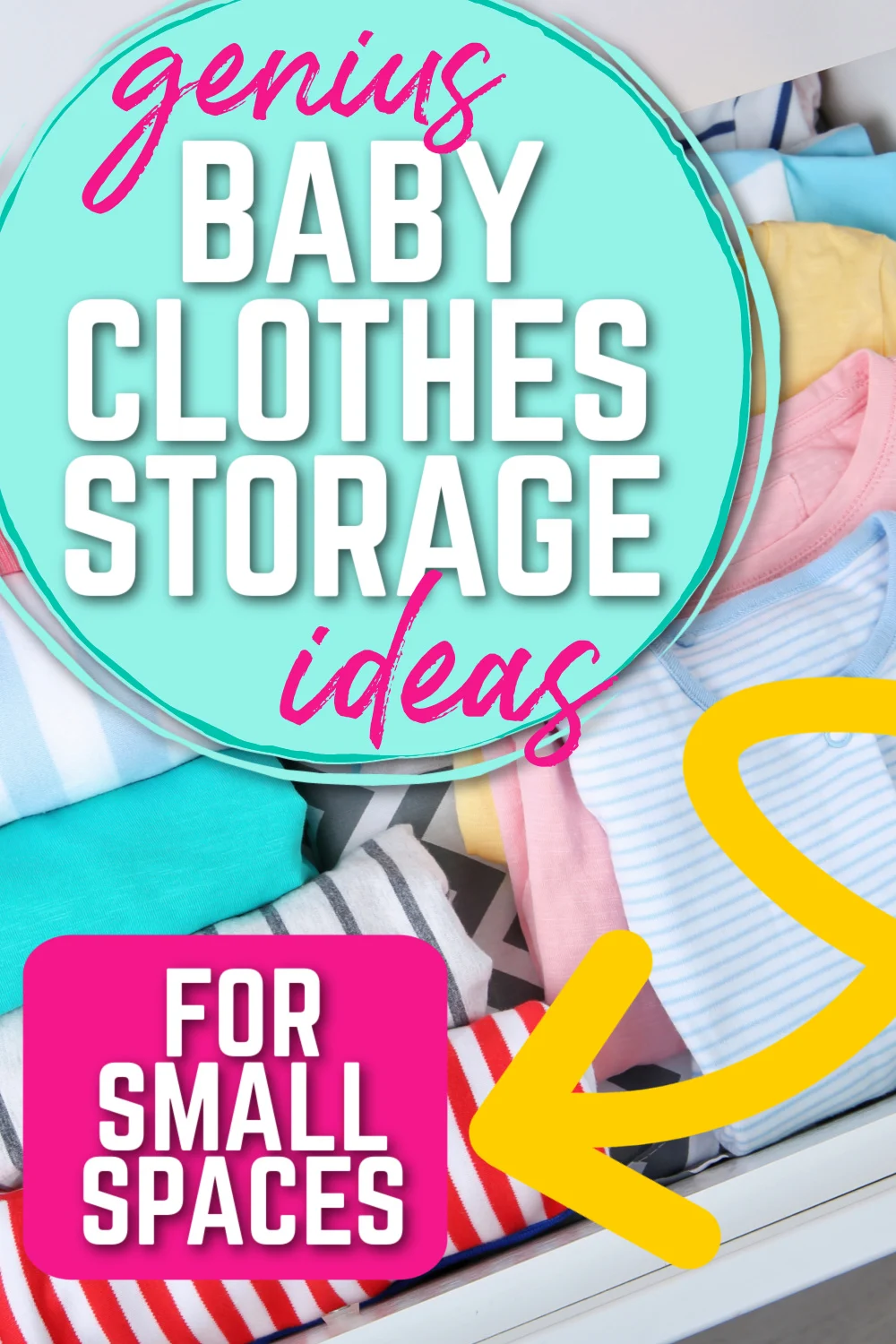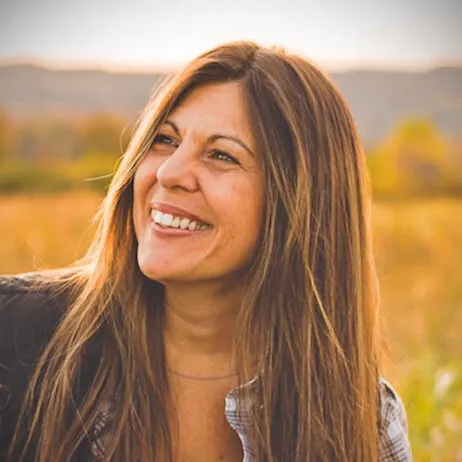 Kate is a former high school English teacher and current SAHM to her 5-year-old twin boys. A lifetime New Yorker recently transplanted in Tennessee, she keeps busy by learning her new way of life in the South, doing home decor and DIY projects, blogging at A Hundred Affections, substitute teaching, and figuring out how to survive in a house outnumbered by boys. And she loves Jesus very much.