Inside: Wondering how to organize baby clothes without a closet? These simple (but brilliant) organizing tips will banish your closet envy for good.
If you've landed on this article, it's likely that you're past that abstract, 'I'm pregnant' feeling, and now it's 'Oh my gosh, there's an actual real live baby coming any day now! I need to get ready!"
If you haven't begun nesting yet, that is just around the corner. And it's likely that you're looking around your home and determining what you need to do to have all the things ready for your baby's arrival.
In a perfect world, we'd all have the space and resources to give our babies a royal's welcome.
But that's not real life, right?
And if your current home doesn't have every accommodation you'd like, well, that can sometimes add an unwelcome burden, even though you are over-the-moon excited about your child's arrival.
When I was pregnant with my twin boys, our home was 880 square feet – basically a two-bedroom cottage. We instantly doubled the size of our family with the arrival of my sons, and a small house definitely created challenges.
But we made it work, and our sons didn't know the difference.
If you have a small home or at least a home where you don't have a closet in your baby's nursery, don't let that dampen your spirits.
I'm here to reassure you can make it work! There are all types of tricks and hacks for baby clothes organization without a closet.
With some clever creativity and maybe a little genius, you can maximize every inch of space so effectively that you won't even feel the absence of a closet.
Let's talk about some practical and creative ways to do just that.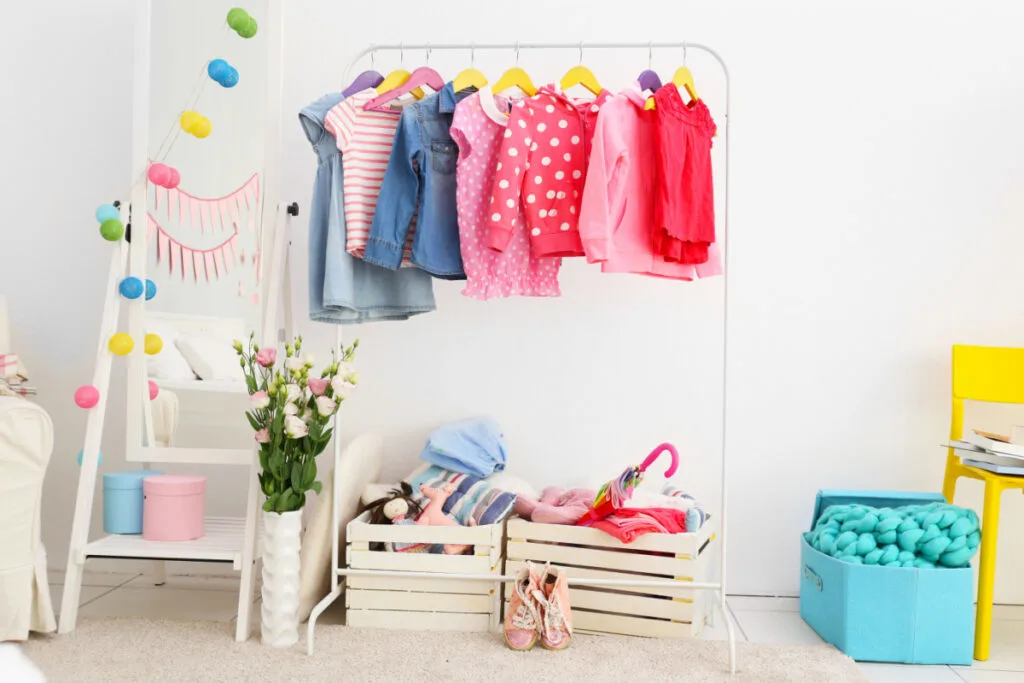 How Organize Baby Clothes Without a Closet: 12 Simple Hacks
THIS POST PROBABLY CONTAINS AFFILIATE LINKS. AS AN AMAZON ASSOCIATE, I EARN FROM QUALIFYING PURCHASES. YOU CAN READ OUR FULL DISCLOSURE POLICY HERE.
As you'll see, there are many ways to organize and utilize available space for your baby's clothing without a bedroom or nursery closet.
However, before we go into the suggestions for storing all those sweet baby outfits, let me throw this out there as a start idea…
1. Downsize your baby's wardrobe if possible.
The less clothes a baby has, the less room you need to store them, right? That's just common sense.
Most moms do laundry like it's their second job, especially with a newborn in the house. So, technically, there isn't really a 'need' to have so many cute baby outfits.
Chances are, they will cycle very quickly through the wash.
Now, I know, I know – it's so hard to resist just picking up 'one more outfit' for the baby – and grandmas are notorious for getting just 'a little something' for their sweet new grandchild.
But.
Since space genuinely is an issue, you really shouldn't need so many outfits or pieces of baby clothing. About 12-14 sleepers for a newborn, maybe 4 or 5 'nicer' outfits… that's really all you need.
OK, so that's just a suggestion I'm tossing out. Yours to do with it what you will.
Now, if you already have a mountain of baby clothes or quite honestly, you're not interested in downsizing and you actually want all the precious baby things, let's move on to practical solutions for organizing without a closet.
Related: How to Create a Baby Capsule Wardrobe (& Why You Need To)
2. Add drawer dividers.
Once you've gotten yourself a dresser (or two), grab some drawer dividers! Baby clothes are so tiny that you often don't even have enough of one type of clothes to fill a drawer.
Drawer dividers are the perfect solution for that! Definitely more bang for the buck.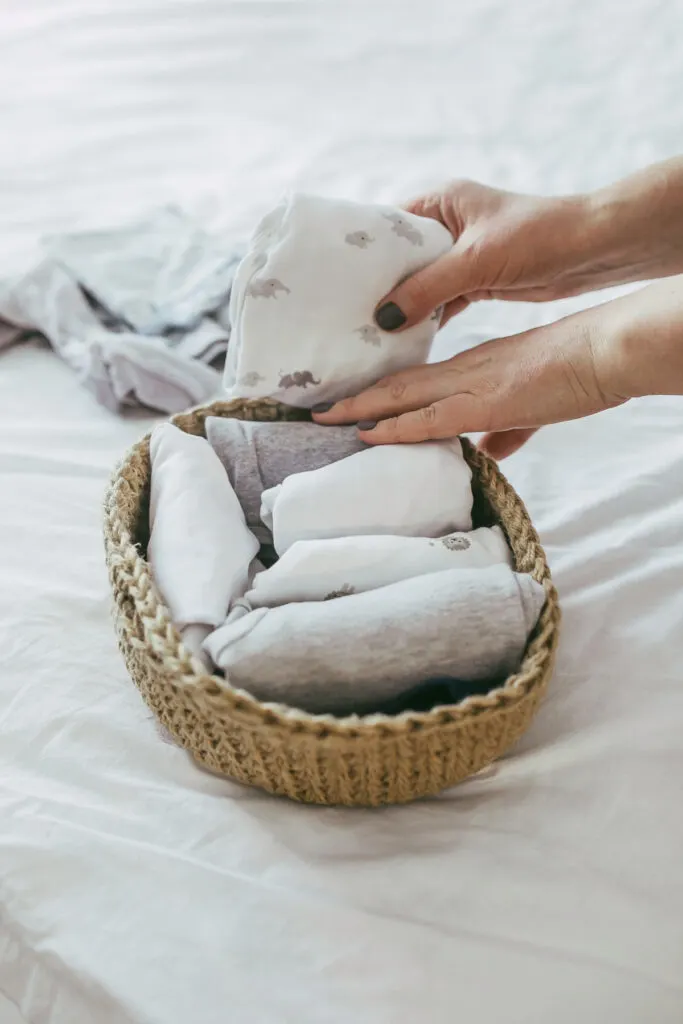 3. Learn to fold creatively.
Yup, smart folding is definitely a way to increase space!
The best method of folding to maximize space is either 'file folding' the clothing (placing them upright so you can see them all in a line when you open the drawer) rather than stacking them, or good, old-fashioned rolling!
Baby clothes are so teeny – it's amazing how many articles of clothing you can pack into a small space.
4. Use the space under the crib.
I'm not sure why, but the space underneath a crib is so often overlooked! There is so much bonus space available underneath the crib.
With a few flat totes or bins, you can fill those up with baby clothes and other essentials and push them out of sight.
I love this hidden space for storing clothing that the baby will grow into in the future – the next season or the next year. It's the perfect place for clothes you don't need access to everyday.
5. Use the space under the parents' bed.
If you've already put the space under the crib to good use and you still need more space, what about the space under mom and/or dad's bed?
There's no rule that says all the baby clothes have to be in the baby's room! If you have space to spare under your bed, consider claiming it as baby clothes territory.
You can even use the space under another bed in the house as well – a sibling's room, the guest room, etc.
You Might Also Like: Keeping Clothes for Next Baby – Top Do's and Don't's from a Mom of 4
6. Put the walls to use.
So often, we forget about walls as potential for storage!
There are so many ways you can use the walls:
a cork board with hooks to hang clothes,
a wall coat rack, or
hook board.
You can hang cabinets or even screw as many hooks as you want straight to the wall.
Walls offer limitless storage space if you forgo a few nursery decorations in exchange for cabinets or hooks.
(The photo below? Ditch the decor and tchotchkes: put baskets for baby clothes, instead!)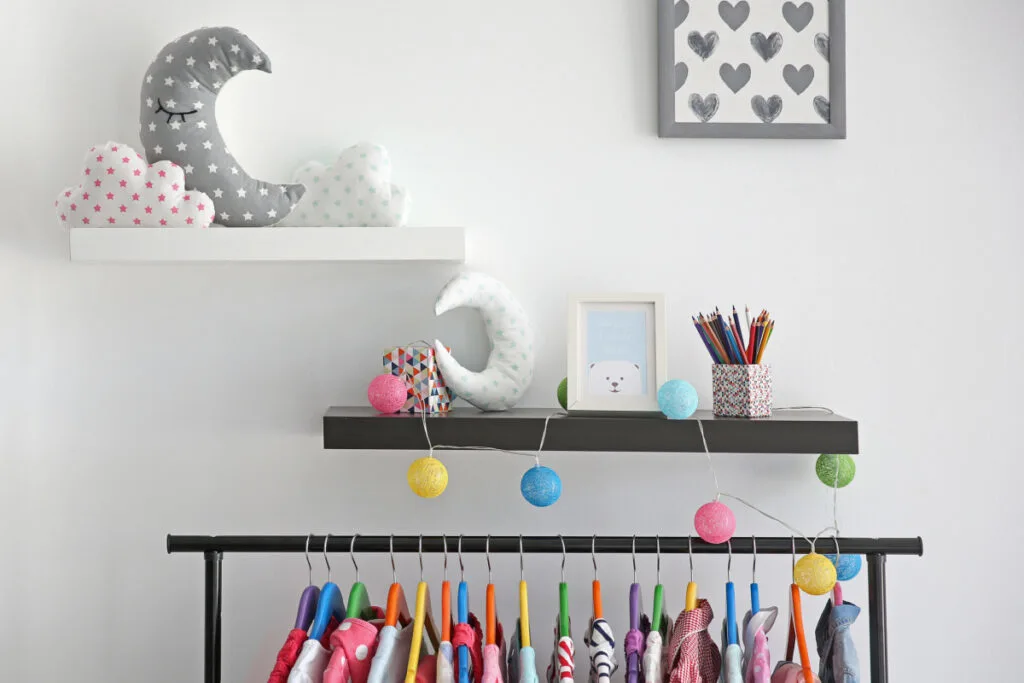 7. Install floating wall shelves.
Wall shelves (like this one) are another smart way to utilize the empty wall space. Clothes can be folded neatly and stacked for easy access, or put them in baskets for even easier access.
Another way you can multiply storage and organization space with wall shelves is to hang a bar underneath it!
You can also put S hooks on the bar and hang baskets or add hangers to the bar as well. That's a great option if you love hanging clothes, dresses or other outfits.
As an alternative to attaching a bar to the shelf, you can also attach baskets and hang them underneath the shelves if a bar isn't really what you're needing.
In addition to wall shelves, you can also use a large bookcase for shelving. You can easily line up stylish bins for a full wall that can hold oodles of baby clothes.
8. Place an over-the-door organizer on the door.
Besides the wall, the back of doors is another option that often gets overlooked for clothes organization!
You can buy organizers like THIS one that go right over the top of the door.
In a blink, you've just added an incredible amount of space for clothes storage (or anything else you might want to put in there).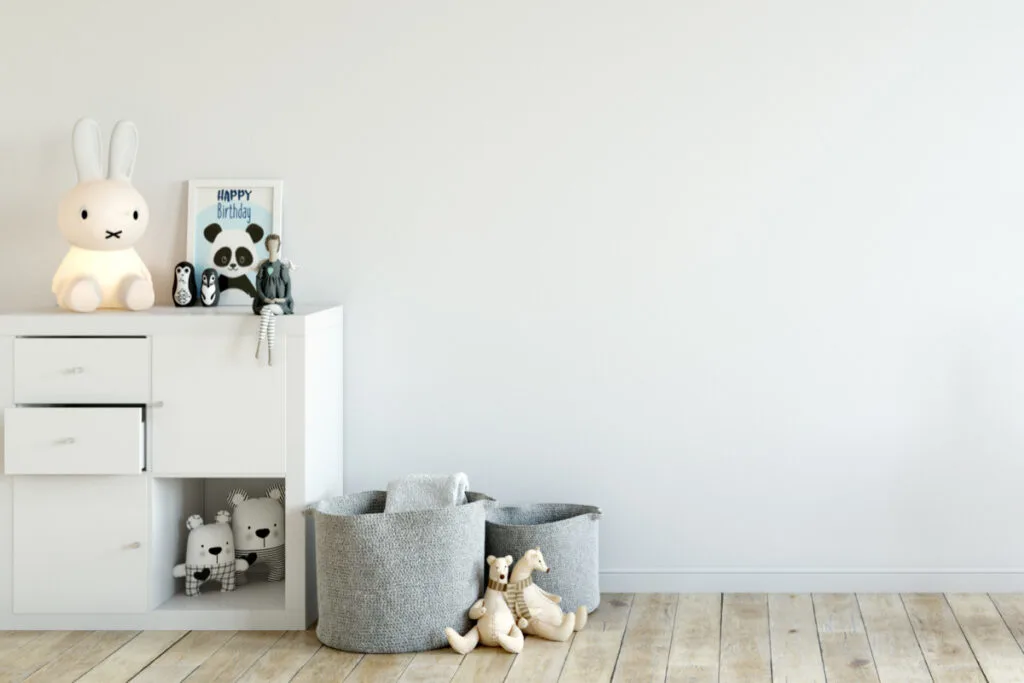 9. Consider cube cabinets as furniture.
A cube cabinet was a lifesaver for clothes storage when our boys were babies.
It's inexpensive, you can cram so much in those bins, and you can't see the contents.
(So make sure those bins/baskets are super pretty – like THESE rainbow baskets – and double up as decor!)
As the babies grow, you can also use the bins for other things such as toys, books, and all kinds of baby gear and supplies.
10. Utilize a nightstand for clothes storage.
If you bought a full nursery furniture set that comes with a nightstand, you hit the bonus jackpot for storing clothes.
A baby has zero use for a nightstand, and when you think about it, there really isn't anything that needs to go in there.
It's an ideal spot to stash and organize clothes.
11. Utilize a dresser as a changing table.
It's hard to resist registering for a changing table when you're creating your baby registry.
But, it really isn't necessary. A dresser can provide a lot more drawer space than a changing table.
And as for a place where you can safely change your baby's diaper, all you need is a changing pad on top of the dresser.
Even if you had the space in the baby's nursery, two dressers would be more useful than a changing table and a dresser.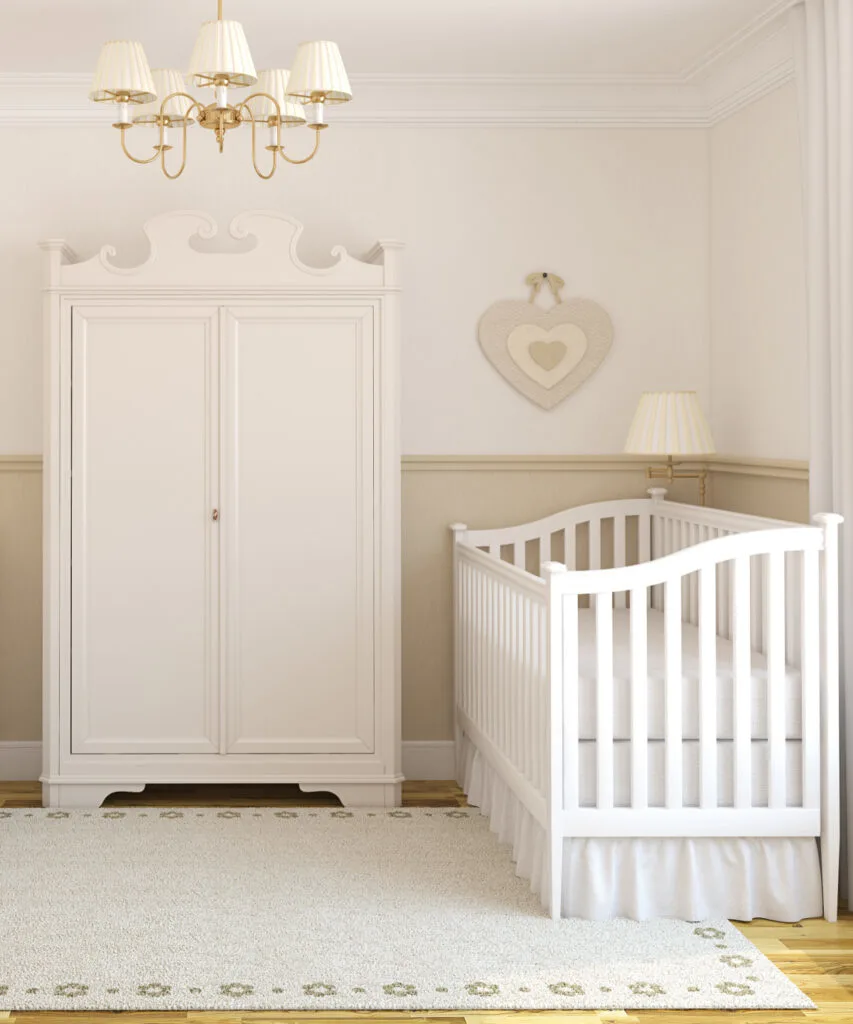 12. Add an armoire.
If a closet is really, really what you're wanting for your baby nursery, then a portable wardrobe is the solution you need.
With a wardrobe, you'll still be able to hang clothes that need to be hung, and you'll also have space on the floor for other bins and baskets for more storage.
If you don't have space in the nursery, you can also tuck this into another room of the house.
Can I make a humble suggestion? If you have the money, invest in a quality armoire like THIS one from West Elm. It will serve you long after the baby clothes are gone and work in any room of the house.
A cheaper piece will serve you in the moment. But it will likely fall apart after a couple years.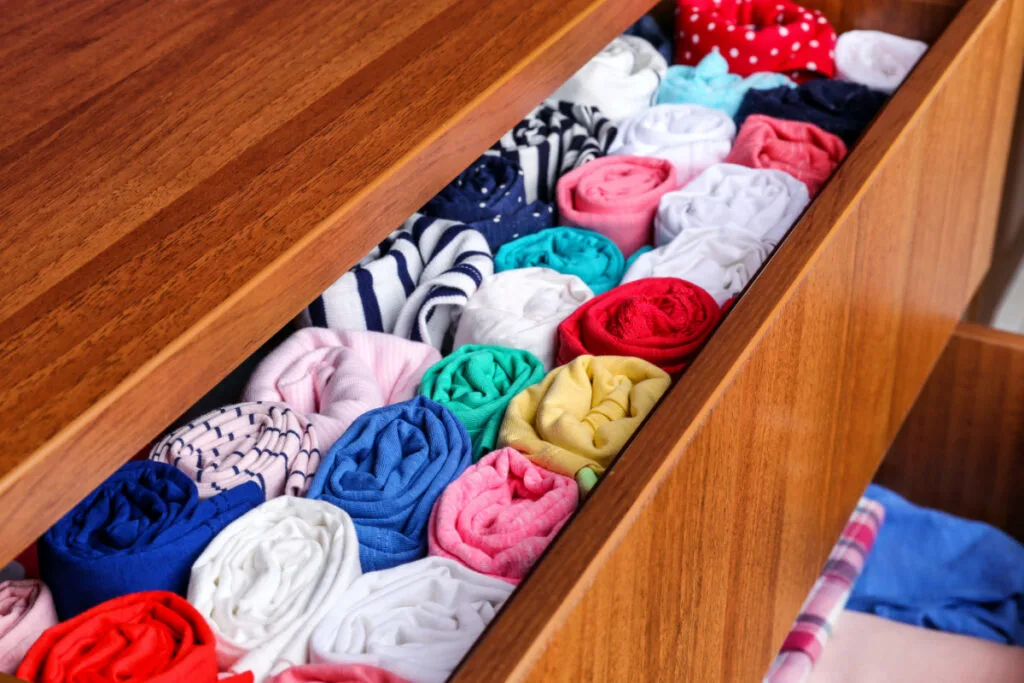 If You Can Organize Baby Clothes Without a Closet, You Can Do Pretty Much Anything
I hope this article not only gave you practical solutions but also filled you with confidence that you have what it takes to solve whatever problems come your way.
I know that so many fears come along with being a new mom (or any kind of mom), but level heads prevail! I've been so encouraged by the phrase 'everything is figureoutable' (thank you, Marie Forleo!).
In all seriousness, the fact that you're troubleshooting and planning in advance will only create more space in your future to just enjoy and bond with your sweet baby.
I know – clothing organization might not seem like such a big problem, but little things feel big when you're in the overwhelm of those newborn days. So kudos to you for taking care of this ahead of time!
And if all the little things compound and feel big, hang in there, Mama. It will all come together.
Before long, the nursery will be ready, all the loose ends tied up – and you can put your attention where it belongs: on loving your sweet new baby.
Read Next: How to Organize Baby Stuff in a Small Space (from a mom who's done it)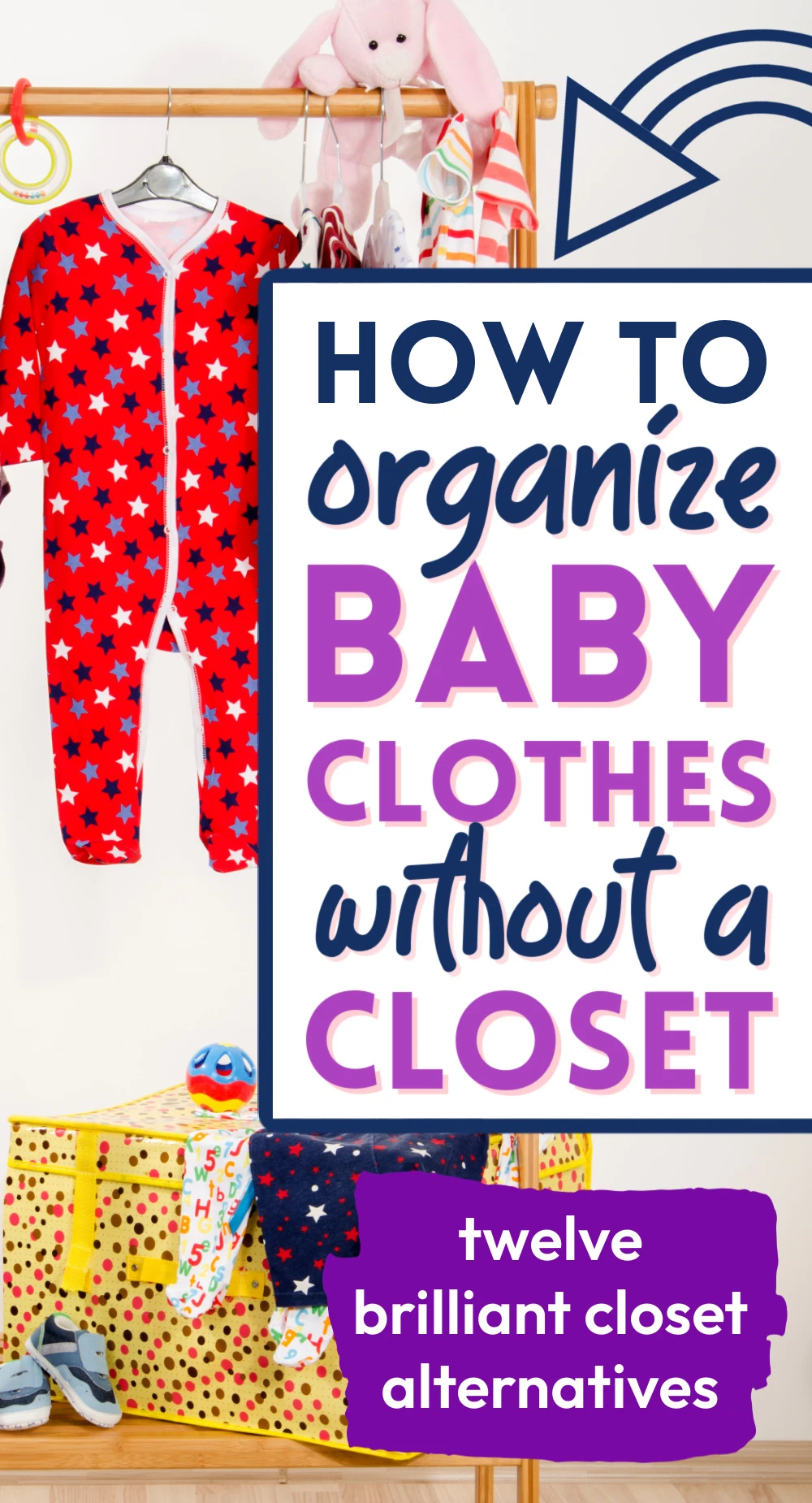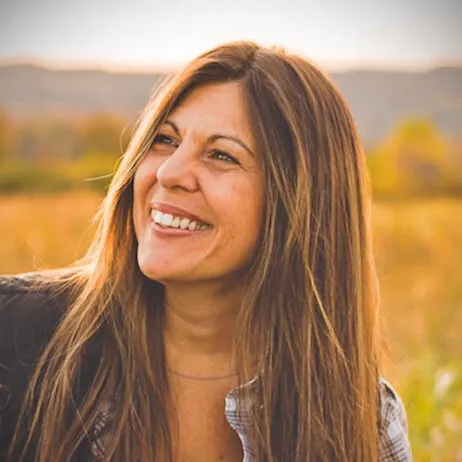 Kate is a former high school English teacher and current SAHM to her 5-year-old twin boys. A lifetime New Yorker recently transplanted in Tennessee, she keeps busy by learning her new way of life in the South, doing home decor and DIY projects, blogging at A Hundred Affections, substitute teaching, and figuring out how to survive in a house outnumbered by boys. And she loves Jesus very much.