Inside: A baby capsule wardrobe can save you SO much time, money and space – it's perfect for minimalist moms! Get all the reasons you should give it a try (if you need convincing), along with practical tips for actually creating a minimalist wardrobe for your baby.
Maybe you just found out you're pregnant. Maybe you've been pregnant for a few months now, and your mind is slowly starting to gravitate toward all the sweet little clothes your baby will receive.
Maybe you're imagining your baby looking darling in all of those new outfits….
Or maybe, you're envisioning getting so many clothes at your baby shower, and you're starting to twitch thinking about keeping up with it all.
Whatever brought you here today, the idea of a baby capsule wardrobe is on the brain, and I want to offer a little help in that department.
Maybe you have your own adult version of a capsule wardrobe or maybe you like the idea of being more minimalist with your baby.
Or maybe space is an issue, and this just makes sense for you and your family.
Whatever the reason, let's talk this through and get you all set up to create a capsule wardrobe for your baby.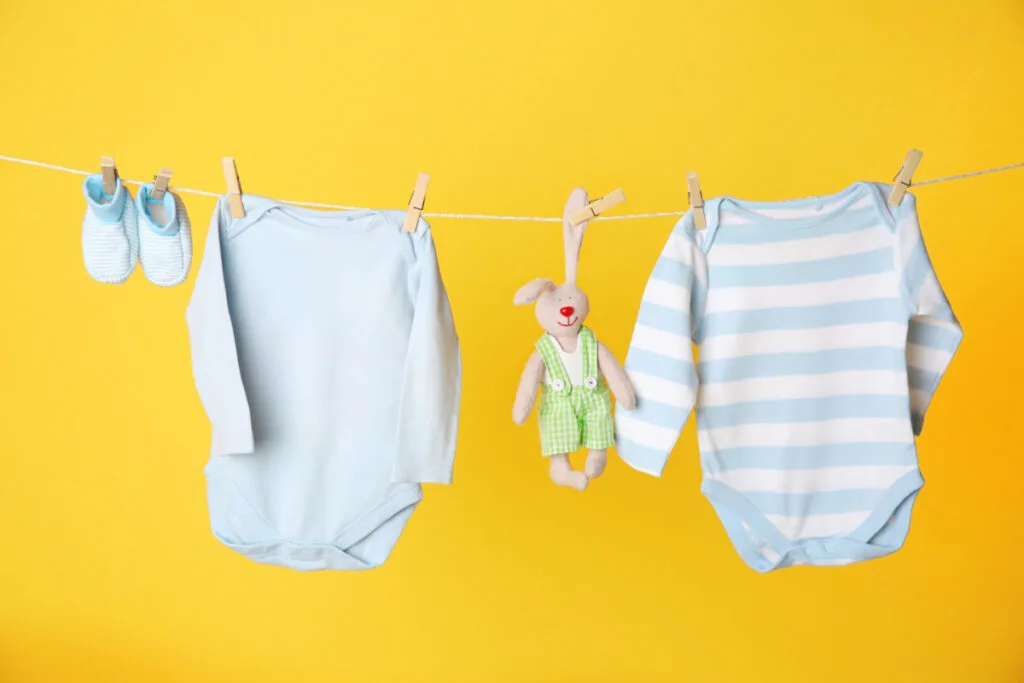 Why Create a Minimalist Baby Capsule Wardrobe?
THIS POST PROBABLY CONTAINS AFFILIATE LINKS. AS AN AMAZON ASSOCIATE, I EARN FROM QUALIFYING PURCHASES. YOU CAN READ OUR FULL DISCLOSURE POLICY HERE.
If you're on the fence about having a capsule wardrobe for your baby, there are several reasons why this is a great idea.
You Might Also Like: How to Dress During Pregnancy Without Maternity Clothes
1. Babies grow so fast.
Before you can blink, your baby will have grown out of one size and into the next. So many women complain that their babies don't even get a chance to wear all their clothes before they've outgrown them.
There's no need to stockpile so many outfits when your baby will be onto the next size grouping before you know it.
2. Baby capsule wardrobes save money.
That just makes sense, right? There's less buying if you have fewer pieces of clothing.
Granted, you'll probably get a lot of clothes at your baby shower, and that will easily take you through the first 0-6 months of your baby's first year.
However, as your baby grows and you are doing more of the purchasing yourself, you can take charge over just how many pieces of clothing your baby has.
Less money spent on clothing equals more money in your pocket for other things.
3. Minimalist baby wardrobes save space.
Again, another common sense idea. You will have so much baby gear that it's so smart to clear out any non-essentials. It's easy for a home to get overrun with all the things for newborns and infants.
Having a capsule wardrobe for your baby saves space and reduces clutter – which automatically translates into a more orderly home (which also brings peace, mama!).
If you also happen to have a small home or only a small space to work with for the nursery, less clothing also means less headaches. Plus, less to store for future babies!
Related: 15 Clever Baby Clothes Storage Ideas for Small Spaces
4. You and your baby might spend most of your time at home.
To be honest, for most of those early days, your baby will be sleeping a lot! So a baby capsule wardrobe makes a ton of sense especially in the newborn stage.
There will be a lot of nesting and a lot of time at home. Naps and nesting do not really necessitate a cute outfit beyond a sleeper or a onesie.
For those times when you do go out of the house, there's a good chance the baby will be in the stroller or carrier, and those cute outfits won't ever be seen.
If you do go back to work, do you really care what your baby looks like for daycare? As long as they're clean, fed and happy, save your money for you know, the cost of daycare.
5. You can mix and match, which makes dressing baby a breeze.
When you create a capsule wardrobe for your baby, the idea is to get coordinating pieces so you can mix and match.
That way, you can create several different looks, if that's something that is important to you, without having completely different outfits.
When all of your pieces coordinate, you have so many more options! Rather than Shirt A only going with Pants A, it can go with Pants B, C, D, E & F! You literally can close your eyes and grab two pieces of clothing and know that they will coordinate perfectly.
These pieces are all designed to complement each other. Some people think a capsule wardrobe is about wearing the same things all the time.
Really, the main emphasis is creating a lot of outfit options by mixing and matching, not by buying more clothes.
6. You can buy better, not more.
Because you aren't spending so much money on lots of baby clothes, you can afford to spend a little more on quality pieces that will last. Think along the lines of the organic materials, better craftsmanship, and even unique pieces.
There are two big reasons this is a smart idea: first, if you plan to have other children, these higher quality clothes will last, saving you money in the long run.
Second, you can definitely resell baby clothes that are high quality and in good condition.
Related: What Baby Stuff Should I Keep? Clear Guidelines for Fast Decisions
7. You'll be doing lots of laundry anyway.
Any new mama will tell you that the washing machine will be constantly running. There's spit up, projectile vomiting, baby diaper blowouts, messy eating – just to name a few reasons.
You really aren't doing any more laundry than usual with a capsule wardrobe. What it actually does is provide you with a constant rotation of clean baby clothes.
You can easily re-circulate those same clothes instead of buying more.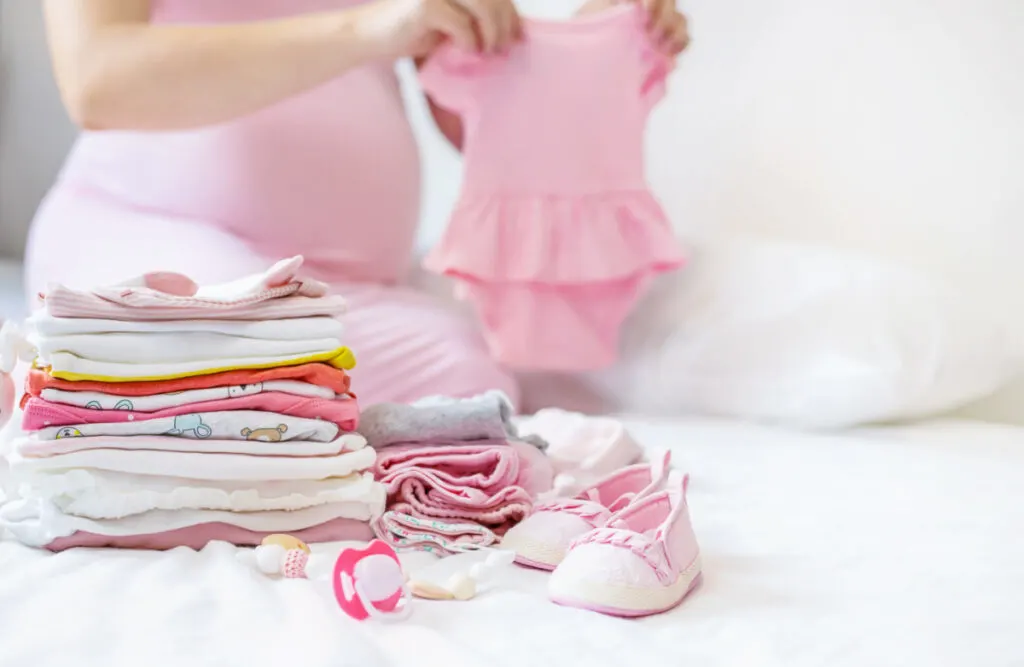 Top Tips for Creating a Baby Capsule Wardrobe
Now that you're somewhat convinced that this is the way to go, here are a few guidelines you can follow to create the minimalist baby wardrobe of your dreams without sacrificing cuteness.
(If you're starting this journey during pregnancy, make sure to add clothing you want to your baby registry!)
Read Next: Minimalist Baby Registry Basics – to Skip the Clutter
1. Come up with a list of items that you WILL want.
This is going to be individual to every mama, but if you're looking for a jumping-off point, you can start with this list. This will also vary depending on seasons and weather in your area.
And just to give a spoiler alert – in those early days, sleepers and onesies are going to be your best friends.
How Many Baby Clothes Do You Need?
7-8 onesies
5-6 sleepers
1-2 sweaters/sweatshirts
1 outerwear item
4-6 outfits (about 5-7 bottoms, 2-3 tops. Remember onesies can also be used as tops!)
2 nighttime swaddles (sleepsacks later on)
2-3 pairs of booties
5-6 pairs of socks
You can adjust this list as you need to.
2. Determine what items are optional.
There are a handful of items that everyone says to put on your registry, but it's really up to you if you want to include them in your capsule wardrobe.
Here's a short list of items you may want to exclude:
Hats
Unless you'll be out in cold weather, a baby hat or cap isn't really necessary. You can add a hat on cold days, but many winter-type pieces of clothing or outerwear have hoods, and that may be all you need.
Baby Mittens
This is something you can definitely wait on. Once you determine if your baby has an issue with scratching him or herself, you wont' need baby mittens. And if you use a swaddle sleeper, the hands will be snug and secure away from the face.
Baby Shoes
Personally, this was a hard no for me. Until a baby is walking, shoes are totally decorative. They serve no practical purpose. My sons never wore shoes until they were over a year old; until then, they wore booties, and they served every purpose we ever needed.
Fancy Clothes
Unless there's a special occasion on your calendar, there's really no need for a fancy outfit. I'd recommend purchasing one if needed (weddings, funerals, baptisms, etc.), instead of having a closet full of them that they will end up wearing only once – or not at all.
Accessories
This is more of a girl thing than a boy thing, but if you choose to purchase those cute headbands and other types of girly accessories, limit your number to just a couple, and be sure they are in coordinating colors with the rest of the outfits you choose.
You Might Also Like: Minimalist Diaper Bag – How to Pack Less With Confidence
3. Buy clothes that coordinate.
The idea behind a capsule wardrobe is that just about every piece you have can be mixed and matched with something else. That way, you really have just multiplied your outfit possibilities without having to multiply the number of baby clothing items.
The easiest way to do this is to buy coordinating colors. Pick 2-3 core, coordinating and go from there.
Many stores do this for you. A certain shelf in a store will have several pairs of bottoms and tops that are coordinated in colors to be worn together. Even Walmart does it.
You can also often buy onesies in a set of 5 or 6 that coordinate as well. Take advantage of different themes or sets that the stores have already created.
If you're going rogue and decide to put your wardrobe together a la carte, choosing neutral colors can also be a help. You can always add in more color with a sweater or sweatshirt, socks, etc.
4. Buy coordinating sets in multiple sizes.
As I mentioned before, your baby will grow like an adorable little weed.
If you don't want to spend what precious little brain power you have on creating a brand new capsule wardrobe for each phase, buy some of those pieces in larger sizes so it will be a smooth transition.
As your baby ages out of one size and graduates into the next, you have some of those key pieces on hand for a seamless crossover. This can be especially helpful if your baby has longer legs and grows out of pants before he or she grows out of shirts, etc.
Having additional sizes until the change to the next season where you'll need a different capsule wardrobe is just enough.
5. Determine your budget.
You can purchase in store, online – wherever, but you should have a good idea of what you really want to be spending. Doing some research of how much things cost also helps as well.
Budgeting is also a great preventative measure for the times when you're in Target for 'just a few things,' and that adorable baby outfit is screaming at you.
To keep things simple, you could try choosing one store and know that store's coupon policy and sale cycle inside and out (you can even get clothes free!).
You can also shop the clearance racks for clothes for the following year. When the stores are clearing out the winter or summer fashions for that season, calculate how old your baby will be the next winter or summer, and grab a few of those pieces as well.
Pro Tip: To get the most bang for your buck, don't forget about thrift stores, yard sales, Facebook Marketplace, Buy and Sell or Mom Facebook groups… All of those items are great for getting discount and gently-used clothing for a capsule wardrobe.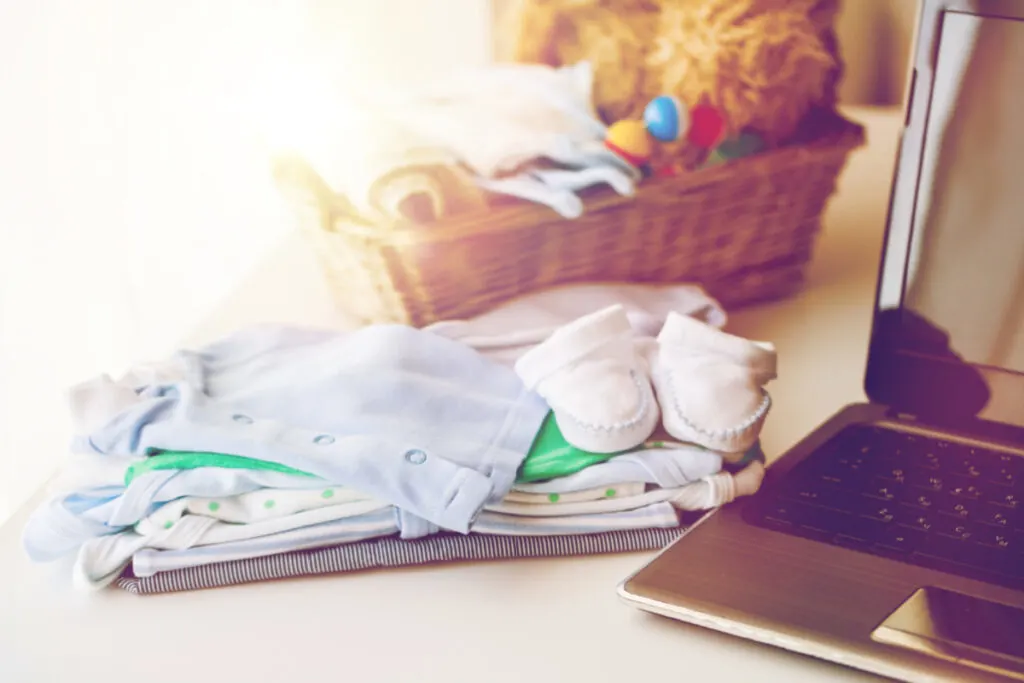 A Baby Capsule Wardrobe Can Make Mom Life A Little Bit Easier
Because a capsule wardrobe for your baby is even on your radar, this already tells me that you have common sense, a will to learn, and a bent toward planning.
You should feel great knowing that your mama instincts are already serving you well, not only in creating a minimalist baby wardrobe, but in your approach to parenting. It's sure to lead you with that same common sense.
Of course, a baby capsule wardrobe isn't for everyone. If fashion is your absolute joy, having a huge wardrobe for your baby with as many different outfits as possible might be worth it to you.
But again, my hunch is you're here because you love to keep things simple.
So if it doesn't matter to you one way or another, stick with a baby capsule wardrobe. You won't regret it!
Read Next: Top 12 Minimalist Baby Toys for The First Year (& Beyond!)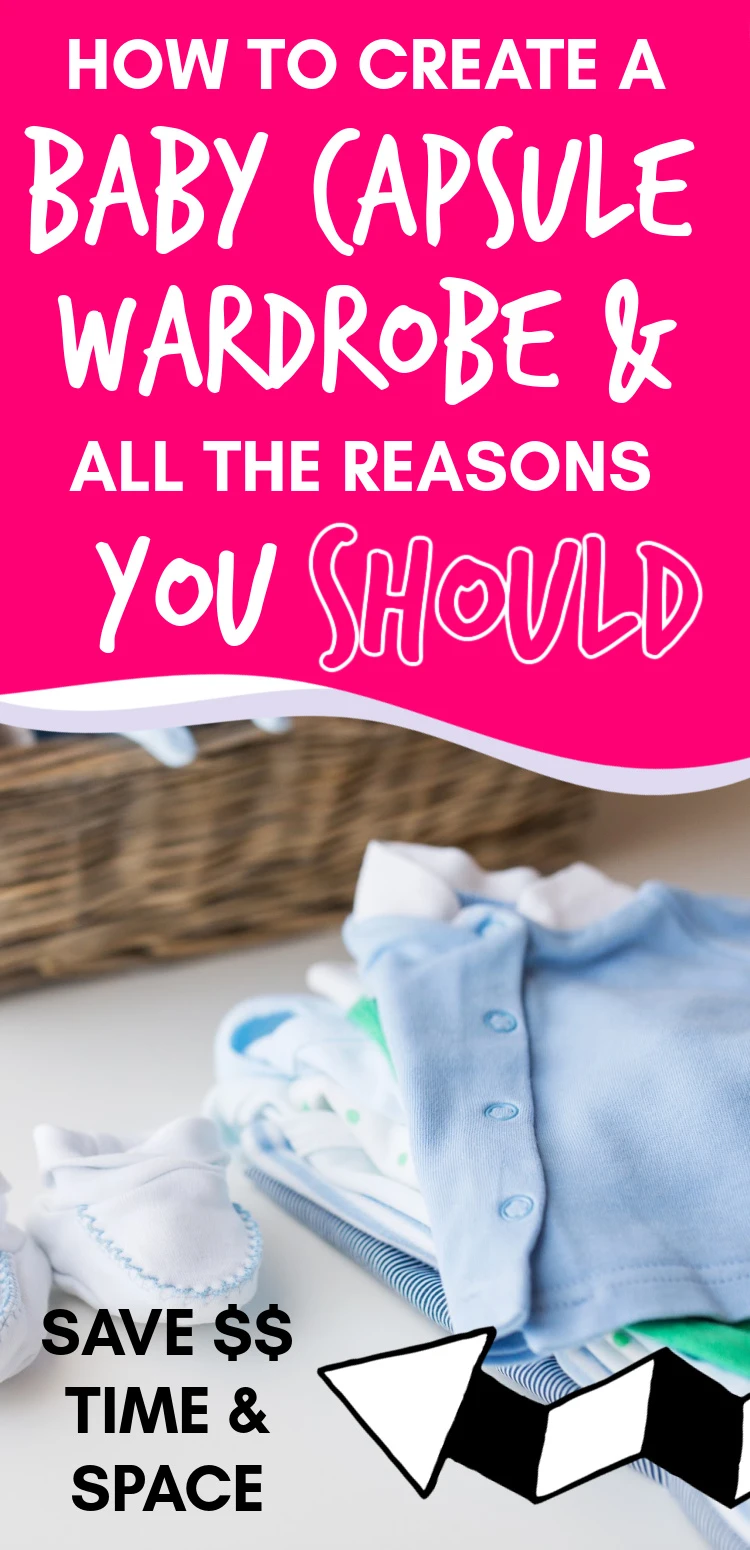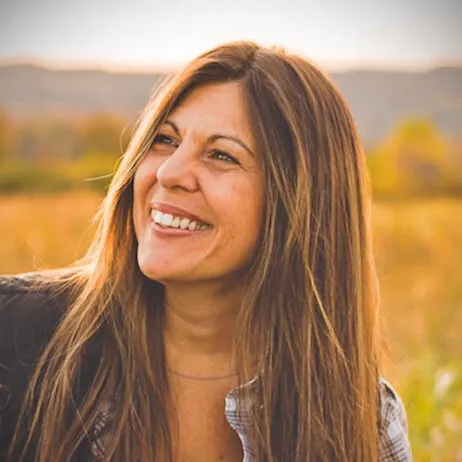 Kate is a former high school English teacher and current SAHM to her 5-year-old twin boys. A lifetime New Yorker recently transplanted in Tennessee, she keeps busy by learning her new way of life in the South, doing home decor and DIY projects, blogging at A Hundred Affections, substitute teaching, and figuring out how to survive in a house outnumbered by boys. And she loves Jesus very much.