Inside: Get proven advice for how to dress during pregnancy without maternity clothes. With a little bit of planning and a lot of insider tips, you really can avoid buying maternity clothes during pregnancy and save that money (and space storing maternity clothes later on) for everything else baby.
Congratulations! You're more than likely here because you (or someone close to you) is expecting a baby, and you want advice on how to avoid buying maternity clothes because they can cost a small fortune.
Maybe you think it's truly pointless to invest all that money for clothes you're only going to wear for 6-8 months, or maybe you truly can't afford to buy maternity clothes.
Perhaps you're the first of your friend group to get pregnant, so there's no one to borrow used maternity clothes from.
Or maybe you're just anti-clutter. Who wants to store maternity clothes for years in case you decide to have another baby?
Whatever your reasons for wanting to forgo maternity clothes, you've come to the right place. We'll list some of the best items to keep in your closet while you're pregnant that don't involve spending any extra money on those pricey and short-lived maternity clothes.
To find out exactly what to wear during pregnancy without maternity clothes, keep reading.
But first, let's talk briefly about women's bodies and pregnancy, shall we? Having realistic expectations is always a good thing.
Related: Self-Care During Pregnancy – 9 Ideas That Are Super Basic & Inexpensive
A Little Caveat About Women's Bodies and Pregnancy
You might already know this, but every woman's body responds differently to pregnancy.
I had friends who had the cute basketball bump. Some of these friends worked out during pregnancy; others didn't.
Other friends who were petite before pregnancy gained a ton of weight all over.
Even pregnancy to pregnancy, your body can respond differently. I gained fifty pounds with my first pregnancy, and my subsequent four pregnancies only 25-30 pounds.
While yes, you can watch what you eat and exercise throughout your pregnancy, you only have so much control over what your body decides to do while growing another human.
Some women can easily wear their pre-pregnancy jeans with a bella band right up to delivery. Other women need to ditch the jeans in their fourth month.
Bottom Line: Skipping maternity clothes can be trickier for some of us than others. But it's still possible – no matter how your body responds to pregnancy – to avoid buying maternity clothes if you can't or don't want to do so.
You Might Also Like: The Ultimate Pregnancy Survival Kit – 25 Essentials from Beginning to End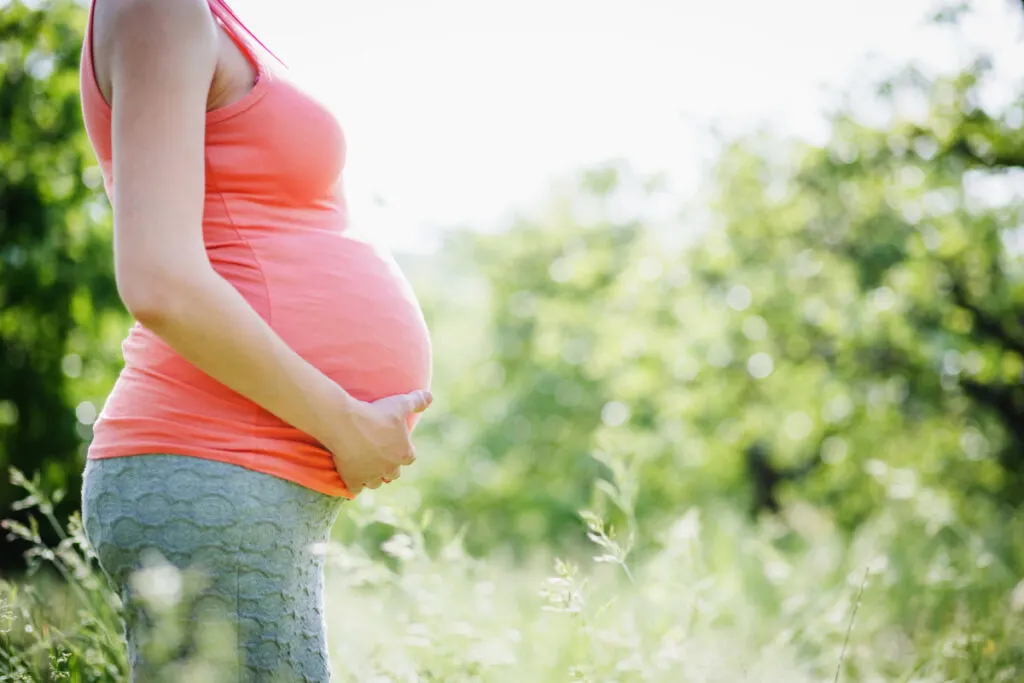 Dressing During Pregnancy Without Maternity Clothes: 5 Proven Tips
THIS POST PROBABLY CONTAINS AFFILIATE LINKS. AS AN AMAZON ASSOCIATE, I EARN FROM QUALIFYING PURCHASES. YOU CAN READ OUR FULL DISCLOSURE POLICY HERE.
I avoided buying a ton of maternity clothes for the most part during my pregnancies, borrowing from friends for earlier pregnancies and my later ones, getting by with just 5-6 maternity tops and one pair of good pregnancy jeans (which I only got because years ago, I figured out how to get brand new clothes for free).
Everything else in my pregnancy wardrobe was pieced together using these tips.
Five kids later, I know now that I could have easily done without the maternity clothes if I really wanted to. Although I'm not gonna lie, the one thing I probably would cave and buy again would be a good pair of maternity jeans.
So without further ado, here are my best tips for avoiding maternity clothes during pregnancy.
Related: When You're Feeling Unattractive During Pregnancy – 7 Practical Tips
1. Sort through your existing wardrobe first.
Do yourself a favor and save yourself the trauma of the "this is terribly uncomfortable" or "I can't fit into any of these things."
It's possible to build a wardrobe that adapts to your changing body throughout pregnancy without spending any money on maternity clothes.
In fact, you probably already have most of the items already. There's no need to run out and pay that extra fee for the "maternity" label.
Set aside 30 minutes to go through your drawers and closet so you can pull out the things that you'll be able to use during your pregnancy (see suggestions below).
Move these items to the front of your closet or your top dresser drawers, wherever they'll be easiest to access.
Soon enough, your belly is going to get in the way of a lot of things. It's time to do anything to make your life easier while you still have the chance and moving around is still fairly easy.
2. Choose tops that will grow with you.
Obviously, the biggest change you'll notice is your growing belly. But really, your entire body is growing to make room for your wonderful baby.
This includes your chest, your hips, and even your back!
Some women even experience their faces getting wider and their feet getting bigger (thankfully this didn't happen to me – replacing all your shoes can get expensive. YIKES.).
It's important to choose tops that will fit your changing body and suit your mood because that will also change daily, if not more often.
There will be days when you want to show off your baby bump, while other days, you just want to be comfy.
Stick to a good solid collection of loose-fitting shirts with some form-fitting options, too, but everything should still be breathable and comfy.
Here are a few shirts that will work for you throughout your pregnancy that aren't from the maternity section:
T-Shirts: some of your favorite baggy tee's will be your best friend, especially on those days when your feet hurt and you just want to rest at home. Thank goodness "boyfriend" tees are in right now.
Long Tank Tops: even those that are more form-fitting will be helpful to wear as support while your belly is growing and putting pressure on the rest of your body. They're also great for layering!
Cardigans and Hoodies: again, anything with a little stretch is what you're after here. If you are pregnant during the cooler months, these will help keep you cozy. Anything with a zipper, or an open front, is perfect.
Anything with "Ruching": the vertical gathering is usually on the sides of a garment like a top or dress, but it can be horizontal throughout the entire thing. Either way, ruching is your best friend during pregnancy. It will grow with you, but it also creates a very flattering fit that shows off what you want to, i.e., your bump, and hides the rest.
If you're coming up short on these options, you may need to invest in a few pieces. But wouldn't you rather invest in items you can wear during pregnancy and beyond?
I'd still advise skipping the maternity clothes. Buy a few boyfriend tees and some long tanks (H&M used to have amazing and cheap options) that will last far beyond your pregnancy and call it a day.
Extreme minimalists wear the same 7-8 shirts week in and week out.
If they can do it for life, you can do it for 5-6 months.
Remember: After you have a baby, your body won't immediately go right back to what it was before. Your postpartum period, or fourth trimester, still counts, so these clothes will come in handy then, too.
3. Pick bottoms that allow you to breathe and move.
You'd be shocked at how just the littlest bit of pressure on your abdomen makes it hard to breathe while you're pregnant. It's almost as if your vital organs are saying, "there's a human in here; please don't take away any more space."
So please, be kind to yourself, and don't try to squeeze into any skinny jeans or super tight pants.
If you prefer pants, choose ones that have stretch and that are made from breathable material. Leggings are always a great option. Not only do they stretch, but they also can be easily pushed down under your belly button for extra comfort.
Mom Pro Tip: If you have to wear structured pants, you can use a rubber band around the button, looped through the buttonhole, to give yourself extra room.

And of course, someone created a more sophisticated and modest version of this (no risk of accidentally showing your skin and open zipper) which you can buy HERE if you so desire.
However, the rubber band trick can get uncomfortable, too, so only do that if real pants are absolutely required. The original Bella Band is another option for making your existing pants work, so long as they are not too tight to begin with.
Below are a few more things you can add to your non-maternity, maternity wardrobe:
Leggings: for all of the reasons we already discussed, plus, you more than likely already have a pair or two.
Stretchy skirts: any knit fabrics you can either hike up or wear below the bump are ideal and will work if you have to go into the office.
Sweatpants, yoga pants, or joggers: these are an obvious option for more casual days or Zoom calls when nobody can see your lower half anyway.
4. Consider More Formal Non-Maternity Options
If you work from home or don't have to leave the house, you can get away with wearing whatever's most comfortable at that time.
But, for those that have to go into the office, or for times when you do actually have to go out in public, throwing on a pair of leggings and your old stained comfy tee – or your husband's – isn't your best option.
For occasions when you need to dress up, an actual dress is the most comfortable way to go. For anything extremely formal, you can actually rent dresses for formal occasions on renttherunway.com/maternity.
If you have any dresses that are more form-fitting, these can offer support in the months when your bump is starting to grow. Or, a loose-fitting maxi dress is another good choice.
If you wear a dress during the colder months, a cardigan or jacket will help make the overall appearance more formal, and you still won't need to get anything from the maternity section.
Leggings, a longer sweater, and boots are also a good option when it's cold and you have to venture outside your home.
5. Raid your spouse's closet.
I'm not kidding. Your husband's (or spouse's) closet is a goldmine for comfy pregnancy wear.
If your husband has an overflowing dresser and closet, sweet talk him (and show him how much you'll save) into opening his closet to you.
T-shirts, casual button ups, sweatshirts, winter coats or even sweats. There are so usually many great options.
I know because I absolutely used all of these clothes from my husband's dresser/closet during my pregnancies, especially towards the end.
Maybe it's a last resort, or maybe they become your wardrobe staples second trimester on. Whatever the case, your husband's closet is a great option to avoid buying maternity clothes!
Related: How to Be A Supportive Husband During Pregnancy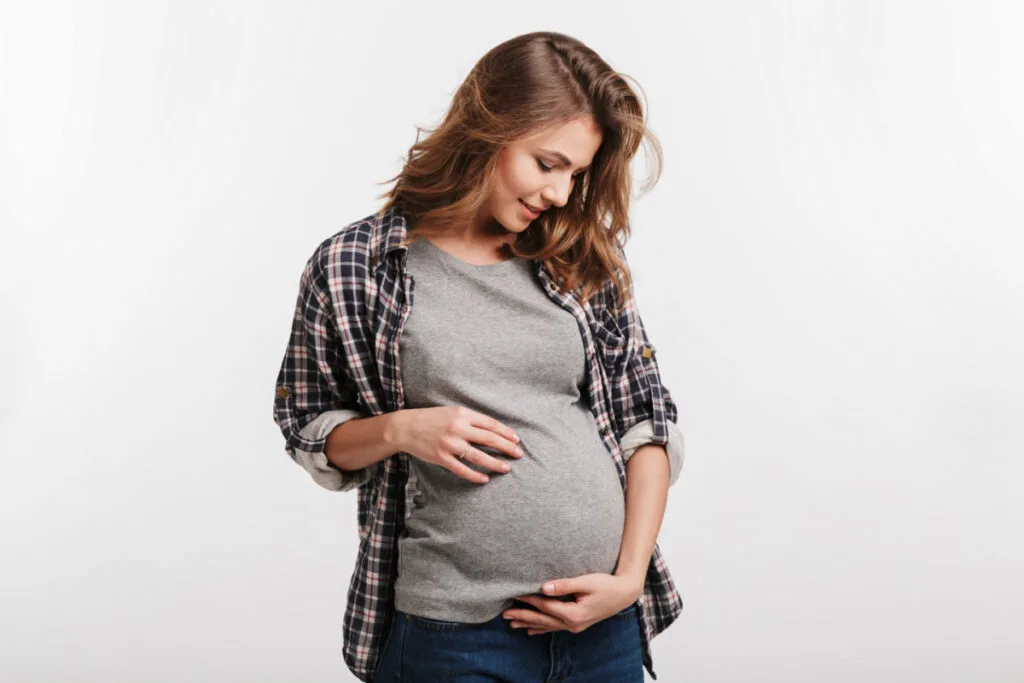 Dressing For Function and Comfort During Pregnancy
The bottom line is that you can successfully manage your pregnancy wardrobe without having to break the bank.
It's definitely a prudent decision to stash the cash that you would have spent on maternity clothes for just about anything else baby – hospital bills, maternity leave, formula.
And if you it's possible to survive pregnancy without buying maternity clothes, then why not do it?
With a little creativity and a lot of stretchy fabric, you'll be well on your way to an affordable and clutter-free pregnancy.
Related: Minimalist Baby Registry – A Guide for Having a Baby With Less Clutter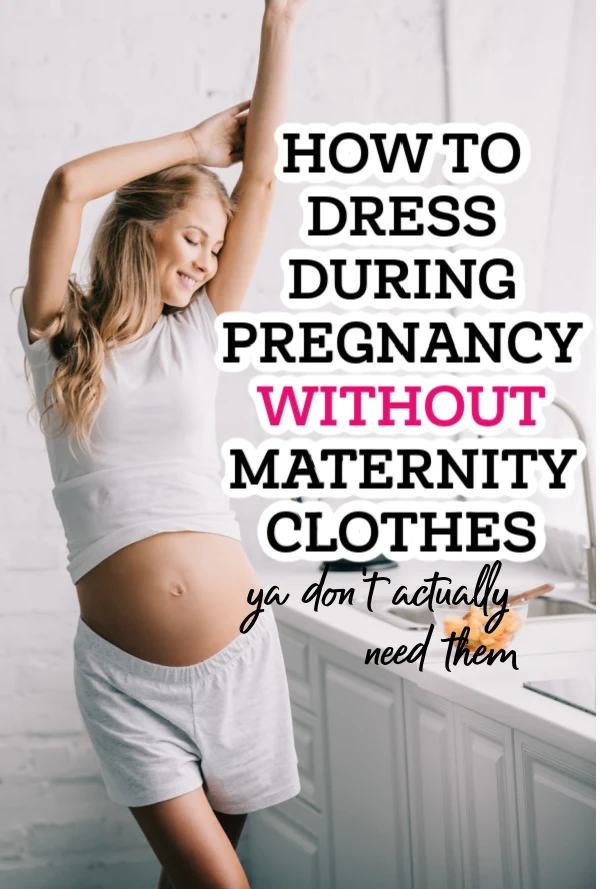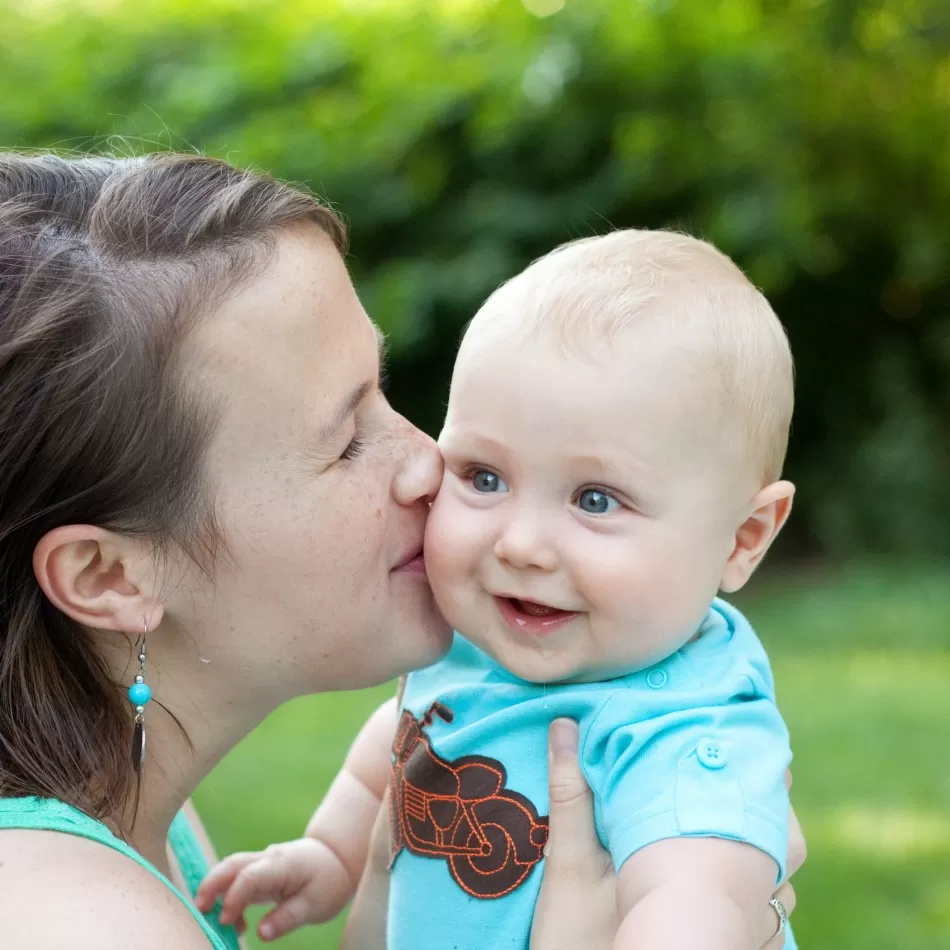 June could talk to you all day about homeschooling, parenting, and minimalism. When she's not homeschooling, decluttering, or blogging, she loves to enjoy perfect silence while sipping a hot cup of coffee and thinking uninterrupted thoughts—which, of course, with five kids, doesn't happen very often.