Inside: Looking for minimalist baby toys that will add value (not clutter) to your babe's life? The best part about this list is that many of these toys will grow WITH your baby and will be played long after she's left the baby years behind.
Babies come with lots of stuff.
At least, that's what we've always been told.
Babies are expensive. Babies need THINGS.
Well, as a mom of four, I'm here to give you some good news.
Babies don't actually need all the things. In fact, the opposite is true.
Too much stuff is overwhelming – for you and them.
This is especially true when it comes to toys. For the first year, babies actually need very little.
They are so new to the world that everything is entertaining. Everything is stimulating. Everything inspires wonder.
So do yourself a favor and choose fewer toys. But pick ones that are high quality and will give you more mileage during the first year and beyond.
Here's a list of 12 minimalist baby toys minimalist moms LOVE.
These toys will serve your baby well, many of them not just for their first year but well into childhood.
(Make sure to shoot this list to Grandma and Grandpa for Christmas and birthdays! Or if you're expecting, shoot your girlfriend who's planning your baby shower this post.)
Related: Minimalist Baby Essentials – The Only Things You Truly Need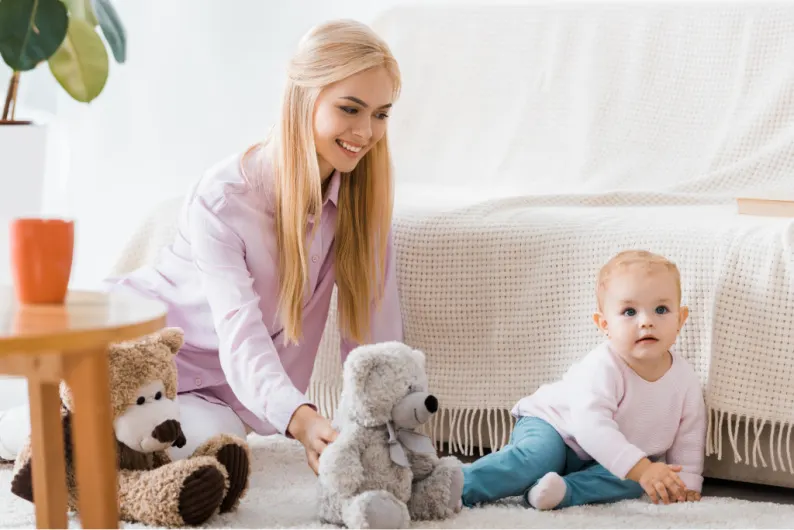 12 Best Minimalist Baby Toys
1. Playsilks
Playsilks are popular around the blogosphere and have been for years.
Why?
Because they are a toy that can be used, quite literally, in an infinite number of ways. They can be used by kids of any age, and are equally loved by both boys and girls.
They are widely used in Waldorf and Montessori circles, but they are quickly gaining traction with a more mainstream audience as well.
During baby's first year, playsilks can be used to play "peek-a-boo" or "hide the toy".
Then, during later years they become a valuable addition to the dress-up trunk and can be used as princess dresses, superhero capes, or anything else your little adventurer might dream up.
You Might Also Like: How to Manage Housework With a Baby (without exhausting yourself)
2. Blocks
Soft blocks, like this set from Target's "B. Toy" line, are great for even the tiniest of hands.
Plus, Target nailed the color choices! If you have to have toys, this is an attractive set to have in your home.
Bonus: they have fun textures perfect for teething tots to explore!
With them, you and your little one can practice counting as you build a tall tower and then watch them giggle with glee as they knock it over.
You could also try mega blocks like THIS colorful set, which fit together and are the perfect stepping stone to duplo blocks. Kids enjoy them up to age 4.
Note: You can opt for a wooden alphabet block set like this one, instead. Just keep in mind that wooden blocks can be harder on little mouths and faces…like when your baby is lying on the floor holding one and accidentally drops it on her face. Ouch!
3. Balls
Balls are a classic toy for any age.
But this textured set by Infantino is inexpensive, provides sensory stimulation, and helps little ones develop hand-eye coordination through play with Mom and Dad.
Balls also grow with your child.
These so-called "baby toys" will be favorites for a long time (trust a mom of older kids – it's true!).
4. Activity Cube
Activity cubes reduce toy clutter by providing multiple ways to play all in one cool cube.
This old school toy also helps babies learn shapes, colors, and numbers while working on coordination and motor development.
No toys to put away at the end of an exhausting mom day? Priceless.
5. Wooden Teethers
Wooden teethers offer a safe and natural alternative to the ones we typically see in stores.
Plus, they are beautiful and durable enough to stand the test of time.
6. Soft "Crinkly" Books
Babies are hard on books, no doubt.
But we all know it's important to read to them from birth and raise them in a language rich environment.
Part of doing that includes exposing them to books from an early age. Soft "crinkly" books made of fabric are durable and hold up well to a baby's curious hands.
Editor's Note: Our favorite board books were Sandra Boynton's! Find our Top 7 Sandra Boynton Books HERE.
Plus, the noise, bright colors, and fun textures offer a full sensory experience.
Related: 40 Best Board Books for Babies Under 1
7. Favorite Stuffie
Little ones love stuffed animals.
They are so much fun to snuggle and carry around.
The problem comes when the collection keeps growing and begins to take over baby's room.
By offering your tiny tot one or two favorite lovies to hold close, you can give them a friend to grow up with, sans clutter.
Related: What To Buy a Newborn for Christmas – 17 Perfect Gift Ideas
8. Rainbow Stacking Blocks
This unique block set is gorgeous and great for toddlers to practice nesting, stacking, and learning all about color and size.
Later on, they can use them as tunnels for cars or rocking cribs for baby dolls. A toy that has multiple uses and inspires creativity is classic minimalist!
Plus, it's durable enough to pass on to your next baby, too.
Related: How to Get Things Done with a Clingy Baby (13 Sanity-Saving Ideas)
9. Toy Phone
Little ones see their parents talk on the phone all the time! A toy phone is another perfect minimalist baby toy that will stay with them as they grow.
You can always recycle an old cell phone (kids of all ages adore older flip phones, especially), just make sure that it is baby safe – no small parts can be bitten off and batteries removed.
Or you can go with this vintage toy phone. Can you say Toy Story?!
10. Vehicles
Simple cars provide hours of fun for babies and toddlers alike. Little ones especially enjoy making sound effects to go along with rolling them around on the floor.
Heck, even my bigger kids still play with cars. Not just my boys either. We've graduated on to Hot Wheels, but my little ones played with ones like these wooden ones from Melissa and Doug for years!
Another great option is THIS set from Green Toys made from 100% recycled plastic.
Bonus – these pack perfectly in the diaper bag for entertaining little ones on the go!
11. Nesting Cups
This set by First Years is inexpensive, compact, and versatile. It's great for the bathtub, diaper bag, or even a few minutes of solo play while Mom grabs a shower.
Babies can use these to learn colors, practice size comparison, and work on fine motor skills by stacking and nesting.
If you like a more modern aesthetic, these stacking cups from Denmark are a bit more decorator friendly! They can be easily transitioned from bath to living room, too.
12. Rattle
Rattles are considered classic for a reason. They are easy for small hands to manipulate and babies love to hear the sound they make.
Upgrade from the standard rattle and grab a wooden one like this instead. It's easy on the eyes and will last through baby's first years and beyond (hint hint! It will last you through to baby number 2!).
Plus, your baby can give it to her baby doll when she gets older.
Related: What Baby Stuff Should I Keep? Clear Guidelines to Help You Decide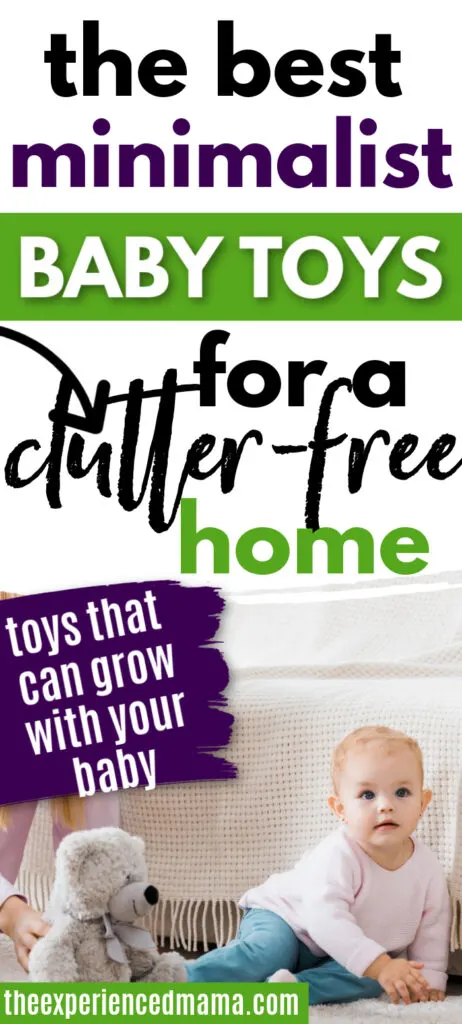 Final Thoughts
Well, there you have it – our top picks for minimalist baby toys moms will love.
Take our list with a grain of salt. You don't need every item on this list. And we may have missed something you already own and love.
But we hope it's a great starting point to show you that less is best when it comes to toys for baby's first year.
You can even rotate them to occupy baby for longer and get more things done with a baby.
Opt for fewer and higher quality when buying for your little one and you won't go wrong.
(This might be a great list to share with grandparents, so you get gifts you actually want in your home for Christmas and birthdays. Don't forget to start Christmas traditions, too – it distracts from the gifts)
Looking for toys for outdoor play, instead? Check out this list of the best outdoor toys for one-year-olds, curated by a veteran mom of 5!
Read Next: How to Organize Baby Stuff in Small Spaces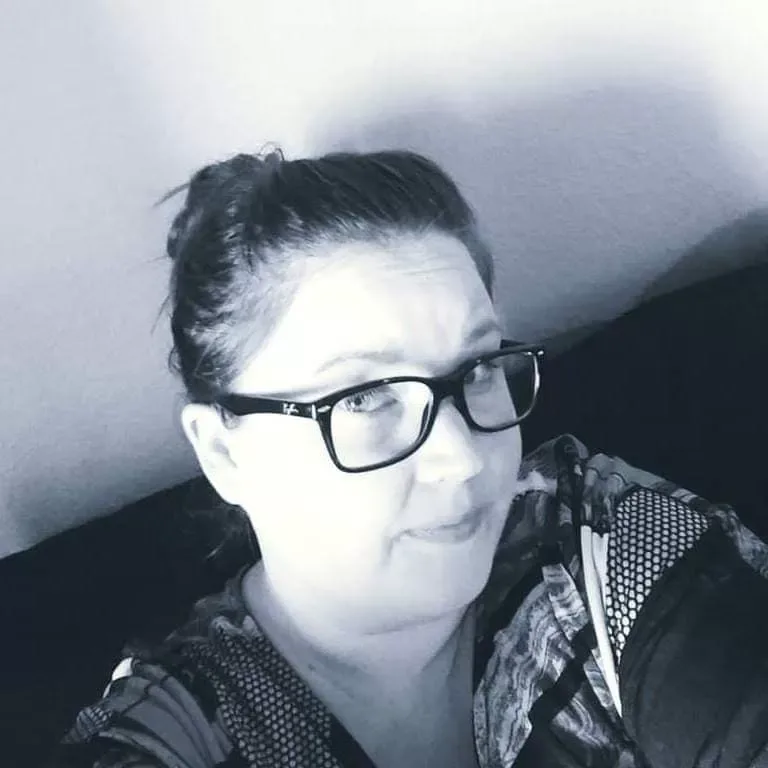 Amy is a freelance writer and blogger who homeschools her tribe of tiny humans while pursuing her lifelong dream of becoming a published author. She is fueled by coffee and the desire to do ALL. THE. THINGS. She has the attention span of a squirrel, though somehow manages to make it through each day with everyone fed and happy (well, mostly happy! Ha!) while striving to make every tomorrow better than the last. You can hear more of what she has to say over at Real Talk with Amy, where she blogs about all things motherhood.