Inside: Baby's first books are ones that will stay with her for a lifetime, the ones she will be able to recite by heart because they are read over and over again. These are the best board books for babies under 1 – agreed upon classics that every baby needs to hear at least once!
The sun has set not long ago. Now everybody goes below, to take a bath in one big tub, with soap all over, scrub, scrub, scrub. ♥ Sandra Boynton
It doesn't matter that it's been years since we've actually read The Going to Bed Book by Sandra Boynton every single night before bed (often multiple times).
All three of us – me, my husband, and my oldest daughter – can still recite it line by line, nearly ten years later.
Baby's first books will most likely be the ones she'll remember forever, the ones she wants to read to her own children when she grows up. But whether your baby actually remembers them or not, those first books start the process of becoming reader, and equally important, create a special bond with you that will last a lifetime.
Children are made readers in the laps of their parents. ♥ Emily Buchwald
Related: How to Organize Baby Stuff in a Small House (books, toys, clothes, all the things)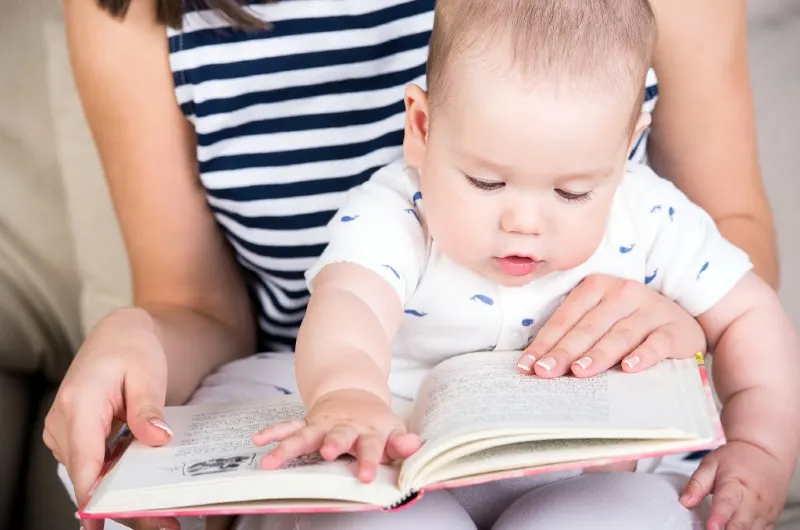 Why Baby's First Books Are So Important
THIS POST PROBABLY CONTAINS AFFILIATE LINKS. IF YOU LIKE LEGAL JARGON, YOU CAN READ OUR FULL DISCLOSURE POLICY HERE.
As a minimalist, I definitely asked myself this question with my last two kids. I was pretty reluctant to purchase any new books, when they were probably just going to get destroyed in less than a year!
We decluttered all of our books, including children's books, until we were down to only a couple shelves of books. We rely heavily on the library for most of our reading and usually have more than fifty books out at a time.
It's a great way to save both money and space. Plus, books from the library are novel and far more likely to be read.
So why not just use the library for all your baby's first books? Why are baby's first books (that you actually own) so important?
There are several good reasons to create at least a small collection of board books for babies under 1.
1. Babies benefit from hearing those first books read over and over again.
Devon Corneal of Read Brightly points out that:
Hearing favorite stories read aloud helps children become aware of the pattern and rhythm of text. Language is more than just words — it's how words sound and connect to each other. Parents can model the rhythms of reading for children who are just learning how language works.
As your baby grows into a toddler, you'll find that they ask for the same books over and over again to the point where you will seriously consider losing that worn-out copy of Brown Bear, Brown Bear.
But as much as it kills you, keep reading those same books because repetition is one way your child is learning how to read. Plus, having that book on the shelf when they ask for it is a life-saver (as opposed it having to say, "We took it back to the library…").
2. Babies are ROUGH on books.
Babies love to chew on just about everything, and their books are no exception. You can't really blame them – it's how they learn about the world.
But do you really want to tell that to a librarian? (I've done it – it's SO not fun. One of my kids was a book ripper, but that's another story for another day.)
You want to have at least 5-10 books that you own, so your baby can explore without you constantly pulling it out of his mouth.
3. Reading aloud to your kids is a strong predictor of academic success.
Jim Trelease, author of The Read-Aloud Handbook, suggests that,
People would stand in line for days and pay hundreds of dollars if there were a pill that could do everything for a child that reading aloud does. It expands their interest in books, vocabulary, comprehension, grammar, and attention span. Simply put, it's a free 'oral vaccine' for literacy.
Reading aloud is hands-down the best thing you could do for your kids – even more important than making them do their homework! The earlier you start, the better.
4. Reading-aloud builds strong family relationships.
Some of the best memories I have with my kids are reading books together. I had the privilege of introducing my daughter to treasured books when she was small:
Those early years of reading created a family culture around books, so when she grew up, I had the privilege of introducing her to The Lion, The Witch and the Wardrobe and Charlotte's Web and eventually my very favorite Harry Potter.
We know the characters like we would know friends. And it's so much fun to share an inside joke or book reference! If you start during the baby years, you can create a family ritual of reading aloud that will last a lifetime.
Related: The Top 12 Minimalist Baby Toys for the First Year (& Beyond!)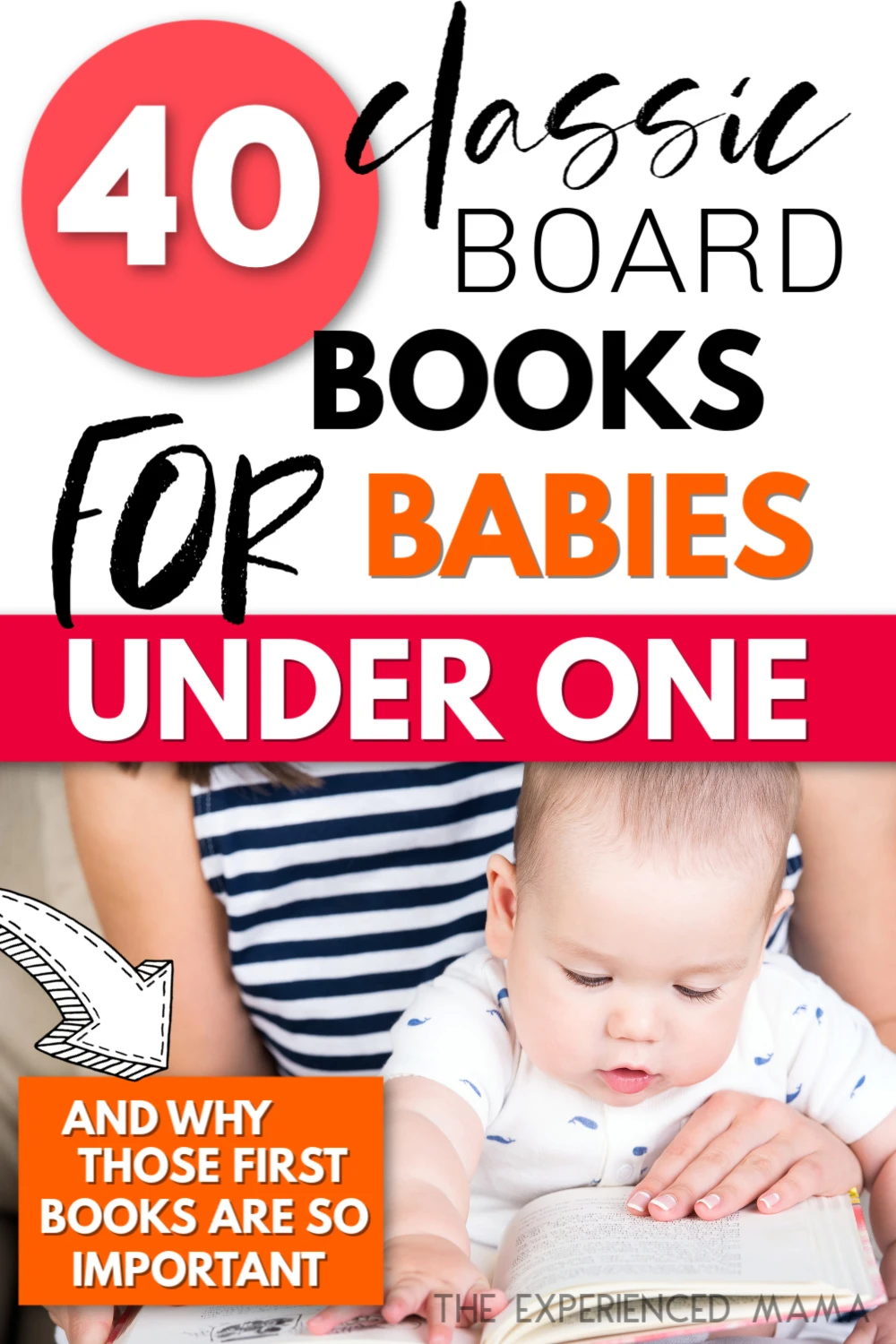 40 Best Board Books for Babies Under 1
We've read all of the books on this list multiple times, and they are all fantastic! You really can't go wrong.
BUT. If I was building our baby's first library all over again, I would probably start with anything by Sandra Boynton and Eric Carle.(The Belly Button Book makes me giggle every single time.
We leaned toward funny instead of sappy and sweet, make you tear up every time you read it kind of books. But if that's your thing, make sure to check out this list.
There's something for everyone!
Related: Things to Do With a 6-Month-Old (To Keep Boredom at Bay)
A variety of animals are introduced in this well-loved book, using repetitive sound patterns and brightly colored illustrations.
A treasure for every collection.
In this classic book, a hungry caterpillar eats and eats, day after day, until he winds up with a big stomachache.
But in the end, it is all worth it as he transforms into a beautiful butterfly.
This board book is part of the Good Night Our World series, exploring iconic locations around Boston, including Fenway Park, the New England Aquarium, the Boston Tea Party Ships, the Swan Boats and many more.
There are several cities to choose from (this one's just near and dear to my heart!), so you can find one that's a perfect fit for your family.
In this classic children's book, a little bunny settles in for bed-time and says goodnight to everything in the room–from the three little bears sitting on chairs, to the mittens and the kittens, and the clocks and socks.
A gentle rhyming story perfect for bedtime.
We still know this one by heart after reading it over and over again to our first child! Silly animals get ready for bed-time as they scrub in the tub, brush their teeth, and rock to sleep.
A hilarious bedtime book for babies under 1 (thought they might not find it quite so funny until later on!).
Related: The Best Sandra Boynton Books (that parents actually love reading)
Pookie is NOT happy. Can Pookie's mom figure out what is wrong with her sweet little piggie?
Sandra Boynton writes yet another fantastic board book!
A Hippopotamus is left out of the fun as the other animals have various adventures together. But will she agree to join them when they finally invite her along?
In this colorful book, a beautiful fish with shiny scales finds friendship and happiness when he learns to share his most prized possession.
In this debut picture book by Jimmy Fallon, a father is determined to have his baby's first word be Dada. Will he succeed? Get it and find out!
This silly story about the sounds animal make, including three pigs that say "la la la", will quickly become a favorite! It was one of the board books we completely wore out reading over and over again. Sandra Boynton was super popular in our house!
In this classic lift-the-flap board book, little ones will love discovering all the animals sent by the zoo, including a monkey, a lion, and an elephant. But will the zoo also send the perfect pet?
With twirling pigs, fiddle-playing cows, and other silly barnyard animals, kids will love to sing along with this barnyard crew. Set to fun rhyming text.
Little Nutbrown Hare wants to show his daddy how much he loves him, and his daddy wants to show him right back.
This adorable board book perfectly captures the endless love a parent has for their child.
A tale of a brave family's adventures as they search for a bear. But will happen when they actually find him?
The rhythmic text will have you singing along.
All the letters of the alphabet are in a race with one another up the coconut tree. But will there be enough room for them all?
This well-loved children's book introduces the alphabet in a clever and fun way.
Equipped with only a large purple crayon, Harold creates a magical world for himself, through woods, across seas, and past dragons.
This story shows anything is possible when you use your imagination.
A recent favorite of ours because I just discovered this book with my preschooler (not a baby under one, but better late than never)! The pout-pout fish discovers being glum and spreading "dreary wearies" isn't really all that much fun. This rhyming book full of colorful pictures is sure to turn the biggest frowns into great big smiles.
The rhymes are so memorable that our whole family can still recite the refrain all together:
I'm a pout-pout fish with a pout-pout face. I spread the dreary-weary all over the place.
In this sweet rhyming story of unconditional love, a toddler and a teddy bear show what it's like to be loved beyond measure through all their emotions.
Follow along from morning until nighttime as the barnyard animals spend their day on the farm. The simple, rhythmic is perfect for young listeners.
Join a big friendly bear and a small boy as they embark on a berry-picking adventure searching for blueberries, blackberries, and strawberries.
Full of fun rhymes and colorful illustrations.
Little ones will love the bright pictures and the variety of textures as they meet all different types of puppies in this touch-and-feel board book.
The entire series is so endearing, and even parents love discovering what new textures will show up on the next page!
Another in the Usbourne "Touch and Feel" series, this board book is another winner! Especially babies under one will love touching the various surfaces of airplanes in this touch-and-feel book as they search for just the right plane.
As bear sleeps soundly in his cave, several of his animal friends sneak into the cave to escape the cold. What will happen when he finally wakes up and discovers his cave if full of uninvited guests?
A perfect book to read at bed-time, Snuggle Puppy is full of fun, sing-a-long rhymes and shows the special love between a mama doggie and her pup.
Little Owl falls out of his nest and is looking everywhere for his mommy. With the help of his friends, he finally locates her. But will he fall out of his nest again?
This sweet story is full of baby animals snuggling with their daddies. A perfect book for a bedtime snuggle with Dad!
Ten Tiny Toes is a fun rhyming book that teaches babies and toddlers about their mouth, ears, eyes, nose, arms, belly, legs, and toes. A delightful twist on the classic song, "Head, shoulders, knees and toes!"
Count along as a group of peas have one adventure after the other. This board book boasts bright, bold numbers and magical scenes babies love.
In this perfect book for bedtime snuggles, a young girl and her mom ponder how animals might say good night to each other. Full of playful, rhyming text and engaging art!
Here comes the Tickle Monster! Is baby ticklish? No—except for his feet, his tummy, his armpits…and maybe a few other places. Read about tickling, and then enjoy tickles all around!
All of Leslie Patricelli's books are excellent for babies under one. We loved the first one we ever read and made a point to track down the rest of her work.
Chock full of bright, bold photographs, this is the perfect book to introduce a variety of animals–from pets, to farm animals, to different kinds of birds.
Little ones guess who's hiding behind the window in this fun lift-the-flap interactive board book with simple rhymes. The surprises along the way will keep babies engaged until the very end.
Sandra Boynton knocks it out of the park again with this hilarious board book! A beachful of bare-bellied hippos star in this fun sing-a-long book sure to elicit some giggles.
The best part about Boynton's books is that mom and dad love to read them, too.
While mama bird is away finding something for her baby to eat, baby bird hatches and sets off from the nest to find her. Not knowing what she looks like makes the process a little challenging. A sweet book about the bond between a mother and her child.
A perfect book for the very youngest readers. Full of animal photographs featuring adorable puppies, kittens, penguins, and many more.
This touch-and-feel board book follows Curious George, the loveable and mischievous monkey, as he has an adventure at the zoo. George wants to play hide-n-seek, and babies under 1 especially will love trying to spot him on each page.
A sweet story about unconditional love and the magical moment when someone unique and special arrives. This one is for all the sentimental parents out there!
Beep! Blue is on an adventure in the country when he gets stuck helping a dump truck out of the mud. Blue calls to his animal friends to help him and the dump truck out of the mess. A sweet story about friendship and helping others.
It's time for supper, but Spot the puppy is missing. In this interactive lift-the-flap book, little ones discover many surprises while helping Spot's mom search for him throughout the house.
Ducky Ducky much prefers mooing over quacking. Is he confused? Not feeling well? Told in rhyme, this book encourages each one of us to just be ourselves.
Did I miss any best board books for babies under 1? Share in the comments!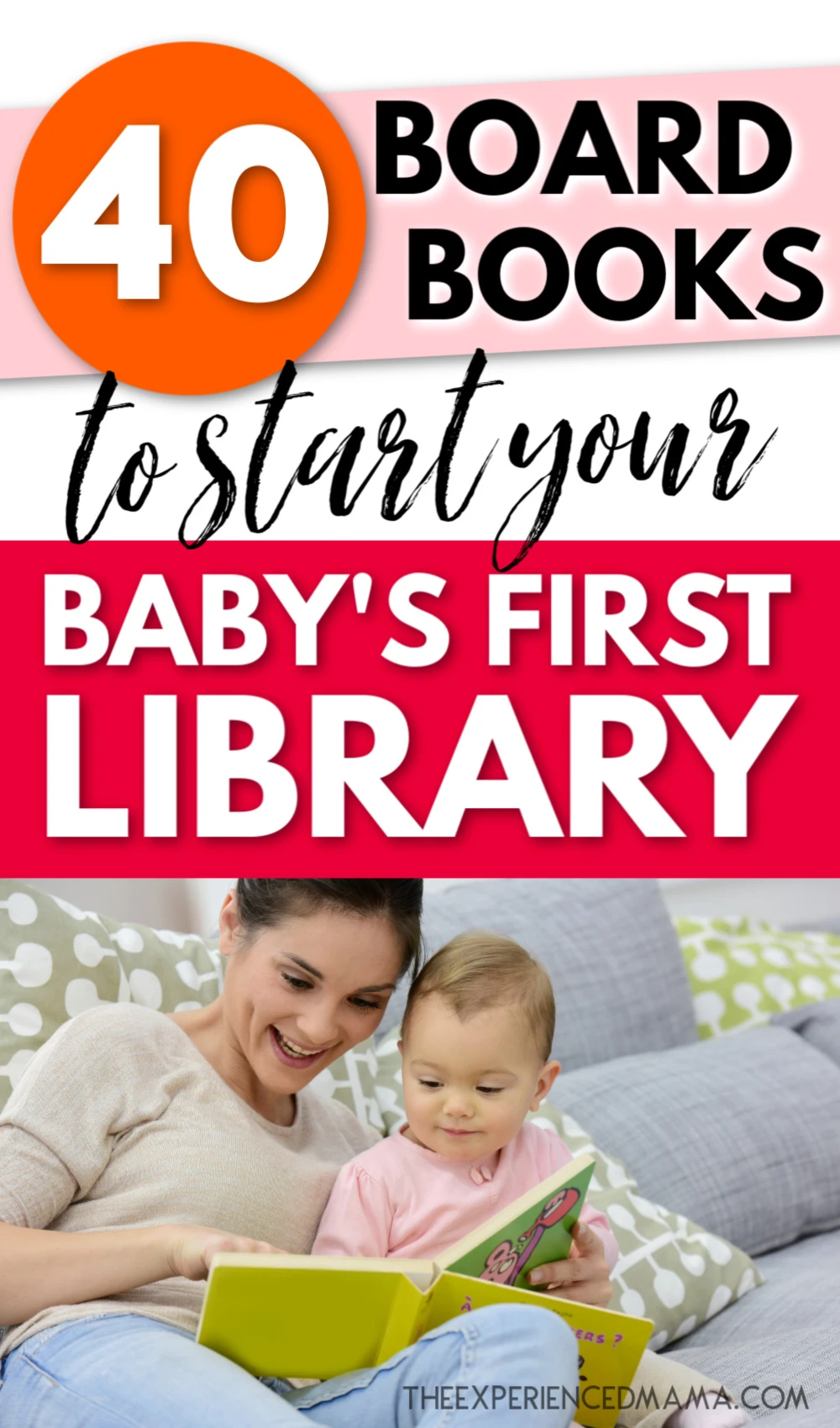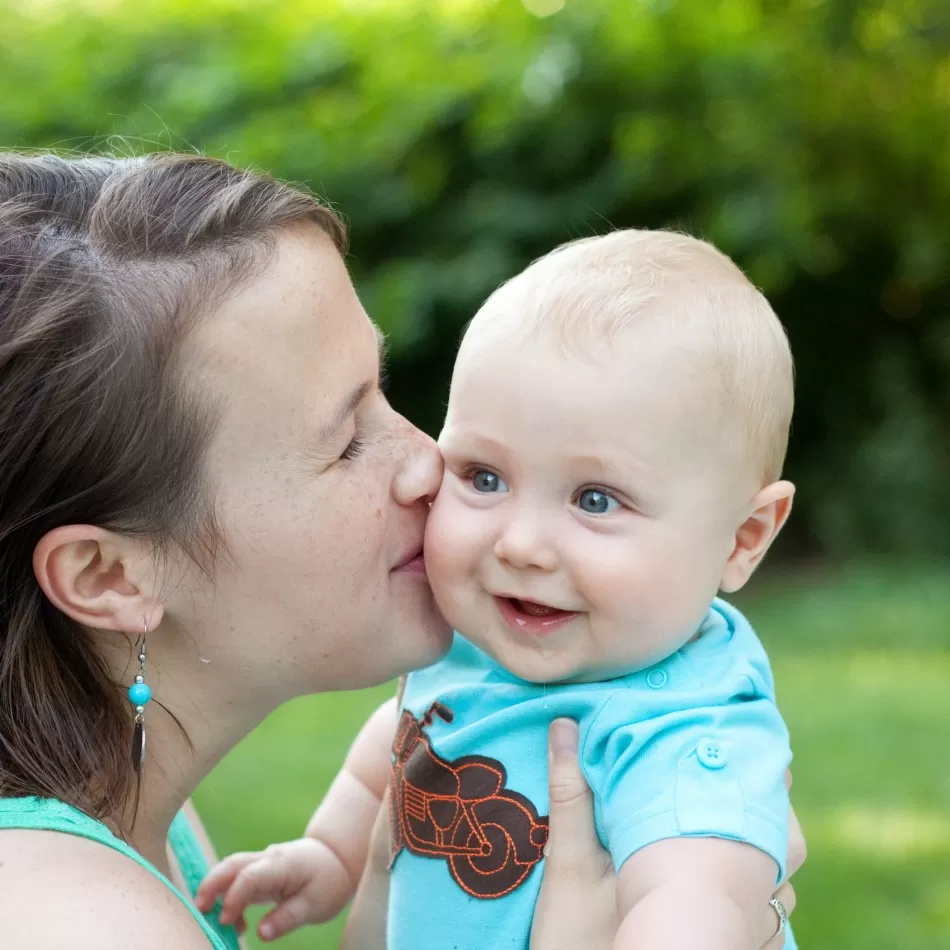 June could talk to you all day about homeschooling, parenting, and minimalism. When she's not homeschooling, decluttering, or blogging, she loves to enjoy perfect silence while sipping a hot cup of coffee and thinking uninterrupted thoughts—which, of course, with five kids, doesn't happen very often.