Inside: Getting your toddler outdoors is pure MAGIC. They play longer independently, giving you a much-needed mental break! Curate an outdoor play space with just a few of these best outdoor toys for one-year-olds, many of which will grow with your child.
"Noooo!" I cried out, trying to tone it down just a smidge so it didn't scare her.
Too late. She dumped out another bin of toys. While I was still busy cleaning up the last two.
I was ready to pull my hair out from cleaning up all the messes, while dealing with the sheer boredom that often sometimes is playing with a one-year-old.
(As adults who probably used our brains at work all day in the not-so-distant past, we know that one can only roll the ball, help do a simple puzzle or God forbid, watch Elmo's World more than once.)
It was time to move this party outside.
Thankfully, we lived across the street from a park at the time, with a paved bike path in the backyard. The outdoors beckoned us every day, and except when it was freezing cold, I answered because: sanity.
But ya know what would have been REALLY nice to have? A porch or yard where we could permanently store outdoor toys.
Now that we have a home of our own, I know the joys of a deck, garage and driveway where toys can live all the time for hours of happy outdoor play.
Five kids later, here's what I would have stocked that space with. I give you the absolute best outdoor toys for one-year-olds.
You Might Also Like: How to Get Things Done with a Baby – 13 Tips from a Mom of 5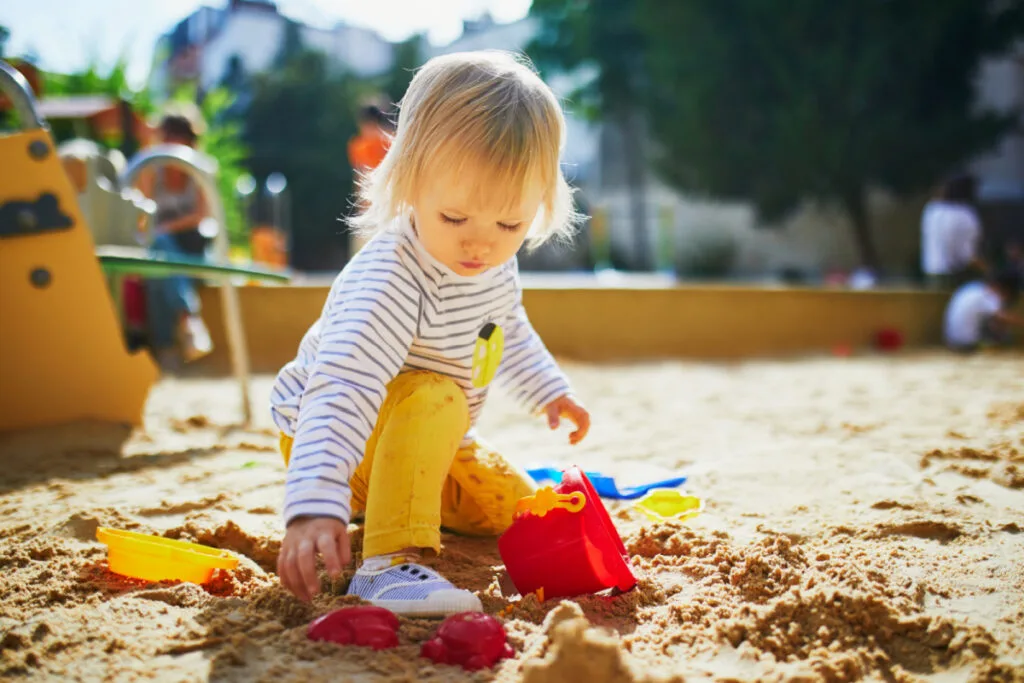 Why is Outdoor Play Important for One-Year-Olds?
THIS POST PROBABLY CONTAINS AFFILIATE LINKS. AS AN AMAZON ASSOCIATE, I EARN FROM QUALIFYING PURCHASES. YOU CAN READ OUR FULL DISCLOSURE POLICY HERE.
Before we dive into the best outdoor toys for one-year-olds, let's take a moment to discuss why outdoor play is so important for this age.
(I mean, we know theoretically it's good to get them outside, but…why, again?)
Research has shown that outdoor play offers a multitude of benefits for little ones:
Increased mental and physical performance
Enhanced activity levels (Which at this age can instill healthy habits that they can carry with them later into childhood and hopefully into their teenage and adult years as well.)
Reduction of stress
Improved moods
Better sleep
Also, did you know that recent studies show spending time outdoors decreases the likelihood that your child will develop near-sightedness? (Source)
Honestly, we can all benefit from a little outside time.
Outdoor activities help build coordination and strength and increase your child's imagination and creativity.
Plus, getting outdoors is a great way for your child to get some fresh air and vitamin D.
Then there's the fact that simply stepping outside with a one-year-old – even for just a few minutes! – can fix a bad mood or stop a meltdown in its tracks.
And if you choose the right outdoor toys, your one-year-old will stay occupied longer, giving them more of those super awesome physical/mental health benefits, and you a much-needed mental break.
You Might Also Like: How To Get Things Done With a Clingy Baby – 13 Sanity-Saving Ideas
13 Best Outdoor Toys for One-Year-Olds
I've included outdoor toys that are ideal for summer fun and others that can be used in any season, too.
Keep in mind that you don't even need these things to have a good time outside: if you have a park nearby, take advantage of NOT needing to buy these things.
One thing to note: I left sidewalk chalk off this list because one-year-olds are far more likely to eat the chalk than draw with it. Save this for older kiddos!
(I'll follow-up with some tips for getting outdoors even when the weather is crappy. Having the right gear can make all the difference!)
1. Water and Sand Table
These genius tables are one of my top picks because they are so versatile!
Too hot? Fill this baby up with water. Kind of rainy? You can use it with mud.
Or you can add in any number of things, sand, beans, etc. Even using these sand and water tables exactly as intended provides hours of happy outdoor toddler time.
(But please, avoid filling this up with water beads. They are super dangerous, especially for this age! They can cause life-threatening bowel obstructions, so just say NO.)
2. Mud Kitchen
Whether you are playing in the mud because it is burning hot or because it's raining, the mess of a mud kitchen never fails to please a one year old.
Yes, it IS a mess, but it is also wonderful exploratory and imaginative play that your one-year-old will love.
(Just be sure to supervise closely so they don't sample their mud-cooking creations.)
The best place to look for mud kitchens is hands-down Etsy. It's pricier, but the craftsmanship just looks so much better than the ones on Amazon!
3. A Plain Old Bucket & Shovel
It's incredible what toddlers can do with a simple bucket and shovel.
They will fill it with rocks, then dump it out and do it all over again!
They can also use it in the sand box, with peoples outside, at a creek. They can collect rain water with it, or make mud. Never has there been so versatile a toy as a bucket and shovel.
And you know what's insanely hard to find? A metal bucket! We've broken so many plastic ones. If you find a metal one, grab it.
4. Slide
This Little Tikes slide is a simple and pretty small piece of outdoor play equipment that can be used in many ways and for hours at a time.
Climbing and sliding while developing coordination skills is fun enough but you can even slide right into a toddler kiddie pool as well!
If you want, you can clean it up and bring it inside for the winter, too.
5. 4-in-1 Radio Flyer Stroll n' Trike
This trike can grow with your child and is sure a lot more fun than riding in a stroller.
With four different grow-with-me options this stroller trike will get years of outdoor use and still hold up.
Plus the large wheels actually make this item really durable and even useful for offroading adventures.
6. Splash Pad
A splash pad is such a fun way to stay cool on a hot day for your one-year-old.
Because it's MUCH safer than a pool, you can both relax while your little one play outdoors with this affordable but useful toy.
The biggest concern with these are slipping. But you aren't worried about drowning, so that's a relief!
7. 3-in-1 Kids Play Tent and Play Tunnel
Can you think of any better outdoor toy than one that collapses down to almost nothing?
That's why play tents and tunnels like THIS one are a must-have toy for your toddler!
Especially if you have a small yard, small storage space, small house, this is one toy you don't want to skip.
It can be used indoors or outdoors for endless playtime.
8. Sandbox and Trucks
Sometimes the best outdoor toys for one-year-olds are the classics.
Sensory play is a must for little ones, and sandboxes more than deliver! Just make sure you choose a sandbox with a tight-fitting lid like THIS one to prevent animals from getting into the sand.
Throw in some fun trucks, and you are SET for outdoor play any day.
9. Play House
You can complete any outdoor play space by adding a play house.
Set your mud kitchen next to it, bring in pretend food or just let your little one bring in their favorite stuffed animals.
A playhouse will be used for years to come in all sorts of creative outdoor play.
Don't want a plastic one? If you're handy, grab plans for THIS DIY wooden playhouse.
Can't afford a playhouse, plastic or otherwise? That's ok! I've been there. Make a temporary one out of cardboard boxes, instead. They'll love it.
10. Step2 Play Ball Fun Climber
Want something fancier than your basic slide? THIS outdoor climber is perfect for active one year olds who love to climb!
Its lightweight design makes it easy to move around. Plus, it comes with an activity table, slide, and tunnel all in one piece.
11. Little Tikes Cozy Coupe
We inherited a couple of these Cozy Coupes from grandparents, and they were SO popular with our kiddos over the years!
If your little one is around eighteen-months-old, they are ready to try this classic toy.
You can help by pushing them around at first but eventually, your one-year-old will be Flinstoning themselves around in their favorite car and having a blast.
(You can often find these used on Facebook marketplace, Offer Up, or similar second-hand sale site!)
12. 3-in-1 Ride on Push Car
Don't think your one-year-old is quite ready for the Cozy Coupe? Try this 3-in-1 car instead (or in addition to).
This car is somewhat like a stroller but will change to grow with your little one so that one day they are doing the work, not you.
13. Bubble Machine
Having this indoors can make wooden or laminate floors quite slippery and dangerous, and of course, carpets can get SOAKED.
Save this one for outside. And if you've never had a quality bubble machine and only ever been subjected to blowing bubbles for HOURS, let me tell you: this will change your parenting life.
A machine that will do all the bubble-blowing work for you while you sit back and relax with a book? Amazing.
Plus, it will last for years. My older kiddos still adore bubbles.
(Don't forget to grab a gigantic thing of bubbles – or two!)
You Might Also Like: Are Grandparents Buying Too Many Gifts? Here's How to Handle It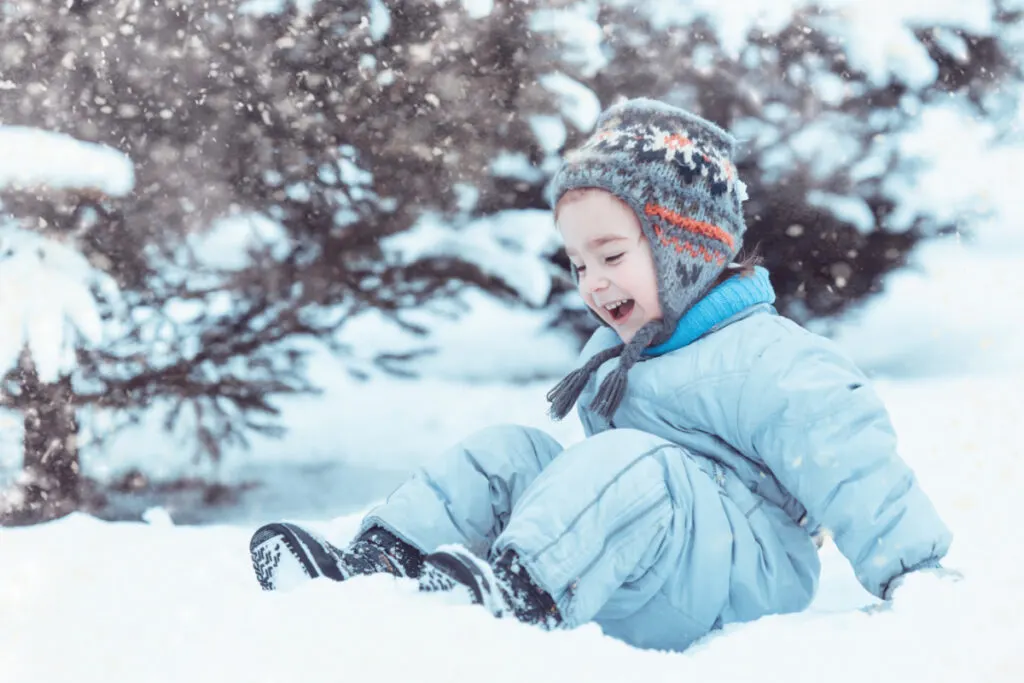 How to Brave the Weather and Play Outside Year Round
If you aren't sure how to play outdoors with your one-year-old on days when the weather isn't ideal, you really can do it.
(Only if you want to, of course – don't let things like the 1000 hours outside challenge shame you or push you to do more than you want to or can).
Desperation is a pretty powerful thing. It can drive you to brave all kinds of extreme weather just to get a mental break from the monotony of indoor play!
You really just need to dress for the weather, choose activities that suit the weather, and have a quick escape such as a change of clothes or staying near the house so you can run inside and warm up.
Depending on where you live you may need to get your child:
Not only can these items protect your child from the elements, but they will also empower them to explore and play creatively.
If they are lathered up with sunscreen and have a tent to provide shade you will feel a lot more comfortable letting them stay outside longer and exploring more.
The same goes for rainy or wintery days.
If your child is dressed properly with a little planning ahead, your outdoor time will stretch for hours and happen more frequently, with benefits for both of you.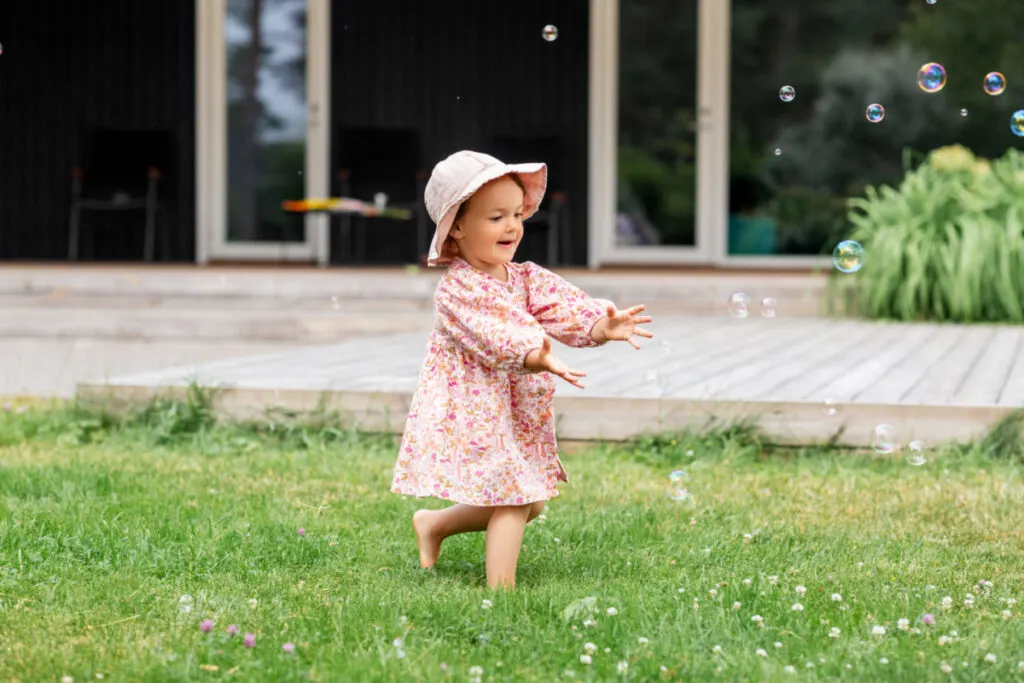 If I Had to Choose Just One Outdoor Toy From This List…
As a seasoned mom, I can safely say that these are some of the best outdoor toys for one-year-olds around.
With the right gear, your little one will be spending more time outdoors and will be having a blast in no time.
If I had to choose just my absolute favorite (because we're all on a budget, am I right?), I would say grab the bubble machine, as I feel like it can really span the ages.
Good luck getting your toddler outdoors! May independent play – and a must-needed break – be in your very near future.
Read Next: Top 12 Minimalist Toys for One-Year-Olds (That Will LAST)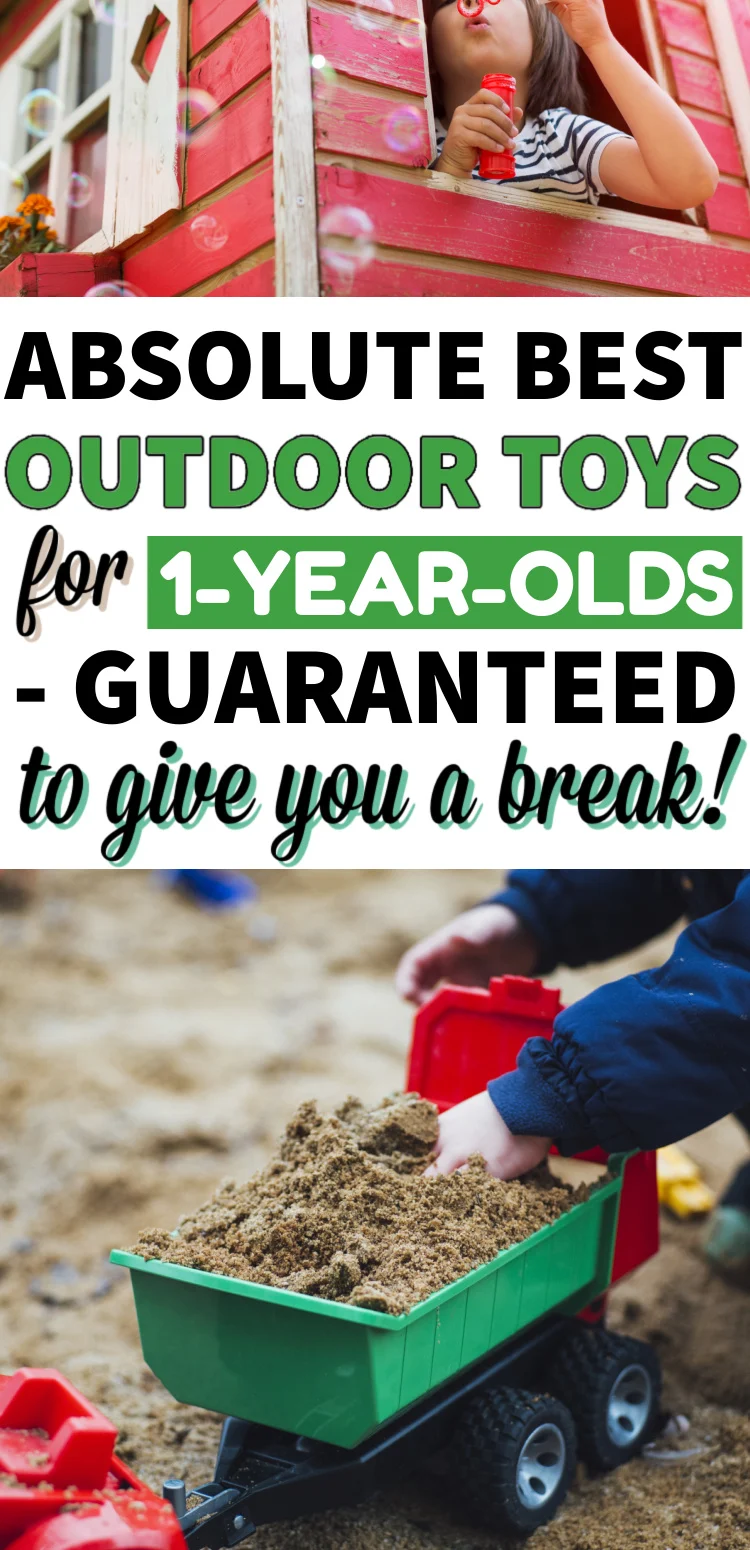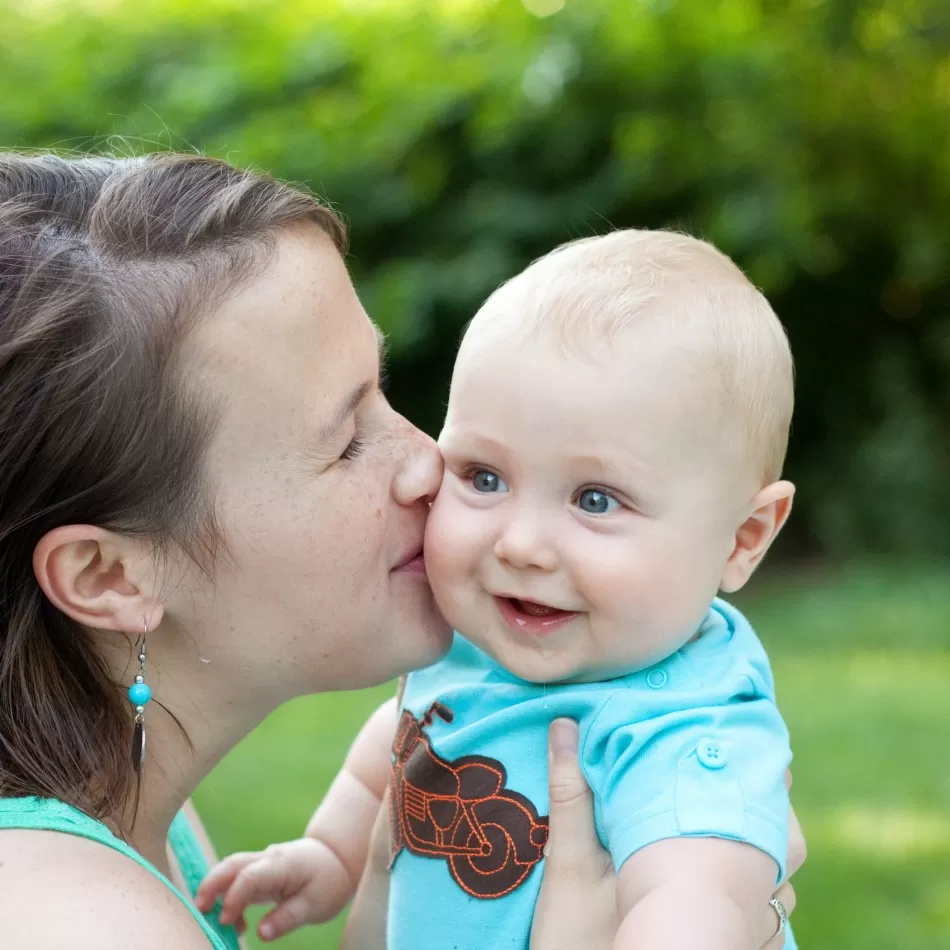 June could talk to you all day about homeschooling, parenting, and minimalism. When she's not homeschooling, decluttering, or blogging, she loves to enjoy perfect silence while sipping a hot cup of coffee and thinking uninterrupted thoughts—which, of course, with five kids, doesn't happen very often.