Inside: Trying to figure out what to buy a newborn for Christmas? Use this list of gift ideas as inspiration for the perfect newborn Christmas gift. And don't be afraid to buy a gift you love, even if baby won't remember a thing.
Are you trying to figure out what to give a newborn for Christmas? You want something special that your newborn baby (or grandbaby!) will treasure, but it's hard to decide what the best gift will be.
After all, a newborn isn't sitting there like my ten-year-old son writing up a long list of gift ideas.
He pours over catalogs circling anything that meets his fancy. I think he's made five separate lists already!
And you don't necessarily need to put fifteen presents under the tree, especially since babies often get showered with presents the days and weeks after they're born. Let's not go crazy here.
But if you want to get something, this list of unique gift ideas can give you the inspiration you need to choose the perfect Christmas gift for baby's first Christmas.
Related: How to Toddler-Proof Your Christmas Decorations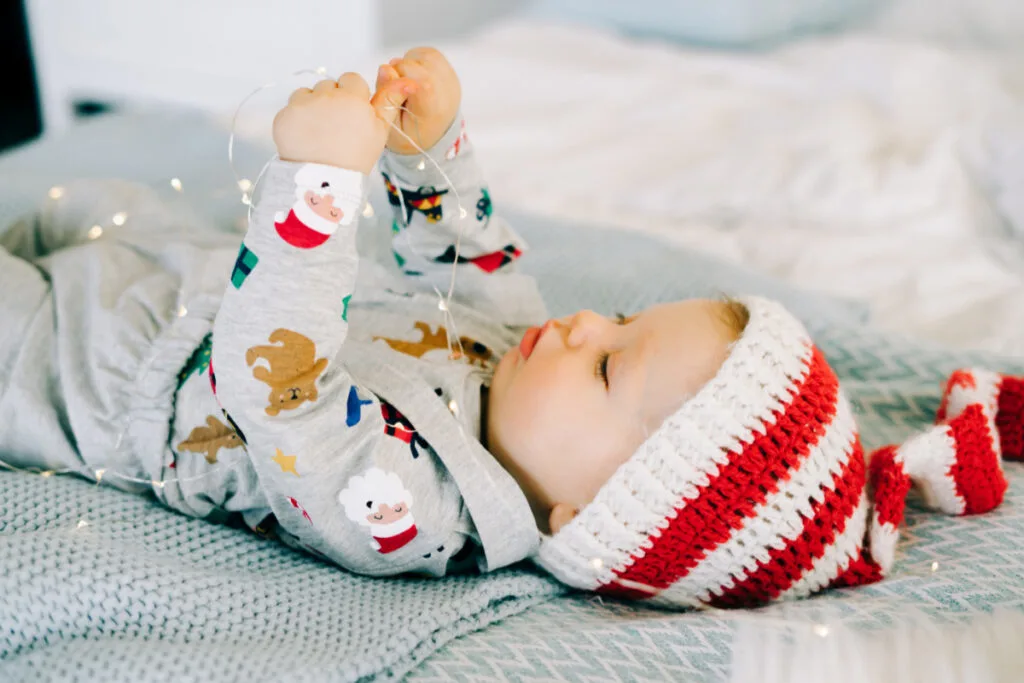 Wondering What Buy a Newborn for Christmas? Here's 17 Ideas
THIS POST PROBABLY CONTAINS AFFILIATE LINKS. AS AN AMAZON ASSOCIATE, I EARN FROM QUALIFYING PURCHASES. YOU CAN READ OUR FULL DISCLOSURE POLICY HERE.
Just to give you a bigger picture of how this list of newborn gift ideas is organized, I started with blankets, loveys, and towels.
Baby blankets and loveys are gifts that are treasured for years.
Children bring along their favorite loveys to the dentist. They spend hours curled up under their favorite blanket. And there's nothing like being wrapped up in a warm hoodie towel after a bath.
My children still treasure the blankets, loveys, and towels they received as newborns.
Next up? Books and toys designed just for newborns.
These make wonderful gifts at Christmas! You can begin a nightly routine of reading aloud to your baby immediately. And babies love rattles they can grab, study, and shake.
Finally, nothing is more special than commemorating your baby's first Christmas by giving your newborn keepsakes for Christmas. But I kept tried to keep them clutter-free and practical.
Let's jump into the gift ideas!
1. Customized Teddy Bear Baby Blanket
Give your newborn a personalized teddy bear baby blanket! My babies loved holding onto blankets and stuffed animals when they were little.
This gift is both a lovey and a blanket. It comes with a teddy bear attached to it and your baby's name written on it.
Your child will love holding onto their teddy bear baby blanket throughout the years.
Side Note: If you plan on making it THE lovey, you might want to buy two – says every parent who has ever lost their child's most precious lovey.
2. Elephant Security Blanket Baby Lovey
This elephant security baby blanket is also another adorable lovey choice, and definitely more affordable than one above (something to think about if you're considering buying 2 or 3 just in case you lose it).
It's the perfect size for your newborn to drag around with him or her for years to come. And if you'd prefer a different animal than an elephant, there is also the choice of a:
dog,
rabbit,
bear,
fox,
unicorn, or
duck.
This adorable elephant security blanket baby lovey is a wonderful gift to give your newborn for Christmas!
3. Miracle Swaddle Blanket
Newborn babies love being swaddled. And if you don't already have the miracle swaddle blanket, first how are you getting any sleep, and second, what are you waiting for?!
Yes, yes, I realize this is both a gift for your newborn AND for you. But still.
Make your priority this Christmas catching some zzz's, and parents around the world swear by the miracle swaddle blanket for getting your baby sleep longer.
Buy one – or two (because: blow-outs and spit-up, yuck).
4. Fuzzy Warm and Soft Sherpa Baby Blanket
This fuzzy, warm, and soft Sherpa baby blanket will last your newborn for years. It's small enough to roll up and travel, but also large enough to cover your child as they grow.
You can choose from several different colors so you can pick one that will match your nursery.
A blanket is almost always a great gift idea for newborns, especially if you live in a cold climate where keeping baby warm is top priority.
5. Newborn Baby Swaddle Blanket Knit
I love having a sleeping bag type blanket for my newborns. The bags cuddle my babies no matter how hard they kick.
You can use it for naps or walks in the stroller. It will keep your child cozy and warm no matter how cold it is outside.
This knit newborn baby swaddle blanket – with buttons instead of a zipper – is the perfect gift for your newborn at Christmas!
6. Ultra Soft Organic Bamboo Baby Hooded Towel – Bear Hoodie
Your child will love this ultra-soft baby hooded towel for years to come. My children were gifted hoodie towels that they used for years every time they took a bath.
Nothing is better than putting on a hoodie towel when you're getting out of the bathtub. It's warm. It's comfortable. And it doesn't fall off as you're wrapping your baby in it.
You can go with one designed specifically for babies, like this soft organic bamboo hooded towel. OR you can get one that they will use for years until they outgrow "kid towels", like these extra large animal hooded towels.
Either one could be great, but keep in mind that they do outgrow baby items fast. Of course, if you plan on having more kids in the future, you could always hand down the baby-sized towel to future siblings.
7. Baby's First Christmas Ornament
Memorialize your baby's first Christmas with a beautiful ornament to hang on your Christmas tree.
THIS beautiful ornament features a baby decorating a Christmas tree. Add your child's name and the year for an ornament you can enjoy for year's to come.
Hanging your baby's first Christmas ornament on the Christmas Tree can become a treasured tradition, one your child can eventually take over when they're older.
8. Handprint, Footprint, and Photo Keepsake Kit
Give your newborn the gift of nursery decoration you and your child will love for years. THIS keepsake kit will walk you through the steps to take a handprint and a footprint of your child.
Once it hardens, you can pair it with a couple of newborn photos (don't forget to take your own if you skip professional newborn photos).
Hang the picture frame in your nursery to remember the joy of your baby's first Christmas.
9. Personalized Wooden Letter Piggy Bank
A personalized wooden letter bank is a practical and heart-warming gift to give your newborn this Christmas. An updated version of the old ceramic (read: breakable) piggy banks, this is certain to go with any modern decor.
My sister received a piggy bank when she was a newborn and loved it. It held the coins she picked up over the years and gave her a place to keep her allowance.
Choose the letter of your child's first name and grab this bank. As they grow, it can serve as room decor they won't grow out of, plus a fun bank where you can literally see your savings grow.
10. Soft, Crinkly Book
Babies can be hard on books, so even though I've recommended two actual board books below, you may want to start with a washable, soft book for your newborn.
It can snuggle up with them in their car seat, be read to them at doctor appointments, or just about anything else. And they won't be able to destroy it. Genius.
Anything by Eric Carle – like this soft version of The Tiny Seed – is a great choice.
11. If Animals Kissed Good Night Book
If Animals Kissed Good Night is a sweet and cute rhyming book about how animals would kiss if they kissed as humans do. The book includes animal names and animal baby names along with the animal sounds.
Animals Kissed Good Night is a sweet book to read to your baby as part of your bedtime routine.
Related: 40 Best Board Books for Babies Under 1 – Start Reading From Birth
12. Time for Bed Book
Time for Bed is another sweet board book to read to your child every night.
My daughter and I read this book as part of our bedtime routine for years. We loved seeing the animal babies snuggle into their mom as darkness settled over the land.
Time for Bed is the perfect book to read to your child at bedtime as you're settling down for the night.
13. Fisher-Price Deluxe Kick & Play Piano Gym & Maracas
The Fisher-Price Deluxe Kick and Play Piano Gym is a toy that will grow with your baby.
Your newborn will love laying and playing with the toys. Then you can move on to tummy time and sitting time as your child grows.
This playmat will quickly become a favorite!
You Might Also Like: 12 Minimalist Baby Toys For the First Year and Beyond
14. The First Years First Rattle
The First Years First Rattle is a rattle specifically designed for young babies. It includes a high contrast pattern to promote eye-tracking and easy-grip fingers to encourage your child to develop grasping skills.
Plus the rattle comes with soft teething surfaces for your child to chew on.
And while it's not necessarily recommended, you could probably toss this in the wash in a lingerie bag on gentle cycle and air dry.
15. Wrist Rattle & Rattle Toy Socks
Newborns have trouble grasping objects such as rattles, but they love the gentle noise rattles make. So consider giving your baby wrist rattles and rattle toy socks.
Your baby will love waving arms and feet in the air while listening to the noise of the rattle. The best part about these wrist and sock rattles is that your baby can enjoy the rattles right away, even without a strong grip.
Wrist Rattles and Rattle Toy Socks are a fun – and affordable – newborn Christmas gift.
16. Washable Farm Stuffed Animal Set
The farm stuffed animal set is made with a plush material that's comfortable for babies. It's also both hand and machine-washable!
The animals rattle when you shake them and squeak when the bottom is squeezed. The house fits all the animals inside it, so it's ridiculously easy to pack up the set for travel or childcare.
17. Rattle 'n Rock Maracas
These blue and orange maracas are sized perfectly for little hands.
The maracas have soft pom-poms at the top so your child won't be banging themselves in the nose. Plus the colorful beads make delightful rattle sounds when the maracas are shaken.
18. Stocks
Really, newborns probably don't need a single thing.
But you know what they probably could use in, I don't know, 18-20 years? Money.
Stock shares could make the perfect newborn Christmas gift! Just try to choose companies that are a sure thing (think Apple or Disney).
Learn more about how to give stocks HERE.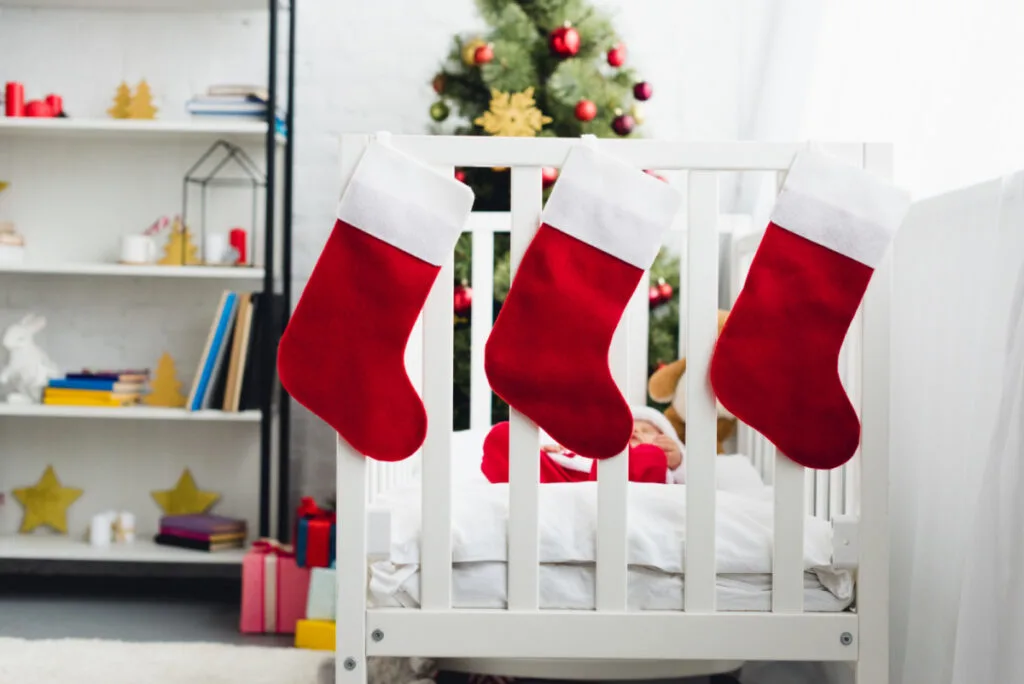 Will Your Newborn Remember Their First Christmas? Nope, But You Can Still Buy a Gift.
You could skip baby's first Christmas. I mean, will they even remember it? Not really – only from the pictures you take.
But just because they don't remember it, doesn't mean it's not super fun to shop for at least one newborn Christmas gift. So let yourself have fun!
Pour over these baby blankets, loveys, hooded towels, or keepsakes. Browse the newborn toys and board books.
Choose something you love, whether that be minimalist and practical or a little bit on the fun side, even if you'll eventually pass it on in a few years (like the baby toys).
Buying a newborn a gift for Christmas is mostly about the memories and about celebrating the season. Just because baby is snoozing all Christmas day doesn't mean you can't buy one gift (o.k. two) – minimalism be darned.
P.S. Just don't forget what they will remember: the pictures – take lots and lots of pictures.
Read Next: Easy Christmas Traditions to Start with a Baby (Keep It Simple!)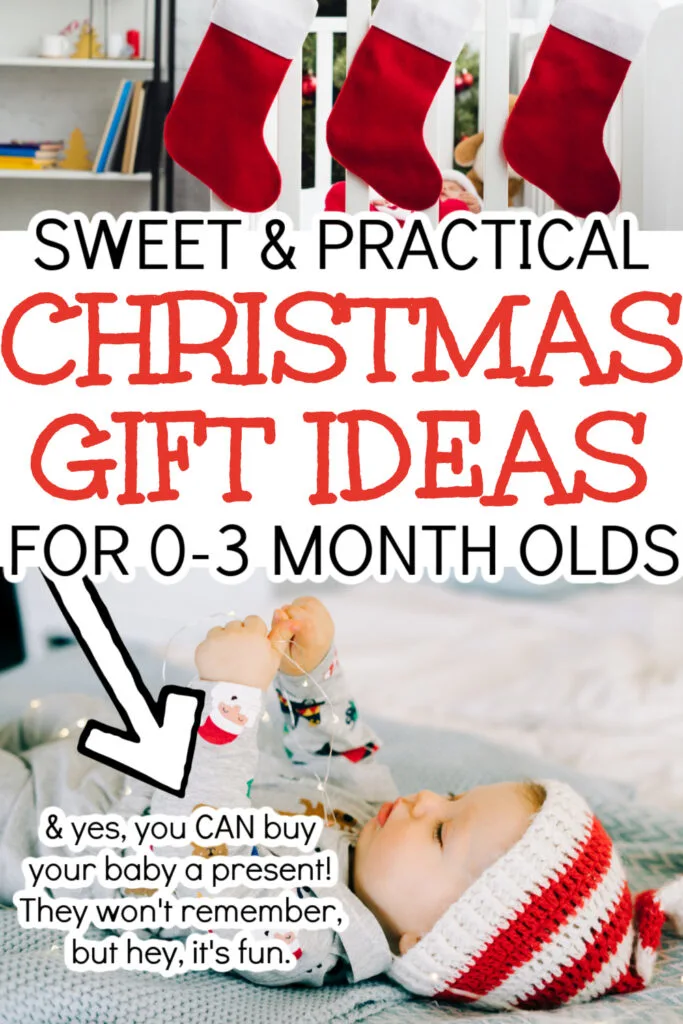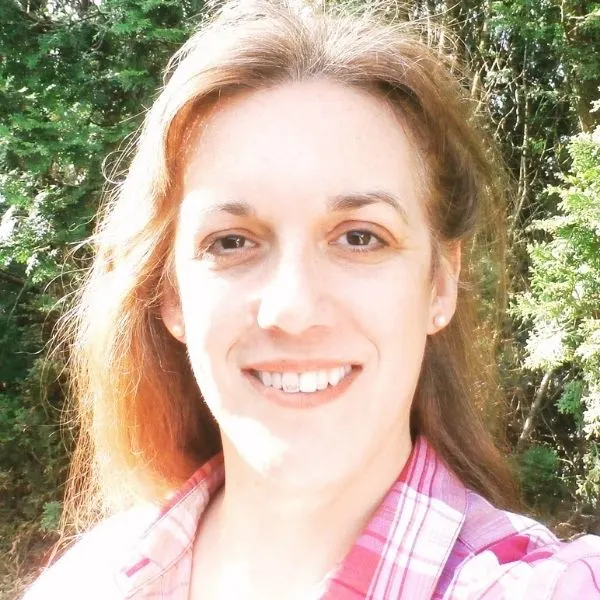 Sara Dennis is a veteran homeschool mom of six. She's still homeschooling her younger two kids after the older four kids have graduated, entered college, and moved on to adult life.