Inside: You look forward to Christmas every year! That is, until you had a walking, talking, grabbing toddler on the loose. But all is not lost – use these tips to toddler proof your Christmas decorations, so you can still have a [mostly] holly jolly Christmas.
Ahhh…..Christmas.
Who doesn't love the festive music, twinkly lights, and yummy baked treats?
How about the Hallmark movie marathons, time spent with loved ones, and the joy on your child's face when they wake up Christmas morning?
And the decor.
Decorating for Christmas is the stuff memories are made of.
Until baby makes three, that is.
Having a curious crawler can put a serious cramp in your holiday style.
When you've got a little one at home, you've got to carefully consider how to keep them (and your decor!) safe.
Never fear – we've got you covered.
Here are our top 10 tips for toddler proofing your Christmas decorations this holiday season!
Related: 5 Baby Proofing Ideas You Definitely Shouldn't Ignore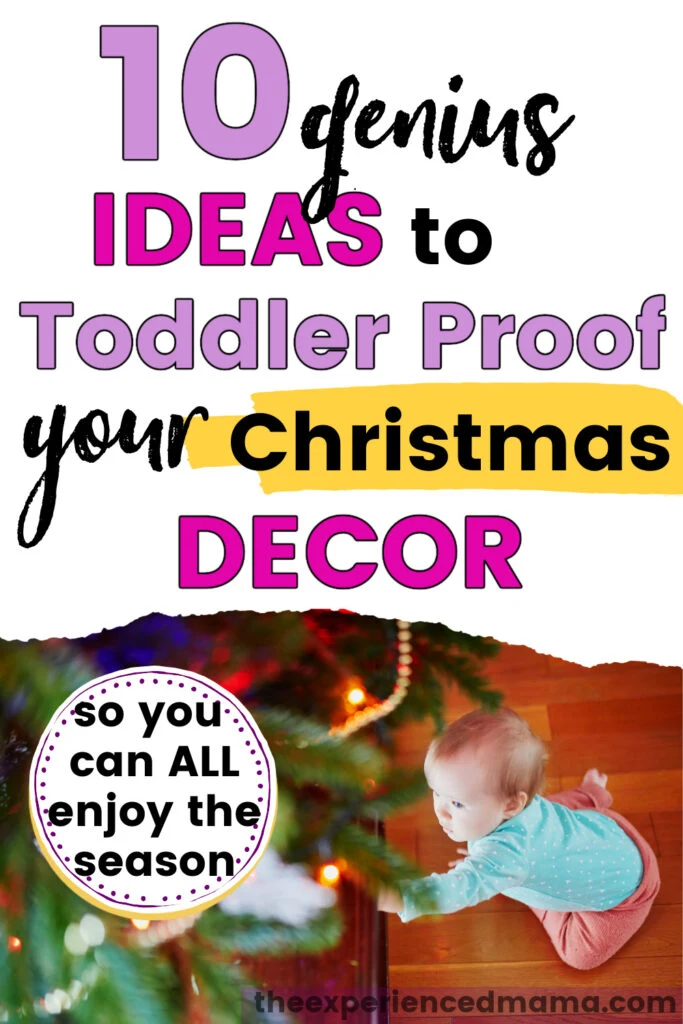 10 Tips to Toddler Proof Your Christmas Decorations
THIS POST PROBABLY CONTAINS AFFILIATE LINKS. AS AN AMAZON ASSOCIATE, I EARN FROM QUALIFYING PURCHASES. YOU CAN READ OUR FULL DISCLOSURE POLICY HERE.
1. KISS: Keep it Simple Sister
It goes without saying that the less you bring out, the less you have to worry about.
Besides, minimalism is in.
Check out HGTV and you'll see what we mean.
Trendy, or not, it makes decorating a quick and easy task this Christmas.
Keep your choice of decor simple, but meaningful. Pick a few favorites and pass on the rest.
2. Skip the breakables.
While simplifying is key, it's also important to be intentional with the decor you do choose to put up.
Skip the heirloom nativity set you got from Great Aunt Martha, and opt for this child-safe one instead.
Maybe don't set out the growing snow globe collection you lovingly add to each year.
It's not forever.
If you insist on pulling out those treasured trinkets, be sure to place them up high and safely out of your little one's reach.
This will bring you peace of mind and protect your decor so it can be enjoyed at Christmastime for years to come.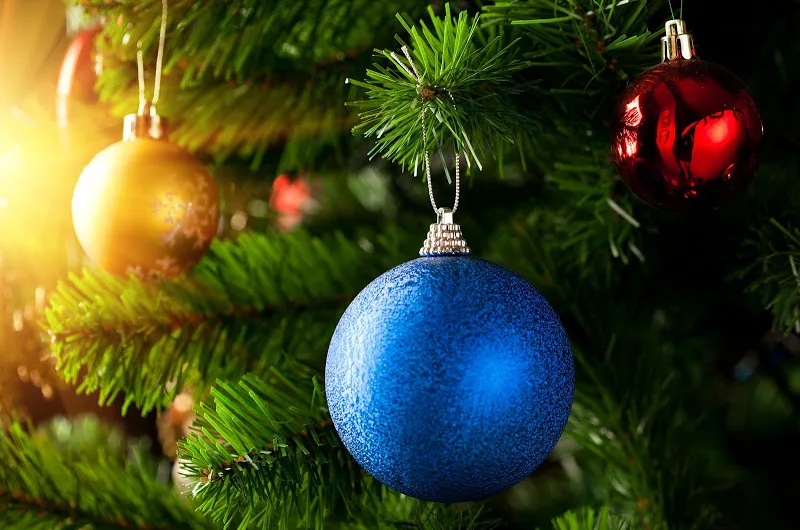 3. Opt for shatterproof ornaments.
Those brightly colored spheres look like balls just begging to be played with.
And they are just the right size for teeny tiny hands.
At least, that's how your baby sees it.
Glass ornaments and grabby hands are a recipe for disaster.
Skip them and opt for the shatterproof ones instead.
You can always bring back out the breakables next year – your little one will eventually be big enough to know better.
4. Get a tabletop tree.
Speaking of keeping it simple, a tabletop tree might be the better choice this year. This is especially true for those in small spaces or who favor a minimalist approach.
Plus, they are inexpensive and a snap to decorate.
And the best part – you don't have to worry about a curious crawler pulling ornaments off or knocking it over.
5. Leave the bottom half bare.
If you insist on a larger-than-life tree, you can save yourself some trouble by leaving the bottom half bare.
Why would you do that? Won't it look silly?
Maybe, but what your baby can't reach, they can't pull down and make a mess of.
It may not win you a spread in Better Homes and Gardens, but it sure will make your life a little easier.
Another option is to skip the ornaments entirely.
Less is more.
Enjoy the natural beauty of a tree decorated with nothing more than a few twinkling lights. Don't forget the star!
6. Redirect, redirect, redirect.
This tip works no matter your decorating style – minimalist, Martha Stewart, or somewhere in between!
When you see your tiny tornado toddling over to the tree, step in and redirect their attention.
Provide them with a safe alternative.
This can be a toy, a snack, or even their very own child-safe tree.
You can get a felt tree to hang up on the wall that they can decorate and redecorate to their heart's content.
Or if you're feeling extra crafty, you can make one yourself.
7. Gate the tree.
Okay, maybe not the most aesthetically pleasing option, but it's a solid one nonetheless.
This takes away the temptation to touch, especially for the most curious in your crew.
Gates and play yards are inexpensive and can be used all year long – definitely a worthwhile investment.
You won't have to do this forever, but it may save your sanity and keep your baby safe this year (and maybe next).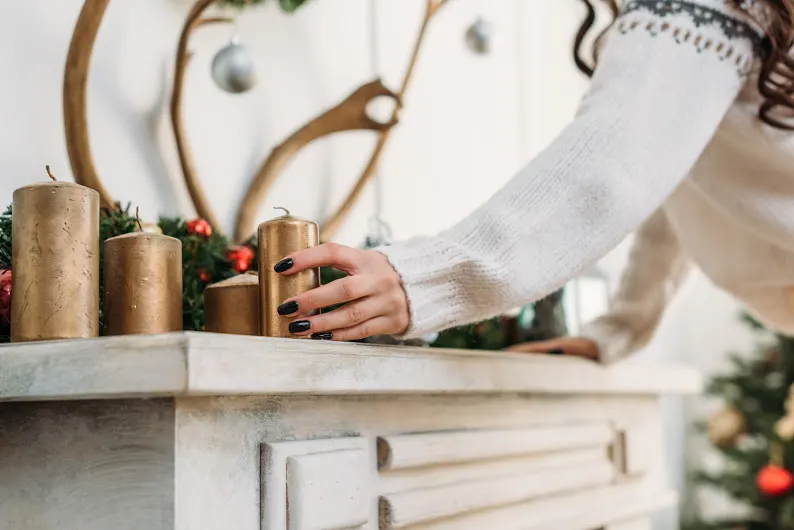 8. Keep candles out of reach.
Christmas candles are a sweet-smelling indulgence most of us can't get enough of.
But they're also a fire hazard when you've got small children.
We know you probably don't need the reminder…..but we'll say it anyway.
Remember to keep them safely out of your child's reach when lit.
Easy enough.
9. Or opt for child-safe candles, instead.
If you don't want to risk lit candles, you've still got plenty of safe alternatives.
Battery-operated candles and wax warmers with aromatic melts offer up the cozy glow and scents of the season you've come to know and love.
Depending on your budget, these are easily found at any discount or department store.
Simple, easy, and inexpensive – what could be better?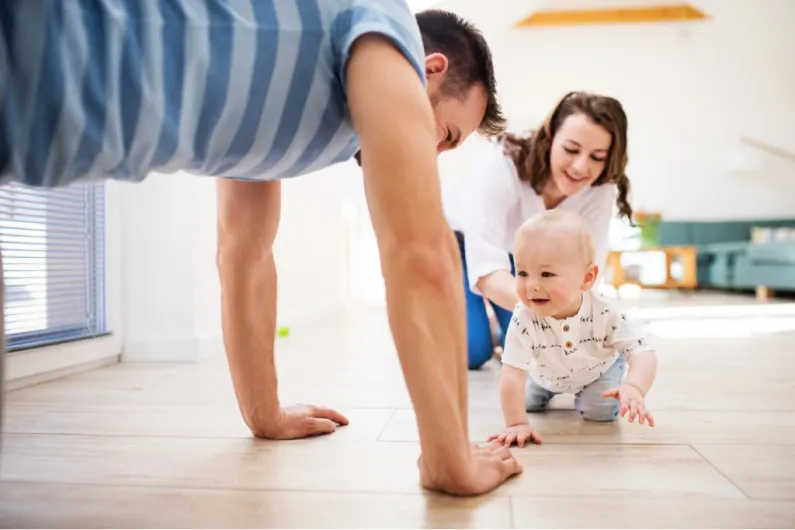 10. Get on baby's level.
We mean this exactly how it sounds.
Quite literally, get on your hands and knees and take a quick peek around to make sure you aren't missing any potential holiday hazards we didn't cover here.
This might involve tying up loose light cords, securing a heavy tree to the wall, or ridding your home of seasonal plants that aren't safe for little ones (like poinsettias!).
Your decorating style is uniquely you and it's important to make sure you're thorough when it comes to babyproofing your home this Christmas.
You Might Also Like: 17 Sweet & Practical Newborn Christmas Gift Ideas
Bonus Tip: Better Late than Early
What do we mean?
We simply mean that the less time your holiday decor is up, the less time you have to worry about little ones breaking something or getting hurt.
We realize that all families have their own traditions. Many like to pick out, bring home, and decorate a Christmas tree the weekend after Thanksgiving.
This means your home is all decked out, all December long.
But, what if you tried something new?
Try decorating the week before Christmas. By picking out a tree toward the end of the season, you may even save a little money.
Who knows?
This could be a new tradition you come to look forward to each year. Break out the cocoa, crank up the tunes, and involve the whole family.
Keep up Christmas spirit all throughout the season by watching holiday movies, baking treats for friends and neighbors, and taking part in town festivities.
This tip may not be for everyone, and we realize that.
But it may resonate with some of you, and that's enough.
You Might Also Like: Keep Baby From Climbing Out of Their Crib with Parent-Tested Tips
Wrapping It All Up (like a gift! eh?)
Like anything else we do in life, it's good to have a plan in place and be prepared.
When you have a baby, decorating for the holidays can present some challenges.
Take the steps here. Think through your choice of decor. And figure out how to safely combine your baby's needs with your own desires and family traditions.
It's more than possible to have an inviting home that brings you joy while keeping baby safe from harm this holiday season.
If you found these tips helpful, please like and share!
Read Next: Easy Christmas Traditions to Start with a Baby (Or a Toddler!)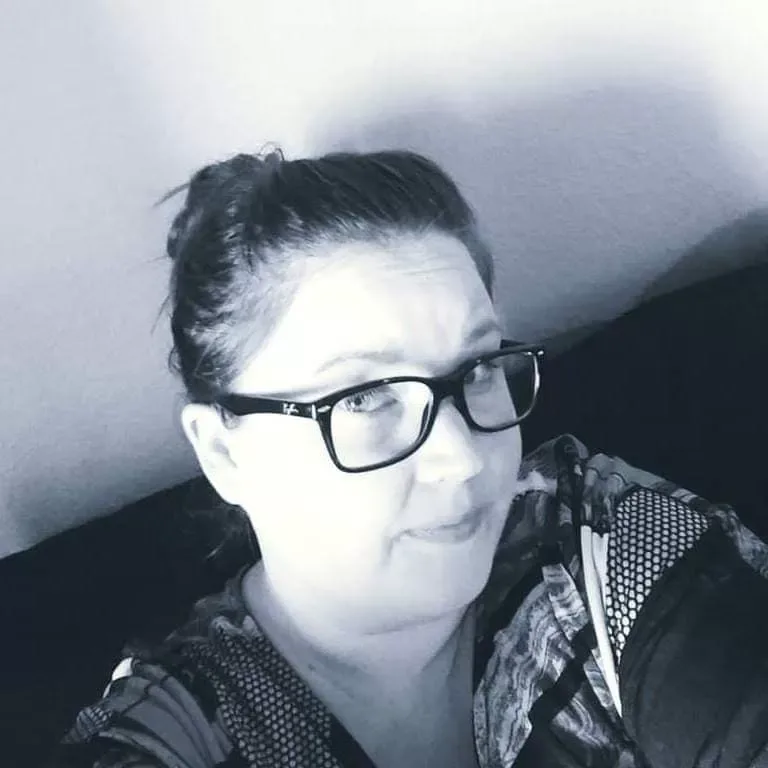 Amy is a freelance writer and blogger who homeschools her tribe of tiny humans while pursuing her lifelong dream of becoming a published author. She is fueled by coffee and the desire to do ALL. THE. THINGS. She has the attention span of a squirrel, though somehow manages to make it through each day with everyone fed and happy (well, mostly happy! Ha!) while striving to make every tomorrow better than the last. You can hear more of what she has to say over at Real Talk with Amy, where she blogs about all things motherhood.