Inside: Is babyproofing really necessary? A minimalist, laid-back parent's first instinct might be, "No way!" But in our modern world where primary caregivers are juggling a million responsibilities, these 5 baby proofing ideas are the ones you should actually make the effort to implement (hint: no toilet seat locks required).
If you still live in 1999 and have cable (or more likely, live TV streaming), you may have seen the funny, yet entirely relatable, diaper commercials by Luv's.
If you are in the ad-free streaming camp, do yourself a favor and check out their YouTube channel here.
Luv's commercials hilariously portray parents who have been there, done that, and bought the t-shirt.
Your first baby, everything is new and scary and you tend to second-guess every choice. By the time the next kid rolls around, you'll feel a lot more prepared. You begin to realize what really matters (and what doesn't).
Like safety.
Safety matters, let's be clear. But, we live in a world where there is a babyproofing gadget for every single potentially dangerous scenario a paranoid mom can possibly come up with. Why? Because scared new parents will buy all.the.babyproofing.things.
Here's the truth from a mom of 4.
Having more gadgets doesn't let you off the hook when it comes to being a hands-on parent.
If you are a first-time mom and looking for a list of must-have babyproofing gear, you're in the right place.
There's a caveat though. This isn't going to be your typical "ultimate guide". This list is compiled by moms who take a minimalist approach because we believe that more isn't always better.
In fact, we believe that toddlers – when babyproofing tends to come into play the most – can be taught over time what is o.k. to touch and not touch.
That being said, there are always the kiddos who are a bit more persistent than others, and take longer to catch on to safety instruction. And then there are the demands of the modern age we live in, and quite frankly, moms could use one less thing to worry about.
You aren't superwoman, after all. Especially given that many moms are working in some capacity today – from home or outside the home – a little bit of babyproofing can offer you some peace of mind.
We're going to cover 5 key babyproofing ideas you can act on now to keep YOU sane and your BABY safe.
Let's dive in!
You Might Also Like: The Absolute Best Outdoor Toys for One-Year-Olds (from a Mom of 5)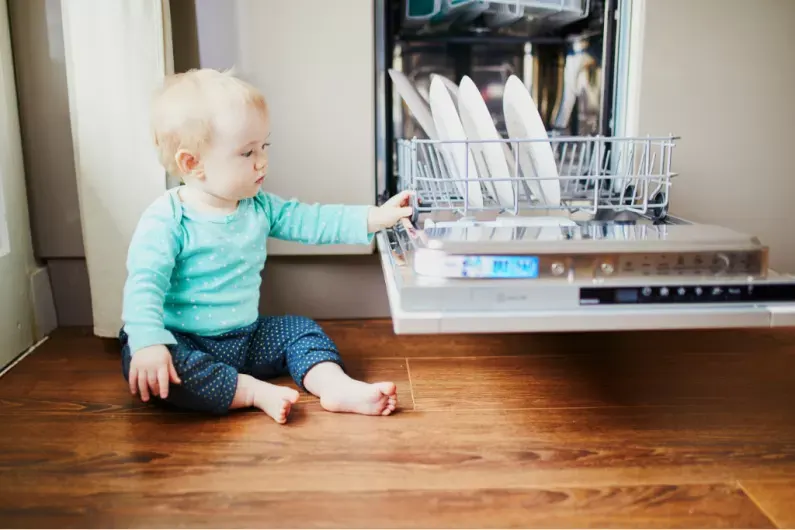 5 Babyproofing Ideas You Actually Need (No Toilet Seat Locks Required)
THIS POST PROBABLY CONTAINS AFFILIATE LINKS. AS AN AMAZON ASSOCIATE, I EARN FROM QUALIFYING PURCHASES. YOU CAN READ OUR FULL DISCLOSURE POLICY HERE.
Skip the toilet seat locks, and focus your babyproofing efforts on these five main safety concerns, instead.
You Might Also Like: How to Stop Baby From Climbing Out of Their Crib (12 Parent-Tested Tips)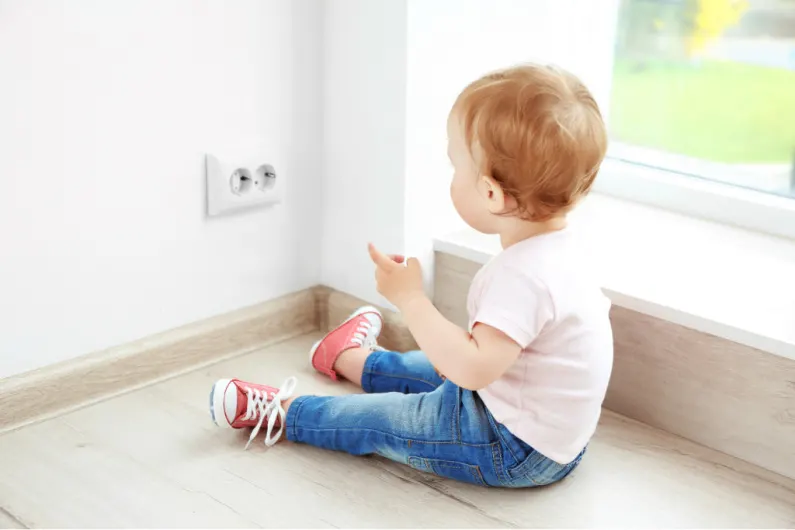 1. Cover the electrical outlets.
An oldie but a goodie, outlet covers are a must for every home with a curious crawler (or walker).
It's important to take care of this step sooner rather than later because as soon as your baby becomes mobile, these eye-level hazards are everywhere just begging little fingers to touch (or stick things in).
These are an inexpensive addition to your Amazon cart and user-friendly enough for even beginner babyproofers.
Snag 'em up ASAP.
Editor's Note: I wasn't overly vigilant about outlet covers until my fifth baby/toddler – she's OBSESSED with them. To the point of nearly sticking an iron nail into the outlet. Yikes!

And make sure to get the good ones. The dollar store ones ain't cuttin' it with Houdini baby over here.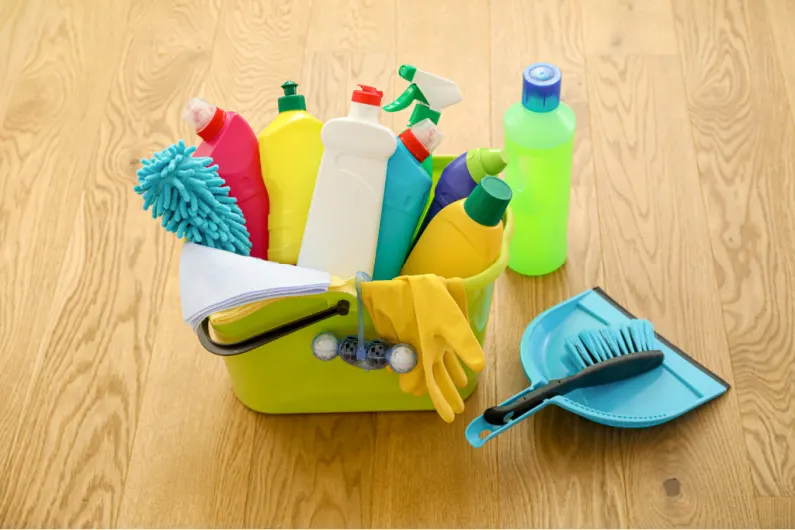 2. Put cleaning supplies out of reach.
Cleaning supplies are something else you don't want little hands (or little mouths) getting ahold of.
Many millennial moms have turned to green cleaners. These are marketed as safer and more environmentally-friendly.
Because of this, sometimes we forget that those ingredients still may not be suitable for young children to ingest.
This means taking simple steps like putting them up on a high shelf in a secured closet or adding a cabinet lock to other storage spaces.
Also, keep the number for Poison Control saved in your phone AND posted on your fridge for grandparents, sitters, and anyone else who may be watching your child. In case you don't already have it, the phone number is 1-800-222-1222.
Helpful Hint: All of the above applies to meds too! You can get a lockbox or take the same steps to secure medications that you would for cleaning supplies.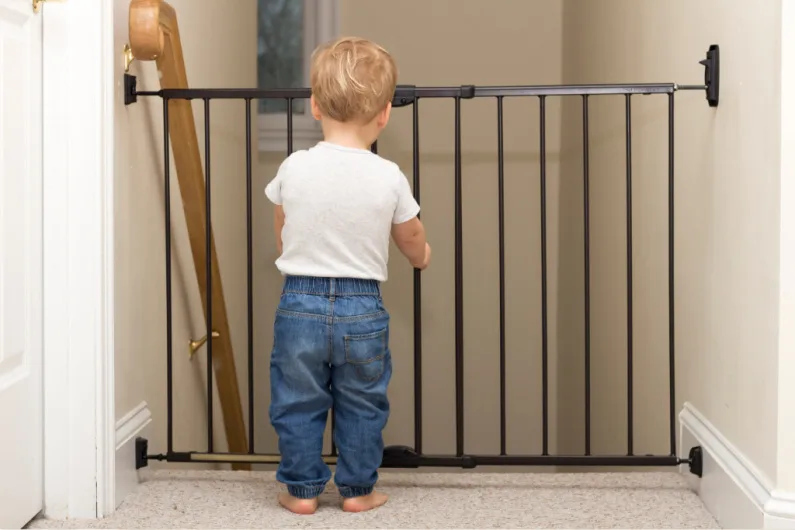 3. Block the stairs.
Stairs and babies can be a tricky combination.
Seeing your wobbly walker treacherously teetering at the top of the staircase is enough to make any mom's stomach rise up into her throat.
Many parents opt for single-level homes in order to avoid this scary scenario.
Thankfully, that's not the only solution, since some of us want two-story houses!
Adding a sturdy gate to the top and bottom of any stairs in your house is a great start.
BUT the absolute best thing you can do is to teach your child to safely climb up and down the stairs as soon as they become mobile. Doing so can prevent injury should your child learn to scale the baby gate sooner than expected.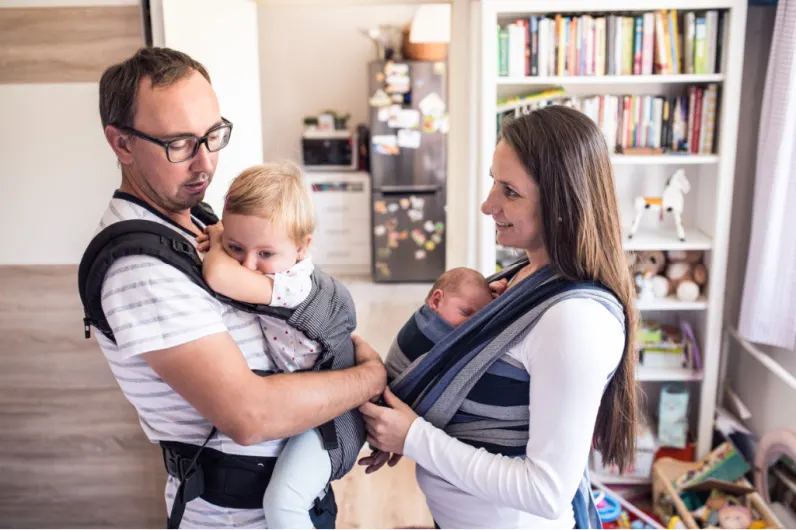 4. Secure heavy furniture.
According to CPSC's latest data, 459 children have died from accidents involving heavy furniture tipping over since the year 2000.
This number doesn't include those who survived but sustained injuries. A large percentage of these children were 3 and under.
Kids have a natural tendency to climb and explore. They don't understand that heavy furniture can tip over and hurt them.
It's so important to take the time to anchor heavy furniture to the wall in case your little adventurer decides the dresser looks like a really fun jungle gym.
There are a lot of products to secure heavy furniture on the market. You can take your pick.
They can be found on Amazon, in big box stores, and even home improvement stores. They are an inexpensive, but necessary addition to the babyproofing process.
Editor's Note: I never thought securing heavy furniture was a big deal…that is, until I saw this episode (Season 4, Episode 11) of Grey's Anatomy where Bailey's toddler manages to walks through an open baby gate, scales a bookshelf and nearly dies after pulling it over on himself. I take them pretty seriously now.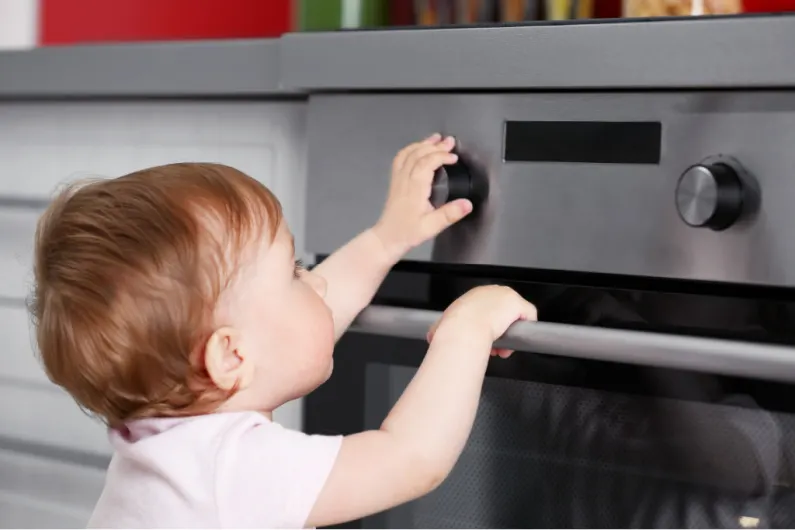 5. Evaluate all things kitchen.
Involving kids in food prep from a young age offers so many benefits – quality time spent together, hands-on STEM learning, and even a more sophisticated palate!
However, without proper precautions, the kitchen can be a dangerous place for a child – especially a newly walking toddler.
You've got sharp objects and hot surfaces. It's important to make sure kitchen appliances and tools are safely secured.
Stoves are a biggie.
You want to ensure kids can't turn on stove burners, especially those that are positioned within a child's reach. You can buy covers like these that prevent this from happening.
Another appliance you may want to consider babyproofing is the fridge. This is optional, of course, but often there are things in there you don't want your child getting ahold of – namely that bottle of wine you pour once their little head hits the pillow!
(Probably not the drinking you're worried about, rather the glass shattering as it hits the floor.)
Also, the sharp and pointy objects – ya gotta keep these out of baby's reach. Put 'em up high or get some handy dandy drawer locks.
The kitchen is the heart of the home. It's the place where memories are made. With the right safety measures in place, even your littlest loves can join in as the family bonds over good food and even better conversation.
Bonus: Blinds
If you have blinds in any room, please, please, please tie up the blind cords.
This is a simple and easy thing to do and can prevent your child getting the cord wrapped around their neck.
Unfortunately, this tragic scenario happens more than we'd like to think.
Related: 10 Easy Ways to Toddler-Proof Your Christmas Decorations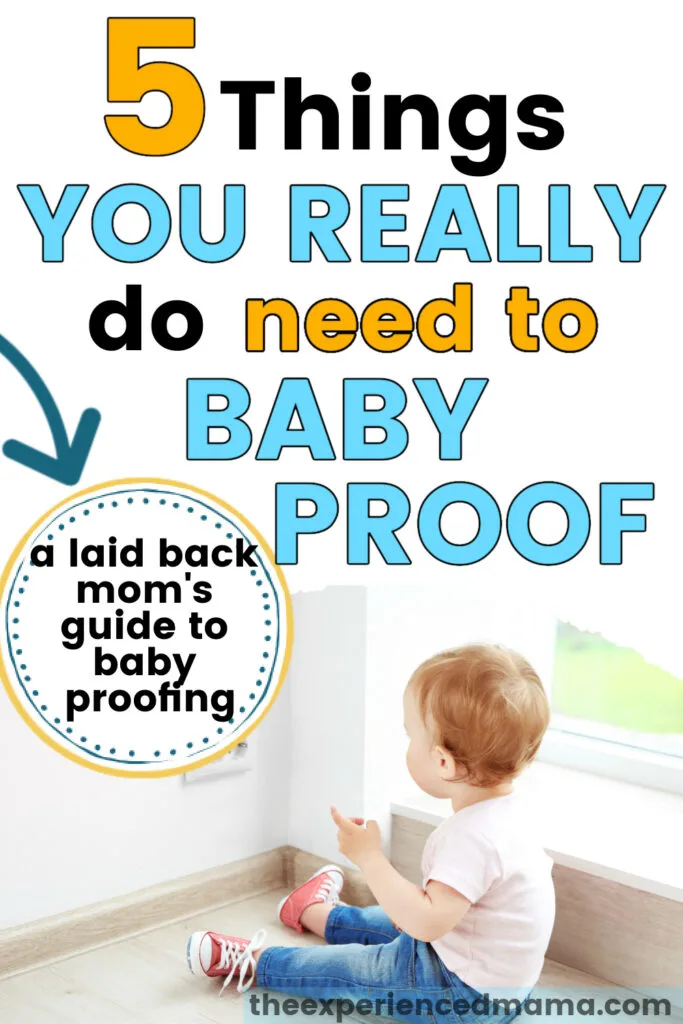 More Babyproofing Isn't Always Better. Sometimes, It's Just More.
As we wrap up, it's important to note that these aren't hard and fast rules. If you find your home has other hidden hazards not mentioned above, by all means, secure those spaces.
But it also doesn't have to cost a fortune to make your home a safe and enjoyable place to live.
Do you have a little one who likes to play in the toilet bowl? Instead of buying a pricey toilet lid lock, just keep the bathroom doors closed.
Is your child climbing out of the crib every night and escaping to explore? Convert the crib to a toddler bed and gate the door so they can't wander the house if they wake up. No need for those crazy crib tents that aren't very good at containing them anyway (they're not the safest option, either).
Is your room across the house from baby's? Skip the fancy wifi-connected video monitor and opt for the simple ones you can get for under $20. Aside from the exorbitant cost, the wifi video monitors can be hacked by creepers. Um, no thanks.
Innovation and internet shopping are both wonderful things, but it can get expensive (and frankly, exhausting) to buy every new piece of baby gear the big-name blogs and magazines say are "must-have" items for 2020.
By applying a bit of common sense and taking a beat before hitting "buy now" on Amazon, you can save yourself a load of cash and (what will eventually become) clutter.
Now, there's no judgment if you want to buy the latest and greatest. Baby shopping can be so much fun.
But don't feel like these things are necessary to keep your little one free from harm.
A few low-cost key purchases are all that's needed to give you peace of mind and make your home a safe space for your growing child.
If this was post was helpful, please be sure to share on your favorite social media platforms and help other new mamas keep their babies (and their wallets) safe!
Read Next: 9 Minimalist Baby Essentials – the Bare Minimum You Need for Baby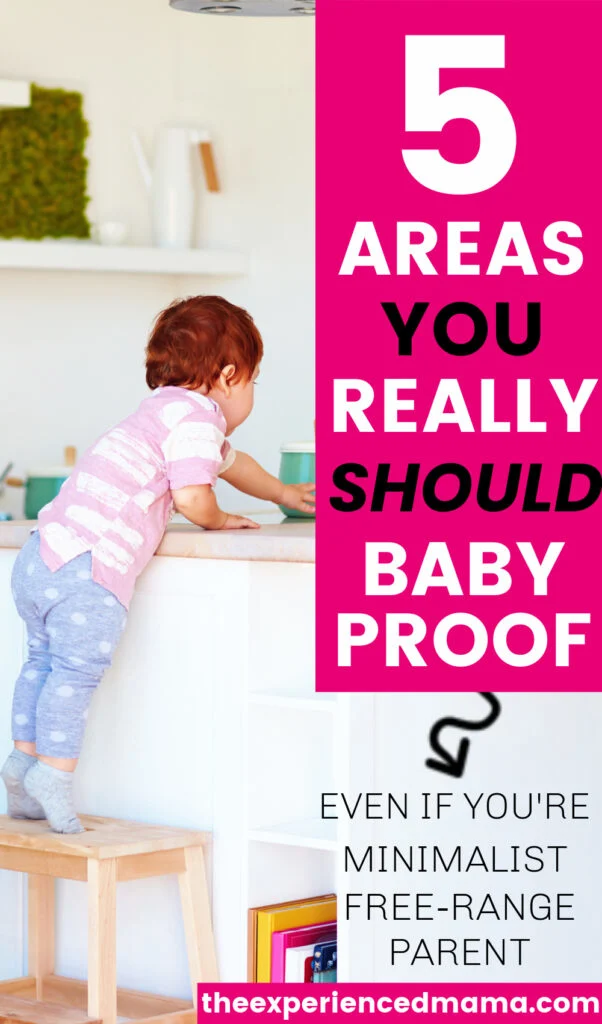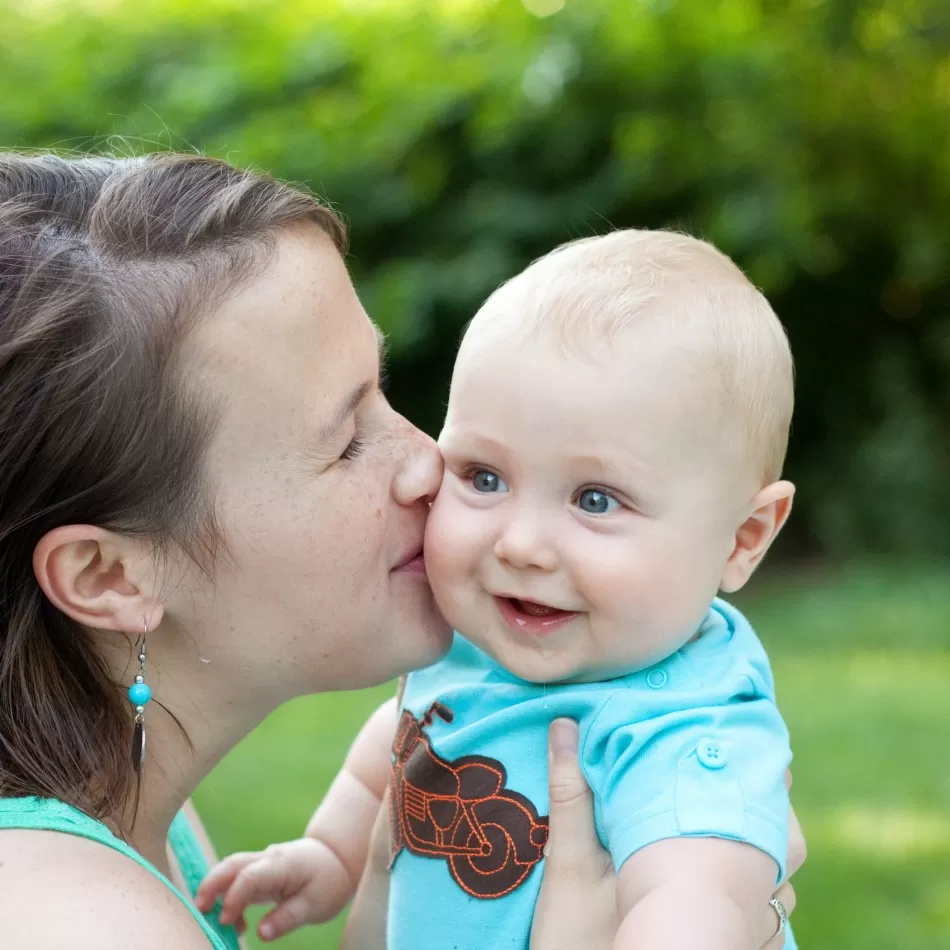 June could talk to you all day about homeschooling, parenting, and minimalism. When she's not homeschooling, decluttering, or blogging, she loves to enjoy perfect silence while sipping a hot cup of coffee and thinking uninterrupted thoughts—which, of course, with five kids, doesn't happen very often.