Inside: When you've been trying to conceive for months or years, the second you see that positive pregnancy test, anxiety can drown out everything else. Channel those thoughts into prayer instead using these verses! Put your baby and pregnancy into God's hands because only He can truly take care of your every need.
Prayer is one of the only things that could fully put my mind at ease during pregnancy. God gave me peace and would help me to release my fears when I was consistent in prayer.
I was terrified that something would happen to my baby while in the womb, especially after trying to conceive (TTC) for nearly two years.
The first trimester, in particular, was nerve-wracking. I knew I was pregnant but nothing had really changed, and I didn't feel pregnant yet. How would I know if my baby was safe?
The unfortunate truth is you don't know if your baby is safe.
Even with ultrasounds and the latest diagnostics, there is no real way of finding out if the baby will be 100% healthy after being born. Praying for your baby will give you peace and invite God to work mightily on your baby.
Related: Bible Verses About Unborn Babies – for Prayer & Comfort During Pregnancy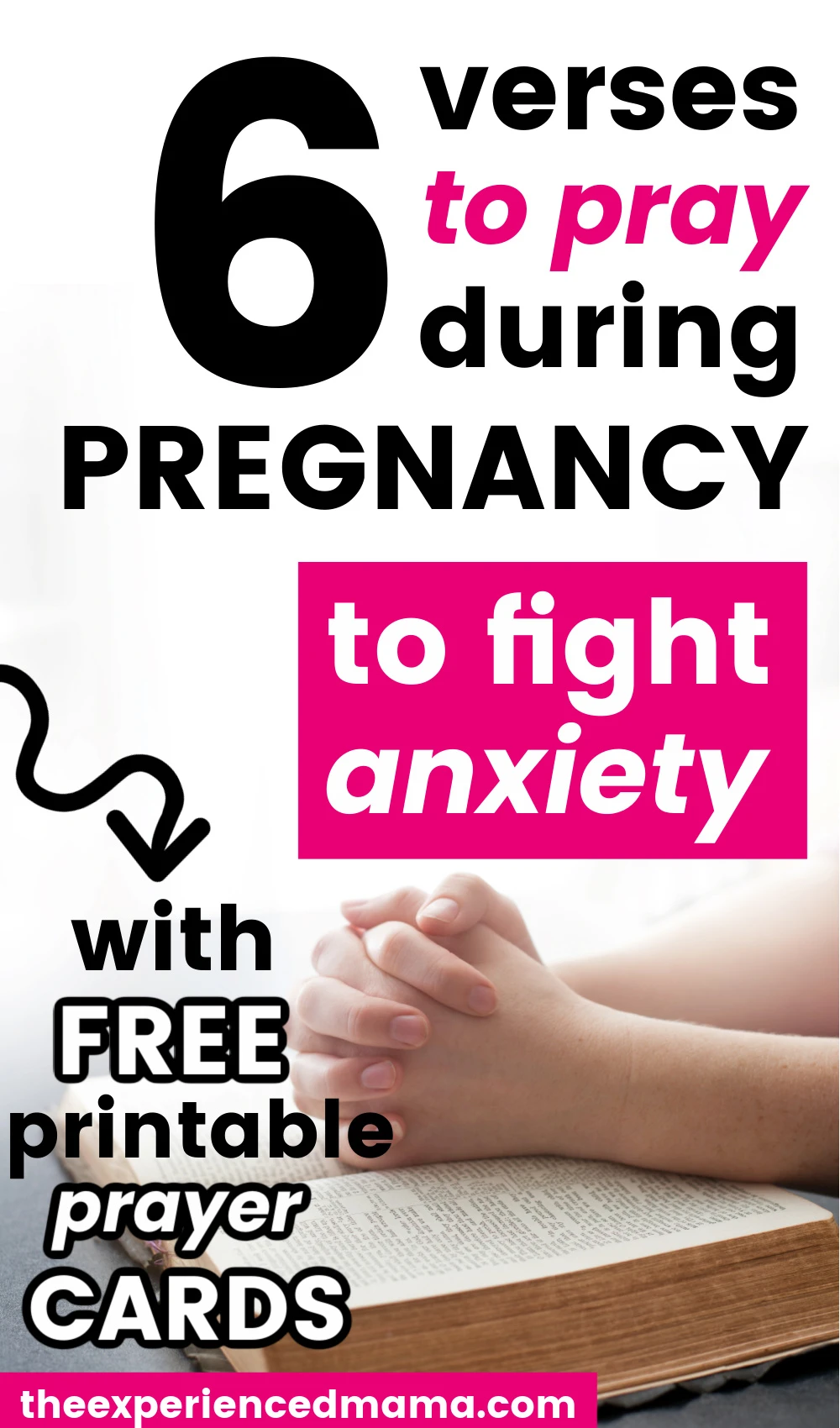 Why Is It Important To Pray?
God tells us over and over again throughout the Bible that our prayers are important.
Ask and you shall receive, seek and you will find, knock and he will answer. (Matthew 7:7-8)
Delight yourself in the Lord and He will give you the desires of your heart. (Psalm 37:4)
The prayer of a righteous man is powerful and effective. (James 5:16)
James 5:13-18 encourages us to pray in every circumstance. It also teaches us that the prayer of a righteous person is powerful and effective!
Praise God! I also love that Scripture points out that Elijah was just like us, yet when he prayed earnestly God heard him and answered his prayers.
Is anyone among you in trouble? Let them pray. Is anyone happy? Let them sing songs of praise. Is anyone among you sick? Let them call the elders of the church to pray over them and anoint them with oil in the name of the Lord.

And the prayer offered in faith will make the sick person well; the Lord will raise them up. If they have sinned, they will be forgiven.

Therefore confess your sins to each other and pray for each other so that you may be healed. The prayer of a righteous person is powerful and effective.

Elijah was a human being, even as we are. He prayed earnestly that it would not rain, and it did not rain on the land for three and a half years. Again he prayed, and the heavens gave rain, and the earth produced its crops.

James 5:13-18 NIV
Instead of worrying, which changes absolutely nothing, channel all of those thoughts and all of that energy into prayer!
Pray over your baby. Pray over your pregnancy.
Use the verses below as a reference.
You Might Also Like: The Best Bible Verses for a Baby Shower (Unique + Classic Options)
How Do I Pray For Baby And Pregnancy?
Prayer in its most basic form is talking to God. It really is that simple.
That in and of itself is powerful. Jesus died on the cross because God longed for his children to be close to Him again.
God wants us to be close to Him, and one way to do that is to talk to Him.
However, sometimes pouring out our hearts isn't enough.
In certain seasons, especially when you struggle with worry and anxiety, having specific prayers to pray can be helpful.
The Bible offers us an example of how to pray in Matthew 6:5-15. The Lord's Prayer is a template of sorts, giving examples of different types of prayers that honor God.
You don't necessarily need to do all of these every time you pray, although you certainly can if you are in a template kind of season.
The Lord's Prayer directs us to:
Start by praising God, acknowledge that He is holy.
Next, submit yourself (and your baby) to his will.
Thirdly, ask for your needs. Tell God your requests and worries.
Then, repent and ask for forgiveness for your sins.
Finally, ask God to deliver you from temptation so that you can continue to draw near to Him.
Praying the scriptures back to God is a powerful way to pray! He loves when we talk with him and invite him into our fears, hurts, and praises.
When I pray the scriptures, I basically read scripture to God as my heart's desire. I ask that He will allow for me to receive the blessings from His word.
Ultimately, as the Bible tells us, the Holy Spirit intercedes for us in prayer.
We do not know what we ought to pray for, but the Spirit himself intercedes for us with groans that words cannot express. And he who searches our hearts knows the mind of the Spirit, because the Spirit intercedes for the saints in accordance with God's will.

Romans 8:26-27
You Might Also Like: The Best Scriptures to Pray Over Your Husband (+Free Printable)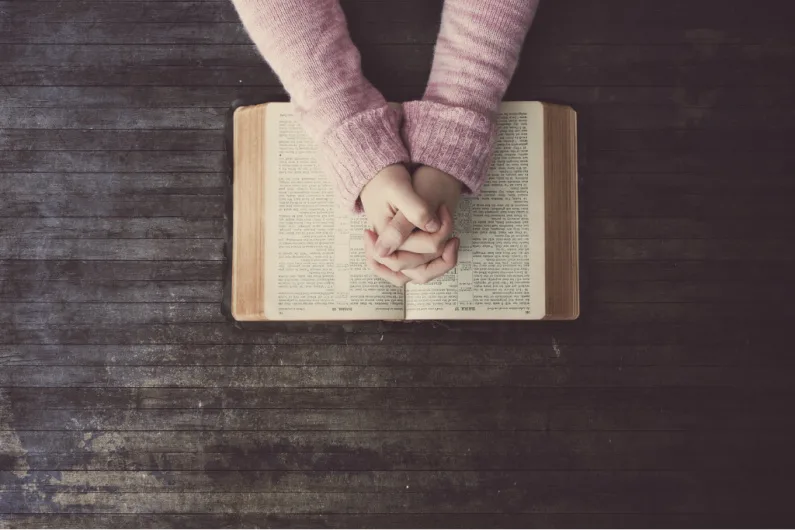 6 Verses To Pray During Pregnancy
1. Jeremiah 33:6
Nevertheless, I will bring health and healing to it; I will heal my people and will let them enjoy abundant peace and security.
Pray for the health of you and your baby:
Lord, will you see fit that I receive health during this pregnancy and that my baby will be healthy. Give me abundant peace and security in your name. Amen.
2. Deuteronomy 31:8
The Lord himself goes before you and will be with you; he will never leave you nor forsake you. Do not be afraid; do not be discouraged.
Pray for a safe delivery…
God, give me the strength and the courage to birth this baby. Thank you that you are going before me and that you are with me! Help me to rest knowing that you never leave me. Amen.
3. Isaiah 40:28-31 (abbreviated)
The Lord is the everlasting God, the Creator of the ends of the earth. He will not grow tired or weary, and his understanding no one can fathom.
He gives strength to the weary and increases the power of the weak… but those who hope in the Lord will renew their strength.
They will soar on wings like eagles; they will run and not grow weary, they will walk and not be faint.
Pray for strength…
LORD, thank you that you are the Creator of the earth, my baby and my body. I ask that you will increase my strength during pregnancy and renew my strength after birth as I hope in you. Amen.
4. Mark 12:29-31
"The most important one," answered Jesus, "is this: 'Hear, O Israel: The Lord our God, the Lord is one. Love the Lord your God with all your heart and with all your soul and with all your mind and with all your strength.'
The second is this: 'Love your neighbor as yourself.' There is no commandment greater than these."
Pray that your child will grow to love the Lord…
Lord, I pray that this child will grow to love you with all of her heart, soul, mind and strength. Teach her to love her neighbor as herself. Amen.
5. Philippians 4:4-7
Rejoice in the Lord always. I will say it again: Rejoice! Let your gentleness be evident to all. The Lord is near.
Do not be anxious about anything, but in every situation, by prayer and petition, with thanksgiving, present your requests to God.
And the peace of God, which transcends all understanding, will guard your hearts and your minds in Christ Jesus.
Pray for a peaceful spirit…
God, as I rejoice in you, fill me with your peace and guard my heart and mind in Christ Jesus. Help me to draw near to you always. Amen.
6. 1 Samuel 1:27-28
I prayed for this child, and the Lord has granted me what I asked of him. So now I give him to the Lord.
For his whole life he will be given over to the Lord." And he worshiped the Lord there.
Pray to surrender your baby to God…
LORD, I praise you for giving me this baby. I give my baby's life over to you, do what you will with my baby's whole life. I dedicate this child to you, God. Amen.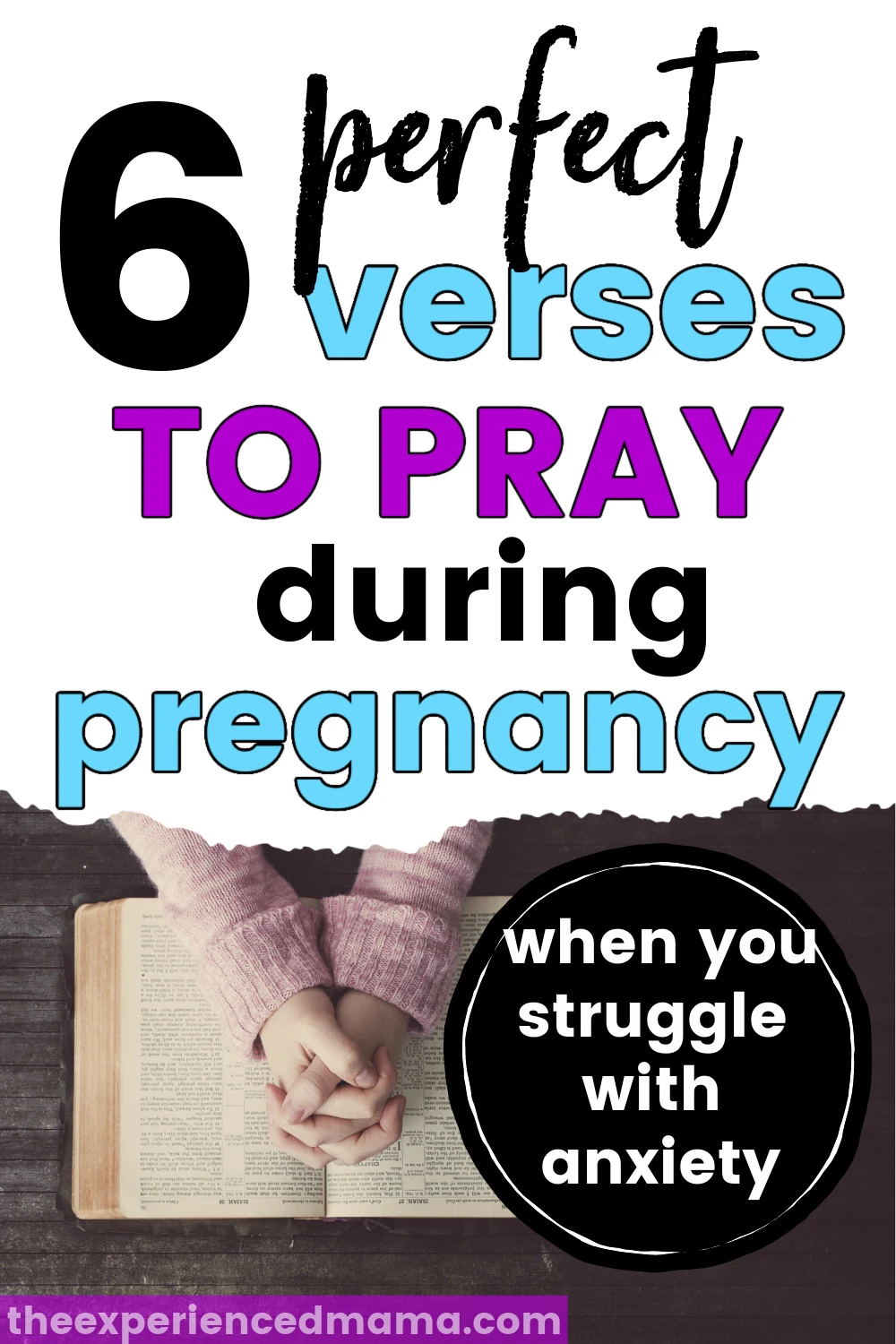 The Most Important Thing to Remember As You Pray
Preparing for the arrival of a new baby is simultaneously exciting and frightening.
In the midst of all the intense feelings and worries, you need to remember this:
We never are in a better place than when we can't do something without God. Parenthood brings us closer to God because it puts us in desperate need for His guiding and His provision.
Cling to Him in prayer as you journey through pregnancy and welcome your baby!
Download The Prayer Cards and Pray!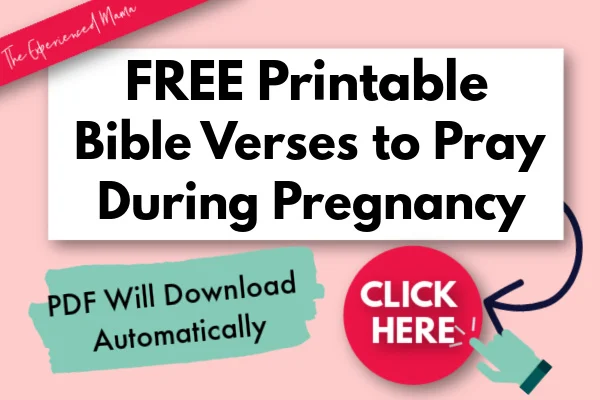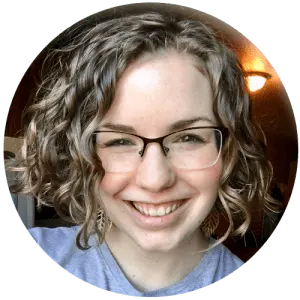 Kenzie lives with her husband and daughter in beautiful Lancaster County, Pennsylvania. She's wrestled with infertility, survived a miscarriage, and is overjoyed to finally be a mama to her sweet baby girl she thought she'd never have. She especially loves helping moms who have had miscarriages find hope after loss.