Inside: Get 17 scriptures to pray over your husband, promises in the Bible waiting for you to discover and claim. Even more importantly, learn how to pray these verses over your husband – yes, the how, it matters. Plus, get a free printable with all 17 verses, to make praying over your husband even easier.
Pregnancy is such an exciting time! But it can also be a time of intense uncertainty.
So much change at once, and how will it affect the most important relationship in your life: your husband? How will it change you both? And how will your marriage handle adding a baby to the mix?
If you are planning on transitioning from working to staying home for a season, you might also find yourself relying fully on your husband's income for the first time. And that can be more than a little scary.
One of the best ways I know of to handle uncertainty is prayer.
Especially if you're worried about what the future will hold for your marriage, praying for your husband can help SO much. Figuring out what to pray can be just as exhausting as the anxiety, so I'm giving you 17 verses to pray over your husband, plus a free printable with all 17 scriptures.
You've got this, new mama. It's going to be o.k.!
Related: 6 Verses to Pray During Pregnancy to Fight Anxiety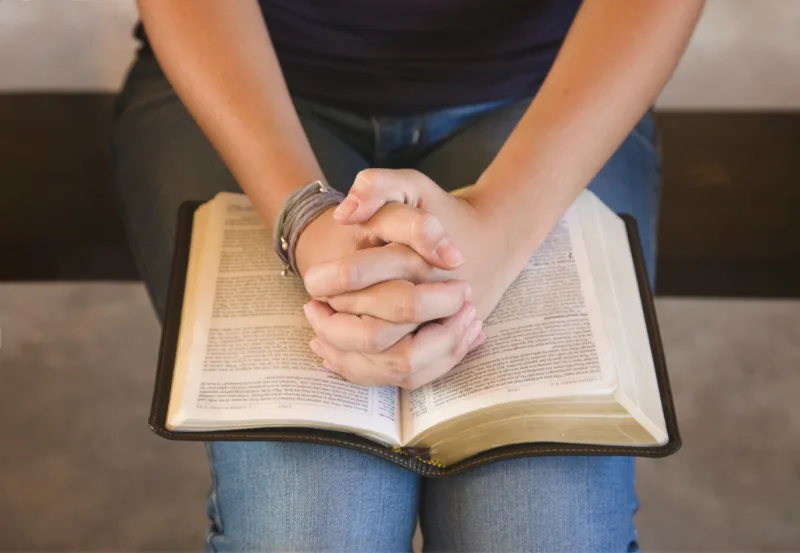 Why Pray Scriptures Over Your Husband?
Many times throughout the Bible, God tells us that we must ask to receive what He promises to us. As we trust in Him and love His ways, our desires will align with his desires.
Delight yourself in the LORD and he will give you the desires of your heart. (Psalm 37:4)
Praying scriptures over them is one way that we can faithfully care for our husbands and bring blessings onto them.
Sometimes, we can get discouraged though. We don't see the things we hoped for.
That's why I found this passage in Mark to be astounding and encouraging to continue in faithful prayer.
Mark 9:14-29 says, "When they returned to the other disciples, they saw a large crowd surrounding them, and some teachers of religious law were arguing with them.When the crowd saw Jesus, they were overwhelmed with awe, and they ran to greet him."What is all this arguing about?" Jesus asked. One of the men in the crowd spoke up and said, "Teacher, I brought my son so you could heal him. He is possessed by an evil spirit that won't let him talk. And whenever this spirit seizes him, it throws him violently to the ground. Then he foams at the mouth and grinds his teeth and becomes rigid. So I asked your disciples to cast out the evil spirit, but they couldn't do it."
Jesus scolded the disciples, asking them why they couldn't help this child. The father of the boy then asked Jesus if he thought he could save his son.
Continuing in verse 23, ""What do you mean, 'If I can'?" Jesus asked. "Anything is possible if a person believes." The father instantly cried out, "I do believe, but help me overcome my unbelief!" When Jesus saw that the crowd of onlookers was growing, he rebuked the evil spirit. "Listen, you spirit that makes this boy unable to hear and speak," he said. "I command you to come out of this child and never enter him again!"" and the spirit left the boy.
In verse 28, the disciples asked Jesus "Why couldn't we cast out that evil spirit?" and Jesus replied, "This kind can be cast out only by prayer."
I don't know about you, but for me, this realization of the power of prayer is HUGE.
The fact that the disciples couldn't do something because they hadn't prayed AND that the prayer was as simple as "I do believe, but help me overcome my unbelief!"? Mind BLOWN.
God designed prayer to enrich our spiritual lives and to have closer fellowship with Him. Prayer also unites husband and wife because as we both draw closer to God, we will become closer to one another.
If you haven't gotten it yet, praying for your husband is so important!
Related: Unhappy in Your Marriage After Baby Arrived? 11 Ways to Turn Things Around
How to Pray Over Your Husband
When you pray for your husband, pray from a stance of victory. Well, what the heck does that mean, Kenzie? So glad you asked!
Here's the deal. God has already given promises for your husband, and He invites us to participate in receiving His blessings.
God promised Abraham that He would give them a land flowing with milk and honey. Years later, He commanded Joshua to go into the land that He was giving them.
God promised to give them victory over their enemies. God had already given the whole of the promised land to them.
God said that every place that they stepped foot would be their land – no more, no less. That means they only would get to enjoy as much as they put their feet on.
Sounds simple, right? Unfortunately for them, not so much.
The Israelites lived in just a small section of Canaan (instead of the whole of it) because they were scared to fight the enemies before them. The same enemies that God said He would defeat!
There are thousands of God's promises throughout the Bible. Many of them are just given to us, daughters of the King.
God wants to give us these blessings because He is a good God who loves to give good gifts. But the majority of God's promises are not placed directly in our hand: they're placed within reach.
God wants us to participate in the experience of His blessings. (Priscilla Shirer, Begin the Battle on Your Knees Sermon)
The promises of the Bible are already yours, you just need to ask and receive (Matthew 7:7-8).
Related: 15 Practical Ways to Be a Supportive Husband During Pregnancy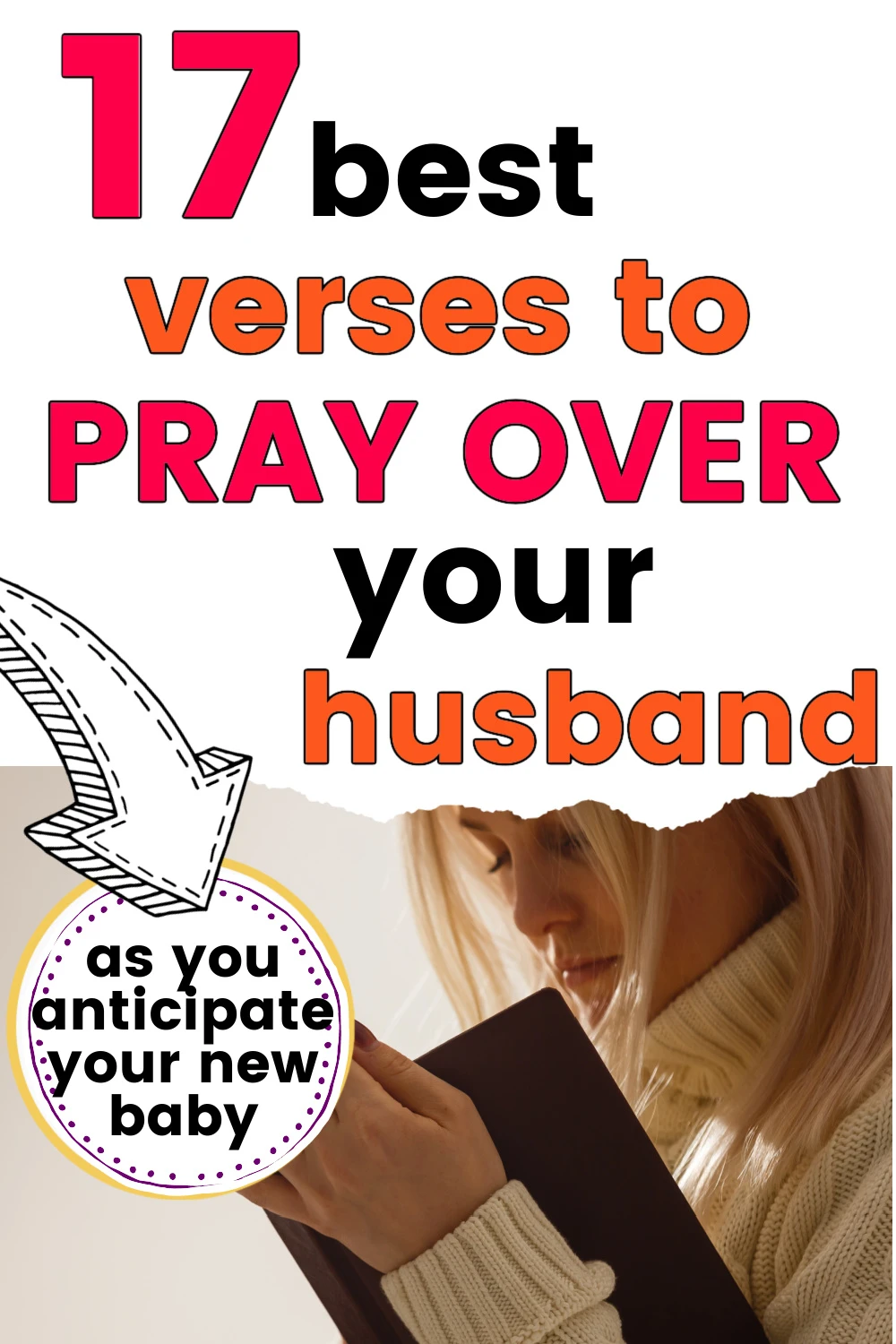 17 Scriptures to Pray Over Your Husband
I have included verses to pray over your husband from every angle – career, temptation, peace, protection, and more.
Feel free to also use the accompanying prayers verbatim, or as a guide for your own unscripted prayers!
Pray for your husband's career…
Lord, allow my husband to be content to work heartily at his job. Give him strength to work long days. Thank you for providing this job for him! Amen.
1. Psalm 90:17
May the favor of the Lord our God rest on us; establish the work of our hands for us— yes, establish the work of our hands.
2. Proverbs 16:3
Commit your works to the Lord, and your plans will be established.
Pray against temptation…
Holy Spirit, guide my husband throughout his day. Help him to set his mind on heavenly things and on whatever is true, noble, right, pure, lovely, admirable, excellent or praiseworthy. Put a guard over his heart and thoughts. Amen.
3. Romans 8:9
But you are not controlled by your sinful nature. You are controlled by the Spirit if you have the Spirit of God living in you. (And remember that those who do not have the Spirit of Christ living in them do not belong to him at all.)
4. Colossians 3:2
Set your minds on things above, not on earthly things.
5. Philippians 4:8-9
Finally, brothers and sisters, whatever is true, whatever is noble, whatever is right, whatever is pure, whatever is lovely, whatever is admirable—if anything is excellent or praiseworthy—think about such things. Whatever you have learned or received or heard from [Paul], or seen in me—put it into practice. And the God of peace will be with you.
Pray for a spirit of peace…
God, I ask that you will give my husband a calm and hopeful spirit as he trusts in You. Thank you that you promise to guard my husbands heart and mind! Remind my husband to surrender any anxious thoughts to You. Cover my husband with your peace. Amen.
6. Philippians 4:5-7
Let your gentleness be evident to all. The Lord is near. Do not be anxious about anything, but in every situation, by prayer and petition, with thanksgiving, present your requests to God. And the peace of God, which transcends all understanding, will guard your hearts and your minds in Christ Jesus.
7. Romans 15:13
May the God of hope fill you with all joy and peace as you trust in him, so that you may overflow with hope by the power of the Holy Spirit.
Pray protection over him….
Lord, be a shield over my husband as he walks in integrity. Thank you that we do not have to fear because you tell us you will never leave us or forsake us! Help my husband to rest in the safety of your mighty shadow. Amen.
8. Proverbs 2:6-8
For the Lord gives wisdom; from his mouth come knowledge and understanding; he stores up sound wisdom for the upright; he is a shield to those who walk in integrity, guarding the paths of justice and watching over the way of his saints.
9. Hebrews 13:5-6
Keep your life free from love of money, and be content with what you have, for he has said, "I will never leave you nor forsake you." So we can confidently say, "The Lord is my helper; I will not fear; what can man do to me?"
10. Psalms 91:1-2
Whoever dwells in the shelter of the Most High will rest in the shadow of the Almighty. I will say of the Lord, "He is my refuge and my fortress, my God, in whom I trust."
Pray for his role as husband and father…
God, you are the perfect example of both a father and a husband. Help my husband to be the husband and father that you desire for him to be. Guide my husband as he learns how to be a better husband and father. Amen.
11. Ephesians 5:25-30
Husbands, love your wives, just as Christ loved the church and gave himself up for her to make her holy, cleansing her by the washing with water through the word, and to present her to himself as a radiant church, without stain or wrinkle or any other blemish, but holy and blameless. In this same way, husbands ought to love their wives as their own bodies. He who loves his wife loves himself. After all, no one ever hated their own body, but they feed and care for their body, just as Christ does the church— for we are members of his body.
12. Ephesians 6:4
Fathers, do not provoke your children to anger, but bring them up in the discipline and instruction of the Lord.
Pray for godly wisdom…
God, we believe you will give us the wisdom and guidance that we need. Increase our faith and belief. I ask that my husband will seek you for wisdom and that he will gain understanding from you and be willing to seek advice when necessary. Amen.
13. James 1:5-6
If any of you lacks wisdom, you should ask God, who gives generously to all without finding fault, and it will be given to you. But when you ask, you must believe and not doubt, because the one who doubts is like a wave of the sea, blown and tossed by the wind.
14. Proverbs 13:10
Where there is strife, there is pride, but wisdom is found in those who take advice.
15. Psalm 119:104-105
I gain understanding from your precepts; therefore I hate every wrong path. Your word is a lamp for my feet, a light on my path.
Pray for strength…
Lord, strengthen my husband. I ask that you will give him endurance, patience, and a thankful heart. Help him to walk in a manner that is pleasing to You. We want to honor you with our lives, God, but can't do anything without your strength. Amen.
16. Colossians 1:9b-11
…asking that you may be filled with the knowledge of his will in all spiritual wisdom and understanding, so as to walk in a manner worthy of the Lord, fully pleasing to him: bearing fruit in every good work and increasing in the knowledge of God; being strengthened with all power, according to his glorious might, for all endurance and patience with joy…
17. Colossians 2:6-7
So then, just as you received Christ Jesus as Lord, continue to live your lives in him, rooted and built up in him, strengthened in the faith as you were taught, and overflowing with thankfulness.
You Might Also Like: The Best Bible Verses for Miscarriage & Pregnancy Loss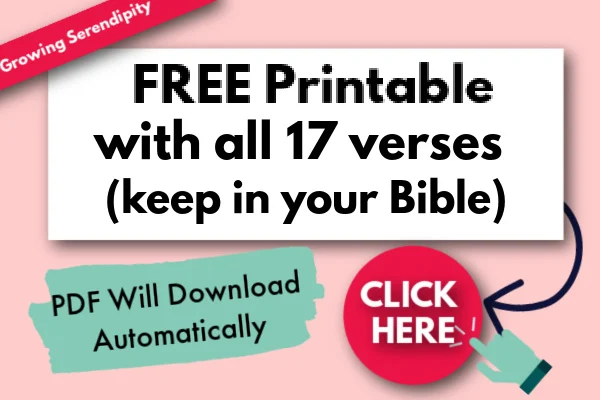 Wondering If These Verses to Pray Over Your Husband Really Work?
I know, it's hard to know if these things will really work. But that's why it's called faith, my friend.
I truly believe that prayer really does change things. If you're wanting to learn more specifically about how praying the scriptures can bring about change in your life, I highly recommend THIS book.
Pray – and God's Word – changes everything.
Wait eagerly to see what God does in your husband's life and in turn, yours!
Read Next: 21 Scriptures for Infertility that Offer Comfort and Hope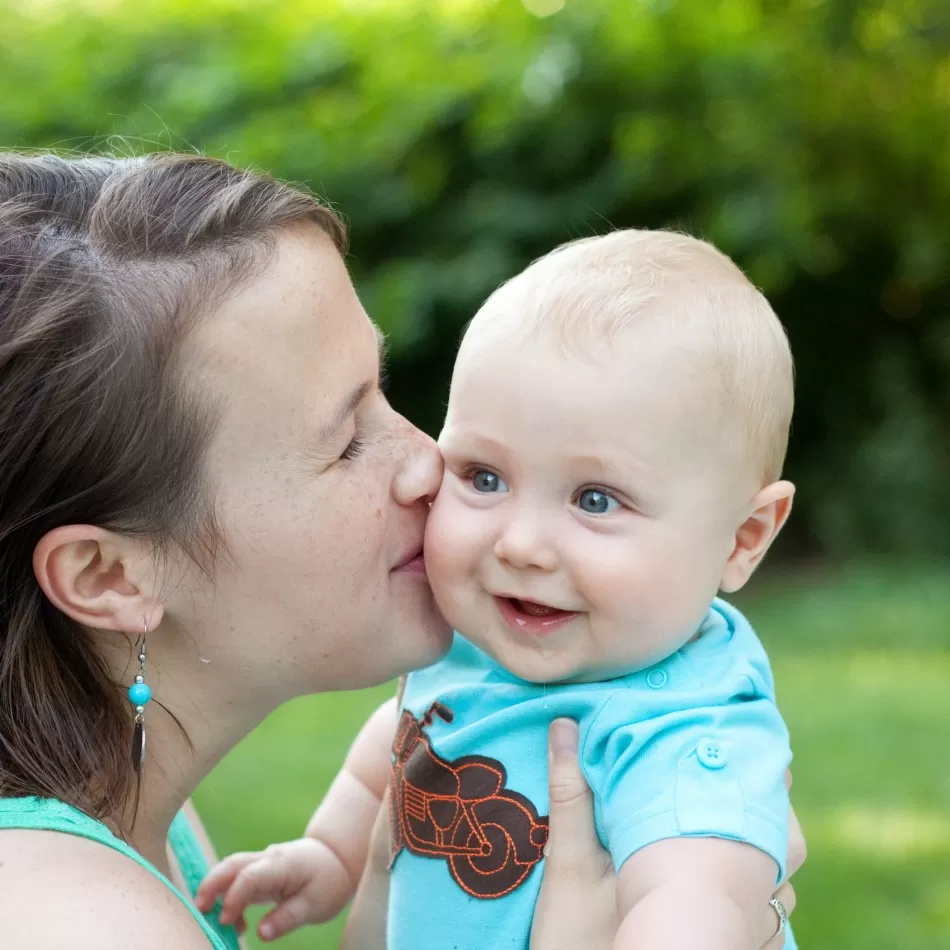 June could talk to you all day about homeschooling, parenting, and minimalism. When she's not homeschooling, decluttering, or blogging, she loves to enjoy perfect silence while sipping a hot cup of coffee and thinking uninterrupted thoughts—which, of course, with five kids, doesn't happen very often.