Inside: Looking for practical gift ideas for expecting dads that are actually useful for his upcoming debut as a father? These are hands-down the top 10 gifts every new dad can't help but appreciate, with zero filler/fluff gifts.
I'm a pretty practical gal, and so is my husband. We have five kids, and the more kids you have, the more kids you realize – you really don't need more clutter.
Babies naturally come with their own bundle of necessities. And as kids grow? No matter how much you try to keep their clothes and toys uber minimalist, you somehow still end up with a full house.
So dad shirts, mugs and the like are cute and all, but dad-to-be probably already has his fair share of coffee mugs and tee-shirts.
Plus, baby is going to grow out of that adorable matching onesie in about a month – two tops.
If you're mom-to-be buying for Father's Day or Christmas and cost is a factor, I totally hear you – we were living paycheck to paycheck when we had our first baby. That's why there are a couple of gifts on this list you can get for less than a shirt or a mug, and things you would probably buy anyway (I'm lookin' at you, coffee).
So if you're wondering what to get an expecting dad that will actually last and not end up at the thrift store six months after baby is born, here are the top 10 choices any dad-to-be will love.
Related: 40 Best Pregnancy Gifts for First-Time Moms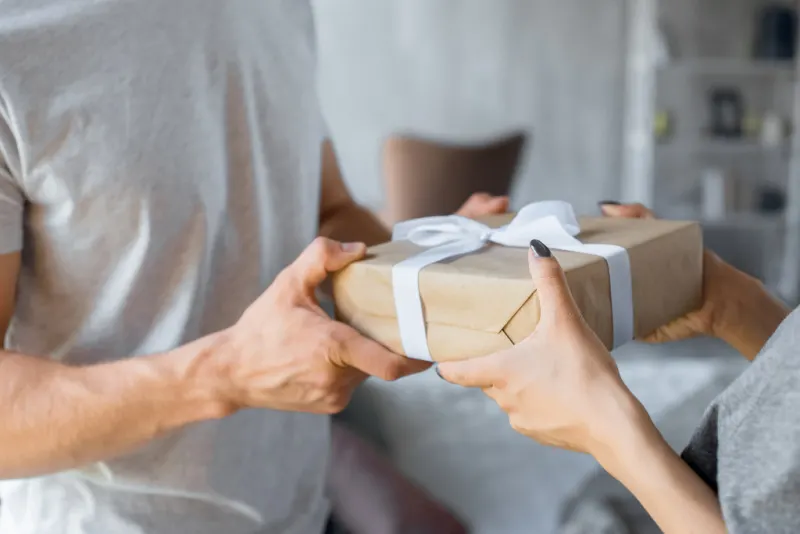 Top 10 Gift Ideas for Expecting Dads in 2021
For new and expecting dads, headphones are a MUST. He's going to want to listen to music, podcasts, audiobooks or shows while holding a sleeping baby without waking that baby up with the noise.
Headphones with wires are fine…but they can be a pain.
Baby can easily get tangled up in them, and when you have a sleeping baby lost in a headphone tangle, it's not pretty (ask me how I know).
These wireless headphones, while pricey, are absolutely worth the investment.
If you're looking for a more affordable option, THESE get decent reviews and are a fraction of the price of Apple airpod.
Audible is all the rage, and you can certainly choose that, but if expecting dad is a serious audiobook addict like my husband, he isn't going to be satisfied with one audiobook a month.
Plus, he might not really want to listen to the book over again (my husband certainly doesn't).
Scribd is perfect for someone who wants to listen to audiobooks exclusively. It offers access to hundreds of audiobooks for 2/3 the cost of Audible.
You don't get to keep the books…but you don't get that at a library either. He can always listen again months from now if he wants to.
Then again, if dad-to-be adores listening to his favorite books over and over again and doesn't go through several books a month like my husband does, Audible could be the better investment. Check out Audible HERE.
On the other hand, if he hates audio anything and can only handle regular books, Kindle Unlimited is the way to go. Keep your home clutter-free and your bag lightweight, but have access to hundreds of books on one slim device.
Even better, you can read on your phone, so a Kindle isn't entirely necessary.
This gift is best for avid readers who aren't super particular about what they read. You get access to thousands of books through the subscription, and can narrow your search to only what's available on Kindle Unlimited.
Just because dad may not be the one feeding the baby in the middle of the night doesn't mean those screams won't wake him up, too. And while we're here, C'MON dad, get up and offer to change the baby for your tired wife – it's YOUR baby, too.
In the face of intense sleep deprivation and interrupted sleep unlike anything he's ever known, there is nothing more essential than caffeine.
Keep the man in coffee with a monthly coffee subscription box. There are a plethora of options to choose from, but here are a few:
You could also simply set up a subscribe & save order on Amazon for his favorite roast.
Personally, I love this blonde roast from Starbucks, and I currently get it for around $5 a bag through subscribe & save, with 6 bags delivered monthly.
The Ember mug doesn't have anything cute on it about being a dad, which makes me love it all the more. But you're going to want to check out this app-controlled, heated coffee mug.
It's a game changer for parents everywhere. Your hot beverage actually stays hot – HALLELUJAH.
You can choose your perfect temperature, and the cup keeps it that way. It comes with a coaster for charging, and the battery holds an hour of charge.
The new version has a longer battery life with improved design and more color options. You can see it HERE.
6. Baby Carrier for Dad
But we already have a baby carrier on the baby registry, you say. Bottom Line: dad may not prefer the same carrier you do.
If he's expressed excitement about baby-wearing, but he's unsure (or flat-out nervous) about using the woven wrap that you've chosen, a baby carrier could be a great gift idea.
I would suggest buying one of the following soft structured baby carriers (SSC) for dads:
These are the carriers I see most frequently (and highly) recommended in Facebook groups.
If you want to use the same carrier, but one of you needs a bigger waist size, you can always get an extension like this one for the LÍLLÉbaby.
If dad doesn't already have a small travel bag for the hospital, now's the perfect time to get him one.
Yes, dad needs a hospital bag. It's SO much easier than sorting through each other's stuff at the hospital during what might the most nerve-wracking, stressful day of your lives.
Plus, if he has his own separate bag, he can pack on his own without disturbing your stuff. Send him this hospital bag checklist for dad, and stock it with some of his favorite non-perishable snacks for the hospital, too.
Related: 17 Healthy Hospital Bag Snacks for Labor and Delivery
Hello parenthood, buh-bye short-term memory. With the sleep deprivation comes some serious brain fog, and dad might have trouble remembering exactly where he put his keys and wallet.
Once I left my phone on top of the car late at night while pulling the car seat out of the car…and neglected to look for it the night before. It died, GPS didn't work, and I had to get a new phone.
Don't let that happen to dad. Give him the gift of Tiles.
Tiles can be added to your key chain or wallet and have built-in GPS that you can access from your phone or computer, so you can always locate your most important items quickly.
Why waste time upending your entire house looking for your keys when you can click a button and find them instantly?
You can find a Tile 4-pack HERE (one is shaped specifically like a debit card, just for wallets!).
For whatever reason, dads seem to be more particular about keeping their cars clean. Maybe moms are just resigned to the fact that once you have a baby, your car is forever doomed to kid nastiness?
We currently have only one vehicle because we both work from home, but my husband dreams of a second car that kids don't eat it. A guy can dream, right?
Until that day, car seat protectors are a dad's best friend. Save the seats and dad's sanity, plus prevent an expensive car detailing bill later in life.
This one gets excellent reviews and has handy storage in front for all the baby things. The perfect gift.
As a new parent, your hands are going to be occupied a LOT of the time. You'll be holding a sleeping baby and want to pass her off to the other parent, but they're all the way downstairs.
That makes the Echo Dot a perfect gift.
Get two Echo Dots, and be able to communicate with each other across the house. Order baby essentials with one sentence. Check the weather so you know whether or not you need the car seat cover for the stroller, or put on the bedtime routine lullaby.
The Echo Dot has a lot of other functionality – I just highlighted the one's especially relevant to expecting dads.
They are also cheaper than the regular Amazon Echo and frequently go on sale.
See everything the Echo Dot has to offer HERE.
You Might Also Like: 17 Perfect Newborn Christmas Gift Ideas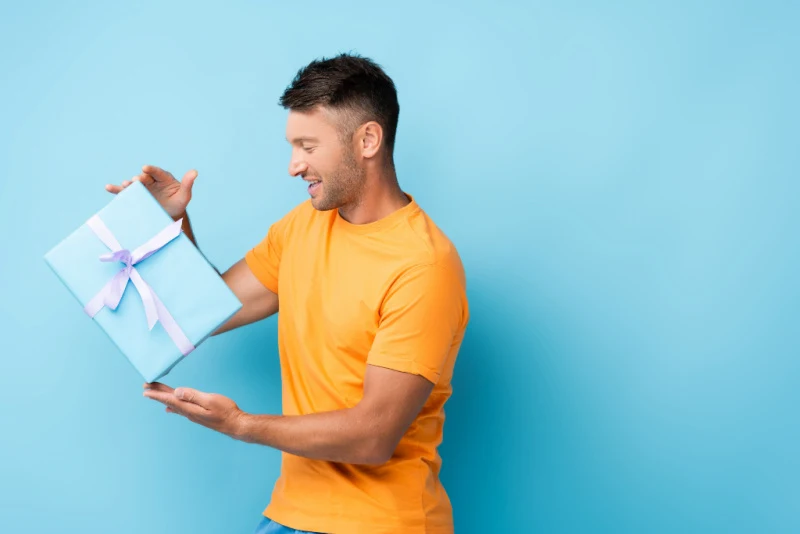 These Gifts for Dad-to-Be Are Perfect for Father's Day, Christmas, or Any Gift-Giving Holiday, Really.
Becoming a dad is a big deal, but it's easy for him not to feel that way. Let's face it – moms get most of the glory in the whole having a baby process.
As long as he's still a brand new or expecting dad, these gifts will be relevant for any major gift-giving holiday (not just his first Father's Day).
If you don't feel like it's enough, or you're not sure these hit the mark, include a gift card to Starbucks or his favorite restaurant, too. You seriously cannot go wrong with coffee or food.
Get him a practical, thoughtful gift, and remind him that he plays an important role in the having a baby thing. I know he'll be touched that you did.
Related: 20+ Best Gifts for Nursing Moms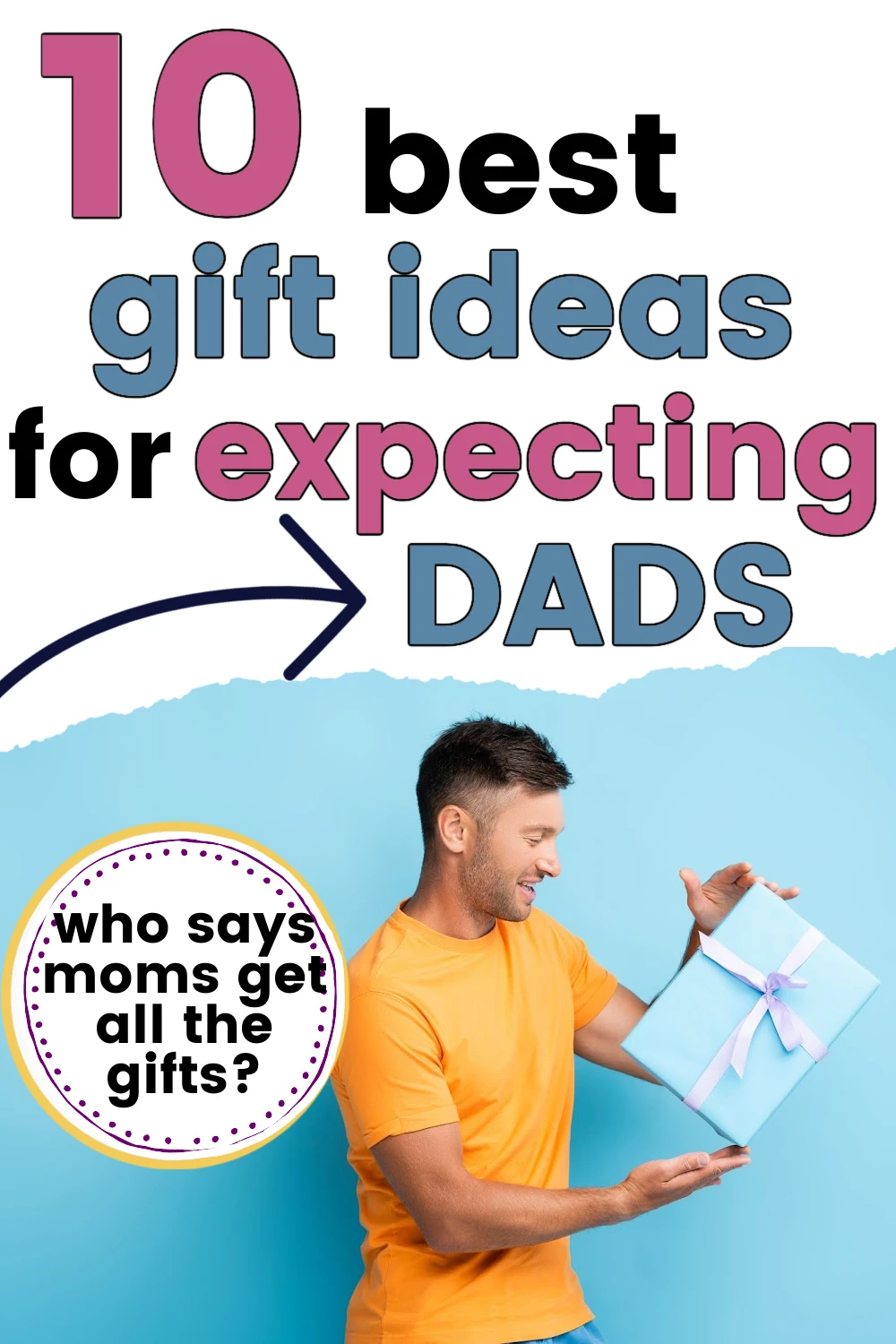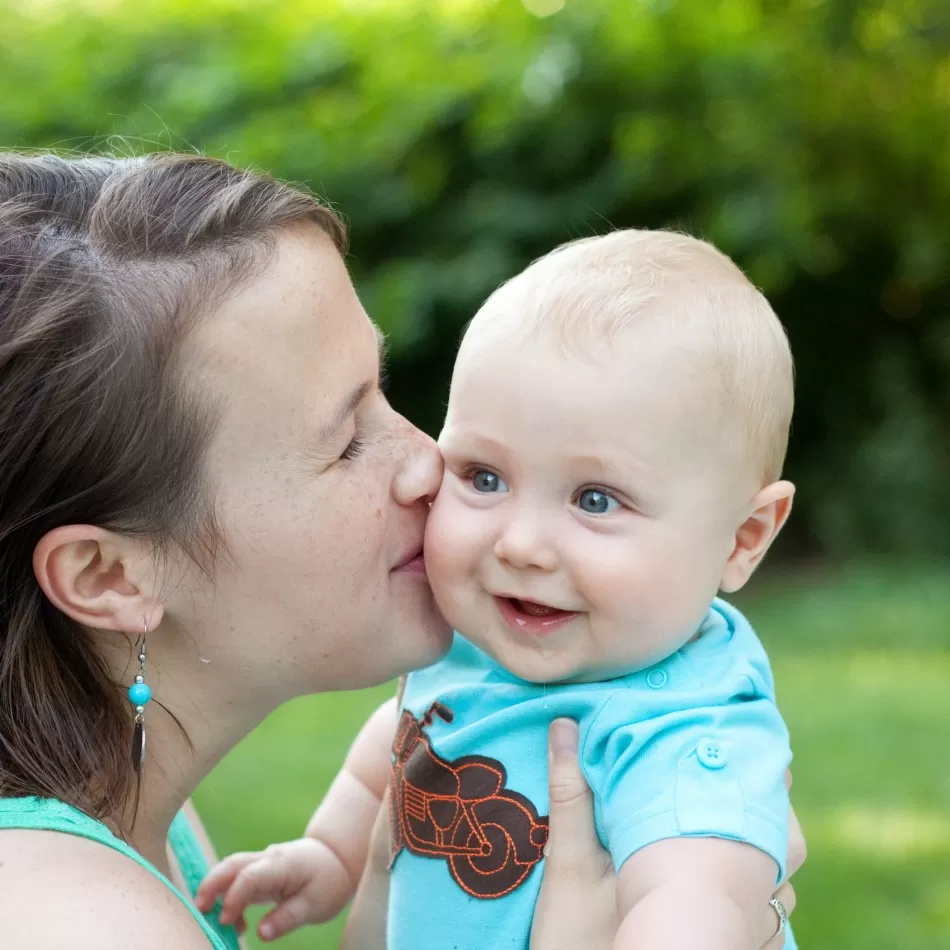 June could talk to you all day about homeschooling, parenting, and minimalism. When she's not homeschooling, decluttering, or blogging, she loves to enjoy perfect silence while sipping a hot cup of coffee and thinking uninterrupted thoughts—which, of course, with five kids, doesn't happen very often.