Inside: 20+ of the best gifts for nursing moms! This is the ultimate guide to practical (and thoughtful) gifts for breastfeeding moms.
Breastfeeding is a special, but sometimes tough, time in a mom's life. For some moms, it can be even harder than pregnancy.
The stress of not knowing whether or not your baby is getting enough milk, keeping up your supply, watching what she eats (because: food allergies), dealing with all the not-so-fun parts of nursing, plus being the sole source of your baby's nutrition…it can all be a lot.
That's the best reason to get a nursing mom a gift: it will seriously touch her heart and know that someone SEES. Someone sees how hard she's working to keep another human alive.
If you want the best gift ideas that will fit your budget and really bless her, then you'll be tickled pink to find them all in one place.
(AND most of these gifts can be found on Amazon. You seriously can't beat that one-day shipping.)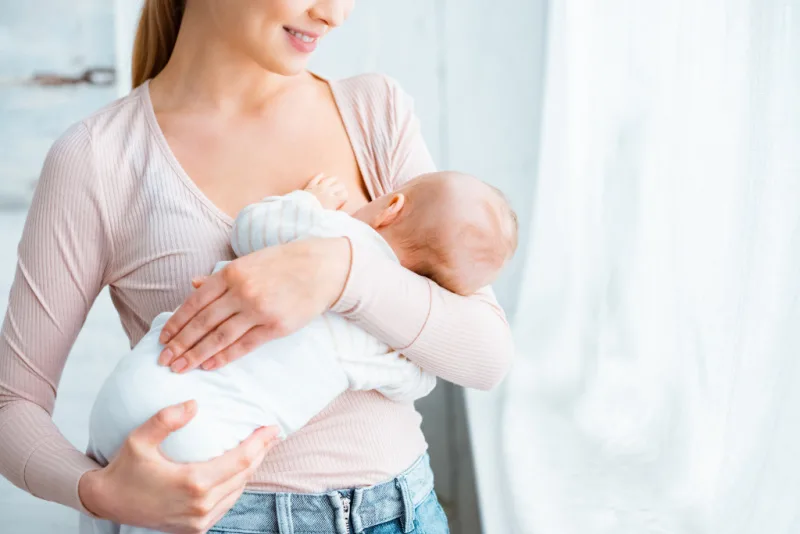 20 Best Gifts for Nursing Moms
THIS POST PROBABLY CONTAINS AFFILIATE LINKS. AS AN AMAZON ASSOCIATE, I EARN FROM QUALIFYING PURCHASES. YOU CAN READ OUR FULL DISCLOSURE POLICY HERE.
Many of these gifts for nursing moms assume a certain level of closeness with the nursing mom recipient.
For instance, if you're an office coworker acquaintance, you may want to reconsider gifting handheld breast pump and skip straight to the water bottle.
It probably goes without saying, but I just wanted to mention it so you don't hastily grab the first thing on this gift guide, which happens to be a handheld breast pump.
…At least, don't grab that one if you don't want to exchange awkward glances across cubicles for the rest of your forseeable future.
Now that we got that little disclaimer out of the way, let's get right down to the gifts. Also, you should know that these are loosely organized from cheapest to most expensive gifts.
1. Haakaa Manual Breast Pump
The Haakaa Manual Breast Pump gives sweet relief to engorged, clogged, and tender breasts. This hand pump releases some pressure without giving your body the signal to make more milk.
Your new breastfeeding sidekick (hint: this pump) fits easily in a purse or diaper bag for when you're out and about.
There's also the option to buy it with a lid to store milk for later.
2. Mother's Milk Tea by Traditional Medicinals
I struggled with oversupply so I never drank this tea for the intention of boosting milk supply.
BUT, I do know that my friends that have tried it love it. I've heard that it really does help with boosting milk production.
3. A Good Book
There is a lot of time sitting with nothing to do when you're nursing a baby. A LOT. Like, work your way through multiple series of TV shows, a lot.
I got so tired of always being on my phone or watching TV while nursing.
Listening to a book on Audible is my preference, but sometimes there's also something so nice about holding a physical copy of a book and reading.
Stick to something light – easy fiction she can read without requiring too much brain power.
4. Water-Resistant Boppy Pillow Cover
Poop explosions. Spit up. Baby barf. Spilled coffee. General mothering chaos.
This water-resistant pillow cover saves your Boppy Pillow from all the things.
5. Organic Nipple Cream
Oh, sweet tender nipples, how I do not miss you.
This nipple cream works wonders on sore, dry, and cracked nipples.
'Nuff said.
5. Lansinoh Nursing Pads
I've tried washable nursing pads, and let me tell you, why give a nursing mom one more thing to worry about washing? She's got enough laundry to do with a new baby.
Lansinoh nursing pads are the BEST. I used them with all five babies and can attest to their awesomeness.
Get a few boxes. She'll go through them fast and will appreciate a stockpile!
6. Lip Treatment
You may have already read me sing the praises of Hanalei's lip treatment in several of my posts, but it's time to sing again.
Y'all. This stuff rocks!
A breastfeeding mom's lips need the love and care that Hanalei's lip treatment gives.
It's smooth, it's tinted, it smells great, and it works wonders.
7. The Ultimate Online Breastfeeding Class

What do most moms say is the thing they wish they knew before birth? More about breastfeeding!
Give her the gift of confidence and of feeling truly prepared to breastfeed. Enroll her in this online breastfeeding class – oh, and by the way, it's only $19.
8. "C" End Table
Water. Book. TV remotes. Hand pump. Nursing pads. Spit up rags. A small plate of food.
All balanced on the arm of the couch.
The baby flails right as you sit down causing all of it to fall onto the couch and off the couch to the floor. (Sadly, this is a real life example.)
Your girl needs a "C" Table! She can easily move it to wherever she is so that she can set everything down without worry.
9. Super Soft Bobby Cover
This gift is pretty practical and straightforward. Her Boppy pillow needs a cover (two is better).
THIS one is simply the best there is. Super duper soft and cozy.
10. Stretchy Nursing Cover
I really like these stretchy nursing covers, simply because they're useful for so many things.
While I'm no longer a fan of nursing covers in general, when you're just starting out, they can make you feel so much more comfortable nursing in public.
11. Boppy Pillow
I've mentioned all the covers, but the boppy pillow itself is a LIFE-SAVER.
Boppy nursing pillows save your back, arms, and give you so much support. Definitely a must-have for new nursing moms!
(If you go with the gift option, be sure to get her the water-resistant cover and a super soft top cover mentioned earlier!)
12. Kindred Bravely Sleep Bra
Holy goodness, THIS sleep bra is SOFT. It stretches enough to ebb and flow with your milk supply. Yet, it holds its shape well.
It's soft on tender, full breasts. Easy access for night nursing is also a must!
13. Water Bottle
When I was breastfeeding, I was just so darn thirsty. I couldn't drink enough water… and that's mostly because I couldn't ever reach my water bottle once I was finally sitting down to nurse.
Get her two (THIS one's my favorite!) so that she can always have water nearby.
14. Nursing-Friendly Tops
Basically, your girl needs some clothes that are suitable for nursing.
I thought that it wouldn't be that bad to just wear normal clothes. WRONG. Or, just buy cheaper nursing clothes. WRONG again.
It is so, so much easier to nurse when you have good quality nursing clothes.
My favorite tops are THESE loose tanks. They are super basic tanks that are easy to nurse in, plus you can wear a cardigan over it, offering even more coverage (see #15).
She isn't going to want to wear nursing tanks forever (they aren't very flattering), so get her something she can feel beautiful in, but works well for breastfeeding.
15. Open-Front Cardigans
The next thing on her nursing-friendly clothing list are open-front cardigans like THIS one.
Pair these with the loose tanks above and her favorite maternity jeans (yep, she'll need those for a few more months after birth), and she'll feel amazing.
16. Glider
I'm not sure how, but I made it 15 months without a rocking chair or glider.
But I wanted one sooooo badly. A comfy rocking chair like THIS one would have been so nice to have when I was a nursing mom!
Nursing on our couch was fine but there were times that it would have been nice to be snuggled up in the nursery with my baby. Not to mention, how comforting it is for a mom to rock her baby.
Go in with a few others to get her this big-ticket item.
17. Audible Subscription
I listen on Audible basically every day. My mind is so much sharper and doing chores (ahem, folding laundry) is so much more tolerable now that I can listen to a book.
At first, I wanted an Audible subscription because it felt like my mind was rotting while I sat on my phone or watched TV for hours on end while nursing my baby.
Audible has given my brain something productive and exciting to do while I nurse or do other (somewhat) mindless tasks.
Gift her an audible subscription HERE.
18. Favorite Magazine Subscription
Ahh, the lost art of sitting and leisurely flipping through a magazine. Another easy read for nursing moms.
One subscription idea: Magnolia Journal – 'cuz who doesn't love Joanna Gaines.
19. Meals or Snacks
Don't forget about the magic of a meal (or snack).
Seriously, a home-cooked meal or a take-out gift card would make a world of difference in a new nursing mom's life.
Easy one-handed snacks are great to bring to a nursing mom.
Nighttime feedings and an increased appetite leads to a lot of snacking – ask for her favorite shelf-stable snacks and fill up a basket for her.
You Might Also Like: Healthy Breastfeeding Snacks – Quick, Easy and Satisfying
20. A Blender
Speaking of snacks, these breastfeeding smoothies are amazing for boosting her milk supply. If she doesn't already have one, a blender is the perfect gift for nursing moms!
This blender brand has lasted forever in our home. We even tried the fancy Ninja blender and ditched it in favor of THIS blender.
21. Comfy Lounge Pants
In those early days of breastfeeding, it's highly likely she will spend A LOT of time around the house. And if you're gonna do that, comfy pants are a MUST.
Joggers like THESE will keep her comfy while learning the nursing ropes and getting her routine down with a new little one.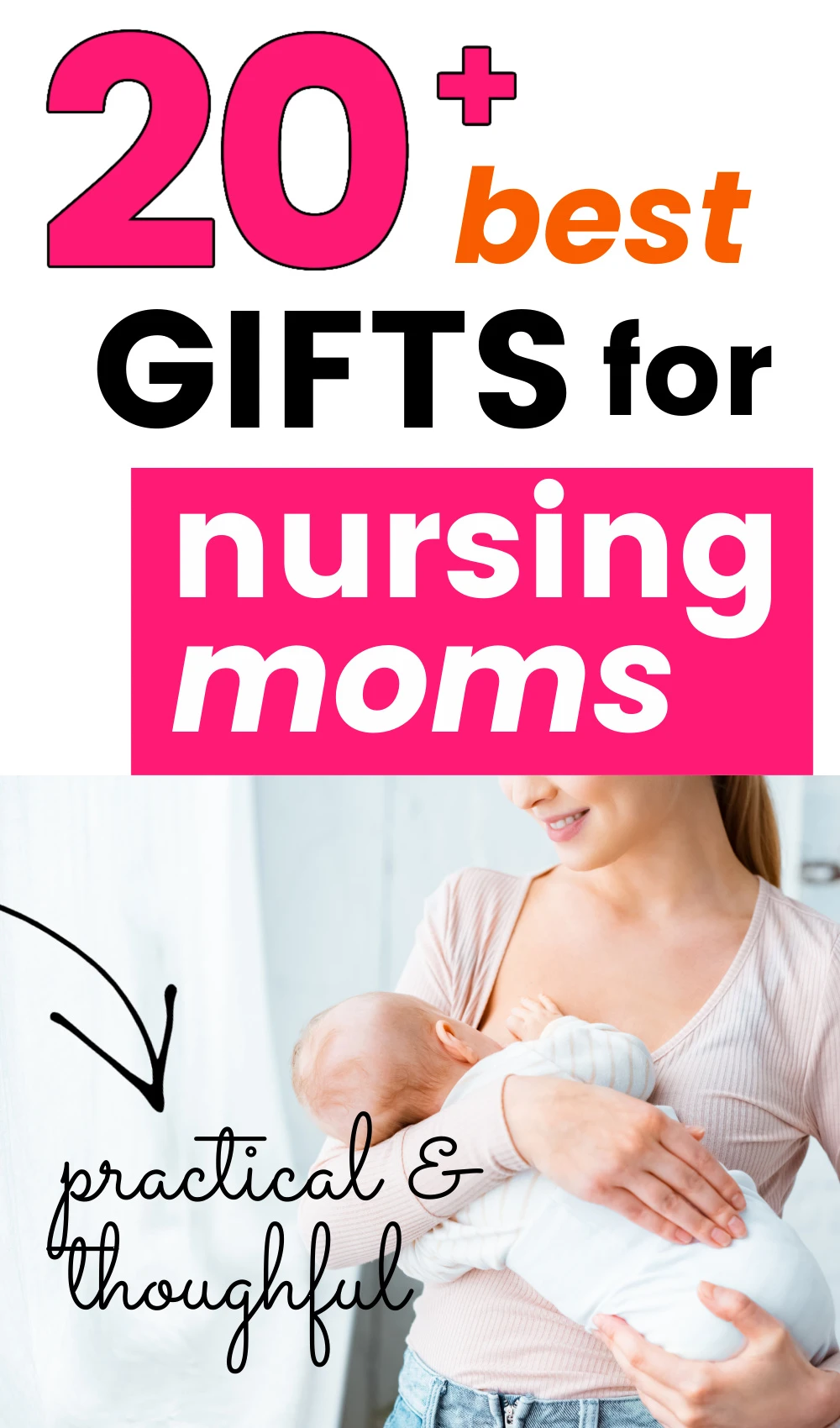 The Perfect Gift for Nursing Moms That You Can't Buy
Last, but not least, your time is the most valuable gift of all!
Pregnancy, breastfeeding and raising babies is exhausting y'all.
With the slow demise of the "village" we're supposed to have to raise our babies with, nursing moms need you.
They need someone to hold their baby so they can sleep for twenty minutes (or clean the kitchen hands-free, if you're me).
They also need friendship, especially if they are staying home full-time. Lack of adult face-time is tough.
(Just make sure to excuse her if it seems like she talks non-stop for twenty minutes. It's the lack of adult interaction.)
YOU are the best gift. She needs you – really, truly.
Read Next: How to Get Things Done with a Baby – 15 Ideas from a Working Mom of 5
What else would you put on this list of gifts for nursing moms? Share in the comments!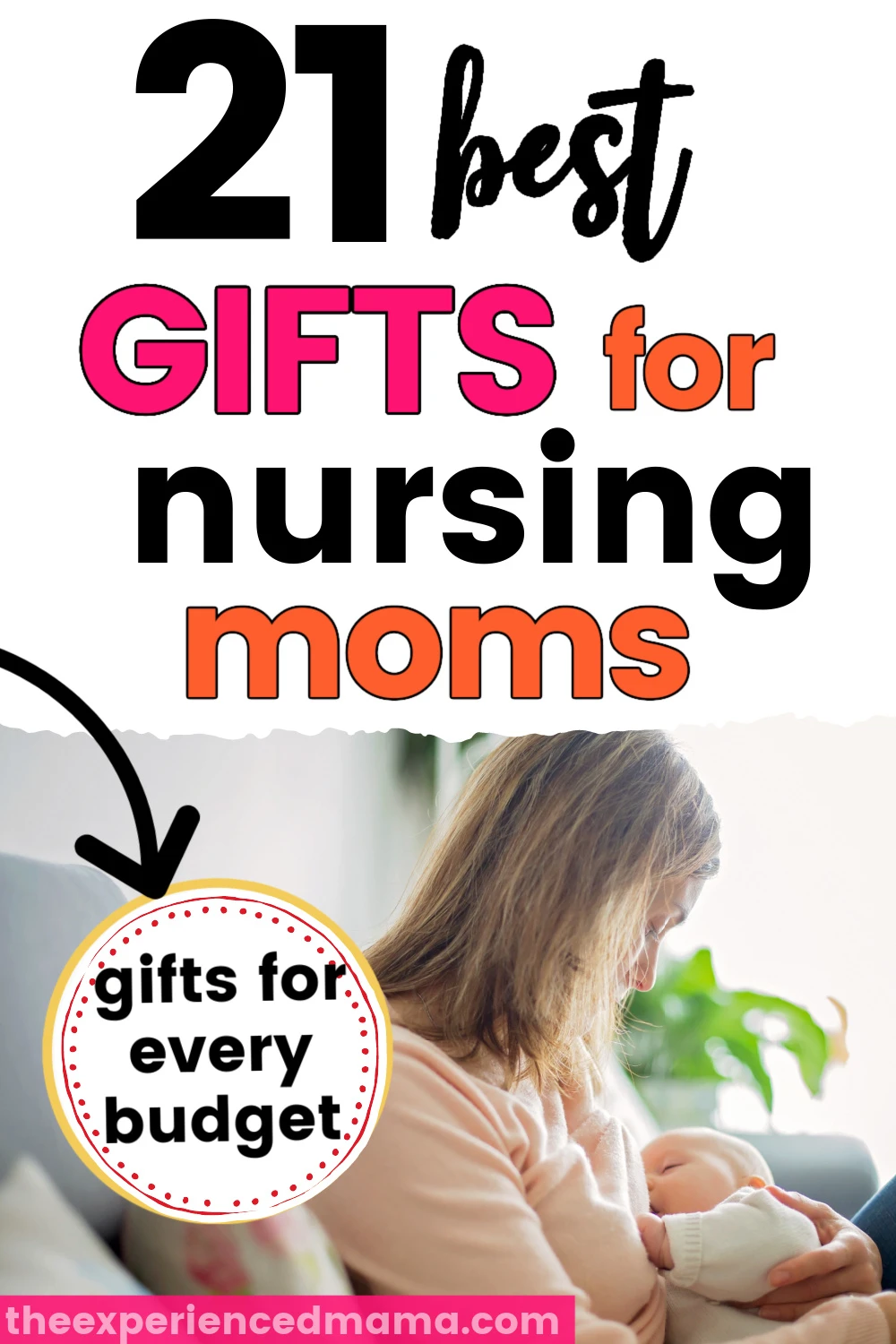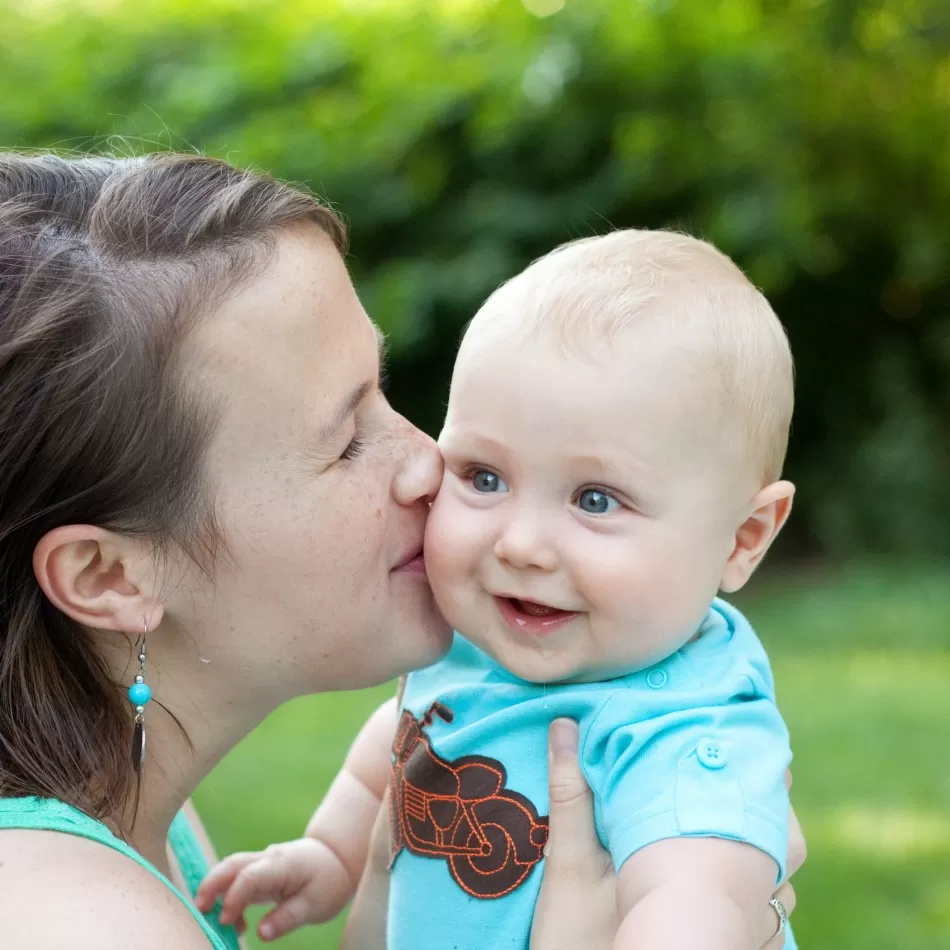 Owner of Growing Serendipity, June could talk to you all day about homeschooling, parenting, and minimalism, which she does at This Simple Balance. When she's not homeschooling, decluttering, or blogging, she loves to enjoy perfect silence while sipping a hot cup of coffee and thinking uninterrupted thoughts—which, of course, with five kids, doesn't happen very often.