Inside: Breastfeeding is hard work and can leave you feeling ravenous what feels like all the time. Stock up on these easy, healthy breastfeeding snacks to fight hunger 'round the clock.
This is the most awesome-est list of quick healthy breastfeeding snacks for breastfeeding moms on the web.
Forreal. I'm going to show you the easiest, healthiest and most delicious snacks for postpartum breastfeeding moms.
None of this "oh, here's an easy 12 ingredient snack that you can make. It will help boost milk supply and make your eyelashes more beautiful and make your husband taller and… The best part is that it only takes 25 minutes to make!"
*insert an eye roll and a "bless their heart" here*
When you're a breastfeeding mom, you do NOT have 25 minutes to make yourself a snack!
You've got like 15 minutes until that sweet baby of yours wants to nurse AGAIN and you are hungry as all get out. New moms just don't have the time or the brain space to make anything fancy.
Girl, I get it. Let's get talk about good breastfeeding snacks made simple.
You Might Also Like: Binge-Worthy Lactation Cookies with Fenugreek, Oats, & Dark Chocolate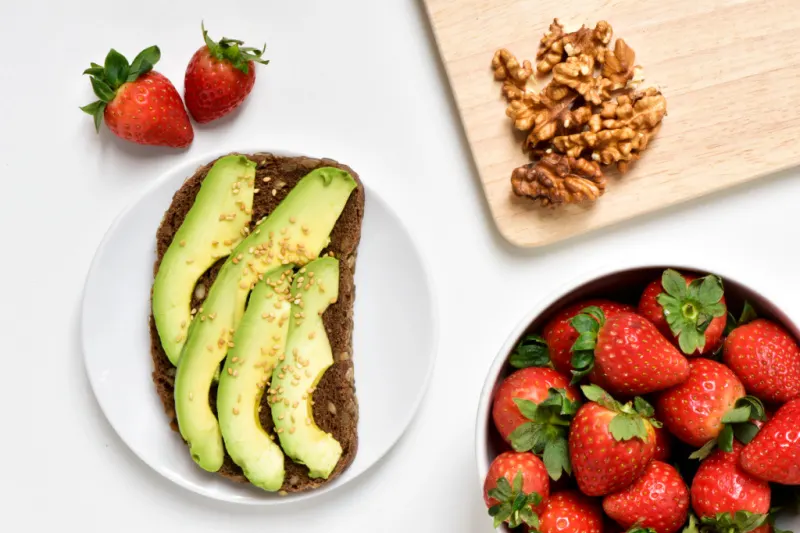 My Super Simple Formula for a Healthy Breastfeeding Snack
THIS POST PROBABLY CONTAINS AFFILIATE LINKS. AS AN AMAZON ASSOCIATE, I EARN FROM QUALIFYING PURCHASES. YOU CAN READ OUR FULL DISCLOSURE POLICY HERE.
Real quick… I know you're probably feeling hungry right this minute and want to see the breastfeeding snack ideas now BUT. I want you to know what I think makes the ideal nutritious snack for new nursing moms.
Fat + Carbs + Protein = Healthy Breastfeeding Snack
Make sure that you're eating at least every 3 hours to fuel your body well. Everyone tells you during pregnancy that you're eating for two… I guess they've never nursed a baby.
Breastfeeding moms should have an extra 300-500 calories per day (source). Well, 300-500 "good", healthy calories, that is.
Eating often and eating nutrient-dense foods will boost your milk supply and make you feel a whole lot better overall while you transition into motherhood.
So, without further ado, here is the best breastfeeding snacks list I promised you!
You Might Also Like: 10+ Breastfeeding Smoothies to Boost Your Milk Supply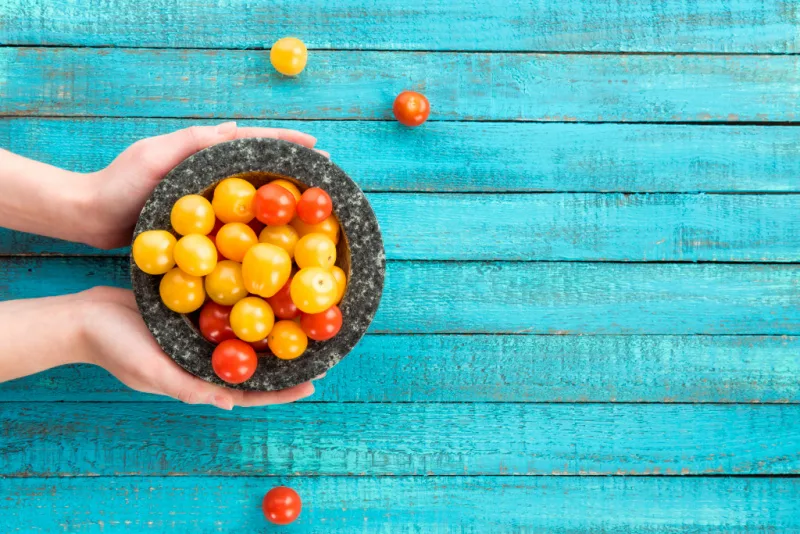 17 Healthy Breastfeeding Snacks for Ravenous New Moms
This list includes snack options with a variety of prep times (but nowhere near that dreaded 25 minutes).
You've got your easy breastfeeding snacks that are great for those blessed middle of the night feedings, to bring along to the hospital, or to throw in the diaper bag for a morning out running errands.
1. Trail Mix
Trail mix with nuts and dried fruit is perfect for breastfeeding moms – so easy! Make sure you choose one with some dark chocolate chunks (because: chocolate).
2. Granola Bars
My faves are:
KIND Bars
Cliff Bars
Luna Bars
RX Protein Bars
Nature Valley Protein Bars
3. Turkey & Spinach Wrap
Keep it simple! Turkey, a smear of Laughing Cow Cheese, Spinach, and Italian seasoning. Done.
You can wrap everything up inside the turkey OR wrap it up in a tortilla – your choice.
4. Cheese & Crackers
Stores offer cheese already cut into slices now, ready to go.
If the frugal side of you says no, kindly tell her you are a breastfeeding mom and need quick and easy, not cheaper. Then throw that pre-sliced cheese and some yummy crackers – Wheat Thins, Triscuits, Ritz (I won't judge) – into your cart.
5. Peanut Butter & Jelly Sandwich
There's nothing wrong with going back to this childhood staple. In fact, this was my favorite snack all through high school.
But maybe stick to wheat bread for this to actually qualify as healthy.
Don't love jelly? Swap it for Nutella, which has the same amount of sugar as jelly but more protein.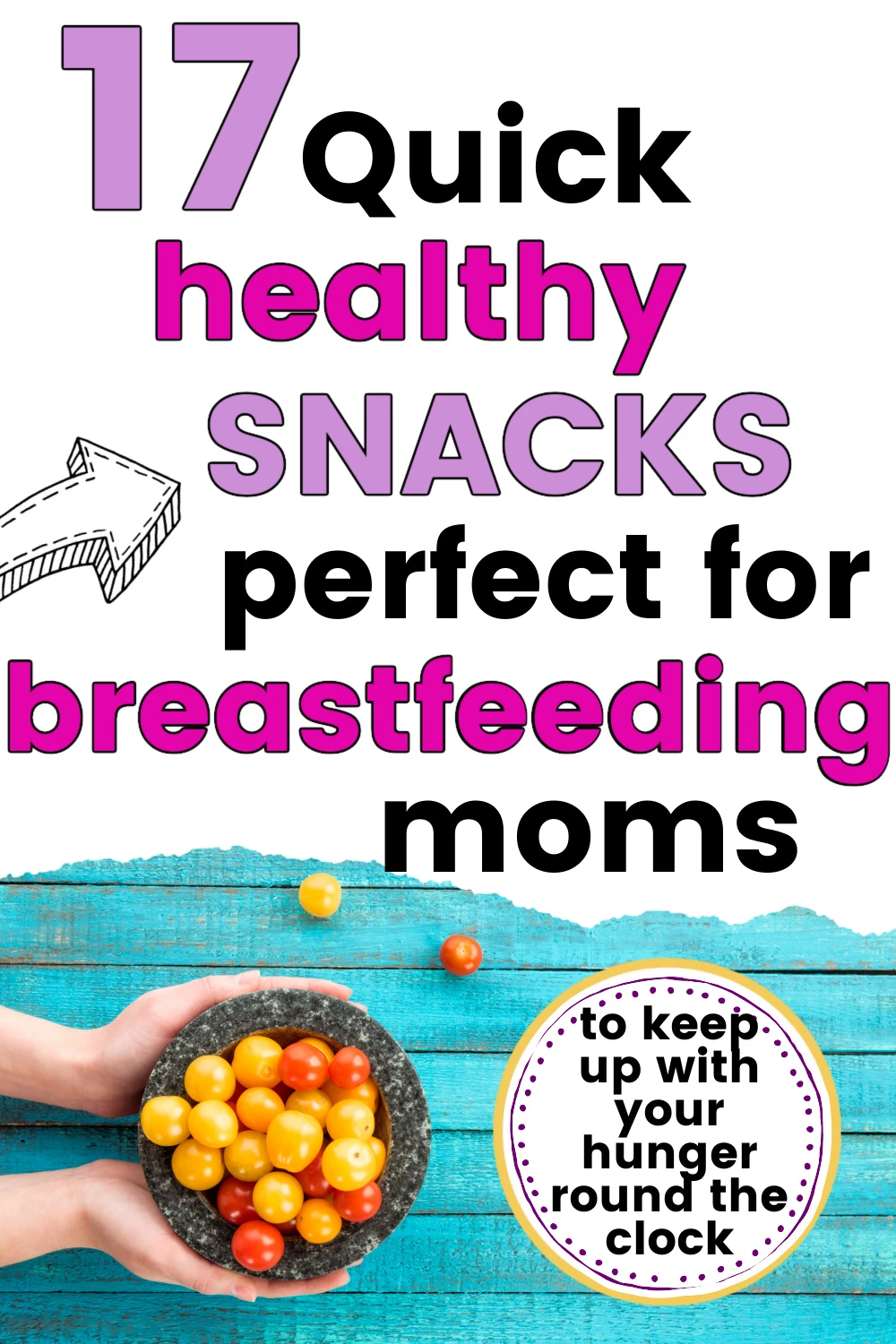 6. Deli Meat & Cheese Roll-ups
This was my go-to breastfeeding snack with my fifth baby. Provolone cheese and oven-roasted turkey, which I may or may not have dipped in honey mustard dressing.
7. Avocado Wheat Toast
Slice or spread the avocado on that warm bread and sprinkle with Trader Joe's Everything But the Bagel Seasoning to really take this snack to the next level.
Adding tomato slices wouldn't be a bad idea either.
8. Hard-Boiled Egg with a Baby Pepper
Ok, so the first part does take a teensy bit of prep work. But how hard is it to hard-boil eggs?
Once you get the hang of it, it's easy peasy. OR cook them perfectly and easily in your instant pot using this instant pot hard-boiled egg recipe.
Sprinkle that hard-boiled egg with the Trader Joe's seasoning I mentioned, and pair with a baby pepper for the perfect healthy snack.
9. Apple & Peanut Butter
Slice it up quickly onto a plate and pile the peanut butter right next to it.
If you want an even easier snack, grab these individual peanut butters and prep your apples in advance, making sure to give them a bath in diluted water/lemon juice first to prevent browning.
10. Cheese Stick & Fruit/Veggies
Colby jack cheese sticks are the best! Pair it with easy fruit and veggies, such as:
Clementines
Baby Carrots
Baby Peppers
Bananas
Apples (uncut)
Cherry Tomatoes
11. Chia Squeeze Pouches
Nope, these aren't just for kids. They taste much better cold, so make sure to store them in the refrigerator.
You can buy them in bulk HERE to make them more affordable and have them shipped right to your door!
12. Whole Wheat Bagels with Cream Cheese
The mini bagels are perfectly snack-sized. Cream cheese delivers a much needed protein and fat, so go with the full fat version, guilt-free.
13. Yogurt (in any form)
Yogurt is one of the most versatile snacks out there. You can go with:
Individual Greek Yogurt Cups
Plain or Vanilla Yogurt with Granola
Yogurt Mixed with Fruit
For another delicious way to enjoy yogurt, read on!
14. Banana with Peanut Butter Whip
You can slice the banana or dip it into some peanut butter whip.
Original Peanut Butter Whip Recipe (developed by contributor Kenzie Wright):
1/2 Cup Plain Greek Yogurt
1 Teaspoon Natural Peanut Butter
Sprinkle of Cinnamon
1 Doonk THM Pure Stevia OR 1 Tsp. Brown Sugar OR 1 tsp. Honey
Mix and enjoy!
15. Tuna with Crackers
You can mix up your own tuna salad on the weekend or purchase tuna/cracker kits like THESE.
16. Muffins
There's nothing easier than a muffin (once it's made of course). You can make these in advance and freeze for reheating as needed.
Or, you can purchase them at the grocery store or local bakery weekly/bi-weekly. These may not be quite as healthy, however, and you have complete control over the ingredients at home.
Check out several healthy muffin recipes HERE.
17. Dark Chocolate with Almonds
Pretty similar to trail mix, I know. But you can easily buy both of these separately and pair as a snack.
Trader Joe's has the best prices on nuts AND a fantastic dark chocolate selection, so if you have one in your area be sure to check them out!
No More Hangry Breastfeeding Mom
I've been breastfeeding for a collective seven years now. I often didn't have time for full meals, only snacks.
If you're going to live on snacks, you need to make them count!
You need the best snacks for breastfeeding, snacks that are practically full meals when combined.
There's nothing worse than a hangry breastfeeding mom trying to patiently feed her baby. So stock your fridge and freezer with these goodies for easy snacks for breastfeeding moms, so you can be full all day long.
Read Next: 11 Breastfeeding Snacks for Late Night Feedings (Grab & Go)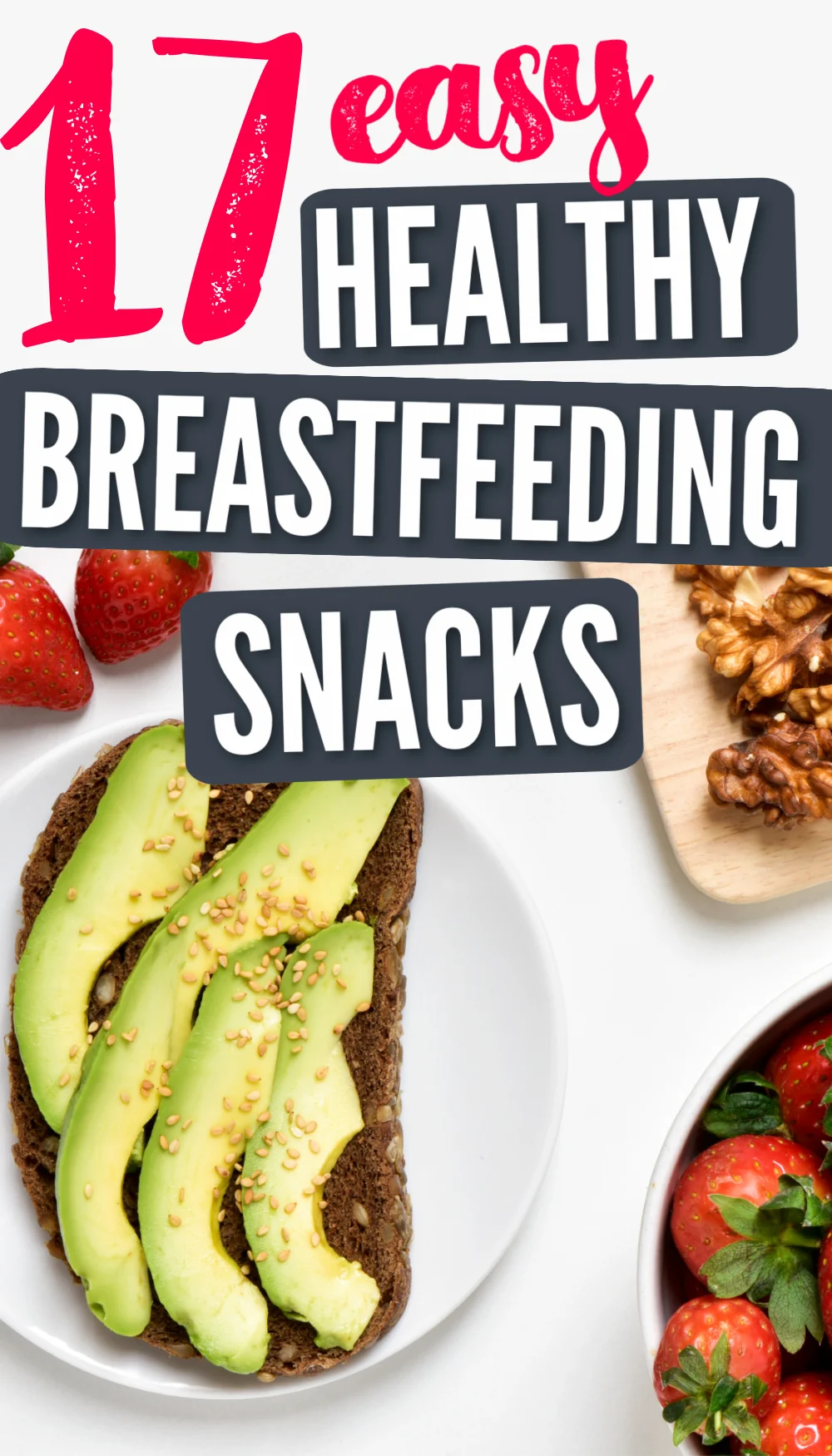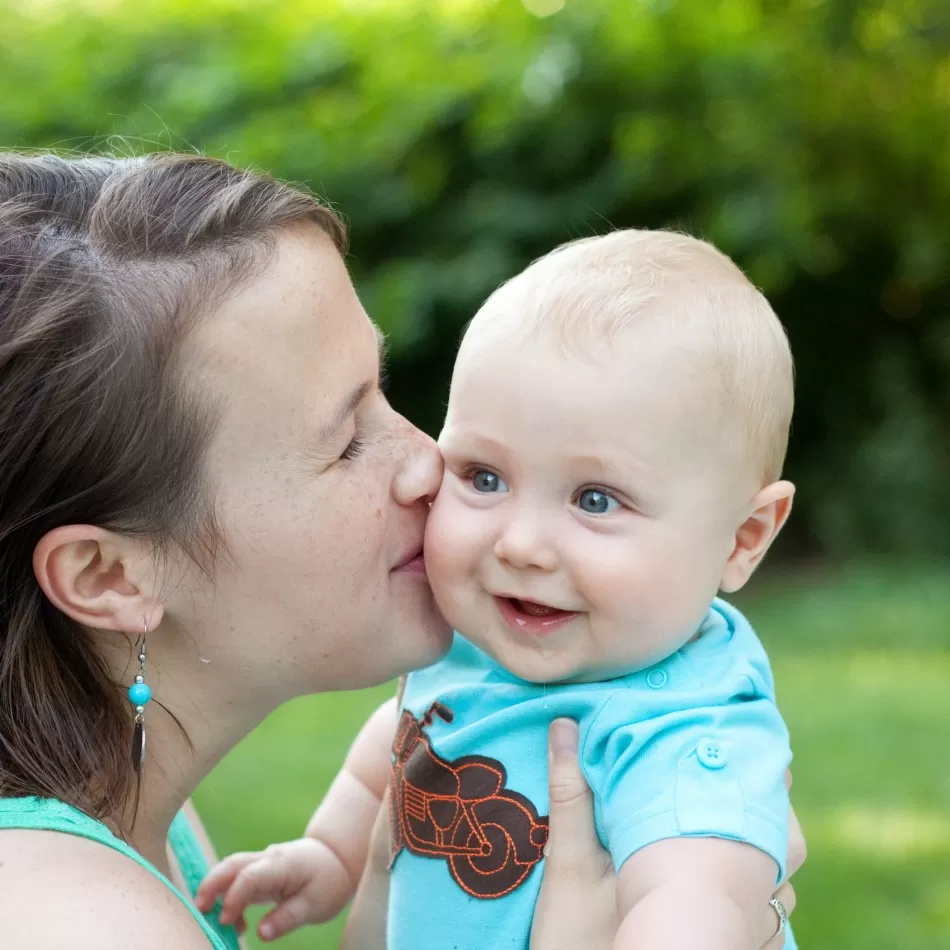 June could talk to you all day about homeschooling, parenting, and minimalism. When she's not homeschooling, decluttering, or blogging, she loves to enjoy perfect silence while sipping a hot cup of coffee and thinking uninterrupted thoughts—which, of course, with five kids, doesn't happen very often.