Inside: These lactation cookies with fenugreek and oats are so delicious that my husband ends up being the one begging ME to make them (yes, the man wants breastfeeding cookies – go figure). So if you are looking for easy and delicious ways to boost your milk supply and you like oatmeal chocolate chip cookies, whip up a batch of these cookies ASAP.
Some women can produce insane quantities of breast milk without batting an eye.
For the rest of us, there are lactation cookies.
This is my own lactation cookie recipe, which I slip into every baby shower gift. It's the batch I make every time a friend gives birth.
They're pillowy soft and light with just the right amount of sweetness. It's the perfect comfort after the marathon of labor and delivery, and a welcome relief amid the challenges of early breastfeeding days.
These cookies also work as bribes if you have older children who need to be quiet or well behaved while mom recovers, or as a way to stave off a husband's hangry evening while bouncing the baby through the witching hour.
And they're chock-full of healthy ingredients! Sometimes, I think they might have slightly magical lactation properties…
Related: 11 Late Night Breastfeeding Snacks – Easy AND Healthy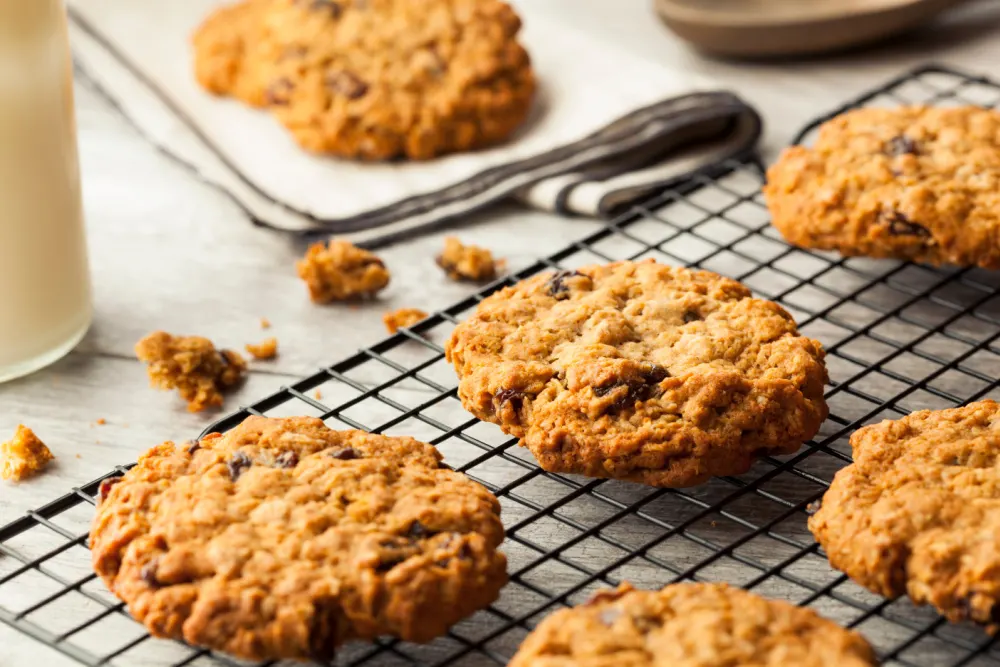 Lactation Cookies Alone Won't Boost Your Milk Supply (But They Can Help!)
THIS POST PROBABLY CONTAINS AFFILIATE LINKS. AS AN AMAZON ASSOCIATE, I EARN FROM QUALIFYING PURCHASES. YOU CAN READ OUR FULL DISCLOSURE POLICY HERE.
Ok, so lactation cookies (even with fenugreek) obviously don't have magical properties, but that's only a slight exaggeration.
After all, even the best galactagogues (natural substances that can increase your milk supply) don't work as well as behavioral changes like pumping or nursing frequently, and they certainly don't work on their own.
But there have been studies done on lactation herbs like fenugreek to show it can be effective to boost supply to some degree, especially if used in tandem with other practices.
Let's talk about nutrition for a second.
To make abundant, nutrient-rich breastmilk, your body needs the following:
fatty acids,
proteins,
carbs,
and lots of liquids.
Because you'll be bone tired and taking care of a newborn, it's sometimes hard to find time to eat. And it's definitely difficult to eat a meal that requires two hands.
Healthy breastfeeding snacks are where it's at!
If they also have ingredients that boost your milk supply, that's a bonus.
So in order to get the nutrients and milk-supply-boosting goodies you need in the smallest container possible that only requires one hand to eat, meet the lactation cookie (with fenugreek, oats and dark chocolate).
Related: 30 Breastfeeding Questions Answered, from One Mom to Another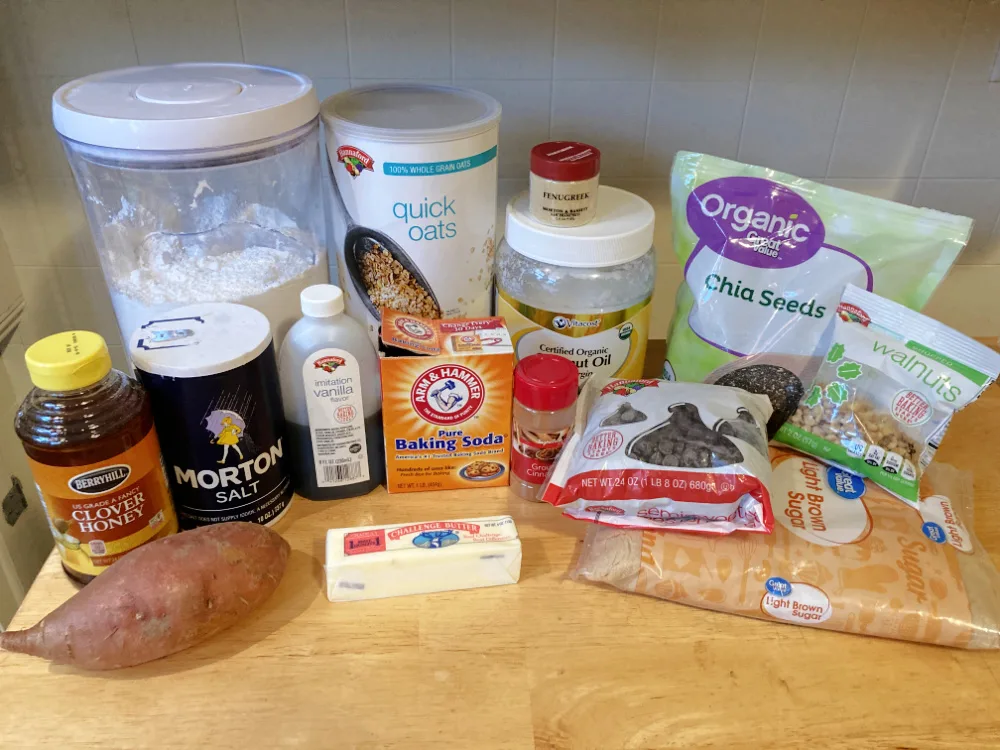 What Gives These Lactation Cookies Their Milk Supply Boosting Powers?
Let me catch you up on what makes these cookies different than your average oatmeal chocolate chip cookie.
What specifically makes them "milk supply boosting breastfeeding cookies"?
Check out these heavy-hitting ingredients…
Fenugreek
This is the star of the lactation cookie show.
It contains phytoestrogens, a compound similar to human estrogen, which is thought to be the reason it can work so incredibly well to boost lactation.
Chia Seeds
These contain essential fatty acids AND protein, two of the most important components of breastmilk
Walnuts
These also contain fatty acids, a lactation essential component.
(Feel free to omit these if you have nut allergies.)
Coconut Oil
Nope, it's not just in the recipe to help your cookies stay soft and moist for days.
The real reason to add coconut oil to any lactation cookie recipe is its high levels of omega-3s, including one rare saturated fat called lauric acid that's also found in breastmilk.
Oats
Most lactation cookies have oats. It's pretty difficult to find a recipe that doesn't have oats.
Why? Because oats are a great source of iron, and low iron levels are known to reduce milk supply.
It's easy to let things like iron slip when you're learning to breastfeed and trying to boost your milk supply, and taking a prenatal vitamin isn't always enough to keep those levels above the anemia threshold.
All the more reason to keep those oats in there – SUCH an easy way to get iron.
Honey
If possible, use raw honey, which has unbelievable health benefits, enzymes, minerals, and proteins.
Eggs
If possible, use free range/pasture-raised chickens, as their foraged diets lead to the most nutritious eggs.
Specifically, they have the highest levels of omega-3 fatty acids when compared to commercial egg types.
Sweet Potato
An unusual cookie ingredient for sure, but sweet potato is relatively high in fiber and many vitamins & minerals.
Also, just like coconut oil, it helps keep these cookies super moist for DAYS.
Dark Chocolate
Every time you feel guilty about eating chocolate, just remind yourself that it's rich in iron and deliciousness. It's part of what makes these lactation cookies "binge-worthy".
Oatmeal Lactation Cookie Recipe Ingredients (with amounts)
To make these lactation cookies, you'll need the following:
½ c butter, softened
½ c coconut oil
½ c brown sugar, packed
¼ c honey
1 tsp baking soda
1 tsp salt
½ c. sweet potato baked and mashed (around one potato)
2 eggs
2 c. all purpose flour
¾ c. oats (I prefer quick cook for their texture)
½ tsp. vanilla extract
½ tsp. cinnamon
1 tbsp. chia seeds
1 tbsp. fenugreek
½ c. walnuts, chopped
1 c. dark chocolate chips/bits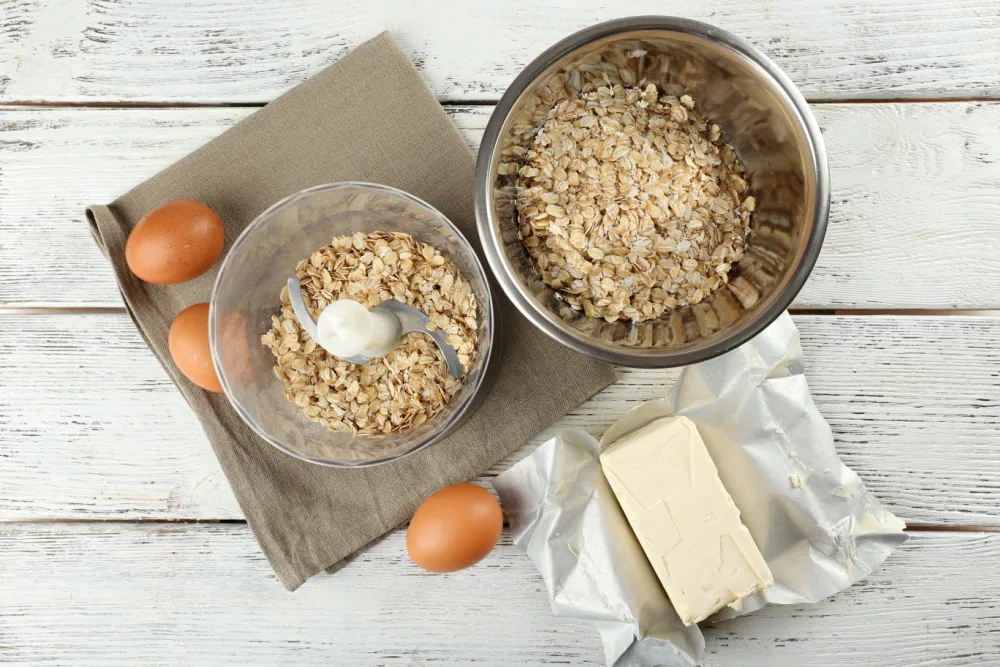 How to Make Lactation Cookies with Fenugreek
One of the beauties of this recipe is that you just keep adding the ingredients in a specific order.
None of this separately mixing dry and wet ingredients business. One bowl gets dirty; that's it, which is pretty dang awesome in my opinion.
Any recipe with fewer dishes and easy prep "has me at hello".
1. Preheat the oven to 350 degrees.
Most ovens take around 10 minutes to preheat, so plan accordingly.
2. Cream together first four ingredients in the following order.
Cream together the butter and coconut oil in a mixer until combined.
Then, add brown sugar and beat on medium for 30 seconds, scraping down the sides if necessary. Add honey.
3. Add the liquid ingredients.
Add the sweet potatoes, eggs and vanilla extract. Stir until combined.
4. Add the spices.
Next, add the cinnamon, fenugreek, salt and baking soda. Stir until combined.
5. Add the dry ingredients.
Then add the oats and the flour. And yep, you guessed it: stir until combined.
6. Add remaining mix-ins.
Toss in the chia seeds, walnuts and the dark chocolate chips. Mix until evenly distributed.
7. Put rounded tablespoon sized dollops of batter onto an ungreased baking sheet.
You can use parchment paper on the pan if you like, but no spray or grease.
8. Bake for 8-10 minutes.
Bake, checking for desired level of doneness. Then cool on a cookie rack.
Store in a sealed container for up to a week.
You Might Also Like: How to Lose Weight While Breastfeeding (& keep it off)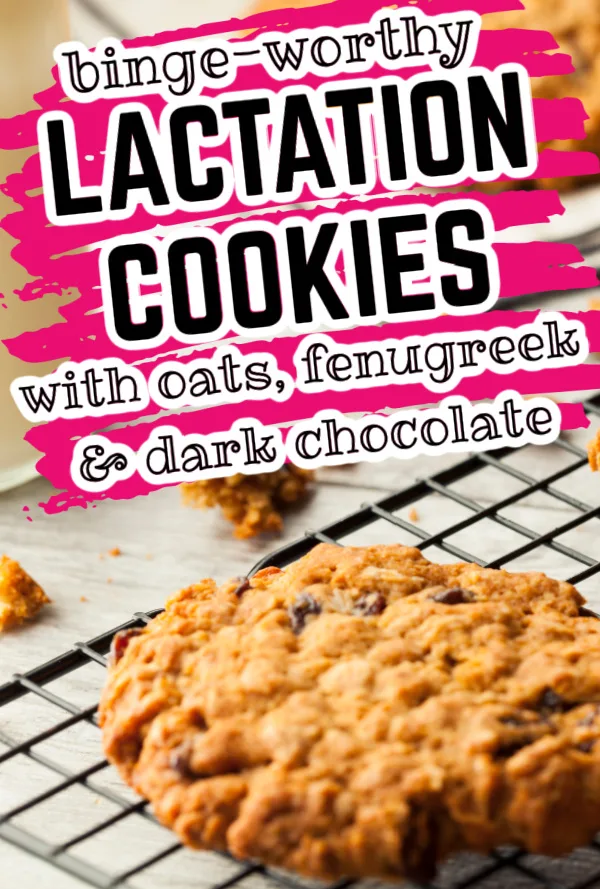 Trying to Boost Your Milk Supply Isn't Always Fun, But It Can Be Yummy
If you're a mama struggling with low supply right now, my heart goes out to you. No one talks about that part of new motherhood, do they?
But we're with you! We are for you, whether you decide to persist with breastfeeding despite any obstacles that arise OR if you choose to stop breastfeeding for whatever reason.
Whatever you decide, fed is always best.
Speaking of fed, go off and feed yourself with these cookies, mama. They're AWESOME.
Read Next: 10 Breastfeeding Smoothies to Boost Your Milk Supply
Hillary is a certified doula who loves supporting moms in the birthing process. When not offering support and advice to pregnant mamas, she tends to her own garden, family, and cat. You can connect with her on her website, homegrownhillary.com.