Inside: Struggling to increase your milk supply? We've got you covered! 10+ delicious breastfeeding smoothies to drink on the regular to boost your milk supply and stay healthy.
There's nothing more discouraging than leaving the pediatrician's office with just one problem: your milk supply is low.
When there's talk of supplementing with formula if you don't start producing more milk and you really want to keep exclusively breastfeeding, you get pretty desperate and are willing to do just about anything.
Thankfully, breastfeeding smoothies are a super easy to make, natural (well, almost) and delicious way to get in your calories and boost your milk supply at the same time.
Smoothies might not be the only solution, but it can be a part of your solution that you can start doing right now.
Let's dive into these yummy, healthy smoothies for breastfeeding moms!
Related: How to Store Frozen Breastmilk – a Beginner's Guide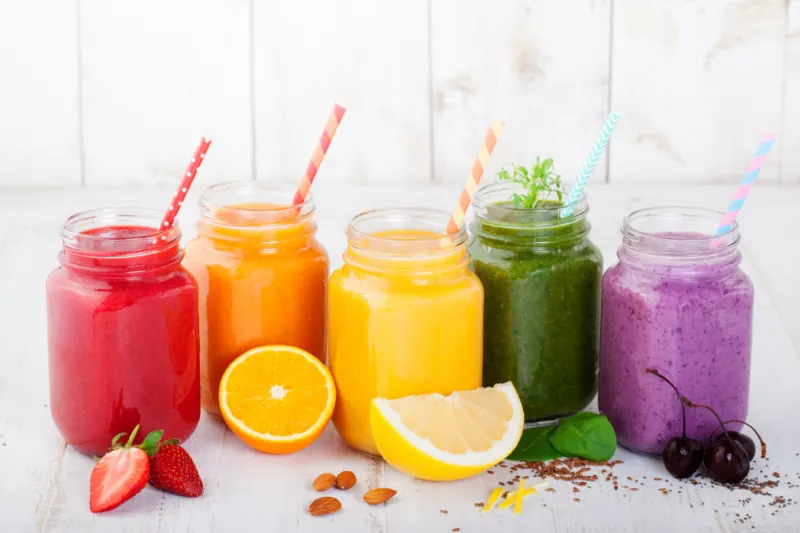 Milk Supply Boosting Ingredients for Breastfeeding Smoothies
THIS POST PROBABLY CONTAINS AFFILIATE LINKS. AS AN AMAZON ASSOCIATE, I EARN FROM QUALIFYING PURCHASES. YOU CAN READ OUR FULL DISCLOSURE POLICY HERE.
These are some of the ingredients you want to look for in breastfeeding smoothies:
1. Oats
These are the #1 galactagogue, which is a substance that promotes lactation.
You Might Also Like: Binge-Worthy Lactation Cookies with Fenugreek, Oats & Dark Chocolate
2. Flax Seeds
Flax seeds are high in essential fatty acids that you need for lactation.
3. Sunflower Lecithin
When you're wanting to put it into smoothies, sunflower lecithin typically comes in powder form. It breaks down fat molecules in breast milk to prevent clogged ducts and mastitis and can also improve overall milk flow.
(I took this every day after having constantly clogged ducts and had AMAZING results.)
4. Chia Seeds
Chia seeds are a great source of the protein, calcium and essential fats that breastfeeding moms need.
5. Brewer's Yeast
While this ingredient is excellent for boosting milk supply, it can have a bitter taste. If you are not immediately concerned about your milk supply, don't bother buying this special ingredient.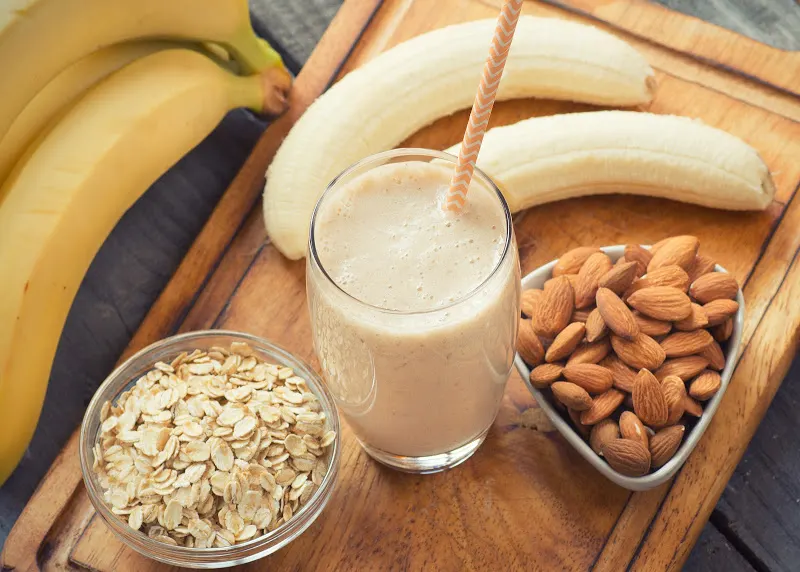 6. Nut Butters
Whether you choose peanut butter, almond butter or some other kind of nut butter, they all give oh-so-important fat and protein to kick round-the-clock hunger to the curb.
7. Leafy Greens
These greens, like spinach for example, are high in phytoestrogens which have been shown to support milk supply.
8. Milk Dust Powder
This is an absolute powerhouse of essential lactation ingredients all in one place. BUT I prefer to recommend all the other ingredients FIRST.
However, if you are in a place of utter desperation – you need to get your supply up FAST or you can't continue breastfeeding, milk dust powder could be the difference for you.
Many moms report an almost immediate increase in milk supply within 24-72 hours after they start using it daily.
However, milk dust also claims to help you lose weight, mainly by suppressing sugar cravings and increasing your protein intake. The combination of both goals: increasing milk production and losing weight have me a little wary.
I haven't used this product personally, and the reviews are mixed. Make sure to read the reviews carefully and consult with your lactation consultant to make the best choice for you.
Related: The Best Breastfeeding Snacks at Night – Quick & Easy
How Often Should You Drink Lactation Smoothies?
If you are using natural ingredients in your smoothies, there is no reason why you can't have 1-2 lactation smoothies a day.
BUT. This is a big "but".
If you are adding things like milk dust powder or fenugreek (an ingredient in milk dust), make sure to check with your physician or lactation consultant about allowable daily intake.
With protein powders and additives, there can be too much of a good thing.
Related: 17 Healthy Breastfeeding Snacks (quick & easy!)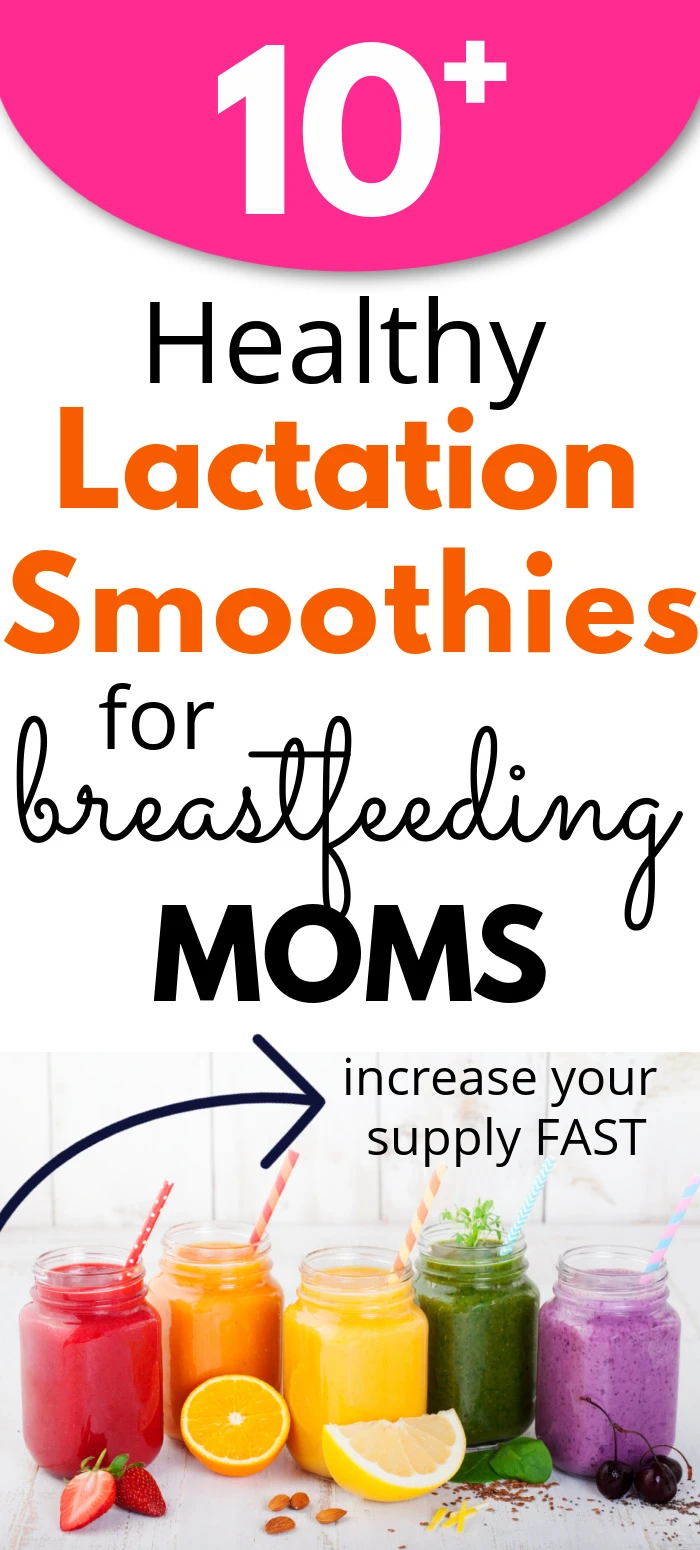 10+ Healthy Breastfeeding Smoothies
Here I'll give you the gist of what's in each recipe and any of my notes and substitutions to stay in line with the Trim Healthy Mama (THM) plan.
A Note for Trim Healthy Mama's: please do NOT be worried about having strict S's and E's if you are a new mom… heck, even if you're not a "new" mom, don't worry about being strict with the plan. Breastfeeding moms need crossovers (XO). You need it. Your baby/toddler needs it. Enjoy!
If you are not familiar with Trim Healthy Mama, you can ignore the extra notations. Also, "doonks" is equal to 1/32 of a teaspoon, or equivalent to a dash of powder.
Wondering about Trim Healthy Mama during Pregnancy and Breastfeeding? Get the scoop HERE.
Don't have a blender? We've been using an Oster blender similar to THIS one for years now. Sometimes, if there's not enough liquid, you need to toggle between speeds and settings, but it gets the job done.

Note: it worked just as well as the Ninja blender we were given. We ended up giving the Ninja back to the original owner because we preferred our Oster one. Our main complaint was the Ninja blender is so stinking LOUD.
1. Peanut Butter Banana Yogurt Breastfeeding Smoothie (THM OX)
Add the following ingredients to your blender. Blend and enjoy!
1 Cup 0% Greek Yogurt
1/2 Cup Almond Milk (unsweetened, plain) or water
1 Tbsp. Peanut Butter
2 Doonks THM Pure Stevia Powder
1/2 Tsp. Sunflower Lecithin
1/2 Large Banana or 1 Small Frozen Banana
Add ice as desired. Frozen bananas can produce a creamier, ice-cream like consistency, so I highly recommend the frozen ones!
2. Strawberry Banana Lactation Smoothie
This recipe is an easy go-to smoothie recipe for lactation – who doesn't love a good strawberry banana smoothie?
The Strawberry Banana Lactation Smoothie recipe is only 8 ingredients- all of which can be found in your local grocery store.
Get the full recipe on ExclusivePumping.com
3. Blueberry Breastfeeding Smoothie (THM E)
This smoothie recipe for bresatfeeding includes Brewer's Yeast, oats, cashews, and blueberries. It's perfect for boosting milk supply!
See the full recipe on VigorItOut.com
THM Substitution: instead of 1 packet stevia sweetener (I'm not sure what kind she uses), sweeten with either 2-3 doonks THM Pure Stevia powder, 1-2 tsp. Super Sweet blend, or 2-3 tsp. Gentle Sweet blend. Sweeten with honey (to taste) if that is preferable.
4. Chocolate Banana Boobie Smoothie (THM, XO)
Peanut butter, bananas and CHOCOLATE. Now, this is what every breastfeeding mom needs!
This simple lactation smoothie recipe is quick to make and makes you want to stick your head in the blender to lick it clean (which is not recommended..but I can't say I haven't done it).
Try this recipe from StayatHomeMum.com.au
THM Substitution & Special Notes: Use almond milk, coconut milk or cashew milk for the milk of choice. Add 1-2 doonks of THM Pure Stevia powder for a more dreamy smoothie.
5. Skinny Tropical Pink Protein Shake for Breastfeeding Mamas (THM, E)
Holy deliciousness. This is the perfect smoothie recipe for summer!
The Skinny Tropical Breastfeeding Smoothie has only 7 ingredients and features Milk Dust, brewer's yeast, oats, and flaxseed; all of which are amazing for milk production.
6. Peanut Butter Oatmeal Lactation Smoothie (THM, XO)
This healthy smoothie recipe has only four ingredients. You don't get an easier smoothie than this one.
It features Milk Dust Powder, oats, and peanut butter for great milk supply and a full tummy.
Get the full recipe on CoffeeandCoos.com
7. Chia Strawberry Banana Breastfeeding Smoothie (THM, XO)
I wanted to share this strawberry banana smoothie recipe in addition to smoothie recipe #2 because it features chia seeds and nut butter which help make fattier milk.
And, this smoothie will stick with you longer because of the fat content. Score!
See the recipe on LaurenMcBrideBlog.com
THM substitution: Use coconut milk (as recommended), almond milk or cashew milk instead of cow's milk.
8. Papaya Boobie Smoothie Recipe
According to this recipe, papaya is one of the only fruits that are wholeheartedly recommended for breastfeeding moms? Who knew?
(I don't think other fruits will necessarily hurt your milk supply, and she notes that you can substitute other sweet, frozen fruits instead of the papaya. Frozen banana is also included in this recipe.)
This smoothie recipe includes eight ingredients, many of which are mentioned in the ingredient list above.
Get the full recipe at jillianharris.com
9. Avocado Lactation Smoothie (THM, XO)
And, finally, a green lactation smoothie recipe. Leafy greens are amazing for you but can do wondrous things for lactation, especially.
This green smoothie recipe is only 5-6 ingredients and is quick to make.
Do green smoothies freak you out? Don't be afraid to try it just once.
The worst that can happen is you hate it and never have it again, right?
Try it for yourself with the full recipe on BlenderAuthority.com
THM Substitution: Leave out the Banana for a THM S.
10. Banana Chai Spiced Breastfeeding Smoothie
Craving something fall-like? This smoothie recipe will be right up your alley!
She gets the "chai" by including small dashes of spices like cinnamon, cloves and nutmeg. Maple syrup is optional for extra sweetness.
The recipe includes fenugreek ticture, but you could probably substitute milk dust powder, instead.
Get the full recipe at oatmama.com
11. Pumpkin Spice Lactation Smoothie
Another yummy fall/winter recipe, this pumpkin smoothie recipe will have you dreaming of pumpkin pie. Mmmmmm.
This one calls for actual pumpkin puree, pumpkin pie spice and vanilla extract.
Sometimes pumpkin pie spice can be hard to find, but you can whip some up pretty easily using this DIY pumpkin pie spice recipe.
Get the full recipe at makingofmom.com
Which lactation smoothie are you going to whip up first? Share in the comments!
Read Next: 20 Best Gifts for Nursing Moms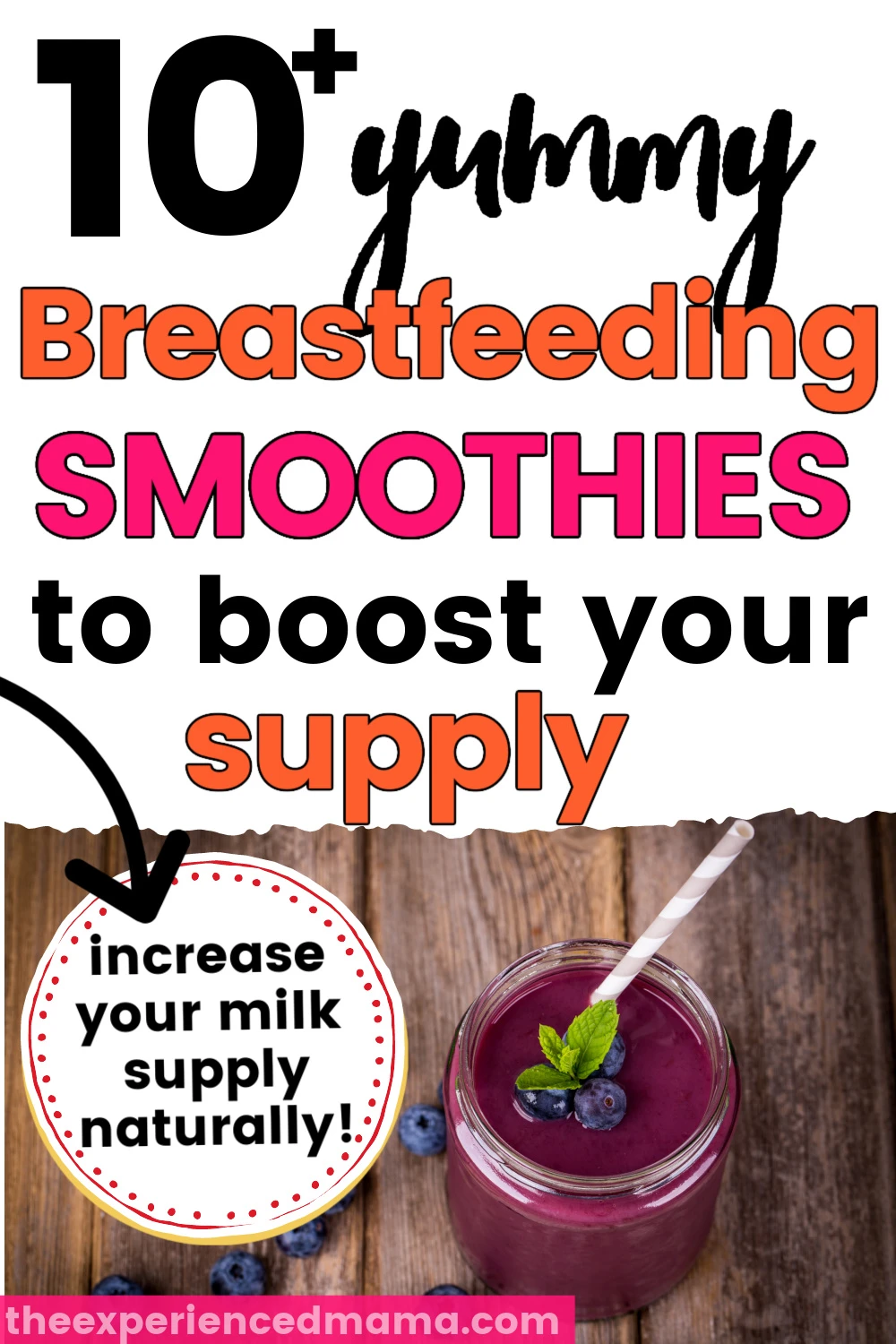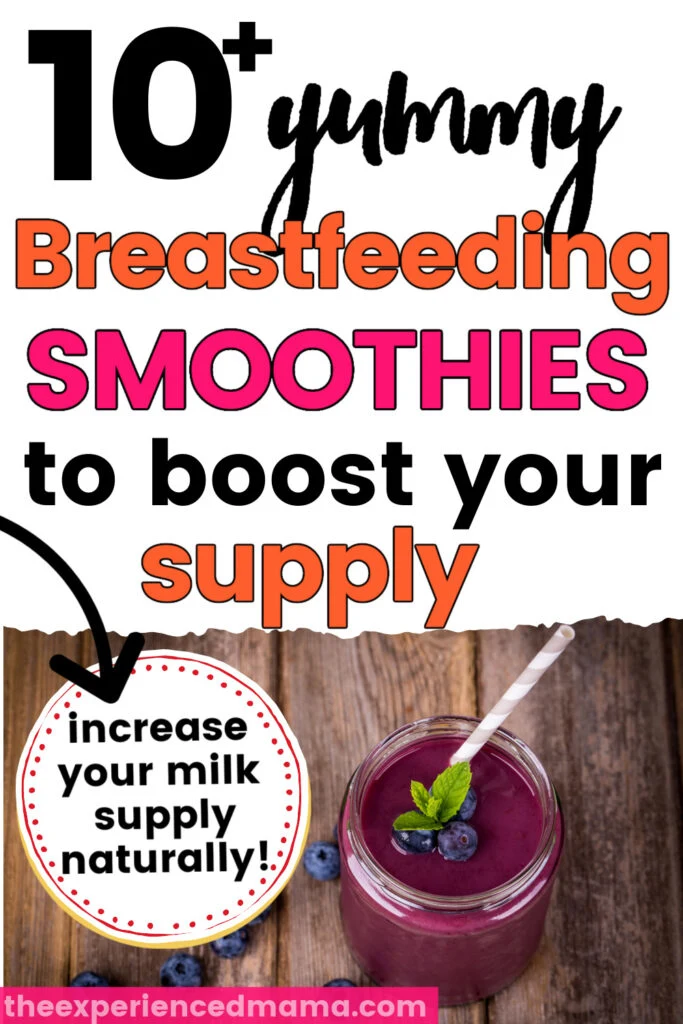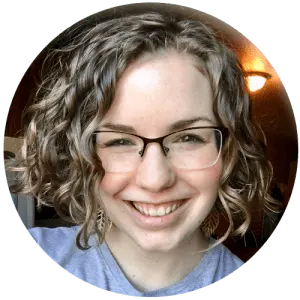 Kenzie lives with her husband and daughter in beautiful Lancaster County, Pennsylvania. She's wrestled with infertility, survived a miscarriage, and is overjoyed to finally be a mama to her sweet baby girl she thought she'd never have. She especially loves helping moms who have had miscarriages find hope after loss.