Inside: Looking for unusual boy names that aren't anywhere close to the top of the baby name popularity charts? Check out this list of 60 cute, unusual boy names to find the perfect name for your baby boy.
There's nothing quite like the excitement you feel when you see that positive pregnancy test for the first time.
The exhilaration.
The joy.
The thrill.
Many first time moms (and even us veteran moms) start looking at baby name lists before we even know whether we're having a boy or girl.
Why? Well, it's fun of course!
But if you know you're having a boy, mama, you need to get a jump start on scouring every possible source for boy names because boy names are TOUGH.
I don't want to discourage you, but especially if you are looking for cute, unusual boy names – you know, the unpopular ones – you need to start looking.
Now.
Because here's the honest truth: there just aren't as many baby boy names out there to choose from.
There's nothing wrong with wanting a classic name like John or David, but if you want something far from the top 10 most popular names for such and such year, then start with this list.
We've put together a list of unusual boy names you won't find on those other lists.
We took a deep dive into the far corners of the internet to pull this list together. These boy names are both cute and unusual in the very best way!
Related: 50 Vintage Boys Names for the Retro Lovin' Mama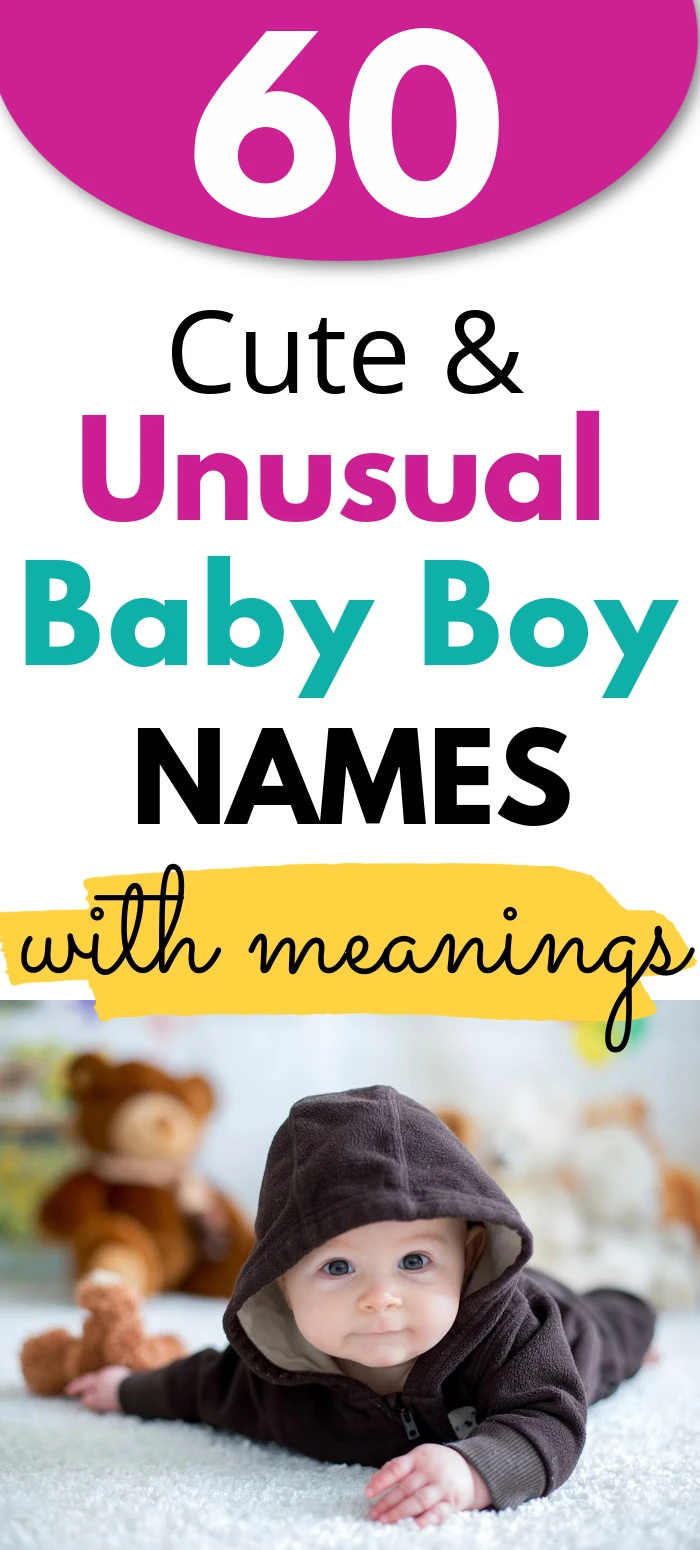 60 Cute, Unusual Boy Names
THIS POST PROBABLY CONTAINS AFFILIATE LINKS. AS AN AMAZON ASSOCIATE, I EARN FROM QUALIFYING PURCHASES. YOU CAN READ OUR FULL DISCLOSURE POLICY HERE.
The Kindle versions of baby names books are often accessible through Kindle Unlimited (like THIS one or THIS one) on Amazon. If you haven't already used your 30-day free trial, you can sign up HERE.
1. Abbot
Abbot, or Abe for short, means "father". Most widely known for the famous comic duo, Abbot and Costello, this name is perfect for a young child with an old soul.
2. Abel
Abel is a Biblical name of Hebrew origin meaning "son". Abel was a son of Adam and Eve, so the name is most certainly fitting.
Just like Abbot above, the most common nickname for Abel is Abe.
3. Abraham
Abraham, also a Biblical name of Hebrew origin, means "Father of Nations". It's strong and powerful and offers great meaning to families looking for a name to represent their Christian faith.
4. Bade
Certainly a unique name, Bade is of Arabic origin and means "incomparable" – and your little guy most certainly is.
5. Beckham
Beckham is a name of English origin made famous by the talented soccer player David Beckham.
The most common nickname for Beckham is Beck.
6. Boden (Bohden)
Boden, a name most widely recognized by those familiar with the British clothing brand, is of Celtic origin and means "blonde".
So, if your little guy has fair skin, light hair, and you want a name that will stand the test of time, Boden may be a fitting choice.
(You can also break from the name meaning and bestow your dark-haired, olive-skinned little one with this cute, unusual boy name! So what if it means "blonde"?)
7. Boston
Boston is a beautiful city, rich in history and culture. This name is meaningful for those with American pride or Massachusetts ties.
Common cute nicknames include Bo and Bos.
8. Blue
The name famously chosen by Jay-Z and Beyonce, Blue is of American origin and is perfect for those beautiful blue-eyed babes.
9. Boaz
Meaning strength, Boaz is of Hebrew origin and a wonderful choice for moms who want their child to have a name with Biblical significance.
10. Bowen
Commonly nicknamed Bo, this name meaning "Son of Owen" is of Celtic origin.
It was chosen by Football Hall of Famer Drew Brees and his wife when their son was born in 2010.
11. Caden
Caden is a name of Welsh origin meaning "spirit of battle." It ("Kadin") also means "companion" in Arabic.
Caden is a fantastic choice for a mom who wants to raise a kind, determined young man. The most common nickname for Caden is Cade.
12. Clark
Clark is a name made famous by Superman's alter ego, Clark Kent. Clark is of English origin and perfect for parents who love classic comics.
13. Colby
Often referred to as Cole for short, Colby is of Scandanavian origin.
Also notably the name of Colby O'Donis, up-and-coming singer/songwriter, most well known for his recent work with Lady Gaga.
14. Cohen
Cohen is a Hebrew name meaning "priest". Moms who choose this name often call their little guy Co for short.
15. Davy
Davy (most notably known for being the name of Davy Crockett, "King of the Wild Frontier") is a name of Celtic origin derived from David, meaning "friend".
16. Durham
Though a name of English origin, Durham is most widely known for being part of North Carolina's Triangle – a group of 3 large cities forming a metropolitan area known for its diverse culture, incredible food scene, and sprawling green space right in the heart of the state.
17. Elias
Of Hebrew origin and derived from the Biblical name, Elijah, Elias is a solid choice for moms who want to give their child a name that signifies their Christian faith.
18. Enoch
Meaning "dedicated", Enoch was a Biblical figure, the eldest son of Cain and father of Methusela who is said to have walked with God.
19. Finnick
Finnick is a name that was made popular by the dystopian book series (and movie trilogy), The Hunger Games, and is of Anglo-Saxon origin.
Common nicknames include Finn and Nick.
20. Gage
The name Gage is of French origin and means "a token of defiance". This name is fitting for a spirited little boy with fire in his belly and love in his heart.
21. Gaines
Meaning "trickery", Gaines is a fun first name for a smart and spunky little boy.
This name made it onto baby name lists in recent years thanks to HGTV stars and power couple, Chip and Joanna Gaines. It still qualifies as an unusual boy name since it's extremely uncommon (at least as of 2020!).
22. Galen
Galen means "calm" and is of Greek origin.
It was also the name of a second-century physician whose research helped shape medicine as we know it today.
23. Gaius
Gaius is of Latin origin and means "to rejoice".
It's a fitting name for any mom who is celebrating the birth of her precious child (particularly those who may have struggled with infertility and thought that joyous day may never come).
24. Hagan
Hagan means "little fire" and is of Irish origin.
This name is perfect for parents of Irish descent wanting to pass on a family heritage to their brand new baby boy – especially if that boy has fire-engine red hair!
25. Hal
The name Hal means "army ruler" and is of English origin – a solid choice for parents wanting to raise a child with the heart of a warrior.
26. Hayes
Hayes Jones, a former Olympian, makes this name of English origin a unique choice for parents wanting to raise a little boy with both determination and strength..
27. Hensley
Hensley is both a timeless and trendy name. It's popular without being too common – perfect for moms looking for something just a little bit different.
It means "ambitious" and is of American origin.
28. Hosea
Hosea is an Old Testament name of Hebrew origin meaning "salvation". This is a strong choice for parents wanting to signify their Christian faith.
29. Ira
Pronounced EYE-rah, Ira means "watchful". It's a name of Hebrew origin and one parents can choose if they want a less common name with Biblical and historical significance.
30. Irish
This one hasn't made it's way onto pretty much any name list anywhere. A cool-sounding name, with an obvious nod to Irish heritage, hardly any parents are choosing it.
Who knows, maybe you will be the one to bring this unusual boy name onto modern baby name lists?
31. Keaton
Keaton, Key for short, is a name of English origin meaning "place of hawks".
Michael Keaton is an American actor, famous for his role in Toy Story 3, who shines a spotlight on the name.
32. Knox
Knox is a name of English origin and the given name of Knox Martin – American painter, sculptor, and muralist.
What a wonderful name for a budding artist!
33. Lane
Famous American bullrider, Lane Frost, brings notoriety to this name. This is a strong choice for moms who want to name their son after someone with determination and grit.
Lane is of English origin.
34. Lawson
Lawson is an unusual boy name with Old English origins meaning "Son of Lawrence". Common nicknames include Larry and Lars.
William Lawson Little Jr. (better known as Lawson Little) was a member of the Professional Golfers' Hall of Fame.
35. Leander
Leander means "lion man" and is of Greek origin.
What a cool choice for parents looking to convey courage and heart when naming their little guy!
36. Leland
Given acclaim by the American bass guitarist Leland Sklar, the name Leland is a one-of-a-kind choice for moms and dads who want to pass on a namesake of musical legacy.
The name Leland is of Old English origin.
37. Maine
Of French origin, the name Maine (meaning "mainland") is a meaningful choice for parents who call this New England state home.
38. Mika
Mika is a variant of Mikael and means "who is like God".
It's an excellent choice for parents wanting to honor a family member with the name Mike or Michael, but looking to make it their own.
39. Marc
A form of Marcus (a name of Latin origin), Marc comes from Mars, the Roman god of war.
Celebrity singer/songwriter, Marc Anthony, is both a philanthropist and the top selling tropical salsa artist of all time. How's that for a namesake with both talent and heart?
40. Memphis
Memphis is of Greek origin and means "enduring and beautiful".
It's a name full of rich history and deep meaning. If you've got roots in this Southern city, Memphis may be the name for you.
41. Mitchell
Like Mika above, Mitchell is of English origin meaning "who is like God". It's a name that has varied in its popularity over the years, seeing highs in the forities and fifties and then again in the nineties.
No matter the year, Mitchell is a name that will stand the test of time.
Mitch is the most common nickname.
42. Neal
Neal means "champion" and is of Irish origin. Famous people who share this name include – popular Canadian singer/songwriter Neil Young and American actor Neil Patrick Harris.
43. Noland
Like Neal, Noland also means "champion". It's a variant of the Irish and Gaelic name Nolan.
This not-so-common boy name is shared by Noland Smith, talented NFL star who played for the San Francisco 49ers in the 1960s.
44. North
North is most notably known as the name Kim Kardashian and Kanye West chose for their child back in 2013.
It's not a common name, but one that is slowly growing in popularity in recent years.
45. Oregon
Another cute, but unusual baby name, Oregon is is a word of Spanish origin and the name of a beautiful state in the Pacific Northwest.
If you're looking for somethng different and that geographical area holds a special place in your heart, consider the name Oregon for your baby boy.
46. Peeta
This is the second name on our list made famous by a pivotal character in the popular dystopian book series (and movie trilogy), The Hunger Games.
Peeta is a word of Latin origin meaning "bread".
47. Rafe
This means "wolf counsel" and is of English origin. You might remember this one from one of the main characters in the blockbuster hit Pearl Harbor.
Rafe is a solid choice for a mom wanting to give her little boy an unusual boy name with masculine appeal.
48. Reece
The name Reece is shared by Reece Thompson. He's a Canadian actor best known for his role in the 2007 film, Rocket Science.
Reece is of Welsh origin and means "enthusiasm".
49. Red
The name Red means "red-haired" and is of English origin.
Red is a sound choice for sweet ginger babes rocking that red hair.
50. Roald
Roald is a name of Norweigan origin meaning "famous ruler".
And famous indeed, it's most notably known for the author Roald Dahl. He wrote timeless classics such as Matilda, Charlie and the Chocolate Factory, and Fantastic Mr. Fox.
51. Riordan
Riordan is an Irish name meaning "royal poet". Popular young adult fantasy author Rick Riordan is the most well-known bearer of the name, even if it IS used as surname.
Common nicknames include Rio, Dan, and Danny.
52. Ronan
Ronan is a name of Irish origin meaning "little seal". Nicknames for Ronan include Roe, Ron, and Ronnie.
The unusual boy name is shared by Irish singer/songwriter, Ronan Keating, formerly a member of the 90s boy band Boyzone.
53. Septimus
The name Septimus means "seventh" and is of Latin origin.
Have a thing for lucky number seven? If so, Septimus might be the right choice for your newest addition…..especially if he just happens to be baby number seven!
54. Seven
Speaking of Seven, if you believe in superstition, then naming your baby Seven (or Septimus) might just make him your littlest lucky charm.
If you want to shorten it, you might just call him Sev.
55. Tate
Tate is a name that means "cheerful" and is of English origin.
Celebrities who share this name include Tate Armstrong, retired basketball player, and Tate Donovan, talented actor and director.
56. Thad (Thaddeus)
The name Thaddeus is of Aramaic origin and means "gift of God."
The name is shared by Thaddeus Joseph Jones (aka Thad Jones), American jazz trumpet player known as "one of the all-time greatest jazz trumpet soloists".
57. Thom
Thom is of Scottish origin and is a less common variant of the name Thomas.
The name Thom is shared by North Carolina senator Thom Tillis who's been in the news recently after winning the 2020 election.
58. Wade
Wade is a name of English origin meaning "to go".
Fans of Hart of Dixie know the name Wade very well. He's part of the longtime love triangle between he, Zoe, and George. Eventually he and Zoe get the happily ever after we all rooted for for years.
59. Wells
The name Wells means "from the well or spring" and is of English origin.
This name is most notably shared by H.G. Wells, a prolific writer who lived from 1866-1946. His work spanned a variety of genres and influenced film and literature as we know it today.
60. Willem
Willem means "resolute protector".
This is a strong name for a strong boy who's going to grow up to be a strong man – strong mentally, emotionally, and physically.
The name Willem conveys vigor and vitality.
You Might Also Like: Unique Baby Names from Movies for Fresh, Original Ideas
Choosing an Unusual Boy Name Can Be Tough
You know you want an uncommon boy name…but how unusual is too unusual? It's a tough call, and completely up to baby's parents.
Whatever you decide, we hope you walk away from this post with a few fresh ideas in mind.
The names on this list aren't your everyday, run-of-the-mill, garden variety baby names. They've been handpicked and curated to give you a wide selection of cute, but unusual boy names you likely haven't already seen floating around the blogosphere.
Picking a name can be stressful, but it doesn't have to be.
Make a list, narrow it down, and find a name that speaks to you. If all else fails, wait til you meet your newest addition and eventually a name will come.
Whatever you decide, it'll be right for you….and for him.
Read Next: 75 Cute & Unique Baby Names (different, but not weird)
Have you seen a cute, unusual boy name that's not on this list? Share in the comments!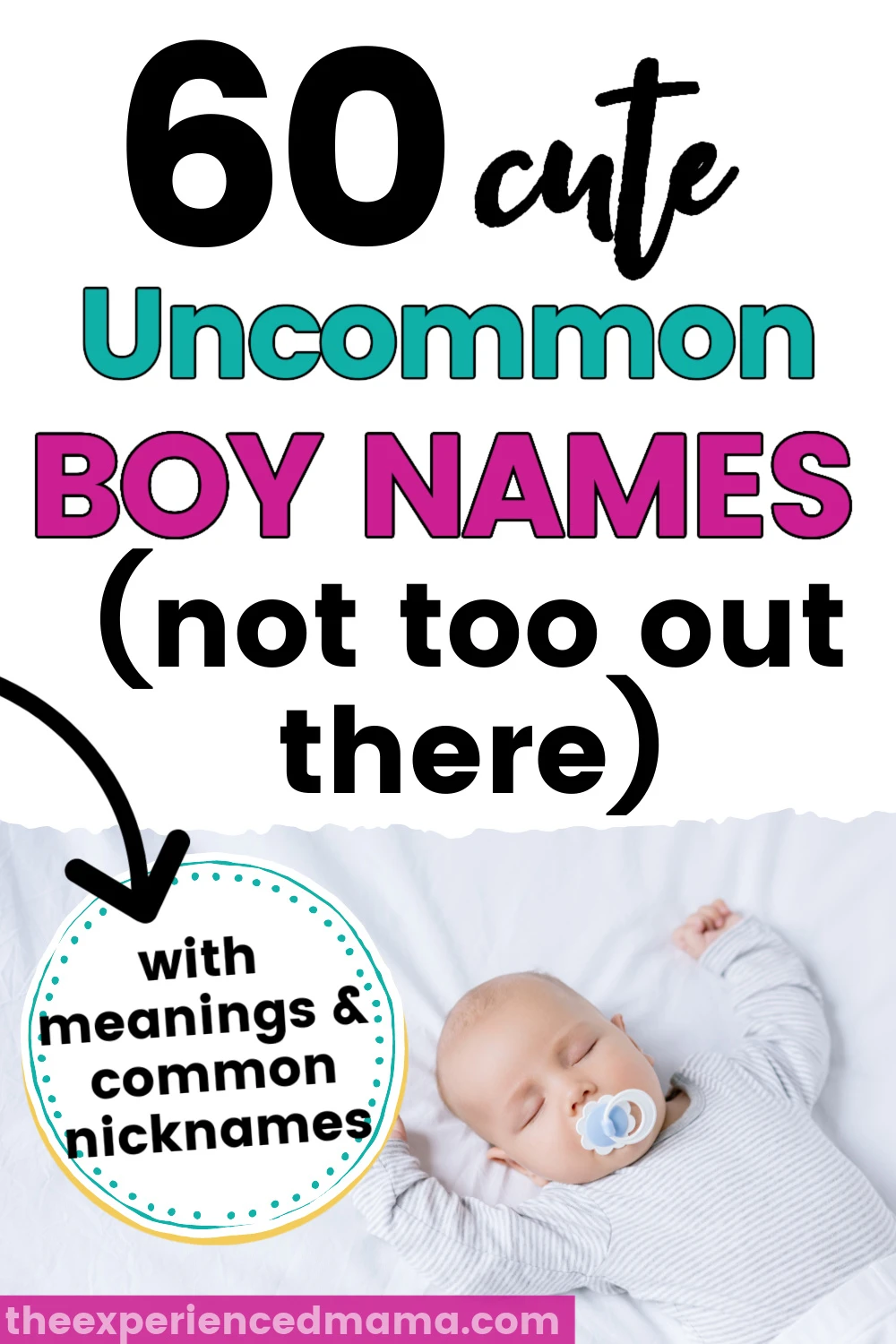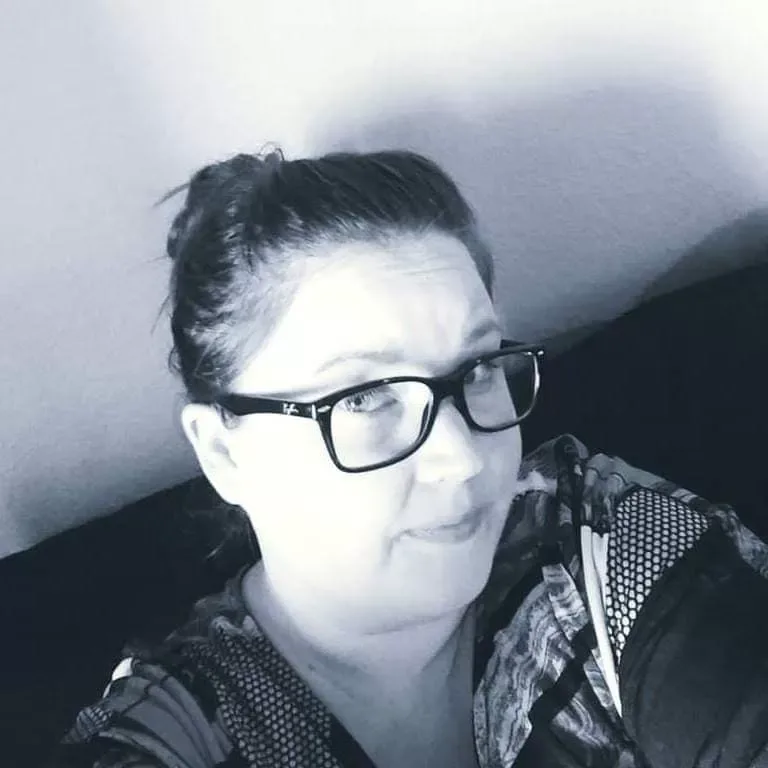 Amy is a freelance writer and blogger who homeschools her tribe of tiny humans while pursuing her lifelong dream of becoming a published author. She is fueled by coffee and the desire to do ALL. THE. THINGS. She has the attention span of a squirrel, though somehow manages to make it through each day with everyone fed and happy (well, mostly happy! Ha!) while striving to make every tomorrow better than the last. You can hear more of what she has to say over at Real Talk with Amy, where she blogs about all things motherhood.