Inside: Looking for unique baby names from movies? We've got over fifty options, with a mix of baby girl and baby boy names. These baby names inspired by movies are perfect for movie-lovers – or anyone scouring the internet for not so popular baby names.
Choosing a baby name is probably one of the biggest parent decisions you'll make before your baby arrives.
And there's no argument that it's a big deal. The name you choose will be spoken every single day of your child's life.
It's the name classmates will say, and possibly make not-so-awesome nicknames with (this is how my husband ruled out my name choices – with horrible middle school nicknames). Pressure, much?
There are so many ways to go about finding the perfect name, so many sources to draw inspiration from – family names, Bible names, trending names. There's certainly no shortage of inspiration.
But for all the movie loving parents-to-be out there, baby names inspired by movies is a great category to look into!
Sometimes, a particular character demonstrates qualities that you hope your child will grow into. Other times, a name has a lyrical, larger-than-life sound, which is likely why they were chosen for a particular character.
Or maybe you just love love love watching movies, so finding a unique baby names from movies is a natural choice. The name doesn't always need to reflect the character – sometimes you just want a not so popular baby name, which I totally get.
As I offer some suggestions for baby names from movies, I'm aiming for some one-of-a-kind, original choices. Keep an open mind – and let's dive in.
You Might Also Like: 75+ Cute, Unique Baby Names (Different, but not Weird)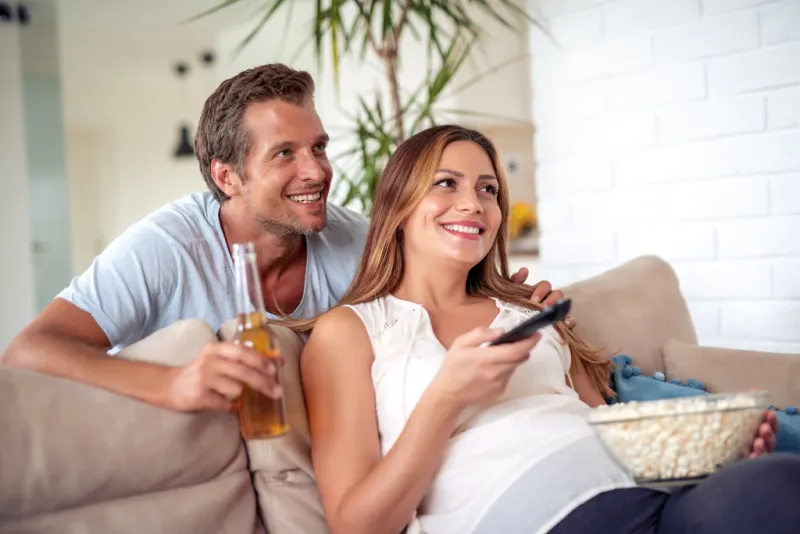 55+ Unique Baby Names from Movies
The Kindle versions of baby names books are often accessible through Kindle Unlimited (like THIS one or THIS one) on Amazon. If you haven't already used your 30-day free trial, you can sign up HERE.
1. Adonis
If you are a Rocky fan, this is a great choice. Adonis, son of Apollo Creed, Rocky's former rival and later best friend, has his fully story told in the movie Creed.
Related: Two Syllable Biblical Boy Names with Meanings
2. Amelie
Childlike innocence and a desire to help others, this character from the movie of the same name is endearing.
It's also a charming alternative to the more common Emily.
3. Arwen
The beautiful elven princess played by Liv Tyler in The Lord of the Rings trilogy inspires this name. Filled with femininity and royal elegance, but also strength, this extremely underused gem would make a great baby name.
Pair it with an elegant, vintage girl name to blend this more unique name with a timeless classic.
4. Asajj
Appearing in the The Clone Wars, a part of the Star Wars franchise, this character is a villainess who becomes the anti-heroine. Despite her rocky start, she gradually develops a moral compass.
5. Astrid
This character is known for her flawless taste and fashion style in Crazy Rich Asians. Not only is she stunningly beautiful, but she is down-to-earth, kind, and caring.
6. Atlanna
In Aquaman, Atlanna is the queen of the underwater kingdom of Atlantis. She is free-spirited and eventually falls in love with a human and has a son – Aquaman.
7. Atticus
Forever remembered as the noble lawyer who valiantly defends an innocent black man in the South, this character from To Kill A Mockingbird is a worthy namesake.
Related: Dark, Mysterious Boy Names Inspired by Literature and Film
8. Branch
In the movie Trolls, this little guy had a rough past but learns to overcome and feel love and joy again. It's also a fun choice if you happen to be a nature-lover as well.
Related: Plant Boy Names That Are Actually Legitimate Options
9. Briar
The full name is really Briar Rose, but Briar is a trendy alternative take directly from Disney's Sleeping Beauty. A great choice if Disney movies are your jam.
10. Briony
A complex character and narrator in the film Atonement, a story of regret and attempts to make amends inspires this beautiful, original name.
11. Carlisle
The unfailingly kind and fiercely protective patriarch vampire in the Twilight series, this character is compassionate, self-controlled and caring. "Carl" is a potential nickname.
12. Clementine
Intelligent, assertive, fun – this character from Eternal Sunshine of the Spotless Mind is a modern classic choice. Plus, Clem is an adorable nickname.
13. Cora
Smart, independent, savvy, this heroine from The Last of the Mohicans is a wonderful choice for a strong namesake.
14. Cosette
An adopted little girl with a second chance at life, Cosette from Les Miserables is a symbol of good, innocence and hope.
15. Cullen
This is a vampire-last-name turned first name, from the Twilight series.
This family surname is synonymous with the saga and unique choice for a first name, compared to the now overused Bella and old standby Edward.
16. Cypher
Cypher is a strong, disciplined, self-controlled soldier and leader in the movie After Earth. These traits are especially appealing for military families.
17. Deckard
A former special ops soldier gone rogue, he's loyal to his family, even if it means unsavory means to avenge them, in the Fast and Furious franchise.
Decker is a less difficult to say alternative from Legends of the Fall.
18. Dorothea
Talented jazz musician from the movie Soul, Dorothea is sometimes seen with a rough exterior but knows how to inspire and encourage others to greatness.
19. Eames
With a dry sense of humor and a suave personality, Eames is the forger in the movie Inception. Pretty sure it's probably a last name, but hey, last names turned first names can be AWESOME.
20. Eliza
The charming lead lady from My Fair Lady, this name inspires independence, class and charm. Plus it's a nice nod to old-fashioned names, but a less used choice.
21. Elle
Who can forget Elle Woods from Legally Blonde? She's pretty unforgettable, and this name offers a unique and honestly, stronger-sounding version of the ever popular Ellie. Although you may frequently encounter the problem of mispronunciation. It's something to consider…
Come to think of it, actress Reese Witherspoon also offers a unique baby names from movies with her first name "Reese".
Either one can be a winning name for a baby girl!
22. Etta
Part of the Wild Bunch outlaws in Butch Cassidy and the Sundance Kid, she was pretty, cordial, and a good shot with a rifle.
23. Eowyn
A shieldmaiden of Rohan in The Lord of the Rings, she is a fierce, bold, and strong role model for girls everywhere.
Sure, she had to settle for Faramir instead of Aragorn, but we all knew that was gonna happen, right?
24. Flynn
Originally a charming and notorious thief in Tangled, he has a change of heart upon falling in love with Rapunzel.
25. Giselle
A sentimental, sweet animated princess, Giselle from Enchanted falls into the real world and in love with real human Robert while still managing to keep her sunny disposition.
26. Hermoine
The Harry Potter series has brought this name back to center stage. It definitely qualifies as unusual, but it's definitely in the running for those who truly adore the books and movies.
Who knows, maybe you'll be the one to make it mainstream?
27. Holland
The music teacher and protagonist in Mr. Holland's Opus demonstrates the value of family and a life invested in the next generation.
If you've seen the movie, the name brings back all the feels – consider this name. If you haven't seen it, watch it because it's a good one!
28. Indiana
Is there film more quintessentially American than Indiana Jones? If adventure is in your blood, this is a great choice!
29. Ike
Ike is the charming reporter who finally wins the heart of the Runaway Bride.
Charming, insightful, oh-so-Richard-Gere-esque. There's nothing quite like him.
30. Isla
Who can forget Ingrid Bergman's portrayal of this conflicted character in the classic Casablanca? A beautiful and truly unique choice for a baby girl.
31. Jubileena
A racer in Wreck-It Ralph, she embodies enthusiasm and bubbliness, as her name implies.
I also recently had a friend name her baby girl Jubilee, which means a special anniversary of an event. This is a great option, too!
32. Justice
In a not so well-known film – Poetic Justice – main female character Justice is a poet who wrestles with difficult life circumstances and eventually rises above her past.
This could be a strong name for a baby girl or a baby boy.
33. Jyn
A female soldier and former criminal, Jyn played a pivotal role in helping the Rebel Alliance in Rogue One, part of the Star Wars franchise.
34. Katniss
We all know Katniss from the Hunger Games to be strong, stubborn, independent, but her character is softened by her loving and sacrificial heart that is fiercely dedicated to protecting those she cares about. This is definitely a worthy baby name inspired by a movie.
35. Kincaid
If you happen to be a Bridges of Madison County fan, this name choice is a nod to the charming photographer Robert Kincaid. It also brings to mind Thomas Kinkade's glowing, impressionist-style paintings.
36. Latika
A beautiful, haunting and sympathetic character in Slumdog Millionaire, she captures your heart in a redemption story set in the slums of Mumbai.
"Lotti" or "Tika" would make adorable nicknames.
37. Laurie
The boy-next-door in Little Women is an endearing character and has no shortage of girls falling in love with his on-screen character.
While this used to be primarily a girl's name, I think it has great potential as a boy's name, especially for fans of Meg & Jo & Beth & Amy.
38. Libba
The loving, no-nonsense mother in the movie Soul, she is all heart. After wrestling with her son's desire to make an unconventional career choice, Libba ultimately chooses to support her son.
This could be the perfect alternative to the more popular girl name Libby.
39. Lise
If you love musicals, comedy, and dance, Lise from An American in Paris encapsules all of that in just one name.
40. Lou (Louisa)
This lovable character from Me Before You is optimistic, cheerful, and witty – brave enough to attempt the impossible and eventually completely change her life.
41. Matilda
Starring in a film of the same name, Matilda is a smart, precocious little girl with special powers that help her rise above her dismal circumstances and fight back against evil.
Her sweet and spunky personality make this name an obvious candidate for any baby girl.
42. Maximus
This Roman soldier-turned-gladiator who fights to avenge his wife and son in a movie of the same name is a more than worthy namesake. Max is the obvious nickname, but giving him that unique official first name offers the same strength
43. Megara
An atypical and not very well known Disney princess in Hercules, this smart, snarky, spunky gal experiences a significant change of heart.
The nickname Meg is spunky as well, with another nod to the movies in veteran actress Meg Ryan.
44. Merida
Independent and headstrong, this Scottish princess in Disney Pixar's Brave shows her true ginger spirit.
45. Murron
An Irish name put back in the spotlight as the wife of William Wallace in Braveheart. A beautiful love story. If you have Irish roots, this could be a great choice.
Marion is little less unusual if Murron is too out there for you.
46. Nala
This name was made famous by The Lion King. It comes from an African word that means 'successful.'
47. Neo
The Chosen One (Neo is an anagram for One) to save humanity from The Matrix and end The Machine War, this is a great choice if you're a fan of futuristic sci-fi and are looking for a cute, but unusual boy name.
48. Primrose
Not only a beautiful flower, but the sweet, but quietly strong sister Katniss was determined to save in The Hunger Games, Primrose is still a unique name choice.
A compound word, this name leaves you flexible to choose the nickname that seems to best suit your little one. "Prim" or "Rose"…or something else, since nicknames often evolve out of nowhere.
49. Ramona
This name has come back into vogue with the movie Ramona and Beezus, but most of us old timers will remember the books first.
This name is potentially set to see an even bigger rise in popularity with the recent passing of author Beverly Cleary. So snatch it up now and say you called it first!
50. Sarafina
This is a brave story of a teenage girl who stood against apartheid in South Africa in a movie of the same name.
If you love the name Sarah, but don't want to go with one of the most popular girl names of all time, this could be a great option.
51. Samwise
Where are my Lord of the Rings fans? The loyal and lovable hobbit who would not leave his Frodo's side in The Lord of the Rings trilogy, Samwise is definitely unique.
If it's a little out there for you, Sam is, of course, a perfectly suitable nickname.
52. Scarlett
Is there any other more well-known film star than Scarlett O'Hara from Gone with the Wind? If you love American history or happen to be from the South, this is a fabulous choice.
53. Shuri
A beautiful, smart and accomplished Wakandan princess in Black Panther, this is a lovely namesake for a girl.
54. Sully
The huge, but beloved "top scarer" from Monsters, Inc., this is a name that deserves more baby name love.
Technically, Sully is James T. Sullivan, so you could use Sullivan as the official name, leaving Sully as a nickname.
55. Skylar
The cheeky love interest of Will in Good Will Hunting, Minnie Driver demonstrates a first-rate performance of this sympathetic character. "Sky" would make a great nickname.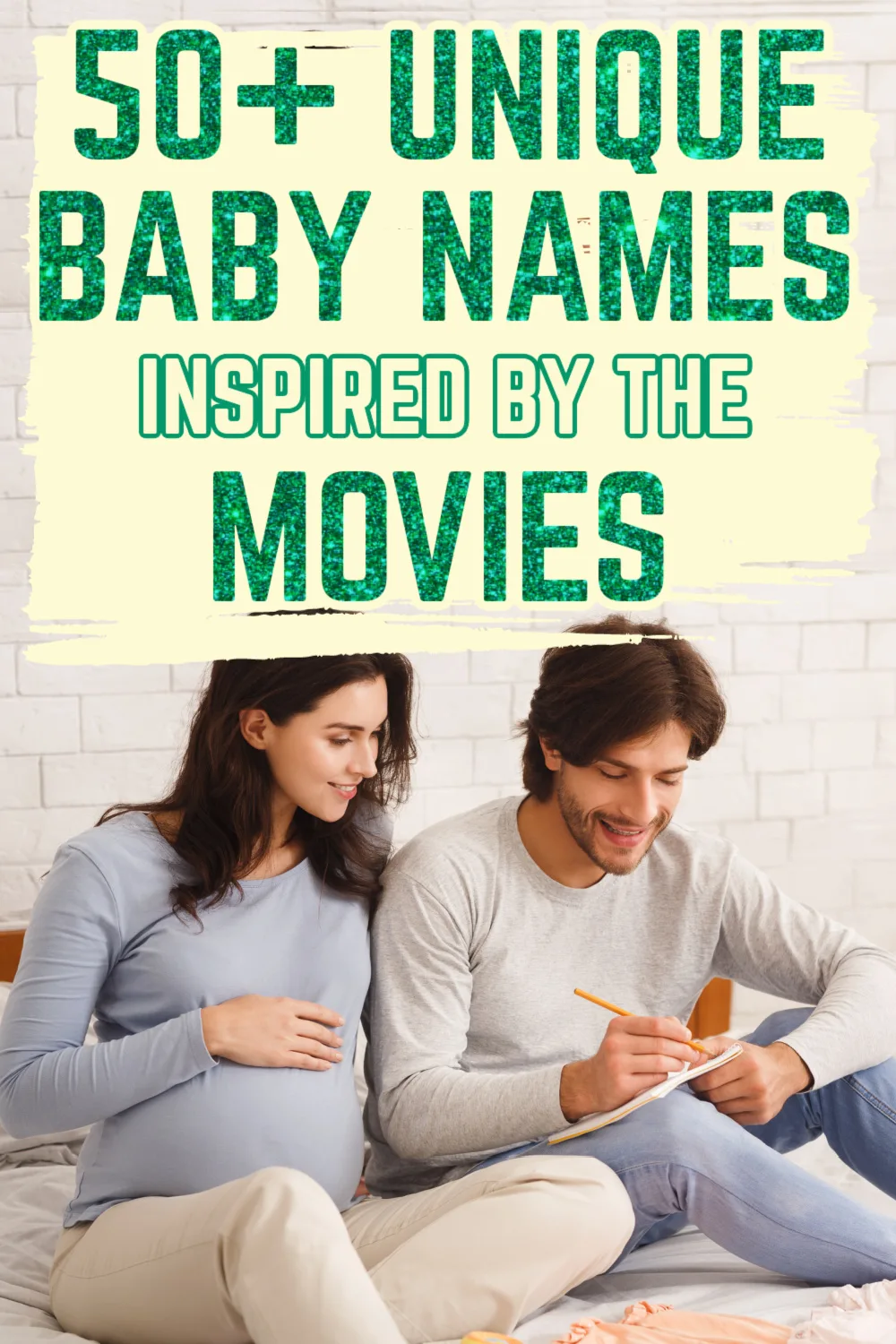 Final Thoughts on Baby Names Inspired by Movies
I hope this list has provided some inspiration! I know so many choices can feel like overwhelm and overload, but this list of unique baby names from movies could send you on a rabbit trail to find even more original baby names.
It also might give you a list of new films to watch on a lazy Friday night to learn more about some of these characters…or just to enjoy a movie and watch the end credits for more unique baby names (I've totally done this!).
Choosing just the right name can feel agonizing at times, but like a lot of life's big decisions, you know when you know.
Read Next: 101 Whimsical Nature Baby Names for Nature Lovers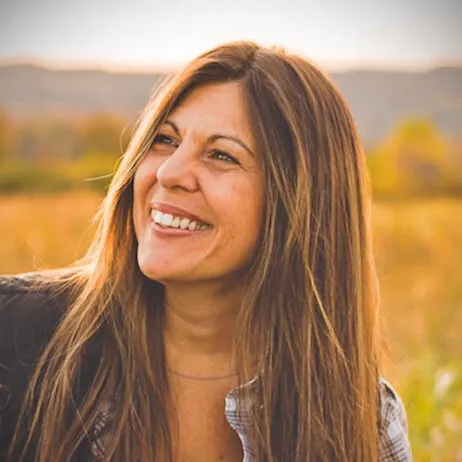 Kate is a former high school English teacher and current SAHM to her 5-year-old twin boys. A lifetime New Yorker recently transplanted in Tennessee, she keeps busy by learning her new way of life in the South, doing home decor and DIY projects, blogging at A Hundred Affections, substitute teaching, and figuring out how to survive in a house outnumbered by boys. And she loves Jesus very much.