Inside: Looking for baby names that are different, but not weird? You're sure to find at least a few solid contenders from this list of over 75 cute and unique baby names!
Except for our first baby, deciding on a baby name was a struggle for my husband and I. We somehow instantly agreed on a baby girl's first and middle name where BOTH names ended up remaining on the top 10 most popular baby names list for years to come.
Face palm.
For babies 2-5, I was searching for cute AND unique baby names (read: names that weren't in the top 100).
My only problem was that every single name I came up with, my husband would instantly veto. "Do you know how many awful nicknames bullies can make out of that in middle school?" was his incessant refrain.
Granted, he wasn't coming up with ANY baby names on his end. He just vetoed.
A few of our babies remained nameless for hours after birth, but I somehow managed to get him to agree on at least ONE unique baby name, which I included on this list. Any guesses?
While finding an uncommon baby name you and your spouse can agree on can be like the stars aligning type of moment, you ultimately want to find baby names that are different, but not weird, amiright?
So in the spirit of helping you on your quest, here are 75+ cute and unusual baby names (cute in my opinion, anyway) to add to your list!
Related: 30 Things You Need to Do BEFORE Baby Comes! (with FREE printable checklist)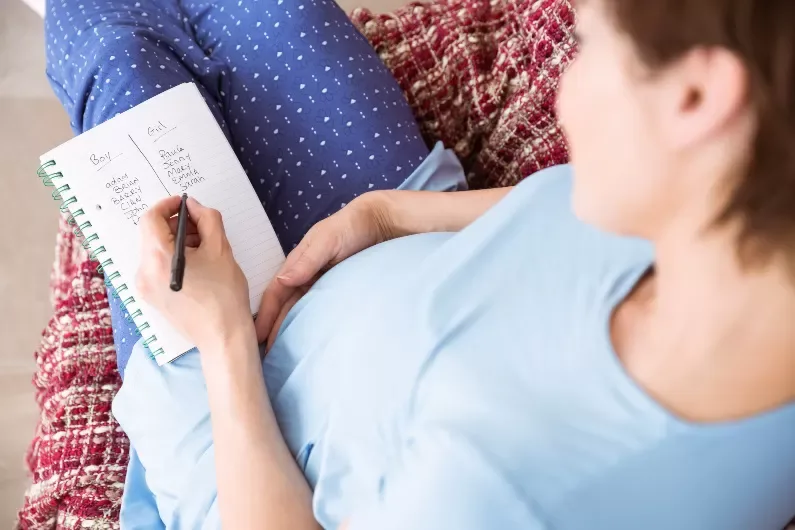 75+ Cute and Unique Baby Names
THIS POST PROBABLY CONTAINS AFFILIATE LINKS. AS AN AMAZON ASSOCIATE, I EARN FROM QUALIFYING PURCHASES. YOU CAN READ OUR FULL DISCLOSURE POLICY HERE.
The Kindle versions of baby names books are often accessible through Kindle Unlimited (like THIS one or THIS one) on Amazon. If you haven't already used your 30-day free trial, you can sign up HERE.
1. Ace
Latin, meaning "one or expert". It's only fitting this strong boy name should be first on the list.
2. Adalie
Hebrew & German background, meaning "God is my refuge." Could be shortened to the nickname "Addy".
3. Aleatha
Pronounced "al-ee-thia", this American name with Greek and Latin roots means "truth". A beautifully classic name with integrity.
4. Amara
Indian, meaning "eternal".
5. Amorette
The French word Amor means love. Combined with "-ette" you have a tiny "little love".
6. Arabella
English in origin. According to some sources, Arabella means "beautiful lion," to others, "obliging." You could also use this more uncommon name as the official first name, while using the cute and popular nickname "Bella".
7. Arella
Hebrew, meaning "angel". It fits with the popular "-a" endings, while still being well into the 2,000's in popularity rankings.
8. Ari
A Hebrew boy name meaning "lion".
9. Artemis
"Goddess of the moon" in Greek mythology.
10. Atticus
Did you know that To Kill a Mockingbird is the #2 most read book in America next to the Bible? Atticus is simultaneously cute AND strong. And you don't come across that kind of a baby name very often.
Related: 50 Vintage Boy Names that are Truly Timeless
11. August
From the Latin name "Augustus", August means "to increase" or "esteemed". Not just for babies born in the month of August (this from someone named for a month NOT her birth month).
12. Avonlea
English, meaning "field by the river". Any Anne of Green Gables fan will appreciate a more rare baby name alternative to the popular "Anne with an 'e'".
13. Atlas
Greek, meaning "support or prop". Atlas is also a Greek mythological Titan who is usually shown holding the world on his back.
14. Ayla
Hebrew, meaning "oak tree". That's one tough girl's name!
15. Beck
English, meaning "from the brook".
16. Baxley
Or Bax for short! English origin, meaning "baker's meadow".
17. Birdee
This name has mixed origins – American, German, and English. It means "bright, famous, and little bird."
18. Blair
From Gaelic, meaning "field or plain", Blair is a strong and unique name for a strong and beautiful baby girl. The spelling "Blaire" is an alternative, but it is slightly more popular than this version.
19. Blaise
Celtic in origin, this cute and uncommon baby name means "firebrand."
You'd be naming your child after Blaise Pascal, a 17th century mathematician whose claim to fame is well-known "Pascal's Triangle" used in probably theory today.
20. Bree
I love this name! And I wanted to use this as a nickname for our most recent addition – Gabrielle.
It didn't stick as a nickname (we went with the more typical "Gabby"), but please use it! It's cute and different at the same time, and means "strength" or "hill".
21. Cali
Greek, meaning "cup; fairest, most beautiful, or lovely. It's an adorable geographical name of a place for parents who love CA.
22. Carl
My dad's name, Carl is definitely due for a come back! Of German origins, Carl means "man".
23. Clover
English, the name of the flower which is a symbol of luck, wealth, and comfort.
24. Carewyn
Welsh, meaning "love, fair, blessed."
25. Davion
A combination of David, a biblical name meaning "beloved" and Darrion, which means "gift". The nickname "Davy" would be adorable with this one.
26. Della
German mythology in origin, Della means "of nobility".
Related: 60 Cute, Uncommon Baby Girl Names You Don't Want to Miss
27. Emberlynn
This is a modern American created name combining Ember and Lynn. The name "Ember" is known to be a derivative of "Amber", the name of a gem made from fossilized tree resin. "Lynn" is an English name meaning "lake, waterfall, or pool".
28. Estella
This classic and underused Spanish name means "star". It's also a literary nod to Estella Havisham from Charles Dicken's Great Expectations.
29. Fallon
Irish, meaning "ruler of the family". Be careful with this one!
30. Garrett
Anglo-Saxon, meaning "rules by the spear".
31. Gilbert
Another Anne of Green Gables inspired name, Gilbert isn't necessarily the cutest name, but the nickname "Gil" certainly qualifies…at least if you've seen Anne of Avonlea and heard the way Anne calls him "Gil". Happy sighs over here just thinking about it.
Related: 75+ Unique Canadian Baby Names Inspired by Famous People & Places
32. Hollis
English meaning "near the holly". If mama's name is Holly, this would make an adorable namesake for a boy or girl!
33. Hendrix
Dutch and German origin, meaning "estate ruler". It's also a rockin' unisex name for parents who love Jimmi Hendrix.
34. Imrie
Hebrew, meaning "my words spoken". A perfect name for the perfect reminder of God's promises.
35. Jovie
American, meaning "jovial, joyful". This is going to the name of one very happy baby!
36. Kai
A Hawaiian boy's name meaning "sea". A perfect name for your water baby-to-be.
37. Knox
English, meaning "from the small hill". John Knox was also the founder of the Scottish Presbyterian church.
38. Kova
Modern American created. Kova can be linked to the Hawaiian name Koa, which means "tallest tree".
39. Kyson
Modern American created. Close to the name Tyson, which is of French origin and means "high-spirited".
40. Lake
This name makes it onto the "rare but beautiful baby name" list. No meaning beyond the body of water with the same name.
41. Lennon
English, Irish origin, typically meaning "lover". It's also a tribute to John Lennon if mom and dad are fans.
Related: The Best Unique Non-Binary Names with Meanings
42. Lorelai
The strong, sassy single mom from Gilmore Girls, a little Lorelai would be adorable for a baby name.
43. Lucienne
French, meaning "light". "Lucy" for short if you're in the market for a nickname.
44. Magali
French, meaning "pearl". "Maggie" or "Mags" are two precious short choices for this baby name.
45. Marlow
This male English name means "lake remains" or "driftwood".
46. Melinda
From the Greek, meaning "gentle and dark." Could be paired with the adorable nickname "Mel."
47. Mika
Hungarian, Japanese and Russian in origin. This adorable name means "beautiful fragrance."
48. Nailah
Arabic. A female name meaning "successful". Girl power!
49. Naji
This male Arabic name means "safe".
50. Nellie
I was shocked to see that this name is surprisingly rare! Absolutely adorable, Nellie is variant of Ellen and Eleanor, which both mean "light". And as long as you haven't seen the show Little House on the Prairie, you'll love bringing back this cute and unique baby name.
51. Percy
French in origin, Percy means, "piercing the valley." Perhaps it will be popular one day with Percy Jackson fans, but for now, it sits close to 2000 in popularity.
52. Perrin
An alternative to the baby name "Peter", this very unusual, but strong name means, "rock".
You might also like: 60 Cute, Unusual Boy Names (that aren't too out there)
53. Piper
English, meaning "flute player". This name is rising in popularity, making it into the top 100 names. But it still qualifies as cute and unusual!
54. Pike
English, meaning "spear". This name also gives reference to Pike's Peak in Colorado, named after Zebulon Pike, an 18th-century explorer. Perfect for parents who love to be outdoors!
55. Posie
English, meaning "small flower". This little name speaks for itself.
56. Raleigh
Anglo-Saxon in origin, meaning "field of birds". Named after Sir Walter Raleigh and the city I currently call home, Raleigh is super cute and definitely unique!
57. Rand
English, a strong baby name for a boy meaning "living on the riverbank".
58. Rae
This baby name means "doe", and is a derivative of the more popular name Rachel. This name may become more popular as Star Wars fans have babies, but in the new movies, the spelling is "Rey".
59. Remi
French origin, meaning "from the Rheims", a town in central France.
60. Rollin
German, meaning "renowned land". This baby name could be used for a boy OR a girl, although for girls it is considered an extremely rare choice. …Which maybe is what you're going for?
61. Rory
Gilmore Girls fans again? Rory is a great name on its own, although you could use it as a nickname for Lorelai. They rank the same popularity-wise.
62. Rowen
With Irish and English roots, Rowen means "little red-head" or "red". The spelling "Rowan" is far more popular than this one.
While this baby name is typically used for boys, you could also use Rowena for a baby girl.
63. Sabrina
Latin, meaning "from the border". Brings back fond memories of the elegant Audrey Hepburn in the older version of the movie Sabrina, and Julia Ormond in the 1995 version.
64. Shepherd
No particular name meaning other than the obvious definition, but the nickname "Shep" is just adorable.
65. Soren
Danish origins, meaning "stern". But you could think of your little Soren as more on the serious side…and adorable of course.
66. Sydney
Where are my Alias fans at? I SO wanted to be Sydney Bristow, Jennifer Garner butt-kicking spy from the popular 90's TV show. Anyone else?
From French origins, Sydney means "wide meadow", with "Syd" being a cute nickname option.
67. Vale
A cute and unusual baby name with English origins, Vale means "lives in the valley."
68. Thalia
Greek or Hebrew, meaning "joyful or blooming" or "morning dew". A character in the Percy Jackson books, half-blood daughter of Zeus. Could be shortened to the cute nickname "Tali".
The more common spelling "Talia" is markedly more popular, but still nowhere near the top 100 more popular baby names.
69. Vance
English, meaning "from the marsh". It's also close to the name Van, which is an English name meaning "from the family of".
70. Vaughn
Back to Alias, Michael Vaughn was one of the main characters and constantly called "Vaughn" instead of "Michael". Vaughn is quite rare, but a strong and wonderful name for a boy! The only potential downside to this one would be the name meaning – "small".
71. Seraphina
Of Hebrew origin. Seraphina means, "fiery". Could be shortened as a nickname to "Sera", similar to the far more popular name "Sarah".
72. Wilma
From German or Teutonic roots, Wilma comes from the name "William", meaning "strong-willed warrior." While this name is not very popular in the United States, it does happen to be in the top ten most popular baby names in Sweden.
So if you're Swedish or planning to spend significant time in Sweden, you may want to reconsider this baby name choice.
73. Winona
Of American Indian origin, it means "first-born daughter".
Made well-known by actress Winona Ryder, this one is still fairly uncommon. That could change any time, but for now, I'm still counting it in the "unique baby names" camp (plus, it's cute!).
74. Yanni
Hebrew, meaning "gift of God". Keep in mind that this one may be more popular if you have a Hebrew background.
75. Zaide
Arabic, meaning "increasing or surplus". A powerful boy or girl name for your little blessing. It's also a cute and unusual baby name alternative to the more popular name "Sadie".
76. Zora
From the Greek, meaning "dawn". You'd be naming your little one after famous American anthropologist and author Zora Neale Hurston.
Do you have any more cute and unique baby names to add to this list? Let me know in the comments!
Read Next: 101 Whimsical Nature Baby Names with Meanings (for nature-loving parents)
Pin for later: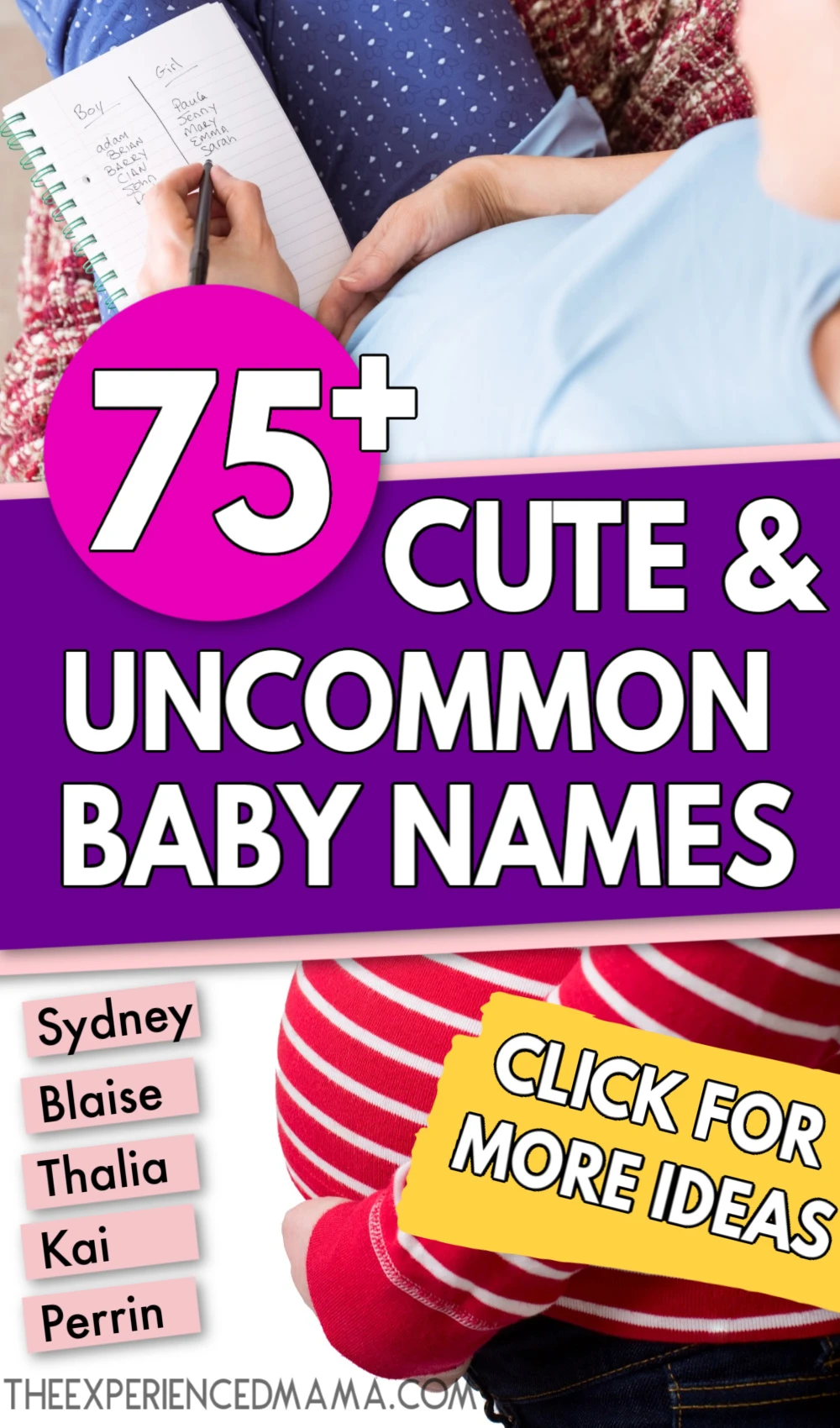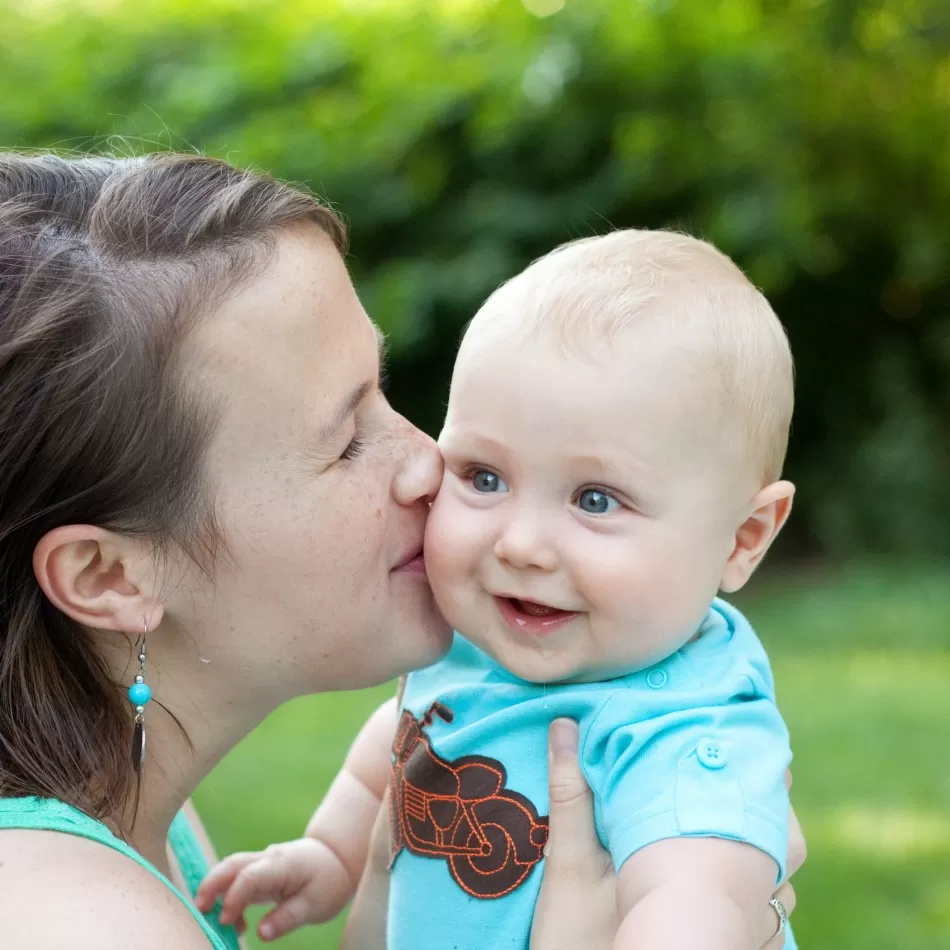 June could talk to you all day about homeschooling, parenting, and minimalism. When she's not homeschooling, decluttering, or blogging, she loves to enjoy perfect silence while sipping a hot cup of coffee and thinking uninterrupted thoughts—which, of course, with five kids, doesn't happen very often.