Inside: Formula feeding almost always means more stuff – more bottles, more cleaning, more mess. But that does NOT mean you have to be house-bound to make it work! Use these 5 essential tips for formula feeding on the go to make running a quick errand or even traveling long-distance with your baby a BREEZE.
Formula feeding is a wonderful alternative if you are unable or have chosen not to breastfeed for whatever reason. Scratch that – it's not just wonderful, it's LIFE-SAVING.
Make sure to remember that if you ever feel less than for choosing to formula feed.
You made a choice based on your personality, your baby's personality, and other circumstances no one else can fully understand. Stand by your choice with confidence, mama!
That being said, unlike your breastfeeding mama peers, formula feeding can require a bit more finesse, equipment and juggling than just pulling up your shirt and almost instantly quieting your screaming baby who demands food RIGHT NOW.
And the complications go up just a bit more when you think about leaving the house.
Just a simple Target run is enough to trigger an anxiety attack!
Thinking about everything you'll need just in case baby decides to wake up and FLIP OUT while you're browsing all the latest from the Magnolia Homes is enough to make you skip it altogether.
But leaving the house doesn't have to be that stressful! We've got you covered.
Related: The Ultimate Guide to a Minimalist Diaper Bag – Feel Confident About Packing Less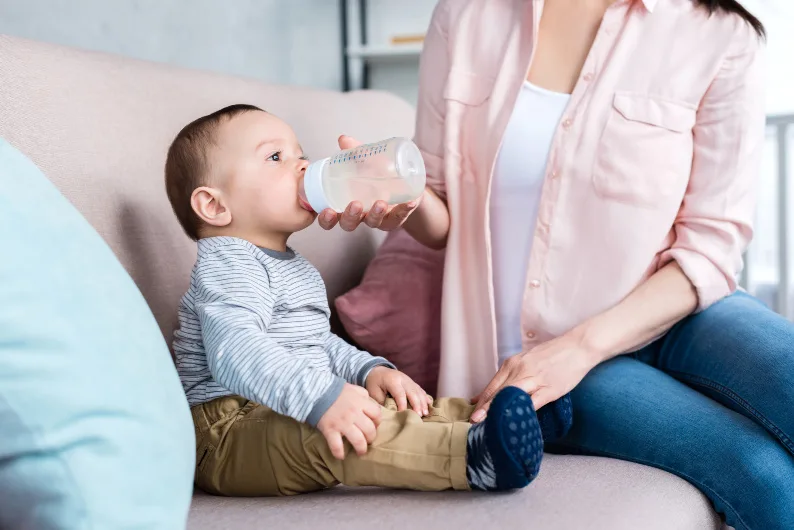 5 Must Have Tips for Formula Feeding on the Go
THIS POST PROBABLY CONTAINS AFFILIATE LINKS. AS AN AMAZON ASSOCIATE, I EARN FROM QUALIFYING PURCHASES. YOU CAN READ OUR FULL DISCLOSURE POLICY HERE.
It's true that formula-feeding when you away from home – just daily errands or traveling long-distance – can be a bit more complicated.
But with the right preparation, you will soon become a pro at formula feeding away from home.
Try these tips for formula feeding on the go to dial down the anxiety and give you the confidence you need to leave the house.
God knows, as a new mom, you need it!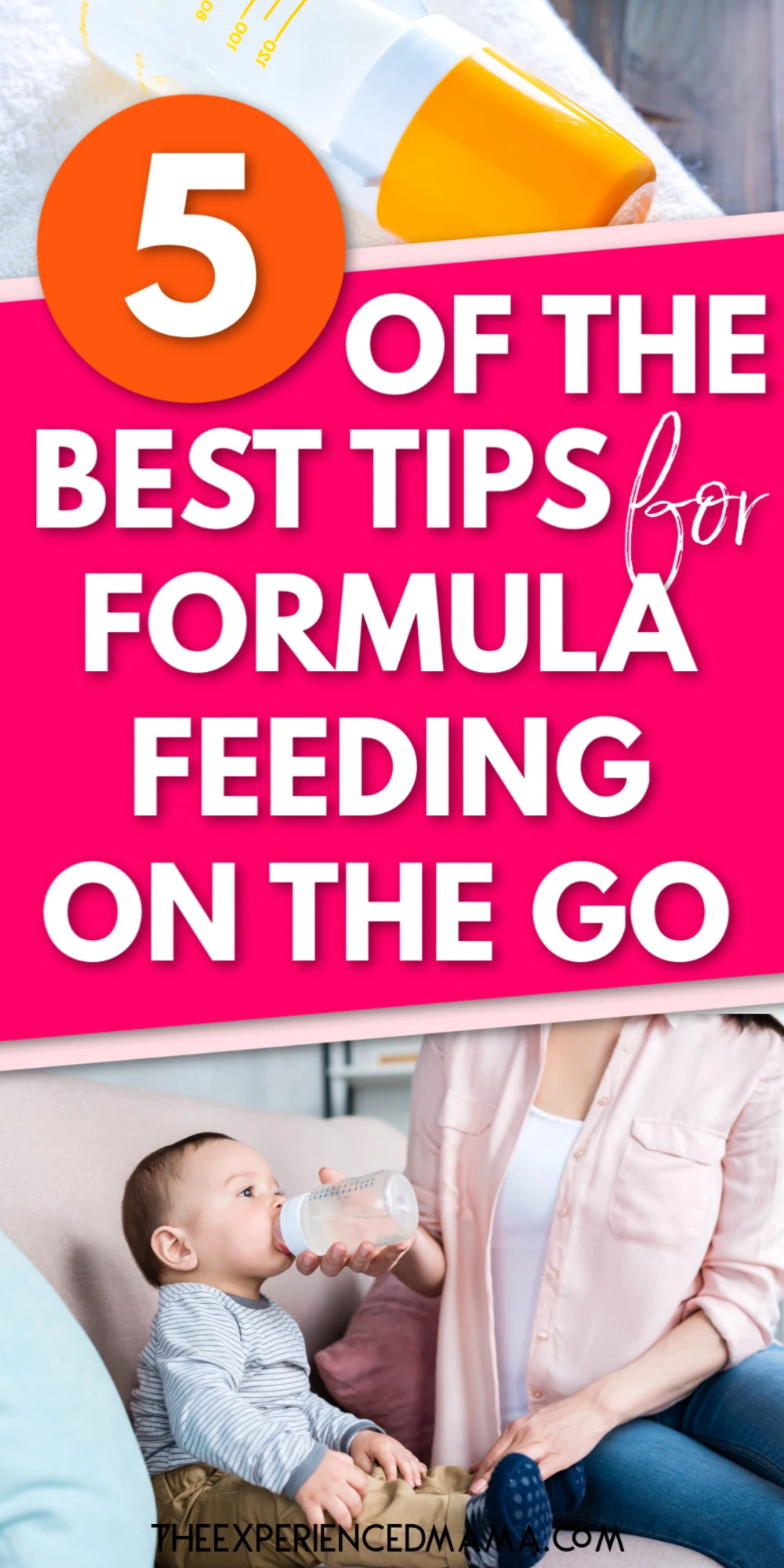 1. Pack pre-filled bottles.
Even if you plan to be at a location with easily accessible drinking water, plans can change or your baby might need an earlier feeding.
Prefilling your bottles with safe, clean room-temperature drinking water will assure you are able to make a bottle whenever you need to.
Also, babies tend to like to drink warmer liquids, so they might not be so keen on cold water from a drinking fountain.
When flying, be sure to buy some bottled water to bring on the plane after you go through security.
2. Use a formula dispenser or pre-measured individual packets.
Formula dispensers are great for throwing into your diaper bag. Most have at least 3 or 4 individual sections where you can store pre-measured formula.
If you have an extra long day of travel ahead of you, purchase a second one so you have enough pre-measured formula to last all day.
You won't want to lug around the whole can of formula in your diaper bag. Another option is to travel with pre-measured packets or pre-mixed formula.
These are a great to use in a pinch, but they can also be a bit spendy.
If you flying with your baby, you are permitted to carry on formula in "reasonable quantities" through security checkpoints. You just need to inform the TSA agent at the beginning of the screening that you have formula with you.
(On a side note: Feeding your baby during take-off and landing can help with ear pressure that builds up during these parts of the flight. Swallowing can help ease this pressure.)
3. Always pack more servings than you think you will need.
Running out of formula and having a hangry baby on your hands is the worst!
Always pack at least 1 or 2 extra servings of formula and more bottles than you think you will need.
Things happen: bottles accidentally get spilled, formula gets dumped…just be prepared for unexpected.
4. Pack cleaning supplies when traveling.
If you are staying in a hotel, do NOT forget to pack a bottle brush (I love THIS one) and a small container of dish soap so you are able to thoroughly wash the nipples and bottles at the end of the day.
Even if you are staying with friends or relatives, it's a good idea to bring a bottle brush along just in case they don't have one.
You also might consider using disposable bottle liners, which can make clean-up a little easier.
Related: 9 Disadvantages of Formula Feeding (let's be honest)
5. Remember to pack extra bibs and burp rags.
Anytime you are feeding a baby on the go, a bib for spit-up and a burp rag to protect your own clothing is a must.
And while you're at it pack a couple extras!
Are you starting to sense a theme? Extra is always better!
This is NOT the time to go into minimalist mode.
So get out there and enjoy the world. You don't have to let formula-feeding hold you back!
What tips for formula feeding on the go would you give a new mom? Share in the comments!
Read Next: What to Do When Baby Suddenly Refuses a Bottle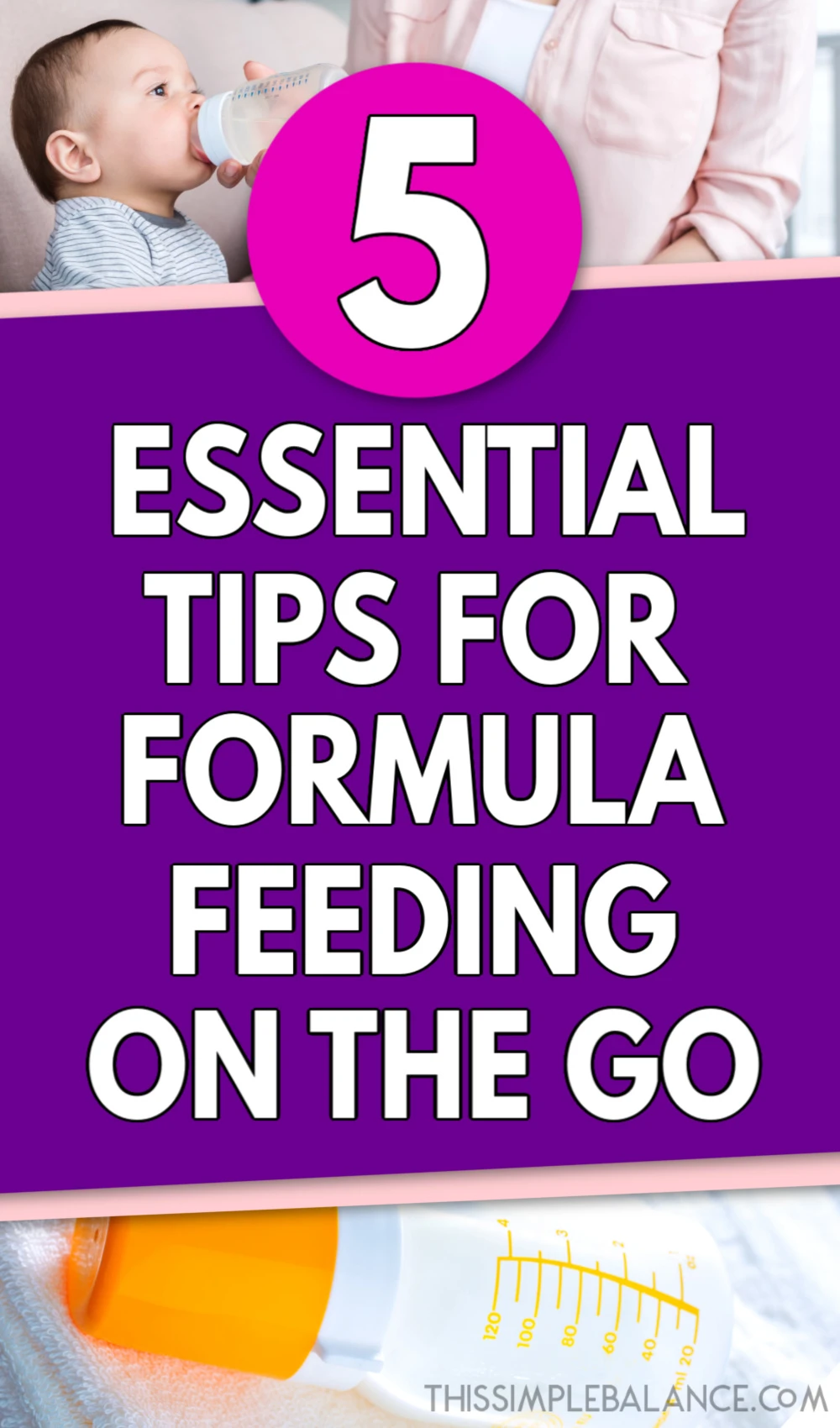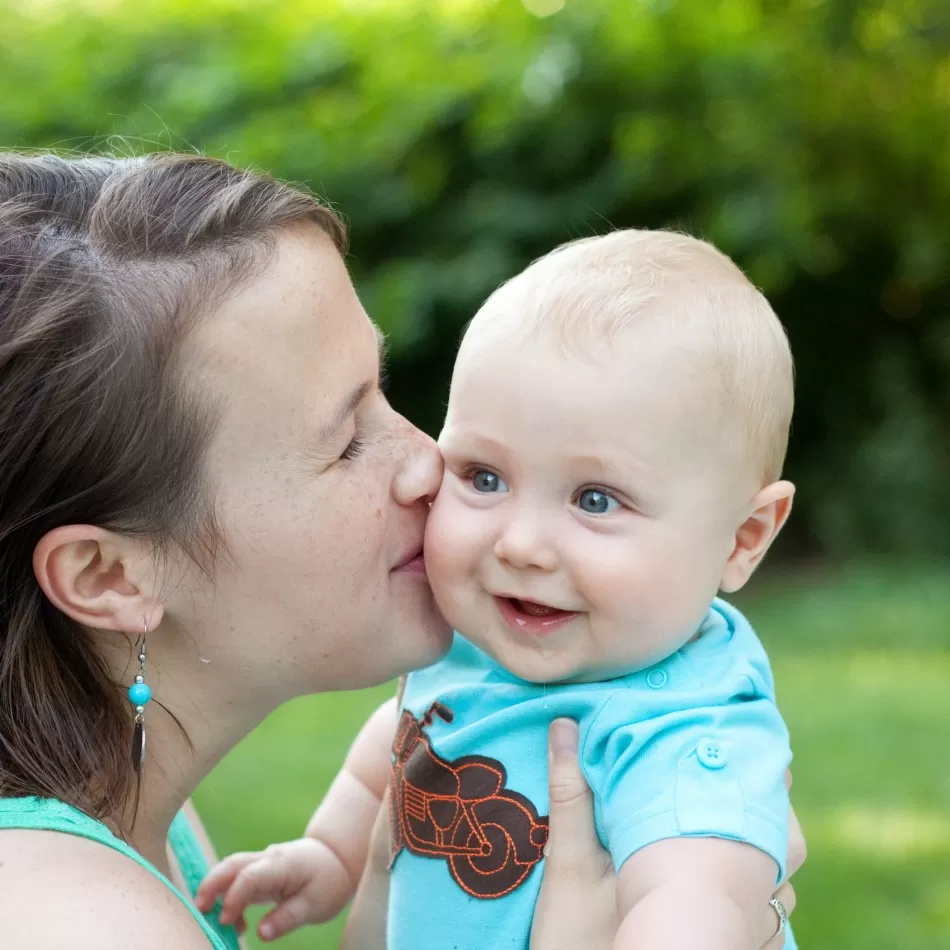 Owner of Growing Serendipity, June could talk to you all day about homeschooling, parenting, and minimalism, which she does at This Simple Balance. When she's not homeschooling, decluttering, or blogging, she loves to enjoy perfect silence while sipping a hot cup of coffee and thinking uninterrupted thoughts—which, of course, with five kids, doesn't happen very often.