Inside: Shopping for the perfect gift for a new mom-to-be? These are 20 best gifts for a newly pregnant friend – ones she'll be sure to use and love!
I remember when I found out I was pregnant for the first time. When you're planning for it and waiting for it and hoping for it, there's no other moment in your life quite like it.
Then you announce it, and the world knows your closely kept secret. This is the time a mom-to-be needs her family and friends more than ever.
Once she's spilled the beans, your newly pregnant friend is going to need some pampering. Because while pregnancy IS exciting, growing another human being is flipping hard work!
Plus, I'll let you in on a little secret: you definitely don't get the same outpouring of gifts and pampering during subsequent pregnancies.
So if you're here reading this because you have the urge to get your pregnant friend a gift, seriously: DO NOT hesitate.
These are hands down the best gifts for a newly pregnant friend, many of which I sincerely wished I had received, but alas did not.
So choose one (or several) perfect gifts for the mama-to-be in your life.
Related: How to Throw the Perfect Baby Shower for a Minimalist Mom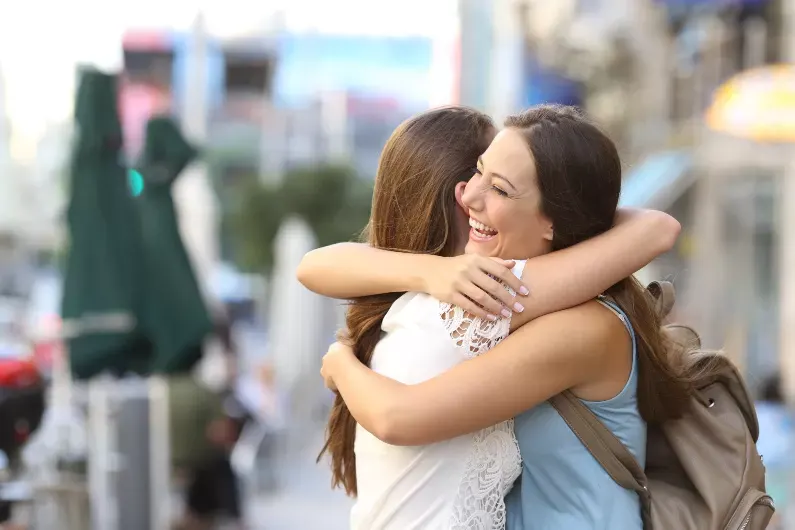 20+ Gifts for a Newly Pregnant Friend
THIS POST PROBABLY CONTAINS AFFILIATE LINKS. AS AN AMAZON ASSOCIATE, I EARN FROM QUALIFYING PURCHASES. YOU CAN READ OUR FULL DISCLOSURE POLICY HERE.
1. What to Expect When You're Expecting
This classic book is packed full of information for expectant parents, from conception to delivery and beyond.
It's a definite must-have for new mamas. I wore my copy out during my first pregnancy and referred to it again and again.
And hopefully, having it on her shelf will stop her from Googling things all the time…and freaking out about those search results. #beentheredonethat
2. Baby Name Book(s)
It is never too early to start sifting through baby names. With so many to choose from, this process can take a while!
Baby name books often have fun categories in addition to the meaning of each name.
These can include popular names by decade, famous superhero names, famous actor names, and the most popular names in other countries.
There are actually surprisingly few available these days! Probably has to do with everyone searching the internet for name ideas, instead.
But personally, I LOVED baby name books, skimming all the ideas and being able to see them all in one place in a physical book.
This one looks pretty thorough (I mean, 100,000 names is a lotta names) and gets great reviews on Amazon!
3. Funny Pregnancy Book
What to Expect gives you all the nuts and bolts about being pregnant.
But a book like Belly Laughs or The Girlfriends' Guide to Pregnancy takes a humorous approach when exploring the not so wonderful parts of pregnancy. You know – the ones no one likes to talk about (at least not face to face!).
Laughter truly is the best medicine.
4. A Journal
A whirlwind of emotions surround your first-time pregnancy.
A regular journal or a pregnancy journal is a special place for a first-time mama to record all her thoughts and feelings as she goes through this new experience.
It's also fun to keep track of measurements and important dates, like when you first feel baby move. Things I wish I could remember from my first pregnancy!
5. Comfy Pants & Slippers
The first trimester can be a little rough for new mamas and having some slippers and comfy pants to slip into after an exhausting day can feel like a special treat.
That stretchy waist will come in handy as her baby bump gets bigger, and the slippers as her feet very unfortunately get bigger, too.
6. Morning Sickness Kit
Morning sickness is very common in the first trimester and can range from slight nausea to throwing up multiple times a day.
Any mama experiencing morning sickness will be glad to have some remedies on hand!
Bland foods like saltine crackers and hard candies like these containing ginger (known to help with nausea) can help mamas-to-be make it through the first trimester.
Sea-bands that are worn around the wrists can also help in reducing nausea and vomiting.
For More Ideas: The Ultimate Pregnancy Survival Kit: 25 Essentials Every Expecting Mom Needs
7. Groupon for Housecleaning
The first trimester can be rough for several reasons, with exhaustion and morning sickness topping the list.
Housecleaning can be a wonderful gift for a tired mama-to-be who doesn't have the usual amount of energy.
She could also opt to save it for the third trimester before baby comes.
8. Gift Cards
Who doesn't love a gift card? Here are a few ideas a newly expectant mother will love.
Google Play or Itunes gift card to download the latest and greatest pregnancy apps.
Gift card for a local maternity clothing store for maternity clothes
Shutterfly or Snapfish gift card for birth announcements.
Craft store gift card for nursery decorations.
9. Photography Session with a Maternity Photographer
I wish I had captured this unique Capture the pregnancy glow and this unique time in a new mama's life with the gift of a maternity photography session.
Seeing so many friends capture their first pregnancy with gorgeous professional photos makes me sigh with a tiny bit of regret.
Research the best maternity photographers in your area, and either:
Buy a session with a specific photographer OR
Offer your pregnant friend a list in her area with cash for the session
10. Bump by Week Stickers
While getting an actual maternity photography session is a must, your newly pregnant friend can document her week by week progress with these adorable "bump" stickers.
They remind me of the now popular swaddle blankets that have months on them, so you can easily snap a picture of your babe with the appropriate month "circled".
But these are even better in my minimalist opinion because they're disposable, especially because pregnancy is a fleeting stage of life (even if it doesn't feel like it).
Related: 25 Inexpensive Baby Shower Gift Ideas – Practical and Affordable
11. Pampering Package
Give the gift of a massage, pedicure, or manicure, along with some body lotion or bath oils.
Make sure you stick to fairly light scents or unscented. Pregnant women often experience a heightened sense of smell.
She will LOVE feeling free to go get the pampering she needs!
Bonus: Also this cream is perfect to give NOW so she can hopefully avoid stretch marks later on.
12. Something Special for Baby
Baby blankets, baby clothes, board books, especially diapers (size 1 or 2 are best). . .it's never too early to help start the collection for baby.
13. A Homemade Meal
Make sure to check with the mama-to-be to see what kinds of food sound appealing. Tastes can change during pregnancy.
Even of she doesn't want anything besides saltine crackers, her spouse or significant other isn't pregnant and will definitely want some real food!
It's a nice reprieve to not have to cook for your spouse, especially when morning sickness hits and all food makes you want to vomit.
14. Pregnancy Pillow
A pregnancy pillow shaped especially for growing bellies is a must have for soon-to-be mamas. Especially if she was a stomach sleeper before getting pregnant, sleep past week 20 is gonna be ROUGH.
This will help her to get as much sleep as possible before the baby arrives.
15. Pregnancy Yoga DVD
Yoga is a great exercise for the entire pregnancy. Moves can be modified as the pregnancy progresses to accommodate looser ligaments and growing baby bellies.
While I did have a friend who kept up her regular running routine right up until delivery, I personally found it to be WAY too strenuous for me to continue, especially with vaginal varicose veins (I'll spare you). I wanted to keep doing some kind of exercise, but didn't know what. So I just didn't.
Pregnancy yoga DVDs like this one would have been fantastic had I known about it. And cheaper than the gym!
16. "Eating for Two" Basket
For a unique gift, put together a basket with a bunch of popular pregnancy craving items—pickles, cheese, peanut butter, chocolate, etc.
The craving foods can be surrounded with fresh fruit…or not.
17. Luxurious Newly Pregnant Gift Box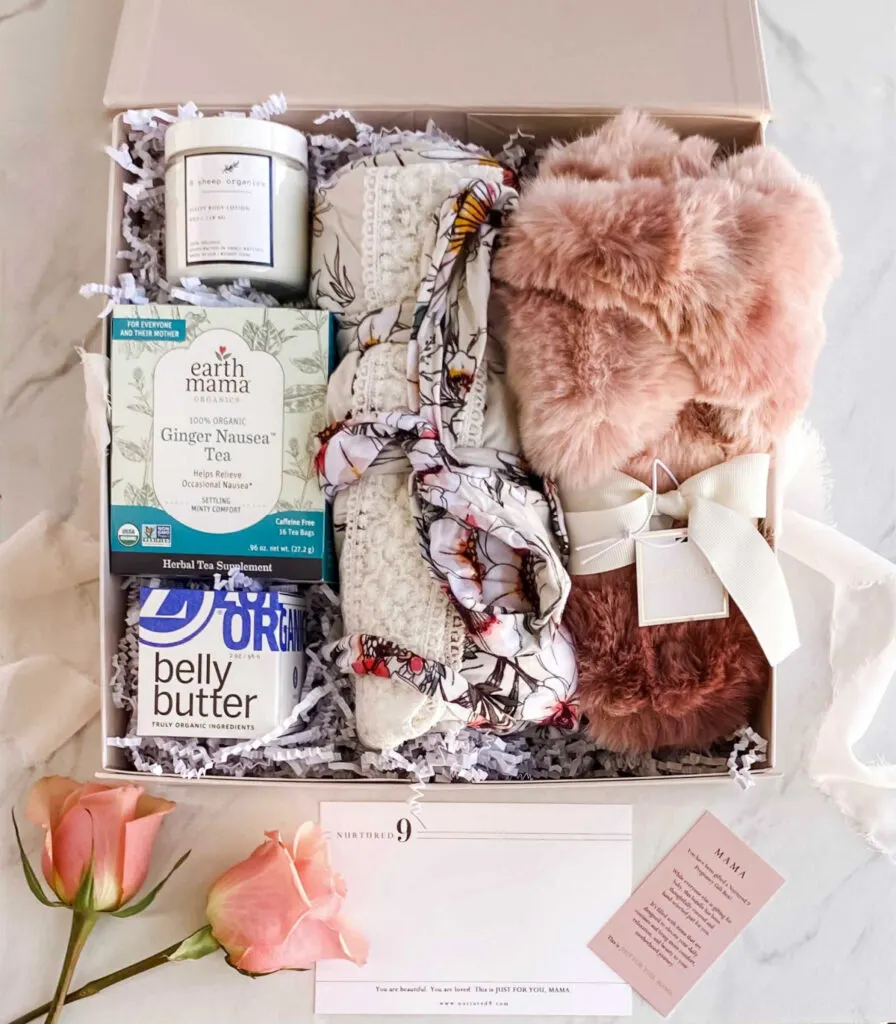 Nurtured 9 knows how to take care of a newly pregnant mama, that's for sure!
One of their bestsellers, this gift box contains:
Zoe Organics Belly Butter
A Gorgeous Maternity Robe
Slipper Socks or Slippers
Earth Mama Organics Ginger Nausea Tea
8 Sheep Organics Sleepy Body Lotion
If you want to pamper your friend in the ultimate way, gift them a box of luxury.
18. Foot Spa
Perfect for soothing tired or swollen feet with a relaxing soak, a foot spa is guaranteed to get a lot of use!
Throw in some foot lotion to give the mama-to-be some much needed relief from aching feet.
19. A Mama-To-Be Mug or T-shirt
Celebrate this special time with a personalized "Mama" mug or "Mama-To-Be" t-shirt.
T-shirts like this one are super cute and can be worn after pregnancy, too.
20. Frame or Photo Album for Ultrasound Picture
Those black and white ultrasound images give new parents the first glimpse of their little miracle.
A special frame like this one can make it easy to display these one-of-a-kind photos. (And provide protection for this keepsake!)
21. Maternity Belt
Back pain is pretty common in pregnancy as the baby bump continues to expand.
A maternity belt and provides much needed support to the low back, helping to prevent or decrease pain in this area.
It's not something that's fun to buy for yourself so many moms-to-be suffer without something that could truly help them hurt less and enjoy their pregnancy more.
Related: How to Deal with Back Pain During Pregnancy
22. Book for Dads-to-be
Last, but not least, don't forget to include the daddy-to-be!
Dads have all kinds of questions too, but they may not be as apt to head to search for the book they need. And trust me – that can be SUPER annoying for the mom.
So help your newly pregnant friend out by giving them a book like The Expectant Father or Dude, You're Gonna Be a Dad! to strategically place on dad-to-be's nightstand.
Here's hoping for your friend's sake that he actually reads it!
Related: The Best Gift Ideas for Expecting Dads – Top 10 Choices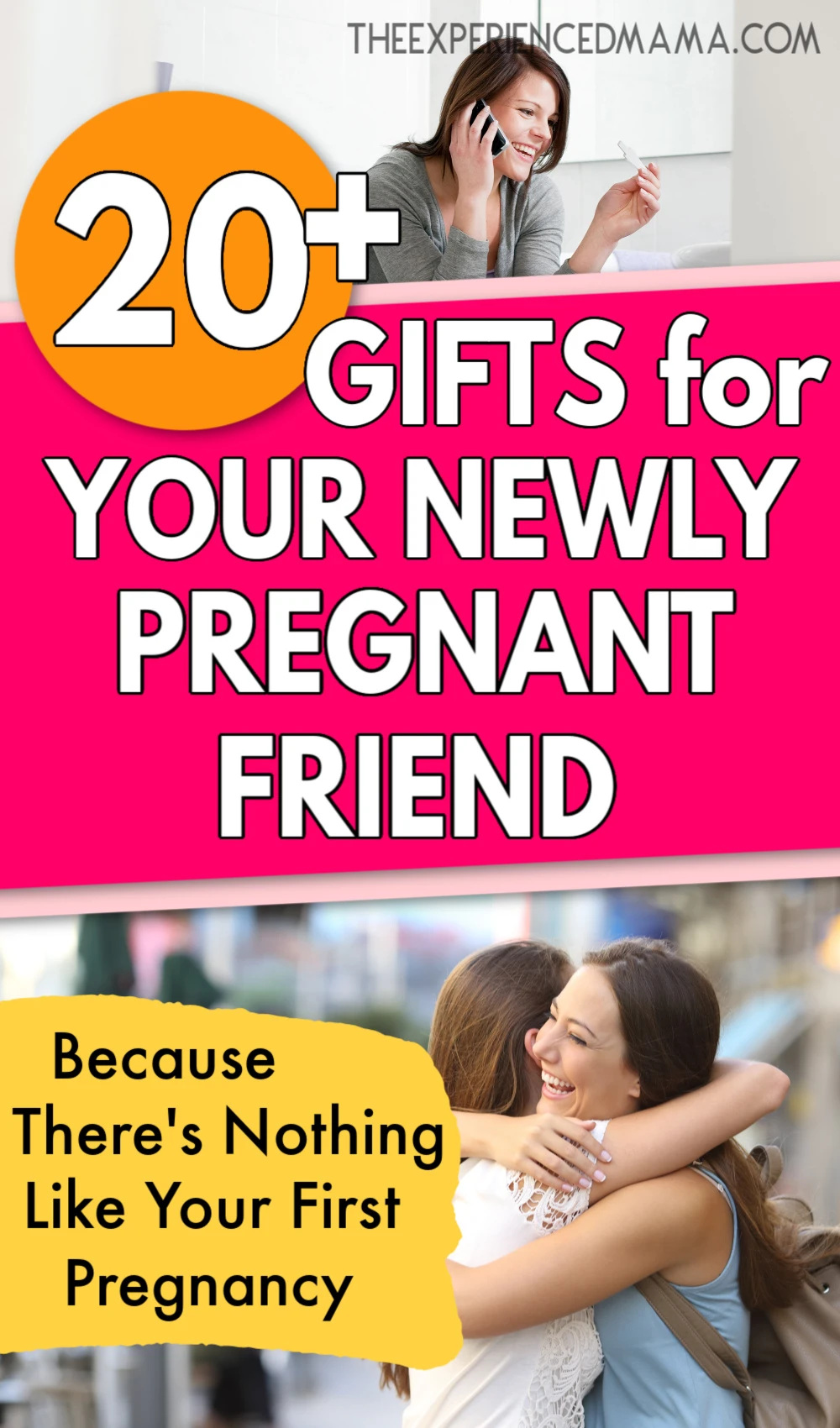 The Gift Your Newly Pregnant Friend Needs MOST
I was the first of my friend group to get pregnant. The first one to be a mom for a long time.
And it can be SUPER lonely. You're moving ahead into territory your friends haven't experienced and don't fully understand.
But I still wanted their friendship. Just because they couldn't offer me baby or parenting advice didn't mean I didn't highly value their friendship.
Don't pull away because your lives feel too different now, or you don't think you understand enough or you don't think your friend thinks you understand what she's going through.
You don't understand – don't pretend to. But you CAN listen. You CAN sympathize.
You can still talk about your life (and gently remind her that YOUR life doesn't revolve around pregnancy like hers does).
More than anything on this list? Your newly pregnant friend needs the gift of YOU.
Read Next: 40+ Best Pregnancy Gifts for First-Time Moms
Did I miss something? What do YOU think are the best gifts for a newly pregnant friend?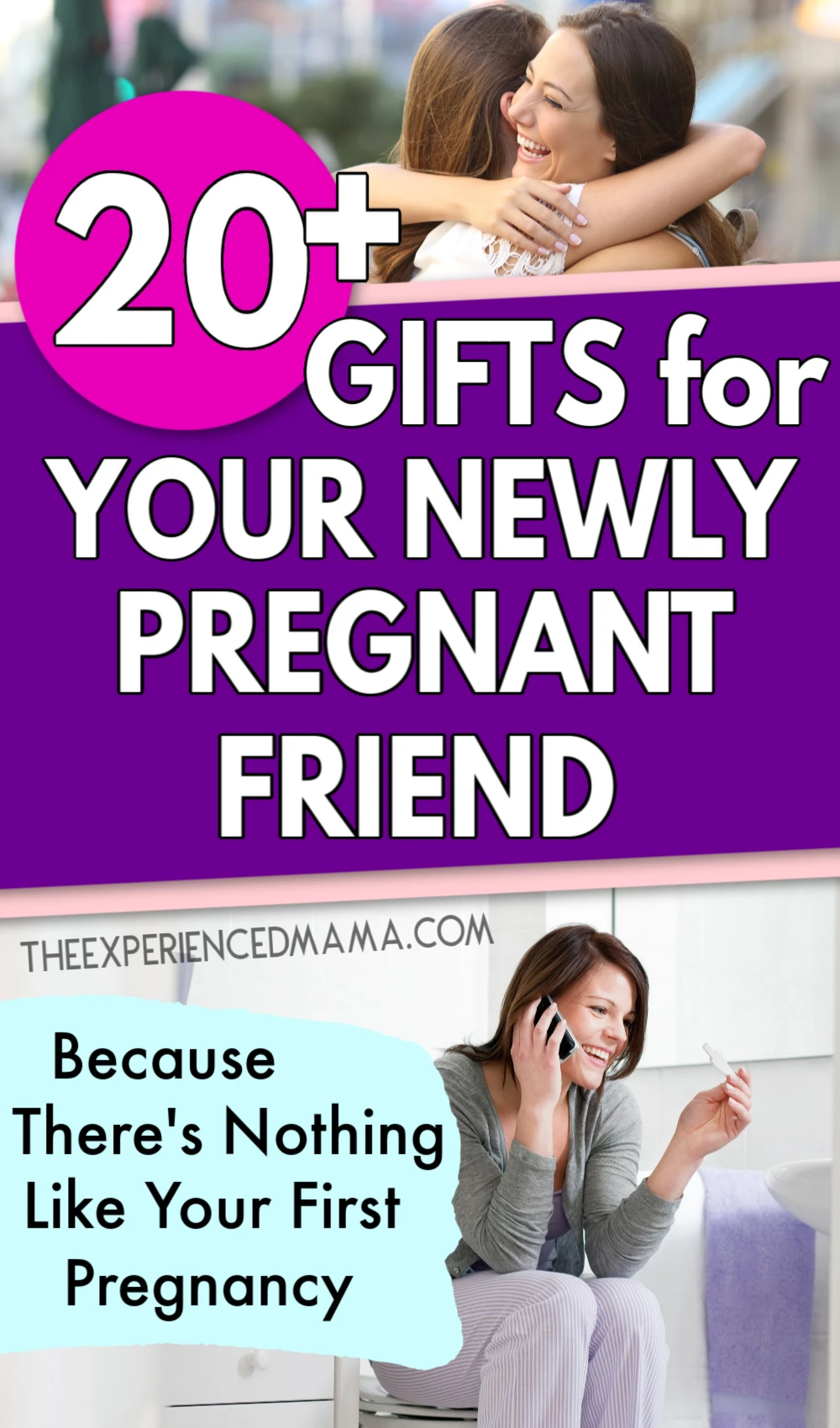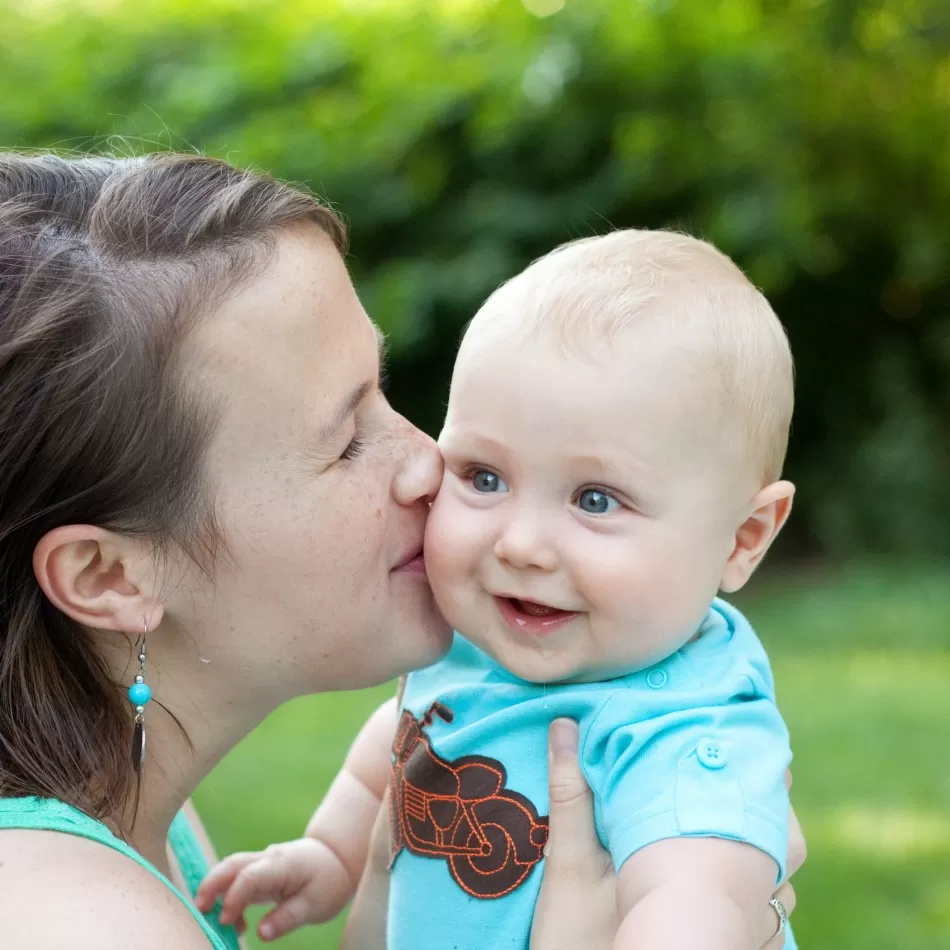 Owner of Growing Serendipity, June could talk to you all day about homeschooling, parenting, and minimalism, which she does at This Simple Balance. When she's not homeschooling, decluttering, or blogging, she loves to enjoy perfect silence while sipping a hot cup of coffee and thinking uninterrupted thoughts—which, of course, with five kids, doesn't happen very often.