Inside: Searching for the best pregnancy gifts for first-time moms? Look no further! Compiled by a first-time mom, these gifts are practical, thoughtful and guaranteed to put a smile on her face.
Your friend, daughter, co-worked, loved one: someone you know is pregnant! Let me just say the fact that you are looking for a pregnancy gift for HER and not for baby is awesome.
So often the mom herself gets forgotten. Baby steals the show (for good reason, but still, it can be mildly frustrating).
Just one gift would be amazing, or you could put together an entire pregnancy gift basket if you really want to go above and beyond!
As you're browsing, keep in mind that while most of these pregnancy gifts for first-time moms are appropriate no matter your relationship with mom, some are better given by a close friend or relative. User-discretion advised.
Happy gifting!
You might also like: 20 Best Gifts for a Newly Pregnant Friend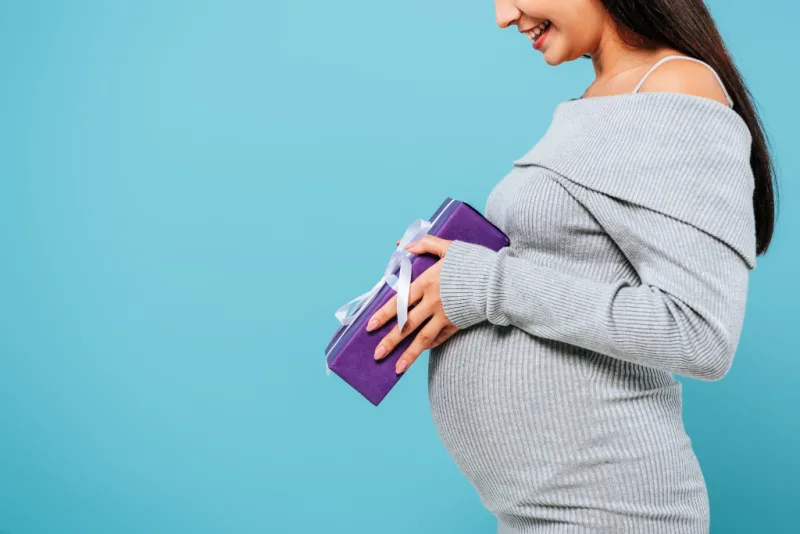 40 Pregnancy Gifts for First-Time Moms
THIS POST PROBABLY CONTAINS AFFILIATE LINKS. AS AN AMAZON ASSOCIATE, I EARN FROM QUALIFYING PURCHASES. YOU CAN READ OUR FULL DISCLOSURE POLICY HERE.
These pregnancy gifts are loosely grouped by trimester, moving from first trimester pregnancy gifts to third trimester pregnancy gifts.
1. Gin Gins Ginger Hard Candy
THESE ginger candies really helped me with my morning sickness. I enjoyed letting one melt into a cup of tea.
Bonus Points: they are made with cane sugar and NO high fructose corn syrup.
2. Preggie Pop Drops
To be completely straight with you, I liked these, but only because they got that nasty pukey taste out of my mouth.
These didn't help relieve my morning sickness BUT I know they help countless other women with pregnancy nausea (see Amazon reviews), so preggie pop drops are definitely a great pregnancy gift option for first-time moms!
3. Belly Bump Stickers
It's amazing what we've come up with in the 21st century, isn't it?
THESE modern bump stickers are a fun, disposable way to document her bump photos right up until delivery.
4. Lip Treatment
Morning sickness leads to puking. Puking leads to dehydration. Dehydration leads to cracked lips…
See where I'm going here?
Help her ditch cracked dry lips with THIS fantastic, non-toxic lip treatment.
Related: 14 Essentials for Your First Trimester Survival Kit
5. Mama Bear Shirt
Help her celebrate her new title with THIS comfortable top!
6. Morning Sickness Spray
Magnesium spray can help with overall pregnancy struggles including morning sickness and energy levels.
Alternatively, this uplifting, organic scented spray helps specifically with keeping nausea at bay.
7. Morning Sickness Tea
This delightful mix of chamomile, ginger, spearmint, orange, lemon balm, and a safely-small bit of peppermint is amazing for the first trimester!
8. Sleep Mask
Who cares if you look like a fly wearing these if that means you can sleep better? First trimester fatigue naps are so much better with a nice sleep mask.
The best part about this particular mask is it is raised slightly off the eyes, so it won't mess up her eye makeup if she takes a little snooze at work.
9. Mom-to-Be Organic Gift Set
THIS fantastic set comes with:
Belly oil
Ginger fresh deodorant
Belly butter (travel size)
Morning Wellness body wash
Orange ginger lip balm
10. Promptly Childhood Journal Set
Promptly Childhood History Journals are amazingly beautiful and simple.
They track your baby's life from pregnancy through 18 years.
11. Cute Maternity Tee
THESE funny maternity t-shirts are just too cute.
Yes, after nine months-ish, that tee will be rendered irrelevant.
But it's still one of the most memorable (if not special) nine months of a first-time mom's life. So why the heck not?!
12. Comfy Lounge Pants
Get her a comfortable pair of lounge pants: these are crucial for a happy pregnancy wardrobe.
And as her belly grows, trust me, she'll be wearing these more and more (and more).
13. Subscription Box for Pregnant Moms
Crate Joy subscription boxes are the gift that keeps on giving!
You can set the mama-to-be's subscription to come each trimester, every month, or for a full year.
Shop subscription boxes for pregnancy and maternity HERE.
14. The Pregnancy Cookbook
THIS cookbook has easy recipes for every stage of your pregnancy!
The best part is that it's written by a labor and delivery nurse and professional chef. So, you'll be getting legit pregnancy food advice from legit people.
15. Essential Oils Earrings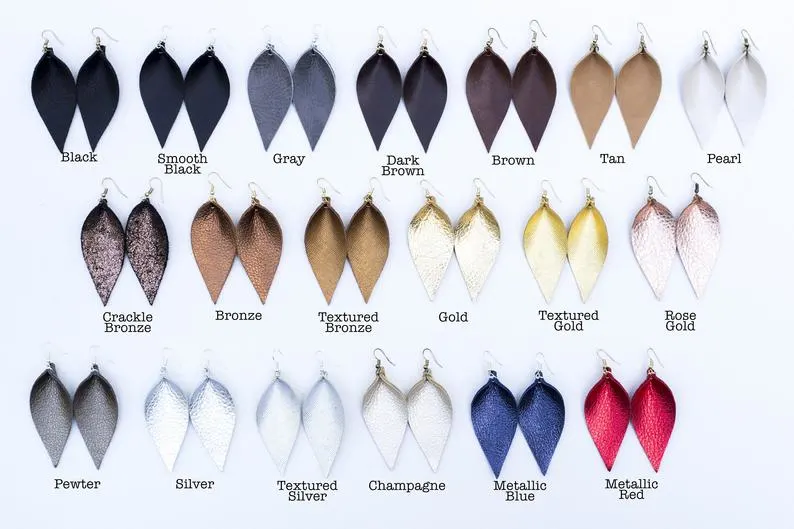 I wear a pair of THESE essential oil earrings every single day. (The champagne pair are my favorite.)
During pregnancy, wearing grapefruit or other citrus essential oils helped me tremendously with nausea.
16. Essential Oils
I recommend buying from Young Living (MLM company), Plant Therapy, Rocky Mountain Oils or Edens Garden.
If I had to choose just one, grapefruit oil helped me the most with nausea.
17. Belly Butter
My belly started to itch BAD during my second trimester. I think the combination of it being wintertime and the start of my skin stretching around my growing belly made my skin itchy.
THIS belly butter is a lifesaver for pregnant women.
18. Exercise Ball
Exercising on The Birth Ball helped me stretch out achy hips and loosen my pelvis.
Bouncing on The Birth Ball closer to your due date will help get the baby in a good position for birth, and bringing it to the hospital for labor is a MUST.
19. Hip & SI Joint Support Belt
THIS belt was a total game-changer for my hip, pelvic and back pain during pregnancy.
Get her the support she needs as her belly grows and hips expand during the second and third trimester.
20. Jean Extenders & Belly Band
Extend the life of her favorite pair of jeans with the jeans extenders.
The bamboo belly band is so soft and will feel like a warm hug to her belly.
21. Bump & Back Pillow by Boppy
I really liked the versatility of the Bump and Back pillow. You can use it to support your back and belly or between your knees.
Not to mention, it's small enough that your partner doesn't get shoved off the bed.
22. Full Body Pregnancy Pillow
If she has the space for it, get her the pillow of her dreams.
The full-body pregnancy pillow will support every curve of her growing body for a better night's sleep.
23. Shea & Cocoa Butter Bath Bombs
Ultra-moisturizing and heavenly smelling (unfortunately, not 100% natural) THESE bath bombs will definitely pamper her.
(For a more natural option: Dr. Hempster's Hemp Bath Bombs)
24. Face Sheet Masks
These puppies are a real game-changer for dull, dry, or blemish covered prego mama faces.
So, basically, they're perfect for any pregnant woman.
25. Maternity & Nursing Bra
I really recommend getting a Kindred Bravely bra for many reasons BUT if you're on a tight budget, THESE bras work great.
They're comfy and hold their shape pretty well for a day or two before relaxing/stretching out.
26. Kinesiology Tape
Kinesio tape helped me so so much with back, hip, and pelvic pain during pregnancy.
This isn't really the most exciting gift to buy for pregnant women BUT I know she'll love it!
27. MommaStrong Subscription
I specifically want you to know that this is not an affiliate link.
Here is a direct quote from Courtney Wyckoff (founder of MommaStrong) about this matter:
So, as you may or may not know, we here at MommaStrong DON'T do network marketing or pyramid schemes to help us grow. Why? Because we want your referral of MommaStrong to another woman to come from your guts and from your heart without an ounce of other motives. In a world where everyone is selling something and everyone is in the hustle, to respect and hold sacred the words of another woman is EVERYTHING.

Courtney Wyckoff, MommaStrong Founder
With your subscription, you get:
$5 a month
Fresh new video content every day for 4 different programs. (Momma-To-Be, Hazy Days for early postpartum, New Momma, and Momma)
Each exercise video is 15 minutes or less
Completely online and accessible 24/7 – all you need is wifi
Specifically designed for MOMS, with an emphasis on core stability, pelvic floor strengthing/rehab, and doability. (Is that a word?)
28. Maternity Photo Shoot
She'll love you forever for this one. This will give her memories to hold forever of this special time in her life.
I regret not getting maternity photos. This one is a no-brainer.
29. Babymoon Trip
I know many moms that wanted to go on a babymoon with their husbands before baby's arrival… or before they got too big to enjoy a vacation.
Gift the happy couple a couple of nights at a bed and breakfast for some sweet time away (and try to do it in the second trimester).
Give her and her hubby this gift of time with each other!
30. Birth It Up: Online Birthing Class
In a nutshell, Birth It Up is the most affordable, yet educational, natural birthing course on the web.
$40 for hours of valuable birthing information written by a labor and delivery nurse.
Help her prep for the birth of her dreams by enrolling her in Birth It Up!
Please Note: There are two versions of the course – one for pregnant women planning a natural birth and one for pregnant women planning to get an epidural.
31. Handheld Massager
With pregnancy comes aches and pains… 'tis the season of achy backs, fa la la la la… oh, wait.
Help a sister out with this magic handheld massager.
I've also heard that this little roller works great and can be especially useful during labor.
32. Pregnancy Bath Salts
Soaking in the magnesium in these bath salts straight from the Dead Sea will help relieve pregnancy aches and pains, improve sleep, boost energy levels and lessen nausea (if she's still having nausea).
33. Silicone Wedding Ring
For less than $20, you can give her a new band to wear while her fingers are a bit puffy from pregnancy swelling.
34. Compression Socks
Cute and functional? I'll call that a pregnancy win.
Get her a few pairs of high-quality compression socks like THIS pack of seven.
35. Comfy Labor/Delivery Gown
'Cause she deserves a little class and dignity during her hospital stay.
THIS gown will also give her the comfort of home while she is away.
Related: The Comfiest Going Home from the Hospital Outfit for Moms
36. Milkology Breastfeeding Class

If your pregnant friend is planning to breastfeed, this online class is an absolute must.
Most moms biggest regret is not knowing more about breastfeeding before birth – help a girl out and get her access to this online class.
(Pssst… it's only $19.)
37. Pedicure or Massage
Her back hurts. Her feet hurt. And, Lord knows she can't reach her toes to paint them before delivery day.
There's nothing like a massage and good 'ole pedicure to get her feeling happy again. Oh, and if you're not local, gift cards to her nearest spa are a great idea.
38. The Breastfeeding Cookbook
The Breastfeeding Cookbook (and The Pregnancy Cookbook mentioned earlier in this list) are written by a labor and delivery nurse and a professional chef.
Want to gift both cookbooks? You can purchase the bundle HERE.
39. Baby Name Book
You can find so many baby name suggestions on the internet, but there's something about thumbing through a physical copy of a baby name book that Google will never replace.
In it's title, THIS baby name book claims to be the "most helpful, complete, and up-to-date baby name book". You really can't go wrong with that in the title!
40. Basic Maternity Shirts
You can't have too many of these: seriously. They are perfect for dressing up, dressing down.
I love THESE shirts in particular because the ruched sides make you feel NOT frumpy (I've worn a few frumpy maternity shirts – no bueno), and they are LONG. These will carry you through late first trimester all the way to a week past your due date.
They are also super basic colors that will go with anything. A few of these as a pregnancy gift will make her day!
Did I mention you can't have too many? Get several: go crazy.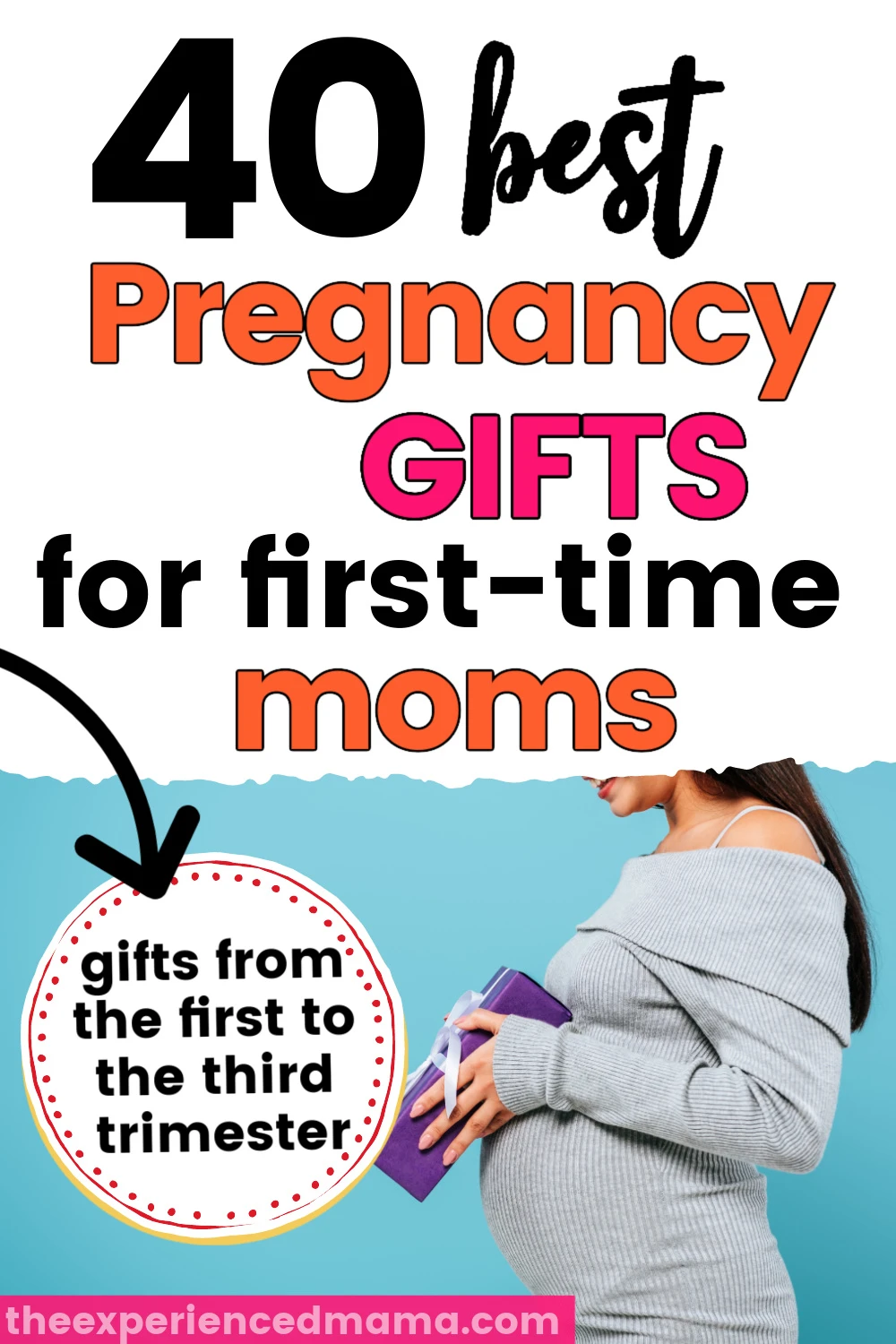 The Ultimate Pregnancy Gift for First-Time Moms
A physical gift is amazing. She is sure to love anything on this list.
But the ultimate gift for a pregnant woman is something she probably won't ask for: your time.
Can you babysit? Clean? Take some laundry off her hands? Cook a meal (or pick one up from Whole Foods)?
Seriously. The gift of your time is the most precious of all pregnancy gifts for a first-time mom.
Which of these pregnancy gifts did you decide to go with?
Related: Top 10 Gift Ideas for Expecting Dads – for Father's Day, Christmas or Just Because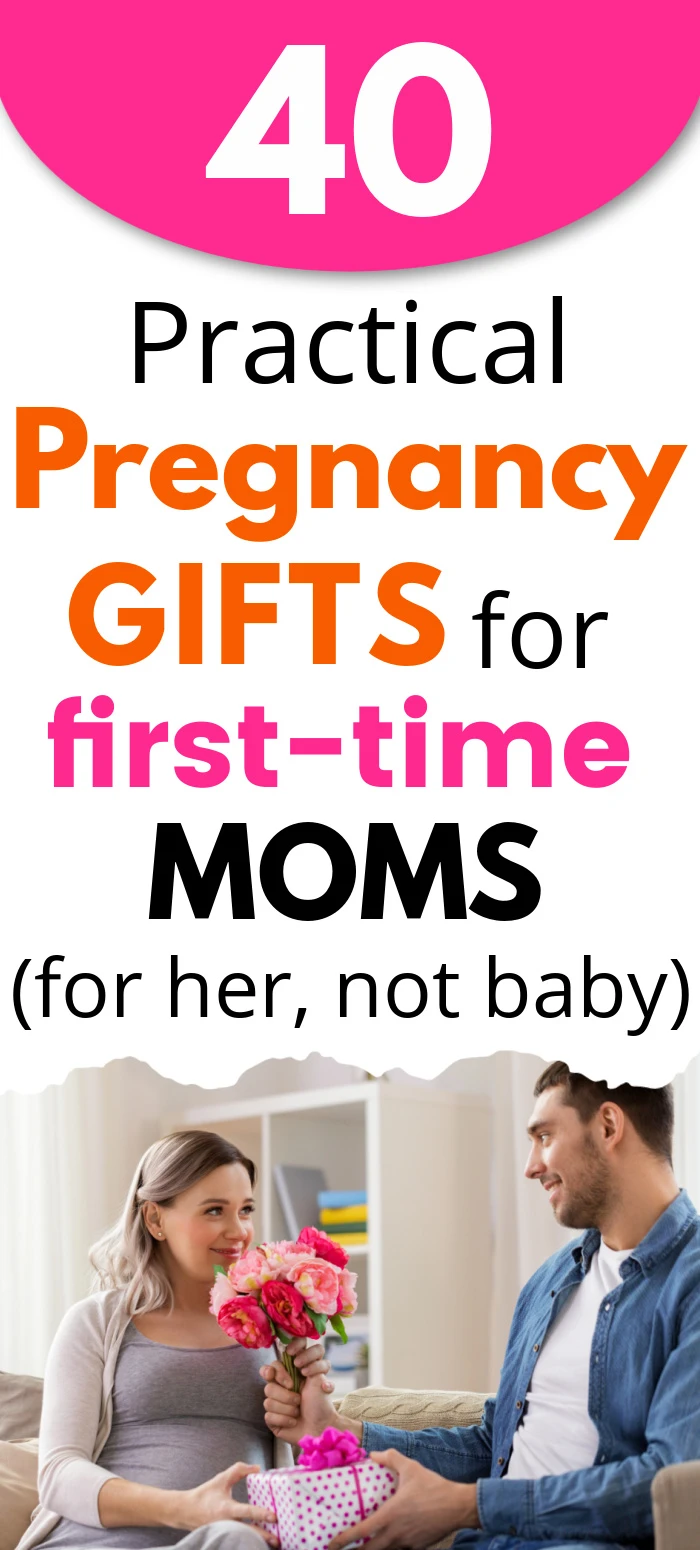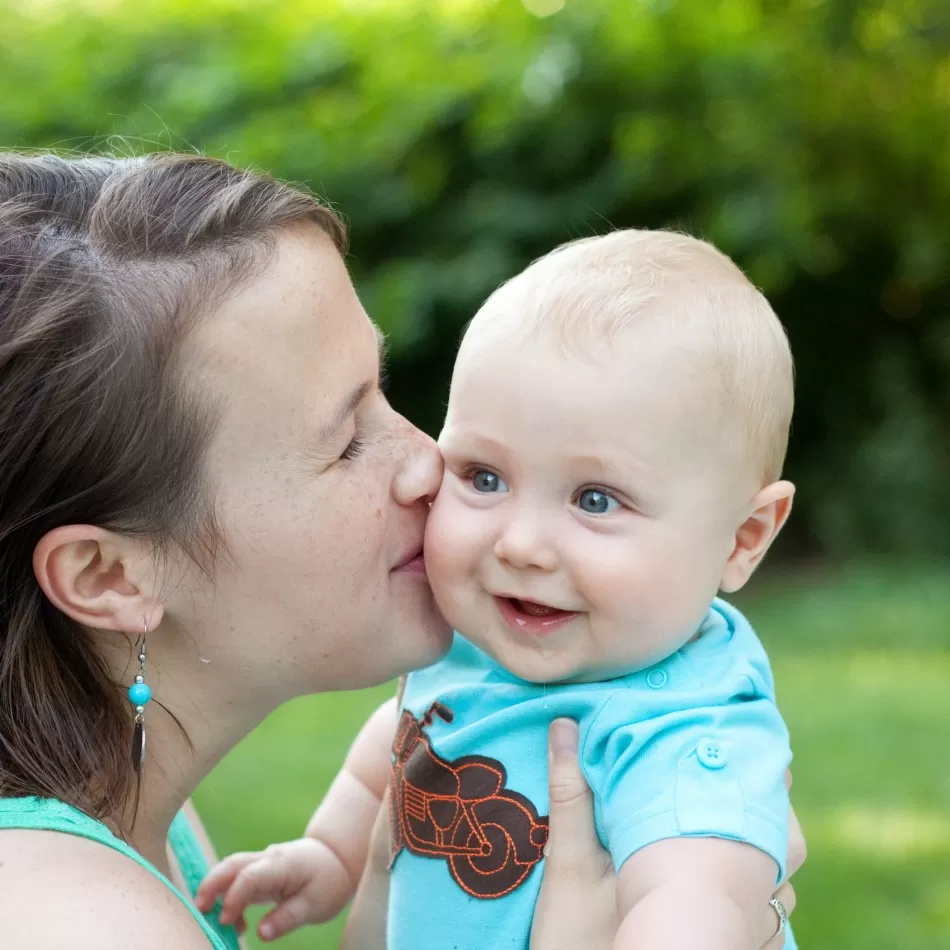 June could talk to you all day about homeschooling, parenting, and minimalism. When she's not homeschooling, decluttering, or blogging, she loves to enjoy perfect silence while sipping a hot cup of coffee and thinking uninterrupted thoughts—which, of course, with five kids, doesn't happen very often.