Inside: Looking for whimsical nature baby names to add to your baby name list? You're guaranteed to find at least a few solid contenders in this collection of over 100 nature names!
Many things can test the resiliency of a marriage. Sometimes a shock to expecting parents, picking a baby name is one of them.
It's not uncommon for husbands and wives to be on opposite ends of the spectrum when it comes to baby names. And it can take a long time – even the whole length of a pregnancy – for them to find one they agree upon.
And let's be fair. This is a big deal.
You're going to be saying this name aloud probably every day of your life (many times a day, in fact, at various volumes, with a range of emotions behind it!).
You want to love the name you give your baby.
Lots of factors come into play when choosing a baby name. Sometimes expecting parents want to name it after a special person or family member.
Other times, parents want a name with a significant meaning, one with a sense of destiny for their child's future. In other situations, parents choose a name because it reflects their values, what's important to them.
And sometimes, they just like how a name sounds and the vibe that comes with it.
Related: 30+ Things to Do Before Your Baby Is Born (FREE Checklist)
Other Things to Think about When Choosing a Baby Name
THIS POST PROBABLY CONTAINS AFFILIATE LINKS. AS AN AMAZON ASSOCIATE, I EARN FROM QUALIFYING PURCHASES. YOU CAN READ OUR FULL DISCLOSURE POLICY HERE.
We already know it's a big deal for parents to choose a baby name, but it's also a big deal for someone else – your baby! And while your newborn bundle doesn't get to weigh in on the decision, here are a few other things you may want to consider.
1. Strike a balance between unique and … weird.
Certainly, the difference between the two is a lot of personal taste. The name you choose may be unique enough that it's not found on stickers or mugs in a souvenir shop, but hopefully, the name won't torture your child growing up because it's so …out there.
Related: 75+ Cute and Unique Baby Names (Different, but not Weird)
2. Think about how it might be shortened for a nickname.
There's a good chance that you or others might shorten your child's name or give them a nickname. Some names can be an absolute disaster for a child when it's shortened or if a derivative is used. You want to think through all the different directions that a name can go in.
3. Try to avoid names that are too popular.
While your child might be disappointed not to find personalized bling at Walmart because his or her name is just that special, the other side is that a name is so popular that everyone has it. Maybe you remember a Jennifer B., Jennifer G., Jennifer L., Jennifer T in your second grade class… you get the idea. Nobody wants to be that kid, either.
4. You'll Know When You Know
This all might seem a lot to process (especially when you factor in pregnancy hormones), but not to worry. Most parents have this intuitive sense when they've landed on the right name for their newborn baby.
And sometimes, it doesn't hit them until the baby is born and they actually see the baby's face.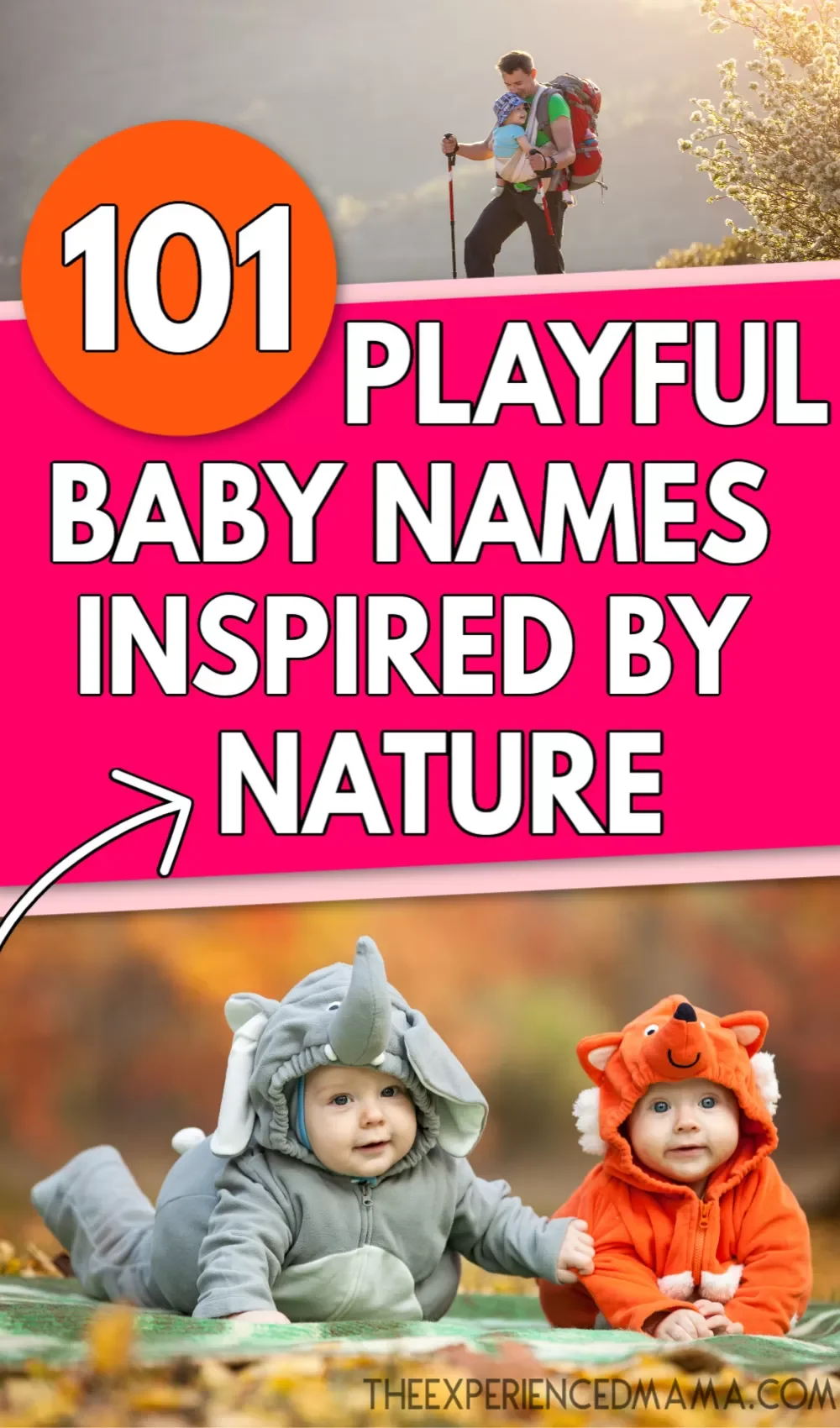 101 Whimsical Nature Baby Names
If you're going for a more unique name, 'whimsical nature names' is a super-fun category to consider.
(This list includes both whimsical girl names and whimsical boy names. )
Whimsical is defined as "playfully quaint or classical," and when you pair that with a name from nature, well, that can be something really special.
If you happen to love nature – trees, flowers, geography, land references, animals, etc., – and you have an affinity for playful, whimsical names, below are 101 options.
You may even find some family names as well as names with destiny for your baby's future woven into them.
Take a look through the list below, write a few down, and when the moment is right, you'll just know.
The Kindle versions of baby names books are often accessible through Kindle Unlimited (like THIS one or THIS one) on Amazon. If you haven't already used your 30-day free trial, you can sign up HERE.
1. Acacia
(Girl) If you love the imagery of the African or Australian wilderness, this is a beautiful name! But it does mean 'thorny branch,' so fingers crossed that's not some kind of foreshadowing.
2. Adair
(Boy/Girl) This name can be used for a boy or girl, and it means 'ford at the oaks.'
3. Alder
(Boy) Fun fact: electric guitars are made from the wood of this tree! Consider this one if you have music is a family value.
4. Andromeda
(Girl) Coming from the constellation with the same name, its origins are from Greek mythology. This beautiful daughter of Cassiopeia became a literal star, like her mother.
5. Apple
(Girl) This name was made popular by Gwyneth Paltrow and Chris Martin. Eve also might take some credit for this.
6. Arbor
(Girl) This name means a 'shady grove' – typically a girl's name, but it's described as unisex as well.
7. Aurora
(Girl) If you want a name with destiny, you can name your little girl after the Goddess of the Dawn, anticipating a bright future.
8. Aspen
(Boy/Girl) This name means 'quaking tree.' It's also a fun choice if you happen to love the city in Colorado with the same name
9. Autumn
(Girl) This whimsical girl name has been a popular name for many years. A great choice if you happen to love the fall – and you won't have a shortage of songs with that name in it.
10. Basil
(Boy) This name made appearances in the 1940s comic strip Brenda Starr, in Sherlock Holmes, as well as in pesto (starring as itself).
11. Birdie
(Girl) How adorable is this name? Perfect for a playful, sweet cherub face.
12. Bear
(Boy) This is a name that is super-cute for a baby but one that will still fit as a boy grows into it.
13. Barrow
(Boy) Meaning 'living by a grove,' it's a unique spin on the name 'Barron.'
14. Calla
(Girl) If you like 'Lily' (the name or the flower), but it's too common for your taste, Calla is a beautiful option.
15. Canyon
(Boy) This name means 'footpath' and of course, it evokes images of the spectacular Grand Canyon.
16. Cedar
(Boy) This is a great choice if you want a biblical name from nature; cedars of Lebanon are referenced 103 times in the Bible.
17. Clementine
(Girl) Another adorable fruit name for a sweet baby girl, which is growing in popularity! "Clem" for short.
18. Cliff
(Boy) This may come across as an old-school name, short for Clifford or Heathcliff, but for modern parents, this name has a majestic feel when it stands alone.
19. Clover
(Girl) Meaning 'meadow flower,' this is a sweet name for a little girl, and it's typically associated with good luck.
20. Colt
(Boy) This name means 'taking care of horses' and it's a great choice for a family with a love of horses its blood.
21. Dahlia
(Girl) Not to be confused with 'Delilah,' this name comes from the flower and is also growing in popularity.
22. Daisy
(Girl) This name often brings to mind the character from The Great Gatsby. It has made a big comeback in recent years as well.
23. Daphne
(Girl) Stemming from a female nymph in Greek mythology, this name is associated with fountains, springs, wells, and brooks.
24. Dara
(Girl) This is popular choice in Middle Eastern cultures, and it means 'pearl.' It can also mean "oak tree", a strong Irish name!
25. Dove
(Girl) A symbol of peace, this is a beautiful choice for a little girl (and hopefully a little prophetic!).
26. Eden
(Girl) Associated with the garden of the same name in the Bible, it carries the feel of a peaceful, idyllic space, and it means 'delight.'
27. Elm
(Boy) Coming from the name of the tree, it means 'red or brown,' and it's also a popular choice for a middle name.
28. Ember
(Girl) This name means 'spark' or 'burning low,' which is a great choice for a little spitfire or redhead! "Amber" is another nature name variant for this one.
29. Everest
(Girl) Although typically a girl's name, it's also given to boys. It was brought to the spotlight when George Lucas gave this name to his newborn daughter (as well as that cute pup from Paw Patrol).
30. Ewan
(Boy) This means 'born of the yew tree' or 'born of the mountain.' Actor Ewan McGregor has made this a familiar household name.
31. Fern
(Girl) With a nostalgic feel, this is a great choice if you want a more vintage name for your daughter.
32. Fjord
(Boy) A great choice for a boy if you're of Scandinavian descent!
33. Florian
(Boy) – This name means 'flowering' or 'flourishing.'
34. Forest
(Boy) This is a popular, outdoorsy boy's name, which can be spelled with one or two 'R's. The movie Forrest Gump helped with name recognition, but most people don't associate it with the film anymore.
35. Gale
(Boy) This name resurfaced with the daring character in The Hunger Games and is associated more with a storm force wind rather than the girl's name 'Abigail.'
36. Garnet
(Boy/Girl) This is listed as both a boy and girl name, and it means 'pomegranate' or 'red gem stone.'
37. Ginger
(Girl) – A healthy spice? A redhead? You choose. My mother was named after Ginger Rogers, an actress popular during the 1920s and 30s.
38. Gulley
(Boy/Girl) This name referring to a water-worn ravine can be for a boy or girl (usually without the 'e'), but this is actually a common last name as well!
39. Hawk
(Boy) This is a strong name for a boy, taken from the predatory bird.
40. Hazel
(Girl) With an old-fashioned feel to it, this name originates from the hazel tree and is in the top 50 girl names for 2020.
41. Heather
(Girl) This was a popular girl's name in the '70s and '80s, and it has made a resurgence as a popular nature name for nature-loving parents.
42. Holly
(Girl) Another girl's name that has made a comeback, and it's a super-sweet choice, especially for a Christmas baby!
43. Holden
(Boy) If you happen to love both literature (Catcher in the Rye) and nature (means 'hollow valley'), this is a great choice!
44. Ilana
(Girl) This name means 'born on a tree' and has a Hebrew origin. It's a more unique spin on Helena or Elaina.
45. Indigo
(Boy/Girl) You can use this for a boy or girl. Historically, it's known as an Indian dye and has been used for boys, but it's gained a lot of popularity for girls, too – probably due to the girl band The Indigo Girls.
46. Iris
(Girl) Coming from Greek mythology, Iris was the Goddess of the Rainbow and is a perfectly vibrant name choice.
47. Ivy
(Girl) This name is derived from the ivy plant, and Beyonce brought this name to the spotlight with the birth of her daughter, Blue Ivy.
48. Jade
(Boy/Girl) In the past this was a girl's name taken from the green gemstone, but in our modern times, this is both a girl's and boy's name.
49. Jasmine
(Girl) This name comes from the Persian word 'yasmin,' referring to the jasmine flower, which was used to make perfume.
50. Juniper
(Girl) A girl's name which refers to the juniper bush, which is known as a small, scrappy evergreen shrub. It typically denotes lots of energy!
51. Kai
(Boy) This name is Hawaiian for 'sea,' and it's often a shortened version of the name Malachi.
52. Lake
(Boy/Girl) – Named for the body of water, this can be a boy's or girl's name, and it's gained recent notice due to the actress Lake Bell.
53. Lark
(Girl) – This is a beautiful girl's name taken from the bird and has a claim to fame from actress Lark Voorhees as well as Cosette from Les Mis, who was called 'the Lark.'
54. Laurel
(Girl ) – Laurel branches were often woven into crowns, and this name means 'crown of victory.'
55. Leander
(Boy) – This is a strong name for a boy that means 'lion man.'
56. Lily
(Girl) – Lily has been popular in the U.S. for a long time now, and it means 'lily flower.'
57. Linden
(Boy/Girl) – Originally a boy's name, this has grown in popularity for girls in recent years, and it means 'linden tree hill.'
58. Lionel
(Boy) – This is another spin on a name that means 'lion', similar to Leander.
59. Loxley
(Boy) This name means a 'woodland clearing' but also a good choice if you happen to be of Anglo-Saxon heritage (and are a fan of Robin Hood – i.e. Robin of Loxley).
60. Magnolia
(Girl) This means 'Magnol's Tree' – named for French Naturalist Pierre Magnol in the 1700s. It is also the name of a gorgeous flower.
Popular in the 1800s through the 1930s, this sweet name has made a comeback, partially due to the rise of Chip and Joanna fans and their creation of Magnolia Market.
61. Maple
(Girl) Another girl's name associated with a tree, and its popularity was sparked by the birth of actor Jason Bateman's daughter.
62. Marigold
(Girl) A cute girl's name derived from the hardy spring bloom, meaning 'yellow flower.'
63. Mesa
(Girl) In Spanish, this name means 'flat-topped mountain,' which is common sight in the Southwest.
64. Mirabelle
(Girl) This is a type of plum and its literal meaning is 'of wondrous beauty.'
65. Montana
(Boy/Girl) The name itself means 'mountain,' but it certainly evokes beautiful imagery of the rugged western state.
66. Ocean
(Boy/Girl) Typically a boy's name, but it's also popular for girls – although the female version usually is spelled 'Oceane.' It means 'sea' (of course).
67. Olive
(Girl) Meaning 'olive tree,' it's often thought of as a more subtle, quiet version of the trendy name Olivia.
68. Orchid
(Girl) Sometimes viewed as a sophisticated flower, orchids often have a surprising resiliency to bloom in adverse situations.
69. Orion
(Boy) Meaning 'rising in the sky,' this name is most commonly associated with the hunter in Greek mythology that was turned into the constellation.
70. Pearl
(Girl) An old-fashioned name that is making a comeback among modern parents, and it's popular among names associated with precious gemstones. It's also a favorite middle name. Author Pearl Buck is a notable person with this name.
71. Pebble
(Girl) As you'd guess, the meaning of this name comes from pebbles, meaning 'small rocks' and first association is often with the baby girl The Flinstones cartoon.
72. Phoenix
(Boy/Girl) Besides the popular city in Arizona, most recognize this name as the bird that rose from the ashes in Greek and Egyptian mythology.
73. Poppy
(Girl) Coming from the red flower of the same name, this fiery blossom provides a lot of spunk in the naming category.
74. Posy
(Girl) Another popular choice that originates from a flower, this one means 'a bunch of flowers.' And it just sounds really cute.
75. Prairie
(Girl) This name means 'meadow or grassland' as you'd guess. It can be a playful, hippie-chic choice or a more nostalgic Americana one (as in 'Little House on the…").
76. Rain
(Boy/Girl) You'll see this name listed as both a boy's and girl's name, with Rainn Wilson, the actor, as a familiar person of the same.
77. Raven
(Boy/Girl) While this can be used for both genders, it references the bird of dark color and is typically a girl's name. Actress Raven Symone and the poem 'The Raven' by Edgar Allan Poe have contributed to the notability of this name.
78. Ravine
(Girl) If you love the imagery that this steep-sided valley evokes, you may want to consider this for your girl!
79. Reed
(Boy/Girl) This unisex name has associations with both the grass-like object in nature as well as red hair.
80. Reef
(Boy) This is a chill name for a boy that has a beachy, surfer feel and associations with the ocean (as in 'The Great Barrier Reef').
81. River
(Boy/Girl) Though it was mainly a boy's name in the past, this is becoming more common for girls today. The most notable person with this name is likely actor River Phoenix.
82. Rio
(Boy) This name means 'river' in Spanish and has a more southwest feel to it as opposed to River.
83. Robin
(Boy/Girl) Popular for both boys and girls (although girls may spell it 'Robyn'), it's associated with the bird and means 'bright fame.' Also made popular by the late Robin Williams.
84. Rose
(Girl) This flower name is a classic, has endless literary references and mentions in songs, and is also very popular as a middle name.
85. Rosemary
(Girl) Linked to the herb, the literal meaning is 'sea dew.' This name was popular around the turn of the 20th century and is making a comeback as well.
86. Sage
(Boy/Girl) Lots of ways to go with this name – boy or girl, a wise person or an aromatic spice.
87. Savannah
(Girl) This has been a popular name for a while now. It means a treeless plain, and if you happen to be partial to the Georgia city, this is a great choice as well!
88. Sequoia
(Boy/Girl) A more common name for girls than boys, it has Cherokee origins meaning 'sparrow.' It's also the name of the tallest trees on earth in California.
89. Sienna
(Girl) This name comes from Italian origins, meaning 'reddish brown' and is also a clay used in pigments. People are probably most familiar with this name due to actress Sienna Miller as well as the Crayola color 'Burnt Sienna.'
90. Sierra
(Girl) Coming from Spanish roots, this name means 'mountain' and has a southwest, cowboy (or cowgirl) feel to it.
91. Sky
(Boy/Girl) This can be a boy's or girl's name, giving reference to the heavens above. It is often spelled 'Skye,' and Marvel fans may connect this to the character of the same name from Agents of Shield.
92. Stormy
(Boy/Girl) A unisex name that means 'tempest' or 'impetuous nature.' You may have your hands full with this one!
93. Summer
(Girl) A popular name giving homage to the warmest season of the year, a time of no school, beach bumming, vacationing and more.
94. Sunny
(Girl) Who doesn't want a baby with a happy, sunshine-y temperament?!? This is your name.
95. Tal
(Boy/Girl) With Hebrew origins meaning 'morning dew', this is a sweet choice for a boy or girl. Talia is also a popular choice (sometimes short for Natalia) as an offshoot.
96. Violet
(Girl) Another sweet flower name that is just adorable for a little girl. Even better if you happen to love purple.
97. Willow
(Boy/Girl) This comes from the name of the tree, which is known for its flexible and graceful appearance. Because of this, it typically is a choice for girls.
98. Wolf
(Boy) Often short for Wolfgang, this image of a traveling wolf is a strong name choice for a boy.
99. Wren
(Girl) Meaning 'small songbird,' this name has English roots and is a winning option for a delicate little girl.
100. Zara
(Girl) This name has Hebrew and Arabic roots, meaning 'blooming flower' and 'God remembers.'
101. Zinnia
(Girl) Meaning 'flower,' this is a unique alternative if you like blossom names but want something less common.
There are so many directions you can go when picking out the perfect name for your baby.
Whimsical and playful nature names are sure to be special and unique, and if a natural lifestyle is a family value, these names can be even more meaningful.
Sometimes it takes a while for the right name to 'marinate,' but this is one area where trusting your mama (or daddy) instinct is the way to go.
Do you have any whimsical nature baby names to add to this list? Share in the comments!
Read Next: 75+ Canadian-inspired Baby Names for Canada-loving Parents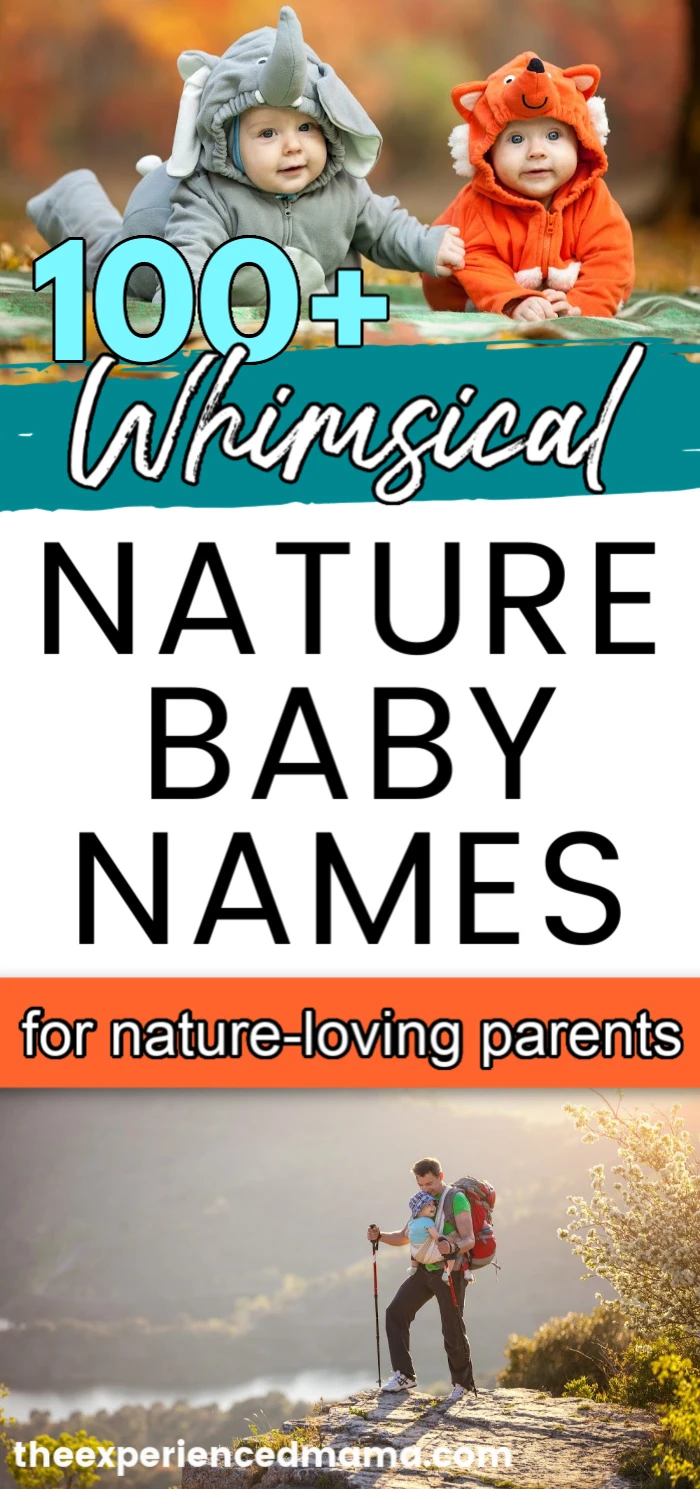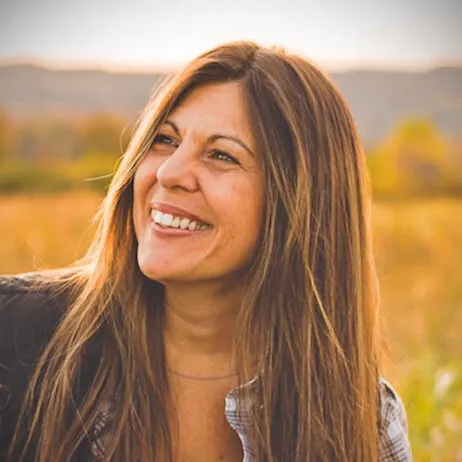 Kate is a former high school English teacher and current SAHM to her 5-year-old twin boys. A lifetime New Yorker recently transplanted in Tennessee, she keeps busy by learning her new way of life in the South, doing home decor and DIY projects, blogging at A Hundred Affections, substitute teaching, and figuring out how to survive in a house outnumbered by boys. And she loves Jesus very much.