Inside: Looking for unique Canadian baby names? This list of Canadian-inspired baby names checks off all the boxes! Drawn from famous and beloved Canadian people and cities, you're sure to find a baby name you adore for your growing bundle of joy!
As you're getting ready for your long-awaited-and-already-dearly-loved baby to arrive, one of the biggest decisions you'll make is choosing a name.
For expecting parents, it's no small deal.
There are lots of ways you can go about choosing a name – a family name, a name with special meaning, a name that speaks to your child's destiny.
There's no right or wrong – it's just that personal.
For some moms, certain places carry significant meaning that they want to pass down to their little one. It could be the country they're from or maybe a location that's been significant to them.
If you're reading this, chances are, Canada is that place for you. For whatever reason, a Canadian-inspired name is one that you're at least considering, if not already sold on.
Today I want to share with you 75 Canadian baby names that give a nod to special places or famous Canadians with the same name. This list is intentionally NOT the most popular Canadian baby names, but names that will have a special meaning for Canadian-loving parents.
Even if the place or person doesn't have that emotional connection for you, you may like love the sound or feel of the name. The fact that it has some tie to Canada just might be enough for you.
Related: 101 Whimsical Nature Baby Names with Meanings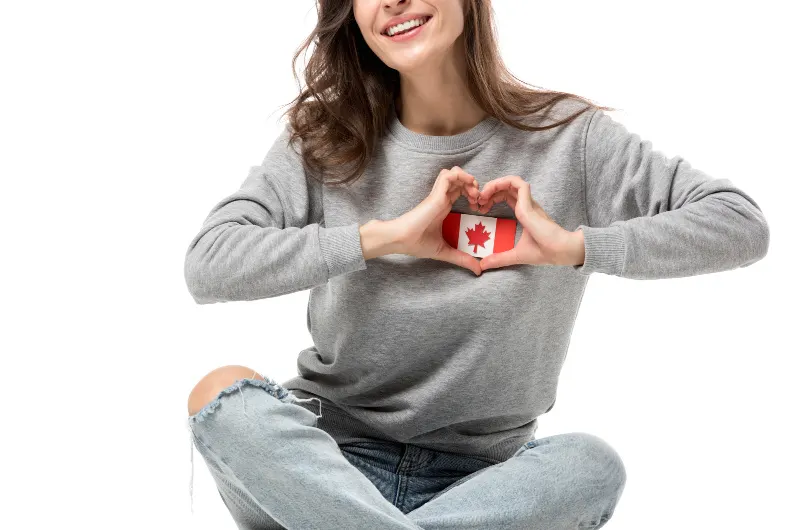 75+ Canadian Baby Names for Canada-loving Parents
THIS POST PROBABLY CONTAINS AFFILIATE LINKS. AS AN AMAZON ASSOCIATE, I EARN FROM QUALIFYING PURCHASES. YOU CAN READ OUR FULL DISCLOSURE POLICY HERE.
A mix of Canadian baby girl names and Canadian baby boy names, with several unique options to add to your list of potential baby names!
The Kindle versions of baby names books are often accessible through Kindle Unlimited (like THIS one or THIS one) on Amazon. If you haven't already used your 30-day free trial, you can sign up HERE.
1. Abbott
This is a nod to John Abbott, the 3rd Prime Minister of Canada.
Abbott means "father."
2. Alex
If you happen to be a fan of the TV show Jeopardy, you probably know that Alex Trebek is Canadian as well. This name has big promise, meaning "protector of mankind."
3. Alice
A lover of reading and literature might appreciate this name; Alice Munro is a Canadian author who has also won the Nobel Peace Prize.
Interestingly enough, this name means "of nobility." Very fitting.
4. Alanis
Singer Alanis Morissette was a sensation in the 90s and also comes from Canada. This name means "handsome, cheerful."
5. Anne
While a traditional name anywhere, this Anne needs to be spelled with an E, and any lover of the Anne of Green Gables books needs no other explanation.
This Canadian baby name means "grace."
6. Albert
This Canadian boys name gives a nod to the western province of Alberta as well as Prince Albert National Park in Saskatchewan.
Truly fitting for a prince, as it means "noble."
7. Avril
Canadian singer Avril Lavigne got a start in her career at the age of 15 by singing on stage with Shania Twain, another Canadian.
This name is perfect for a spring baby, especially one born in April, as it means "opening buds of spring; born in April."
8. Belle
This French name is a reference to the beautiful Belle River on Prince Edward Island, and it means "beauty."
9. Blake
Historically, this Old English name was for a boy, but actress Blake Lively made it a popular choice for a girl; she's an honorary Canadian due to her marriage to Canadian actor Ryan Reynolds.
10. Bowen
Bowen Island, just a short ferry ride from Vancouver, inspires this baby boy's name, which means "son of Owen."
11. Bruce
This Canadian baby boy's name has a Canadian connections coming from Ontario's Bruce Peninsula National Park and means "from the brushwood thicket."
12. Caddy
This adorable Canadian baby girl's name is a reference to Caddy Lake in Manitoba.
It means "clarity, whiteness," and it's also a variation of Caroline or Carolina. Could also be spelled "Caddie".
13. Celine
As one of the most famous Canadians, there's no mistaking its reference to the award-winning singer Celine Dion.
This French name means "sky or heaven."
14. Chandler
This boy's name can be given as a reference to the Canadian town Chandler in Quebec.
It means "candle maker," and interestingly enough, Matthew Perry, the actor who played the lovable Chandler on Friends, is also Canadian.
15. Charlotte
Adorable all on its own, it's especially meaningful as a reminder of the capital city of Prince Edward Island, Charlottetown.
This name is a derivative of Charles, which means "free man" or "petite."
16. Cobie
Usually a boy's name, it was made popular for girls due to Canadian actress Cobie Smulders, best known as Robin on the TV series How I Met Your Mother.
It comes from the name Jacob and means "God may protect."
17. Cree
A pretty and original name, it is most commonly associated with actress Cree Summer, who played Freddie on TV's A Different World.
It is of Native American origin and means "Tribe Name."
18. Dawson
A boy's name made popular from the TV show Dawson's Creek, but it can also be a reference to Dawson City in the Canadian Yukon.
Dawson means 'son of David."
19. Drake
Canadian rapper Drake put this boy's name on the map, which means "dragon" or "male duck."
20. Edmund
This can be a salute to the city of Edmonton, capital of Alberta; it means "fortunate protector."
21. Elisha
Canadian actress Elisha Cuthbert, most famous for her role as Kim Bauer in the TV series 24, popularized this name for a girl.
Historically, it's also a reference to the biblical prophet Elisha, and it means "God is salvation."
22. Elora
A beautiful name for a girl referring to the equally beautiful Elora Gorge in Toronto.
It's an English name that combines El' and Lora, meaning, "God gives the laurel; crown of victory."
23. Evangeline
Evangeline Lilly is a Canadian actress known primarily as her character Kate on the TV series Lost, but just as interesting is the fact that she is also a children's author!
A great namesake for a little girl, which means "bringer of good news."
24. Fefe
This is an adorable name for a girl baby, which is also shared by the Canadian singer Fefe Dobson.
This name is of African origin, meaning "peace" or "gift of God."
25. Fraser
The Fraser River in British Columbia is the longest of the Canadian Heritage Rivers, making Fraser a strong name choice for a boy.
Fraser means "strawberry" or "of the forest men."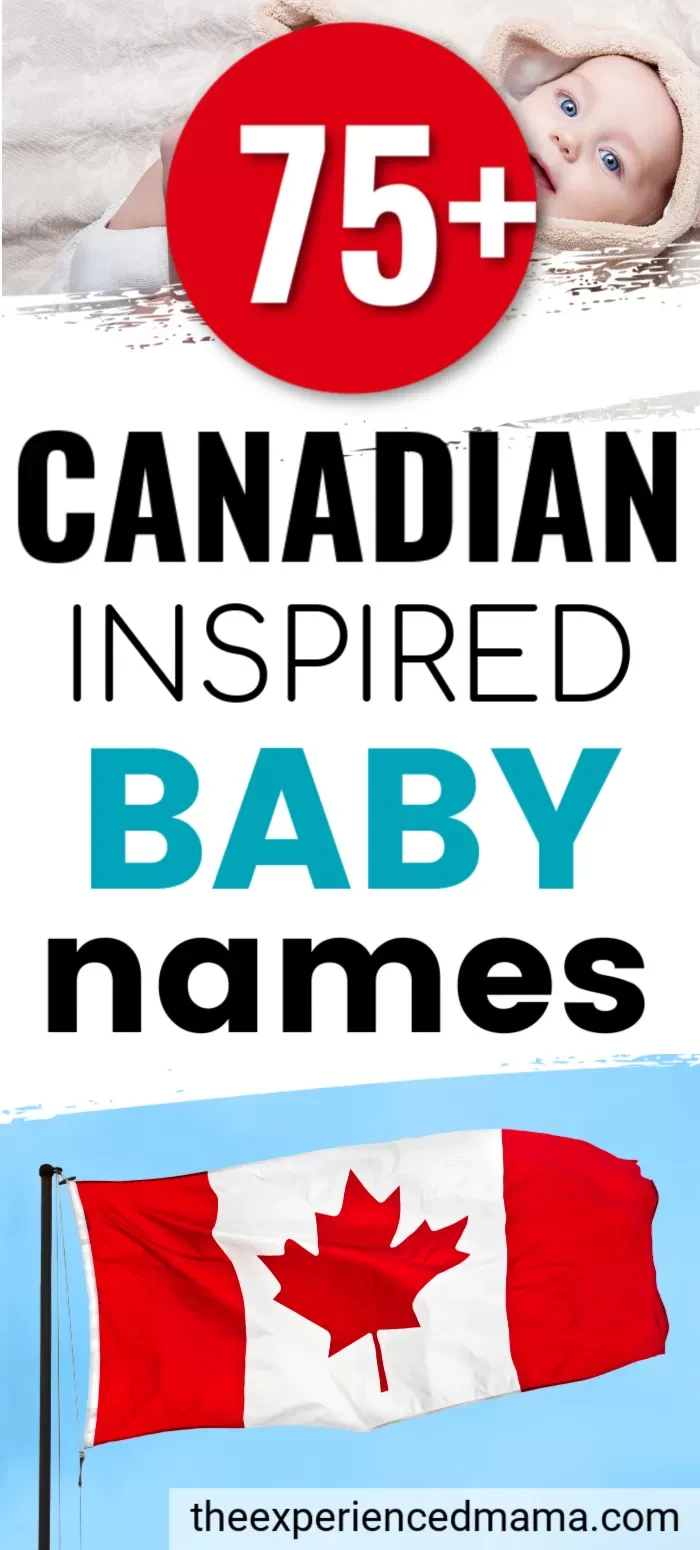 26. Frederic
This name means 'peaceful ruler' and is also the capital of New Brunswick.
27. Hallie
A shortened reference to the city of Halifax in Nova Scotia, this Canadian baby girl's name means "dweller at the meadow by the manor."
28. Hartley
If you happen to love Native American history, Hartley Bay is a First Nations community in British Columbia.
However, it has English origins and means "stag wood" or "meadow."
29. Hayden
If you're a Star Wars fan, this name choice is a shout-out to actor Hayden Christensen who played Anakin Skywalker in the prequel Star Wars episodes.
Hayden is an English surname that means "hedged valley."
30. Holt
While not specifically Canadian, it means "grove of trees" or "unspoiled forest," which typifies Canada's majestic landscapes and wilderness.
31. Hope
A strong name for a girl that is also a reference to the Hopewell Rocks in New Brunswick, which were formed by tidal erosions and stand a magnificent 40-70 feet tall.
32. Hudson
This boy's name is a nod to the Canadian Hudson Bay, Henry Hudson who discovered it, and the Canadian department store retailer Hudson's Bay.
Hudson means "son of Hugh."
33. Jacques
This French-inspired name looks to Jacques Cartier, the explorer who named Canada for France.
It's a derivative of Jacob, which means "supplanter" or "grabs the heel."
34. Jasper
A strong boy's name, Jasper can refer to Alberta's Jasper National Park, the largest national park in the Canadian Rockies.
It means "treasurer."
Related: Unique Baby Names from Movies – for Original Ideas
35. John
While this is a traditional name meaning "God is gracious," it can also refer to St. John, the capital of Newfoundland and Labrador, as well as St John, the seaside city in New Brunswick.
36. Keanu
Although this is a Hawaiian name that means "cool breeze," it was made famous by Canadian actor Keanu Reeves, who was actually born in Beirut!
How's that for being all over the map!?!
37. Kiefer
This is a Gaelic name that means "cherished," and the most famous person with this name is English-born Canadian actor Kiefer Sutherland.
(Fun facts about Sutherland: he has 5 middle names and a twin sister!)
38. Kennedy
A name for a boy or a girl, Kennedy has a Canadian reference to the Kennedy Lakes in New Brunswick.
If you're big into name meanings, however, you should know that this name means "ugly" or "misshapen head."
39. Kensington
This is a sophisticated name for a boy, which has Canadian allusions to Kensington Market in Toronto as well as the town on Prince Edward Island.
40. Langford
Another great choice for a boy's name, which refers to the city of the same name in British Columbia.
Langford means "lives near the long ford."
41. Lawrence
This traditional boy's name can make a connection to the St. Lawrence River, and it means "from the place of the laurel leaves."
42. Layton
If your politics lean toward the New Democratic Party, you might consider this name, a reference to politician Jack Layton.
This strong and unique Canadian baby boy name means "herb garden" or "from the meadow farm."
43. Logan
While this name means "little hollow," Mt. Logan in Yukon is actually the tallest mountain in Canada. Go figure!
44. Louise
This old-fashioned name has a Canadian reference to Lake Louise, a hamlet in Banff National Park in Alberta known for its turquoise lake surrounded by mountains. It means "famous warrior."
45. Lucy
Another nod to Anne of Green Gables by naming your little girl after its author Lucy Maud Montgomery.
This adorable name means "light."
46. Lulu
Lululemon is a Canadian brand that sells comfy yoga-type clothes that moms especially adore; Lulu is an adorable way to incorporate that cozy, Zen vibe.
It has Swahili and Tanzanian roots, and it means "precious; pearl; calm, peaceful, protected."
47. Mackenzie
This name has lots of Canadian connections including the longest and largest river system as well as 3 prime ministers: Alexander Mackenzie, Sir Mackenzie Bowell, and William Lyon Mackenzie King.
You can also give a shout-out to yourself as it means "child of the wise leader."
48. Major
While Major is a strong military-type name for a boy, Major's Hill Park is also an outdoor venue that hosts significant events such as Canada Day.
It is located in Canada's capital city, Ottawa, in Ontario.
49. Malin
A beautiful name that gained recognition from the Swedish-Canadian actress | model | singer Malin Akerman.
This Canadian baby girl name was originally a Scandinavian name meaning "high tower."
50. Maple
There's nothing more Canadian than the national symbol of Canada, the maple leaf. You'd also join the ranks of parents bringing old-fashioned baby names back into circulation.
51. Meridian
Singer Gordon Down's song "At the Hundredth Meridian" refers to this line of longitude that marks "where the Great Plains begin." It separates Western Canada from the rest of the country and is definitely a unique Canadian baby name!
52. Natasha
Though this name has a Russian feel, Canadian actress Natasha Henstridge makes it legitimately Canadian-inspired.
It comes from the Latin-derived Natalie, which means "birthday" (usually given to Christmas babies as a way to celebrate the birth of Christ).
53. Nelly
Portuguese-Canadian singer Nelly Furtado inspires many a Canadian mom to consider this name! This name will also give your girl a self-esteem boost as it means "most beautiful woman."
54. Nia
This is a super-sweet choice for a little girl. Canadian actress Nia Vardalos, the star of the movie My Big Fat Greek Wedding, helped this name gain notoriety.
Nia has Gaelic and Swahili roots and means "lustrous, goal, or purpose."
55. Nina
Bulgarian born Canadian actress Nina Dobrev is also another muse for moms hoping to have a Canadian-inspired name.
This English name means "favor, grace."
56. Norris
This name means 'from the north' and is a perfect tribute to North American neighbors.
57. Nova
An obvious reference to Nova Scotia, this girl's name also means "new," which carries a ton of promise.
58. Orillia
This city north of Toronto, known as the "Sunshine City," inspires a beautiful-sounding name for a little girl!
It has Latin origins and means "oracle or announcement from the gods."
59. Owen
Sparked by the Owen Sound, this Welsh name means "warrior."
60. Peggy
Fittingly enough, as Peggy is a shortened version of Margaret, Peggy's Cove is a small rural community on St. Margaret's Bay, which is home to a lighthouse.
This French name means "pearl."
61. Quinn
This is a fun shortening of the reference to Algonquin Park in Ontario.
Canadian references aside, this name means "counsel."
62. Rae
This name connects to the historical Rae Lakes community in the Northwest Territories, part of the First Nations (Note: this area is now known as Gameti). For Star Wars fans today, it's sure to become popular years down the road, so snatch it up now while it's still unique!
Originally, this is a Hebrew name meaning "female sheep, ewe."
63. Rachel
Not exactly a unique baby name, but Rachel McAdams is one of my favorite actresses who just happens to be Canadian born. Rae and Rachel are closely related and share the same name meaning: "female sheep or ewe."
You could go with the more traditional name "Rachel" (just in case you want a more formal legal name), and call your baby "Rae".
64. Regina
This name is the capital of Saskatchewan, and it means "queen."
65. Ryan
Most are familiar with both Canadian actors Ryan Gosling and Ryan Reynolds. The name means "little king," which is pretty accurate here.
You can take your pick for your source of inspiration.
66. Saskia
This unique Candian-inspired baby name draws its inspiration for the province of Saskatchewan, but it's really a Dutch name meaning "Saxon."
67. Shania
This name reference hardly needs explanation, as (ironically) Canadian-born singer Shania Twain carved out a place for herself in (American) country music.
This is an Ojibwa name with a wonderful name meaning: "on my way" or "peaceful place."
68. Shenae
This is another real pretty choice for a girl, and it has Canadian roots leading to actress Shenae Grimes-Beech, known for the her work in teen movies such as Scream 4 and DeGrassi: The Next Generation.
This Irish name means "God is gracious."
69. Sydney
A popular choice for a boy or a girl, which nods to the community in Nova Scotia. It also means "wide meadow."
70. Timothy
If you've been to Canada, you've likely had Tim Horton's Coffee. Enough said.
And if coffee isn't your thing, this name also means "honored by God," so there's that (which is pretty special).
71. Tobin
If your family has a love of fishing, Tobin Lake in Saskatchewan is one of Canada's primary fishing hot spots.
It also has Hebrew roots and means "God is good."
72. Tori
Tori (for a boy or girl) is a sweet choice all by itself, but if you happen to love the city of Toronto as well, it could be perfect.
This name is a derivative of Victoria and means "winner, conqueror."
73. Van
Another popular choice for a boy, but even more meaningful if Vancouver means something to you.
Historically (in Middle English and Middle French), it means 'old winnowing machine."
74. Victoria
A classic, stand-alone name meaning "victory," but it also is the capital of the stunning province of British Columbia. Victoria Island is also a part of the Canadian Arctic Archipelago way up north.
75. Wayne
Can you have a list of Canadian-inspired baby names without including at least one ice hockey legend? Wayne Gretzky – "The Great One" – this one's for you.
It means "craftsman, wagon driver."
76. Winnie
A sweet girl's name with a nod to Winnipeg, the capital of Manitoba, which is known as the Gateway to the West. And just as special is the name meaning – "gentle friend."
You Might Also Like: Two Syllable Biblical Boy Names with Meanings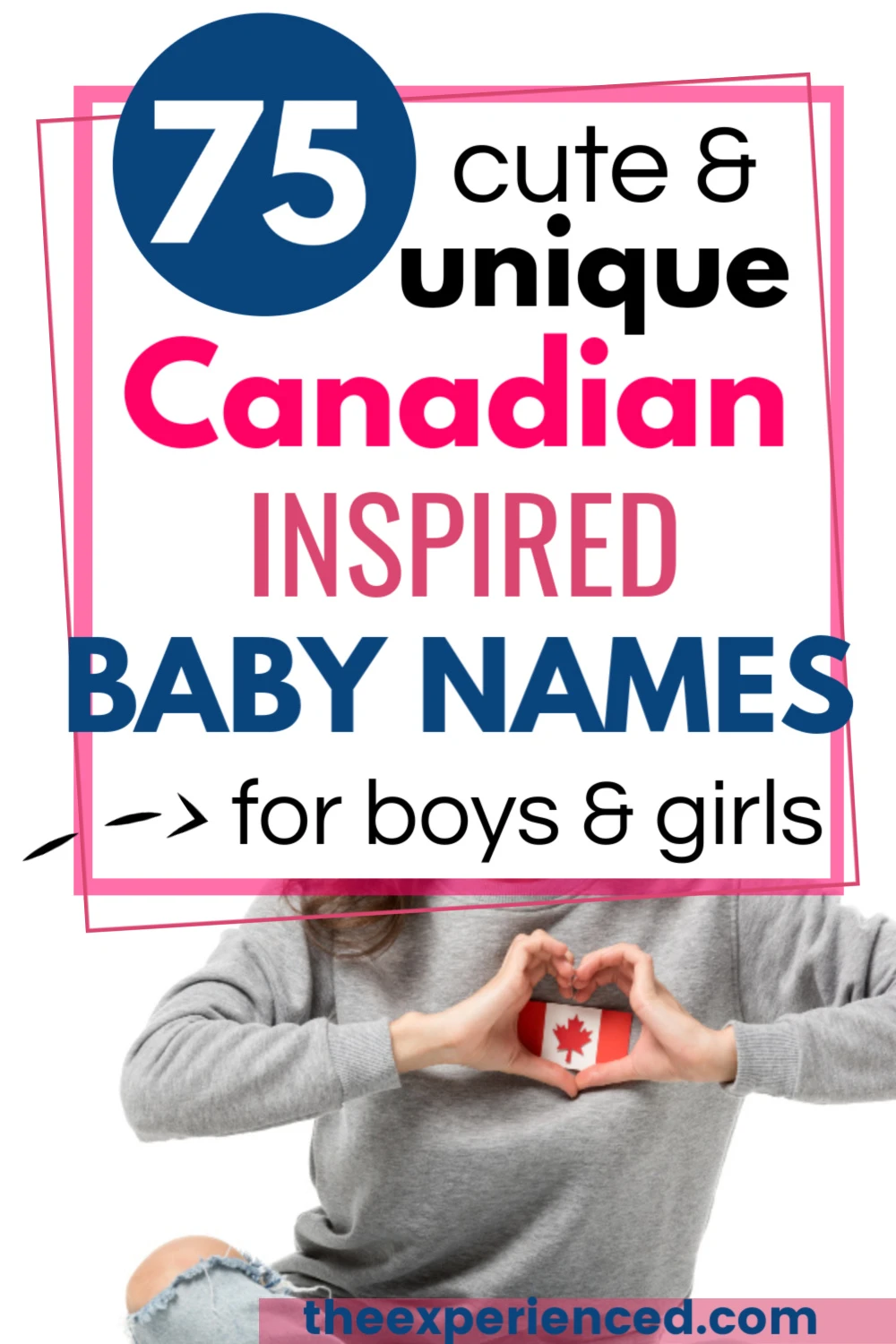 All the Feels with These Canadian Baby Names
So much potential in these Canadian-inspired baby names! If you have an affinity for Canada or a reason why it takes up residence in your heart, a Canadian-themed name just may be the perfect choice.
It's a special way for you to connect Canada's importance to you with your precious newborn baby.
Hearing and saying that name will evoke all the feels (although new mamas have no shortage of emotional spillage), but this is one heartwarming sentiment that will stay with you throughout your child's life.
Are you from Canada? What are some popular Canadian baby names? Share your ideas in the comments!
Read Next: 75+ Cute and Unique Baby Names (different, but not weird!)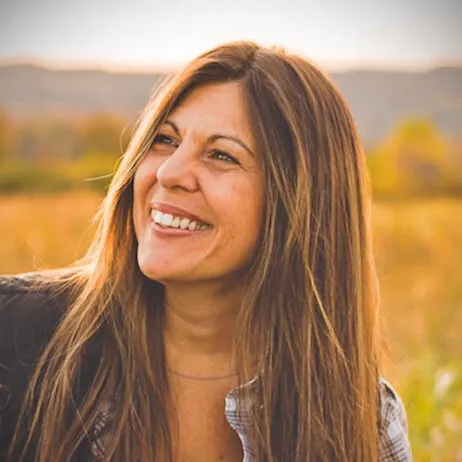 Kate is a former high school English teacher and current SAHM to her 5-year-old twin boys. A lifetime New Yorker recently transplanted in Tennessee, she keeps busy by learning her new way of life in the South, doing home decor and DIY projects, blogging at A Hundred Affections, substitute teaching, and figuring out how to survive in a house outnumbered by boys. And she loves Jesus very much.