Inside: If you've had a missed miscarriage, it helps to know you're not alone. Mary Ann opens up about her missed miscarriage – from the heart-wrenching 8 week appointment where she discovered there was no heartbeat, to what her D&C was like, to how she recovered physically and emotionally.
"I am so sorry. There is no heartbeat."
Those are words no expectant mother ever wants to hear.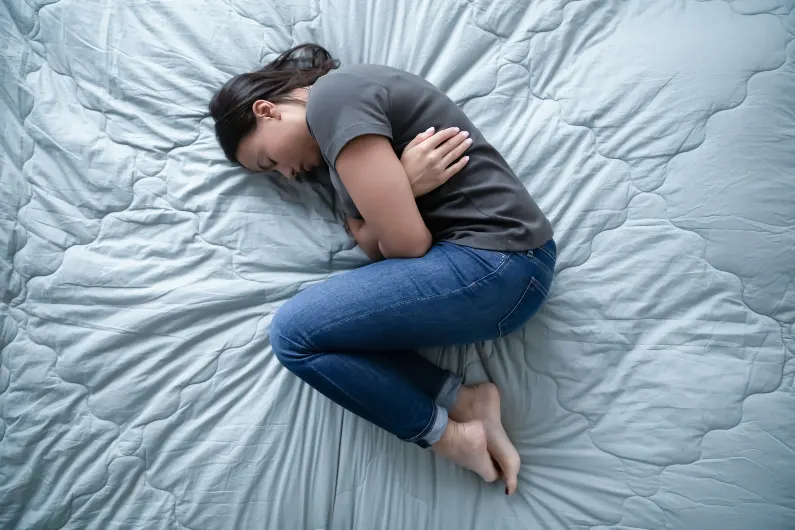 I Had a Missed Miscarriage at 8 Weeks
Only a month earlier, I had stared in shock at the two pink lines forming before my eyes.
After trying for almost a year with my first child, I couldn't believe I had gotten pregnant so quickly. I felt incredibly lucky.
My second pregnancy started out much like my first pregnancy had. The all-day nausea begin to set in quickly, along with other normal pregnancy symptoms.
I had routine bloodwork done early on that showed things were progressing perfectly. I had no reason to suspect anything was wrong.
So when the day came for my first appointment, my husband and I decided he would stay home with our 2-year-old while I went alone.
You might also like: I Had a Missed Miscarriage at 12 Weeks – My Faith Got Me Through It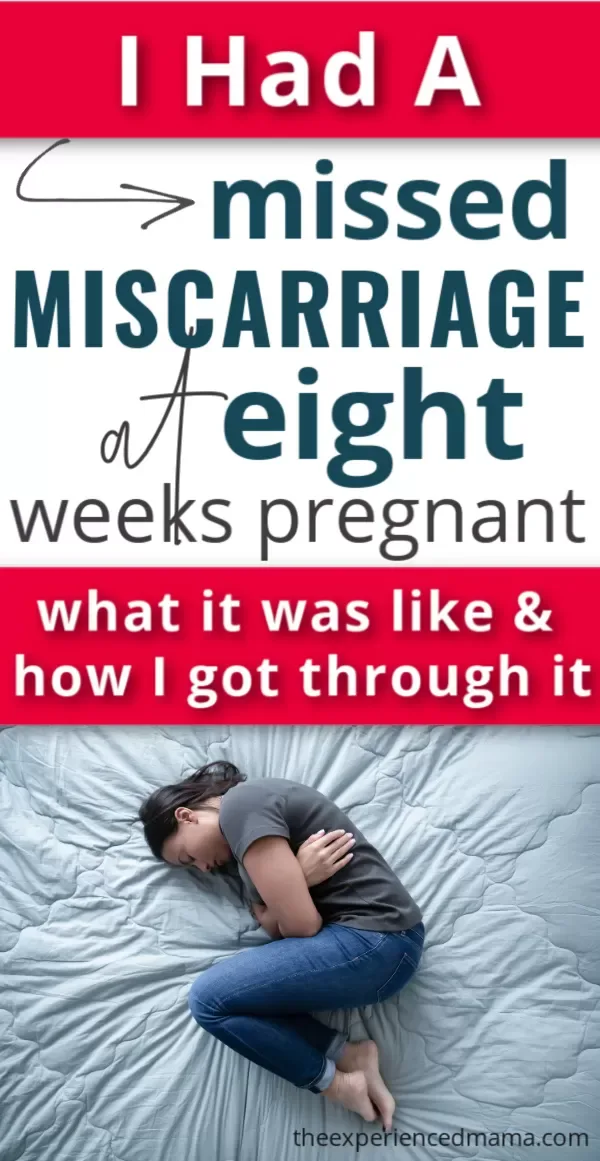 Can You Tell Us About That 8 Week Appointment? When You Learned You'd Had a Missed Miscarriage?
THIS POST PROBABLY CONTAINS AFFILIATE LINKS. AS AN AMAZON ASSOCIATE, I EARN FROM QUALIFYING PURCHASES. YOU CAN READ OUR FULL DISCLOSURE POLICY HERE.
As my doctor began to prepare for my ultrasound, we chatted about the baby's due date—right around Mother's Day.
But as the grainy images began to appear on the screen, I knew something wasn't quite right. My doctor quickly located the sac, but was spending an awfully long time trying to find my baby.
He suggested an internal ultrasound and while he stepped outside to grab his nurse, I tried to stay calm as I asked God to prepare me for whatever news I was about to hear.
By this point, my excitement had turned into panic.
The internal ultrasound began and as my doctor continued to search with no success, I began to cry. The nurse came over and held my hand.
As gently as he could, my doctor confirmed that my worst fears had come true: I would not be celebrating Mother's Day with a new baby in my arms after all.
I then had to make one of the hardest phone calls of my life—telling my husband that our baby was gone.
Instead of leaving that appointment with ultrasound pictures of a baby I had already fallen in love with, I left with a handful of hospital forms to fill out as I made my way down to the surgery admitting center to prepare for my D & C the next day.
Did You Choose to Have a D&C or Wait for a Natural Miscarriage?
For me, the choice to have a D & C instead of a natural miscarriage was an easy one. Because my pregnancy had progressed as far as it had, my body was still in full-on pregnancy mode.
I had non-stop nausea, and was throwing up often. I didn't know how long it would take for my body to recognize that my pregnancy was no longer viable. I couldn't imagine spending several more days or weeks feeling awful while also trying to take care of my two-year-old without the promise of a sweet baby at the end of it all.
I wasn't sure I could handle the emotional and physical pain of going through a natural miscarriage.
What Was Having a D&C Like?
The morning of the surgery, we dropped my son off early at day-care and then headed to the hospital.
As I changed into a gown to prep for surgery, all kinds of emotions flooded my body. I was terrified of going under anesthesia, and my feeling of unease was made worse by a very insensitive anesthesiologist asking why I was choosing to "get rid" of my pregnancy.
No grieving mother should have to explain why her pregnancy is no longer viable as she prepares to say goodbye.
Afterword, my doctor assured me that I had made a good decision. His kindness helped me get through those two terrible days.
The physical pain and healing after the surgery wasn't as difficult as I thought it would be (I had fairly minimal bleeding and could manage my pain with regular OTC meds).
It was the emotional pain that was worse than I'd ever anticipated.
I felt like my body had played a cruel joke on me. I felt like a failure. I felt empty inside.
And as nice as it was to have relief from the all-day nausea, having the physical symptoms of pregnancy disappear was a painful reminder that my baby was gone.
How Did You Handle Telling Friends & Family About Your Missed Miscarriage?
When we initially found out I was pregnant, we decided to wait until after my appointment at 8 weeks to announce the pregnancy to our family and friends.
After losing the baby, a part of me wanted to shout about it from the rooftops. I wanted the world to acknowledge our loss because maybe if everyone knew, my baby wouldn't just feel like a figment of my imagination.
But the other part of me wanted to crawl into my bed and not tell anyone.
I didn't want to face the sadness this news would bring.
We decided to tell our immediate families, and I also let my boss know what was going on.
What Steps Did You Take to Recover Emotionally from the Miscarriage?
There is no right or wrong way to grieve a miscarriage. Every mother has to find her own way to process this incredible loss, but there were a few things that helped me in the recovery process.
1. I wrote a letter to my baby.
The day after surgery, I wrote my baby a letter.
I poured out my heart in that letter and it was very cathartic. I tucked it away inside the pregnancy journal I had started.
2. I quickly returned to work and normal life routines.
I went back to work as soon as possible. Getting back into my normal routine helped keep me from drowning in sadness.
Work was a much-welcomed distraction.
3. I took a break from social media.
It was extremely difficult to see pregnancy announcements and pictures of babies immediately after having a miscarriage, especially a missed miscarriage.
I decided it was best for my mental health to take a break from social media ffor a while.
4. I eventually opened up to close friends.
I began to share about my miscarriage with others.
I needed the emotional support and it was hard to act like everything was fine when I was going through such a hard season.
Did You Try to Get Pregnant Again?
We started trying as soon as we could. I didn't feel like I could fully heal until I was pregnant again.
Thankfully, we got pregnant quickly.
Although the new pregnancy in no way replaced the baby we lost, it gave us hope that we would be able to give our son a little brother or sister.
Related: The Best Bible Verses for Miscarriage and Pregnancy Loss
How Did You Make It Through Another Pregnancy?
The first trimester of a new pregnancy after miscarriage can be filled with a lot of fear. I no longer had the luxury of trusting that "normal" bloodwork, no bleeding, and non-stop nausea meant I was in the clear.
The first time I heard my son's heartbeat, I sobbed with relief.
My doctor offered to do an ultrasound every two weeks during that first trimester just to make sure things were progressing along normally. That was an unbelievable gift that put my mind more at ease.
But I didn't allow myself to start feeling truly excited about the pregnancy until I was into my second trimester.
How Do You Feel About Your Missed Miscarriage Now?
Several years have passed since that heartbreaking day at my doctor's office.
Even after all these years, I still wonder what that baby would've been like.
Would it have been another boy? Would it really have been born on Mother's Day?
I will never know why my baby didn't survive—at least not in my time on Earth. But despite the heartbreaking ending, I will always view my second pregnancy as a gift.
It has made me appreciate even more the two boys that I get to raise.
It has made me more empathetic.
It has allowed me to minister in a unique way to those mamas experiencing pregnancy loss.
That sweet soul who I never got to meet will forever hold a piece of my heart.
Related: The Best Bible Verses for Infertility that Offer Comfort and Hope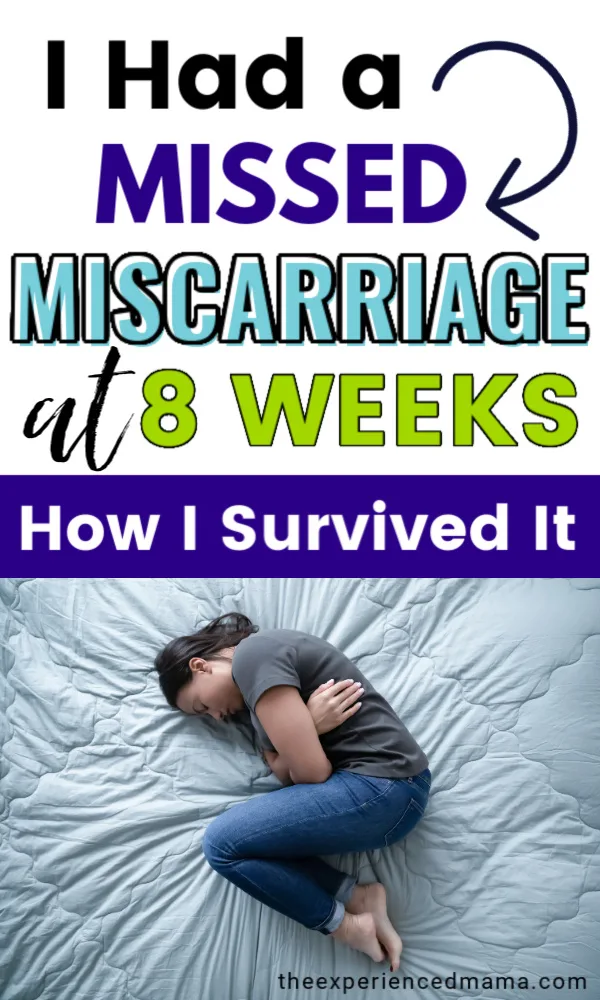 Mary Ann Blair is a stay-at-home mom living in the Pacific Northwest with her two little gentlemen and hubs. She loves connecting with other parents who like to keep it real!
Her writing has been published on Her View From Home, Perfection Pending, That's Inappropriate, Pregnant Chicken, Sammiches and Psych Meds, Red Tricycle and in Chicken Soup For the Soul. She can be found at https://www.maryannblair.com