Inside: When you're struggling with infertility and you love Jesus, the Bible can offer comfort and hope. Here are over 20 scriptures for infertility that helped me know how to pray and sustained me while I waited many months for that positive pregnancy test.
The numb, aching heart that only the pain of infertility can give. Blankly staring at another negative test.
You're completely devastated, but you have no tears left to cry.
I have felt all of that and more.
I let trying to conceive – and constantly failing – rob me of my joy. And even worse, I let it rob me of my faith.
Let me lead you back to the arms of Christ, dear one. If you are struggling with infertility, I carry you in my heart!
Today, I want to offer you the scriptures for infertility that comforted me, that I used to pray when I had no more words to pray.
Related: The Most Comforting Bible Verses for Miscarriage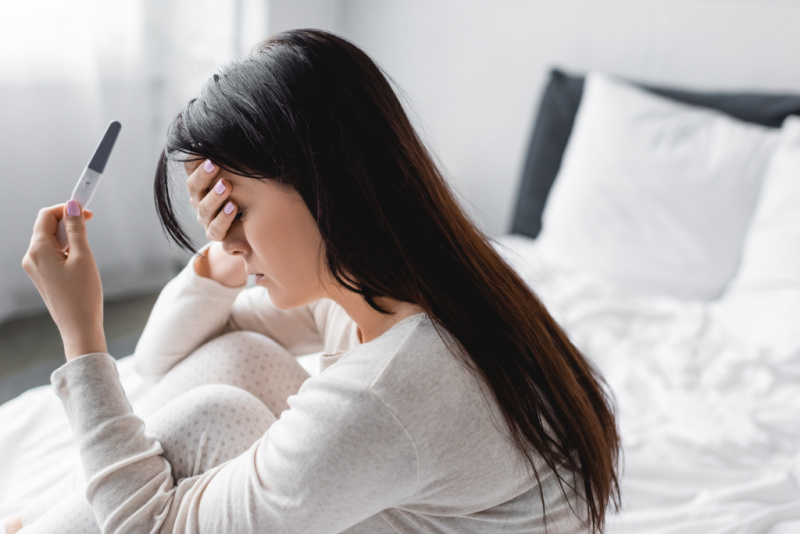 Why These Scriptures for Infertility?
God, am I unfit to be a mom?
Can you hear me? I'm crying out to you and I hear nothing in reply.
The truth was, I couldn't hear God while I was screaming at Him to give me a baby.
I wanted an answer to my prayers… no, I wanted a YES to my prayers. I allowed my heart to harden towards God because He wasn't giving me what I wanted right away.
Thank God for His unending mercy! He waited patiently for me to return to Him. He gently called my name to come to him for rest and comfort.
Learn from my biggest mistake – RUN to God to seek relief from your grief.
Run to Him because He will give you everything you need (which is Himself) and not because you need every thing.
When I was struggling through inferility, I focused my prayers and time with God in these three areas. All of the scriptures I share to pray for infertility relate back to these three things.
1. Remember and strengthen your identity.
Root your identity in CHRIST.
As much as you desire to be a mother, you are first and foremost a daughter of Christ. That truth will never change.
I wish that I had used my time of waiting to strengthen my relationship with God.
Your identity will be shaken even harder when you go through the ups and downs of motherhood. The time is NOW – grab onto who He says you are.
2. Seek comfort in the waiting.
Waiting for anything is hard, but waiting for that positive pregnancy test is one of the hardest things I've ever done.
Why? Because it's not something I can control.
You can do everything right, do all the things that can support conception, but at the end of the day, you cannot make yourself get pregnant.
Especially if you are an achiever, used to going after your goals and dreams and working harder to get there, infertility can be soul-crushing.
Plus it's knowing that if that pregnancy test is negative, you have to wait another whole month before finding out again if you succeeded.
Every month you don't get a positive test is devastating.
3. Ask God for a baby…but at the same time, surrender to His timing.
It says in the Bible to ask God for what we want. In fact, He commands us to do so.
Even on the hardest days, when it's been months, ask Him again. And if you can't bear to ask again, ask Him to give you the faith to ask again.
Ask Him to keep your heart tender towards him and not hard.
Then there is the fine balance between fighting fiercely in prayer for what you want – asking again and again and again – and surrendering to whatever may come.
You may or may not get that baby you've been praying for. God may have other plans, plans far beyond you and your desires.
Ultimately, He knows what is best for you, and He is taking into account not only you, but every other human on the planet.
The line between fighting and surrendering is a thin one to walk. But don't give up trying!
Related: The Best Bible Verses for Trying to Conceive – to Give You Hope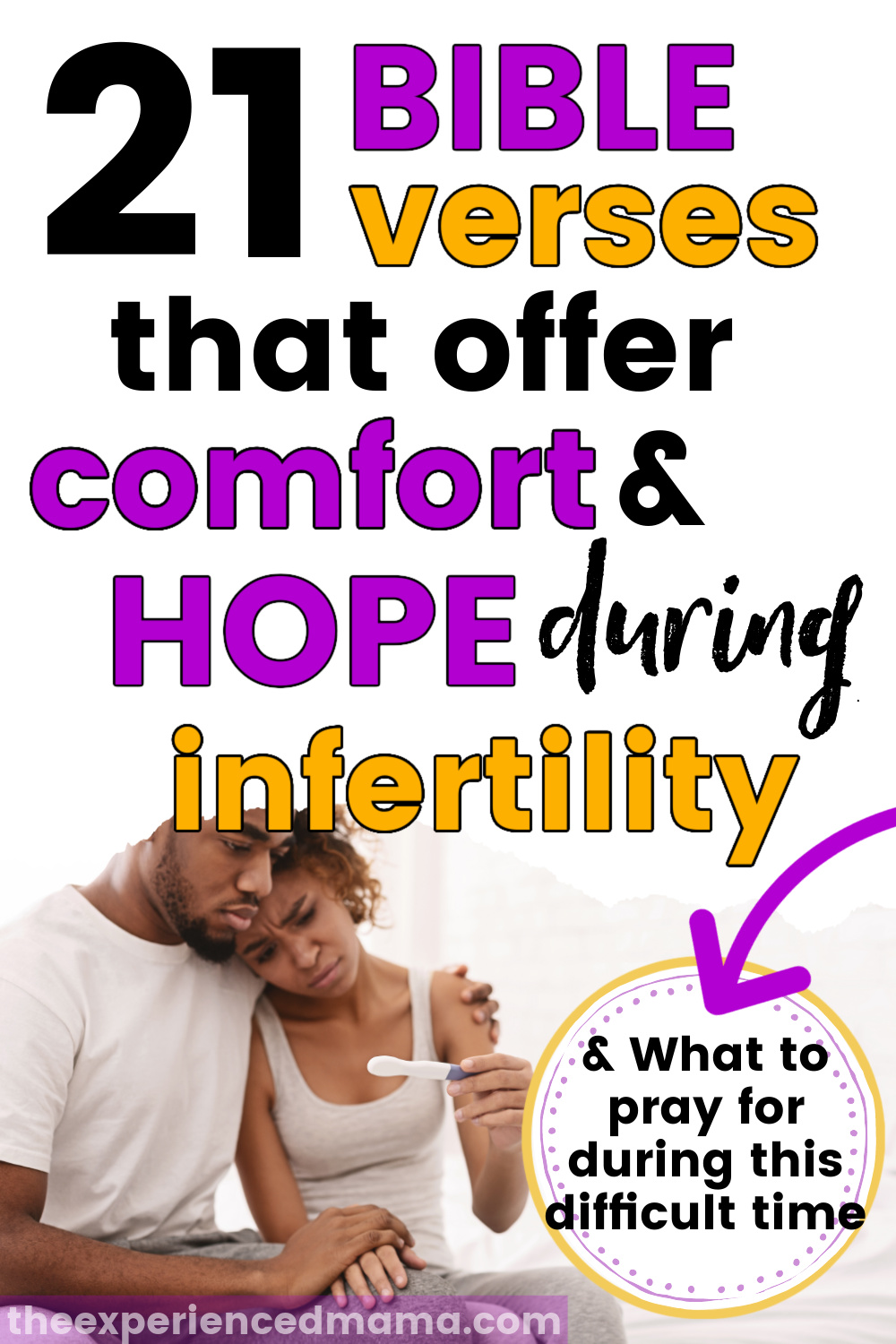 21 Strengthening Scriptures for Infertility
These Bible verses for infertility are loosely categorized based on the three points above – identity, comfort and asking/surrendering.
1. Ephesians 2:10
For we are God's handiwork, created in Christ Jesus to do good works, which God prepared in advance for us to do.
2. Psalm 139:13
I praise you because I am fearfully and wonderfully made; your works are wonderful, I know that full well.
3. Genesis 1:27
So God created mankind in his own image, in the image of God he created them; male and female he created them.
4. Ephesians 1:3
Praise be to the God and Father of our Lord Jesus Christ, who has blessed us in the heavenly realms with every spiritual blessing in Christ.
5. Isaiah 61:3
… to bestow on them a crown of beauty instead of ashes, the oil of joy instead of mourning, and a garment of praise instead of a spirit of despair.
They will be called oaks of righteousness, a planting of the Lord for the display of his splendor.
6. Isaiah 61:10
I delight greatly in the Lord; my soul rejoices in my God.
For he has clothed me with garments of salvation and arrayed me in a robe of his righteousness, as a bridegroom adorns his head like a priest, and as a bride adorns herself with her jewels.
7. Psalm 33:20-22
We wait in hope for the Lord; he is our help and our shield. In him our hearts rejoice, for we trust in his holy name.
May your unfailing love be with us, Lord, even as we put our hope in you.
8. Psalm 62:5
Let all that I am wait quietly before God, for my hope is in him.
9. Isaiah 30:18
Yet the Lord longs to be gracious to you; therefore he will rise up to show you compassion.
For the Lord is a God of justice. Blessed are all who wait for him!
10. Proverbs 3:5-6
Trust in the Lord with all your heart, and do not lean on your own understanding.
In all your ways acknowledge him, and he will make straight your paths.
11. Isaiah 40:28-31
Do you not know? Have you not heard? The Lord is the everlasting God, the Creator of the ends of the earth.
He will not grow tired or weary, and his understanding no one can fathom. He gives strength to the weary and increases the power of the weak.
Even youths grow tired and weary, and young men stumble and fall; but those who hope in the Lord will renew their strength.
They will soar on wings like eagles; they will run and not grow weary, they will walk and not be faint.
12. Psalm 37:4
Delight yourself in the Lord, and he will give you the desires of your heart.
Note: This verse is a tricky one for many… the desire of your heart right now is to have a baby. I know that.

I fought with this verse during our season of trying to conceive many times. But, the angrier with God I got… oh wait, there's the problem right there.

I was not delighting in the Lord. I was only seeking to snatch the desires of my heart from Him.

Seek the Creator, not His creation, and he will give you the desires of your heart. Which, the more time you spend with Him, will be the desires of His heart.
13. Philippians 4:6-7
Do not be anxious about anything, but in every situation, by prayer and petition, with thanksgiving, present your requests to God.
And the peace of God, which transcends all understanding, will guard your hearts and your minds in Christ Jesus.
14. Psalm 100:3-4
Acknowledge that the Lord is God! He made us, and we are his. We are his people, the sheep of his pasture.
Enter his gates with thanksgiving; go into his courts with praise. Give thanks to him and praise his name.
15. Philippians 4:19
And my God will meet all your needs according to the riches of his glory in Christ Jesus.
16. Matthew 6:7-10
When you pray, don't babble on and on as the Gentiles do. They think their prayers are answered merely by repeating their words again and again.
Don't be like them, for your Father knows exactly what you need even before you ask him!
Pray like this: Our Father in heaven, may your name be kept holy. May your Kingdom come soon. May your will be done on earth, as it is in heaven.
17. Luke 1:37-38
"For nothing will be impossible with God." And Mary said, "Behold, I am the servant of the Lord; let it be to me according to your word."
18. 1 Peter 5:6-7
Humble yourselves, therefore, under the mighty hand of God so that at the proper time he may exalt you, casting all your anxieties on him, because he cares for you.
19. Exodus 14:14
The Lord will fight for you; you need only to be still.
20. Psalm 46:1
God is our refuge and strength, an ever-present help in trouble.
21. Psalm 61:2
From the ends of the earth, I call to you, I call as my heart grows faint; lead me to the rock that is higher than I.
You Might Also Like: The Best Scriptures to Pray Over Your Husband (+FREE Printable)
Remember This When You're Struggling with Infertility
Friend, my prayer is that you will trust wholeheartedly in God. Trusting in Him will cover you with his perfect peace. (Isaiah 26:3-4)
Cling to Christ and enjoy rest in the shadow of His mighty wings. (Psalm 63)
I know that God will fill you with His hope (Romans 15:13) and that you will feel his comfort (2 Corinthians 1:3-4) during your time of waiting.
He is here with you in this hurt. (Psalm 34:17-18) God blesses those who take refuge in Him, so take Him up on His offer! (Psalm 34:8)
Sister in Christ, I pray that you will allow yourself to enter into His rest during this turbulent season of infertility.
Finally, you need to know that you are not alone, even if you feel so very alone.
Approximately one in eight couples are affected by infertility in the United States. That's about 6.7 million people each year who have trouble conceiving (source).

Fertility Answers
So don't go it alone. Reach out in your church or in a small Facebook group for moms.
As painful as it can be to admit that you are struggling with infertility, you know what's worse? Struggling alone.
Invite someone to pray with you, for you and alongside of you. More women can relate than you know, and they might be too scared or hurt to say anything either.
All you have to do is get a little bit vulnerable to find that one other woman. She's out there – trust me.
Read Next: Practical TTC Tips for a Woman Who's Been There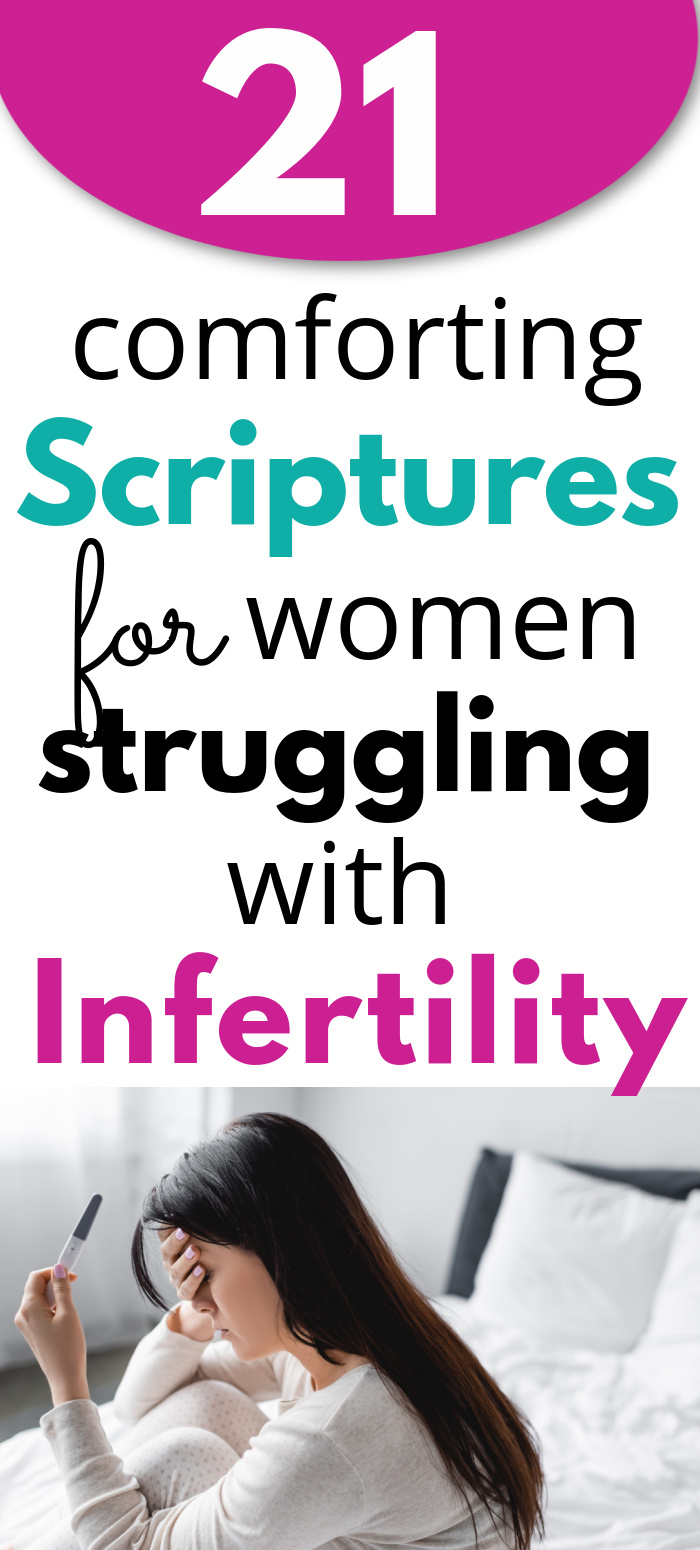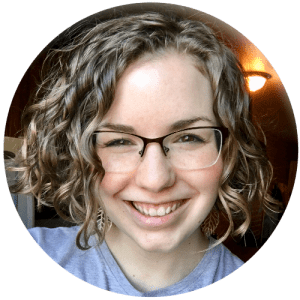 Kenzie lives with her husband and daughter in beautiful Lancaster County, Pennsylvania. She's wrestled with infertility, survived a miscarriage, and is overjoyed to finally be a mama to her sweet baby girl she thought she'd never have. She especially loves helping moms who have had miscarriages find hope after loss.