Inside: Looking for adorable classic girl names? Look no further! This list of 50+ classic baby girl names offers so many unique choices, complete with name meanings, popularity rankings and historical namesakes.
There's just something about classic things – classic cars, classic songs, classic movies. They're timeless. They bring a sense of nostalgia.
There's a lot of value in vintage.
And baby names are no different. So if you're in the market for baby girl names, consider some of these adorable classic girl names.
Having a little girl with a classic name will set her apart. Likely, there won't be 15 girls with the same name in her preschool class!
A classic name also has a ring of elegance with the power of history behind it.
Some of these classic baby girl names may seem old-fashioned, but as you read the history and meanings of the names as well as the facts about other women with these traditional names, I'm sure they'll roll right off your tongue soon enough.
Check out the vintage girl names that follow, and see which ones resonate with you!
(All name popularity data comes from babycenter.com figures, which are calculated using data from the Baby Center community.)
Related: 50+ More Elegant Vintage Girl Names Actually Worth Considering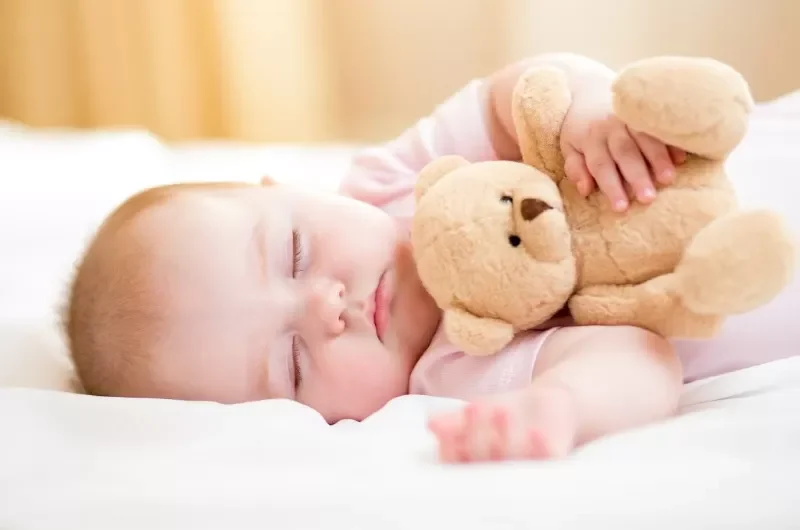 55+ Adorable Classic Girl Names for Your Baby Girl
THIS POST PROBABLY CONTAINS AFFILIATE LINKS. AS AN AMAZON ASSOCIATE, I EARN FROM QUALIFYING PURCHASES. YOU CAN READ OUR FULL DISCLOSURE POLICY HERE.
1. Adelaide
Meaning "noble and kind," this is the English version of a similar German name. Where 'Ava' has been popular for some time now, Adelaide is a more unique and vintage alternative.
Actress Katherine Heigl gave this name to her newborn daughter. Adelaide ranked #394 in popularity last year.
2. Alice
Rising in popularity (#72 in 2019), this baby girl name means "truth," coming from the Greek word "aletheia." Around the 12th century, this name became popular in France and England.
Princess Alice, born to Prince Albert and Queen Victoria in 1843, is considered a feminist forerunner, supporting breastfeeding and raising awareness of gynecological issues.
Other famous Alices are Disney's Alice in Wonderland and poet Alice Walker.
3. Allie
An English name meaning "of the nobility," this is also a shortened version of the Scottish name Aileen.
This name resurged in popularity in the '80s with the hit TV show Kate and Allie, but sunk back to #353 in 2019. Other notable Allies are American actress Allie Grant and musician/songwriter Allie Moss.
4. Alta
An extremely rare name – #5,285 in 2019 – this classic baby name is of Latin origin. It means "high, tall, lofty." While this is a name that can be used for either gender, it's more commonly used for a girl.
It also makes a sweet middle name – Lady Bird Johnson (born Claudia Alta Taylor) had this for her middle name.
5. Amelia
An English classic baby girl name with Latin roots, it became popular when the German House of Hanover came to sit on the British throne in the 1700s.
Both George II and George III gave this name to their daughters. American pilot Amelia Earhart, the first female to fly solo over the Atlantic Ocean, has contributed to this name's popularity – and it's still very popular in England and Wales today.
Amelia means "work". Cute nicknames come with it: Lia, Mia, Amy, and Minnie.
6. Annie
Meaning "grace," this is an English name that held a spot on the Top 20 list from the 1880 – 1907. Name recognition can be attributed sharpshooter Annie Oakley and the curly redhead from the cartoon and movie Little Orphan Annie.
This name came in at #332 in 2019 and appears to be dropping significantly in popularity after a brief comeback in 2016.
7. Ariel
Ranked #142 last year, Ariel is both a boy and girl name, having Hebrew roots meaning "Lion of God." Famous places you'll see this name: in the Bible as another name for Jerusalem, in Shakespeare's The Tempest, and a moon of Uranus.
It became popular for a girl as an English name after Disney released the movie The Little Mermaid.
8. Bess
This adorable classic girl name is a shortened version of the name Elizabeth, the Greek form of the Hebrew name meaning "My God is an Oath." Bess can also mean "pledged to God."
English Queen Elizabeth (1533-1603) was known as Good Queen Bess, and American President Harry Truman's wife was named Bess.
An original girl name for sure, coming in at #20,394 in 2019!
9. Caroline
This is a French name meaning "free/beautiful woman." It also is often viewed as the female version of Charles as well as a combination of the names "Carol" and "Lyn," meaning "beautiful."
Caroline Kennedy, the daughter of President John F. Kennedy, Jr., is perhaps the most well-known Caroline in the U.S. This name has hovered between #75-90 in popularity for several years now.
10. Celia
A Latin name meaning "heaven", this name is often a shortened version of Cecilia. One of the most famous women with this name is Celia Cruz, Cuban American salsa performer and singer, with 23 gold albums.
It's definitely a unique choice (if that's what you're going for)! According to Baby Center, this name ranked #1,050 in 2019.
11. Cleo
This adorable baby girl's name comes in at #775, has English roots and means "glory." It's short for Cleopatra, the powerful Egyptian queen.
The opening of the Egyptian tombs in 1917 popularized this name, and it has been used in more modern times on TV shows such as ER and Law and Order SVU.
12. Claire
This is a name that was growing in popularity through the 1920s and has recently started to top the charts again. Of French origin, it means "bright, clear."
American actress Claire Danes has definitely helped bring this name back into the spotlight, and it now ranks #83 according to Baby Center data.
13. Cora
Meaning "maiden," this is a name of Greek origins. It's also another name for the Greek goddess Persephone.
Fiction has helped make this name rise to #82 in baby girl name popularity. The name was used in the novel The Last of the Mohicans (Cora Munro) and on the hit TV series Downton Abbey (Cora Crowley).
14. Della
This English name means "of the nobility." It's a nice alternative if you happen to like the name "Ella" but want something less common (#950 versus Ella, which has long held a top 20 most popular baby girl name slot).
A famous woman with this name is Della Reese, singer and actress, remembered for her role on the TV show Touched by an Angel.
15. Eileen
This is a Scottish name that means "beautiful bird" or "bright shining one." It's also a version of the English name Evelyn and Irish name Aileen.
Actress Eileen Brennan is a notable person with this name. Also, the song "Come on Eileen" by Dexys Midnight Runners brought this name to the forefront again, although it can still considered a rare name, ranking #1,049 last year.
16. Eliza
This is a Hebrew name meaning "pledged to God." Though it's an offshoot of the name Elizabeth, it's now seen as a name all its own.
Eliza Doolittle is a well-known character in George Bernard Shaw's play Pygmalion and the musical version My Fair Lady. Eliza ranked #129 in popularity in 2019.
17. Estelle
This is an Old French name which means "star." During the Middle Ages, it was an uncommon name in English speaking countries. However, with the publication of Charles Dickens' Great Expectations, the character Estella Havisham brought it back into daylight.
The British R& B singer Estelle is a notable person with this name, as well as Princess Estelle, the daughter of the royal couple of Sweden.
To this day, it remains a unique choice, coming in at #868 in 2019.
18. Evelyn
This name rose in popularity around 1880 and hit its peak in 1915, so it has a long history of being a favorite classic name. Since 2000, it's been rising in popularity, hitting #14 last year.
It's an English name that means "beautiful bird."
Interestingly, there are many female athletes and Olympians with this name including gold medalists Evelyn Furtsch and Evelyn Ashford. Evie is a sweet nickname for Evelyn as well.
19. Fern
If you like nature and classic names, Fern is a great choice! Named for the green plant, it came back on the radar with the lovable character in children's book Charlotte's Web.
Fern reached the height of its popularity from 1900- 1940s and is still an extremely unique choice at #2,367.
Related: 101 Whimsical Baby Nature Names (With Meanings)
20. Florence
Having Latin roots, this name means "flourishing, prosperous." There's a lot of inspiration for this name: the Italian city, actress Florence Henderson (The Brady Bunch), founder of modern nursing Florence Nightingale, and track and field athlete Florence Griffith Joyner.
This name also comes with some fun nicknames: Flo or Florrie! It still has a ways to go before it becomes popular again – #775 last year – so snatch it up before it makes a comeback.
21. Gail
Ranking #3,970 in popularity in 2019, this name is derived from the Hebrew name Abigail, meaning "father's joy, gives joy." In the Bible, Abigail was a wife of King David known for her beauty and discretion. Gail has English roots as well.
Several accomplished women have this name including actress Gail O'Grady (NYPD Blue), TV personality Gail Simmons (Top Chef), and female wrestler Gail Kim.
22. Genevieve
A German name meaning "woman of the family," it comes with some cute nicknames such as Jenny, Jen/Gen, Viv, and Vivi. Saint Genevieve is the patron saint of Paris. Other notable Genevieves are American actress Genevieve Angelson, known for her roles on House of Lies and Backstrom, and Genevieve Armstrong, the New Zealand rower.
Genevieve currently ranks #235 in popularity compared to other baby girl names according to Baby Center.
23. Gladys
A name that means "princess" (some say '"land, nation"), it's considered a Welsh version of Claudia. The name gained popularity outside of Wales due to the book Puck by Ouida (pseudonym for English novelist Maria Louise Rame), where the beautiful Gladys Gerant was idealized.
Singer Gladys Knight is probably the most well-known woman with this name. At the turn of the 20th century, the name Gladys was actually as popular as the name Harper is today! It currently ranks #2,907.
24. Hattie/Haddie
This name comes from Harriet, which is the English version of the name Henriette. It means "estate ruler," and it was a Top 50 name from 1880 – 1900.
It became popular again due to Gone with the Wind actress Hattie McDaniel, the first African American to receive an Academy Award, along with the main character in Woody Allen's movie Sweet and Lowdown. Haddie is a less popular girl name (#1,633 in 2019) than Hattie (#546 in 2019).
25. Helen
Ranked #794 last year, Helen has major name recognition due to the legendary Greek heroine Helen, who was kidnapped by Prince Paris of Troy.
Fitting for a little girl full of sunshine, the name means "light, torch." Helen Keller is an inspirational namesake for this choice as is actress Helen Hunt.
26. Jane
Does it get any more classic than the name "Jane"? This name had a big rise in popularity around 1910 and kept climbing until about 1945.
The recent popularity of 19th-century author Jane Austen has brought this name around again – it's 2019 ranking was #314 and continues to climb, as it's also the name of notable women in her novels (Pride and Prejudice, Emma).
Another literary use of this name is the classic novel Jane Eyre. Jane Seymour and Jane Curtin are also popular actresses with this name. It's an English name, the female version of John, and means "God is gracious."
27. Jean
As the feminine form of John, this is a Hebrew name that also means "God is gracious." It was translated into Latin as Joanna, and then later into French.
It became a popular name during the Middle Ages in England and Scotland and made a resurgence in English-speaking countries during the 1800s. It was a popular name among actresses in the 1940s, including Jean Stapleton, Jean Harlow, and Jean Simmons.
Popularity as a girl's name is difficult to assess, given that many sites still consider Jean a boy's name and rank it accordingly.
28. Josephine
If you're a fan of Little Women, you can't help but have an affinity for this name because of Jo. It's of French origin and is the female version of Joseph, from the Hebrew "Yosef"; it means "God shall grow." Jo, Joey (Dawson's Creek), and Josie are fun nicknames associated with Josephine.
This name is definitely making a comeback, ranking #158 last year according to Baby Center.
29. Josie
This old-fashioned name is growing in popularity today (#139 in 2019)! As described above, it comes from the name Josephine, and it's an adorable offshoot.
Actress Josie Bissett and model Josie Maran are some famous women with this name (along with Josie and the Pussycats!).
30. June
This name is gaining in popularity in recent days, especially as a middle name. If you have a June baby, it's a super-cute option. It comes from the name Juno, a Roman goddess in mythology.
This was in the Top 100 girl names from 1915 – 1941 (it's currently #219) with TV character June Cleaver of Leave it to Beaver making it a household name.
31. Lena
Meaning "woman of Magdala," this name has Hebrew roots and is more popular than you might think, coming in at #228 last year). It also is an offshoot of Helena, which means "light."
There are several notable women with this name including singer Lena Horne, actress Lena Headey (Game of Thrones), and William Faulker's simple but strong character Lena Grove in the novel Light of August.
It can be pronounced "La-na" or "Lee-na". According to BabyCenter.com data, Lena ranked #224 in popularity in 2019.
32. Lola
Certainly the song of this name by the Kinks has contributed to its name recognition, but it was also super popular before the song.
It has Spanish roots, and it's considered a short form of Dolores, which means "lady of sorrow." Many celebrities have chosen this name for their daughters, including Kelly Rippa, Carnie Wilson, Charlie Sheen, and Chris Rock.
In 2019, Lola ranked #224 in popularity.
33. Lorena
Another name with Spanish origins, this name was a Top 1000 of U.S. baby names for 130 years (although today, it's #1,345)! It's a variation of the French name Lorraine, which means "from the province of Lorraine."
This is a popular name in Hispanic communities, represented by Mexican golfer Lorena Ochoa, Mexican actress Lorena Velazquez, and Mexican singer Lorena Rojas.
34. Lucille
Meaning "light," this is a French name that has high name recognition due to actress Lucille Ball from I Love Lucy. However, this name goes back to the early Christians of the Roman Empire and was popular in the U.S. and England in the 1800s.
It peaked at #27 in 1919, well before Lucille Ball (today it comes in at #498). And speaking of, Lucy is an adorable nickname that comes from Lucille.
35. Luella
Coming from the name Louella, this is a combination of the names Louise and Ella. It was a popular name in the 1800s through the 1950s and is making a comeback.
It's an Old English name, coming from Louis, and it means "famous elf." Some fascinating women with this name are Luella Dayrell Bartley, an English fashion designer, and Luella Bates, the first woman truck driver!
According to Baby Center's 2019 data, Luella ranks #1239 in popularity.
36. Mae
This name has so many cool connections. Clearly, there's the link to the month of May, which is derived from Maia, the Roman goddess of motherhood. It's also a nickname for Mary or Margaret. The literal meaning is "bitter or pearl."
It was popular through the 1920s as inspired by early film stars Mae West, Mae Clark, and Mae Murray. It can stand alone as a vintage name, or it's popular as a middle name, a more unique alternative to the currently popular "Rae." Today, Mae comes in at #658, so it's definitely still a rare girl name choice.
37. Margaret
Currently #362 in popularity, this Greek name meaning "pearl" was inspired by the old Persian name Margarites). There is a French version, Marguerite, as well as a Latin version, Margarita.
There are many powerful and royal women with this name including Queen Margaret of Scotland, English Prime Minister Margaret Thatcher, and Princess Margaret, Countess of Snowden.
38. Marguerite
This is a French name with Gallic connections meaning "pearl" or "daisy." It was in the Top 100 names from 1890-1921, although today it's sunk to #7,849.
This name is popular in Paris and among French royals. Fun fact: poet Maya Angelou's real name is Marguerite; her brother shortened it to Maya (which is a real pretty nickname, too!)
39. Marie
This name is of French origin and comes from the name Mary. It means "star of the sea."
This was very popular as a middle name, and it is seeing a resurgence as a first name. Well-known Maries are Queen Marie of Romania, scientist Marie Curie, and Marie Antionette, Queen of France.
It currently ranks #625 in name popularity.
40. Meg
A short form of Margaret or Megan and with similar popularity rankings, this French name means "pearl." It has been made famous from the Little Women character of the same name as well as actress Meg Ryan.
41. Minnie
This adorable English name peaked in popularity around 1880 and is a unique choice for a little girl. Although some may associate with the Disney character Minnie Mouse, actress Minnie Driver (born Amelia) has given it another reason for it to be popular.
It's an offshoot of the name Wilhelmina (or Miriam), and it means "of the mind, intellect." L.M. Montgomery also has a character named Minny Mae in her novel series Anne of Green Gables. According to Baby Center, Minnie was #1,989 in baby girl names last year.
42. Nellie
Currently #1039 in popularity, Nellie is an offshoot of both Helen and Eleanor. It has Greek roots and means "light, torch, bright."
Probably the most notable name recognition is the character from Little House on the Prairie, but other strong women have had this name as well: Nellie Bly, a pioneer in investigative journalism in the late 1800s, and Nellie McClung, civil rights leader.
43. Nina
This is a Russian offshoot of the names Anne and Antionette, and it means "full of grace." It is also: a common nickname in Spain, the Babylonian goddess of the ocean, and the Incan goddess of fire!
Famous Ninas (besides Christopher Columbus' ship) include actresses Nina Dobrev and Nina Lu. I was surprised to find this name ranking #233 in name popularity for baby girls.
44. Nora
Nora has seen a serious spike in popularity in the past decade – it currently ranks #30 in popularity and is holding strong! This recent surge could possibly be attributed to to jazzy, bluesy singer Norah Jones.
An Irish name meaning "honor," this name is a derivative of the name Eleanor. It can also be spelled "Norah." Other famous women with this name include author Nora Roberts and the fictional character from the play A Doll's House, by Henrik Ibsen.
45. Olive
This name has spiked in popularity (#208 in 2019), making it a rival with the long-standing favorite Olivia. It's of English origin, and it means "olive tree," the branch of which is a symbol of peace.
Though Olive Oyl from Popeye gives name recognition for the older generation, most kids today will have no connection to the cartoon character; they're more likely to be familiar with the character Olive on Odd Squad.
Both country singer Jake Owen and actress Drew Barrymore have named their daughters Olive. Fun fact: Marie Osmond's full name is Olive Marie Osmond.
46. Opal
This is a fun choice for a girl, especially one born in October, as the precious stone opal is the birthstone of that month. It comes from Sanskrit, meaning "jewel."
It was highly popular in the early 1900s and could possibly make a comeback in the 2020-2030 decade, though it's still a rare choice at #906. Opal is also the national gemstone of Australia.
47. Rosalie
This is the French, German, and Dutch version of Rosalia, and it means "beautiful rose." This name had a popularity spike in 1938, with the release of the film Rosalie, based on the 1928 musical where a princess in disguise falls in love with a West Point cadet.
A more modern recognition is the character Rosalie Hale in the Twilight novel and movie series, and as diehard Twilight fans become parents, it could continue to climb above it's current popularity ranking of #196.
48. Rosemarie
A variant of Rosemary, it has English, German, and Dutch roots. It means "dew of the sea" and is a combination of Rose and Marie.
Three Olympic medalists have had this name: Rosemarie Ackermann, Rosemarie Kother-Gabriel, and Rosemarie Whyte. Romy is a popular and super-cute nickname for Rosemarie. It's an extremely rare choice, currently #3,417.
49. Ruby
This name became popular in the 1800s and is making a comeback – #86 in 2019!
Ruby obviously comes from the precious gem of the same name. It's the birthstone of July and is a sweet name that is becoming more popular in recent days.
The name has a long history of being used for both fictional characters (Ruby Gillis, Anne of Green Gables) and songs ("Ruby, Don't Take Your Love to Town").
50. Sadie
This is a form of Sarah, the Hebrew name that means "princess." A popular name in the late 1800s, Duck Dynasty daughter Sadie Robertson made it a household name again in recent years (it ranked #96 last year).
Actor Adam Sandler and actress Christina Applegate both chose this name for their daughters.
51. Sallie
This name also comes from the Hebrew name Sarah and means "princess." It was highest in popularity around 1880. "Sally" is also another popular spelling of the name, as seen in Actress Sally Fields and first American woman astronaut Sally Ride.
As of 2019, this name had NO popularity ranking at all, according to Baby Center – crazy, right?! However, it's phonetic equivalent "Sally" came in at #1,478.
52. Stella
Having reached the height of popularity in 1889, this name is making a HUGE comeback today – it was #33 last year! Sally is the Latin word for "star" and was coined in the 1590 poem collection Astrophel and Stella, by Sir Philip Sidney.
Stella from the play A Streetcar Named Desire is one of the more recent famous fictional characters with this name. Stella McCartney, fashion designer and daughter of Beatle Paul McCartney, is a famous Stella as well.
53. Susannah
This is the English version of the Hebrew name Shoshana, which means "lily." It comes with a variety of nicknames such as Sue, Susie, Suz, and Zuzu (It's a Wonderful Life).
Reaching its popularity height in 1882, it's sure to be trending again soon – despite coming in at #5,203 in 2019. You can also say it's recommended by Shakespeare as he named his daughter Susanna.
54. Vera
Having a Russian origin, this name means "faith." It reached its height as an exotic name around 1910 but has tapered off since, coming in at #262 last year.
The English-speaking world had little knowledge of this name until author Ouida popularized it in her novel Moths in 1860 as did Tolstoy in his novel War and Peace just 9 years later.
Fashion designer Vera Wang has made this a more modern, trendy name in recent days.
55. Violet
This Latin name means "'purple" and has seen a resurgence in popularity in recent days, largely due to Ben Affleck and Jennifer Garner's daughter. It broke into the Top 50 names in 2015, a peak it hasn't seen since 1919! And it continues to climb, coming in at #38 in 2019.
This adorable girl name is also a popular choice for characters in children's entertainment, including Lemony Snicket's A Series of Unfortunate Events, Charlie and the Chocolate Factory, and The Incredibles.
56. Winifred
A truly rare (#3704 last year), but still classic girl's name, Winifred is a Welsh/English name that means "blessed peacemaking." It reached the height of popularity in 1890 and stayed popular until about 1920.
There are some fun nicknames associated with Winifred – the girlish Winnie along with the tomboyish Freddie. Famous characters with this name are seen in the movie Tuck Everlasting and the '80s hit TV show The Wonder Years.
Related: 60 Cute, Uncommon Baby Girl Names that You Don't Want to Miss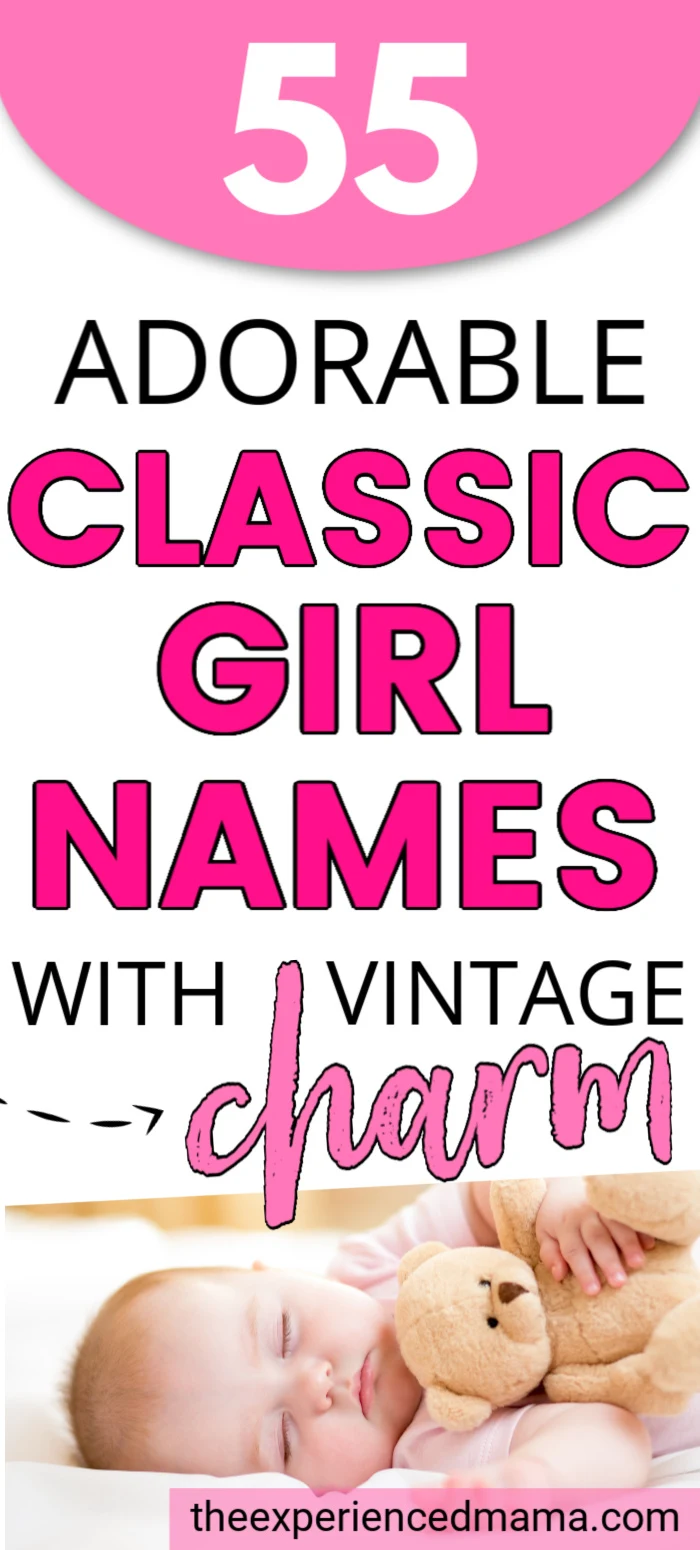 Vintage Girl Names Stay Strong for a Lifetime
After reading through all of these adorable classic girl names, I hope you found one you love.
These classic baby girl names have stood the popularity test over time and will stay true throughout your baby girl's life.
There's nothing wrong with a trendy, modern name, but a vintage, classic name will surely set your sweet new daughter apart for a lifetime!
Read Next: 75+ Unique and Cute Baby Names (Different, but not Weird)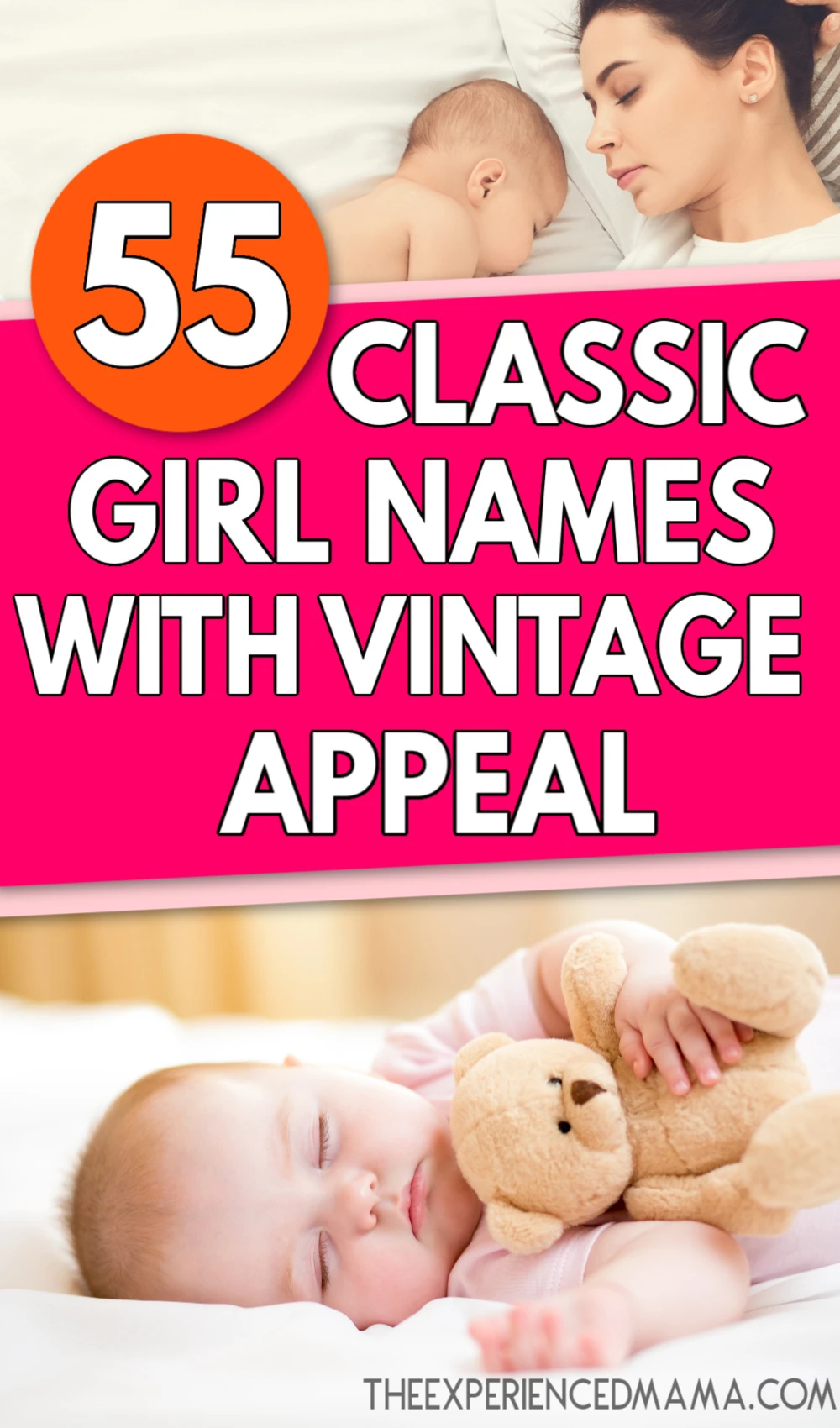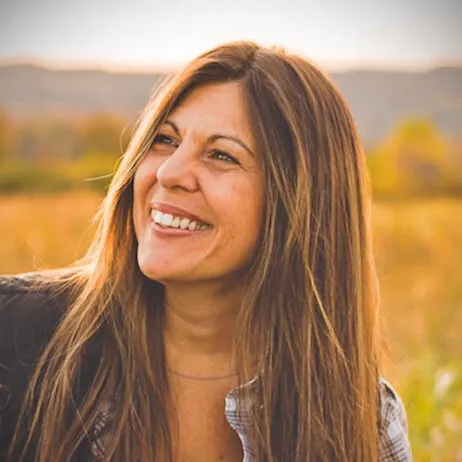 Kate is a former high school English teacher and current SAHM to her 5-year-old twin boys. A lifetime New Yorker recently transplanted in Tennessee, she keeps busy by learning her new way of life in the South, doing home decor and DIY projects, blogging at A Hundred Affections, substitute teaching, and figuring out how to survive in a house outnumbered by boys. And she loves Jesus very much.