Inside: Looking for timeless baby boy names? You're sure to find a least a few options on this list of 50 vintage boy names! We included meanings and possible nicknames.
Ahh the baby name game….we've all played, haven't we?
From the day we find out we're pregnant, we browse list after list and doodle combinations of first and middle names, seeing which set looks best on paper. It's a fun way to pass a weekend afternoon, daydreaming of what's to come.
Baby boy names or baby girl names – it really is all fun and games, 'til it's time to actually choose.
Yikes! That part can be tough!
Today we're going to help you with some vintage baby boy names for the retro-lovin' mama.
Picking a name for your baby boy isn't always easy. Though it may seem like a simple decision, this is an identifier he will live with for the rest of his life. That makes it a choice that requires some careful consideration.
When name searching, parents might opt for choosing a name they feel an emotional connection to – a family name, or maybe one with cultural or spiritual significance.
Some like to choose trendy names that top the yearly lists and are greatly influenced by today's pop culture.
Others, like you if you're looking at this list, opt for a more traditional approach. They're looking for timeless baby boy names, names with a classic appeal, "old baby boy names", no matter the date on the calendar.
If you prefer a boy name that's "old school cool", we've got you covered!
Here are 50 vintage boy names to get those wheels a turnin'.
Related: 75+ Cute & Unique Baby Names (Different, but not Weird)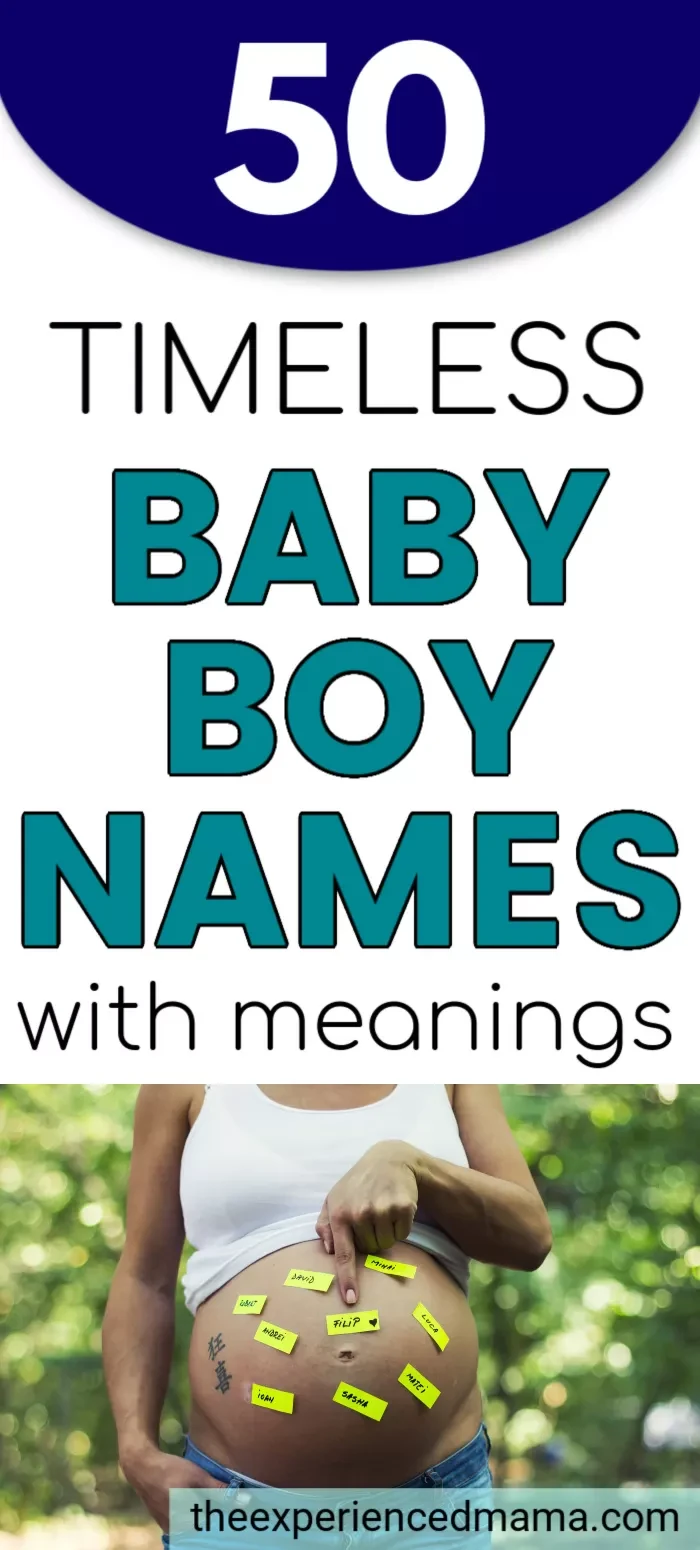 50 Vintage Boy Names for Your Baby Boy
THIS POST PROBABLY CONTAINS AFFILIATE LINKS. AS AN AMAZON ASSOCIATE, I EARN FROM QUALIFYING PURCHASES. YOU CAN READ OUR FULL DISCLOSURE POLICY HERE.
The Kindle versions of baby names books are often accessible through Kindle Unlimited (like THIS one or THIS one) on Amazon. If you haven't already used your 30-day free trial, you can sign up HERE.
1. Arthur
Most well known for being the name of a famous British king with a round table of knights, Arthur is a name that means "nobility and courage". It's a name that conveys strength, power, and most importantly, integrity.
Possible nicknames include Art and Artie.
2. Pierce
Not a common name, to be sure, (but definitely a retro boy name!) Pierce is a derivative of "piers" with Old French and Middle English origins.
A famous celebrity who shares this name is Pierce Brosnan, an Irish actor who played James Bond in four films from 1995-2002.
3. Theodore
Theodore is a Greek name meaning "God-given". It is most commonly known for being the name of President Theodore Roosevelt, who served from 1901-1909. One fun fact about Teddy Roosevelt, as he's more affectionately known, is that he was the youngest president in our nation's history.
Theodore is a strong and stately name. If you want to shorten it and make it a bit more casual for a young child, you might nickname him Theo, Teddy, or Ted.
4. Cecil
Cecil is a name associated with famous moviemaker, Cecil B. DeMille. He produced over 70 silent and sound films and is known as one of the founding fathers of American cinema.
Cecil is an English name meaning "blind". But don't let the meaning stop you! This name meaning could expand beyond physically blind to mean "blind to differences," including race and ethnicity.
5. Robin
An Old English name, Robin means both "famed" and "bright".
Notable not just for a shared name, but for truly living up to its meaning, Robin Williams is one of the most recognized comedians of our time. His tragic and untimely passing shed light on important issues such as suicide awareness and prevention.
6. Rex
Rex is a name most widely known for the actor Sir Reginald Carey Harrison, AKA Rex Harrison. He landed his breakthrough role in 1936 in a Terrence Rattigan play called French Without Tears. This led to a long and successful career acting on both the stage and screen.
Rex is a Latin name meaning "king".
7. Gerard
Coming from English origins, Gerard means "spear strength". A recent name of note, Gerard Way, is the lead vocalist and co-founder of rock band "My Chemical Romance".
A common nickname for Gerard is Gerry.
8. Neil
Of Gaelic origin, the name Neil means "champion".
And champion he is, Neil Armstrong truly lives up to his name. Going where no other man had gone before, Neil Armstrong was an accomplished astronaut and engineer and the first person to walk on the moon.
If you choose the name Neil for your son, he'll certainly be in good company.
9. Perry
Pick Perry and your little guy will share a name with singer, actor, and television personality, Perry Como. In a career that spanned five decades, Mr. Como made quite the mark on American entertainment.
Perry is an Anglo-Saxon name that means "pear tree". It can also mean "stranger" or "traveler".
10. Roland
A nod to famous football cornerback Roland "Champ" Bailey, the name Roland is one you can pair with strength and a winning disposition. Champ Bailey was drafted to the Washington Redskins in 1999 where he had a long and successful career.
The name Roland is of French origin and means "fame of the land". Nicknames include Rolly, Rowe, and Lanny.
11. Nathan
Nathan – or Nate for short – is a popular name choice, and for good reason. It is a Hebrew name with the meaning "he gave".
Nathan is a name that has been given to many influential men throughout the course of history. Most recently, beloved actor Nathan Fillion.
The name is fitting since he gave us eight glorious seasons of Castle and is now gracing our TV screens again in the well-written police procedural, The Rookie.
12. Charley
Charley, a name with English origins meaning "man", is making a comeback in recent years. It's a timeless name that never really goes out of style.
Plus, it comes with the super cool nickname, Chaz.
By naming your little guy Charley, he'll share a name with many talented artists – one of whom is Charley Pride. The name is appropriate as Mr. Pride has much to be proud of after a successful career as a chart-topping musician in the 1970s.
13. Ira
The name Ira, sometimes short for Israel, is a Hebrew name meaning "watchful one". A little known fact is that it's actually a biblical name in honor of one of King David's thirty mighty warriors.
Another famous Ira is Ira Gershwin, an American lyricist who, in collaboration with his brother George, wrote some of the most memorable songs of the 20th century.
14. Leo
Who do we all think of when we hear the name Leo? Leo DiCaprio of course! Titanic was an epic love story that helped shape our views on romance and brought to life the tragic history of the "ship of dreams".
Of course, there are also many other famous Leos and Leonardos – renowned artist Leonardo da Vinci and thirteen popes including St. Leo the Great, to name a few.
Leo is a strong name of Latin origin meaning "lion". Any little boy would be lucky to share such a powerful name with the Leos that came before him.
15. Lawrence
Lawrence is an Anglo-Saxon name that means "man from Laurentium", a town in Italy that is known for its laurels (AKA bay trees).
If your son dons the name Lawrence, he'll be in the company of many famous artists – most notably American opera singer Lawrence Brownlee. According to the New York Times, Lawrence Brownlee is "an international star in the bel canto operatic repertory".
Larry and Laurie are both common nicknames for Lawrence.
16. Blaise
Blaise is a French name meaning "lisp" or "stutter". Don't let the definition fool you though.
The meaning of the name certainly did not define Blaise Pascal, child prodigy and French mathematician – and it won't define your little boy either. Blaise Pascal lives on in the math term discussed in schools everywhere: "Pascal's Triangle."
Who knows? Maybe he'll be a whiz kid too!
Related: Mysterious Boy Names Inspired by Literature and Film
17. August
August is a Latin name meaning "esteemed" or "venerable". It's a name with rich history, a title often given to Roman emperors.
August's literary namesake, August Strindberg, was a Swedish playwright – a prolific writer drawing on his own experience to bring life to his work over a career spanning four decades.
Nicknames for August include Auggie, Gus, and Goose.
18. Emmett
The name Emmett comes from both English and German origins and means "industrious".
Though the name is stoic and strong, it can represent fun and laughter as well. Emmett Kelly was a circus clown who rose to fame in the early 1900s. He played a character named "Weary Willie" designed after the hobos of the Great Depression.
Nicknames for Emmett include Em, Mitt, and Mitty.
19. Ellis
Ellis is a Middle English name derived from Elisha, meaning "God is salvation".
A child named Ellis will share a name with John Ellis "Jeb" Bush, former governor of Florida and member of the prominent Bush family. The Bush family will go down in history for having both a father and son hold presidential office.
Ellis, or El for short, is a steadfast name with significant meaning for those of the Christian faith.
20. Ernest
Ernest is a German name meaning "serious".
Bringing notoriety to this name is Ernest Hemingway, one of the most influential writers of the 20th century. His work won a Pulitzer Prize for Fiction in 1953 and is a source of inspiration for writers, even today.
Ernie is a common nickname for Ernest.
21. Wesley
When we hear the name Wesley, many of us think of Wesley Snipes, famous movie star of the 90s. He starred in White Men Can't Jump, Demolition Man, the Blade trilogy, and more.
Wesley is an Old English name meaning "dweller of the western wood or clearing".
Those with the name Wesley are often called Wes or Lee for short.
22. Amos
Amos is a Hebrew name that means "carried by God'. The name Amos is most recognizable as a book in the Old Testament. Amos was an eighth century BC prophet.
Amos is a meaningful choice for those looking to give their child a biblical name to represent their family's faith.
23. Leland
Leland is an interesting name. It's of Old English origin and means "one who lives by unseeded land".
It's not a commonly heard name, but one made famous by musician, Leland Sklar. A legendary bassist, Leland has played alongside greats like Phil Collins, James Taylor, and Toto.
Leland – or Lee for short – is the perfect choice for those inspired by old school rock and roll.
24. Edwin
The name Edwin has Anglo-Saxon roots and means "rich friend". Little known fact – Buzz Aldrin's given name is actually Edwin Eugene Aldrin Jr.
Buzz Aldrin (AKA Edwin Jr.) is an astronaut who went up in space with Neil Armstrong (both wonderful timeless names for baby boys – see above!) and was one of the first men to land on the moon.
Often dubbed Ed or Eddie for short, Edwin is the right choice for anyone who wants to give their child a smart start with a time-honored name.
25. Almanzo
Fans of the Little House box will appreciate the historically significant addition of Almanzo this list.
Almanzo James Wilder was the husband of Laura Ingalls Wilder and inspiration for the tales told in Farmer Boy, the second book in her beloved series.
Almanzo – often shortened to Al or Manny – is an Arabic name meaning "the victorious".
26. Charles
Charles is a name borne by nobles throughout history. Most recently, heir apparent to the British throne, Prince Charles of Wales. He is the eldest son of Queen Elizabeth II.
It's a name of German origins, derived from Karl, meaning "man". Charlie and Carl are common nicknames.
Charles is a gallant and regal name, truly fit for a king.
27. Grover
American lawyer and politician, Steven Grover Cleveland is famous for being the only president in our history to serve non-consecutive terms – serving as our 22nd and 24th president.
Grover is a retro boy name with English roots and means someone who "lived near a grove of trees".
While its definition may not be of particular interest, you can't go wrong naming your child after a highly-esteemed American president.
28. Clarence
Clarence is a Latin name meaning "bright".
This name is made known by revered attorney, Clarence Darrow, renowned for his work as defense counsel in many high-profile criminal trials.
Nicknames for Clarence include Clancy, Clay, Cal, and Ren.
29. Cal
A Latin name meaning "little bald one", the name Cal is an ironic, albeit fitting, name for most baby boys.
Really though, jokes aside, Cal is a distinguished name that brings forth thoughts of success. The name Cal is made famous by none other than legendary baseball player, Cal Ripken Jr, player for the Baltimore Orioles and nicknamed "The Iron Man".
30. Hugh
Hugh is a name derived from the German word hug, meaning "heart, mind, and spirit".
When you hear the name Hugh, one particular man comes to mind – Hugh Grant. Hugh Grant is a British actor and producer with twenty-nine theatrical releases to his credit. His presence has paved the way for many talented young stars.
Hugh is a terrific choice for someone who wants to give their child a vintage name with artistic flair.
31. Jesse
The name Jesse, made famous by American outlaw Jesse James, has Hebrew roots and means "gift".
Though its meaning seems contradictory for a lawbreaker like Jesse James, your baby boy truly is a gift.
32. Percy
Percy is a French name – a derivative of Percival meaning "piercing the valley".
Though he's a fictional character, the person that most people think of when they hear this name is Percy Weasley from the Harry Potter series. Percy was a prefect, a Gryffindor, a member of the beloved Weasley family, and later worked for the Ministry of Magic.
All in all, Percy is a name you can't really go wrong with!
33. Julian
Julian is a Latin name meaning "youthful". What a great choice for a baby boy – vibrant and full of life!
If you're looking to name your little one after someone with tremendous athletic ability, Julian is a great way to go. Julian Knowle is a talented Austrian tennis player, known for being one of the top doubles players in the world.
34. Woodrow
Another presidential name on our list and for good reason. These names are true classics that stand the test of time. Woodrow Wilson was our 28th president and served from 1913-1921.
Woodrow is an English name that means, quite literally, "row of houses by a wood".
Woody is a common nickname.
35. Vincent
Vincent is a powerful Latin name meaning "to conquer". Vinny is a common nickname.
The name is made famous by world-renowned painter, Vincent van Gogh. His work is now worth millions and his presence will forever shape the way we see and create art.
36. Carter
Carter is a name with English roots meaning "transporter of goods by cart".
Carter G. Woodson is an acclaimed writer, known as "The Father of Black History." Giving your child this name is a wonderful way to honor his contribution.
37. Ezra
The name Ezra is of Hebrew origin and means "help". Ezra was a prominent figure in the bible. His story is chronicled in the Book of Ezra in the old testament.
Another well-known Ezra is Ezra Jack Keats, children's book writer and winner of the 1963 Caldecott Medal for his illustrations in the book he authored and illustrated, The Snowy Day.
The name Ezra is a sound choice for those who want a biblical name that represents their Christain faith. It also works well for those who want a name associated with both an intellectual and an artist.
38. Oscar
A strong British name meaning, "spear of the gods", Oscar is a solid choice for any baby boy.
Achieving notoriety for his gains in boxing, Oscar de la Hoya has won multiple world titles in six weight classes. The nature of his success truly speaks to how well he lives up to the meaning of his name.
39. Harland
The name Harland has Old English roots and means "from the land of strength".
Harland Williams is a Canadian-American man of many talents. He's an actor, comedian, singer, author, artist, musician, and radio personality.
If you want a traditional, yet unique, name that honors a talented performer with Canadian heritage, Harland might be a good fit.
Harley is a fun, edgy nickname one might give a child named Harland.
40. Stewart
Stewart is a Scottish name meaning, quite simply, "steward". This is an honorable name to give to any child you hope will be a good steward of his time, talent, and resources.
A famous actor by this name, Stewart Granger, played a leading role in romance films in the early to mid 1900s. He was a handsome and talented man who rose to stardom through his appearances in the Gainsborough melodramas.
Nicknames for Stewart include Stew, Stewy, and Art.
41. Gregory
Of Latin origins, Gregory means "watchful" – a trait we all want our kids to have.
Gregory Hines was a widely known tap dancer, one of the most talented of all time. He starred in more than 40 films and even ventured over to Broadway during his decades-spanning career. If you want a name that honors the athleticism and artistry of dance, Gregory is a great choice!
Greg is the most commonly used nickname for Gregory.
You may also like: 60 Unusual Boy Names for an Unpopular Choice
42. Holt
Holt is an Old English name meaning "forest". Holt McCallany is a recent name of note, most well known for his starring role in Mindhunter.
If you're on the hunt (eh…see what we did there?) for a name that's both modern and classic, look no further. Holt is a top-notch choice.
43. Wells
Wells is a name with Old English origins meaning "stream".
While it's a unique baby boy name, one well-known Wells comes to mind – Wells Coates. He was an accomplished architect from Canada, most widely known for his work in England in the early 1900s.
44. Patrick
Who comes to mind when you hear the name Patrick? If you're like most millennial moms, it's probably Patrick Dempsey, right?
He's a talented actor best known for the role of "McDreamy" in Grey's Anatomy. He also played the leading love interest in many rom-coms making the big screen.
Patrick is a Latin name meaning "noble". Definitely not a bad choice for your newest addition.
Common nicknames for Patrick include Pat, Patty, and Rick.
45. Steven
Steven is a Latin name that means "crown".
A noteworthy name in the movie industry is Steven Spielberg. He's an American filmmaker who is considered a pioneer of the New Hollywood Era and one of the most popular producers of all time.
Steve and Stevie are nicknames for Steven.
46. Scott
Scott is a retro boy name with Old English roots meaning "a Scotsman".
An actor who brings notoriety to this name is Scott Wolf. Known for his roles in Party of Five and Everwood, his talent will live on as new generations watch these TV classics.
47. Beowulf
Beowulf is inspired by the epic poem (now made into a movie!) of the same name. This piece is thought to be one of the most influential works in Old English literature.
This name is Anglo-Saxon and means "intelligent wolf".
48. Grant
Grant is a Scottish name meaning "great". If that's not a fitting name any proud mom wants to pass on, we don't know what is!
If you need more reason to consider the name Grant, how about this – Grant Hill. He's an inspiration to kids everywhere. He was a highly-skilled NBA player who has gone on to co-own the Atlanta Hawks. His achievements show us that hard work really does pay off.
49. Rhett
The name Rhett is of Dutch origin and means "counsel". This name conveys quiet wisdom and strength.
Made famous by the classic novel, Gone with the Wind, Rhett is a treasured name we won't soon forget.
Related: Unique Baby Names from Movies for Fresh, Original Ideas
50. Teddy
The name Teddy has Old English roots and means "divine gift".
When we chatted about the name, Theodore, we shared an example of a famous historical figure, President Theodore Roosevelt.
Now, let's bring it back to 2020 and highlight the accomplishments of a modern-day Teddy – Teddy Bridgewater, young NFL quarterback for the Carolina Panthers.
Let's give our kids examples of their namesake, both new and old, so they can see the beauty in a name with historical and cultural significance.
You May Also Like: 75 Unique Canadian Inspired Baby Names
Timeless Baby Boy Names Never Go Out of Style
Well, there you have it – 50 vintage boy names. It's quite the compilation, and we hope it serves you well!
Our aim here is to bring you names you won't find on every other baby name list. We know retro names are making a comeback, but we intentionally chose ones that aren't trending right now in order to give you something different.
We dug deeper so you'd have a selection of names that are equally "old school cool", yet far less overdone.
In the end, no matter what you decide, your child will have a name that fits both his personality and your family values.
After all, mama knows best.
If you've got names you'd like to add, please share them in the comments below. We love your feedback and welcome it!
(If you're also shopping for baby girl names, make sure to check out our list of 50+ vintage girl names actually worth considering.)
If we've given you some much-needed baby name inspiration, please share on your favorite social media platforms and help us grow our reach!
Are these retro boy names "vintage" enough for you? Share in the comments!
Read Next: 65 Rare Baby Boy Names for a Truly Unique Choice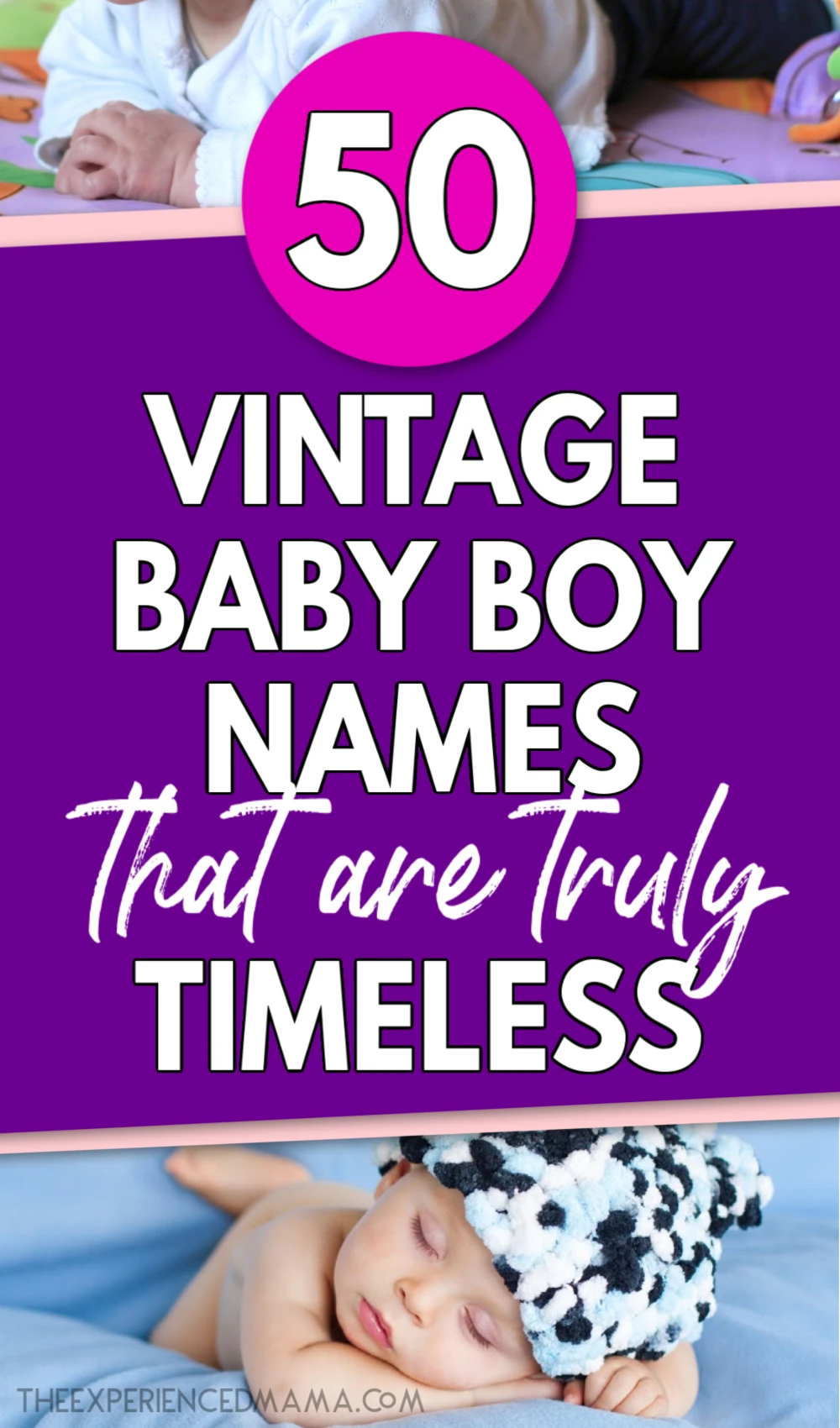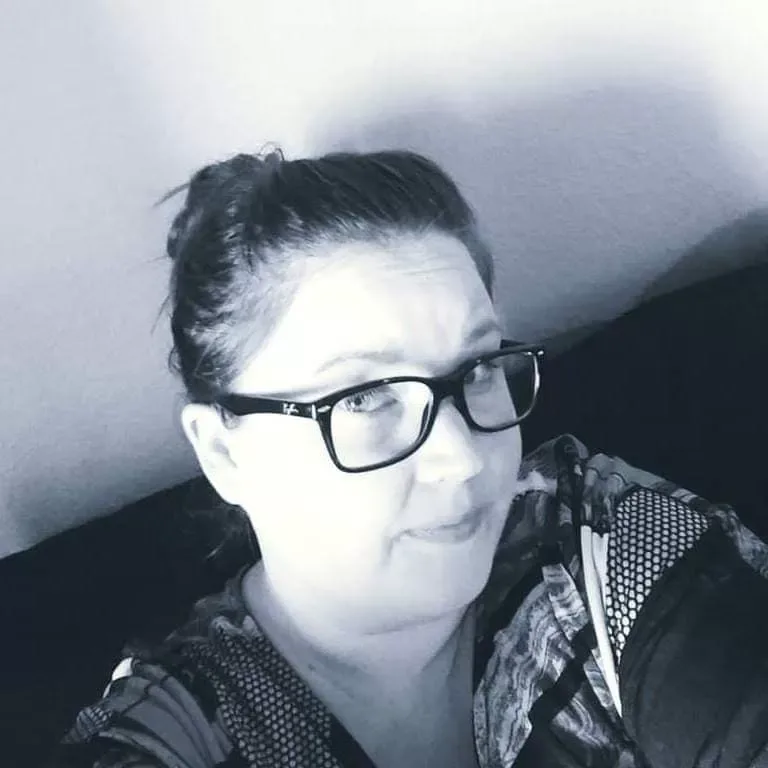 Amy is a freelance writer and blogger who homeschools her tribe of tiny humans while pursuing her lifelong dream of becoming a published author. She is fueled by coffee and the desire to do ALL. THE. THINGS. She has the attention span of a squirrel, though somehow manages to make it through each day with everyone fed and happy (well, mostly happy! Ha!) while striving to make every tomorrow better than the last. You can hear more of what she has to say over at Real Talk with Amy, where she blogs about all things motherhood.