Inside: Looking for unique baby boy names no one has? This list of 65 rare baby boy names with meanings, along with the notable (& often famous) people who have made these names valid options. Because when you're choosing a unique baby name, you probably need at least a little validation that while a name might be rare, it's not totally bizarre.
I recently read on Facebook that being a boy mom is like a lot like going through the slowest breakup ever. As a mom of twin 5-year-old boys, that is definitely speaking my language.
There's just something about little boys that melts your heart and breaks it into a thousand pieces at the same time. They sure know how to steal their mommas' hearts.
If this is your first run as a boy mom, get ready for the ride of your life. If you already have sons, well, you know exactly what I'm talking about.
Knowing there's a sweet little boy in your future, you no doubt want to pick just the right name – one as special and unique as your little one.
You Might Also Like: Unique Baby Names from Movies for Fresh, Original Ideas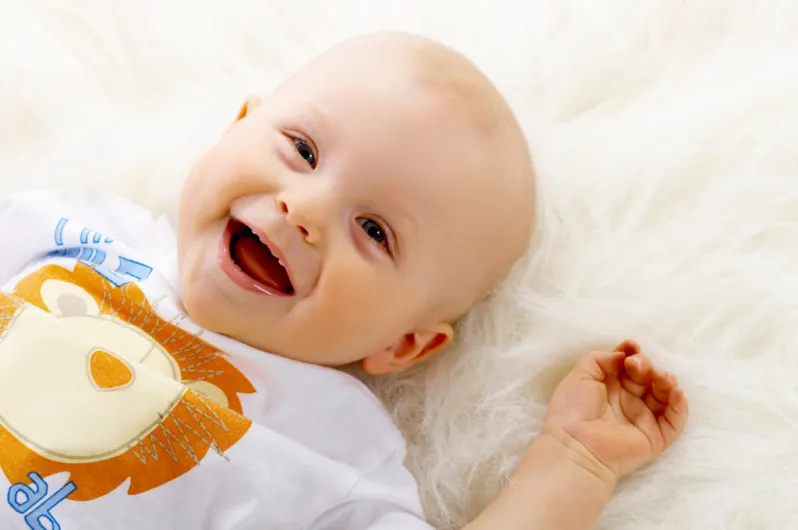 When Less (Popular) is More
THIS POST PROBABLY CONTAINS AFFILIATE LINKS. IF YOU LIKE LEGAL JARGON, YOU CAN READ OUR FULL DISCLOSURE POLICY HERE.
Today I'm sharing some handsome and rare baby boy names for you to consider as you eagerly await your son's arrival. Usually, baby name lists share the most popular and trending names.
For this to be a list of rare names, we're going in the other direction. These names weren't the top 100. They weren't even the top 1,000.
These names actually exclude the top 1,500 – or more – so you can be pretty sure your son won't need to use his last initial to distinguish himself from others in the class with the same name.
It's pretty much guaranteed that he'll be the one and only. I'm sure you'll find a rare, handsome boy name on this list that you love!
Related: Plant Boy Names That Are Actually Legitimate Options
Only a Little Twist to Make a Baby Name Unique
Some of the names might be familiar or seem more common, but often it only takes a little twist to make it special.
One big difference might be in the spelling. Even though it sounds like the more common variety, there's a lot to be said for how a name is spelled. At least Anne of Green Gables (Anne-with-an-E) says so.
Some of the names may also be shortened versions of the more popular one and appear to just be a nickname. However, in recent times, they can stand alone on their own.
Related: 75+ Cute & Unique Baby Names that are Different, Not Weird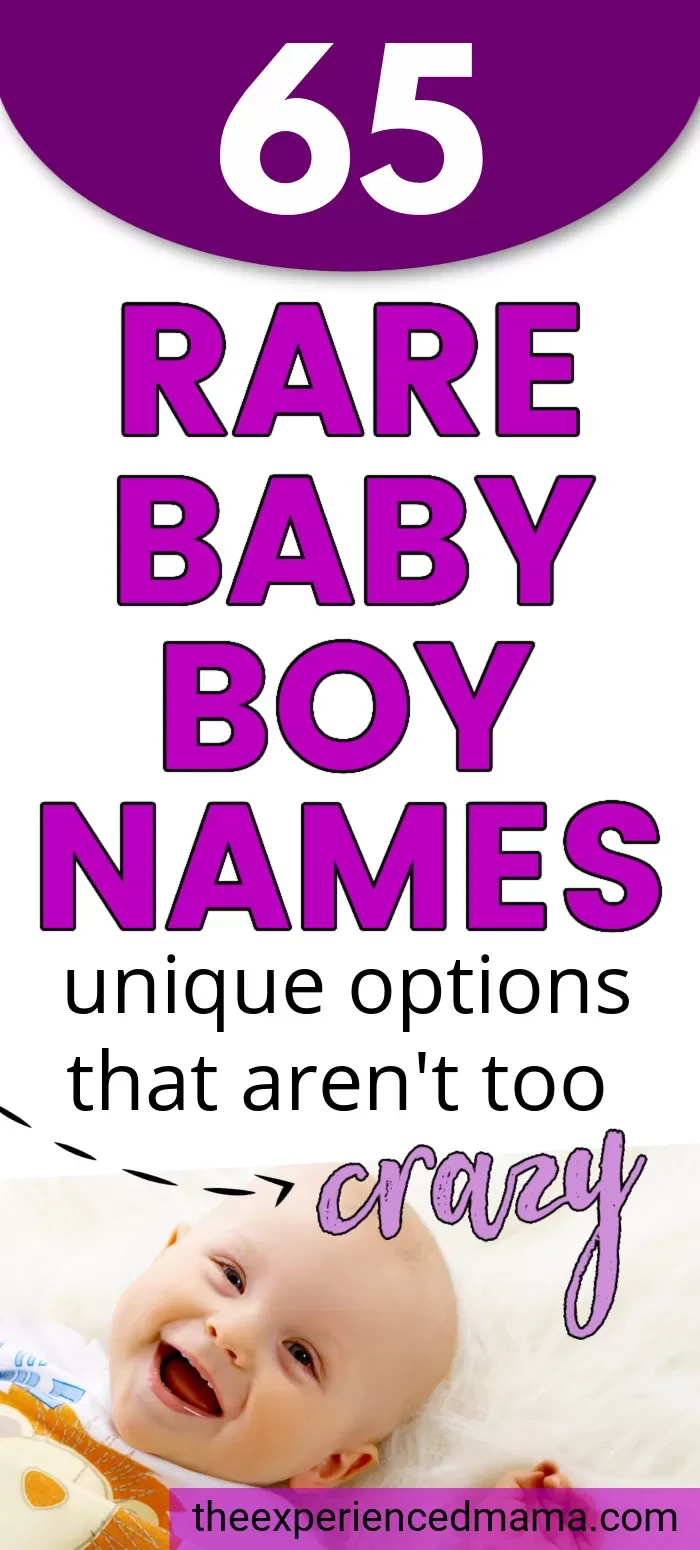 65 Rare Baby Boy Names with Meanings
Take a look through this list of 65 unique baby boy names and meanings and see if any resonate with you.
The Kindle versions of baby names books are often accessible through Kindle Unlimited (like THIS one or THIS one) on Amazon. If you haven't already used your 30-day free trial, you can sign up HERE.
1. Ansel
Of course, the famous black-and-white landscape photographer Ansel Adams comes to mind, but this German name also means "of divine protection."
2. Ashtyn
This is an Americanized spelling of the Old English name Ashton. It is a surname of someone whose settlement was known for his ash trees.
3. Axle
This is a unique spelling of the name Axl (as in Axl Rose from Guns and Roses) or Axel. It's a Scandanavian name that means "My Father is Peace."
Related: 40 Unique Unisex Names with Meanings (for uncommon gender neutral options)
4. Bailey
Having French-Norman roots (Beleau), this name spread to England in the form we now see. It means "bailiff or steward" or a name for someone who lived by an outer wall of a castle (bailey).
5. Blue
A color known for its calmness and serenity, this is a good choice for peace-loving parents! It also has associations with the adorable dog from Blue's Clues.
6. Brantlee
This name has roots in the German and Swiss name Brandle. The original spelling of the name Brantley means "sword, fiery torch;" it's also the name of country singer Brantley Gilbert.
7. Braven
Some might recognize this as the surname of the main character Joe Braven, in Jason Momoa's movie by the same title. This is mostly a family name and incredibly rare as a first name. Distinct from the popular Braden, this would truly set your son apart.
8. Brexton
This is an Old English name that means "Brock's Town." It also is a derivative of the Gaelic name Breac. Nascar driver Kyle Busch named his son Brexton.
9. Cai
From Welsh origins, this name means "rejoice," which is very appropriate for a new baby! Real-life famous people with this name are London Irish rugby star Cai Griffiths and actor Cai Brigden.
10. Campbell
This Scottish name means "crooked mouth." I personally like to think of it more as a smirk. A famous person with this name is American actor and producer Campbell Scott.
11. Canon
This is a French and English name which means "official of the church." A little guy with this name who has a really famous dad: Canon Curry, son of Golden State Warrior's basketball sensation Steph Curry.
12. Canyon
This handsome boy name is known to have both English and Spanish roots, and it means "footpath" or "a large ravine."
13. Carson
This is an American name than means "Christian." The most notable person with this name today is TV host Carson Daly.
14. Cashton
This rare, handsome boy name means "ash tree town," and it comes from English roots. Cash is a great nickname that comes along with it as well. Instagram Influencer Taryn Newton recently named her son Cashton.
15. Caysen
An Irish name that means "brave and vigilant," this is a more unique spelling of the name Cason. And if you like the sound of the name Jason, it's a more unique choice.
16. Cedar
If nature-themed names are your thing, this is a great choice! It's an American name that references the tree of the same name.
Cedars of Lebanon are frequently mentioned in the Bible, if you're also looking for a boy name with biblical appeal.
17. Clinton
Even though we may think of politics when we hear this name, as a first name, it means "hilltop town, town on a hill" and comes from English origins.
Another famous Clinton goes by the name Clint (Eastwood, that is), which would also make a stellar nickname.
Related: Old School Boy Names (You Can't Go Wrong with a Classic)
18. Coleman
This name can mean "charcoal burner" or "dove." Those are pretty diverse definitions, so you have your choice! It's an English name that comes with the popular nickname, Cole.
19. Corbyn
This is a variant of the boy's name Corbin, which is an English name that means "Raven."
20. Crue
Here's a French name with a lot of options for allusions! There's the location in Quebec, Lac de la Crue, the band Motley Crue, and it's short for Cruise or Cruiser. This name is more common in Australia as well.
21. Devyn
This name derives from both Irish/Gaelic origins (Devin) as well as Old English origins (Devon). It can mean both "poet" and "servant."
22. Dilan
This is a French name that means "like a lion." It is also a variation of the Welsh name Dylan, which means "Son of the Sea," made famous by the poet Dylan Thomas and Beverly Hills, 90210 character Dylan McKay.
23. Dre
This is often a shortened version of the French | Greek name Andre, and it means "man, warrior." Football could be in your son's future with this name, as with football stars Dre Bly and Dre Kirkpatrick.
24. Dru
This is the Americanized version of the name Drew, which comes from Andrew. This name means "manly, brave."
25. Eithan
This is a more modern version of the Hebrew name Ethan. It means "strong, firm, long-lived."
26. Fynn
This is a fun name with German and Irish roots. It means "bright, fair," which is perfect for a sweet baby boy.
You Might Also Like: Mysterious Boy Names Inspired by Literature and Film
27. Geo
This is a short-form of the name George, which means "farmer."
28. Gibson
Here's an English name meaning "Son of Gilbert." We probably recognize it most due to actor Mel Gibson, but as a first name, it stands alone as a unique choice.
29. Gilbert
Speaking of Gilbert, this is an English name meaning "bright pledge." The fictional character Gilbert Blythe in the Anne of Green Gables series from LM Montgomery has been known to make many female hearts swoon. Nickname "Gil" makes it a strong option.
30. Hoyt
This is an English name that means "stick." Originally, it was a nickname that was given to skinny or thin boys. A famous person with this name was Hoyt Axton (that last name would be a cool choice, too!), a folk singer during the 1960s.
31. Huck
If you have a love for lovable characters from American fiction, you might love this name! The Adventures of Huckleberry Finn, by Mark Twain, made this a household name. It means "sweet huckleberry" and is also the name Brad Paisley and Kimberly Williams-Paisley's son William Huckleberry Paisley, also called Huck.
32. Isaak
This is a variation of the Hebrew name Isaac, and it means "laughter." Isaak spelled with a 'k' was more common during the 1800s than it is today, making it a rare baby boy name choice.
33. Jarrett
This is an English name which means "spear" and "brave." Real-life famous person with this name is Jarrett Bush, football cornerback on the Green Bay Packers.
34. Jed
This is a short form of the name Jedidiah, but it now stands by itself as its own name. It's a biblical Hebrew name that means "beloved of the Lord."
35. Jhett
A variation of the name Jett, this name means "wild spirit." Actor John Travolta and Kelly Preston named their son Jett.
36. Jones
Although a common last name, it's a unique first name for a boy. It comes from English origins and means "God is gracious."
37. Jordy
Often viewed as a shortened form of Jordan, this name has Hebrew roots. It means "to flow down, flowing river" and often evokes images of the beautiful Jordan River. And to go along with the water theme, there's surfer Jordy Smith.
38. Kal
A Finnish name that means "strong," and it's a powerful, simple, name. Actor Kal Penn is a famous person with this name.
39. Kasey
Here's a more unique version of the name Casey, which means "brave, alert, watchful."Real-life famous person with this name is Nascar driver Kasey Kahne.
40. Kelly
Popular as a girl's name and common as a last name, Kelly is rarer as a boy's name. It means "bright-headed" and has Irish roots. Kelly Coleman, Kelly Chase, and Kelly Brown are all famous athletes with this name.
41. Kendrix
This name has Welsh origins, and it means "greatest champion," "royal chieftain," and "bold ruler." This boy name definitely has promise!
42. Kennedy
Most notable is the political royal family, but it also is a unique first name for boys. It's an English version of the Irish name and means "helmeted chief." But you should know that some say it also means "ugly or misshapen head" – just so there are no surprises.
43. Kirk
A Scandanavian name that means "church," this is also the name of the popular 80s TV sensation Kirk Cameron.
44. Koby
This Hungarian name is thought to be a variation of the name Coby and a short form of Coburn. Baseball star Roger Clemens named his son Koby.
45. Kodi
This is a derivative of the name Kody. It has English, Gaelic, and Celtic origins, and it is said to mean "helper" and "helpful."
46. Kris
Kris with a "k" is typically seen as an alternate spelling for the name Chris, which is often short for Christian. The name means "Christ-bearer" and "follower of Christ." Baseball player Kris Bryant is an athlete with this name.
47. Kurt
If manners are important to you, this is a good choice! This German name means "courteous, polite." Real-life famous people with this name are musician Kurt Cobain, actor Kurt Russell, and Nascar driver Kurt Busch.
48. Linkin
This is an English name that means "lake colony." It can be found in Latin writings dating back to the 7th century!
49. Matty
Meaning "strength in battle," this German name is full of promise for a baby boy. It's a derivative of the name Matthew.
50. Montana
Having Latin origins, this name means "mountain" and evokes images of the majestic, rugged, untamed West.
Montana appears to be more common as a last name, with tennis player Francisco Montana and actor Lenny Montana bearing the moniker. There's no better time to make this a first name, too!
51. Quintin
Meaning "fifth," this would be a perfect choice for a 5th child. It has Latin roots, is an alternate form of Quentin (Quentin Tarantino is the most famous person with this name), and comes with Quin as an adorable nickname.
52. Pax
The Latin word for "peace," it can also be a shortened form of the name Paxton. Angelina Jolie and Brad Pitt have a son named Pax.
53. Presley
Name recognition is largely due to singer Elvis Presley, but it's a unique choice for a boy's name as well. From English origins, it means "the priest's field."
54. Ren
With Japanese roots, this strong and handsome boy name means "lotus" and is a poetic option. It's popular in Japan but would be a rare choice in English-speaking countries. Could be a great choice if you're a Star Wars fan and loved the most recent trilogy with Kylo Ren.
55. Riggs
This English name is more often a surname than a first name, but that's what makes it a unique choice for a boy. It refers to someone who lived on a ridge or in the village of Ridge in Hampshire, England.
56. Rogan
If you have red hair in the genes, this Irish name means "redhead," which would be perfect for a little ginger.
57. Ross
A Scottish and Gaelic name, it means "headland, cape." A more recent famous Ross would be the character on the TV show Friends, Ross Gellar.
58. Rylee
This Irish name means "Descendant Of Roghallach." It's also said to be derived from "ryge" (rye) and "lēah" (wood, meadow). Some also define it as "courageous or valiant."
59. Shep
An English name meaning "shepherd," this is a great pick for a family that has farming in its blood. The co-founder of the male clothing line Vineyard Vines is Shep Murray. It could also be a nod to Grey's Anatomy's dreamy and brilliant brain surgeon Derek Shepherd.
60. Sloan
This name has a few meanings that all complement each other: "little raider," "expedition," and "invasion." There's certainly some adventure in this boy's future!
61. Trae
A modern English version of the Old English name Trey, it means "three" and would a fun choice for a third child or son. American football cornerback Trae Williams put this name on the map.
62. Vin
With both Latin and English origins, this name means "conquering." It can be short for Vincent, and it's most recognized due to actor Vin Diesel.
63. Wayland
Meaning "land by the road," it has an English heritage. Country singer Waylon Jennings' original name was Wayland.
You Might Also Like: Best-Sounding Middle Names That Go With Maverick (With Meanings)
64. Wiley
This Old English name means "crafty." Buyer beware but maybe expect big things? Wiley Post was the first pilot to fly around the world solo.
65. Xion
This variation of the Hebrew name Zion is a unique choice with biblical significance, being a reference to the city of God. It was first coined with this spelling by Tomoco Kanemaki, writer of the Kingdom Hearts Novels.
Related: 60 Unusual Boy Names for an Unpopular Choice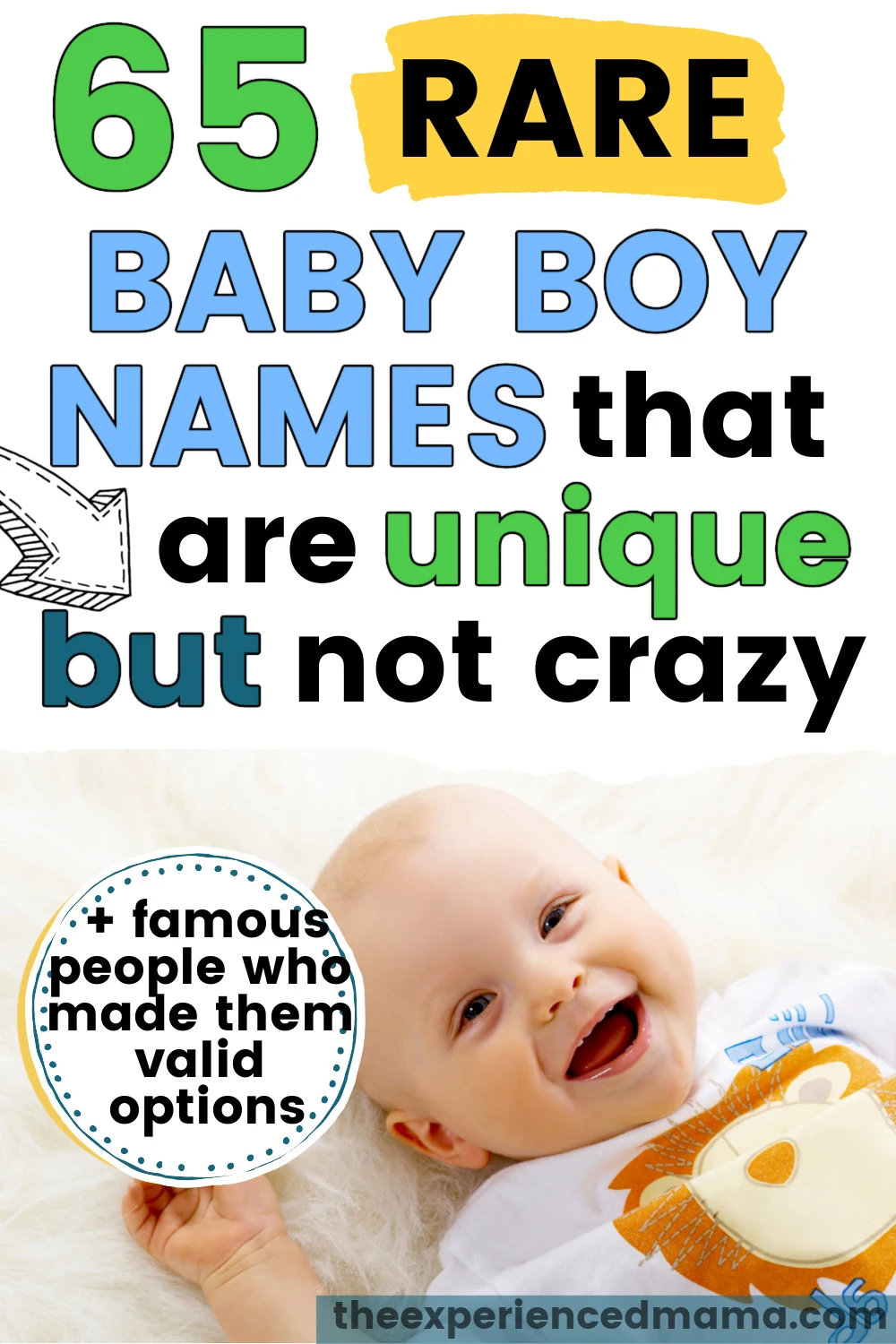 When You Find the Right Baby Boy Name, You'll Know
Picking a baby name is such a big decision! It's a word you'll likely say every day of your life.
Many couples go back and forth on names throughout the whole pregnancy, and some don't even decide their baby son's name until they see his face. But you can never go wrong with a rare and unique name for a baby boy.
However, as with wedding dresses and husbands, you'll just know when you've found the right one.
Read Next: 50 Vintage Boy Names that are Truly Timeless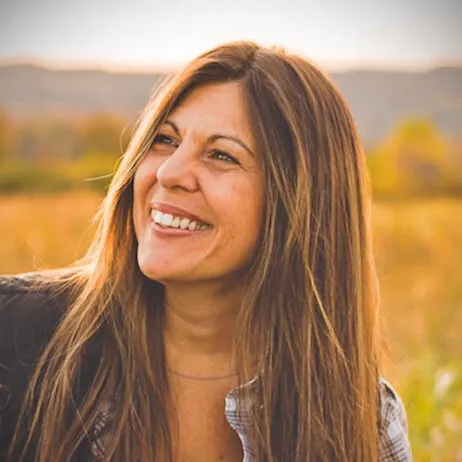 Kate is a former high school English teacher and current SAHM to her 5-year-old twin boys. A lifetime New Yorker recently transplanted in Tennessee, she keeps busy by learning her new way of life in the South, doing home decor and DIY projects, blogging at A Hundred Affections, substitute teaching, and figuring out how to survive in a house outnumbered by boys. And she loves Jesus very much.