Inside: Frustrated while searching for baby shower game gift ideas? We came up with the perfect list of useful, sure-to-be-fought-for prizes, so guests don't end up having to regift their latest candle. Again.
There are so many details to keep up with when planning a baby shower.
When I'm the one hosting, I tend to get caught up in the weeds of preparing the food, picking a theme, planning a few games…and then totally forget there should probably be some prizes involved.
It's really not that guests expect to receive a gift. They are bringing gifts, after all.
But it just seems like a nice gesture.
It's tradition, and of course, an incentive to encourage people to actually participate in the baby shower games, which let's be real, can be a little corny by design.
These small tokens can sometimes be an afterthought, but they don't have to be! We've curated a guide to help you find awesome baby shower prizes for guests (that they'll actually want).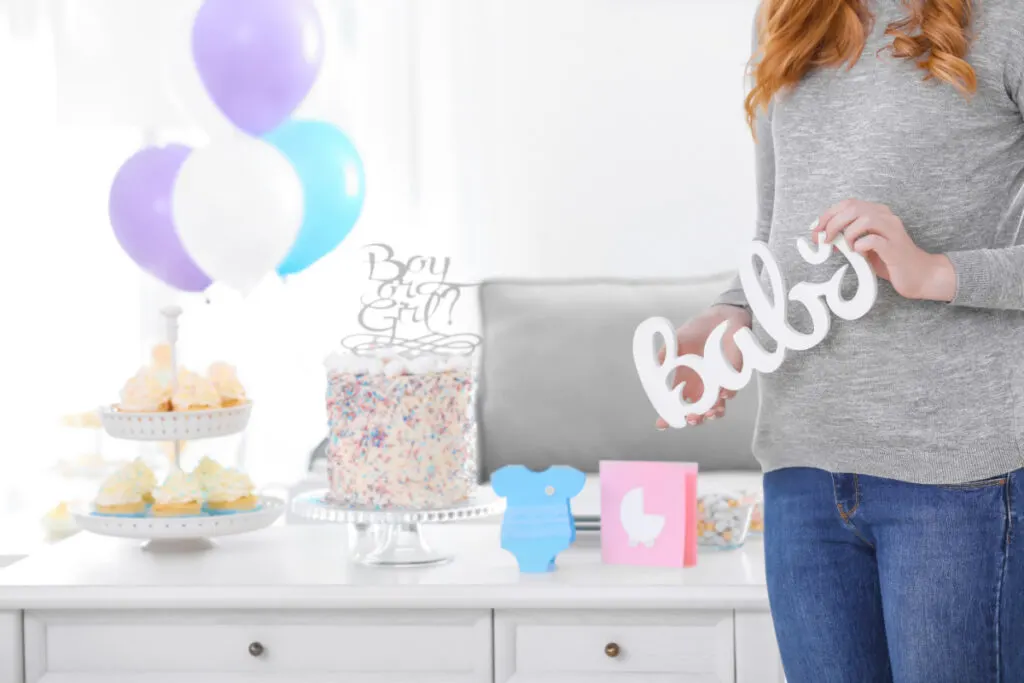 Choosing the Right Prizes for Baby Shower Games
THIS POST PROBABLY CONTAINS AFFILIATE LINKS. AS AN AMAZON ASSOCIATE, I EARN FROM QUALIFYING PURCHASES. YOU CAN READ OUR FULL DISCLOSURE POLICY HERE.
A few things to keep in mind when choosing the right baby shower game prizes.
Consider your guest list – ages, interests of your guests. For instance, a baby shower with extended family might include anyone from kids to husbands to elderly great-grandparents.
You may want to have a greater variety of goodies for this type of gathering and include some gender neutral, family-friendly options.
Edible gifts are usually safe in most cases, unless you're aware of allergies.
If your baby shower attendees are mostly younger women, that makes it a little easier as you can tailor your selections to a more specific group.
Related: 15 Things to Do At a Baby Shower Besides Games (Because Not Everyone Likes Games)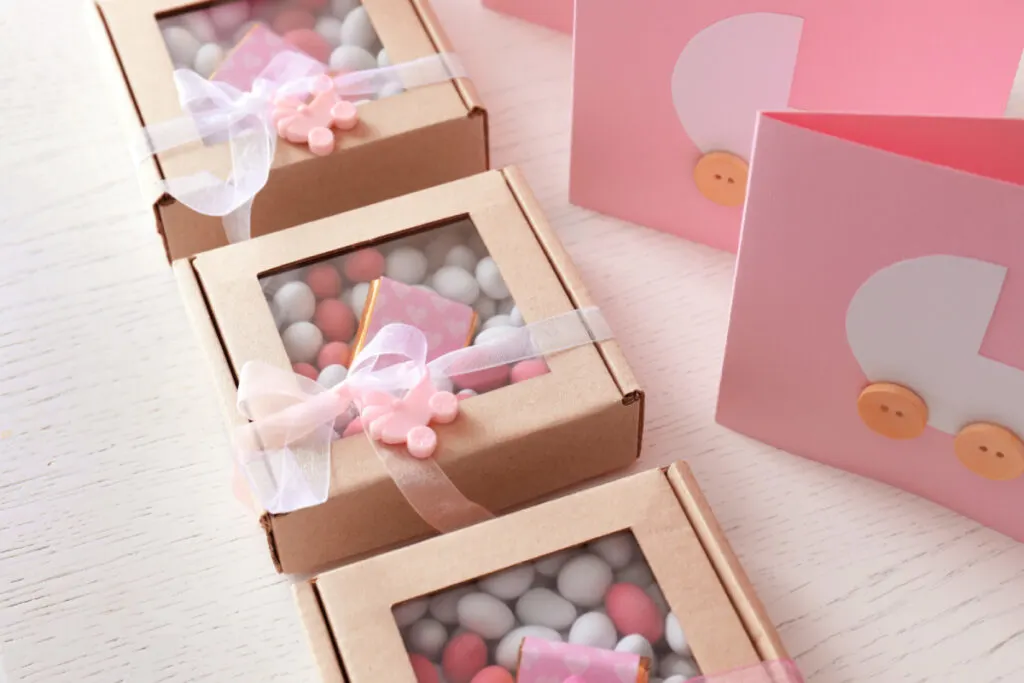 The Best Baby Shower Game Gift Ideas (Stuff They'll Actually Want to Win)
Take a look at this list, which should give you ample prize choices, assuming you aren't preparing 32 games.
(Please, don't plan 32 games. Your guests will thank you.)
Our goal was to think of prizes that don't cost an arm and a leg (they're all around $20 or less), while not being cheapy-cheap either.
And, with any luck, these are items that your guests will actually keep and enjoy long-term.
Even better, these ideas don't require loads of creativity or planning, because you have enough to do, right?
Pro Tip: Don't wrap your prizes. Always let your guests choose which one they would like. It's part of the fun, and it builds anticipation for the next game as they see what's up for grabs!
You Might Also Like: Eco-Friendly Baby Shower Favors for Sustainably-Minded Moms
1. Leather Wristlet
This wristlet is super nice (Italian leather), and very versatile.
Singles can use it as a purse and moms with kids can slip them into their gigantic tote as an organizer/wallet.
2. Skincare Set
Brands like Burt's Bees are a good pick because their ingredients are clean and usually allergy-friendly, so they can work for just about anyone.
3. Shower Steamers
Shower steamers are more of a luxury self care item that I wouldn't think to buy for myself, but would be great to try.
Your guests might think so, too.
4. Makeup Bag
Makeup bags just get funky and need to be replaced from time to time.
So you can help a sister out with a serious upgrade like this hanging toiletry bag which is ideal for travel.
5. Press-On Nails
Older women even appreciate having nice-looking nails, so this is a versatile gift.
Press On Nails are easy to apply and last longer than a typical manicure, and these ones don't require an LED lamp to cure.
6. Hand Warmers
This gift would be perfect for a winter baby shower! These fast-charging little guys will keep your hands warm for up to 12 hours.
(Only Caveat: They're a little more pricey than the typical baby shower game prize.)
7. Bluetooth Speaker
This speaker goes anywhere, even in the shower. (I have yet to buy one for my shower, but I want one!)
If you happen to have men coming to your baby shower, be sure to have a few gifts for shower games like this one.
8. Bluetooth Earbuds
A pair of wireless bluetooth earbuds are a great gift especially for teens who might participate in baby shower games.
9. Tea Assortment
Try an assortment of a trendy tea brand like Stash. This assortment includes 25 different flavors.
Another option is a loose leaf tea variety, and you could include a tea infuser.
10. Coffee Assortment
Pick up a bag of your favorite, local coffee beans and pair with a tea towel or a mini frother.
Or if randomly, you don't have a lot of coffee drinkers, put together a high quality hot chocolate basket, instead (another great winter baby shower prize).
11. Hot/Cold Tumbler
A nice, insulated skinny tumbler that can be used for either coffee or water is an easy winner.
And, bonus: as long as you choose the color carefully, it's another gift that works for either women or men.
12. Hand Soap Set
Stick to something fancier than usual, but also non-toxic, like THIS J.R. Watkins foaming hand soap trio.
And while men might not be thrilled for this prize…no one likes spending money on hand soap. It's right up there with buying toilet paper.
13. Movie Snack Basket
Stock this basket (or reusable bag) with all the movie snack staples! Just channel your inner Lorelai Gilmore.
Make sure to include:
Popcorn
Candy
Chips
Chocolate
You could even tuck in a $10 iTunes gift card to rent a movie or two.
14. Measuring Cups
This stoneware set is whimsical and high quality. It would also look great on a kitchen shelf between uses!
I never seem to never have enough measuring cups when I need one.
15. Mini Waffle Maker
These little waffle makers are so much fun! There's one for every holiday, too.
Throw in some maple syrup for a gift basket pairing.
16. Coffee Table Book
Choose from some favorite coffee table books that could appeal to a wide range of interests such as:
17. Tabletop Clock
Look for one like this rectangular one or THIS vintage round one that is functional and doubles as modern decor.
18. House Plant
Plants used to be reserved for funerals or new homeowners.
But now everyone seems to love a cute, easy to care for houseplant, such as this snake plant.
19. Any Occasion Card Set
A set of all occasion cards can be a lifesaver when you're running to a party and forgot to buy a card.
Pair it with a set of THESE felt Sharpie pens.
20. Treat-in-a-Jar
There are tons of DIY ideas you can find which can be layered in a mason jar for a cute gift:
You could pair it with dish towels if it doesn't feel like enough.
21. Freeze-Dried Candy
This is a novelty item that is really fun to give as a gift. (Skittles is a fan favorite, I've heard!)
Local boutiques and craft vendors may carry them near you.
22. Faux Fur Throw
I gifted myself one of these this year and my whole family fights over it!
23. Quality Basket
A decorative woven basket is a nice gift in itself. (Target has a ton of great options!)
But you could also throw in some candy, homemade treats, or dish towels, too.
24. Fun Card Game
Card games are board games' inexpensive cousins. They're also typically faster, too, which can be a huge bonus!
Taco vs. Burrito is a popular card game that can be enjoyed by all ages.
What do you Meme – Family Edition is another family-friendly option.
25. Fancy Chocolates
Few people will turn down chocolate, and a Ferrero Rocher gift box is a favorite of many.
26. Gourmet Cookies
Etsy has a huge selection of drool-worthy cookies, like this box of French macarons.
Or you could order a selection from your local bakery or farmers market.
27. Sunglasses
Who doesn't need an extra pair of sunglasses to stash in the car or beach bag?
Pick up a stylish pair of oversized vintage shades like these for the trendsetters in your group.
28. Foot Spa
This bubbly massaging foot spa is priced just right for a baby shower game gift for guests.
29. Dryer Balls (with EOs)
Maybe guests aren't essential oil lovers, but no one can argue with replacing expensive (and questionable) dryer sheets with THIS set of reusable dryer balls.
Pair with a few common and inexpensive essential oils like…
Make sure to include an index card explaining how to use them with the oils.
30. Pyrex Glass Storage Set
Go 100% practical with this baby shower prize!
A small, three size pyrex glass storage set can introduce someone to glass Tupperware, so they know if they like it.
31. Gift Cards
It never hurts to have a gift card on standby for the picky ones at the party.
Starbucks, Target, Barnes & Noble, and Amazon are all good choices.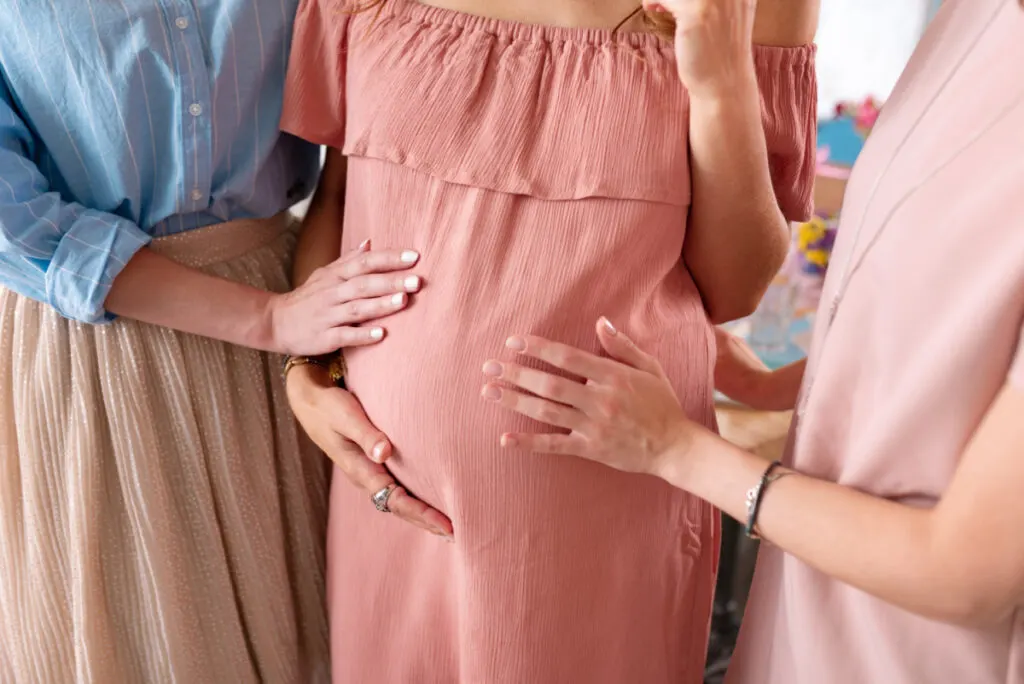 Save This Post: Baby Shower Game Prizes That Aren't Candles
If you've been hunting baby shower gifts for games, we hope a few of the selections on this list helped to narrow down your search.
Now, you can go back to making that diaper cake – with one less task to worry about on your shower-planning checklist!
Read Next: How to Throw a Baby Shower for a Minimalist Mom (Do's & Don'ts)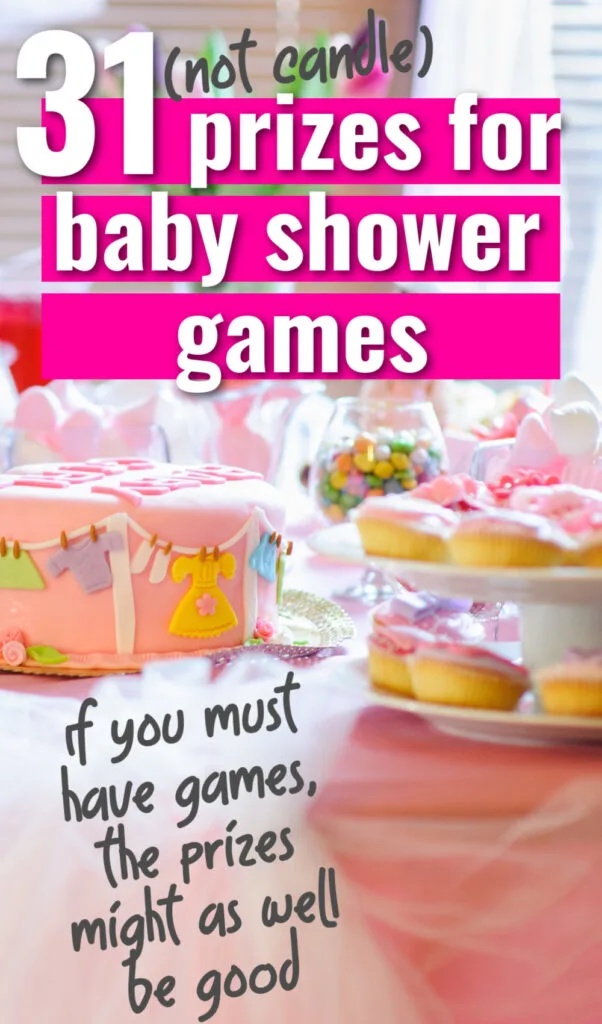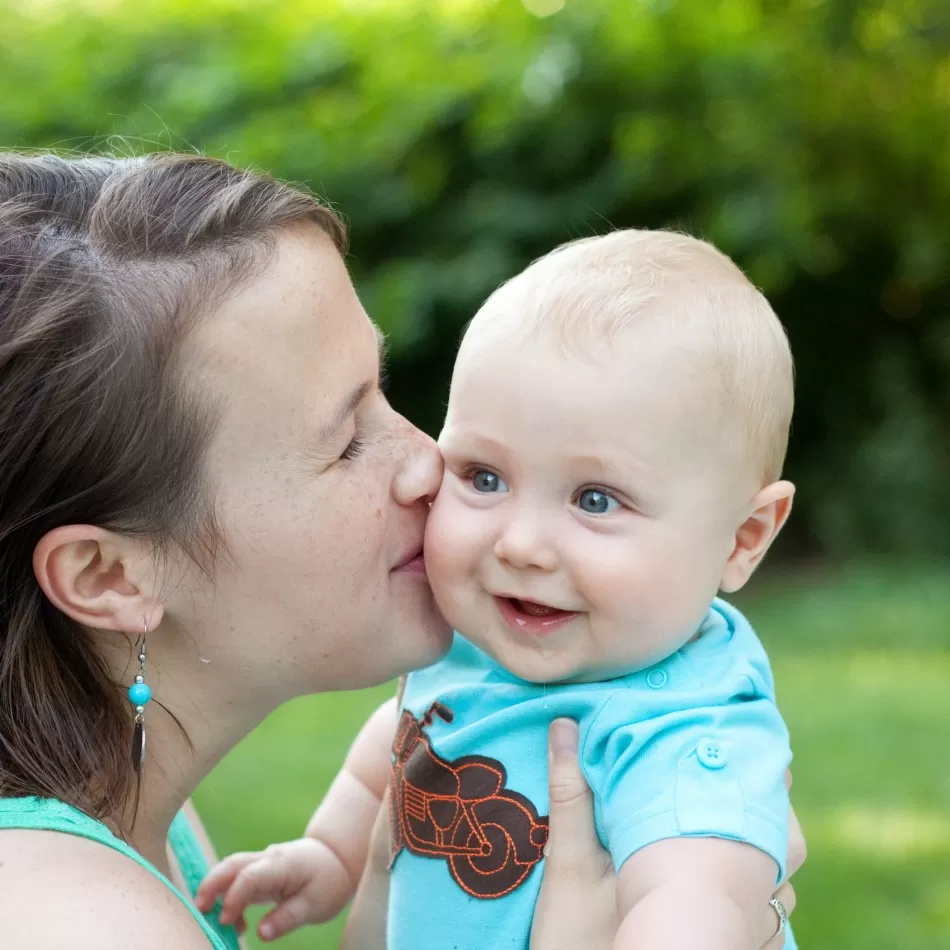 June could talk to you all day about homeschooling, parenting, and minimalism. When she's not homeschooling, decluttering, or blogging, she loves to enjoy perfect silence while sipping a hot cup of coffee and thinking uninterrupted thoughts—which, of course, with five kids, doesn't happen very often.