Inside: Looking for baby shower cupcake ideas? With cupcake options for every taste, season and theme, you're sure to find what the perfect cupcake for the shower you're planning!
I recently attended a 4-year-old's birthday party, and the parents purchased a gorgeous birthday cake.
With a Super Mario theme, there were mushrooms and Princess Peach and stars – fondant galore. It was honestly the most creative and beautiful cake I've ever seen up close.
But…
That beautiful cake tasted "meh" at best. All that fondant…I couldn't even finish my slice.
And have you seen the price of bakery cakes? YIKES. I'm sure it cost them a fortune.
With rising costs of well, everything, DIY cupcakes can be a MUCH cheaper option for a baby shower host.
Sure they take a little time up front, but you can make them a day or two in advance.
Just find a decent cupcake frosting tutorial, borrow a cupcake stand or two, and you're good to go.
(Plus, homemade frosting is to die for, whether you go with buttercream, whipped or cream cheese.)
Does it take a little extra time? Sure. But in the end, it very well might be worth the price of that fancy bakery cake.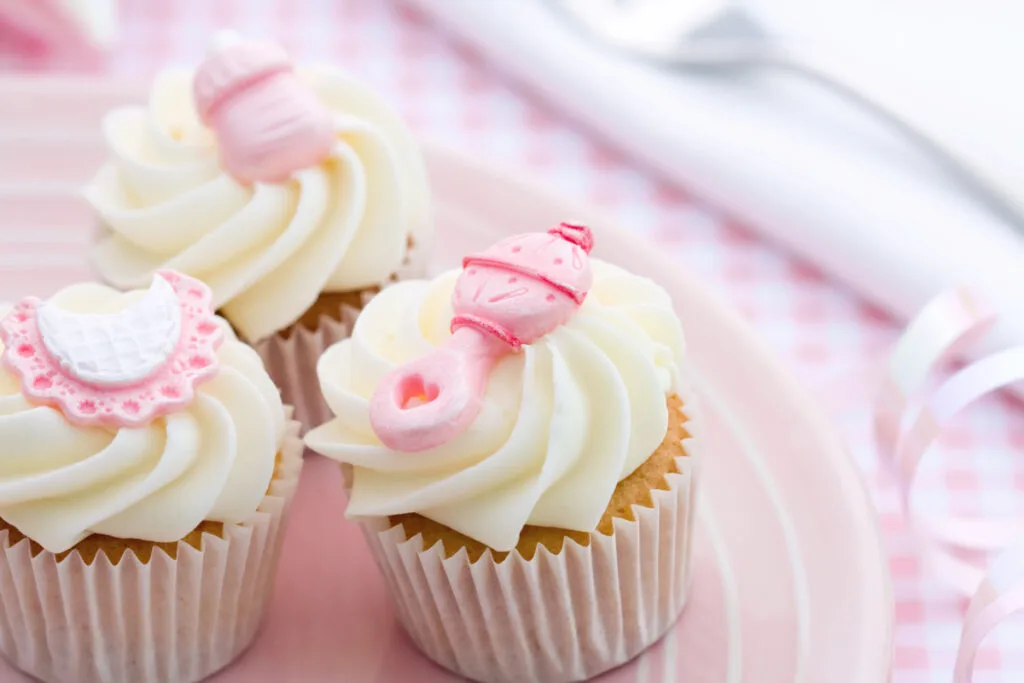 Delicious Baby Shower Cupcake Ideas
THIS POST PROBABLY CONTAINS AFFILIATE LINKS. AS AN AMAZON ASSOCIATE, I EARN FROM QUALIFYING PURCHASES. YOU CAN READ OUR FULL DISCLOSURE POLICY HERE.
I've rounded up some of the most delicious cupcake ideas! There are choices for just about any baby shower theme, mom and/or host.
Planning a fall baby shower? Go with THIS one or THIS one.
Want ridiculously easy, from a cake mix cupcakes? THIS recipe is for you.
Does mom love key lime? There's a cupcake for that, too.
There's even a gluten-free option if mom needs gluten-free.
Also, if you can't find a cupcake stand to borrow and you don't host baby showers often, THIS one is cardboard, but still looks great.
So pick a cupcake recipe, and save your money for things like eco-friendly favors and prizes for baby shower games.
Or, I don't know, a diaper tree for the new mom? She'll thank you later – trust me.
You Might Also Like: Simple Baby Shower Food Ideas (Easy AND Affordable!)
1. Easy Chocolate Cupcake Recipe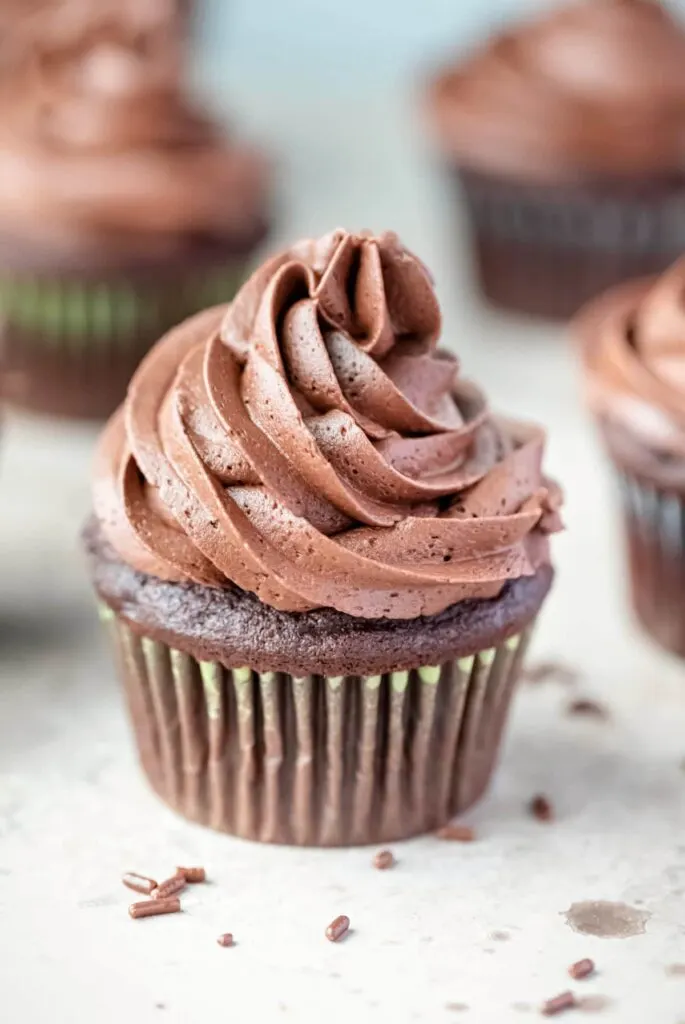 The keyword here is EASY.
If you're looking for the easiest possible recipe, and mom loves chocolate? This recipe is the one for you!
Make these easy chocolate cupcakes, and choose wrappers and fun sprinkles to go with your theme.
2. Lemon Blackberry Cupcakes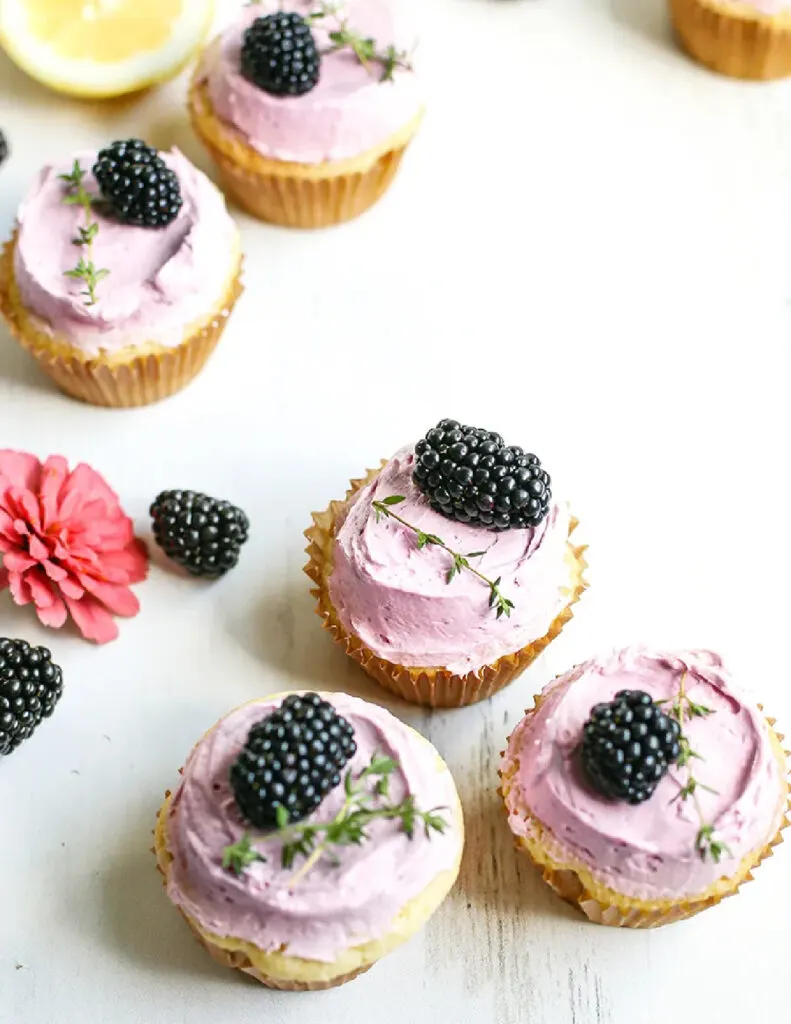 These would be perfect for a spring or summer baby shower!
A light lemon cupcake with blackberry buttercream frosting. YUM.
Plus, you can't beat her gorgeous presentation ideas.
3. Maple Bacon Cupcakes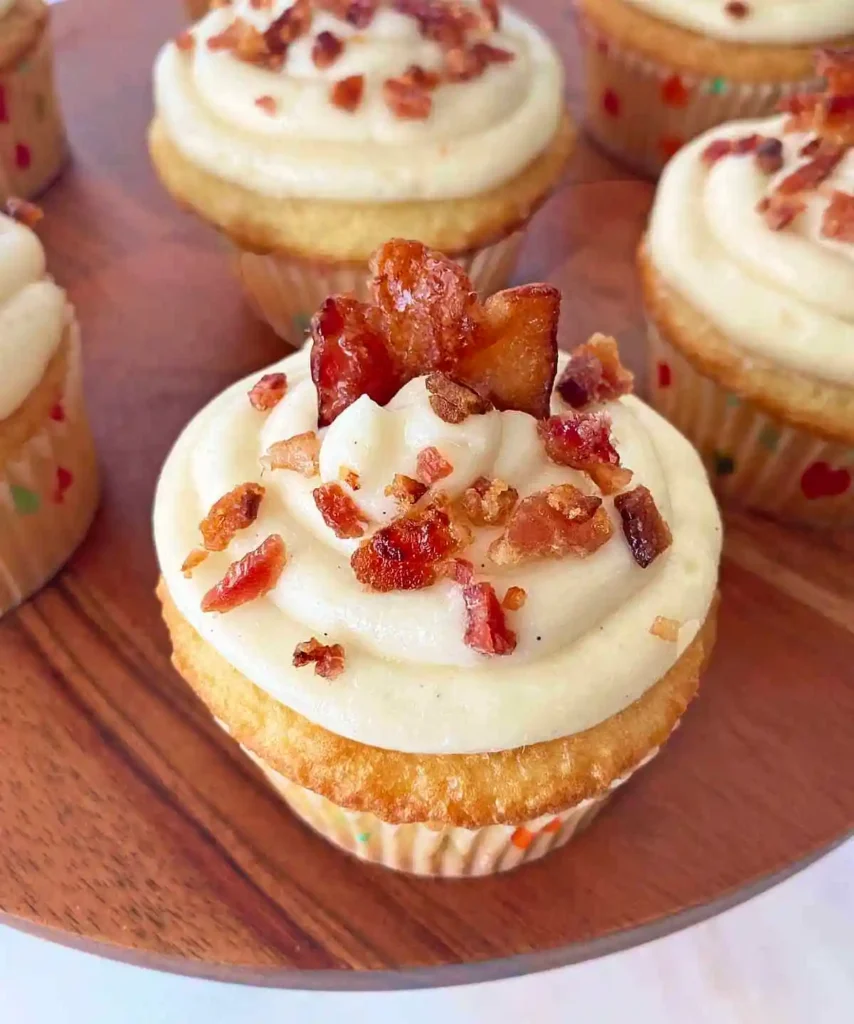 If you've ever had a maple bacon donut and adored it, this cupcake is for you!
Perfect for a fall or winter baby shower, or just an expecting mom who LOVES bacon, these are the cupcakes for you.
You can this maple bacon cupcake recipe HERE, complete with a vanilla bourbon buttercream.
If you're concerned about one tablespoon of bourbon in the frosting, simply omit it. I'm sure they'll be delicious without it!
4. Strawberry Lemonade Cupcakes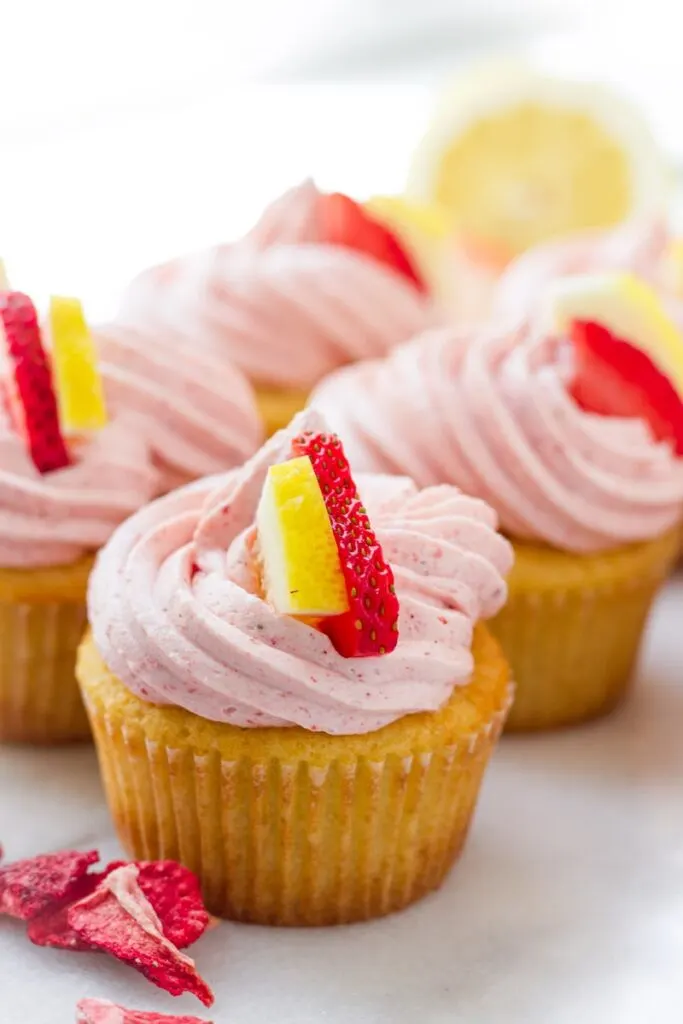 These cupcakes would be dreamy at a summer baby shower.
You could center the whole theme around lemonade! Complete with a drinks table offering several different flavors of lemonade.
These strawberry lemonade cupcakes have a lemon batter with 1/4 cup lemon juice and lemon zest, and a strawberry frosting with freeze-dried strawberries.
5. Chocolate Explosion Cupcakes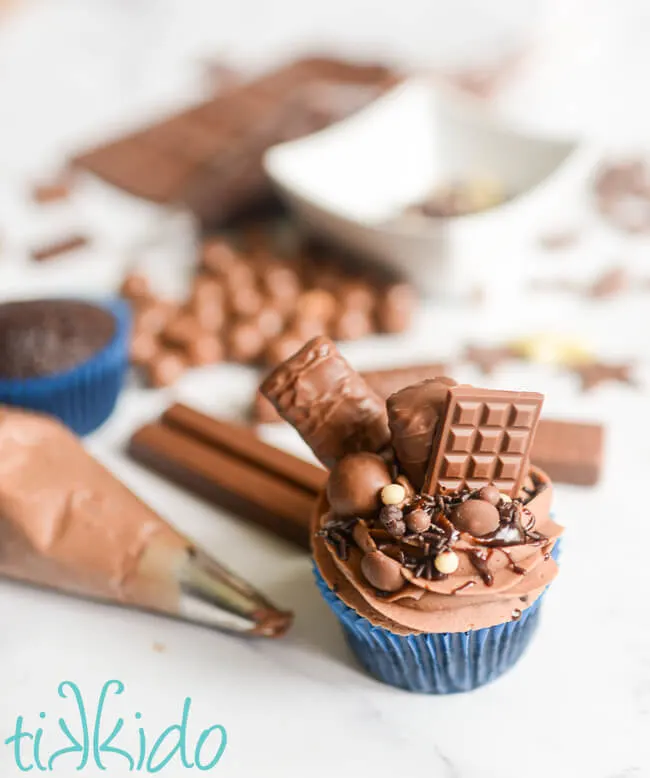 If you're really wanting to up the chocolate factor, try these chocolate explosion cupcakes.
There are several different chocolate candies stuck into the frosting on top.
They definitely make a statement! So if mom loves chocolate candy, go with this recipe.
6. Carrot Cake Cupcakes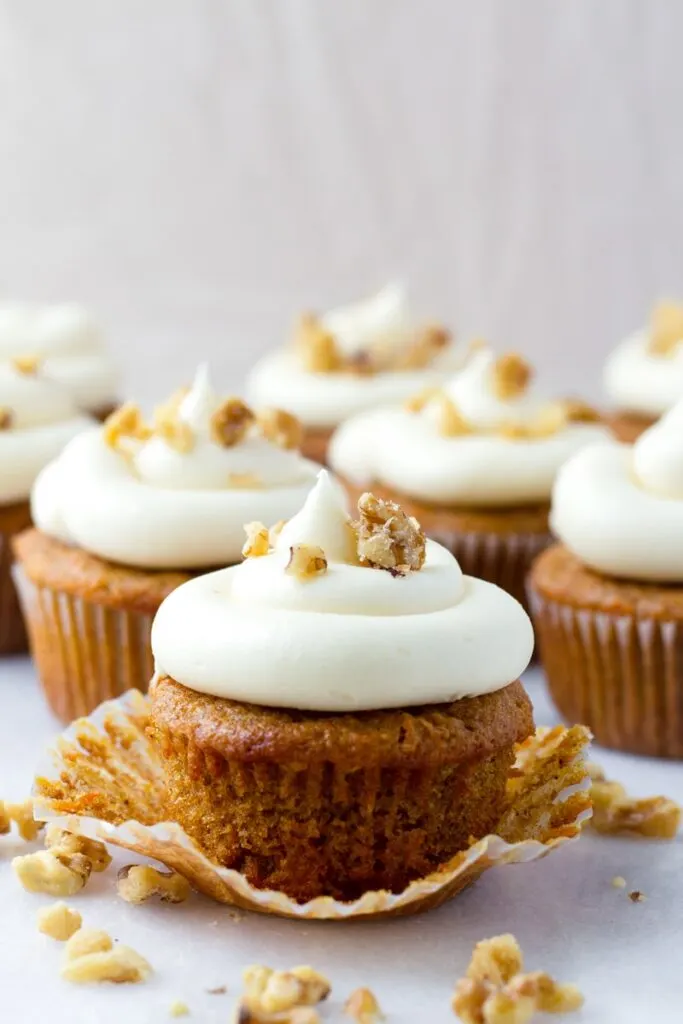 If carrot cake is your jam, then you'll love these carrot cake cupcakes!
Just as a heads up, these are a little more time intensive, between grating the carrots and chopping the walnuts plus mixing the other ingredients.
They could go great with a Peter Rabbit themed party. I can picture those adorable little books spread out on tables for decor, then given to the mom-to-be to start her baby's first library.
In my book, carrot cake cupcakes plus cream cheese frosting = YES, PLEASE.
7. Strawberry Crunch Cupcakes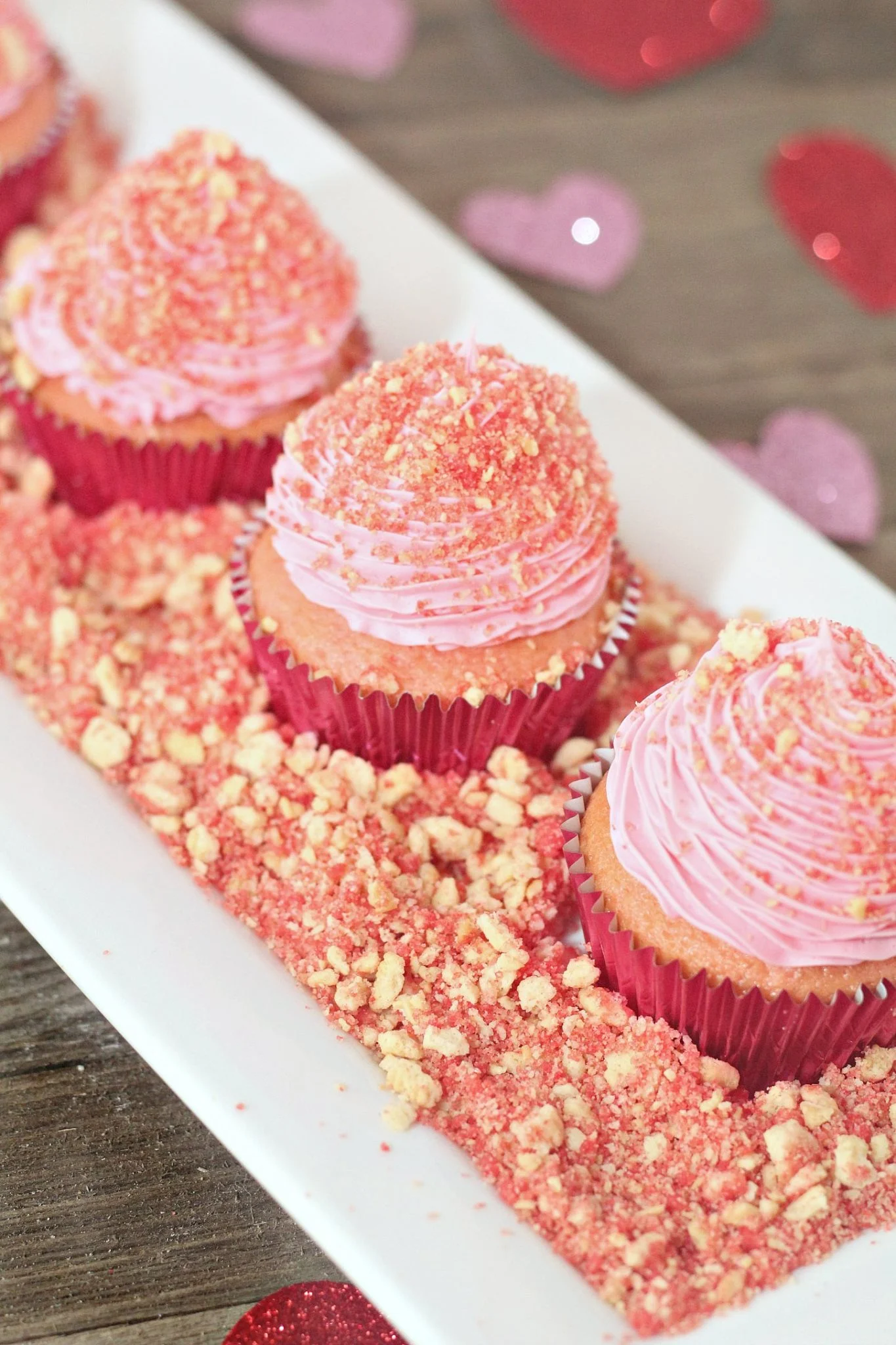 Do you remember those strawberry crunch ice cream bars from the ice cream truck? Well, these strawberry crunch cupcakes will bring you right back to your childhood.
The batter is pretty straightforward with a strawberry cake mix base. The only thing complicated is the topping.
Perfect for any "all things pink" baby shower!
8. Cinnamon Cupcakes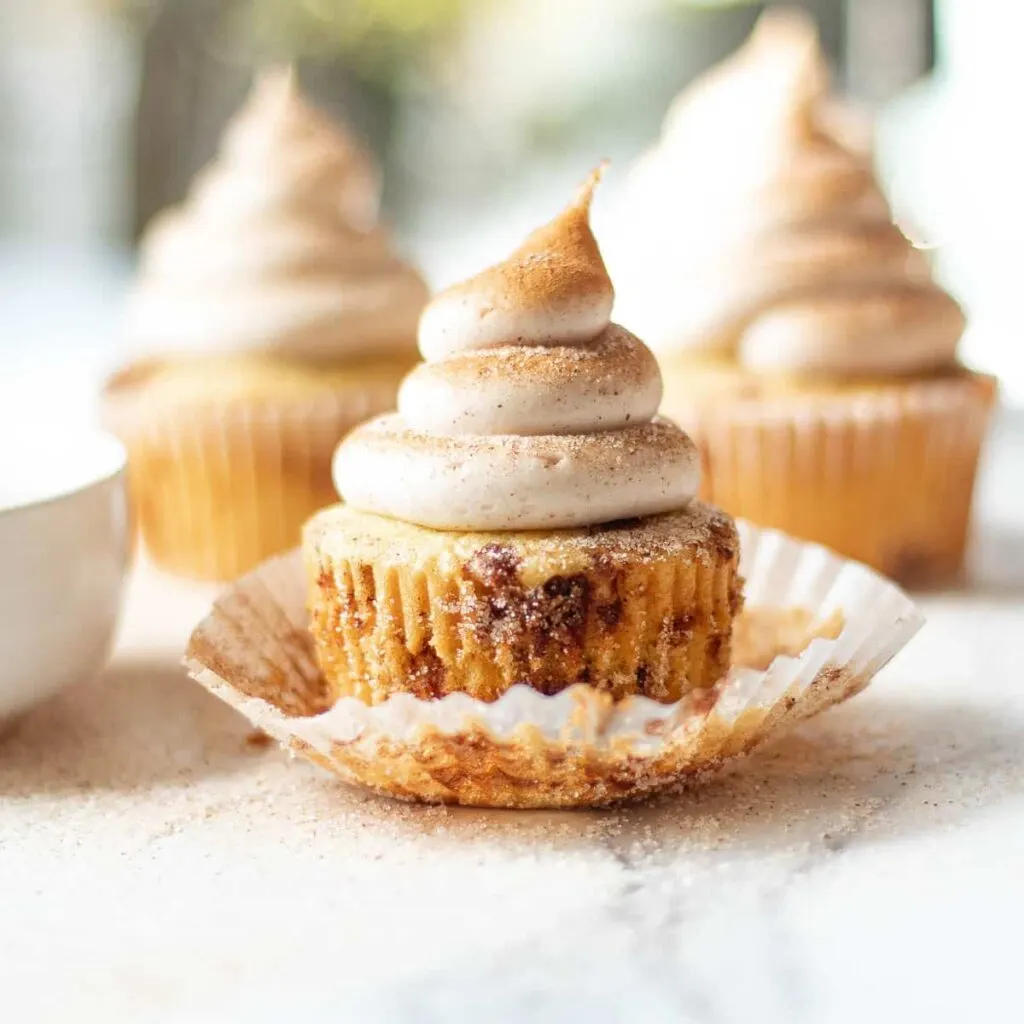 These cinnamon cupcakes look so delicious! They're a great, neutral cupcake choice that could go with a lot of different baby shower themes.
The best part is they're SUPER easy, starting with a box mix and an additional few ingredients.
You do need to layer the cupcakes with a cinnamon brown sugar mixture, but the batter is simple.
They finish with a scrumptious cinnamon cream cheese frosting.
9. Bailey's Cupcakes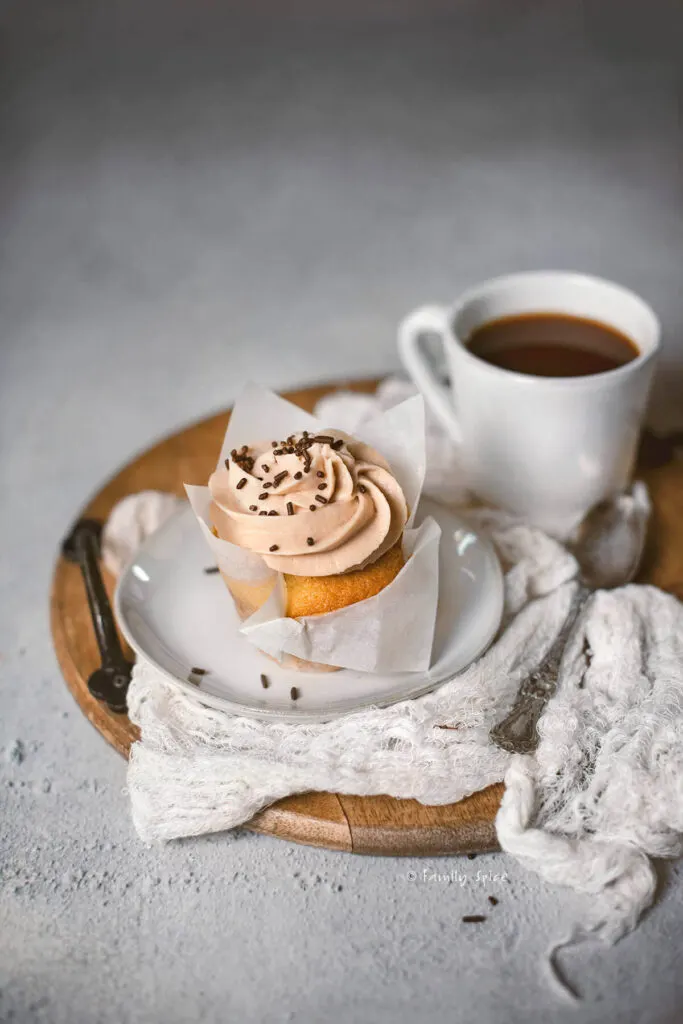 If you or the mom-to-be love Irish Cream, these Bailey's cupcakes are perfect for the baby shower!
THESE tulip cupcake liners really upgrade the presentation, don't you think?
The cupcakes themselves only have four tablespoons of Bailey's Irish Cream, and the frosting only has 4 teaspoons.
The alcohol content is very low – about 17%, but again, you can omit it from the frosting. If alcohol in baked goods during pregnancy, THIS guide offers a lot of helpful information.
10. Apple Spice Cupcakes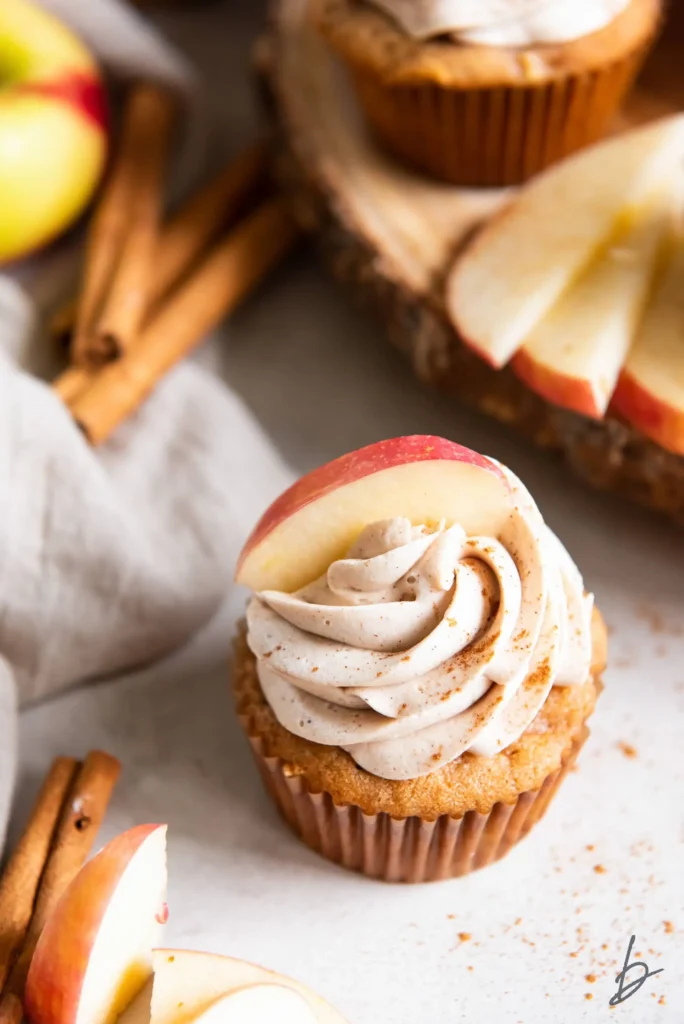 Planning a September baby shower? An apple theme would be perfect!
These apple spice cupcakes paired with apples and dips and apple cider? Fantastic.
You could even use fresh orchard apples for the decor and send guests home with a small basket of apples.
Supporting local business and offering eco-friendly favors? I call that a win!
11. Pink Champagne Cupcakes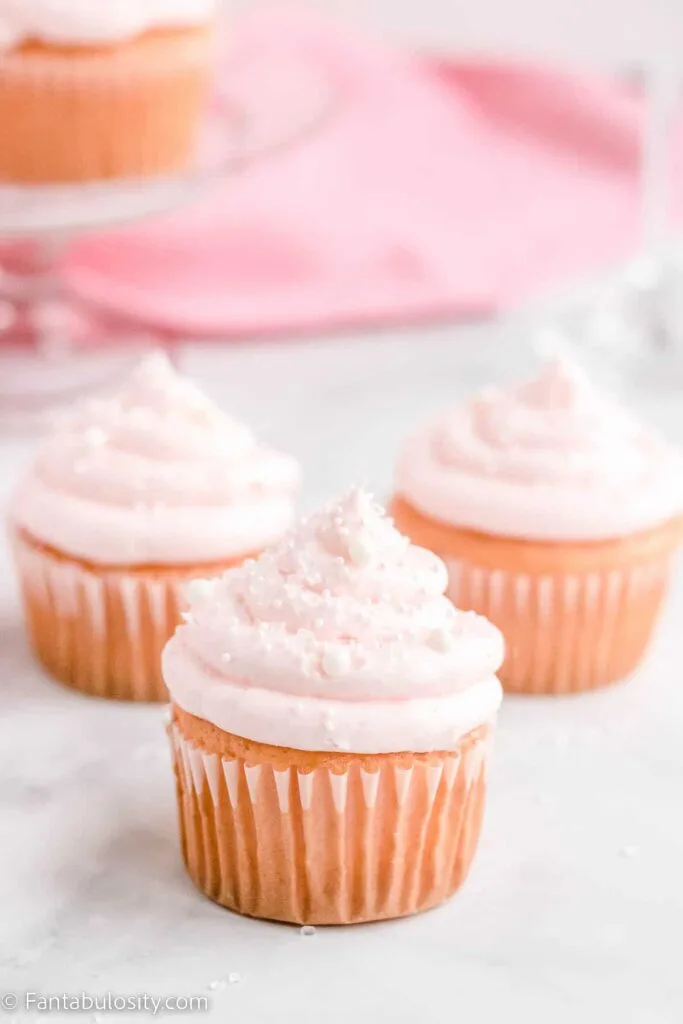 These pink champagne cupcakes are gorgeous!
This is the last cupcake recipe with alcohol (you guessed it: champagne!). The alcohol is reduced on the stovetop first before adding to the batter.
What I love about this recipe is they offer a "from scratch" option and a boxed cake mix option. And the silver and gold sparkling sugar topping is pretty awesome, too.
You can omit the champagne reduction from the frosting if you like.
12. Chocolate Nutella Cupcakes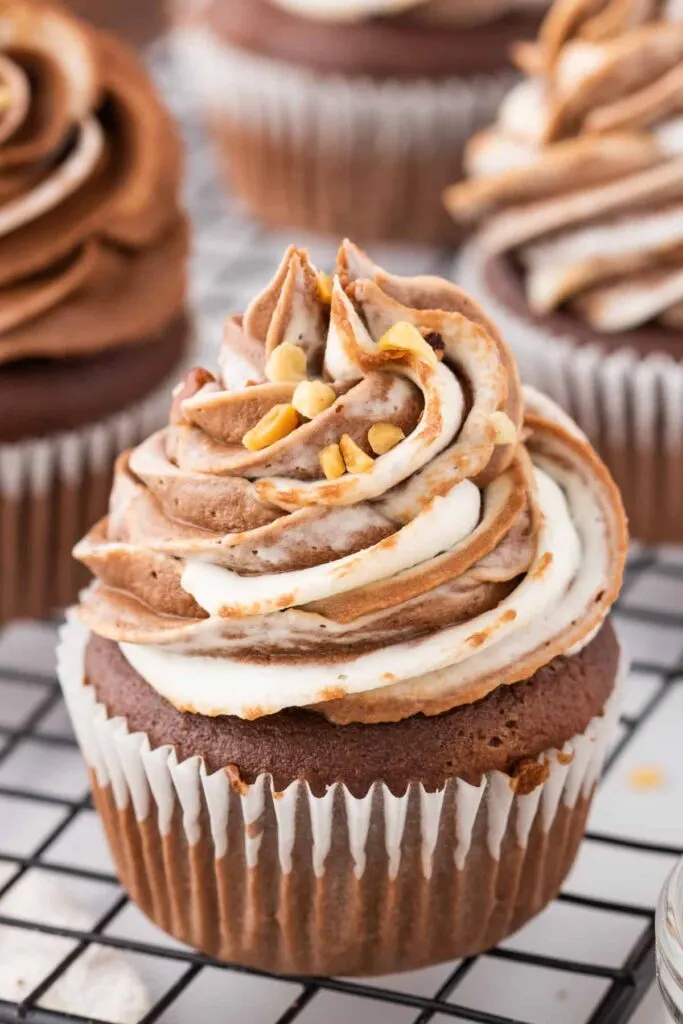 If you love Nutella, then you're gonna love these chocolate Nutella cupcakes!
They are a bit more of a complex recipe, mostly because they have Nutella filling (which involves coring the cupcakes), plus Nutella and cocoa powder buttercream.
Also, the recipe only makes 12 cupcakes, so make sure to triple or quadruple for a baby shower.
You can top with sprinkles or chopped hazelnuts. Upgrade the presentation with petal cupcake liners.
13. Chocolate Cherry Cupcakes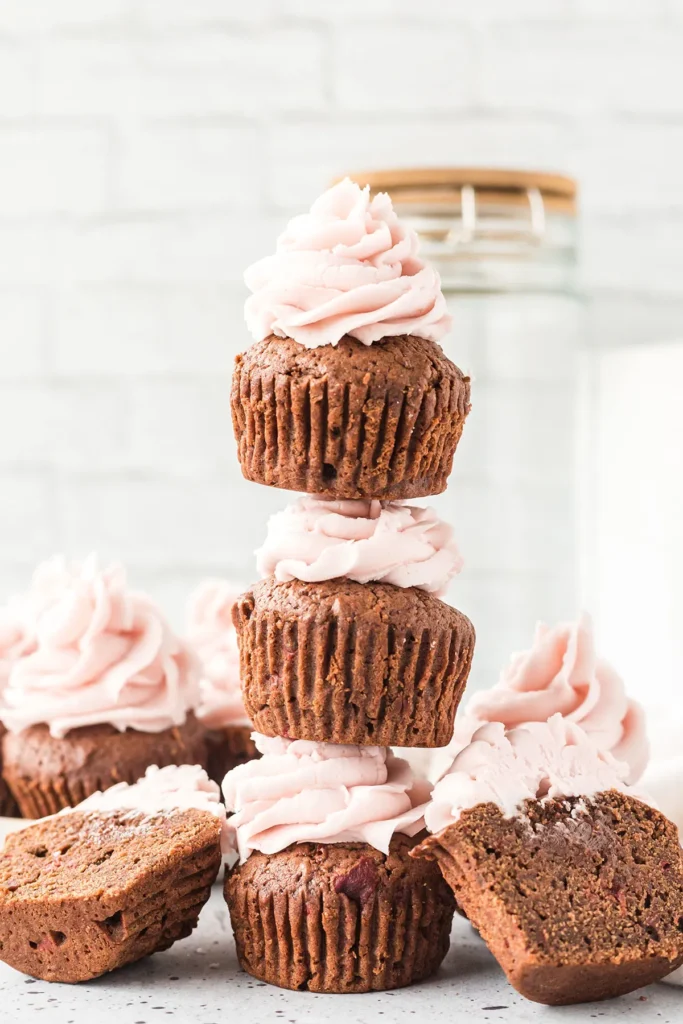 These chocolate cherry cupcakes sound so good! Maybe I'm partial because my favorite chocolates are chocolate cherry cordials.
The recipes calls for a full cup of cherry pie filling mixed into the batter, plus two tablespoons of cherry juice in the frosting for a ton of cherry flavor.
Perfect for any baby shower theme!
14. Key Lime Cupcakes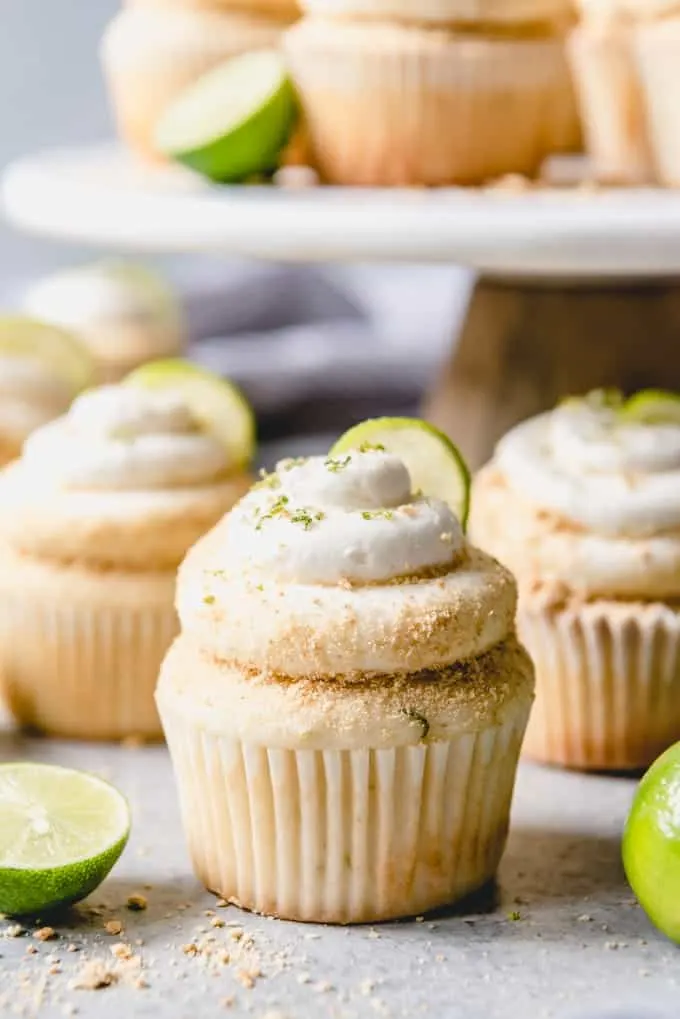 Where are my key lime pie lovers at?!
If you love key lime pie or key lime cheesecake, these key lime cupcakes will rock your world.
Perfectly moist with added sour cream and key lime juice in the batter, topped with delicious key lime frosting with graham cracker crumbs IN the frosting.
Tropical themed showers, green themed showers, lime baby showers, summer baby showers. So many possibilities!
15. Fresh Strawberry Cupcakes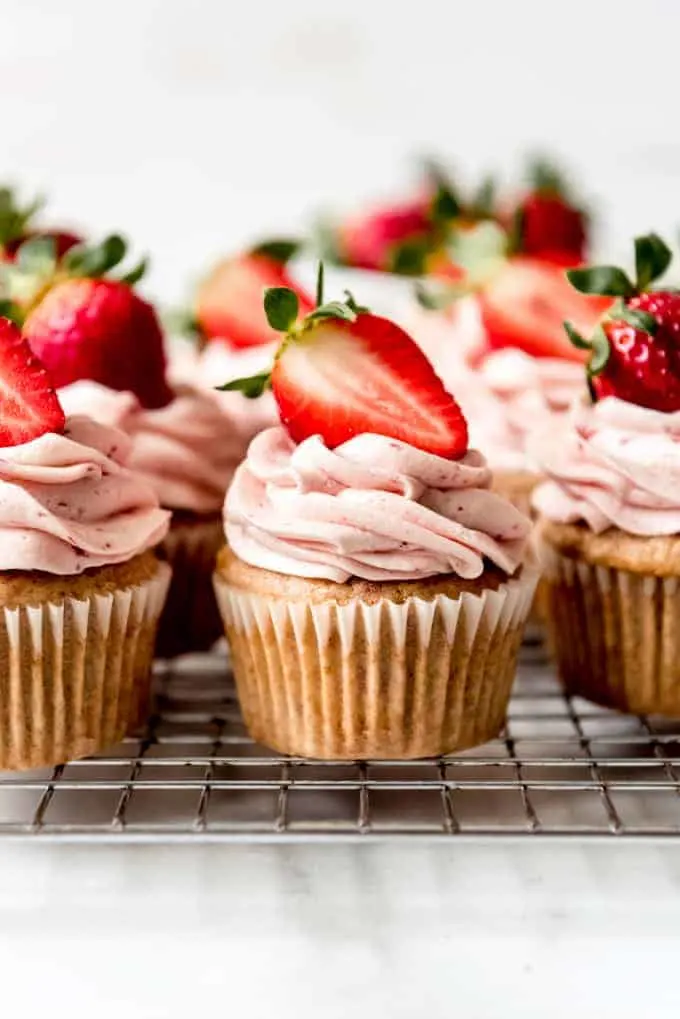 These beautiful strawberry cupcakes use strawberry puree from a pound of fresh strawberries in the batter, plus 2-3 tablespoons reduced strawberry puree in the frosting.
What absolutely makes the presentation are the halved, non-hulled strawberries on top – one per cupcake.
I'm picturing these at a June baby shower because fresh strawberries are typically available to pick in early June, but you could easily have them any time of year.
16. Dulce de Leche Cupcakes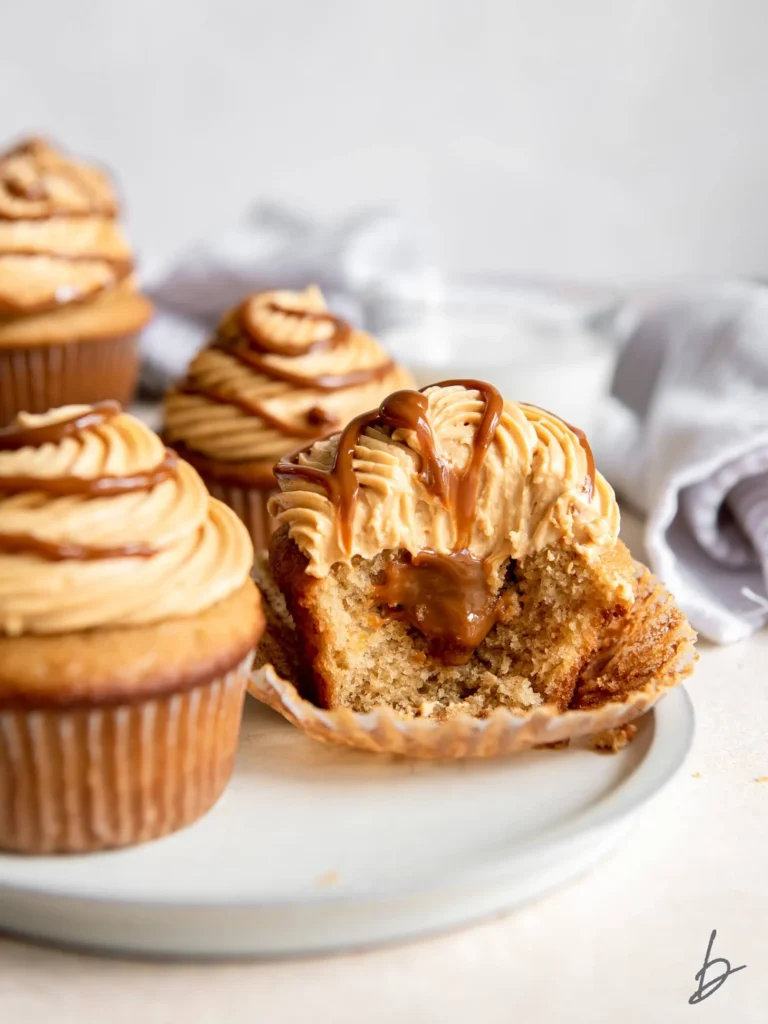 If you love sweet and salty caramel, these dulce de leche cupcakes are for you!
This is another filling cupcake, which does involve coring your cupcakes and inserting the dulce de leche filling. The buttercream frosting also has dulce de leche.
It's definitely a more time intensive recipe, so make sure to keep that in mind if you choose this recipe for a baby shower. Prepare them in a day or two in advance!
17. Red Velvet Cupcakes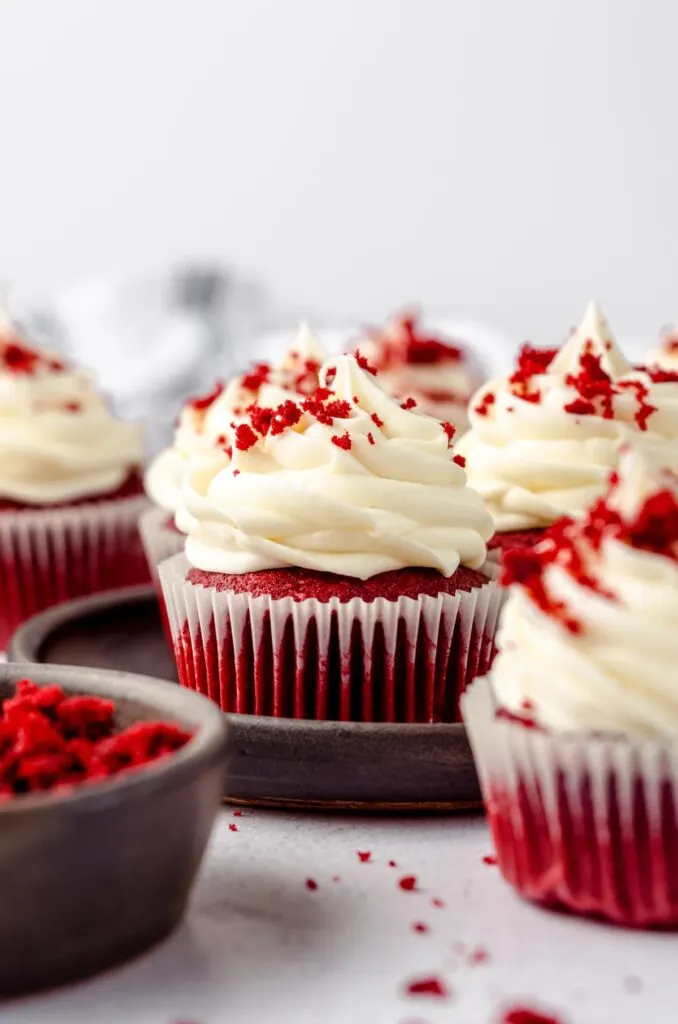 You can't go wrong with a classic, and red velvet cupcakes are definitely a classic!
Subtle chocolate flavor. Tangy cream cheese frosting. Beautiful red and white contrast.
I especially love the traditional red velvet crumb topping, but you could always swap it for baby shower themed sprinkles or sugar topping in a color that fits your theme.
18. Oreo Cupcakes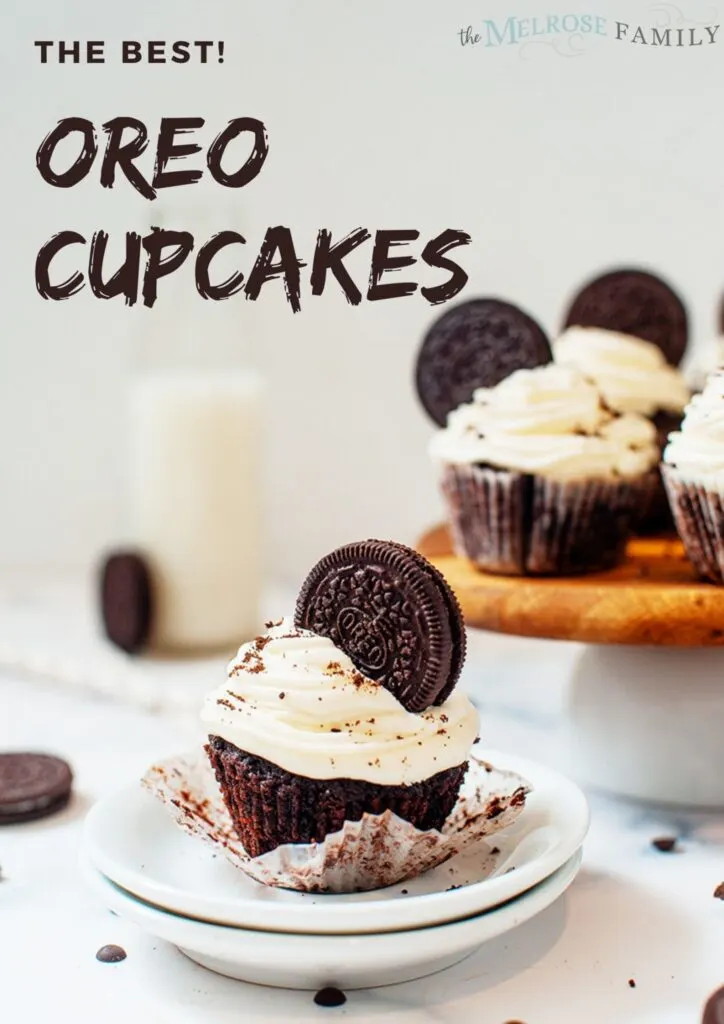 These scrumptious-looking Oreo cupcakes combine a triple chocolate cake mix and a box of unprepared chocolate pudding PLUS sour cream, extra eggs and water for a super moist cake.
Crumbled Oreos and semi-sweet chocolate chips are also in the batter.
(Personally, I would probably swap the normal-sized chocolate chips for mini chocolate chips.)
Finish with cream cheese frosting and a whole Oreo for each cupcake. They're sure to be a hit!
19. Coffee Cupcakes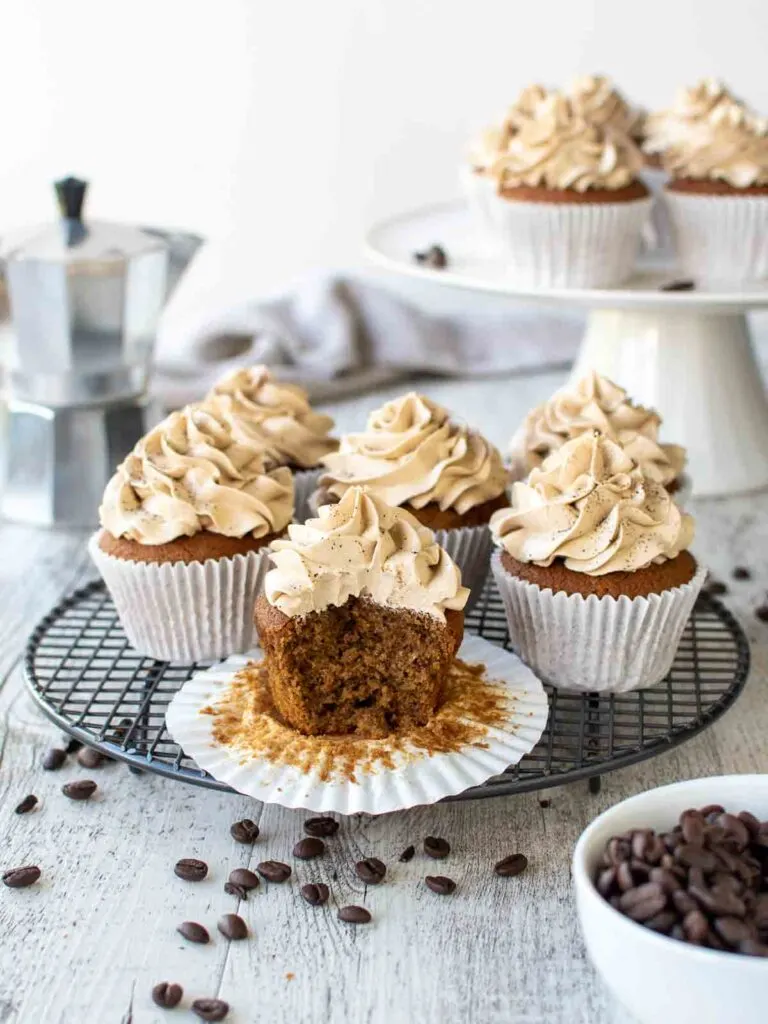 Where are my coffee lovers at?! These coffee cupcakes with coffee buttercream frosting are sure to be a hit at any baby shower.
You do need espresso powder for both the batter and the frosting, so be sure to order some in advance. Depending on where you live, it can be hard to find in grocery stores.
If you want to tone down all that coffee flavor just a bit for guests who don't love coffee that much, you could go with a vanilla buttercream for the frosting.
20. Lemon Blueberry Cupcakes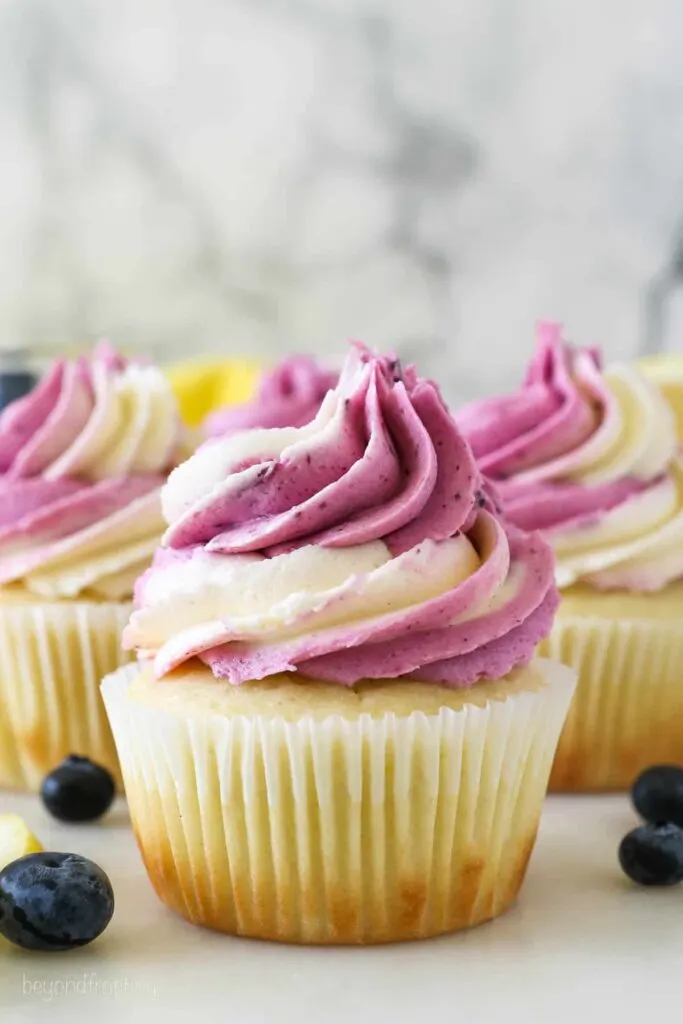 I can't stand dry cupcakes, and these are sure to be anything but.
These blueberry lemon cupcakes with a swirled blueberry and lemon buttercream have both buttermilk AND sour cream, plus fresh lemon juice. Yum!
You will need to core the cupcakes to fill with blueberry sauce. The sauce is also added to half the frosting to give it that beautiful swirl.
Lemons and blueberries equal summertime, so I would highly recommend them for a summer baby shower!
21. Chocolate Ganache Cupcakes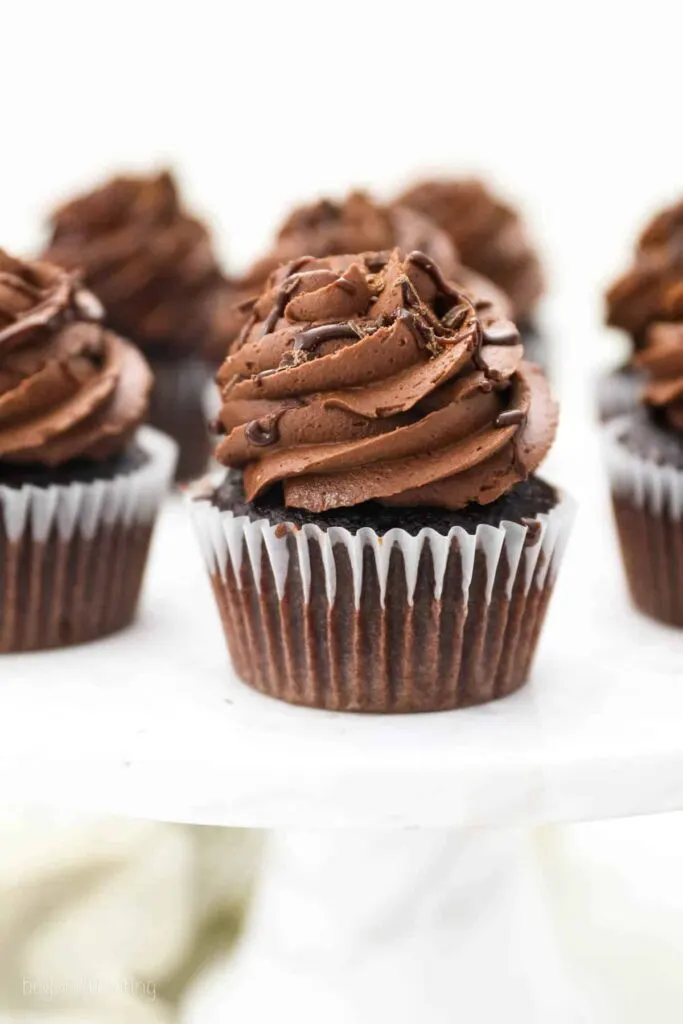 Looking to take the typical chocolate cupcake up a notch? Then you'll love these decadent chocolate ganache cupcakes.
The chocolate batter has both espresso powder AND freshly brewed coffee for a super rich chocolate flavor.
Once baked, they are cored and filled with chocolate ganache and topped with a super rich dark chocolate buttercream frosting, plus chocolate drizzle.
Perfect for a special occasion like a baby shower! Especially if mom-to-be love, love LOVES chocolate.
22. Gluten Free Lemon Cupcakes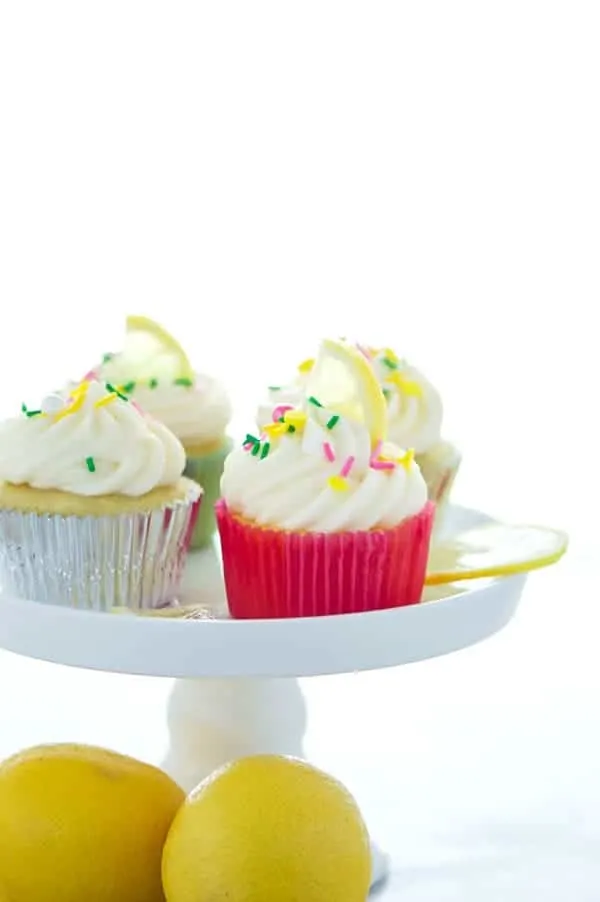 I wanted to make sure to include at least one gluten-free option if you need gluten-free desserts for a baby shower.
These gluten-free lemon cupcakes are make with a gluten-free flour blend, plus avocado oil and xanthan gum. Personally, I would eliminate the yellow food coloring – you don't really need it.
Top with lemon cream cheese frosting, lemon slices and rainbow sprinkles!
23. Vegan Chocolate Cupcakes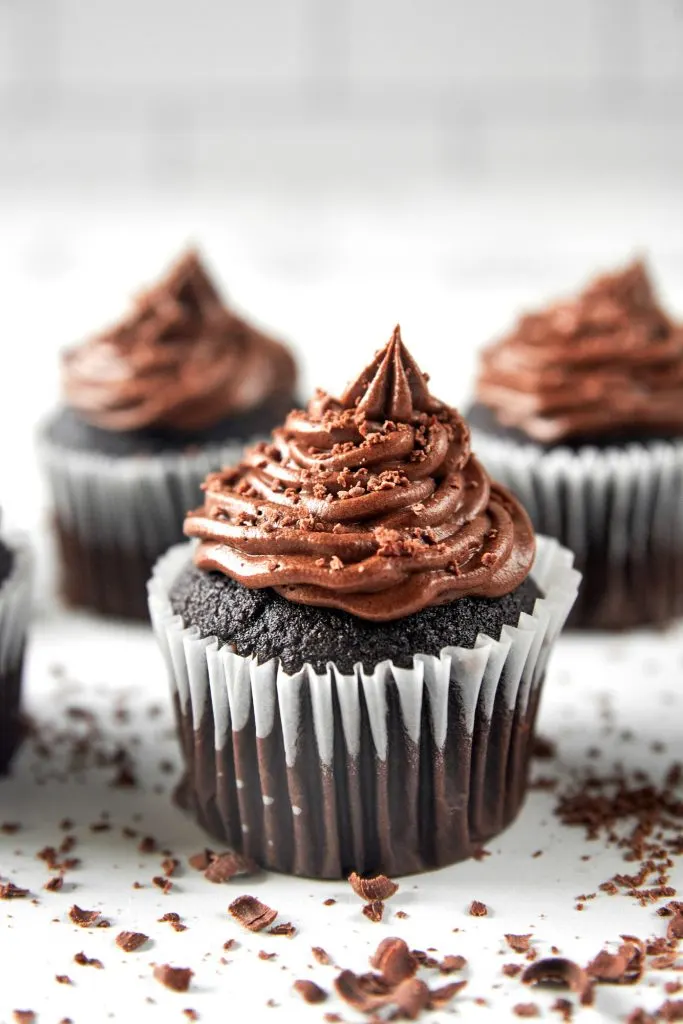 If you have vegan guests or mama-to-be is vegan, these vegan chocolate cupcakes could be a great choice!
The batter calls for vegan mayonnaise and water as substitutes for eggs and/or milk.
A recipe for vegan chocolate frosting is recommended.
24. Easy Churro Cupcakes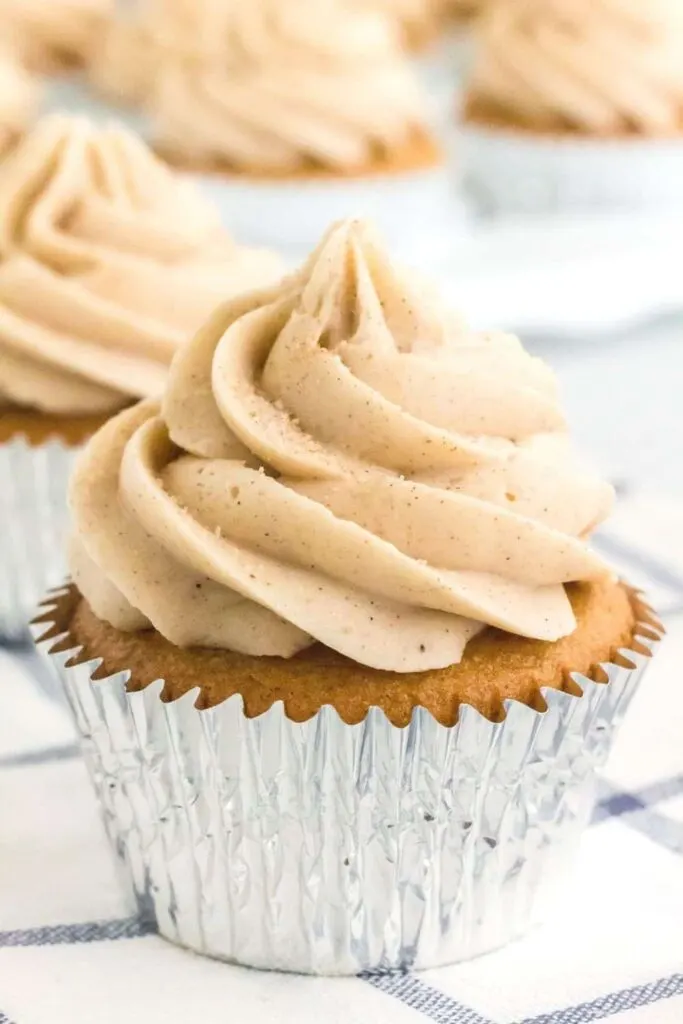 If cinnamon or churros are your jam, these super easy churro cupcakes are for you!
They're made from a boxed white cake mix and unprepared vanilla pudding with a few other ingredients and topped with cinnamon cream cheese frosting.
You could top with churros or cinnamon sticks.
25. Texas Sheet Cake Cupcakes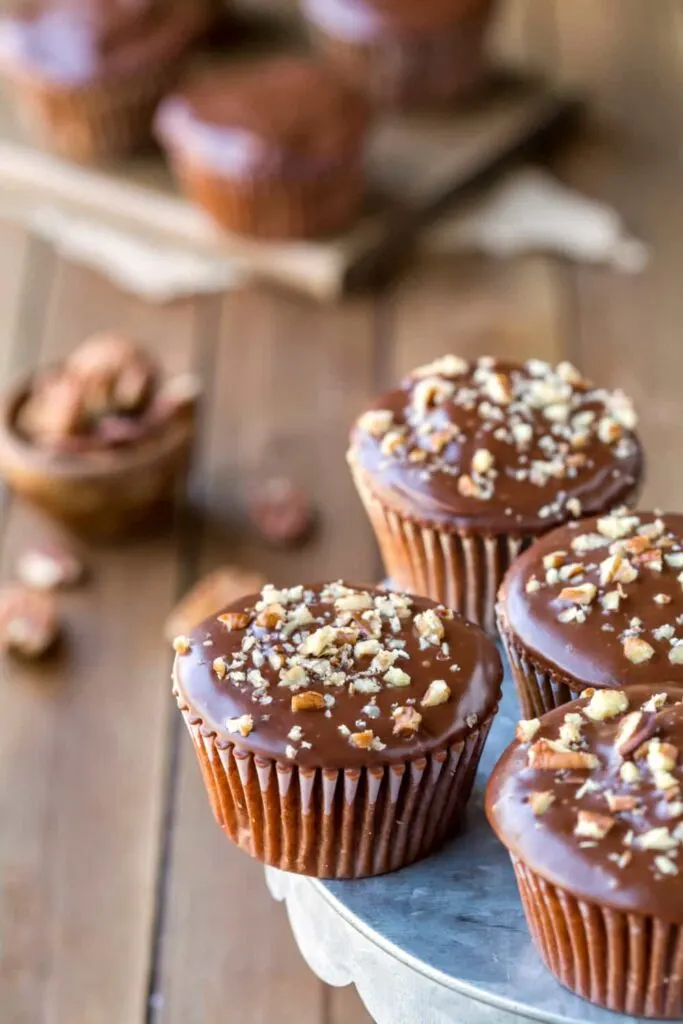 If the mom-to-be is from Texas, she'll love these Texas Sheet Cake cupcakes at her baby shower!
The fluffy, moist cupcakes include a cup of buttermilk and a cup of hot water with cocoa powder. The thin, fudge frosting is what really makes this dessert stand out from the rest.
Just make sure not to overfill the cupcake liners – you want flat cupcakes for this frosting!
26. Chocolate Raspberry Cupcakes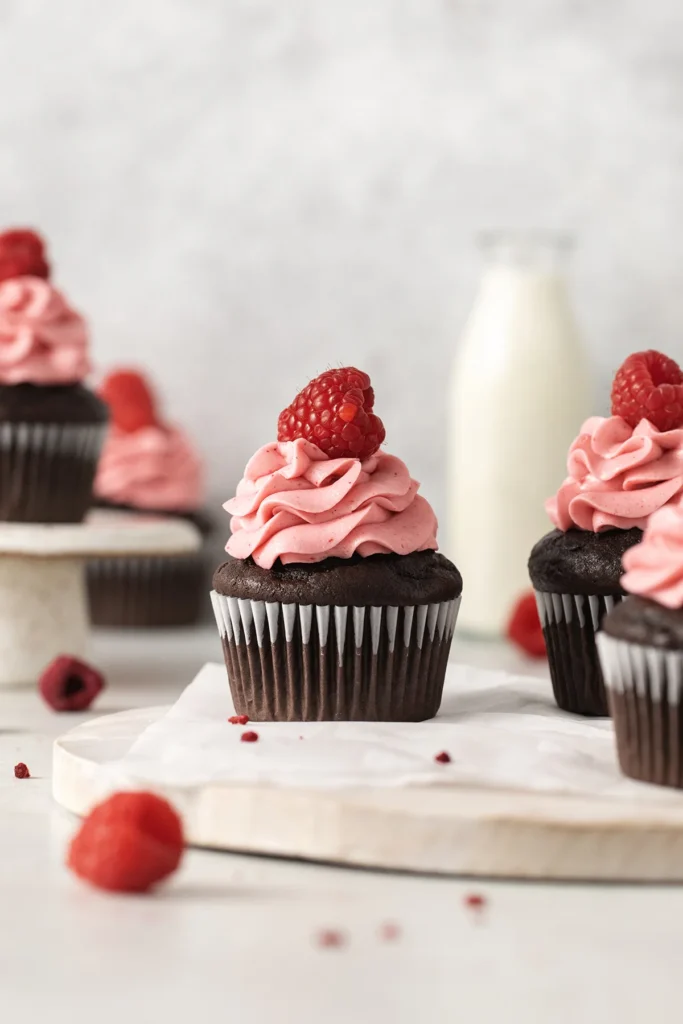 My favorite Starbucks drink in college was a raspberry mocha for a reason: the flavors go together perfectly!
These chocolate raspberry cupcakes are a little bit more high-maintenance, calling for a mix of all-purpose and cake flour, plus vanilla bean paste. I'm sure they'll be worth the extra effort.
Top with fresh raspberries.
27. Hot Chocolate Cupcakes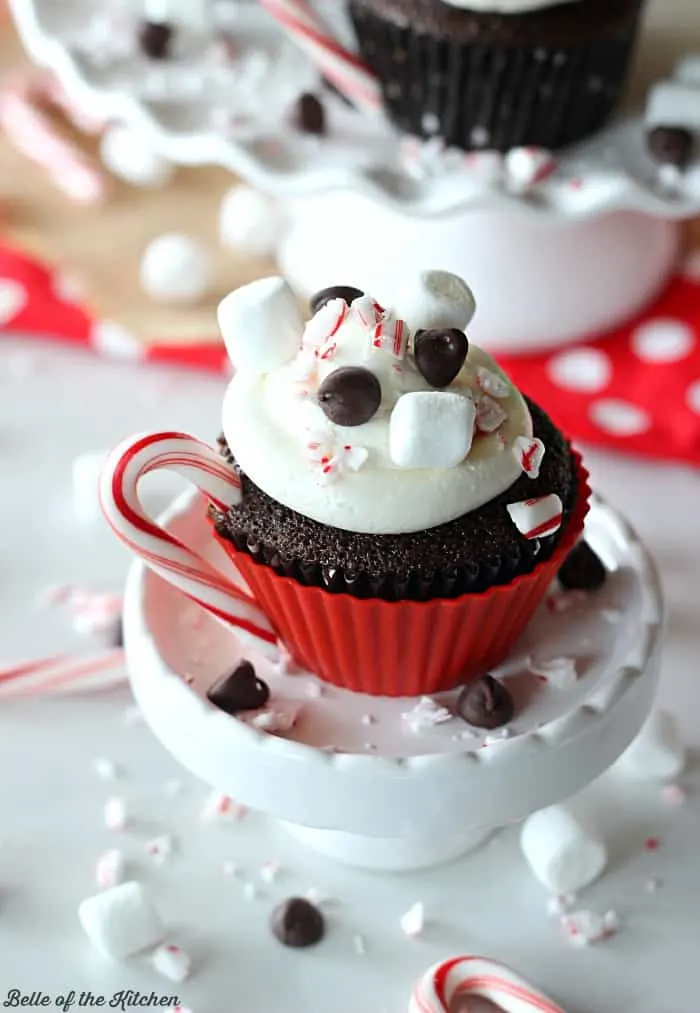 These hot chocolate cupcakes would be perfect for a Christmas or winter baby shower!
The classic chocolate cake pairs so well with the unique marshmallow buttercream frosting which contains a whole 7 oz. container of marshmallow fluff.
Top with mini marshmallows, crushed candy canes and mini or regular chocolate chips.
28. Pumpkin Cupcakes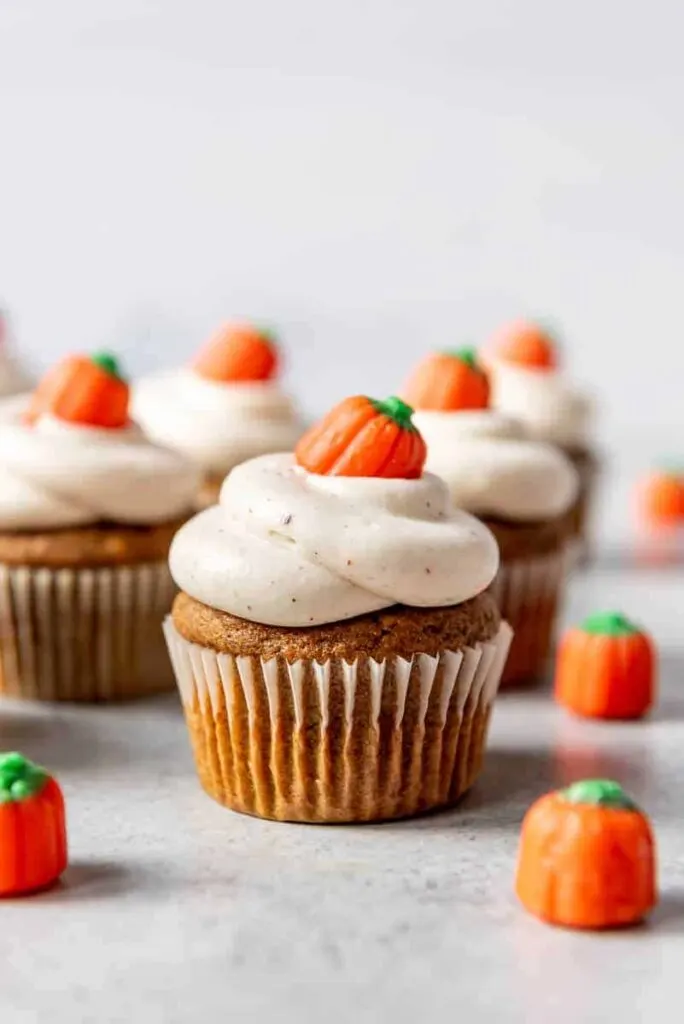 I adore all things pumpkin in the fall, but my favorite part about these pumpkin cupcakes are the adorable pumpkin candy corns on top!
The recipe reads like my favorite pumpkin scones recipe, but in cupcake form. Top with spiced cream cheese frosting.
Perfect for a fall baby shower.
29. Gingerbread Cupcakes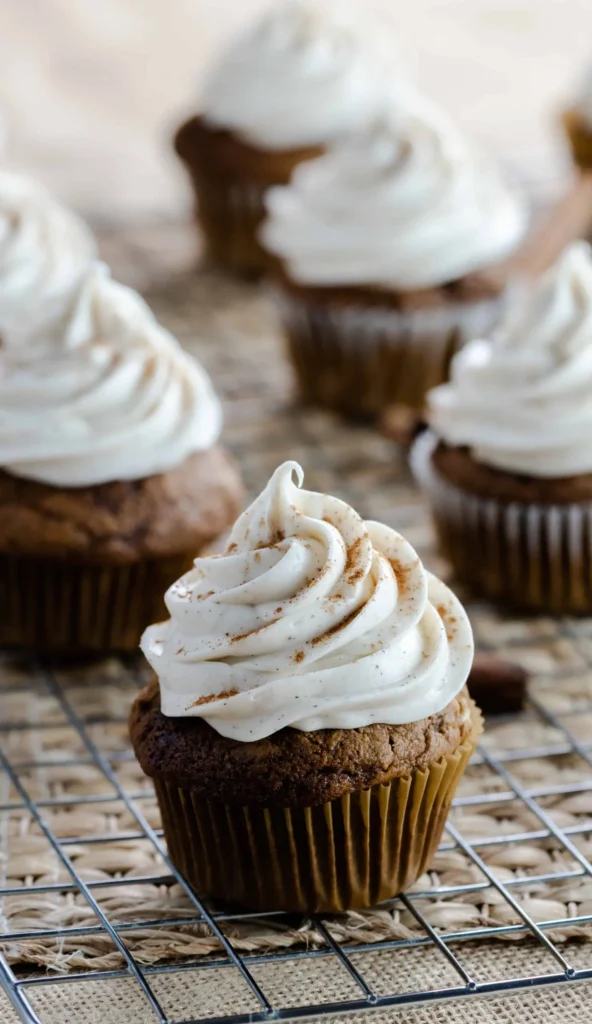 If you're hosting a December baby shower, these gingerbread cupcakes would be perfect!
They are very similar to the pumpkin cupcakes, except for the addition of molasses in the cake batter for that distinct gingerbread taste.
(If you want to eliminate the pumpkin, the author has another purely gingerbread cupcake recipe HERE.)
Top with spiced cream cheese frosting, sprinkled cinnamon and little gingerbread cookies.
30. Peanut Butter & Jelly Cupcakes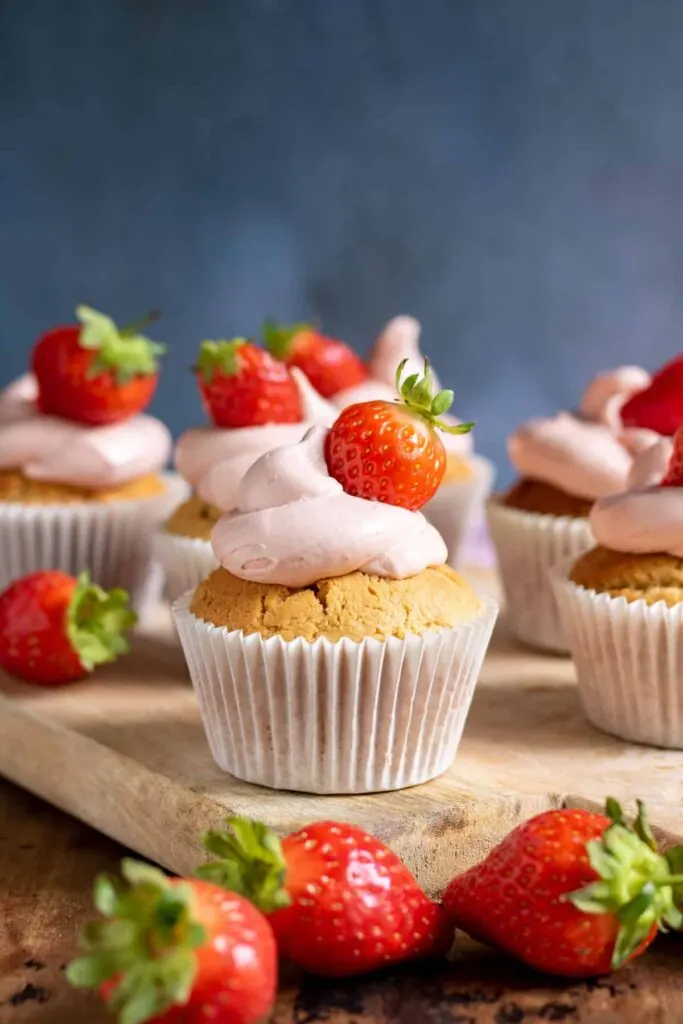 How fun are these peanut butter and jelly cupcakes?! A peanut butter and jelly in cupcake form!
The peanut butter cupcake calls for one unusual ingredient (at least, to me): caster sugar. And the buttercream frosting includes two tablespoons of strawberry jelly or jam.
Top with fresh strawberries.
31. Brown Sugar Cupcakes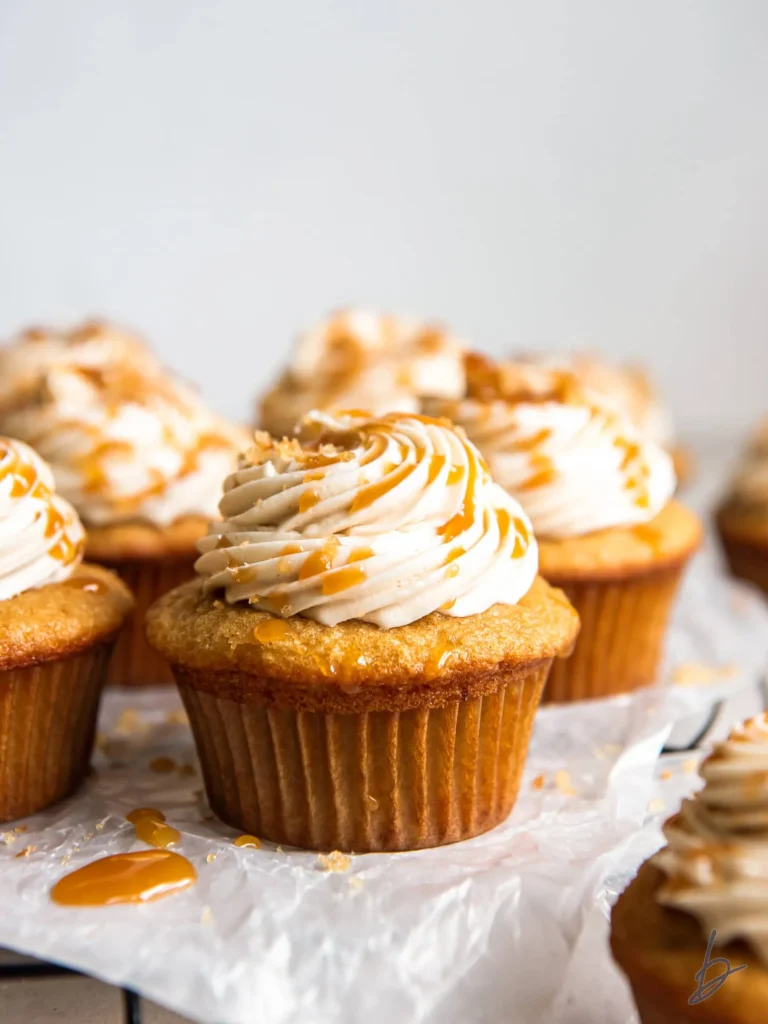 These brown sugar cupcakes would be perfect for a fall baby shower…or just about any time of year. Because who doesn't love caramel?!
The brown sugar instead of white sugar "yields a subtle molasses flavor."
Plus the salted caramel frosting and salted caramel drizzle finish? YUM. Sign me up!
Which cupcakes are you going to make for the baby shower you're planning? Share in the comments!
Read Next: 25 Inexpensive Baby Shower Gift Ideas (Give a Great Gift on a Budget)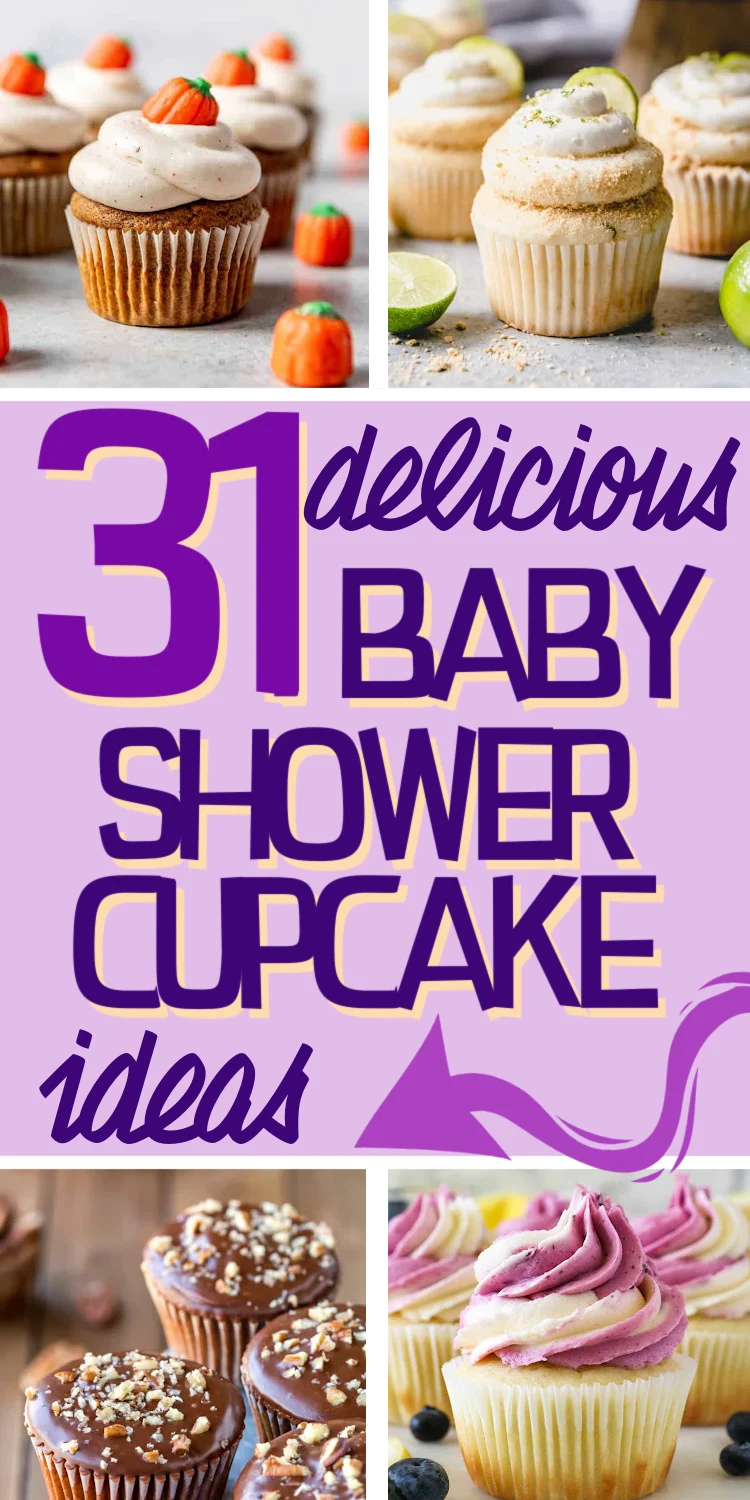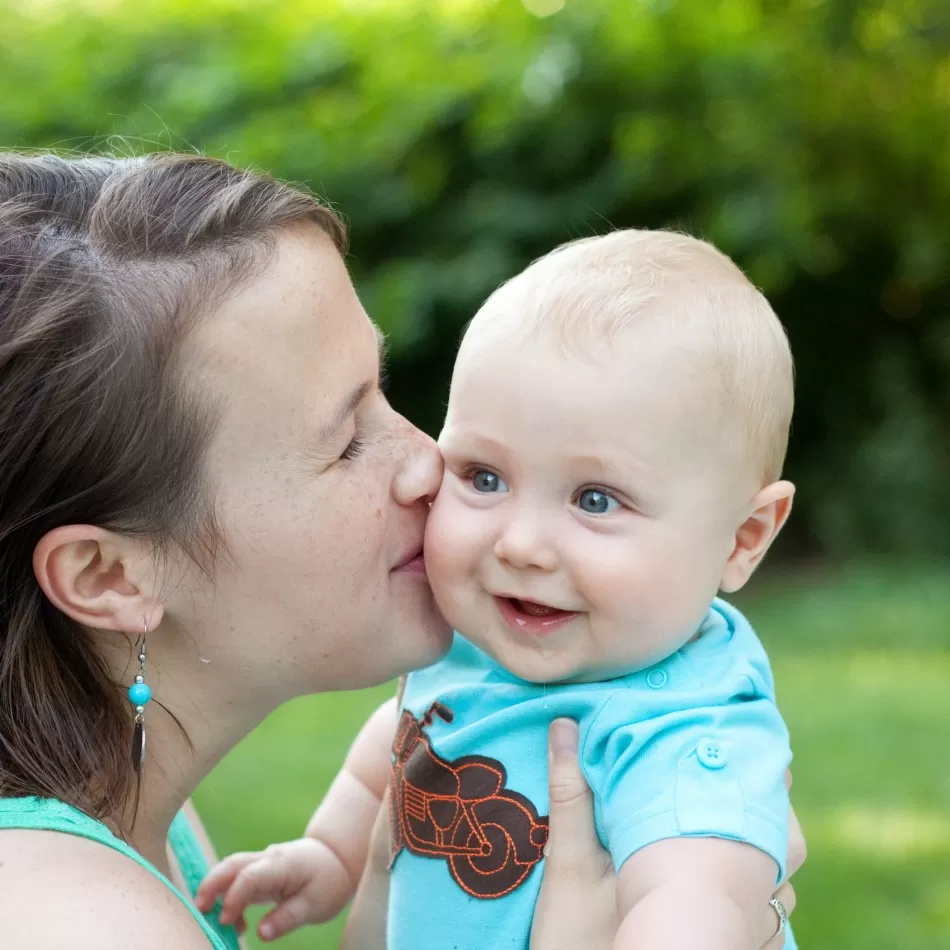 Owner of Growing Serendipity, June could talk to you all day about homeschooling, parenting, and minimalism, which she does at This Simple Balance. When she's not homeschooling, decluttering, or blogging, she loves to enjoy perfect silence while sipping a hot cup of coffee and thinking uninterrupted thoughts—which, of course, with five kids, doesn't happen very often.