Inside: You want to host an amazing baby shower, but you don't want to spend hours preparing or shell out a small fortune? We've got you! Here are tips to save money, plus several super simple baby shower food ideas.
Planning a baby shower? The costs can add up quickly if you aren't careful. And the category that's most likely to wreak havoc on your budget is FOOD.
So if you want baby shower food ideas that won't break the bank, keep reading! We've got several tips to help you plan a baby shower menu on a tight budget.
We've also rounded up several real examples of simple baby shower food ideas where you can control the costs by preparing them yourself or saving time by buying prepared foods.
Let's get started.
Related: How to Throw a Perfect Minimalist Baby Shower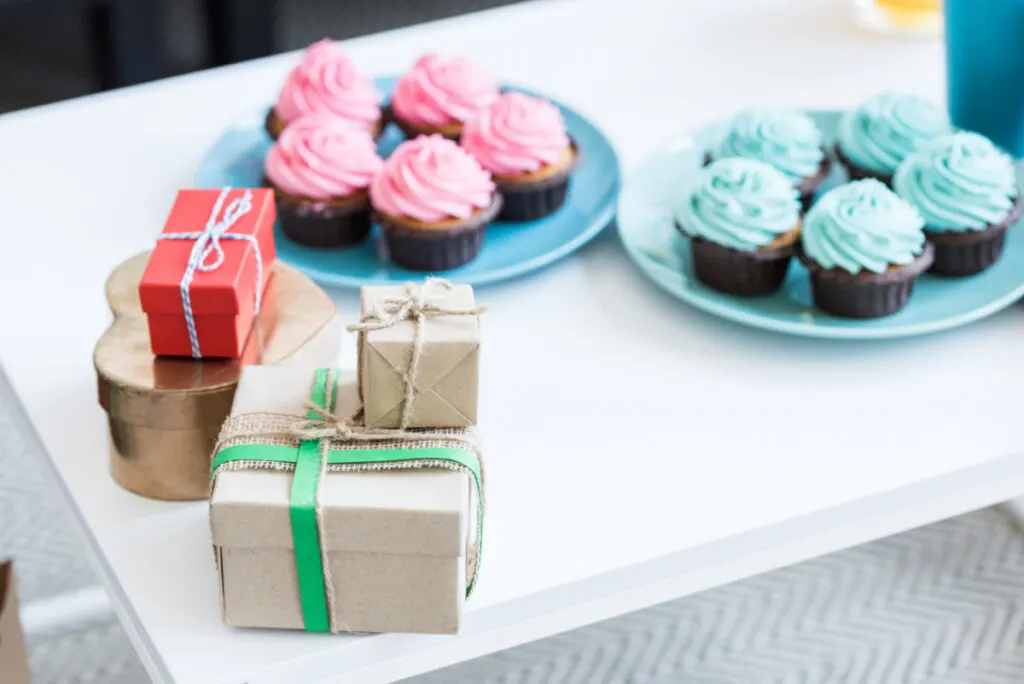 9 Tips to Save Money on Food Costs When Planning a Baby Shower
THIS POST PROBABLY CONTAINS AFFILIATE LINKS. AS AN AMAZON ASSOCIATE, I EARN FROM QUALIFYING PURCHASES. YOU CAN READ OUR FULL DISCLOSURE POLICY HERE.
Here are several ideas you'll want to use to slash your food costs in half (or more!) when planning your baby shower menu.
(If you just want actual recipe and food ideas, skip to the next section.)
1. Avoid mealtimes for big savings.
The biggest way to cut costs on food when planning a baby shower is to time it right — aka not during a meal time.
A more economical option is to put out a nice selection of snacks and/or desserts for guests to enjoy.
2. Find a co-host and split the cost.
Simple math here: divide the cost in half (or thirds!) and your out-of-pocket expenses shrink. If you and another family member or friend — or even a group of friends! — can co-host a shower, it eases the financial burden on everyone.
3. Keep the menu simple and light.
There's no need for a five-course meal or a dozen different desserts, especially if you're planning a low-key affair. Keep your menu simple and streamlined to save money (and your sanity!).
When you avoid mealtimes, your costs already go down. But don't make the mistake of then overdoing the appetizers.
You could do a few simple appetizers and 1-2 desserts. Or you could do JUST desserts (I've never seen a baby shower without desserts, which is why I didn't suggest just appetizers).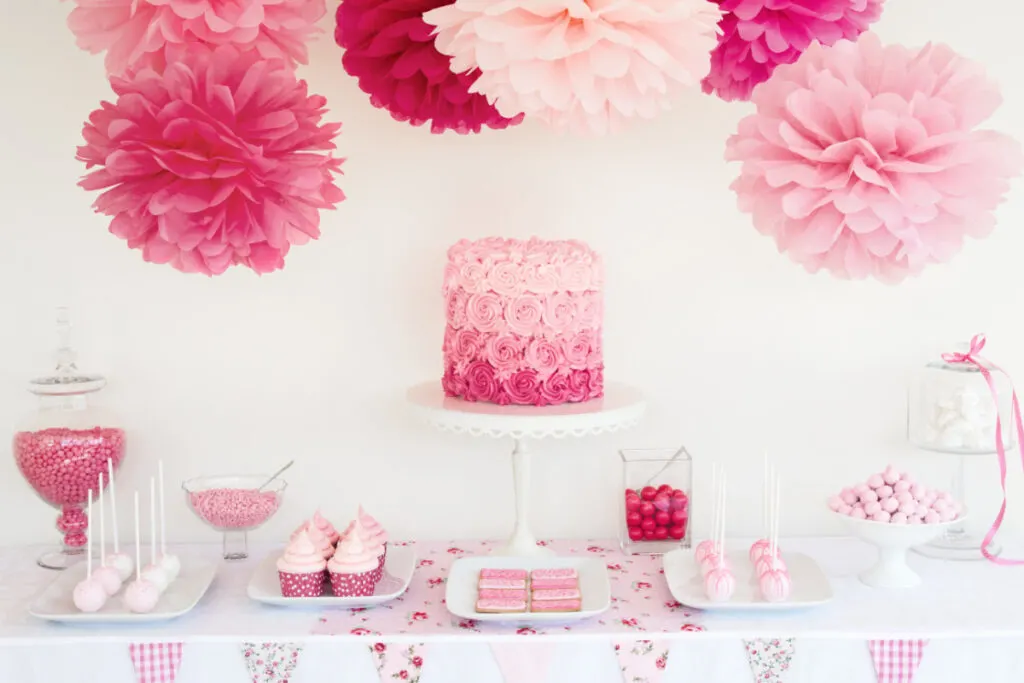 4. Presentation matters.
This tip goes hand in hand with the above point. A inexpensive and/or simple menu doesn't have to be boring, and presentation can make even the most basic spread look fabulous.
Pinterest is your BFF here. Get inspired and re-create a beautiful spread on a budget.
Guests will never know you didn't spend that much!
Related: The Best Baby Shower Verses for a Baby Shower (and how to incorporate them)
5. Be your own caterer.
Having an event catered is expensive. No question about it. Plan to prepare and serve the food yourself (or recruit family and friends to help!) for a budget-friendly baby shower.
6. Skip the alcohol.
It goes without saying…alcohol ain't cheap. If you want to plan a baby shower on a tiny budget, skipping the cocktails is one way to go.
If you can't see yourself nixing alcohol from the menu, do your research and find some festive (yet cost-effective) drink recipes to offer guests.
Stick to water with fruit, an easy punch recipe and of course, coffee.
7. Shop around to find the best price on food and supplies.
Food can be bought for a fraction of the cost at discount stores (like Aldi!) and still tastes every bit as good. You can also shop in bulk — usually at a lower price per unit — at warehouse stores like Costco.
When shopping for supplies (paper plates, napkins, streamers, etc), be sure to check your local dollar stores for huge bargains.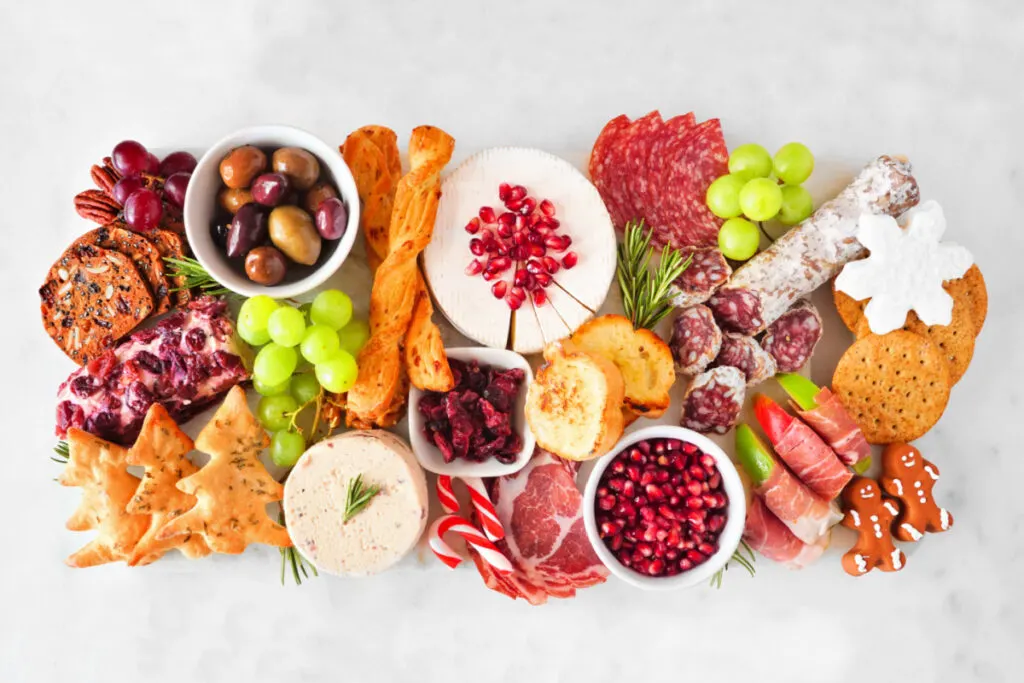 8. Consider making it a potluck (see creative ideas!).
No one says you need to shoulder the burden of baby shower costs alone. You can take it beyond splitting the costs with one or two friends.
Is your crowd a tightknit group of family and friends coming together to celebrate a new baby? If so, it's totally appropriate to ask everyone to bring along a side dish or dessert.
Don't want to go this route? That's okay.
Here's a fun alternative to try instead: Ask guests to bring classic pregnancy craving foods along. Then, set up a "cravings table" for everyone to sample from.
You can provide a few additional items, but make the cravings table the focus of the event.
Another trendy and easy idea is to do a charcuterie board theme. Get 4+ friends to bring various ingredients. You can divide and conquer, with one person covering 1-2 categories (you don't need all of these to make it work):
Deli Meats
Cheeses
Spreads &Dips
Fruits
Olives & Pickles
Nuts & Crackers
Chocolate
Make and serve these simple vanilla cupcakes as your one dessert to go with it.
9. If you can't avoid a meal, consider a self-serve buffet.
Another affordable option could be a buffet-style menu. Here are a few ideas:
Brunch – Include breakfast pastries, a fruit platter, and a coffee bar (see if you can borrow a Keurig!). A waffle bar with toppings could be another fun option.
Tacos – Set out taco meat, hard and soft shells, cheese, sour cream, salsa, lettuce, and tomatoes.
Salad – This might consist of different types of lettuce, fresh fruits and vegetables, nuts, cheeses, and an assortment of dressings.
Soup – Borrow some slow cookers and make big batches of several types of soups to serve. You can also include soup fixings like shredded cheese and a variety of breads, croutons or crackers.
There are so many options. This crowd-pleasing choice will save both money and time.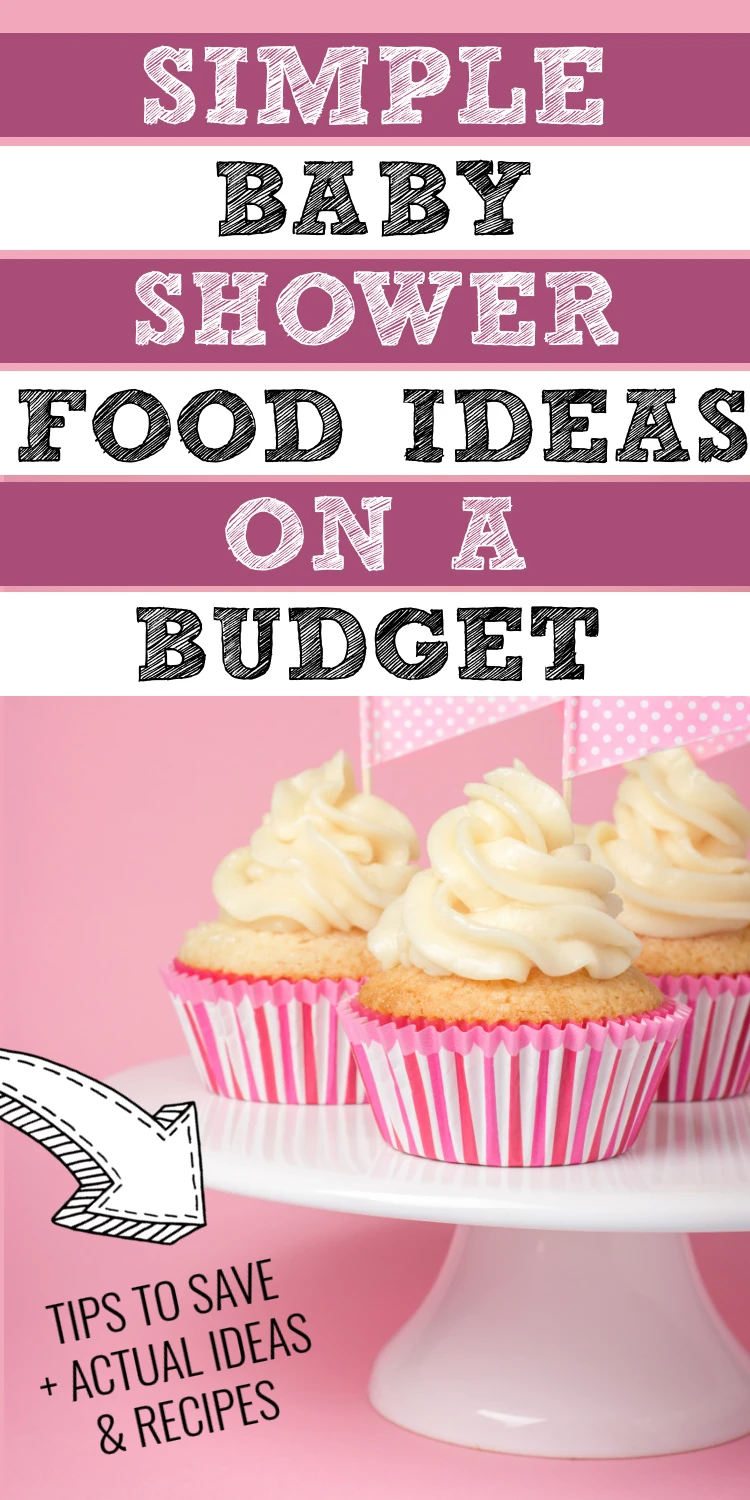 Simple Baby Shower Food Ideas on a Budget: From Appetizers to Desserts
The key to keeping these items low budget is to apply the above tips.
Remember you only need 2-3 appetizers (make sure on is vegetarian friendly!), and 1-2 desserts max. Only do more if it truly brings you joy.
You don't need to go crazy, and you don't need to please everyone. Although I will recommend asking the mom-to-be what her favorite appetizer is and any diet restrictions, and make sure to include it.
These are grouped by category, with several recipes for each one. Hopefully you can find a few things that work for your event.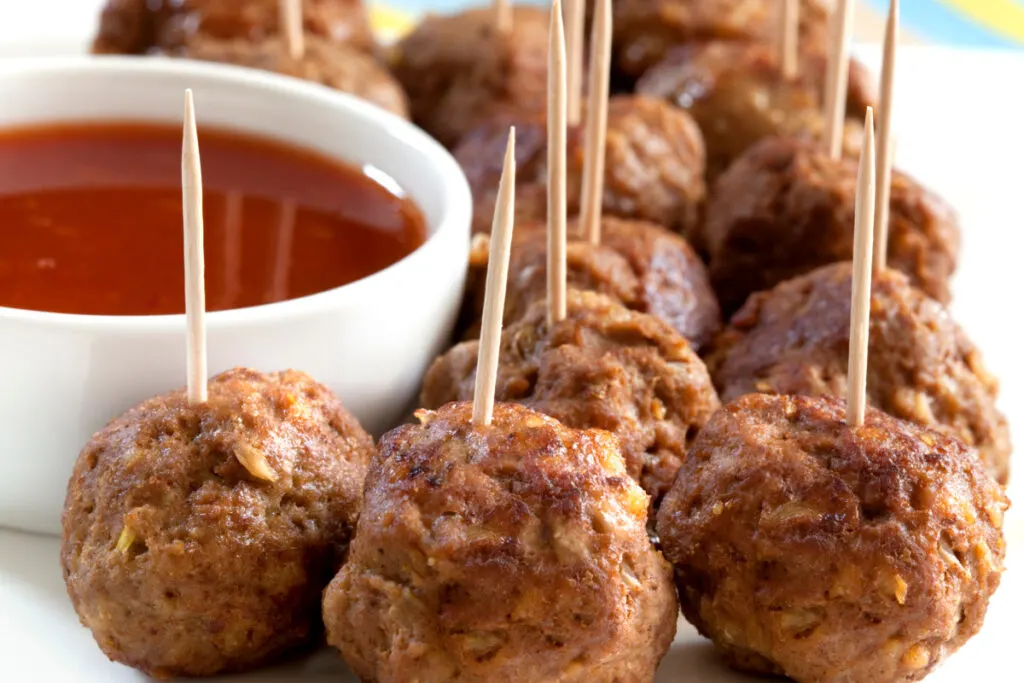 1. Crockpot Meatballs
These are SO easy to make! Just dump frozen meatballs in a crockpot, add a sweet or savory sauce of your choice, and boom, done.
Put a bowl of toothpicks next to the crockpot, and call it a day.
If you need specific recipes, here are a few that look delicious (#1 is esp. easy and delicious!):
For more easy crockpot ideas, from meats to dips, THIS post has great ideas.
2. Chips & Dip
This can be a super easy category with both hot and cold dip options, depending on the season and/or your budget.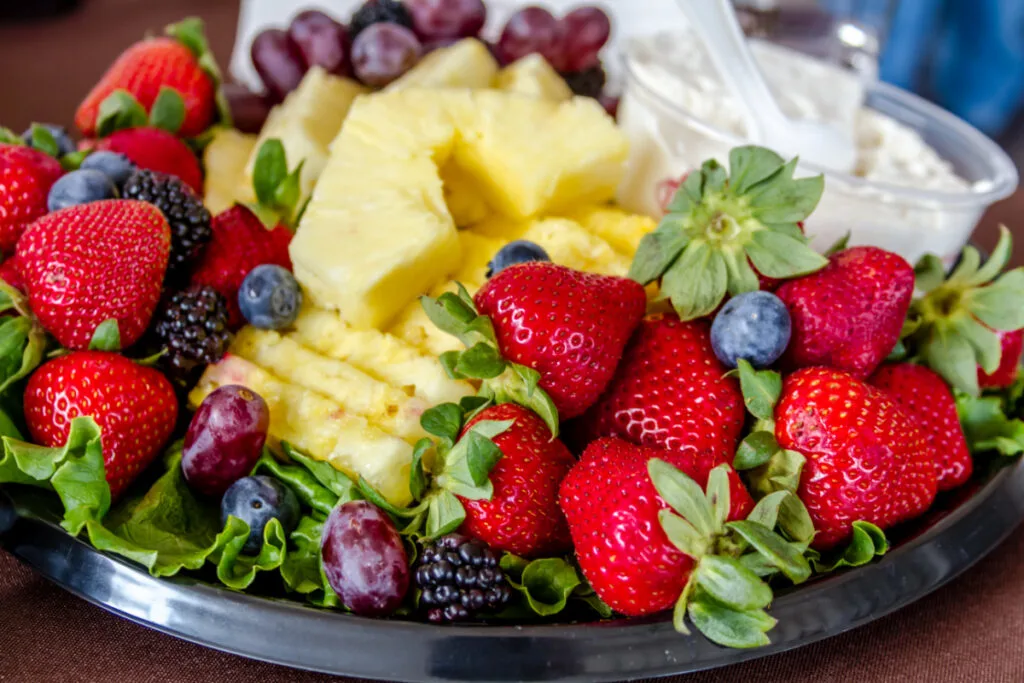 3. Fruit & Dip
Sensing a theme yet? Dips can be super easy. You can get them pre-made at Costco or your local grocery store, or you can make them yourself.
Popular pairings for fruit are:
caramel dip with apple slices (bathe these in lemon water)
cream cheese fruit dip with strawberries
melted chocolate with strawberries or pineapple
4. Bread & Dip/Spread
This can be as simple or as complicated as you want. Grab a baguette or pita bread, slice it up and pair it with one of these dips.
Here are some recipe ideas: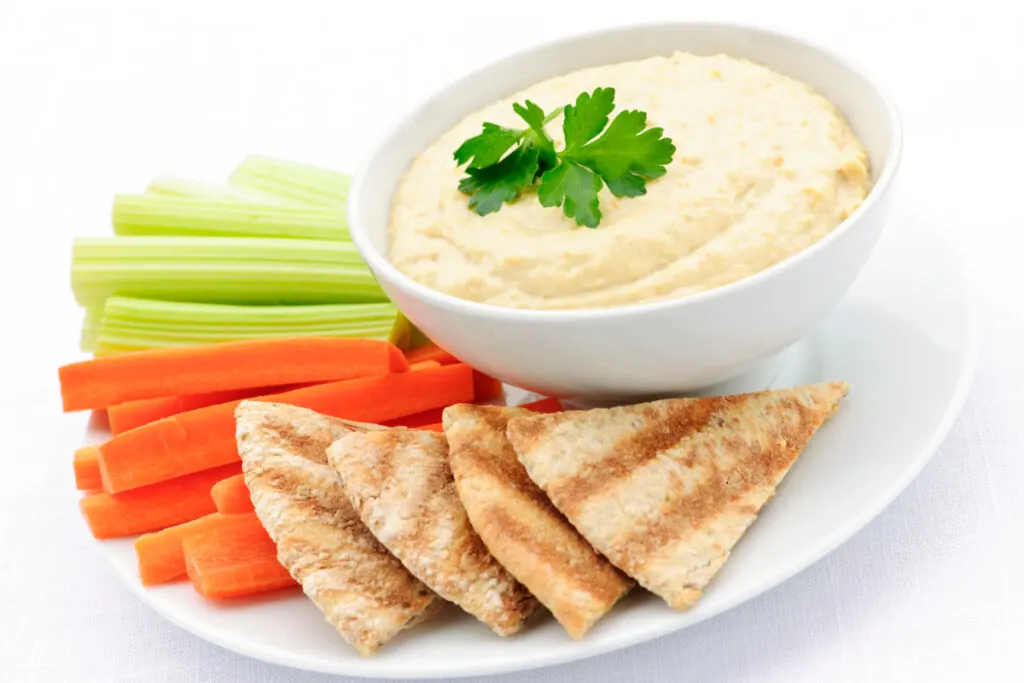 5. Veggie Tray (with dip, of course!)
Make sure to include a couple different dips, such as hummus and veggie dip.
With this option, go easy on yourself and buy the dips from the grocery store. Your time is valuable, and the savings is negligible.
Of course, if you have a favorite homemade veggie dip that you think kicks the store version's butt, by all means, go for it!
6. Chicken or Egg Salad Sliders
Chicken salad or egg salad are great options to make in advance that keep well in the fridge. You can also opt to pre-buy these (I've seen chicken salad at Costco!).
Pair with Hawaiian sweet rolls.
You can put the sandwiches together in advance, but I recommend keeping them separate and let your guests make their own to eliminate soggy leftover sandwiches.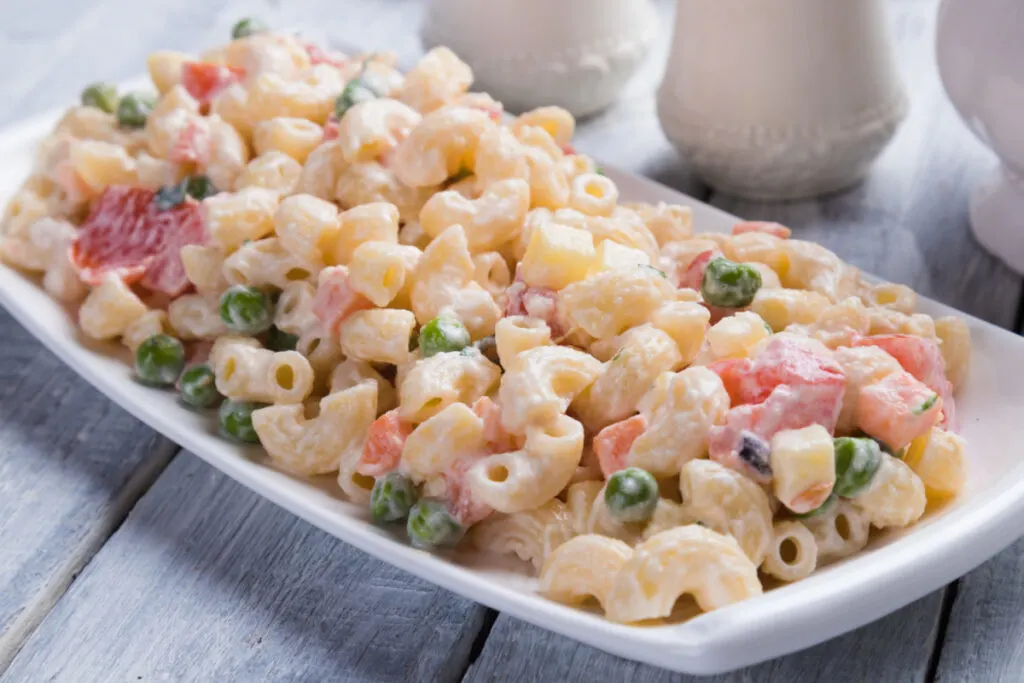 7. Cold Salads
Another easy to prepare in advance option, OR purchase them from your local prepared food section.
Here are a few ideas:
Although for this one, I highly recommend going with the prepared food options. So easy, and the cost-savings of doing it yourself is probably negligible.
8. Cookies or Bars
Cookies can be super complicated, but they don't need to be. You don't need royal frosting, decorated like an artist cookies.
Try simple sugar cookies without frosting, cut into baby shower shapes. Or go with a simple dessert bar for an even easier dessert.
Related: 15 Things to Do at a Baby Shower Besides Games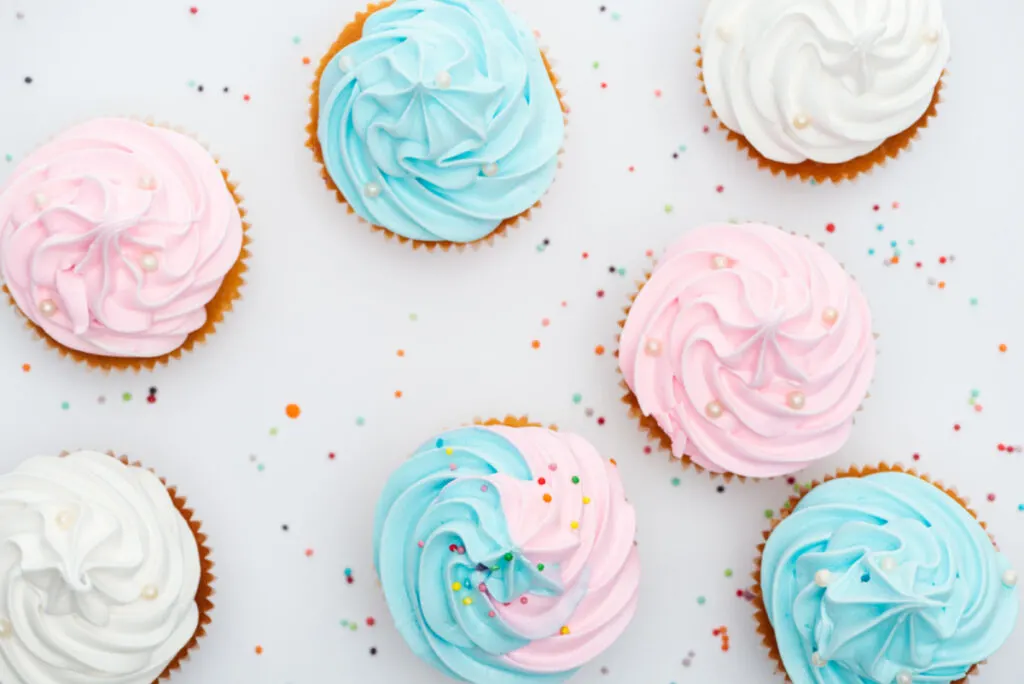 9. Cupcakes
You don't get much easier than cupcakes. Go with a simple vanilla cupcake with vanilla frosting for maximum ease (you can dye it pink or blue if you know baby's gender).
You can even get by without purchasing frosting tips by using a gallon-sized ziplock bag to pipe the frosting onto the cupcakes.
10. Candy
Candy is a super simple way to make a dessert table look colorful and pretty. Borrow some glass vases and bowls to put these on display.
Choose colors and candies based on theme. Buy in bulk to save money, but going with candy can save you so much time, too!
You could even offer little favor bags at the candy table for guests to put together a to-go bag. Getting favors and food done in one fell swoop just makes sense. Plus it's clutter-free!
You Might Also Like: Eco-Friendly Baby Shower Favors for a Sustainable Shower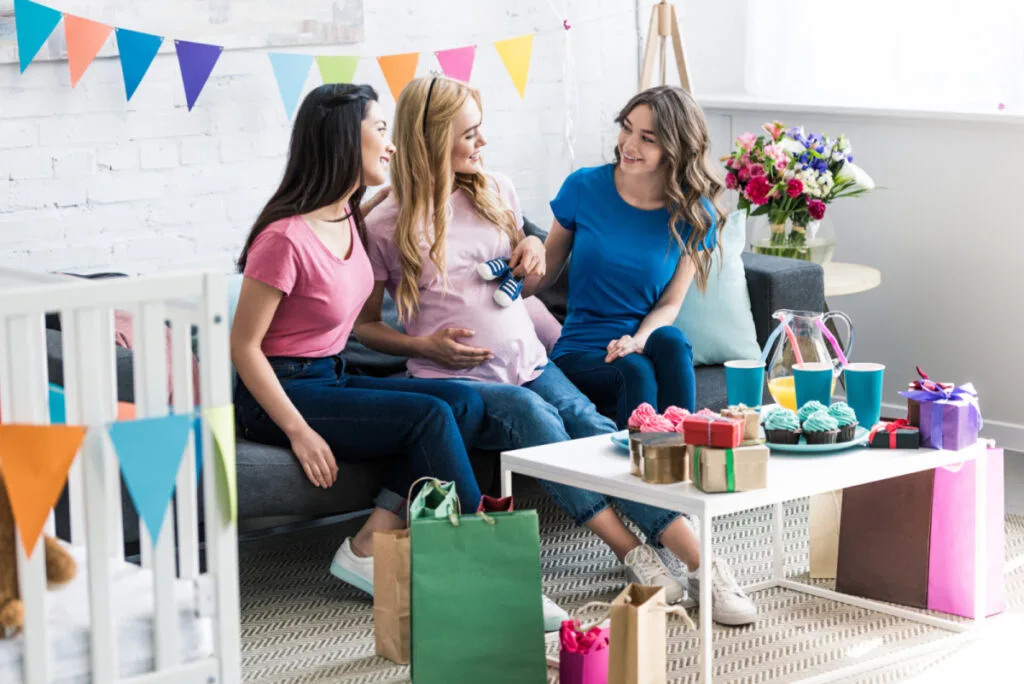 Don't Be Afraid to Host a Simple Baby Shower
As you can see, there are so many ways to cut costs when planning the menu for a baby shower.
It doesn't need to be a super expensive endeavor. Your guest of honor will so appreciate the time and effort you put into celebrating her special day.
She's probably not going to look back on her baby shower and think, man, I wish the hosts had worked harder on that baby shower food. She'll look back and remember WHO was there, and maybe what gifts she received.
So don't be afraid to divide the work if at all possible, and keep it simple.
You'll save a ton, enjoy the shower itself more, and no one will know the difference.
Read Next: 25 Inexpensive Baby Shower Gifts – Both Practical & Affordable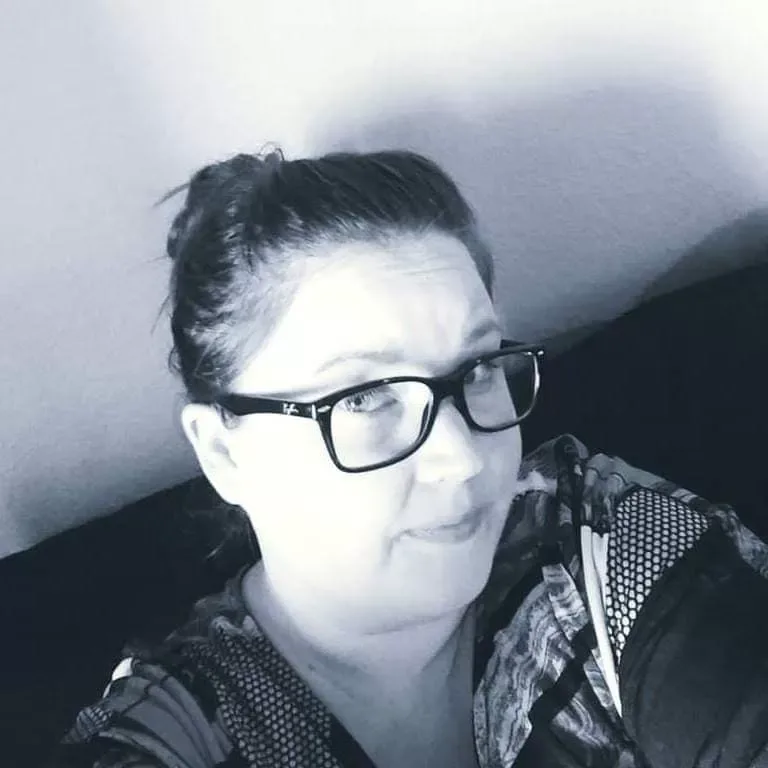 Amy is a freelance writer and blogger who homeschools her tribe of tiny humans while pursuing her lifelong dream of becoming a published author. She is fueled by coffee and the desire to do ALL. THE. THINGS. She has the attention span of a squirrel, though somehow manages to make it through each day with everyone fed and happy (well, mostly happy! Ha!) while striving to make every tomorrow better than the last. You can hear more of what she has to say over at Real Talk with Amy, where she blogs about all things motherhood.