Inside: According to a mom of 5, these 40+ baby essentials for the first 3 months will make your life SO much easier those first few months with your newborn. Could you live without them if you had to? Sure. But trust me when I say: you really don't want to.
Every baby registry checklist is going to offer you a list of "baby essentials".
As a mom of five, I used to scoff at those lists. I mean, do you REALLY need a boppy? Really?
But then I stopped for a minute to remember those first three months with a newborn. Everything was new, everything was awkward and uncomfortable and foreign.
Tears were a given (both me AND the baby).
That boppy was actually a godsend: it gave my tired arms a break when breastfeeding took FOREVER because I was really bad at it. I mean, REALLY bad.
There are things I truly needed with my first baby that I abandoned with baby number three.
It doesn't mean those items weren't truly essential when I was a new mom learning how to do all the baby things for the first time.
As much as I hate clutter, I had to admit that there are a LOT of baby essentials for the first three months as a first-time mom that you'd be better off NOT trying to do without.
When you're done with them, you can pass many of these things on to your friends when they become first-time moms. Or resell them on Facebook marketplace. Or donate them to a crisis pregnancy center.
Heck, you can even get these things FROM Facebook Marketplace (most baby stuff from the newborn stage is so gently used that it's still in great shape!).
But when you're a new mom, you truly do need the items on this list for the first three months.
The fourth trimester is beautiful and exhausting and hard all at the same time. These things will get you through it!
Related: How to Organize Baby Stuff in a Small House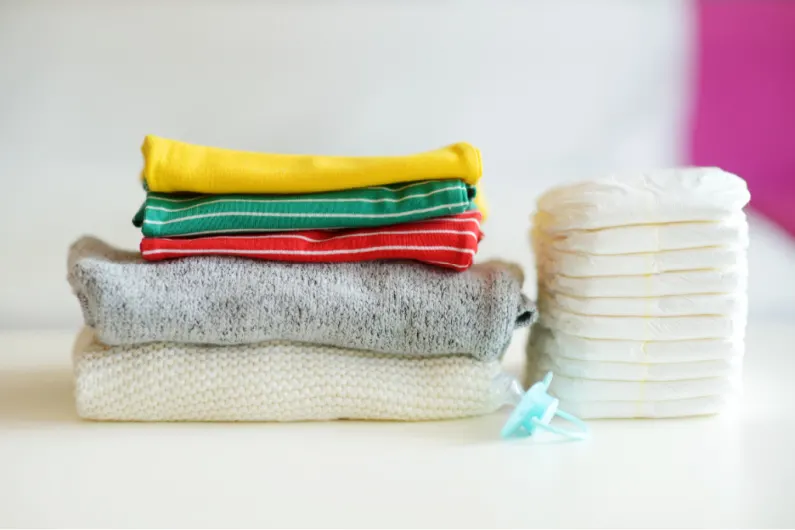 Baby Essentials for the First 3 Months
THIS POST PROBABLY CONTAINS AFFILIATE LINKS. AS AN AMAZON ASSOCIATE, I EARN FROM QUALIFYING PURCHASES. YOU CAN READ OUR FULL DISCLOSURE POLICY HERE.
The items on this list will get you through everything from feeding your newborn to being on-the-go with that screaming bundle of joy to diapering and taking care of that cute little butt.
They are, in my opinion, truly minimalist newborn essentials and will carry you through those newborn days from 0-3 months.
Keep in mind that if you are tight financially or really resistant to owning more than a few baby products, you can always go uber-minimalist and stick to just these minimalist baby essentials.
BUT sometimes, even as a minimalist, I admit that things can make your life easier. And baby products are usually super easy to get rid of once you're done using them.
The "little bit easier" is SO worth it in those first three months.
So in no particular order…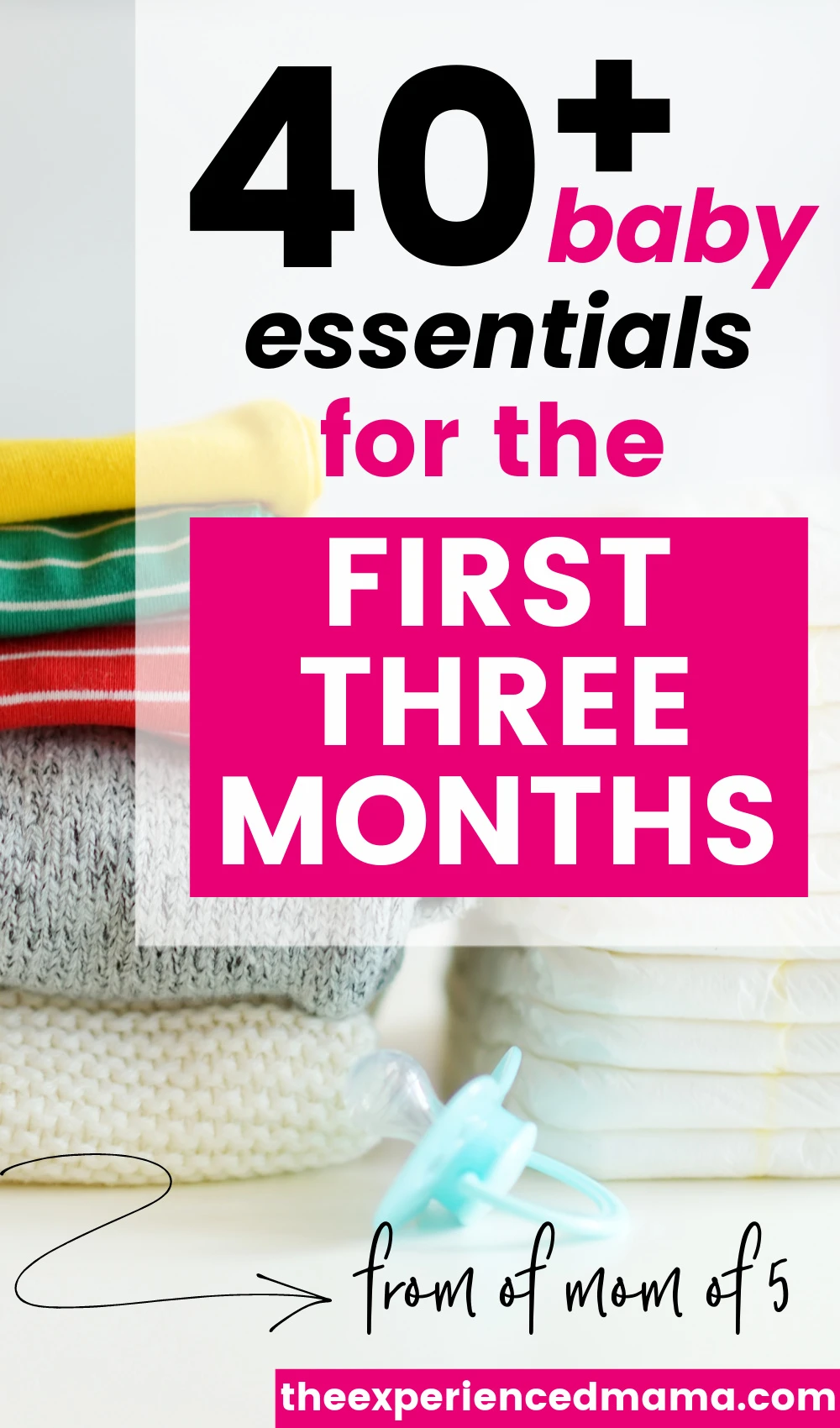 1. Boppy Pillow
I've already said this, but breastfeeding is TOUGH, y'all. It's one of those things I wish they'd told me about breastfeeding.
Even if you're a breastfeeding pro, your baby is most definitely NOT during those early months. So breastfeeding sessions can take anywhere from 30 minutes to an hour.
My arms get tired just remembering.
Grab THIS boppy to support those tired arms AND keep some of the breastfeeding mess off of you and your clothes.
2. Boppy Waterproof Cover
This is something I never had back in the day, but I highly recommend now! Protect that boppy you spent your hard-earned money on (or someone who came to your baby shower, anyway).
THIS waterproof cover goes on BEFORE you put that pretty patterned cover on top.
It'll seriously save your boppy and keep it in excellent condition for babies to come or whoever uses it after you.
3. Boppy Covers
So many patterns to choose from, these are adorable and functional. I recommend having at least two so you can wash one and have a back-up at all times.
You aren't going to have time to wait for the wash – trust me. Those little cherubs just finish one nursing session only to start another an hour later.
If I was buying a new one today, I'd get THIS one. So pretty!
4. Bibs
When you have a baby, they go through SO many outfits. Seriously – laundry for daaaaays.
If you can prevent just a few of those outfits from getting ruined, you should do it! Bibs can catch nasty spit-up (all of mine were pukers) and later, so.much.drool.
I personally love silicone bibs you can put in the diswasher, but they aren't very comfortable for newborns or even three-month-olds. Better to use these when your baby can sit up and eat baby food – makes clean up a breeze!
Instead, I recommend waterproof bibs like THESE ones that will keep the spit-up (and later drool) from soaking through to the outfit beneath it.
The point, after all, is to keep the outfit clean and dry. Otherwise you'll end up changing the outfit anyway.
5. Burp Cloths
These are invaluable, especially if you have a heavy spitter-upper. Is that even a word? It should be!
You can register for your typical burp cloths, but the best ones are actually made out of cloth diaper pre-folds. A friend gifted me with several gorgeous handmade ones at my baby shower, and they lasted through five babies.
Many seasoned moms simply purchase extra pre-folds, instead. So make sure to add some to your registry!
You can also usually find pre-folds with pretty fabrics added to them on Etsy. THESE burp cloths look like a good alternative if you can't find quality pre-folds.
6. Manual Breast Pump
Electric breast pumps are all the rage, but can I tell you a secret? I used my electric breast pump maybe twice?
Really. It was such a pain that I didn't even bother.
Now, I didn't truly need to pump because I was home full-time. But I still think having a manual pump is super valuable for ALL new mamas!
Manual Breast Pumps:
fit easily in a diaper bag
help unclog blocked ducts
catch milk from the other breast so you save every precious drop of that "liquid gold"
far more affordable if insurance doesn't cover an electric one
I personally used THIS manual pump, but THIS one is half the price and also comes highly recommended by lots of mamas!
Related: Infant Travel Essentials for Car OR Plane (Be Prepared for Anything)
7. Nursing Cover
Five babies later, I'm home so much of the time that I don't really bother with nursing covers. Nursing for ten years off and on will do that to you.
But when I first started breastfeeding? I really needed that cover.
Even if you only use it outside your home, it can make you so much more comfortable than lifting up your shirt in the middle of the mall (or church – yikes).
The best nursing covers are designed with a strong piece of plastic that holds the fabric away from the baby, making them far more breathable for baby than a muslin swaddle blanket.
Make sure to choose one with a lot of fabric to cover your midsection or back.
8. Grass Bottle Drying Rack
If you are going to use bottles at all, a drying rack like THIS ONE is a must-have.
Keep bottles upright until dry AND save your dish rack for the non-baby dishes.
9. Bottlebrush
While you CAN live without a bottlebrush, it makes cleaning bottles so.much.easier.
Don't skip it if you don't have to!
10. Bottles
Especially if you are going to formula feed, you need bottles. This can be a bit tricky, since you don't know which bottles your baby will actually take well to until you try them.
Most moms get Avent bottles as a free gift with their baby registry. Somehow we accumulated four before the baby came without even trying!
Dr. Brown's bottles are recommended for breastfed babies. Our daughter didn't take a bottle very well, but using Dr. Brown's really helped!
Ultimately, when it comes to choosing bottles, take recommendations from your pediatrician and mom friends. Try a few different ones before stocking up on any one brand.
Whatever bottles you choose, don't forget to start with the 0-3 month nipples for slower milk flow.
11. Electric Breast Pump
If you plan on pumping daily and are going back to work, you will definitely need an electric breast pump!
Make sure to check with your insurance first to see if they offer a free pump or some kind of credit towards one of your choosing.
My insurance company offered the same Medela one to all moms. I wasn't particularly impressed either way, thankful though I was to get it for free.
Regular contributor Kenzie Wright highly recommends the Spectra S2. It's best feature is "the built-in light to see the display screen".
Don't forget to grab some breastmilk storage bags, too!
12. Backpack Diaper Bag
If I could go back in time, I would seriously rethink my diaper bag choice.
I shudder when I remember the one I chose twelve years ago. It was functional, sure, but it definitely reflected my two years out of college age.
It was also a sling over your shoulder diaper bag, and it was constantly rocking forward and hitting the car seat as I walked. Very annoying.
Back-pack diaper bags are much more practical, and they tend to be more gender-neutral for both parents comfortable use.
With over 5,000 ratings, THIS backpack diaper bag gets thousands of five-star reviews on Amazon for half the price as the one I chose twelve years ago – and that's saying something! Plus, there's lots of colors to choose from.
Related: The Ultimate Guide to a Minimalist Diaper Bag – Feel Confident About Packing Less
13. Quality Stroller
When your husband tells you to chose the more expensive stroller, listen to him! You won't regret it.
We have had great experiences with B.O.B. strollers. Even if you don't plan on running with your baby, it's an all around quality stroller that will hold up to heavy use and far from smooth sidewalks.
Just make sure you choose the version with the option to make the front wheel lock OR swivel.
The Chicco Activ3 Jogging Stroller comes highly recommended by a friend! She writes,
The Tre Active stroller has big wheels and shocks for a smooth ride! The wheels come off extremely easily and the stroller folds down completely flat for easy storage.

The Miscarriage Mom
Another important thing to consider is whether or not you plan on having more than one child. If so, you may want to consider investing in a double stroller up front OR a stroller than can easily convert to a double stroller to leave your options open.
THIS stroller is one of my favorites for easy double conversions. Plus there are SO many different ways to set up the seats – facing you, facing away, facing each other.
If two kiddos are in the plans at all, definitely check out the City Select Stroller. I've drooled over it for years, and a very good friend adores hers!
14. Baby Wrap
Personally, I never even tried to learn how to use a baby wrap. I was too scared of doing it wrong and dropping my baby. My babies were also on the large end of the newborn spectrum, ranging from 8 lbs. to 10 lbs.
But there are SO many moms who rave about baby wraps to ignore these lifesavers, especially for the first three months! If you want to get dishes done or just be hands free for a while, a wrap is essential.
Plus, some of the infant inserts for bigger baby carriers can be dangerous as newborns can slump down into them and suffocate. Hold off on using something like an Ergo Baby Carrier (my personal favorite) until your baby is older.
THIS Baby Wrap is one of the more well-known wraps that several moms I know loved with their newborns. HERE is another popular alternative that can be purchased on Amazon.
15. Car Mirror
A car mirror might seem frivolous for new parents.
But especially not that pediatricians are encouraging parents to keep children rear-facing as long as possible (until age 2 and beyond), having one can bring you peace of mind. It's reassuring to be able to see your baby in the car at all times.
You can also better deduce why she is screaming her head off. Maybe she's dropped something, her headband is covering her eyes, or the pacifier has fallen out of her mouth.
And when the screaming in the car seat stops? You can tell whether she has fallen asleep or something is wrong and you need to pull over.
16. Car Seat
Obviously you need a car seat – they won't let you bring your baby home from the hospital without one properly installed!
The Chicco KeyFit 30 has easy installation and easy to use in general. It comes apart easily for washing (key feature!).
And trust me, between all the blow-outs and the spit-up, you're gonna want a car seat you can take the cover off of without cursing (ask me how I know).
The only complaint is having to hold both sides of the arms to lower it, but that's a typical feature of most car seats.
I've considered going without an infant car seat. We used and loved Diono Radian car seats with our older kids – they are especially amazing for their space-saving features and being able to fit three kids in car seats across the back of a small vehicle.
But you forget just how easy it is to take a sleeping baby in and out of the car with an infant car seat. It is absolutely worth having an infant car seat just for that reason.
Make sure to pair it with a Snap-N-Go stroller like THIS one. Those car seats can be HEAVY.
17. Cold Weather Car Seat Liner
Some mamas swear by the car seat covers, but when we lived in Boston, I swore by the car seat liners.
THIS cover is the one we used and loved, and it made it SUPER easy to transport a baby in cold weather. You didn't even need to bother with jacket, which are a safety hazard for use with car seats.
Put on a hat, zip baby in, and you're good to go!
18. The Baby Whisperer Solves All Your Problems by Tracy Hogg
This book is for you, mama. And trust me, it's gonna be a life-saver!
Author Tracy Hogg shares so many helpful tips and tricks on everything from getting your baby to follow a gentle routine to interpreting your baby's cries. Her work focuses more on rhythms and routines than the clock.
She also offers a no-cry sleep training solution if you decide to go that route. Typically, experts encourage you to wait until your baby is older than three months to attempt sleep training though.
If you're looking for ideas on how to build a little bit of structure into your days, THIS book is the way to go. Her original one is a keeper, too!
Make sure to steer clear of the much more rigid Becoming Babywise.
19. The Womanly Art of Breastfeeding
Breastfeeding can be pretty tricky to figure out, and unless you want to be calling (and paying) a lactation consultant for every little worry, you need this book!
The Womanly Art of Breastfeeding has answers to pretty much every question you could have, and it can help you know when it IS time to seek out professional help with breastfeeding.
Note: The edition linked to above is the most recent edition. While you can find a copy from a friend or thrift store, getting the most updated edition could be a good investment.
Related: 8 Things I Wish Someone Had Told Me About Breastfeeding
20. Nose Frida & Nasal Spray
Those little bulbs they send you home with from the hospital do a decent job of getting rid of snot when your baby has a cold, but seriously – they are SO not hygenic. The likelihood of snot or mold getting stuck in there is pretty high.
That's why you're going to want to get a Nose Frida ASAP because your baby IS going to get a cold at some point during their first year of life. Just don't ever skimp on the extra filters – in fact, buy extra right now while you're at it.
21. Burt's Bees Original Baby Shampoo & Wash
A great alternative to the classic Johnson & Johnson baby products, which unfortunately contain chemicals you really don't want your baby exposed to on a regular basis, Burt's Bees Baby Wash is definitely a baby essential.
The original is fantastic, and while we've never tried the calming version, the lavender scent especially can be a great addition to a calming bedtime baby routine!
22. Hooded Bath Towel
The description on Amazon said that THIS hooded towel was the softest baby towel.
Well, I'm happy to say that they do not lie! SO STINKING SOFT.
It's also nice and big, with great "wrapability" (is that even a word?).
P.S. Hooded bath towels may not seem very "essential". But I've used them for all of my kids up until age 9, and they loved them. They are so much easier to use for kids!
23. Earth Lavender Baby Lotion
Every night before bed, I would rub my baby down with a lavender baby lotion. Not sure if it was the routine or the lotion, but altogether, it did the trick.
If you are STRUGGLING to get baby to settle down at night, grab a bottle of THIS lavender lotion and give it a try. It can't hurt!
24. Digital Ear Thermometer
For the record, this is NOT a substitute for a rectal thermometer. Your pediatrician is always going to ask you for a rectal temp when you call into the office (hence baby essential #25).
BUT. When you feel like your baby just cant handle any more rectal temp checks (can you blame him? poor guy!), having a digital ear thermometer like THIS one on hand can give you a ballpark temperature reading without another cry session.
25. Rectal Thermometer
Unfortunately, this is a staple for baby's first year. You're definitely going to need to have one like THIS ONE on hand.
Make sure to also keep some lubricant on hand for using the rectal thermometer. Another not-so-fun baby essential no one likes to talk about…
26. Children's Tylenol
Those fevers are bound to come during your first year, and unfortunately, from having five babies, you will probably experience one in your first three months.
Children's Tylenol (generic versions like THIS ONE are fine – and cheaper) is one of those things you do NOT want to discover you're out of when your baby has a fever (ask me how I know)!
Grab a couple of bottles now, and make sure to always have a back-up in the medicine cabinet.
Note: You should NOT use ibuprofen during your baby's first three months, so tylenol is a must-have.
27. White Gerber Onesies
Gerber keeps these packs of onesies super affordable, and because they're cheap, you won't feel as guilty throwing them away after all.the.blowouts.
I don't care what kind of diaper you use, they WILL happen. And all those hacks to get out baby poop stains? Yeah. You're still gonna have stains – just keepin' it real.
Plus, if you buy a pack in every size, you'll have a top that goes with any kind of bottoms. Super helpful if you're rocking hand-me-downs!
28. Changing Pad
You really don't need a changing table. Much like crib bumper pads, I think they are on their way out for good.
A simple changing pad (we had this one) put on a low dresser (or the floor under the couch) works just as well!
Make sure to get at least two changing pad covers for the inevitable poop stains to come.
29. White Noise Maker
There are parents who insist on teaching their baby to sleep WITHOUT white noise.
I'm not one of those parents.
Repeat after me: anything that helps my baby sleep better and longer is GOOD. Short of the tranquilizer darts my husband and I keep joking about that is.
We've used THESE white noise machines for years, and they work like a charm. Portable, with a cord or battery operated (which you'll appreciate in a black-out), they're affordable and come with five sounds.
Now you don't have to creep down the hall after putting the baby to bed or cringe at every loud noise anyone makes in the house while baby is sleeping. You're welcome.
30. Black-out Curtains
Again, why work harder to get your baby to sleep? Black-out curtains, or at least dark curtains are a baby essential for the first three months.
Just make sure to open them wide when baby IS awake to help develop day/night awareness.
31. Night Light
A night light is super helpful for middle of the night diaper changing sessions! And there will be what feels like a gajillion of those.
Make sure to choose one with a warm, amber light. Whoever invented the bright, white light LED ones should be fired.
32. Baby Monitor
This is an item I did without for a long time, simply because we lived in small houses (all under 1200 square feet). But we eventually caved and bought one, just so I could go outside on the patio without checking on the baby every ten minutes.
Let me tell you – it makes SUCH a difference in your ability to truly rest as a mom. Make the investment, even if it's a super basic one.
And hey, I've heard the expensive webcam ones can be hacked anyway. So super basic may be the best choice after all.
33. Swing
Another baby essential item I did without for a long time, a side-to-side cradle swing like THIS one is TOTALLY worth it.
My fifth baby napped in this swing, was happily awake in this swing, practically lived in this swing the first six months of her life.
It was quite honestly my lifeline while I battled postpartum depression and tried to keep my head above water with four older kids, homeschooling, and work.
Borrow one if you have to: don't skip it.
34. Pack n' Play with Insert
I coslept with my fourth and fifth babies, but I usually waited until six weeks to start. In the meantime, I used a pack n' play with a removable infant bassinet.
The bassinet is key! You don't want to lower a sleeping newborn into a deep crib or pack n' play – that baby WILL wake up.
Having a pack n' play is also great for traveling or for using in a different part of the house to keep the baby safe so you can get some other things done.
35. Crib Sheets
You are going to want to have 3-4 extra crib sheets on hand for the inevitable baby messes. You don't want to run out during those first few months!
If you want to go longer between washes, you can use flat waterproof mattress pads like THESE that are easier to swap out when wet.
36. Baby Blanket
The official recommendation is no baby blankets in cribs due to suffocation dangers. But you can still have one for car seats and swings.
For cold weather babies, I prefer crocheted or knit blankets that are warm, but breathable.
For warm weather, muslin swaddle blankets are lightweight and versatile. Throw one in your diaper bag for baby to do tummy time on, use as a nursing cover in a pinch, or to protect baby's feet from the sun.
37. Car Seat Toy
Let's be real: sitting in your car seat all the time probably gets pretty boring. A car seat toy can make it a little more interesting.
We loved our car seat caterpillar toy. As your baby gets older, she can grab on, pull and watch it go back up.
Is it a necessity? Not really. But all my babies enjoyed having one on their car seat.
38. SwaddleMe with Velcro Closures
My firstborn was a master escape artist with ANY swaddle. I was at the point of mental breakdown when she was waking up every 45 minutes round the clock.
Pretty desperate, I tried the only other thing I knew to try – belly sleeping. While it did work like a charm (I finally got more than an hour of sleep at a time), I always felt anxious, knowing that pediatricians consistently recommend back sleeping because of SIDS.
That's why I was SO happy to discover SwaddleMes with subsequent babies. It was the only way I could make back-sleeping work. Without the SwaddleMes, they were guaranteed to wake up early and unhappy.
And that's not fun for anybody.
39. Sprout Baby iPhone App
The haze of the first few weeks is real. You think you'll remember which side you nursed on last, but trust me when I tell you that you won't. And not remembering has potentially painful consequences (mastitis is no joke, friend).
While you can use things like hairbands on wrists to track things like feedings, I recommend making good use of technology, instead. Use the Sprout Baby iPhone app to help you record all.the.things.
Everything you need is on this one app! Track feedings, solid food, development, medical history, milestones, and first memories, and medical symptoms.
You can also track pumping activity, sleep, diaper changes, and activity time.
40. Diapers
Obviously, when there are babies, you are gonna need diapers.
There's naturally a constant debate going on about which diapers are the best diapers. Which ones hold in blow-outs, which ones really are leak-proof.
My personal loyalties lie with Huggies for all five kids, although I have jumped over the line during a really good sale or a moment of desperation. But I always come back to Huggies.
I would, however, avoid stocking up on a particular brand too early though. You never know if your baby is going to be allergic to one brand or another.
41. Wipes
There may be debate in the diaper department, but with wipes? Huggies Wipes are unquestionably superior to all others.
Pampers are the WORST. You can get by with some generic brands like Up & Up, but take my word for it – sign up for an Amazon Prime subscription to Huggies Wipes.
You won't be sorry.
42. Boudreaux's Butt Paste
I'm not that uptight about non-toxic this and that, but I did decide a few babies ago that if I have to put cream with chemicals on their butts and I had a perfectly good non-toxic option, I should go with it.
Boudreaux's Butt Paste is just as effective as Desitin, and it's free of dyes, parabens, and preservatives.
Experienced Mom Hack: Put diaper cream on every night before bed, and make midnight poops SO much easier to clean up.
Bonus: Cloth Diaper Essentials
If you decide to go the cloth diaper route, here are recommendations from contributor Kenzie Wright:
You Might Also Like: The Pros and Cons of Cloth Diapers (from a former fanatic)
1. Cloth Diapers
It can take a bit of trial and error to find the right cloth diaper style for you. Learn from my mistakes and try a couple different brands before stocking up.
We thought we would like using prefolds and covers with our baby. Not the case! I was honestly too lazy for all of the folding.
Next, I thought we would want Rumparooz or another expensive brand of cloth diapers. Wrong again!
AlvaBaby diapers are our absolute favorite! The snap design gives a better fit around the leg than other cloth diapers.
We have had ONE (as far as I can remember) poopy leak in 8 months. That's pretty amazing for our poop-slposion prone child.
2. Resusable Wet Bags
A must-have for earth-conscious mamas! Buy two bags so that you can use one while one is in the wash.
There are so many fun patterns to choose from, and as long as you take care of them and don't let them get moldy, you'll be able to use them forever for everything from potty training to pool trips.
3. Bumkin's Cloth Wipes
We have saved so much money making our own baby wipes. You will need 2-3 packs of these or so.
One thing we have learned is the importance of a nice cloth wipe. Some wipes will grip on your baby's skin, while others are simply too small- you definitely don't want that!
Related: Essential Cloth Diapering Tips Ever Beginner Needs
Every Parent is Different. Every Baby is Different.
I'm sharing what I consider to be baby essentials for the first 3 months for ME. But even with five babies under my belt, some of these things might not be for you.
Everyone is different!
You might be a frugal minimalist and think half the things on this list aren't truly essential.
You may not want to use bottles at all, and you might be fully confident without a nursing cover from the beginning. There goes 5-6 items off your list!
You may never need a humidifier because when your baby has a cold, you just bring him into the bathroom and run the shower. There goes another one.
You do you, mama.
Finally, the more of these things you can allow other people to buy for you on a baby registry, the better. If you don't already have a registry, Amazon's registry incentives are pretty sweet: get started HERE.
(Now excuse me while I quietly mourn Babies R' Us where I did my first baby registry. Oh, nostalgia. Kidding…kind of.)
Read Next: 21 Things You Do NOT Need on Your Baby Registry
What did you consider to be minimalist newborn essentials? What got you through those first 3 months? Share in the comments!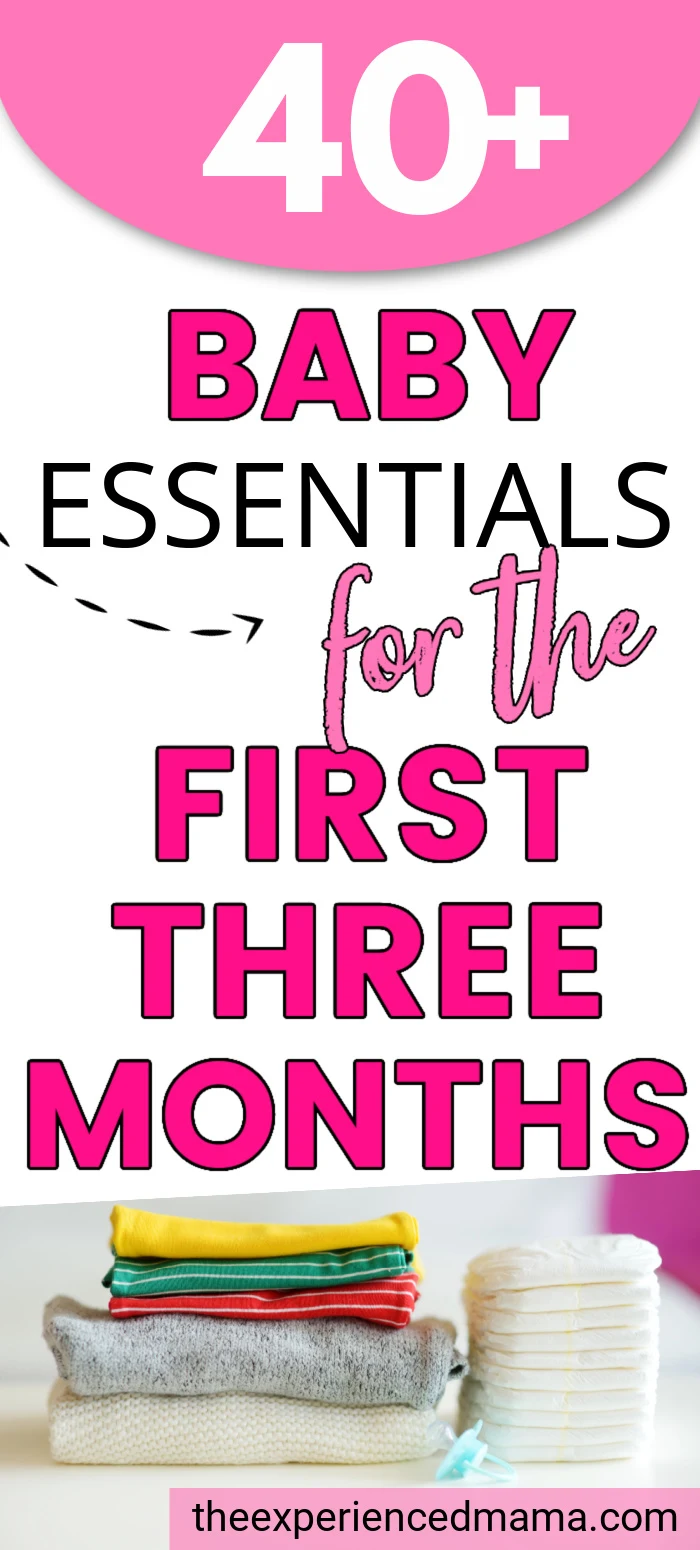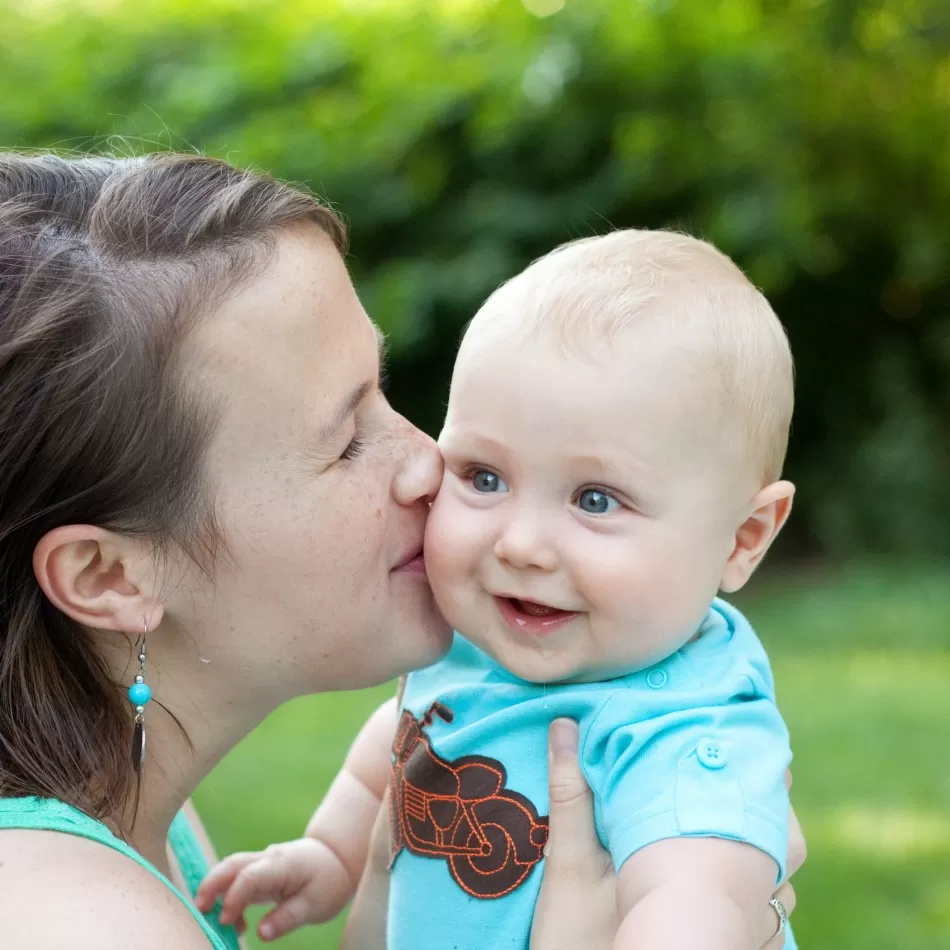 June could talk to you all day about homeschooling, parenting, and minimalism. When she's not homeschooling, decluttering, or blogging, she loves to enjoy perfect silence while sipping a hot cup of coffee and thinking uninterrupted thoughts—which, of course, with five kids, doesn't happen very often.