Inside: Wondering where to give away baby stuff so your donations actually get to the parents who need them? We'll cover what NOT to donate, and the best places to donate your gently used baby items (or sell for super cheap).
An Ergo baby carrier. It was the last remnant of over ten years raising five babies, one after the other.
This wasn't my first baby carrier. I'd been through a Bjorn and another Ergo baby carrier prior to this one. My babies spent HOURS in these, and this one had the stains to prove it.
I washed and dried it, and then the hunt for a new home began. I wanted it gone ASAP.
But giving away baby stuff? Surprisingly hard in the rural area we moved to a few years ago. Giving away baby stuff when I lived in cities was so.much.easier.
I listed it on Offer Up for $10 (the carrier retails for over $100). I even dropped it to "free" – still no bites.
Someone said a friend could use it – but then I didn't see that friend of a friend for weeks, and by the time I did, it was too late. And at that point I'd told my other friend who wanted it that the carrier was already spoken for.
Leaving me stuck with the carrier taking up space in our not-so-big home. SO frustrating.
I finally managed to give it away to a different friend of a friend, and I'm so glad it could be put to good use for another baby. But it made me painfully aware that getting rid of baby stuff isn't always so easy.
That's why I wanted to cover the nine best places to give away baby stuff FAST. So you're not stuck with stuff you don't need, and it can get to the next parent who needs it right away.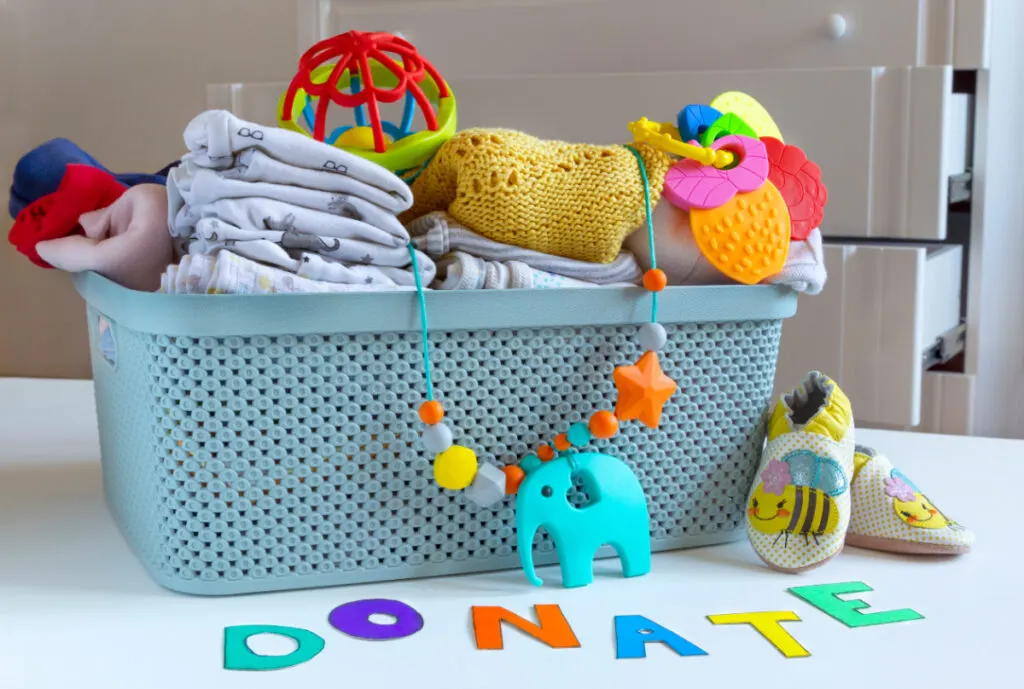 Obvious Reasons to Give Away Baby Stuff ASAP
THIS POST PROBABLY CONTAINS AFFILIATE LINKS. AS AN AMAZON ASSOCIATE, I EARN FROM QUALIFYING PURCHASES. YOU CAN READ OUR FULL DISCLOSURE POLICY HERE.
So many baby items are very gently used by the time your baby doesn't need them anymore because babies change and grow so fast.
Sometimes you never use them at all! (I'm lookin' at you, Diaper Genie.)
After a few months, you're left feeling like you're drowning in baby toys, clothes, and big-ticket items like swings and bouncers. Clearing out the baby items that have become clutter can make you feel so much lighter as a parent! Trust me.
Thinking of storing things for the next baby? Well, sometimes that can go terribly wrong. We lost a big, expensive Diono car seat to mold. That seat could have served a family for another three years.
Especially if you're not planning on having any more children, or you know it will be a long time in between babies, it's time to free up space in your own home AND get that baby stuff to people who can use it today.
Related: What Baby Stuff Should I Keep? Clear Guidelines for Difficult Decisions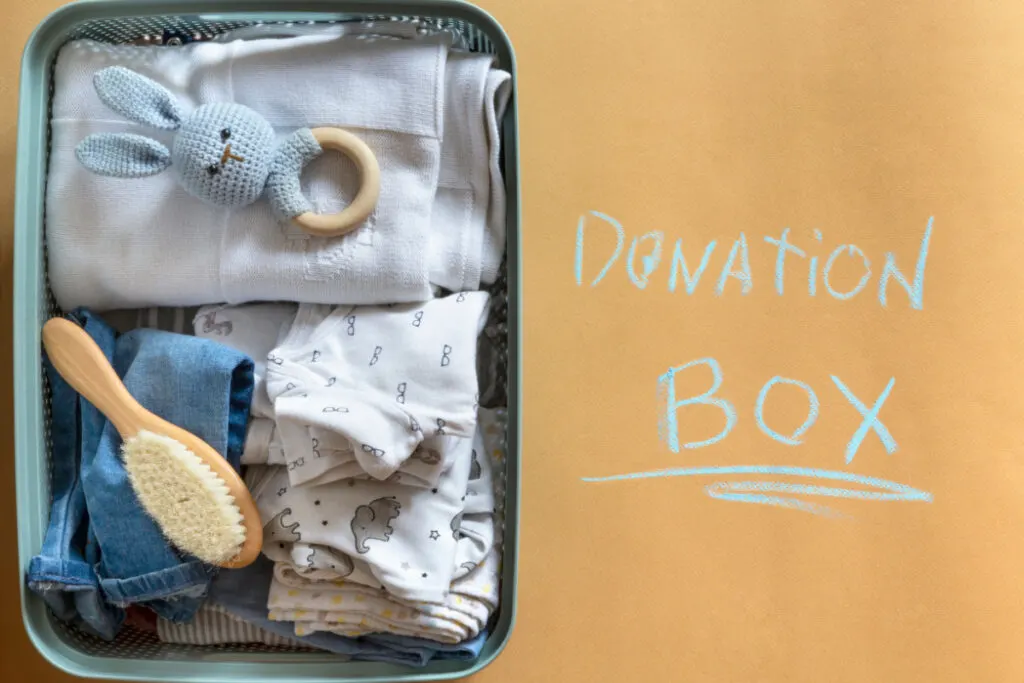 Baby Items NOT to Donate or Give Away
Most baby items are used for such a short amount of time that it's really wasteful not to use them for another baby (whether it be your own or someone else's).
But there are some items that you don't want to reuse or give away and are best just to toss out. The top ones to toss:
Car seats. Car seats have an expiration date and are considered compromised and not safe to use again after being in an accident. Additionally, they are constantly updating car seats to make them more and more safe. Unless you have two kids very close together and reuse your own car seat for the next baby, it's always a good idea to purchase a new one.
Really old cribs. Now that we are in 2023 this may not be applicable as when I had my first child, but cribs used to be drop-side. Which we eventually learned is ridiculously unsafe. If you are getting a used crib please be sure that it is up to current safety standards and that you have all the pieces and instructions so that you can rest assured that you've also assembled it correctly.
Bottle nipples. Bottle nipples (or really any silicone baby item, especially those made for sucking or chewing on) break down pretty quickly. There is a chance of a piece breaking off of an old bottle nipple and becoming a choking hazard.
Binkies/pacifiers/dummies. Whatever you like to call them, don't reuse them. Binkies are cheap and pose the same safety hazard as bottle nipples when they get old. It's better to just toss them out and shell out another $1-4 for a fresh one.
Mattresses. While it might be tempting to save $100 by getting a used crib mattress it is not worth the risk! Reusing a mattress for a new baby is shown to increase the risk of SIDS. This increased risk exists even for a new baby within the same family but increases exponentially if it is a mattress from another family.
Baby/Toddler Potties. These things are just gross by the time little ones are finished with them. I should know – I just caved and purchased a second for my 4-year-old because the previous one was disgusting and no amount of cleaning would fix it.
Stained, Ripped Clothing or Burp Cloths – Unless you're giving them to a dear friend who could care less about stains, it's usually not in good taste to donate these items. Toss them or save them to stuff something (like a leather pouf).
The old adage usually applied to food safety fits here, too: "When in doubt, throw it out."
Pretty much anything you wouldn't want to buy second-hand or receive yourself, do not donate those items. Throw them away.
You Might Also Like: How to Organize Baby Stuff in a Small Space (from an actual mom)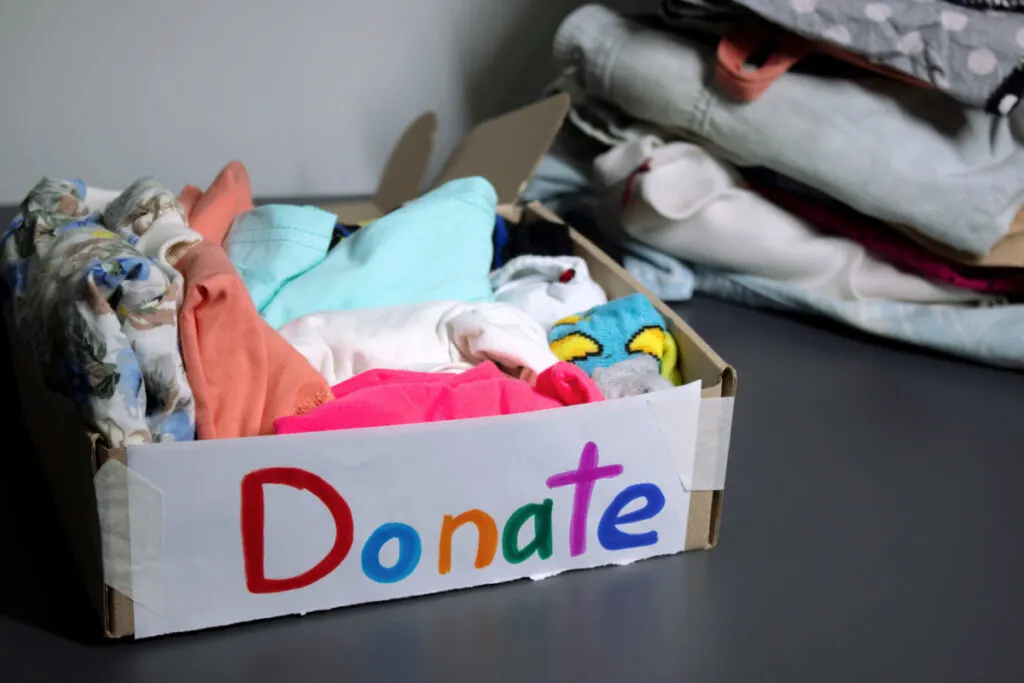 The Best Places to Give Away Baby Stuff (Donate or Sell for Cheap)
Some of the best places to donate baby stuff are locations that specifically help people in need.
Whether you prefer driving and dropping off all of your baby items at one location, or listing them to give away one by one, this list of ideas will cover your needs.
Arguably, a slow and steady approach, where your gently used items are given to specific individuals is best because you know they are going directly to someone who needs them right now. If you give them to a general thrift store, there's always a chance they'll be trashed anyway.
If you're debating one or the other, remember to consider and prioritize your mental health – you are a caregiver, after all.
Are you in a position to get rid of things slowly over time? Or do you need your space to be clutter-free right now? Let your answers to those two questions guide your choices.
And I think it goes without saying to please thoroughly clean anything you decide to donate. Think about how you would want to receive a gently used item if you needed it for free or were buying it second-hand.
Now on to the list!
1. Donate to Goodwill.
Goodwill is probably one of the most well-known thrift stores in the United States.
It's arguably the best place to donate just because they are so good at what they do: rehoming cast-offs in the best possible way while also providing jobs to a population that faces barriers to employment.
If there isn't a Goodwill near you don't worry, there are a lot of other great places where you can give away baby items and still help out the community.
Find your local Goodwill here.
2. Give your unwanted baby items to The Salvation Army.
Much like Goodwill, Salvation Army is extremely well-known for taking donations and giving back to the community in so many ways.
If you've seen the red bucket at Christmastime, you've seen the Salvation Army at work.
They've been in business for 157 years! Donating your gently used baby items to the Salvation Army can be a great way to give back to your community.
Find your local Salvation Army here.
3. Try other thrift shops or local consignment sales.
What if you live in a small town and there aren't any big stores around you? (Which really is more cities than not here in the US.)
Sometimes rural thrift stores are housed by a local Catholic church. Sometimes it's hidden away in a run-down outlet mall. Search on Google, or ask in local online groups, or ask in a bigger decluttering group.
Alternatively, rural areas sometimes host massive, once a year children's consignment sales. Ask at your local library or parent group.
This isn't necessarily "giving baby stuff away", but it could be a great option because they will often do all the work of tagging things for you, while taking a percentage of the sales.
And if people are buying the items, even if it's only a couple dollars at item, it usually means they truly want or need it.
The organizers of the event often have a means of donating whatever is leftover afterwards, too. You make a little bit of money, and people get the baby stuff they need at a discount. Win-win!
4. Consider pregnancy centers.
Pregnancy centers go by many names including Crisis Pregnancy Centers (CPCs), pregnancy care clinics, and pregnancy resource centers.
While some of their practices are arguably unethical for women trying to decide whether or not to continue pregnancies, if a woman has already decided to continue the pregnancy, centers can be truly life-saving support for up to a year after birth and beyond.
They can provide diapers, baby gear and even more important – a support system.
Use this map to find a CPC near you.
5. Donate to a local woman's shelter.
Women's shelters work solely on donations and are always in need of resources for the women they are helping. They typically house women who are escaping a domestic violence situation.
These women often leave their homes and head to the shelter with only the clothes on their backs. If they have babies, these women will absolutely benefit from your gently used baby items.
Sometimes women's shelters also help to get homeless women back on their feet, and many of them can benefit from your generous donations of baby items as well.
6. Give directly to someone in your network.
Obviously, if you had pregnant friends, you probably wouldn't need to figure out what to do with old baby stuff. You'd already have given it away!
But even if your friends aren't pregnant, chances are they know someone who is.
And in this economy, I honestly don't know anyone who would turn away free, gently used items like swings or bouncers or strollers. Those things are crazy expensive.
Reach out to your network: friends, family, coworkers. See if they know anyone who needs or wants second-hand items. You'll be surprised at how effective this can be!
7. List in Buy Nothing Facebook groups.
Most cities have a group on Facebook specific to their location featuring items that people are donating. These groups exclude items for sale and only accept items that are listed for free or sometimes for trade.
Head up to the search bar in Facebook groups and look for your local "buy nothing," "free or trade," or "free" Facebook group to find locals who would love to take the baby items you are ready to give away.
8. Donate to foster care families.
This one is a bit trickier, but there is a huge need! Foster care families often get placements overnight. If they are signed up to receive babies, they usually have at least a crib in their home already. But they might not have kept other items like strollers or swings, especially if it's been a while since their last placement.
Search using terms like "foster care family donations", or reach out to your local child services office to see if they know where you can donate.
9. List free or for cheap on Offer Up or Facebook Marketplace.
There are a lot of different apps these days designed specifically for listing your unwanted items for sale. I mean A LOT!
The one I've found the most success with (really the only one I've found success with) is OfferUp.
I will say that sometimes, listing things for free doesn't always go very well because people think free equals not worth buying. So for more success, try listing it for very cheap, instead of free.
10. Look for clothing donation bins.
If all else fails, you can at least donate your old baby clothes. There seems to be clothing donation bins in every grocery store or gas station parking lot.
For these bins, make sure to put your unwanted baby items in plastic garbage bags.
The same rules apply: don't give away anything that belongs in the trash or you wouldn't want to receive handed down from a friend.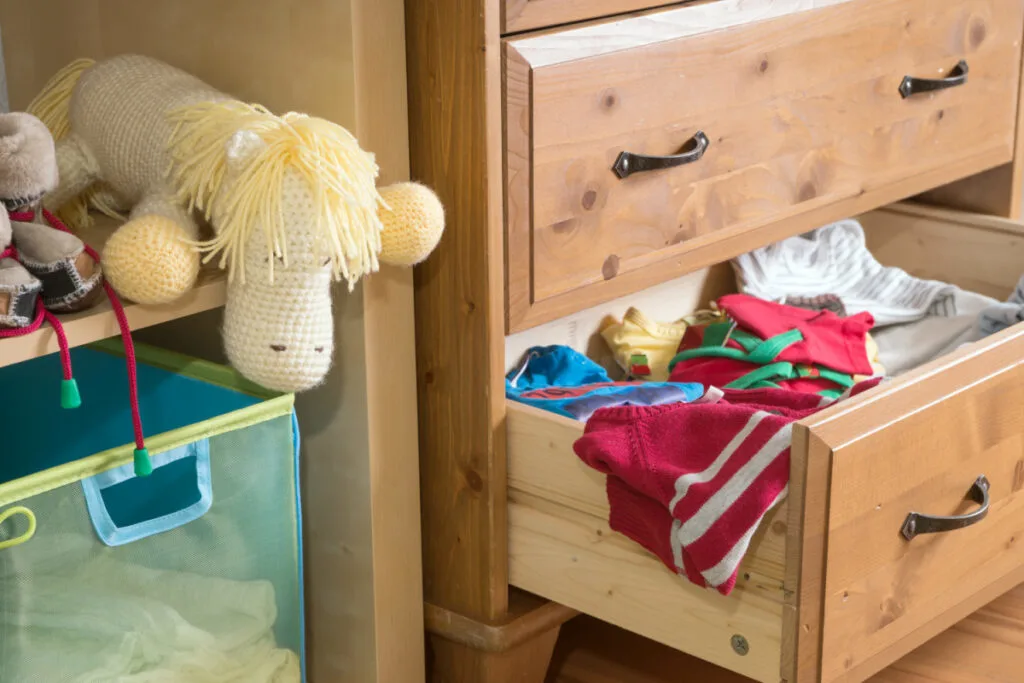 The Best Part About Giving Away Baby Stuff
Sometimes it's nice to sell some of your big ticket baby items, but honestly, a lot of baby stuff doesn't have the best resale value (especially clothes).
Instead, you can greatly help those in need by simply donating your gently used baby items. Giving away your baby stuff can make a huge difference to moms in need.
I hope you find a new home for your baby items quickly and clear space in your home for the next stage of your parenting journey. Good luck!
Read Next: Keeping Clothes for Next Baby: Do's and Don't's from a Mom of 4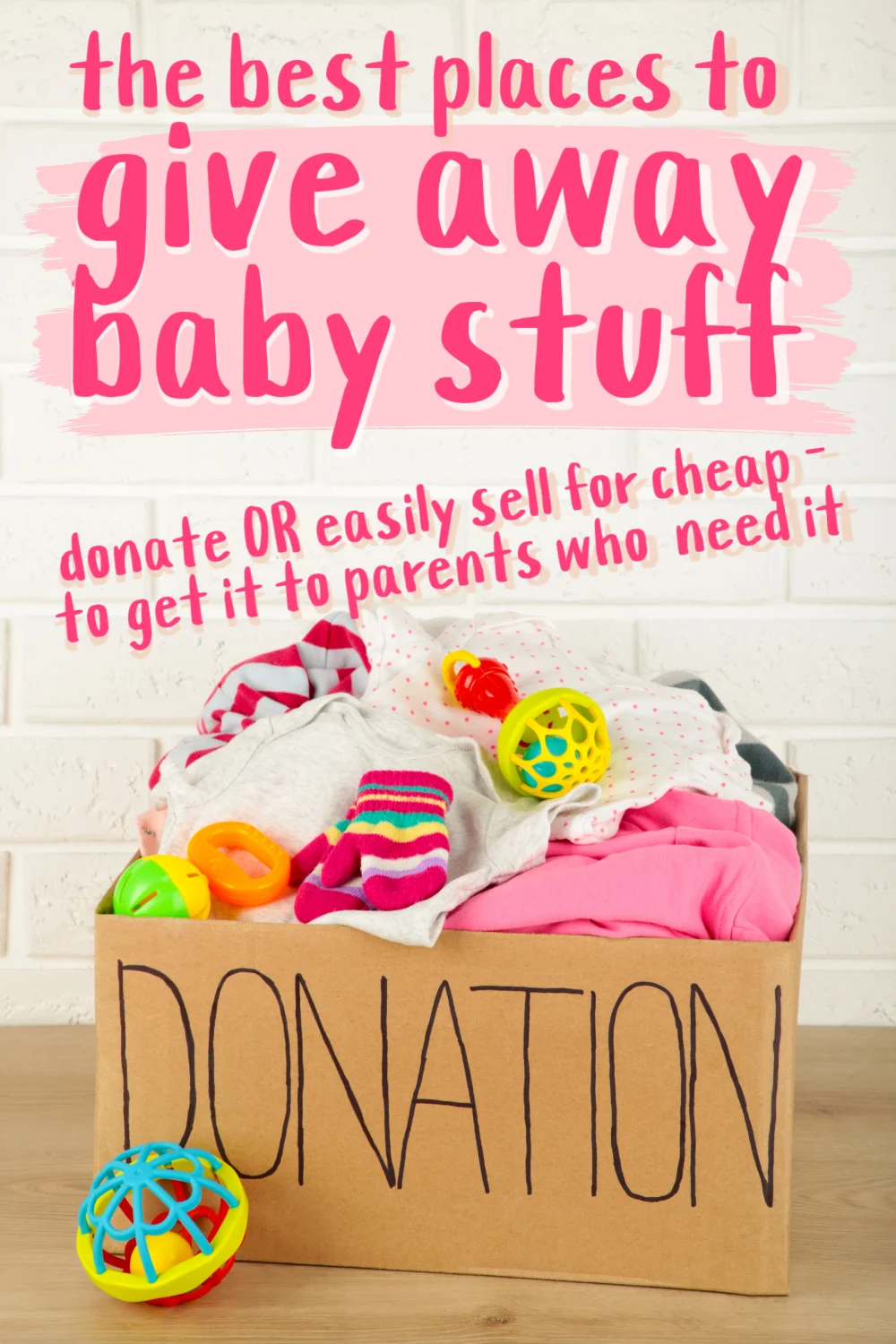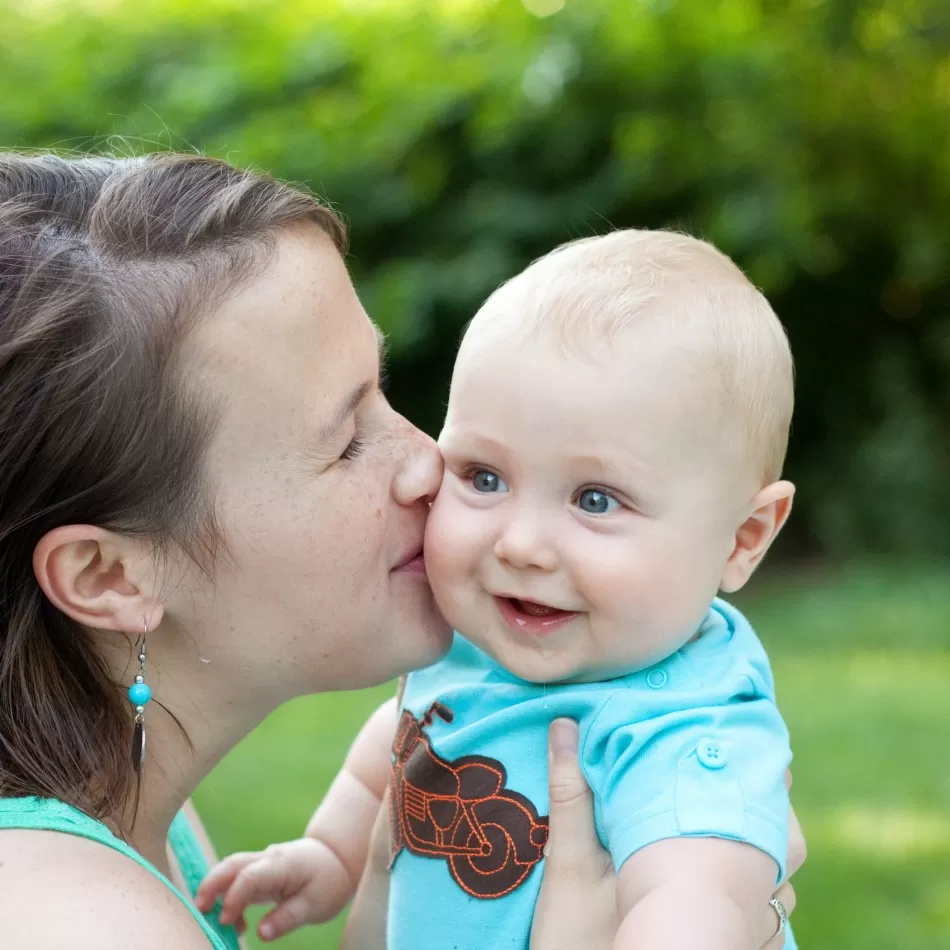 June could talk to you all day about homeschooling, parenting, and minimalism. When she's not homeschooling, decluttering, or blogging, she loves to enjoy perfect silence while sipping a hot cup of coffee and thinking uninterrupted thoughts—which, of course, with five kids, doesn't happen very often.