Inside: It's easy to focus on all the baby stuff you'll need once baby arrives, but don't forget to put together a DIY postpartum care kit for YOU, mama. Here are the absolute essentials new moms need postpartum – that you don't want your husband trying to buy for you.
Right now, as a new mom, you probably can't imagine not being pregnant. That baby being OUT of you feels so very far away.
But that day is coming, and it's coming faster than you think. One day you're counting down the weeks, and then all of a sudden, your due date is next week!
By that time, you probably have everything you need for baby, but what about you after birth? Do you have everything you need to take of you?
If you haven't already, now's the time to start thinking about creating your DIY postpartum care kit.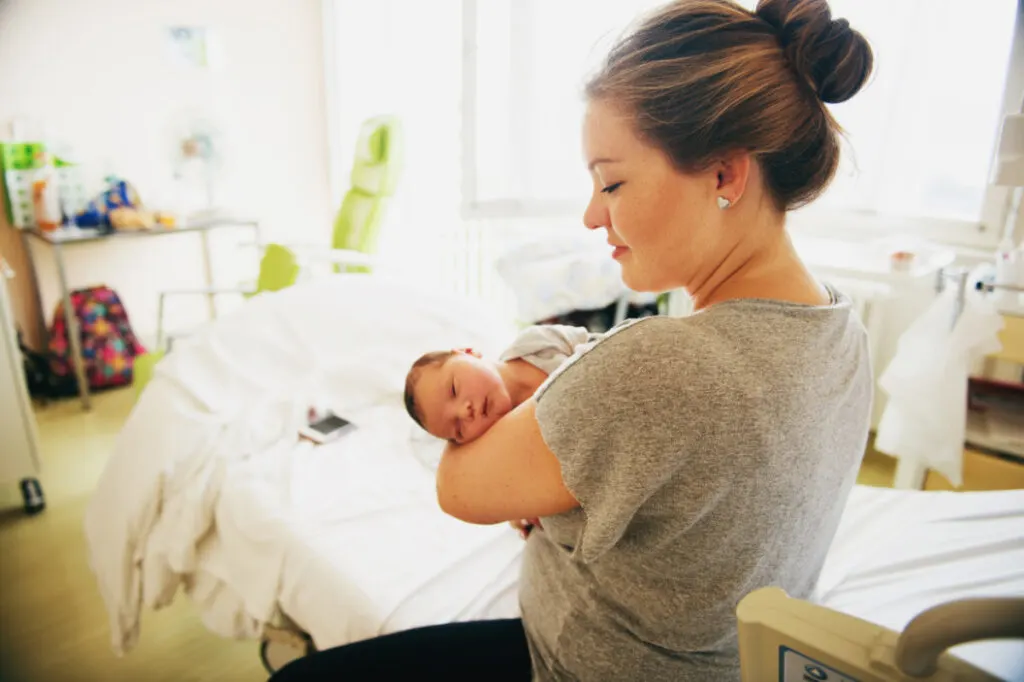 Why (& When) to Start Putting Together Your Postpartum Care Kit
(THIS POST PROBABLY CONTAINS AFFILIATE LINKS. IF YOU LIKE LEGAL JARGON, YOU CAN READ OUR FULL DISCLOSURE POLICY HERE).
Because after that crazy difficult final push, your baby is born, and you are officially headed towards postpartum. It's going to feel SO good not to be pregnant anymore.
And that feeling of accomplishment? I mean, you just pushed a baby out of you!
There isn't any feeling quite like it.
Then, the adrenaline wears off, and the side effects of your "accomplishment" hit you full force. The pain down there, the pain of breastfeeding for the first time, the exhaustion?
Ouch.
If you delivered at a hospital, they've got you covered while you're there. Except for the nursing tanks and your comfiest pjs, they have pretty much everything you need.
If you're lucky, you will be able to take a lot of supplies you'll need after birth home with you.
That being said, even if your hospital is one of the generous ones, you can still run out of the essentials fairly quickly once you get home.
That's why creating an after birth care kit BEFORE you give birth is essential.
Because really? Who wants to send their husband to CVS for pads?
Yep, no one.
And your husband will be forever grateful that he doesn't have to gather all your postpartum essentials for you. Standing in the feminine care aisle, trying to figure out whether you want pads with or without wings, is an experience he can definitely live without.
Related: 21 C-Section Recovery Essentials for a Faster Recovery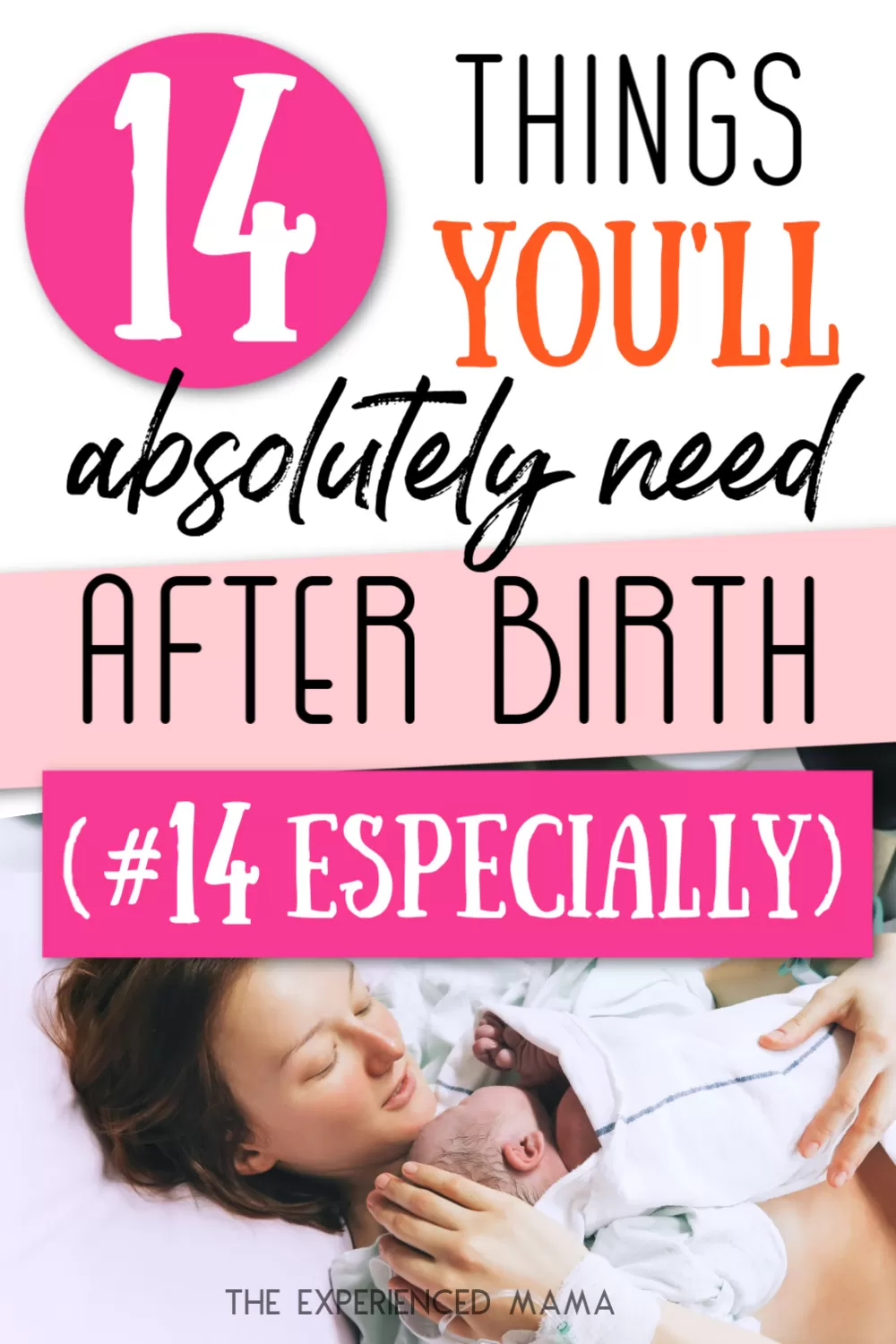 14 Essentials for Your DIY Postpartum Care Kit
As a minimalist, I'm all for not buying crap you won't actually use, so I kept this DIY postpartum care kit strictly to what I consider to be postpartum essentials for new moms (and there's still a lot on it).
Also, keep in mind that everything on this list is for new moms experiencing postpartum for the first time.
So, if you happen to come across this post looking for a refresher on what you might need after birth for babies number two, three or four, you may not need some of these items.
But I'll tell you that I most definitely wanted and needed them after having my second baby – my 10 pounder and first VBAC.
Yep, that numbing spray would have been a godsend.
Here's my top recommendations for products you should include in your DIY postpartum care kit:
I tried cloth breast pads at one point to try to save money, but they just didn't work for me. Some moms don't mind them. Personally, they just didn't seem very absorbent to me.
I also tried various store brand nursing pads, like Up & Up's from Target. Again, they just couldn't compare to these breast pads. They're a postpartum kit ESSENTIAL.
In fact, I just added them to my monthly Amazon subscribe & save list. You really don't want to run out and have to use paper towels until you can get to the store.
Even if you can get your baby to latch correctly from the very beginning (this doesn't come naturally), your boobs have never done this before. And they are going to let you know it.
With PAIN.
Even five kids later, I still experience some soreness the day after I start nursing. So, after delivering my fifth child, I asked the nurse for some lanolin.
And do you know what they brought me? Olive oil.
Um, not the same. At all.
Maybe the all natural thing works for some people, but I just wanted the good stuff.
You're going to want to have a tube on hand because apparently because the nation has gone wacky and decided not to offer this to new moms postpartum anymore.
If you're really wanting something Lanolin-free, this looks like a great organic option. I can't vouch for it personally, but it gets great reviews.
With every single baby, I leak during and after nursing sessions. Seriously. If I didn't wear breast pads? I'd be a wet mess all the time.
You know where else there will be pain, don't you? Yep, down there.
When you breastfeed for the very first time, you realize that no one talks about how much breastfeeding hurts.
Hopefully, your postpartum nurses will show you how to take a sitz bath. You may or may not be able to take the supplies you need home with you.
When I thought about taking a sitz bath at home with my second baby (my first and worst vaginal delivery), I figured I could just use the bath tub. But with a toddler and a new baby, who really wants to fill up the bath tub every single time you want to take a sitz bath?
The same would have been true postpartum with my first if I hadn't have an unexpected c-section.
And trust me, you're going to want to take them as often as you can, especially if you tear during delivery. This over the toilet sitz bath it so much easier to take them regularly.
Don't forget to get some Epsom salts, too, which can speed up the healing process.
4. Peri Bottle
These are essential for preventing infection and not reliving pushing your baby out of you every time you need to pee. Use it every time you use the restroom for the first week, and longer, if needed.
From someone who forgot this simple tip with baby number five, make sure to fill it with warm water to get the full benefits.
Cold water isn't fun.
This three-pack would be great for having one in each bathroom.
Related: I Couldn't Pee After Birth for a Week (My Postpartum Urinary Retention Story)
I forgot how thirsty you can be after birth! Breastfeeding moms especially need as much water as possible.
If you don't already have a favorite water bottle, make sure to get one now.
I preferred ice water with lemon, and having a huge jug of it constantly at my side helped me to stay hydrated. A huge water jug with a lid and straw will help you not need to get refills as often.
You'll seriously be amazed at how fast you can empty a regular-sized cup of ice water, so again, make sure you get a decent-sized water tumbler like this 32 oz one.