Inside: Wondering what to bring someone who just had a baby? Here are 15 super practical gift ideas for someone who just had a baby, with options for every budget.
Your friend just had a baby, and as a mom of 5 not so far removed from having my last baby, trust me: that is definitely a gift-worthy event.
So you're all lined up to visit said new mom, but what the heck do you even bring someone who just had a baby?!
I'm glad you asked because I have the perfect list ready-to-go just.for.you.
How can you be sure that these are the best gift ideas for someone who just had a baby? Because I've been the "just had a baby" position five times now, and as a minimalist who's pretty picky about gifts, I was extra-choosy about what made it onto this list.
These gifts are the perfect blend of practical and pampering.
They are things she needs and things she'll actually use – not clutter she'll then end up having to figure out what to do with and possibly feel guilty about getting rid of. #beenthere
Take my word for it.
Or don't and just make your way to the list already. 😉
You are sure to find something to bring to the new mom in your life. Or even better, get them all and make a gift basket already.
She deserves it.
Related: 20 Best Push Presents for Mom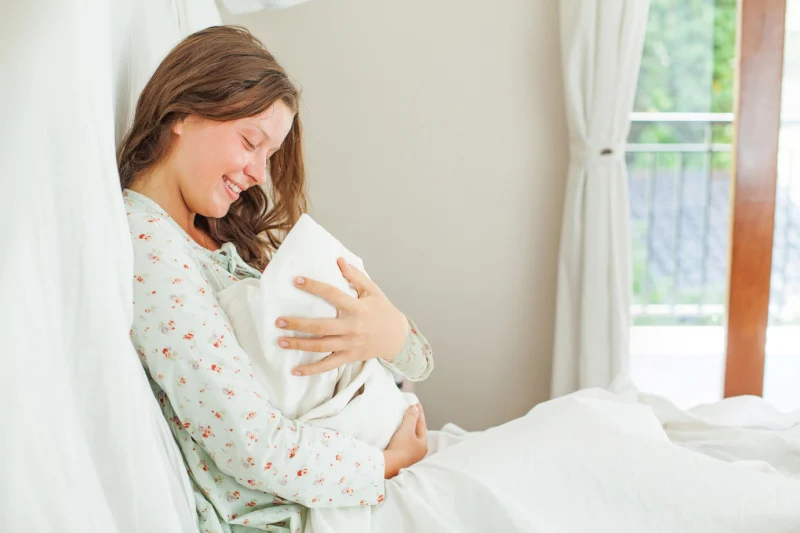 What to Bring to Someone Who Just Had a Baby
These items are loosely organized by price, moving from the least expensive gifts first to the most expensive items at the end.
1. Coil Hair Ties
Say goodbye to hair creasing and your hair getting pulled out.
New moms need their hair out of reach from their baby without it getting yanked out by their hair tie, and THESE coil hair ties get the job done.
(P.S. Later one these can double as a baby toy – my daughter loves to play with these!)
2. Lip Treatment
Because it's so hard to keep up with your water needs, especially if you're breastfeeding, chapped lips are a serious problem.
Forget about your average lip balms – Hanalei's Lip Treatment is the absolute best. It smells like heaven and gives your lips sweet relief.
I love that it is tinted to give you a more polished look. And hey, tinted lip gloss counts as a full face of makeup for new moms!
3. Water Bottle
Speaking of hydration, help her stay hydrated by getting her a new water bottle!
Make sure it's easy to clean (I love THIS water bottle), with a straw and leak-proof.
There's just something about a straw that makes keeping up with your water needs so much easier, and you just never know when that bottle will get knocked over while juggling a baby.
Bonus: Her Favorite Hydrating Beverage
Sometimes, she just won't have the time or energy to refill that water bottle. Whether remembering where she put it is the problem, or she's nursing the baby and can't get up, hydration is an issue.
So help her stock up on her favorite non-caffeinated beverage.
Seltzer, flavored water, or even plain water bottles. Everything that has hydration value is fair game.
Get her 2-3 cases. She'll thank you, for sure.
4. Travel Mug
I have this exact mug, and it is AWESOME.
Make sure to warn her though – it keeps your beverage HOT for a really long time. I have burned my mouth many times by sipping too soon.
Give her the gift of a never-cold cup of coffee (or tea, if that's her thing). What every mom needs.
5. Coffee or Tea
Scope out her favorite coffee (THIS Starbucks blend is what I get every month from Amazon) or tea, and help her stock up. She's gonna need it!
I don't know very many breastfeeding moms that say no to caffeine completely.
But if she's one of the few moms who can survive without caffeine and chooses to (seriously, why?!), see if you can figure that out ahead of time so you can give decaf coffee or caffeine-free tea, instead.
6. Face Cleansing Wipes
When you have a new baby, you don't always have time (or again, energy) to wash your face every night before bed.
That's why having face wipes stashed in her nightstand to clean all that grime off at the end of the day will be a LIFESAVER.
THIS pack of three from Burt's Bee's look (and probably smell) amazing.
7. Dry Shampoo
Whoever invented dry shampoo surely must have been a mom. Or inspired by one.
Because showers? Those are unfortunately few and far between for a new mom for one reason or another.
For when she just can't take a shower, dry shampoo will save her life. THIS kind is the best.
8. Natural Shower Bombs
If she can barely find time to take a shower, long, hot baths are out of the question. Forget bath bombs and other such nonsense that are lovely ideas for people without kids.
Thank GOODNESS that again, some genius knew that not everyone has time for a bath and invented shower bombs, instead.
Similar to bath bombs, these amazing inventions give you the armotherapy experience of a bath, but in the SHOWER.
Genius, I tell you. GENIUS.
9. High-Waisted Leggings
Ok, you need to decide just how close are you with this person who just had a baby. Close, like, I can buy you leggings kind of close?
If you answered yes, we're just that close, and you don't already have your own go-to leggings, THESE leggings are amazing.
They are frequently on sale and the amount of the discount varies, so check HERE to see the current price on Amazon.
10. Yummy, Healthy Snacks
You can't go wrong with an assortment of amazing healthy snacks! New moms are ravenous because their bodies are recovering from pregnancy and labor. If she's nursing, she is definitely ravenous.
Help her stock up on quick, filling and healthy snacks such as:
granola bars
fruit
easy veggies, like baby carrots
individual greek yogurts
cheese sticks
frozen fruit
granola
Put it all in a pretty basket. She can use it for burp cloths, diapers, a nursing caddy: so.many.things.
11. Dark Chocolate
Pretty sure this is self-explanatory. Just make sure the get the good stuff.
While it's not often you can go wrong with dark chocolate, if you happen to know she hates chocolate, bring her favorite sweet treat, instead.
12. Restaurant Gift Cards
When I was a new mom, we were fortunate to be part of a strong community that delivered meals every few days for six weeks. For the most part, we loved it.
But it was a bit complicated after the first couple weeks to remember when the meals were coming, and to coordinate getting them.
Plus, and this is gonna sound ungrateful, but it's true: you just never the quality of the meal that was being dropped off.
If it was truly horrible, and you didn't have a back-up dinner plan, it's not so helpful.
That's why I wholeheartedly recommend restaurant gift cards (or Uber Eats/delivery equivalent) as the hands-down, number one best gift for someone who just had a baby.
Try to choose something you know they already love OR a generic place like THIS where they have lots of choices. Having delivery is a plus, too.
They can get what they want, on their schedule.
13. Diapers and Wipes
No sane mom would say no to diapers and wipes. Nothing kills your budget faster than diapers, except maybe formula.
If you're not sure if she's already stocked up on newborn and size 1's, size 2 or 3 are a pretty safe bet.
As far as wipes go, Pampers wipes are the absolute worst. Give a case of Huggies wipes instead – you can't go wrong with Huggies wipes.
14. Magazines
Parents. HGTV. Real Simple. People.
Take your pick based on her tastes.
But whatever you do, stick to light reading. Unless she is a serious history or news buff, she won't have the attention span for something like TIME magazine right now.
15. Audible Subscription
OK, this isn't something you can really BRING, but you can show up with maybe a new pair of headphones (these things die SO fast, what is WITH that?!) and a card explaining that you gifted her a subscription to audible.
She'll be up feeding the baby and most likely bored out of her skull.
Plus, that pesky phone light can make scrolling Instagram during night-time feedings not so helpful (plus, it can keep you awake).
Audiobooks will keep her awake during the feedings, but without the backlight of a phone to prevent her from going to back to sleep afterwards.
Gift an Audible Subscription HERE.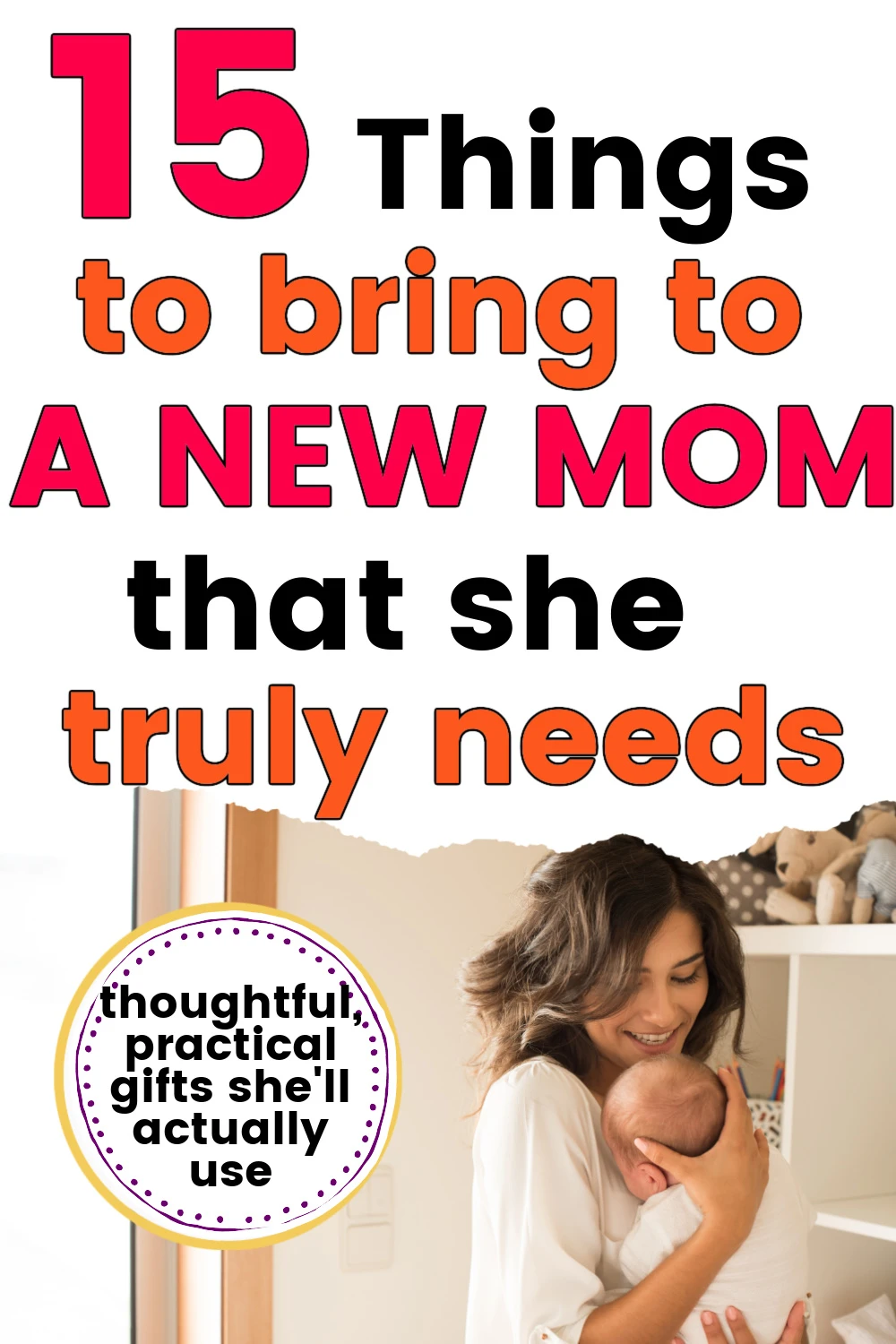 The Ultimate Gift for Someone Who Just Had a Baby? You.
You know what the best gift is? You showing up, ooing and ahhing over the new baby. Telling her you're gonna be there.
If you can't afford a gift or you forgot to pick one up, that's o.k. New moms need people interaction more than a new water bottle.
They need to know they have a village who will be there for the next…well, forever.
Because raising kids today can be a lonely endeavor. We need villages more than ever.
So be her village. ❤️
Read Next: 16 Practical Gifts for New Moms After Birth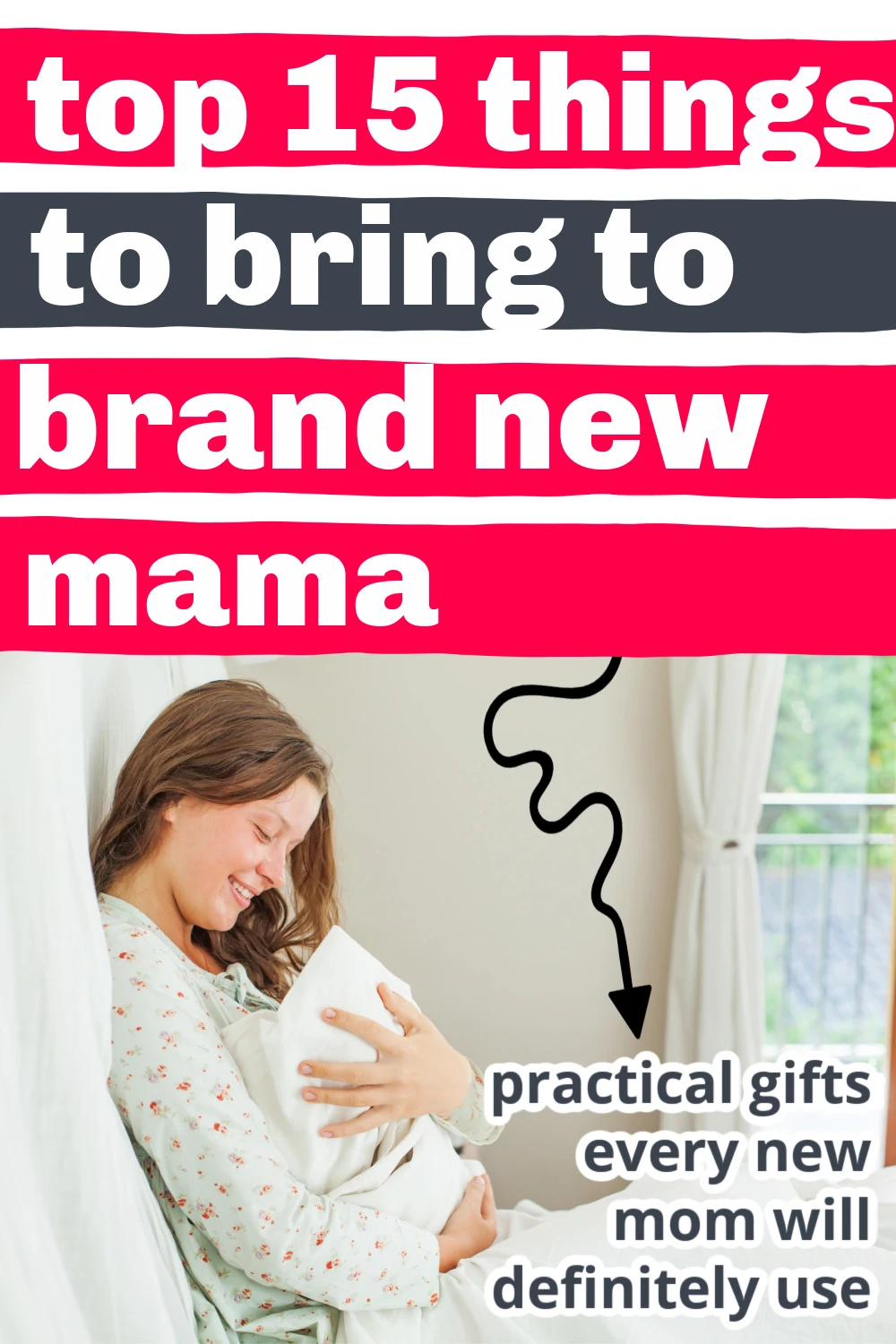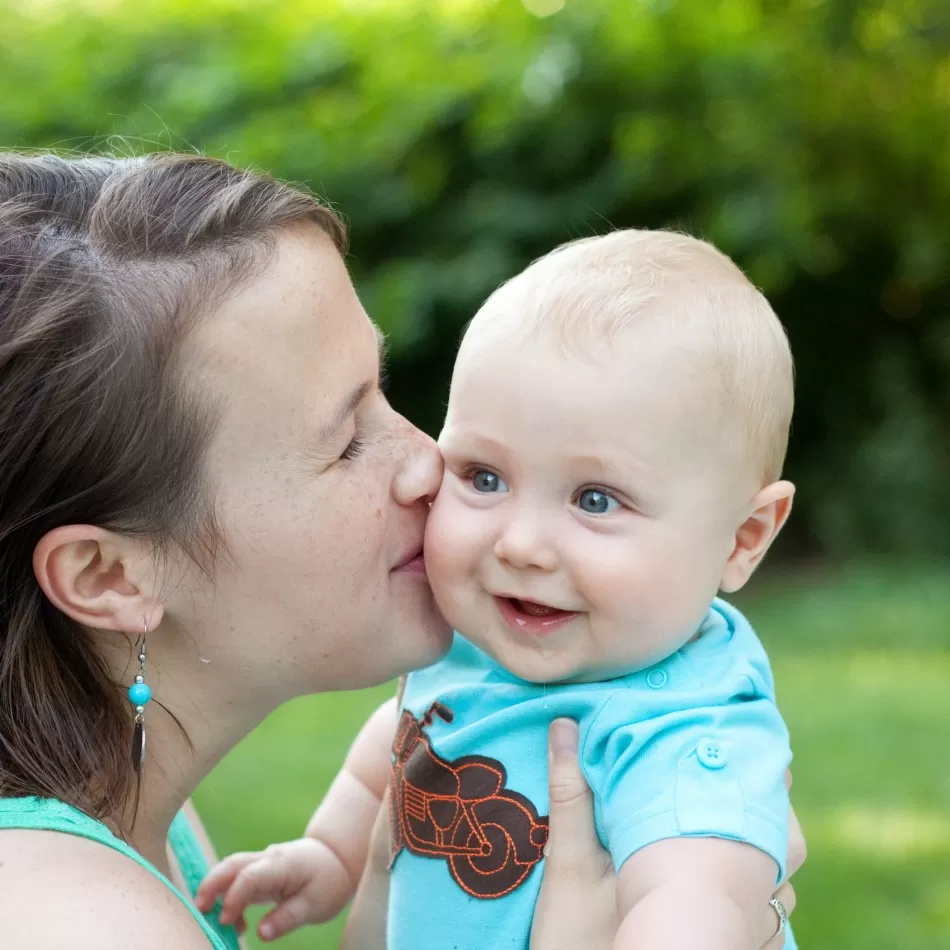 June could talk to you all day about homeschooling, parenting, and minimalism. When she's not homeschooling, decluttering, or blogging, she loves to enjoy perfect silence while sipping a hot cup of coffee and thinking uninterrupted thoughts—which, of course, with five kids, doesn't happen very often.