Inside: The baby is almost here (or just arrived)! Wondering, "What should I put in my new mom's survival kit?" Or are you putting together a mommy-to-be survival kit and can't remember what YOU needed at that stage? Here's what she really needs – no fluff, just the sometimes forgotten practicals.
When I became a new mom I had NO CLUE what to expect. I didn't know how wonderful it would, or how hard it would be.
I'm pretty sure no book or course or anything else can truly prepare you for the paradox that is motherhood. But there ARE things that can make the transition easier.
Being a mom is one of the THE most challenging and rewarding job there is, and every mom needs a "mommy-to-be" survival kit.
I'm not talking about Bath & Body Works lotions or foot spas.
You really don't need pampering your first year of new mom life. Seriously – what you need is SANITY.
Some of these sanity-saving items are what held me together that first year nearly ten years ago now. Other things on this list I really WISH had been around back then.
I hope this new mom survival kit helps you (or the mommy-to-be you're buying for) survive your first year of motherhood!
Related: Top 20 Best Push Presents for Mom (2021)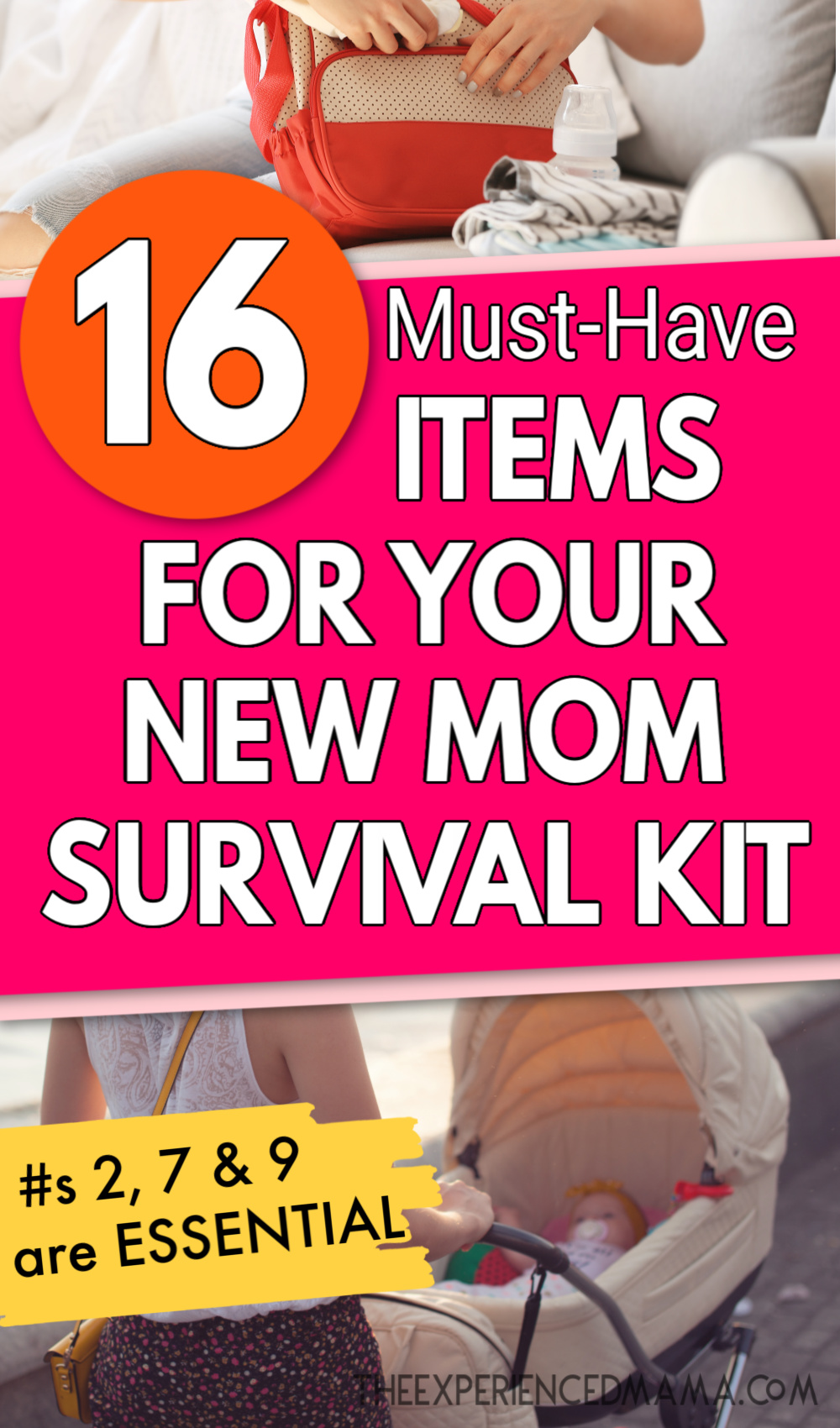 A Practical Mommy-to-Be Survival Kit
THIS POST PROBABLY CONTAINS AFFILIATE LINKS. AS AN AMAZON ASSOCIATE, I EARN FROM QUALIFYING PURCHASES. YOU CAN READ OUR FULL DISCLOSURE POLICY HERE.
Ok, so back then it was my crockpot. But this all-in-one steamer/pressure cooker/slow cooker/rice cooker will make your life so much easier.
It's a must-have in any mom-to-be survival kit!
The instant pot is perfect for those times you haven't planned ahead (i.e.: haven't unthawed anything) and need to make a quick meal. This cooking wonder will not only save countertop space, it will also save you money on take-out!
There are loads of easy recipes online, especially on Pinterest. My favorite source for recipes in general is Damn Delicious, and I've seen so many instant pot recipes over there lately.
2. Kit for Blowouts
You will be amazed at the amount of poop that comes out of one baby, and all the places it can end up. I don't care what diaper you use (these Huggies are my preference), you WILL have blowouts.
Unfortunately, these poop explosions seem to often happen when you are out and about!
Keep a blowout kit in your diaper bag for such an occasion. And an extra one in your car, while you're at it!
Your blowout kit should include:
a disposable changing pad (optional, but baby poop STAINS, y'all)
wipes
a change of clothing
a gallon-size ziploc bag to keep the mess (and the smell) contained
I skipped a regular diaper bag with my fifth baby and kept my blowout kit contained in one of these zippered pouches.
If you are breastfeeding or planning to breastfeed, you definitely want to consider purchasing this manual breast pump. Especially if you don't plan on pumping a ton, it's perfect for random pumping sessions.
Even if you DO pump a lot, sometimes you don't want to go through the trouble of setting everything up with the electric breastpump (or cleaning it).
A manual one was SO much simpler to pull out than the electric breastpump. Plus, cleaning is a breeze!
Unfortunately, I got rid of my manual pump after my fourth baby. I sure wish I would have had it when I was starting develop mastitis last year. I could have pumped a little bit and saved myself a WHOLE lot of pain…and an ER visit. Yep, mastitis is no joke and is to be avoided at all costs!
This is the manual pump I used, and I MUCH preferred it to the electric ones I got for free through my insurance company.
4. Dim Light or Night Light
When you're up in the middle of the night for breastfeeding or worse, diaper-changing sessions, you need to be able to see without fully waking up the baby (or your spouse).
That rules out most of the nasty white light LED nightlights on the market.
We use and love these nightlights that emit warm yellow light. Perfect for keeping you and your baby from fully waking up, with enough light to see what you're doing.
If you're wanting more light, try swapping these warm light/dimmable light bulbs in any of your regular table lamps. That way instead of scrolling your phone (which can wake you up), you can read or do a crossword puzzle.
And if you really want to watch a show while you're taking care of baby? Grab a pair of blue light filtering glasses so you aren't as affected by the light.
5. Light Fiction
Normally I'm a non-fiction, self-improvement reader. But in those first few months of new baby life? All I wanted was mind candy…but not magazines.
Reread an old favorite novel (so you aren't tempted to stay up seeing what happens) or ask around for recommendations for a fiction novel.
Just make sure to not pick something too emotional. No need to trigger those postpartum hormones – they will be triggered enough with day-t0-day life with baby.
6. Extra Bottles/Formula
If you plan to formula feed, you will be going through several bottles a day. Have plenty of extra, as you might not have time to wash them throughout the day.
And always try to have an extra stash of formula on hand so you never find yourself having to run to the store with a hangry baby!
7. Different Pacifiers to Try
When your baby is first born, you have no idea what kind of pacifier they are going to take a liking to. The ones they give in the hospital never worked long-term for us.
These pacifiers are what my oldest loved (and held on to FOREVER). We tried a few different kinds before finding the one that worked. They are especially nice because they don't fall out as easily like so many other brands.
I sincerely wish my other babies would have taken pacifiers. It would have made my life SO much easier!
So I highly recommend trying a 3-4 different kinds before giving up on pacis.
Once you find one that works, STOCK UP.
It is mind boggling just how many pacifiers will disappear over the first year of your baby's life. If your baby is a binky lover, you will want to invest in several extras.
This is not the time to go minimalist (and this from a minimalist mom).
Keep a couple in the diaper bag, a few extra in the car, and a couple wherever baby sleeps so you won't have to search for one in the middle of the night.
These glow in the dark ones are PRICELESS. You'll thank me when you can spot that thing in the crib, in the dark, right away!
Related: Minimalist Baby Essentials – The Bare Minimum You Need for Baby
8. Bouncy Chair
Bouncy chairs are a great way to keep baby close while you tackle your to-do list. Lightweight and easily transportable from room to room, a bouncy chair is a must-have for those first few months.
I borrowed this one from a friend when I had my third baby and I loved it! It kept him upright so he could truly see everything, as opposed to the lower ones that keep them angled closer to the floor.
It's pricey, but worth the investment.
9. Car Diaper Kit
Nothing is worse than realizing at the most inopportune moment that there are no diapers (or wipes) left in the diaper bag. It happens to all of us!
Keeping a diaper kit in the car stocked with the following can seriously save your mom life:
extra diapers,
wipes,
diaper cream,
a couple extra changes of clothes
I guarantee it will come in handy!
Coffee will probably become your new best friend (if it isn't already). Even if you are breastfeeding, one cup a day isn't going to hurt your baby. If you're worried, this article from Heathline on caffeine and breastfeeding will help calm your fears!
Brewing a full pot just wasn't practical when I was a new mom. Heck, it's not practical as a mom of 5 today!
I barely can finish the first cup while it's hot, much less the rest of a pot.
Plus, it's much easier to stop at just one cup with a Keurig.
This insert for using your own ground coffee is pretty awesome. I've been using it for a year now and still love the coffee it makes compared to the k-cups.
11. Stroller
Getting outside with a new baby is SO good for you in those early months – essential, even. When your baby is screaming her little head off and NOTHING is working, a walk can do wonders for your sanity and possibly soothe baby as well.
There are a variety of strollers on the market, but one that can be used from the newborn stage through the toddler stage and beyond will give you the most bang for your buck.
Being able to attach the infant car seat to your stroller is an important feature because if your baby is sleeping, you don't have to move him out of the car seat.
(I adore this easy to transport and set up stroller designed for work with any infant car seat.)
Make sure your stroller fits into the trunk or the back of your car easily, and isn't so bulky that it is a huge pain to deal with.
If you love to walk or run, you might also think about investing in a jogging stroller. We had this one for several years, and it was well worth the investment!
12. YMCA Membership
If your town has a YMCA, it is absolutely worth a monthly membership. Most will provide free childcare for up to two hours per day with your monthly dues.
You can use that time to exercise, swim, or hide away in a corner with a good book. It's also a great place to make new mom friends in a group fitness class, or spend some quiet time in the sauna unwinding.
I know several work-at-home moms who use it to get work done without baby in toe.
Remember, self-care isn't selfish, it's a necessary part of motherhood. For some moms, self-care looks like relaxing. For others, it's getting work done.
Either way, a YMCA membership can help! They generally start accepting babies in childcare between 3-6 months old.
13. Baby Carrier
As a new mom, your baby carrier might be one of the most important pieces of "equipment" you own! Babies love snuggling up to a warm body, and baby carriers allow mamas to keep babies close while freeing up their hands.
Two popular carriers are the Ergobaby Carrier and the Moby Wrap.
I tried to use a borrowed Bjorn for a few weeks with my second baby. But he was SO heavy (10 lbs. at birth), and the Bjorn didn't yet have the additional strap to support your back.
I switched to the Ergo, and the difference was INSTANTANEOUS. Such a relief to be able to tote him around without feeling like my back was going to break!
The Ergo is a traditional baby carrier that has straps around your waist and back and can be used as a back carrier for bigger kiddos.
The Moby Wrap can be a little confusing at first, but once you learn how to use it (Youtube videos for the win!) you will become a pro quickly. It is cozy wrap that is easy to bring along anywhere.
14. Amazon Prime Membership
An Amazon Prime membership is worth every single penny. If you've held out up until now (not sure how you did, but I guess in my pre-mom days, it was definitely possible), you are going to NEED it.
From groceries, to diapers, to car seats to coffee… it can all be delivered straight to your doorstep, now in ONE DAY.
In those early months when your schedule is mostly dictated by baby's schedule, you might find it nearly impossible to get out the door. And frankly, a long shopping trip with a crying, hungry infant in tow is no one's idea of a good time.
You will love having this online shopping option. Plus, you can save 20% on diapers, wipes, and even nursing pads when you join Amazon Family – only an option for Prime Members.
15. Good-sized Backpack Diaper Bag
Sure, a stylish diaper bag is cute and all, but a backpack diaper bag is where it's at!
It is easier on your bod (having a heavy diaper bag strap digging in to your neck and shoulders is no fun!), and it won't get in the way as you wrestle baby in and out of the car seat and stroller.
Having one with either the backpack OR shoulder strap option is ideal.
Invest in a quality one with your first baby if you can afford it. Especially if you plan on having more kids!
But if you're on a budget? This gray backpack one gets GREAT reviews on Amazon and is super affordable!
Your babe will probably be coming along on many of your shopping adventures, and let's face it, shopping carts can be pretty nasty AND uncomfortable.
The LAST thing you need is a baby screaming unnecessarily while your sleep-deprived self desperately tries to remember everything on your grocery list.
There's nothing like baby screams to completely wipe your brain clean of anything except, "MUST STOP THE CRYING!!!"
It's also pretty challenging to go without one for a baby who doesn't have good core strength. They just don't have the ability to stay upright without your help.
You don't want to be holding baby with one hand while trying to shop with the other – #beentheredonethat.
A shopping cart cover like this one will provide a layer of protection against germs. It also gives your kiddo a soft place to sit once he/she is no longer happy hanging out in the infant car seat.
Genius invention! A must-have for any new mom survival kit.
Say what you want about babies and screens, but with all my babies, Praise Baby has been a LIFE-SAVER.
These DVDs are set to worship music (so if you aren't a Christian, maybe not for you?) with scenes of kids playing, babies, shapes, animals, nature, and other baby-friendly video clips.
I used these from 6-15 months in 30 minute chunks, especially when my husband was working long hours and I DESPERATELY needed a break.
Are you reading this and you're a veteran mama?
What would YOU put in a new mom survival kit? Share in the comments!
Related: What to Get Someone Who Just Had a Baby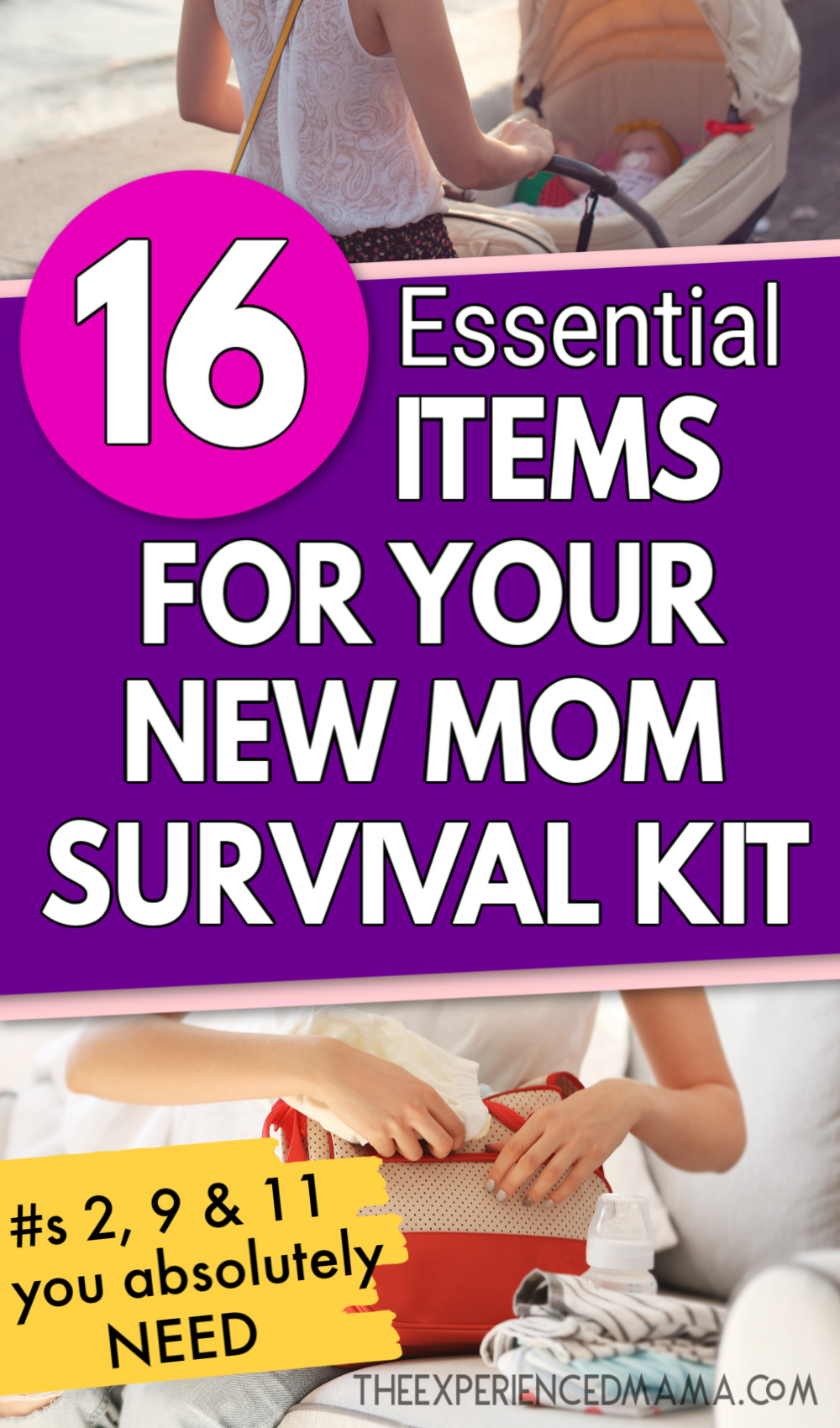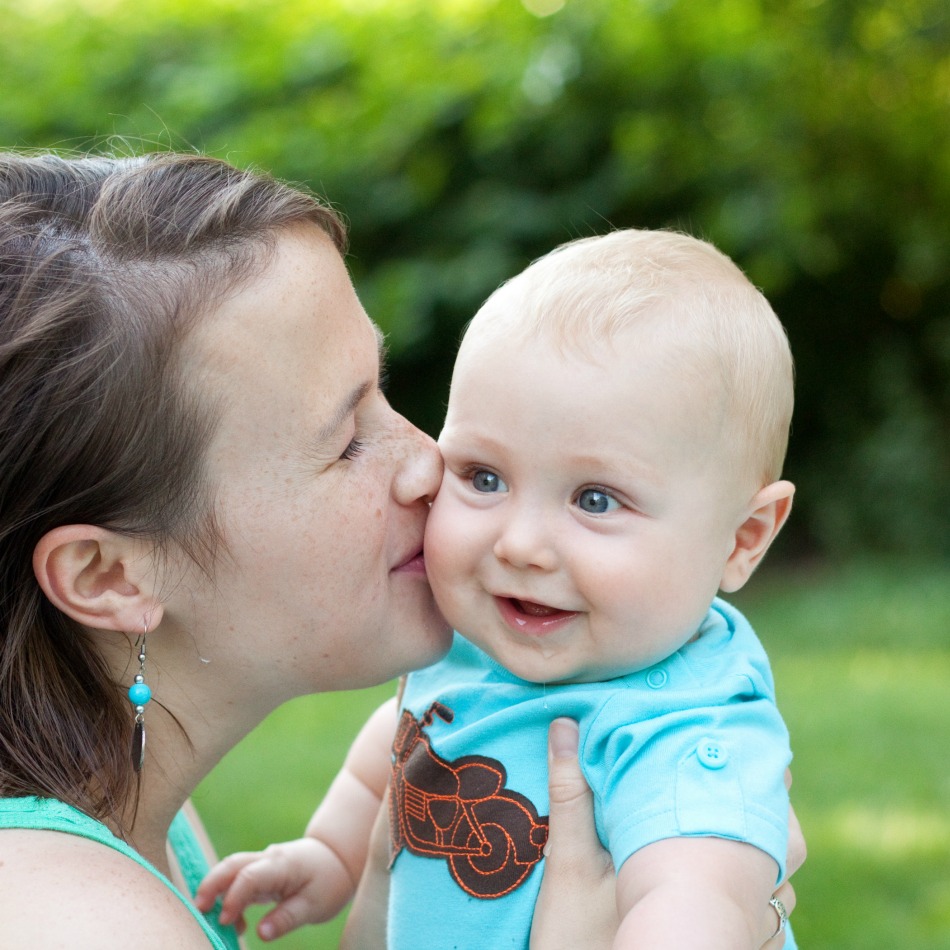 June could talk to you all day about homeschooling, parenting, and minimalism. When she's not homeschooling, decluttering, or blogging, she loves to enjoy perfect silence while sipping a hot cup of coffee and thinking uninterrupted thoughts—which, of course, with five kids ten and under doesn't happen very often.