Inside: The baby shower invitation shows up in your inbox (because it's 2023), and you wonder, "How much should I spend on a baby shower gift?" Get our stress-free, guilt-free guidance for how much to spend on a baby shower gift – for every kind of relationship and situation.
Baby showers, wedding showers, anniversaries, and birthdays galore.
There is always at least one or two on my monthly Google calendar, which comes with the task of hunting down the perfect gift.
And you know what? I'm super thankful for all the people in my life that I have a chance to bless when these events roll around. Especially when it comes to adorable, squishy new babies.
Shopping for babies couldn't be more fun!
Those tiny socks, delicate fleece sleepers…sigh. It *almost* makes me want another squish of my own to snuggle.
And let's not forget those trendy decorated baby shower cookies that look like forest animals and whatnot. It's a beautiful – and usually delicious – occasion.
The last thing I want to do is ignore a baby shower invitation. But I have to admit, knowing what to buy and how much is appropriate to spend, can be awkward at times.
If you happen to be in this predicament currently, be encouraged. Your professional overthinker is here to rescue you.
You Might Also Like: How to Throw a Baby Shower for a Minimalist Mom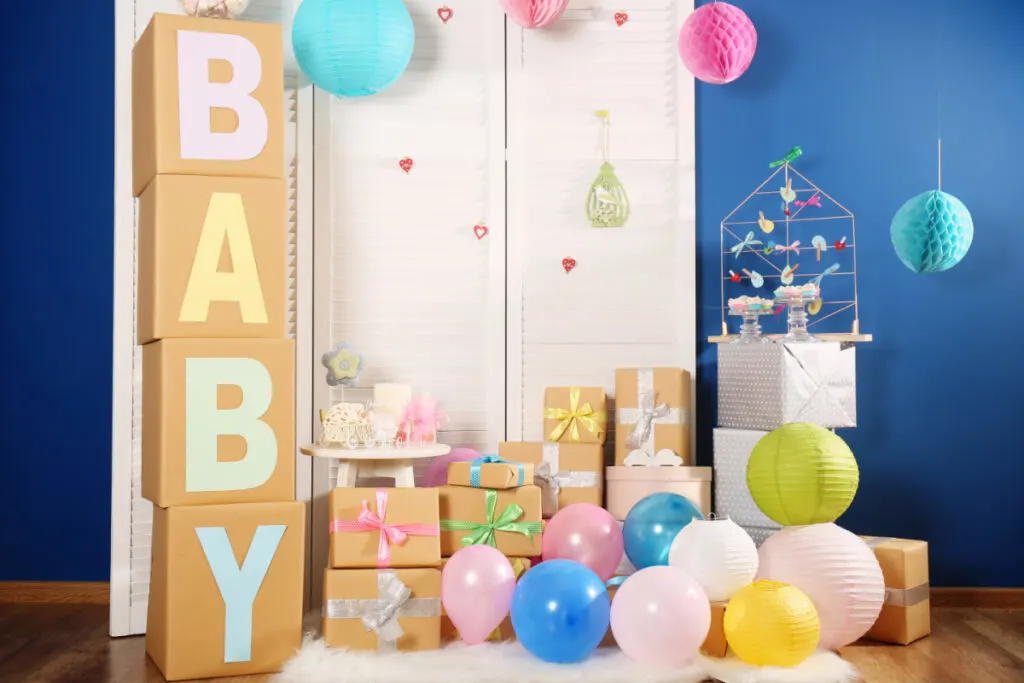 So How Much Should I Spend on a Baby Shower Gift?
THIS POST PROBABLY CONTAINS AFFILIATE LINKS. AS AN AMAZON ASSOCIATE, I EARN FROM QUALIFYING PURCHASES. YOU CAN READ OUR FULL DISCLOSURE POLICY HERE.
There are several things to weigh when deciding the cost of your gift.
If you research the average amount spent on a baby shower gift, you will find a range from around $25 up to $200, or more. SO not helpful!
In my opinion, it's honestly not just about how much you can afford, though. If only it were that simple, really.
With any gift-giving dilemma, most of us hope to strike a balance between thoughtfulness, generosity, and humility.
Then, of course, there is deciding what is appropriate for the level of relationship with the person you're giving to. Gift-giving etiquette can be so confusing these days!
So how do you balance all of those factors? Let's think (or overthink) this through in a logical way.
Set Aside the Pressure
Can we first acknowledge that there is so.much.pressure when it comes to gift-giving in America? Maybe this exists everywhere, who knows.
But it seems our widely consumer-driven culture can impose unnecessary stress on both the giving and the receiving end.
Often, what we think we are supposed to do overrides logic. We assume that if we don't go big, we are not being thoughtful or generous enough.
But truly, it's time we let go of these expectations. Some of my most cherished baby gifts were ones that were handmade, or given by someone special whom I want to remember.
The not-so-practical (yet beautiful) afghan from a dear woman at church.
A cross-stitch wall hanging with blue-and-pink handprints below each of my kids' birthdates.
The cost is unimportant, but these gifts have time and love embedded in them, for sure.
Most of the time, the person you are giving a gift to is simply grateful you put the energy into joining their celebration. The gift – though it may be very needed – is just icing on the cake.
And don't assume everyone else will be judging your purchase, either.
Just as you don't know their capacity to give or motivations, they shouldn't be concerned with yours, either (and if they are, who cares?).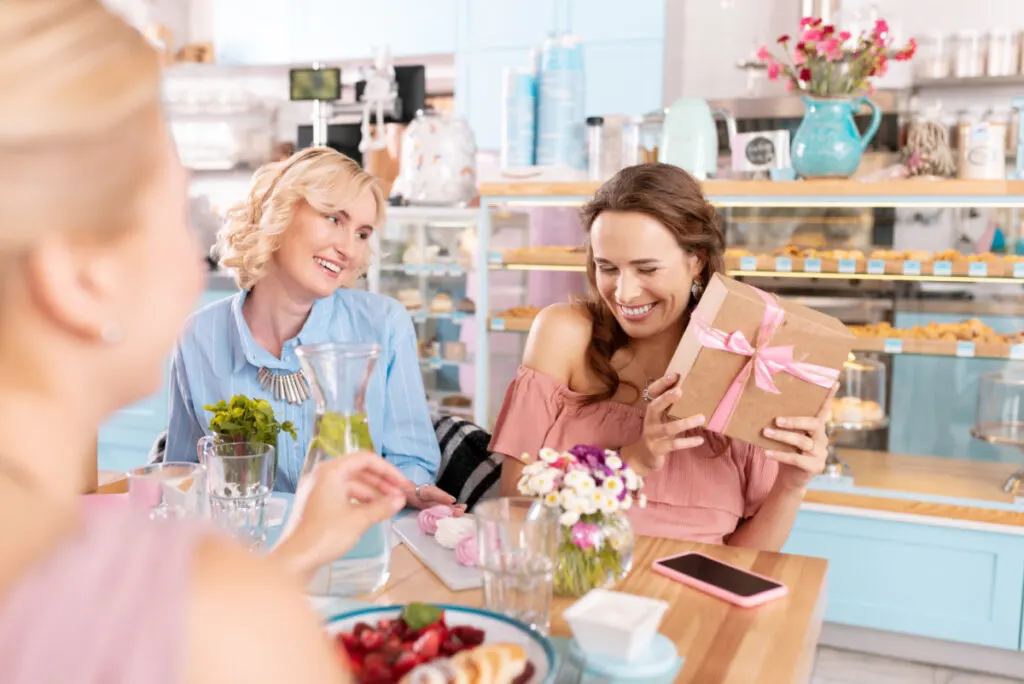 Stick to the Registry, If Possible
The mom-to-be (or parents-to-be) took the time to make a baby registry for a reason. These are the items they're specifically wanting to have in their home.
Do them a favor and stick to it as much as possible.
Now sometimes, you're late to the game and all the registry items in your price range are taken. Or maybe they didn't add enough items for the number of shower invitees.
If that's the case, branching out is more than o.k. Just make sure the registry is your first stop.
Unless they're doing cloth diapers (you'll know from the registry), a box/pack of disposable diapers will never fail to be appreciated. Add a small baby toy if such a practical gift feels too cold or empty.
If there are still several items to choose from, and you're wondering how much to spend…
Consider the Relationship
Maybe a lack of funds isn't your problem, but you're wrestling with what's the right amount to spend based on how well you know the mom-to-be.
When it comes down to it, there are really only two major relationship categories that matter when it comes to baby showers:
Coworkers & Acquaintances
Family & Friends
I'll offer guidance for both groups, with appropriate baby shower gift amounts, general spending guidelines, and overall gift advice.
1. Baby Shower Gifts for Coworkers and Acquaintances
By grouping coworkers with acquaintances, I'm assuming you're not besties with your coworkers. If for some reason you are, skip down to the "family and friends" category.
What's appropriate for a coworker gift or for someone you don't know as well?
You probably don't want to be overly extravagant with the most expensive thing on the registry, but you want to show that you care. Because you do!
A group gift might be your best option in this case.
Browse the baby registry and choose a nice item, like the stroller or the baby swing, and divide up the cost among several people.
If you are in charge of the group gift, make sure everyone is o.k. with the breakdown of their contribution. You might decide to make it a "pitch in what you want" gift, or divide it evenly.
A common amount for acquaintance or coworker gifts is $20-$40 each, depending on everyone's preferences, financial situations, and how closely knit your group happens to be.
A card signed by everyone with a note from each (or funny baby advice!) is something I like to include with any group gift.
To be honest, your co-worker is probably not expecting a lavish present from you. But coordinating a group gift is still a great gesture.
If you decide against a group gift for whatever reason, be sure to steer clear of "sensitive" baby registry items, like a breast pump.
Stick exclusively to baby gear with a similar budget ($20-40).
When in doubt, bring a case of Size 2 or 3 brand name diapers with a gift receipt.
Related: 25 Inexpensive Baby Shower Gifts – Practical and Affordable
2. Baby Shower Gifts for Family and Friends
On the flip side, for closer family and friends, a bigger gift might be on your radar. Bigger might mean more expensive, but it can also mean extra-thoughtful, including handmade.
Friends and family gifts usually range from $50 on up.
DIY gift baskets are a really popular way to make your gift unique and provide a variety of baby necessities.
Picture a cute diaper caddy filled with:
wipes,
bath supplies,
hooded bath towel,
diaper cream, and
diapers.
For close family or a true bestie, I might go the extra mile and include something unique from Etsy (like monogrammed burp cloths or a swaddle that matches their nursery), along with a practical item like a box of diapers or bottles or other registry item.
Family and close friends are usually free to give those more sensitive items on the baby registry, like nursing bras or breast pumps.
Consider stepping up if those items are still available!
Related: 20 Best Gifts for Your Newly Pregnant Friend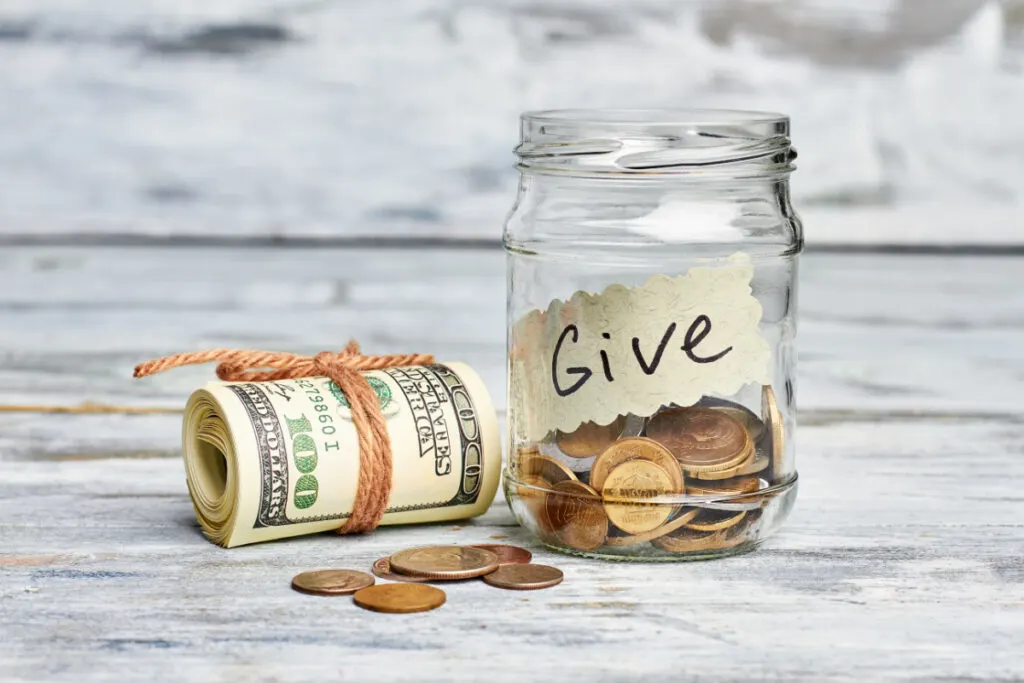 How to Plan Ahead Financially for Baby Shower Gifts
If I can give you one solid piece of advice, it's this: always, always stick to your budget when it comes to choosing a baby shower gift.
If you shop smart and plan ahead, you can make this happen. Going into debt for a gift of any kind is never good.
Paying interest on disposable goods is stinkier than a disposable diaper.
Set Aside Sinking Funds
You can set up a sinking gift fund to make sure you can be a gracious giver when the occasion arises.
Estimate how much you might spend in a year on gifts in general, thinking through showers, weddings, birthdays, etc., and divide by 12.
You can either label an envelope "gifts" and set aside that amount of cash each month, or set up multiple sinking funds with your bank (Capital One or Ally bank works well).
When you have extra funds, you might add some of it to your envelope, too, especially if you're aware of a baby shower in advance that you want to be prepared for.
After a year or so, you'll be in a better position to give joyfully – instead of feeling panicked when those shower invitations arrive.
Start a Gift Closet
My friend's mom was one of the best gift-givers I knew. She had a Gift Closet where she stashed amazing bargains she came across during the year.
She might not have known who would receive what at the time, but she was always able to give lovely gifts at a fraction of the sticker price.
A gift closet can be especially good strategy to stock up on those little extras you might pair with a box of diapers or a baby registry item.
Think baby toys, burp cloths or no-frills onesies.
But if you do buy clothes, stick to gender neutral colors, and avoid newborn sizes (many babies outgrow these early on or never even fit them in the first place).
Another tip is to join a few "deals" pages or groups on Facebook. I have been able to start my own meager Gift Closet with some of these deeply discounted finds.
The Wonderful Magic of Gift Cards
Is a gift card a thoughtful gift for a baby shower? I'd say most definitely.
This especially makes sense for long-distance gifts or people you don't know as well.
When I had a new baby, those gift cards came in super handy for items I didn't know I still needed, after the postpartum-dust settled.
I personally consider a gift card a very practical idea, no matter the amount.
Don't feel like you're being lazy if you go this route! It can provide a need or a want they might not have purchased otherwise.
What If I Can't Afford a Baby Shower Gift?
This is a tough one. You've gotten the invitation, but you can't afford a gift.
First, I'd encourage you to think outside the gift amount ranges I've shared above. Could you give a $5 gift? How about $10?
There are so many practical, inexpensive baby shower gifts available. Or you could put $10 on a gift card.
Or you could contribute $5 to a coworker gift, although this could feel a bit awkward.
If even those options are beyond your reach, don't feel bad! Taking care of your bills and your own family should be your top priority.
But what about the shower? What should you do?
You have a couple options:
go without a gift, or
go with a DIY gift (e.g. if you already have yarn, make a blanket or hat).
Showing up without a gift probably goes against all etiquette advice, but there are always exceptions.
If it's your closest friend or a family member, I would show up. Offer to help with shower set-up to make up for not bringing a gift.
And as a reminder, the parents most likely aren't pointedly matching up gifts to attendees during unwrapping time, making sure everyone brought a gift. You won't be singled out.
If it's a coworker or acquaintance, it's probably best to decline.
Simply RSVP "no" with a "wish I could make it, best wishes" type comment if it's an online invitation.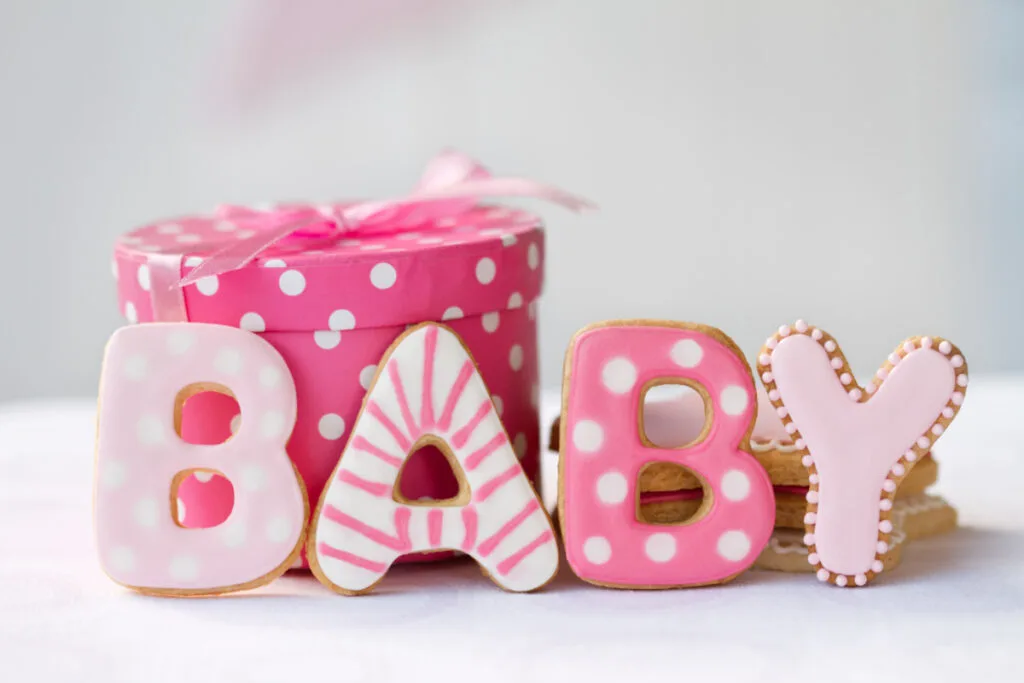 In All Honesty, They Probably Don't Care How Much You Spend
Hopefully, the tips we've outlined will make your gift-buying adventure a bit more relaxed and even fun.
Knowing your relationship to the parents-to-be (only two options) and being prepared with a gift fund or gift stash can make this a stress-free task.
If you're like me, finding out that you're probably overthinking how much to spend on a baby shower gift is another big relief.
The expecting parents will likely just be thrilled that you showed up to the celebration. They probably won't even remember what you gave them, which is why someone else is in charge of keeping the thank-you note list.
So unless you give them your stained, hand-me-down burp cloths (don't – don't do that), they certainly won't remember how much you spent or didn't spend on a gift.
Stick to your budget and the suggestions above, and you'll be just fine.
Read Next: 15 Things to Do a Baby Shower Besides Games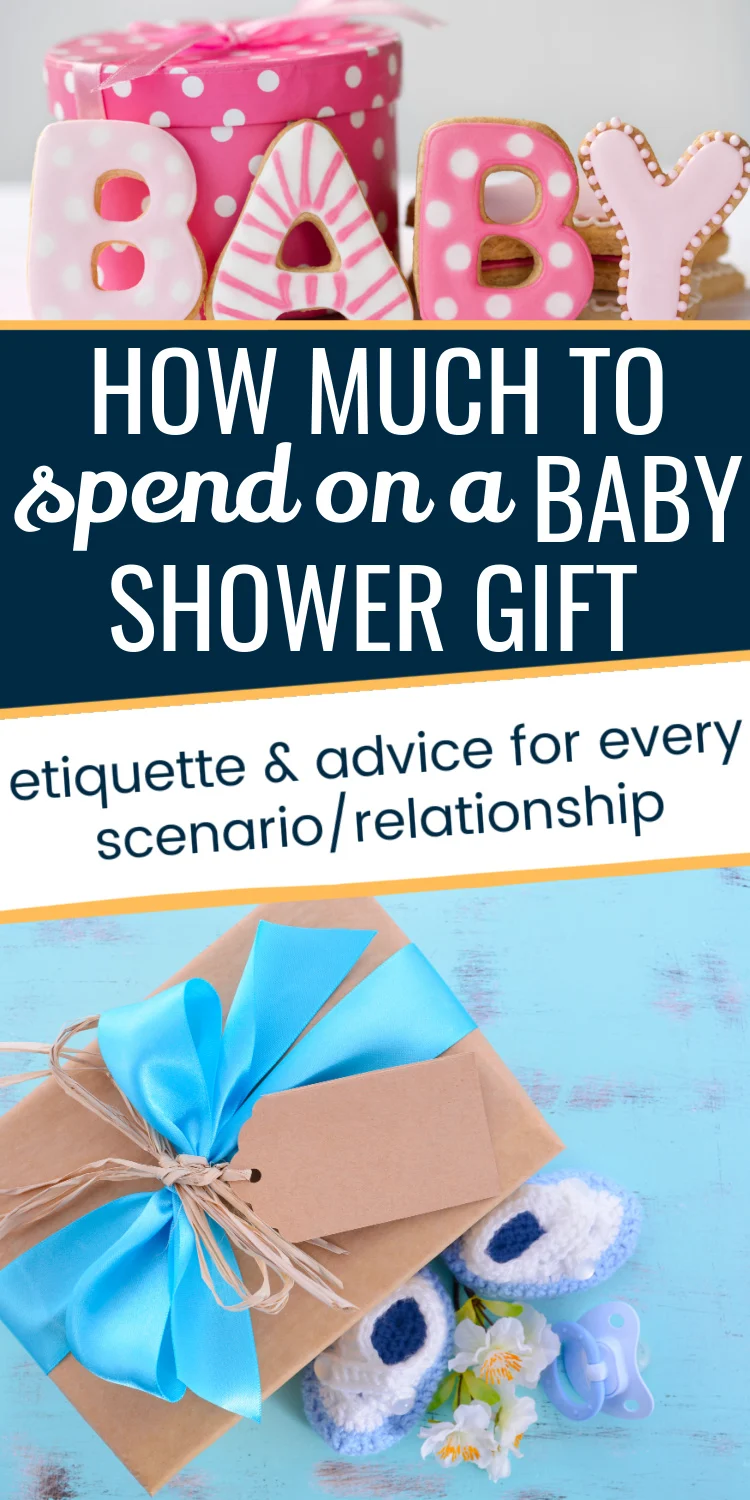 Brandi is a mom of four who can usually be found in the kitchen, the garden, or under a pile of laundry somewhere. She writes about faith, family and homemaking at Chicken Scratch Diaries. You can catch her most recent posts on Pinterest.