Inside: There's nothing like your first baby shower, where people are jumping up and down to buy you all the pretty (and expensive) things. Thank goodness because babies can be expensive! Make the most of it and avoid common mistakes with these baby registry tips for first-time parents.
Are you a soon-to-be mom trying to navigate your way through creating a baby registry for the first time?
If so, you probably have a lot of questions.
What's the best place to set up a baby registry? Should I put diapers on my baby registry (won't people get them anyway)? How many items should I put on my baby registry? Will I look greedy if I put things on it that are pie-in-the-sky wish list items?
You've got so many questions. We've got answers.
Today we're sharing our go-to guide to navigating baby registry confusion, so you can make the most of your baby registry!
On to the baby registry tips…
You Might Also Like: 9 Crucial Things to Discuss Before Baby Arrives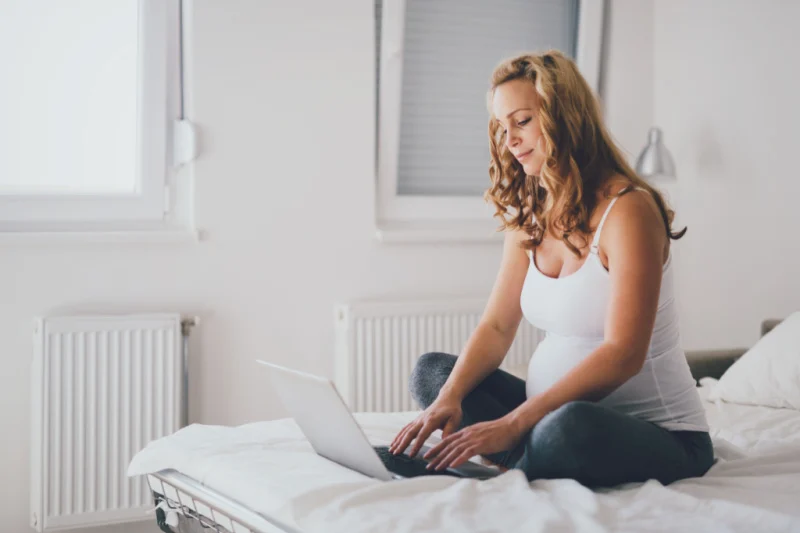 Baby Registry Tips For Soon-To-Be Moms
THIS POST PROBABLY CONTAINS AFFILIATE LINKS. AS AN AMAZON ASSOCIATE, I EARN FROM QUALIFYING PURCHASES. YOU CAN READ OUR FULL DISCLOSURE POLICY HERE.
1. Choose your baby registry platform wisely.
Sure, you can set your registry up anywhere. And you can set up multiple registries.
But, we recommend making it easy on family and friends by choosing one place to register. It's easier for them, which makes it more likely you'll get the things you need.
Baby showers can be celebrated both in person or online. No matter how you choose to introduce your little one to the world, loved ones will want to shower you both with gifts galore.
Amazon is a popular choice for first-time parents because they sell just about everything. I'm not gonna lie that this is my go-to choice – they have almost everything, and their registry return policy is pretty generous.
Target is also a popular place to register, but from my experience, items are often out of stock in store, making shopping a baby registry a major PAIN.
Maybe this has changed in the past few years as more and more people shop online, which doesn't involve needing the item to be on the shelf at a particular Target store. Still, it's something to consider.
One alternative that's making headway? Babylist. Babylist is a platform that lets you add any item from any store — it seem to be a modern day one-stop shop.
The downside to Babylist is the extra step for guests of verifying that they actually purchased an item from the store of their choice.
The verification process can make returns easier down the road and assure you that the item was actually purchased for you, but not every guest will choose to verify (or remember to check the box that they actually purchased things.)
At the end of the day, come back to this: the best place to set up a baby registry is the platform that is the easiest for YOU. Does that store have everything you want? Register there.
You are the one who will need to set everything up, return things and close out the registry after baby arrives.
2. Ask for gender neutral big ticket items.
Big ticket items like cribs, strollers, and play yards — these are expensive. That pink stroller looks adorable right now…until you consider the potential future brother that might come along one day.
You are definitely going to want to reuse that pricey baby gear if you have another baby. Second baby showers are rare.
No matter the gender, you can't go wrong with something in a neutral color.
3. Include items at a variety of price points.
When you include items at a variety of price points, you give your loved ones a bit more buying power.
It's easy to think nobody wants to buy that super practical (and cheap!) pack of bibs. Or alternatively, that no one can afford that pricey jogging stroller you've been eyeballing for months.
But, you don't know anyone else's finances. Include both budget-friendly and splurge-worthy items to give family and friends plenty to choose from when shopping.
Related: 25 Cheap, But Practical Baby Shower Gifts for When You're On a Budget
4. Don't forget to add diapers — lots of diapers — to your baby registry.
You might be wondering if you should add diapers to your baby registry. Won't people get them anyway?
The answer is definitely YES: put diapers on your baby registry.
Diapers are one of the most essential items you'll need. Even if you decide to cloth diaper, you might still want disposables on occasion.
Diapers can also an inexpensive option for family and friends on a tight budget (unless you go with cloth diapers, of course).
And you can always exchange them if you need a different brand or size. To maximize this pro, be sure to put smaller diaper packs – not the giant boxes – on the registry in your preferred brand.
You never know if your baby will be allergic, or you'll end up hating, the brand of diapers you choose. It would stink to find that out and have an entire case of diapers left.
With smaller packs, you waste less, and you can exchange the rest for a different brand.
Pro Tip — add a variety of sizes with up to size 3 diapers because your baby will outgrow newborn sizes before you know it! In fact, some babies skip right to size 1's.
An Alternative Opinion: Should I Add Diapers To My Baby Registry? What to Consider Before You Do
5. Be sure to register for all.the.things.
If you're wondering how many items to add to your baby registry, we recommend adding whatever is on your wishlist.
If you're uber frugal and into sustainable living and want to borrow a ton, that might be not a lot. But if you have your heart set on investing in heirloom pieces for subsequent kids (and grandkids), your registry might have quite a bit on it, including some pricier items.
Whether it's a baby food blender, top-rated car seat, or that backpack carrier all your friends are raving about — be sure to add it to the list.
Don't be afraid of looking greedy. This is likely the only baby shower you're gonna get: make it count.
Of course, be sure it's something you really want. Do your research, talk to mom friends, read reviews.
But, once you decide it's something you'd like to have, add it to your registry. This gives shoppers plenty to choose from.
Even if it's not something you receive as a gift, with most registry platforms, you'll get a discount on anything left at the end. That's a definite win!
Granted, everyone is entitled to her own opinion, even contributors on this website! One mom shares her thoughts on what NOT to register for HERE, but don't let that list stop you.
Read it and accept it as an opinion – if you still think you want it on your registry, by all means, put it on there.
6. Call on a veteran mom for advice.
If you're a first time mom, you probably can't anticipate what your day-to-day is going to look like with a new baby at home. That's okay. We've all been there. But, without that knowledge, it's hard to know what to register for.
Find a mom friend and pick her brain on her must-haves for baby. She's sure to know things like whether a Nose Frida is actually worth having or if that diaper bag will end up driving you crazy.
Even better? Find three mom friends to talk to. Everyone is going to have their own top picks, and things they couldn't live without (or said forget this piece of junk), so getting more than one perspective is especially helpful.
Even on this website, we have several different contributors with different opinions, which brings me to my next point…
Related: Baby Essentials for the first 3 months – 40 Things You'll Need
7. Check out baby registry buying guides.
The baby product world becomes more overwhelming by the day. With so many choices come so many headaches. Have you tried to buy anything expensive on Amazon lately? Four and a half stars seems amazing…until you read that one, one star review.
That's why reading recommendations from real moms on what products they love and why (and who they might NOT be a good fit for) is so important.
We've got our own guide to a minimalist baby registry if you want to take a look.
These are a good starting point, but don't be afraid to branch out and read more. Use them as a jumping off point when creating your registry.
They'll help ensure you don't forget the basics, and maybe help steer you away from items you don't really want or need.
8. Give yourself plenty of time.
Don't try to finish your registry in one sitting.
Take your time and research the items you want to include for you and baby. It's okay to go back and add things later.
Your list can grow and change throughout your pregnancy. It's much easier now than in the past since it can all be done online.
Related: When to Start Your Baby Registry: All Your Questions Answered
9. Get your partner's input.
In recent years, more dads are taking initiative and getting involved in the pregnancy process.
Parental duties are split more evenly. And stay-at-home dads are more common now than ever before.
This paradigm shift is exactly what our society needs — both parents working together for the good of the family. With that in mind, get your partner involved in setting up the baby registry. Their input is important.
After all, your partner might be the one schlepping that diaper bag around half the time, or pushing that stroller. The feminine purse might look cute…until dad slings it over his shoulder. Or your partner might want to use the stroller for running with baby (giving YOU a much-needed break).
10. Register for YOU, too.
When creating your baby registry, don't forget to include items for yourself.
That might include what you need to successfully breastfeed — nursing cover, breast pads, nipple cream, a manual pump, bras and tanks — or self-care products to help with postpartum recovery.
The registry is not just for baby. It's for mama too. Whatever you do, don't forget to put YOU on the list.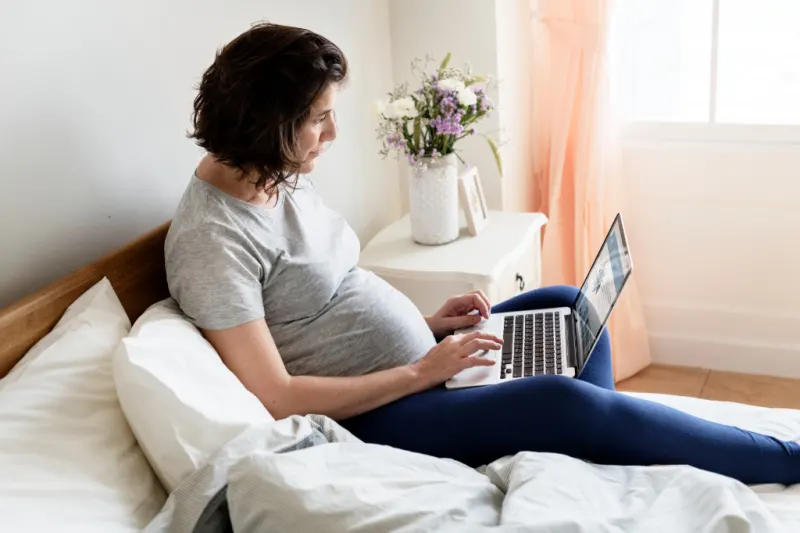 Make Your Baby Registry Count
Setting up your baby registry can feel overwhelming if you're a soon-to-be mom. And I know we've put a little pressure on it, but if you avoid the pitfalls we mentioned, it doesn't have to overwhelming.
With a little know-how, it can be a super simple, pretty fun process.
Enjoy this time of pampering, mama. Baby will be here before you know it!
If you've come across this as an experienced mom, what baby registry tips would you give first-time parents?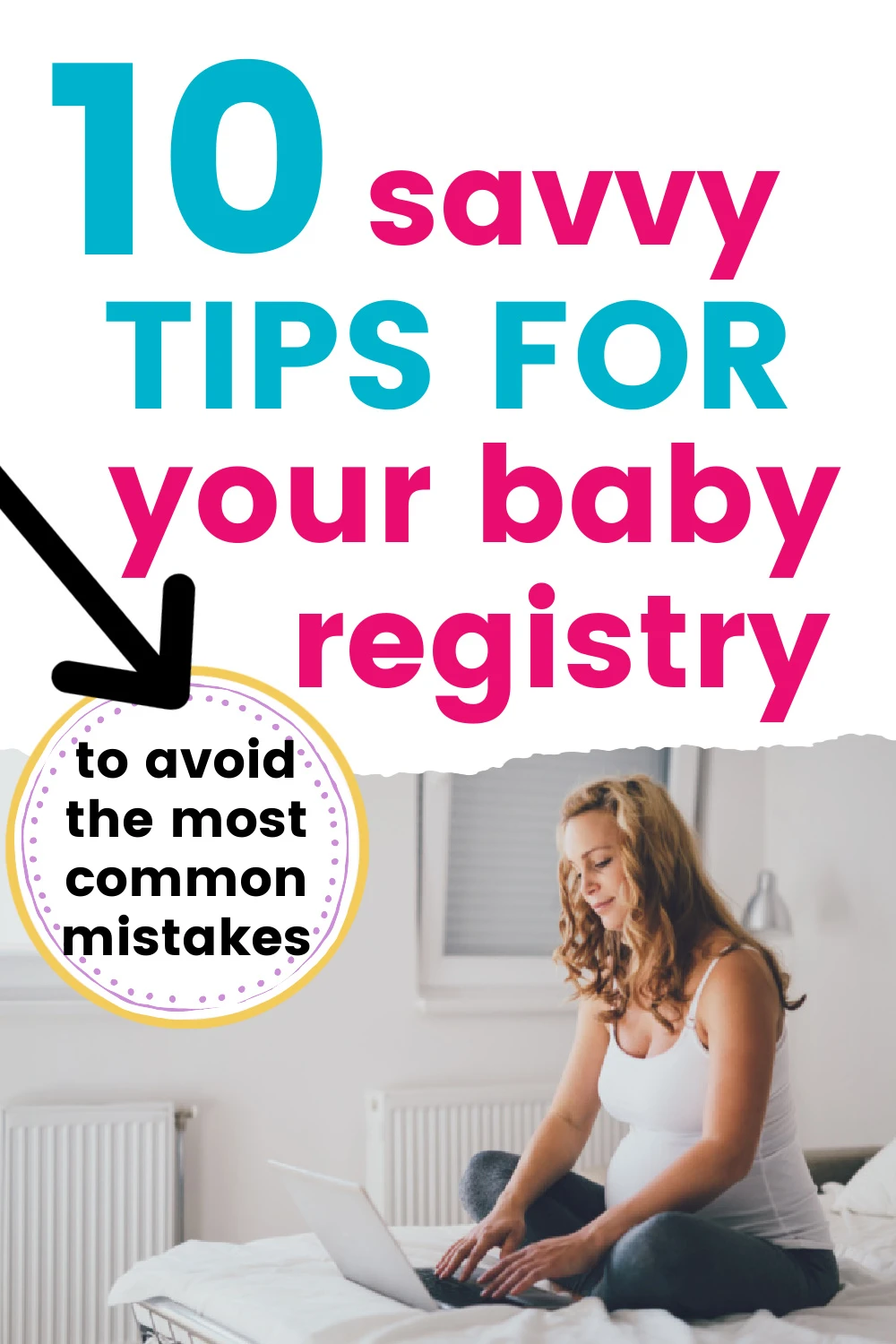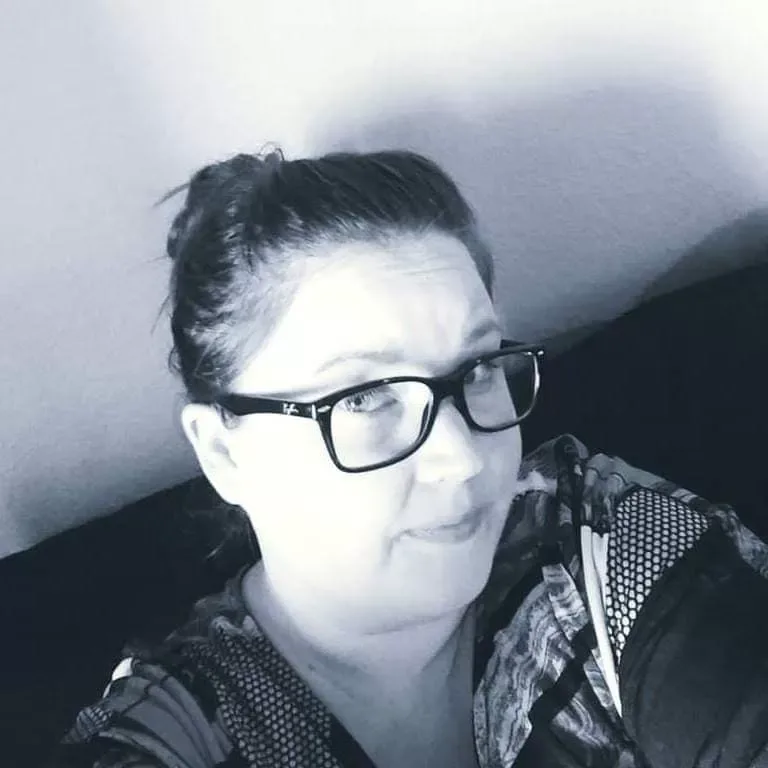 Amy is a freelance writer and blogger who homeschools her tribe of tiny humans while pursuing her lifelong dream of becoming a published author. She is fueled by coffee and the desire to do ALL. THE. THINGS. She has the attention span of a squirrel, though somehow manages to make it through each day with everyone fed and happy (well, mostly happy! Ha!) while striving to make every tomorrow better than the last. You can hear more of what she has to say over at Real Talk with Amy, where she blogs about all things motherhood.